Featured
'La Vida Verde:' How to Make Everything From Plant-Based Al Pastor to Vegan Queso Fresco
7:39 PM PDT on April 13, 2020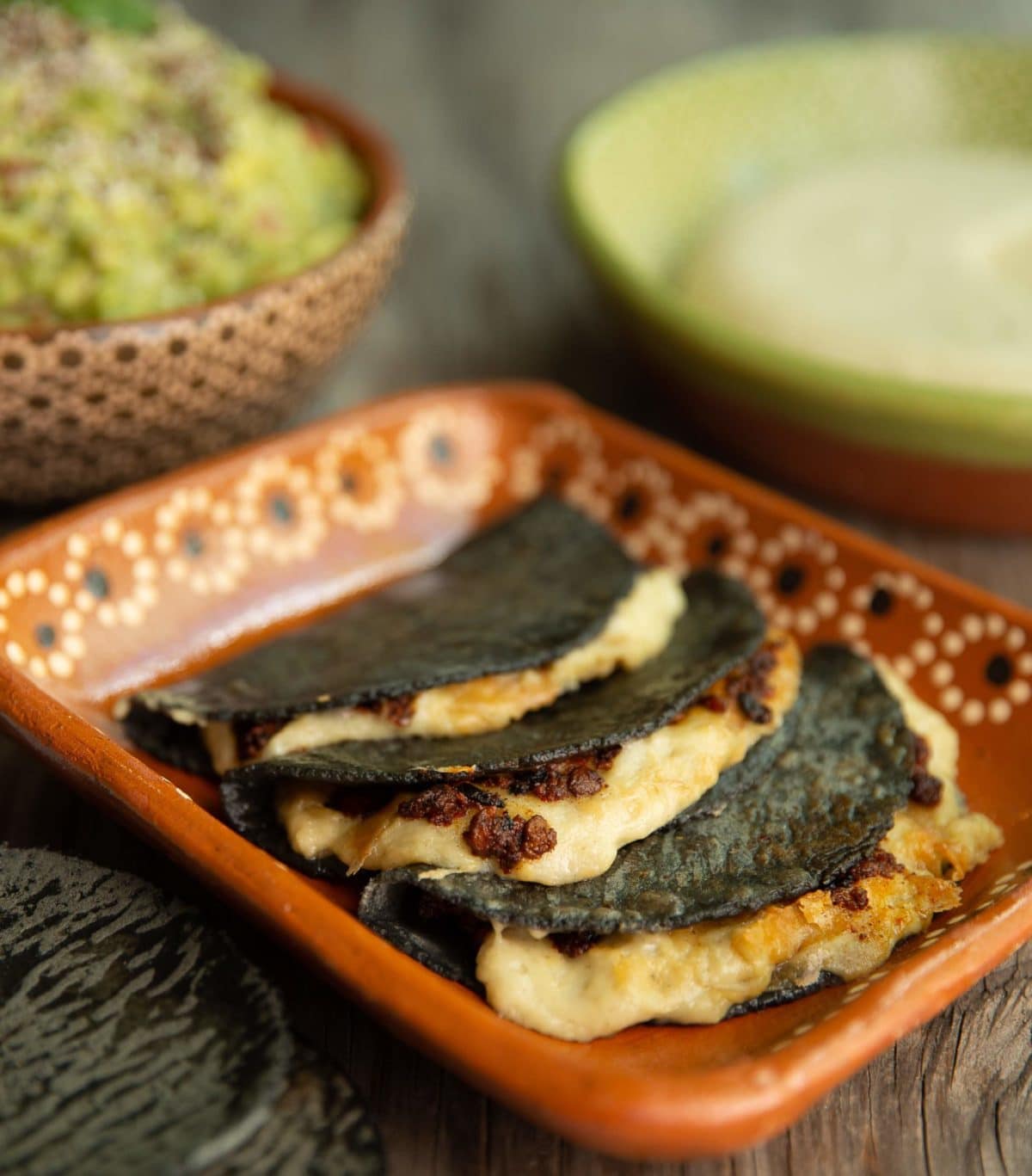 [dropcap size=big]W[/dropcap]hat shall I put on a tortilla today? 
Never has this question proven to be more critical than right now as the majority of us find ourselves having to cook three square meals a day for ourselves and our loved ones at home. At the same time, never have we've given so much time to cook, experiment, and reflect on the cooking we do at home. 
While we are sure many of you get down in the kitchen are happy cooking and eating your time-honored favorites, there eventually may come a time when you hit a taco wall. And if you've been trying to eat lighter and looking for recipes that lean towards a more plant-based diet, La Vida Verde cookbook will be there for you.  
Written by the up and coming plant-based taquera and WOC Founder of Todo Verde, Jocelyn Ramirez, it is the latest cookbook focused on Mexican and Latin American cuisine to come out of Los Angeles. In it are 60 amazing recipes for everything from a plant-based version of queso fresco to a savory, rich jackfruit al pastor.  
L.A. Taco caught up with the native Angelena. We talked about how she has been able to win over raza to the plant-based side of Mexican food, where you can take some online cooking classes with her, and what favorite thing is to eat on top of a tortilla. Plus, a recipe for it.  
L.A. Taco: First and foremost, what is your favorite guisado or thing to eat on top of a tortilla and why? 
Jocelyn Ramirez: My all-time favorite thing to pile high onto a freshly handmade tortilla will forever be pipian rojo. This was one of my abuelita's best dishes that she made from her hometown of Monte Escobedo, Zacatecas. She pan-fried dried guajillo chiles until they became fragrant and dry toasted pepitas until they puffed and crackled—combining them along with other aromatics. My mom sometimes jokes that cooking skipped a generation with her since she isn't as tuned into the kitchen as my abuelita was, but she got down with this pipian rojo recipe from time to time for a special occasion like a birthday or good grades. It is a recipe that has traveled through a few generations of my family.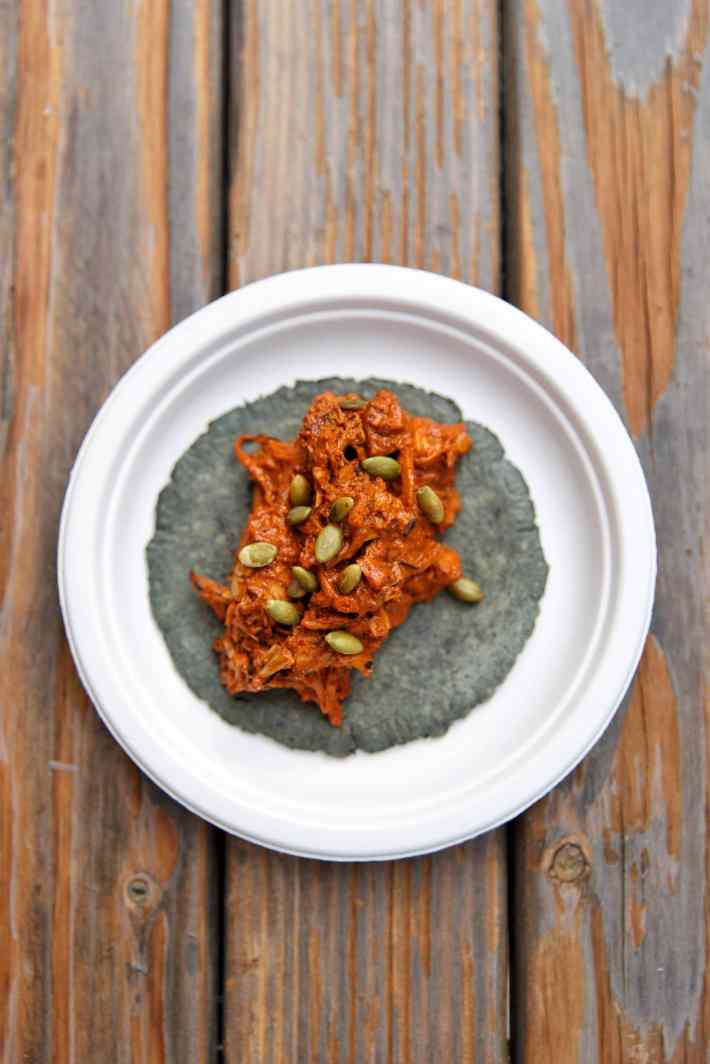 Would you be down to share the recipe with us? 
Pipian Rojo
Yield: 4 servings
For the Jackfruit
2 (20-oz [565-g]) cans jackfruit, drained, rinsed, squeezed dry
2 tbsp (14 g) ground cumin 
3⁄4 tsp crushed red pepper flakes 
1⁄3 cup (80 ml) cooking oil 
Salt and pepper, to taste
For the Pipián Sauce
1⁄2 cup (69 g) pepitas 
1 tbsp (15 ml) cooking oil 
2 whole cloves garlic 
1⁄4 yellow onion, peeled 
6 guajillo chiles, destemmed and deseeded 
2 cups (480 ml) vegetable broth 
Salt, to taste
For Serving
Tortillas hechas a mano
Cilantro sprigs, to garnish
To make the jackfruit, remove the non-shreddable core from the shreddable part of the jackfruit with a knife. Remove any seedpods from the shreddable parts and add them to the pile of cores. Add the shreddable jackfruit to a medium bowl. Mince the cores and seedpods with a knife until they are a similar texture to the shreddable jackfruit. Shred the jackfruit in the bowl and add the minced jackfruit. Add the cumin, crushed red pepper flakes, oil, salt and pepper to the bowl and mix until fully incorporated. Heat a large skillet over medium heat and add the jackfruit. Cook for 20 to 30 minutes, or until it is seared and brown on all sides. You may need to add more oil as the jackfruit cooks. The skillet should have enough oil to help sear and brown the jackfruit.
For the pipián sauce, preheat a dry sauté pan over medium heat. Add the pepitas to the pan and stir continuously for 4 to 5 minutes until they are evenly toasted and slightly inflated. Remove the seeds from the pan and set aside.
Coat the bottom of the same hot pan with the oil, and add the garlic cloves, onion and guajillo chiles to panfry until slightly blackened on both sides. The chiles will cook much faster than the garlic and onion. Once the chiles are blackened and fragrant, place them into a mixing bowl with vegetable broth to rehydrate for about 10 minutes. Place another mixing bowl over the chiles to keep them submerged.
Add the rehydrated chiles, roasted garlic, roasted onion, toasted pepitas (reserve a few for garnish), salt and the retained vegetable broth to a blender. Blend until the mixture is smooth, and add additional broth or water necessary to create a smooth sauce consistency that coats the back of a spoon. If the sauce is too thick, you can add more of the rehydrating liquid, and if it is too thin, you can blend and add a cooked and slightly charred tortilla.
Add the sauce to the skillet with the jackfruit. Mix until the pipián fully coats the jackfruit and warms through. Serve with freshly made tortillas, and top with the reserved toasted pumpkin seeds and sprigs of cilantro.
What's been the hardest part of convincing raza and old school Latinx that plant-based renditions can be just as satisfying as their meat and dairy counterparts?
Raza and folks in the Latinx community think that current staples like pork pozole or crema y queso are traditional foods, but we didn't have pork, chicken, beef, or dairy prior to colonization. So, our traditions have evolved over time, and it's hard to convince people that eating carne asada or queso fundido were not a part of the foodways our ancestors survived on for generations. I know that it would be even harder to serve someone who eats meat and dairy regularly to switch to a diet of Three Sisters [a native American staple food consisting of beans, squash, and corn] salad overnight, so I'm creating stepping stones by getting people to eat the things they already love in a plant-based version. 
We love most of our family recipes because of plants anyway—dried spices, herbs, chiles, seeds, nuts, and so many other aromatics—and it's so important to still use all these ingredients to make any recipe delicious.
Beyond frijolitos, rice, and calabacitas at home, what is another approachable dish that people can recreate to get a better understanding of the power of plant-based Mexican food at home? 
First of all—frijoles, arroz, y calabasitas por vida! Some of the dishes that people have been most excited about in La Vida Verde are our jackfruit recipes like "Jackfruit Carnitas" and "Jackfruit Al Pastor." They are really approachable dishes that are easy to make and oftentimes confuse eaters when they realize they're actually eating a plant-based taco. Once people learn about how to work with an ingredient like jackfruit or cashews, it opens up a whole new world of recipe possibilities and fun in the kitchen. When I think about plant-based Mexican food, it's not about taking things away and feeling like you're missing out on the flavor and texture, I think it's about exploring the same detail, cooking technique, spices, and love that you would normally put into any family recipe while making a few adjustments. We love most of our family recipes because of plants anyway—dried spices, herbs, chiles, seeds, nuts, and so many other aromatics—and it's so important to still use all these ingredients to make any recipe delicious. 
What would you say is the toughest part of writing a cookbook? 
The toughest part of writing a cookbook is documenting every part of a recipe to get others to feel the flow of preparing each dish. Oftentimes, when I'm cooking at home, I cook without measuring anything and using all my senses to see, smell, hear, taste, and feel what happens next. This cookbook required me to take the palmful of each spice and put it into measuring spoons. Thankfully, my editor and publisher had many eyes on each recipe, which helped to add simple cues to let the readers and home cooks know what to observe and do next for each recipe.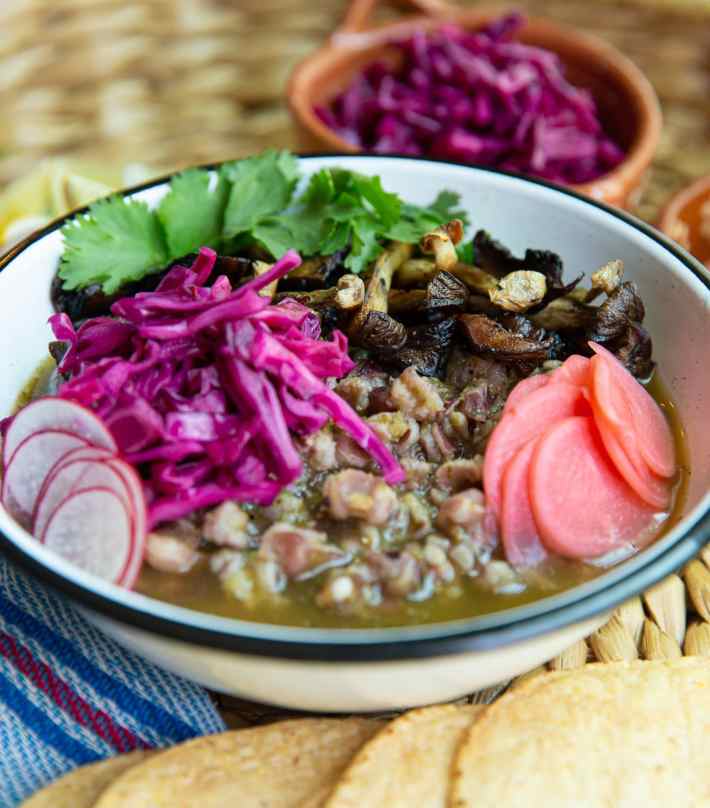 What are some unexpected ingredients that you stock up with during this stay-at-home order?
I've stocked up on lots of dried mushrooms recently including dried porcini, oyster, shiitake, and even mushroom powder. They're a great ingredient for broths, stews, and sautées to add a depth of flavor and richness to any dish. I've been making my own vegetable broth with dried mushrooms, kombu, and leftover veggie scraps like carrot tops, celery base, kale stems, and whatever else I have on hand. It makes any stews, soups, and grains taste so much better. I've also been breaking down and freezing fresh produce to make them stretch a bit longer without spoiling. 
Are you offering any online classes right now or take-out dishes at all right now? 
I'm currently offering online cooking classes for the community on a pay-what-you-can basis. As COVID-19 continues to evolve and keep us indoors, I figured it would be a good time to share La Vida Verde's recipes in a fun and interactive way since many people are cooking at home. Many folks across several industries lost their jobs due to the pandemic, and I wanted to make sure these classes are accessible to everyone. Classes are every Saturday and Sunday at 10:30 AM via Zoom.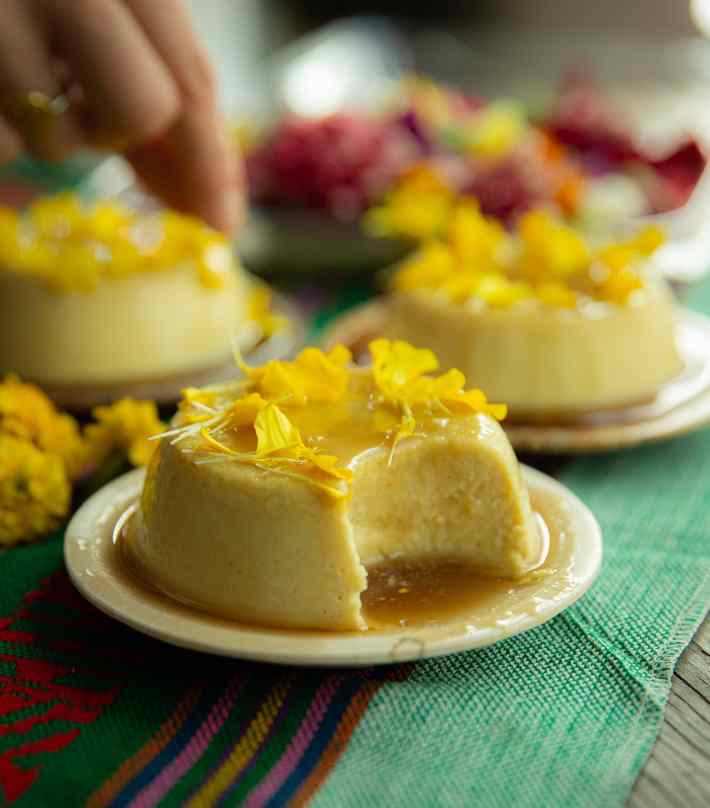 During these difficult times, what is the dish that you would say offers the most comfort? 
My all-time comfort dish is a steaming bowl of sopa de fideo. My abuelita would make this dish for me whenever she knew I was coming over. It was the sopita my mom made for me when I was feeling a cold coming on. It's a recipe [in my cookbook] I hold near and dear and now make with julienned Mexican squash instead of pasta. It's just as delicious as the bowls my abuelita and mom made for me with lots of love and a recipe that evolved with my traditions. I saw a meme not too long ago that said "The world just needs a big bowl of sopa de fideo right now," and nothing could be more true. We're all facing difficult times right now, but there's something about that warming bowl of jumbled up fideos in a rich tomato and garlic broth that makes everything seem much better. 
Thank you for speaking with us.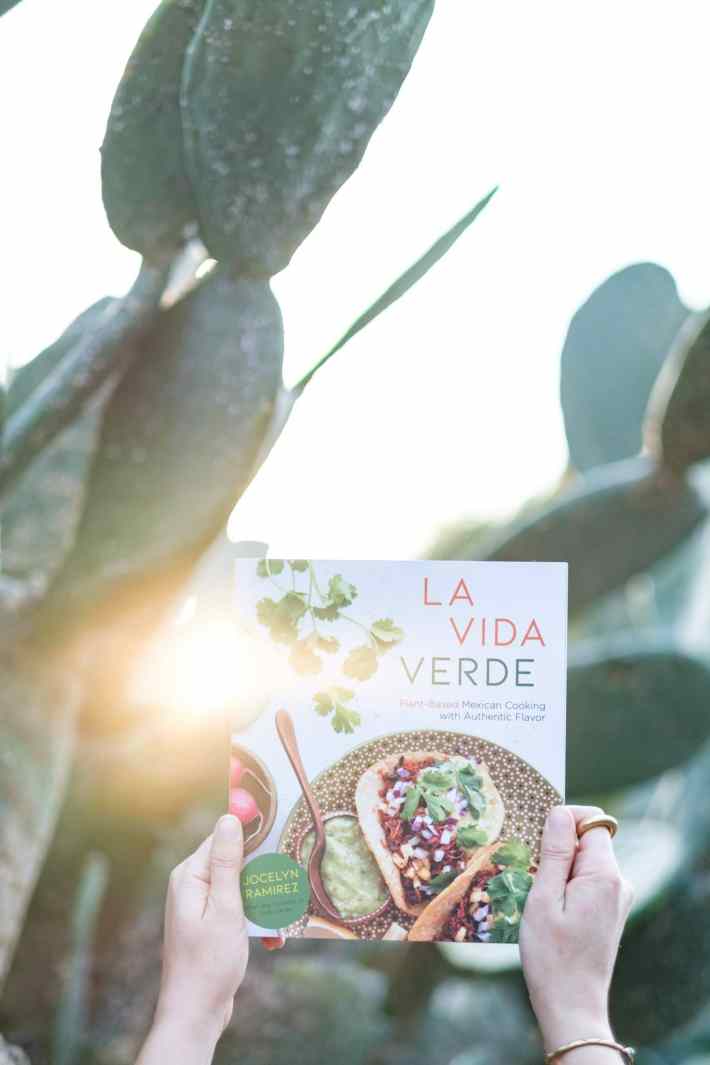 La Vida Verde is available everywhere books are sold on April 14, 2020. For more information, check out the website.

Editor for James Beard Award-winning L.A. TACO. Associate Producer for JBA-winning Las Crónicas Del Taco. Former restaurant scout for Jonathan Gold. Co-Author of "Oaxaca: Home Cooking From the Heart of Mexico (2019, Abrams) and "Asada: The Art of Mexican-Style Grilling" (2023, Abrams).
Read More:
Stay in touch
Sign up for our free newsletter