Tacos
The 15 Best Fish and Seafood Tacos In Los Angeles
1:30 PM PDT on March 27, 2023
Here are the best fish and seafood tacos in Los Angeles right now.
Because we see you out there.
Struggling to stay asada-free over the last days of Lent. Or simply looking to a newly emerged sun and seeking to recreate the pleasures of your last dalliance with the Baja surf; a lime-crested Pacifico and piping hot, battered fish or shrimp taco in your clutches.
But you really don't need an excuse.
These are the greatest 15 seafood-stuffed tacos you need to try in L.A. right now. And that's all the motivation required to get out there and map your own journey through the briny bliss of a fantastic taco filled with smoked marlin, mahi mahi, fried shrimp, or another one of Ariel's adorable, appetizing little friends.
Enjoy.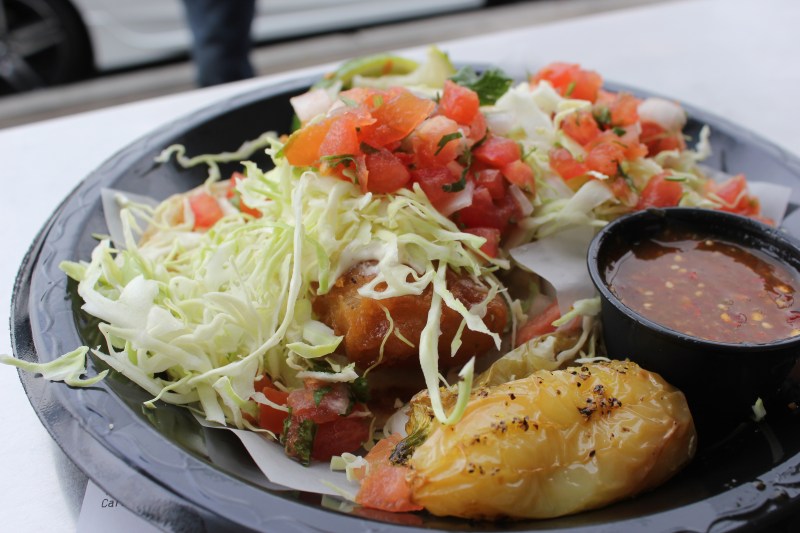 Fish and Shrimp Taco
The original fish taco that started it all in Los Angeles. This family-owned OG was the first to introduce fish tacos to the crispy battered-loving masses since 1978.  The family has since moved on to open four locations around deep eastern and southeastern L.A., but the Bellflower address holds a special place for southeast L.A. locals. They specialize in Baja-style fish and shrimp tacos that come with fried fish filets, cabbage, pico de gallo, and crema. If you love southern California's tradition of having chile-dusted chiles gueros next to your fish tacos, this spot also innovated that. If you're looking for something more substantial, they also have burritos filled with fried shrimp and fish, too.
Multiple locations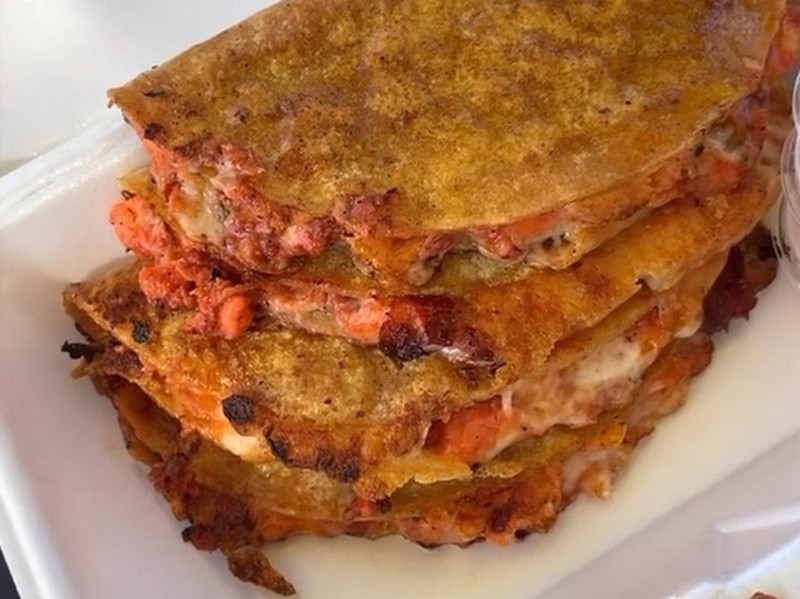 Tacos Gobernador
The coastal Mexican mariscos pop-up from high school sweethearts Darrel and Patty Baker, serves these classic Mazatlán-born tacos gobernador during their weekend pop-ups in El Monte, gluing two ends of a smoky shrimp-and-bell-pepper-stuffed corn tortilla together with a gooey glue trap of cheese, the excess of which gets a sear from the griddle, resulting in extra crispy bits clinging to their edges.
Sat and Sun. 12526 Elliot Ave. El Monte, CA 91732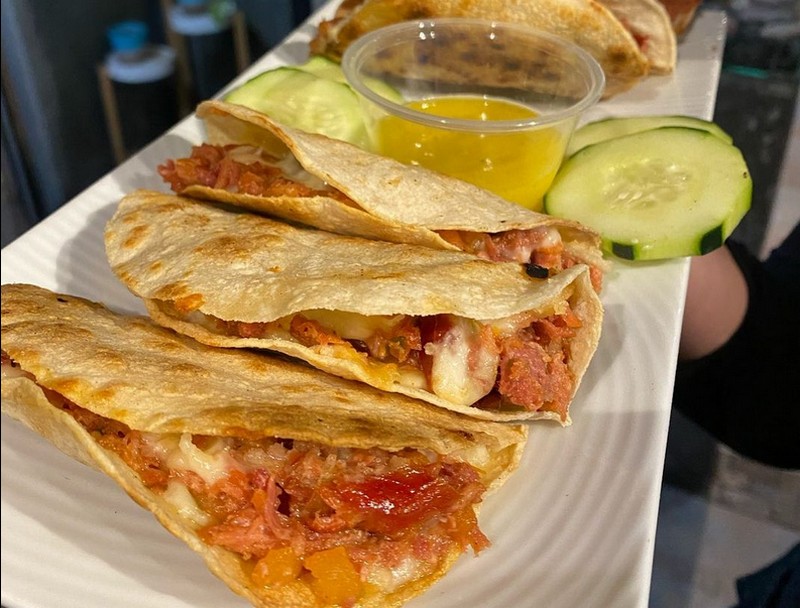 Smoked Marlin Tacos
If deeply unkosher thoughts of cheese and Sinaloan seafood are now dancing in your head, point your wheels toward Coni'Seafood, where a minced pate of smoked marlin mingles with melted cheese, tomato, onion, and a crescent wedge of avocado in lightly toasted tortillas. A simple, comforting trio of tacos made transcendent by the restaurant's sharp, tangy, habanero-based salsa verde. Be it breakfast, lunch, or dinner. This is the spot to recommend for anyone who wants to squeeze in some last minute tacos on their way to LAX as well, or hit first thing as soon as they land. ~ Hadley Tomicki
3544 West Imperial Hwy. Inglewood, CA 90303 and 4532 S. Centinela Ave. Los Angeles, CA 90066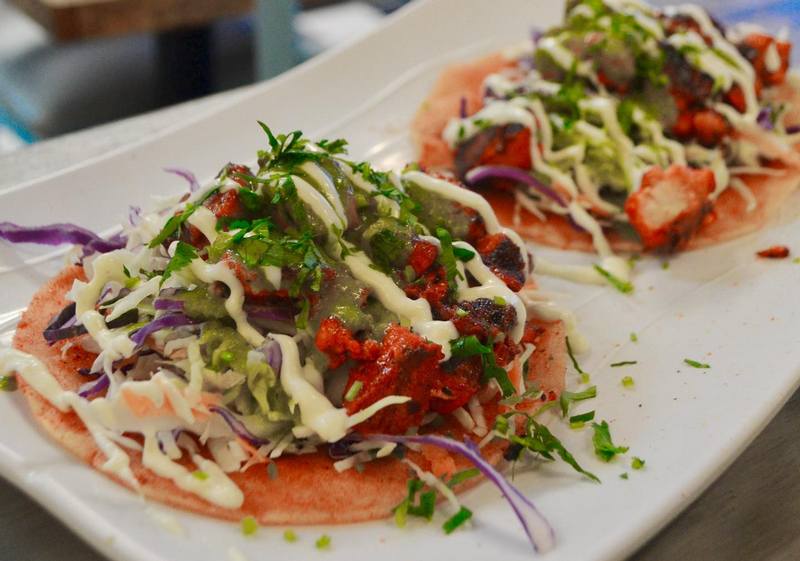 Taco Revolcado
The city of Atlantis may be lost, but Bell Gardens endures, and El Coraloense may be the seventh wonder for seafood lovers. One of many highlights in this menu of ratcheted-up ceviches, battered fish and shrimp diabla tacos, and fiery aguachiles are these tacos revolcados. Slightly puffy corn tortillas strain to hem in large chunks of Mahi-Mahi stained red with pastor seasoning, over a bed of cabbage and beneath squiggles of crema and a dark jade salsa verde. It's messy and 100% worth the extra napkin allotage. ~ Hadley Tomicki
6600 Florence Ave. Bell Gardens, CA 90201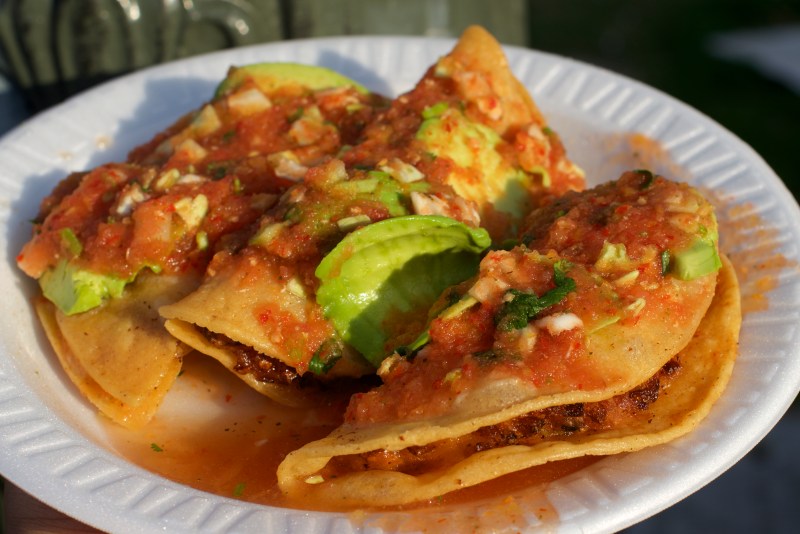 Taco de Camarón
Speaking from purely a gustatory standpoint, no other taco is as purely delicious to inhale as these classics you'll find in Boyle Heights. They are crunchy, creamy, refreshing, and spicy all the same time. Whether you eat just a couple, or five—it happens—this may be L.A.'s most iconic [daytime] taco. It is everything you want in a taco: filling, spicy enough, refreshing, and buttery thanks to the avocado slice. This taco is timeless; this taco is perfect. – Javier Cabral
3040 E. Olympic Blvd. Los Angeles, CA 90023; E. 10th St and Towne Ave. Downtown Los Angeles, CA 90021; 753 E Holt Ave. Pomona, CA 91767; and 1830 S. La Cienega Blvd. Los Angeles, CA 90035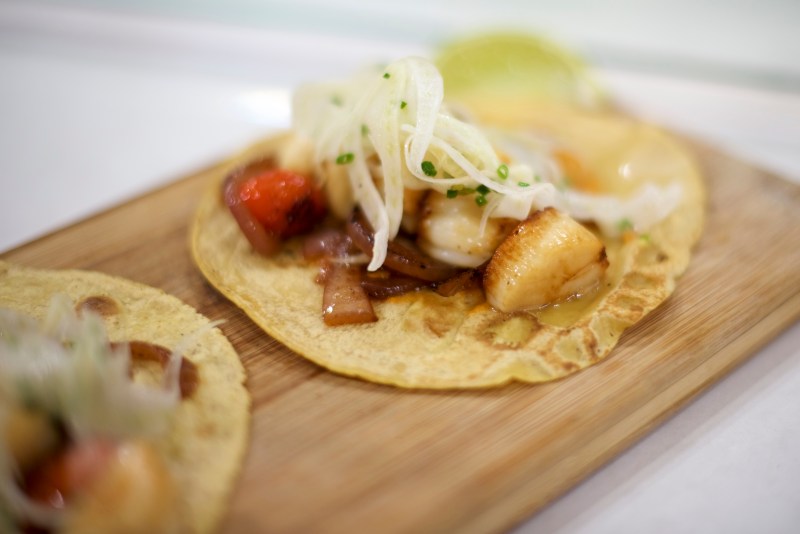 Scallop Taco
Almost everything at Holbox is a home run, but the scallop taco seems like it was plucked from a tale of divinity. Meaty, seared scallops anchor a bed of caramelized onions, pickled fennel, and beautifully spicy salsa in a corn tortilla. It always feels like a treat and a wonderful way to experience exceptional seafood tacos. - Cesar Hernandez
At Mercado Paloma, 3655 S Grand Ave. Stall #C9 Los Angeles, CA 90007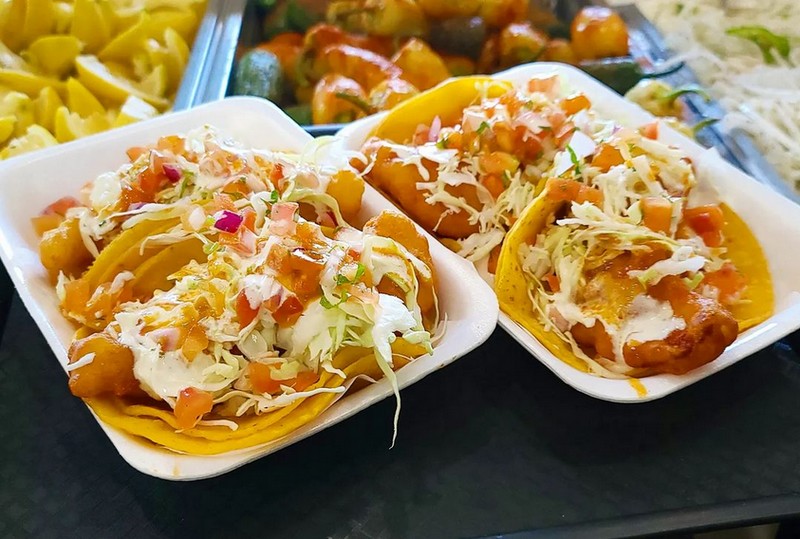 Fish Taco
This South Bay taquería specializes in Baja-style fish tacos. They beer-batter white fish filets and fry them to a golden orange. Make sure to grab a few of the blistered chiles gueros for an ideal experience—taking a bite of the fish taco followed by another crunch of the chiles. Rinse and repeat. - Cesar Hernandez
Multiple locations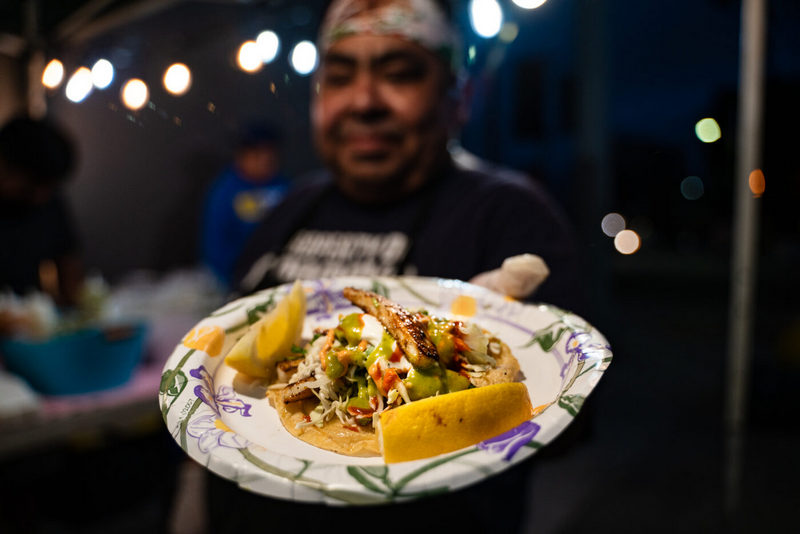 Calamari Tacos
Just like the legendary burgers that Mario Curiel makes at Hinano in Venice, these tacos bear the same approach: simple, fresh, and correct. No reductions, emulsifications, rare ingredients, or gourmet shit is happening, except for a conscious choice to use wild rockfish instead of farmed tilapia—just quality ingredients, the right portions, and flavors, made fresh to order, and perfectly satisfying. – Memo Torres
Lupita's Tacos pop up every Friday and Saturday evening at Palms and Lincoln Boulevard in Venice.
Wild-Caught Fish Tacos

While we await the return of Wes Avila's seasonal Taco Thursdays here in later 2023, we can depend on this mainstay of his lunch menu: a daily taco centered on wild-caught fish, picked for its freshness, flavor, and overall taco-mpatability. Right now, he's encasing rockfish in the thinnest of tempura batters for two tacos covered in a mötley crüe of salsas, including mustard-habanero and chipotle aiolis, pico de gallo, a spicy "salsa China," and heirloom tomato molcajete salsa, sure to leave a scene of taco destruction all over your plate and hands (as your pocket gets liberated of $18). Through it all, the fresh fish clings to the spotlight. ~ Hadley Tomicki
970 N. Broadway Suite 114, Los Angeles, CA 90012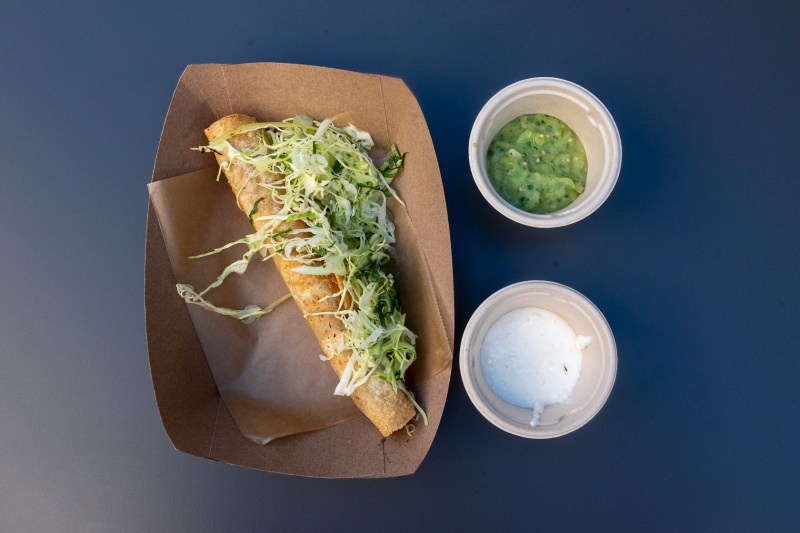 Fish Machaca Fish Flauta
Ditroit's crispy fish machaca flauta, fried in rice bran oil and topped with avocado salsa and a creme fraiche-queso fresco mixture, is the loftiest expression of a taco dorado in Los Angeles. The highly-pedigreed Arts District taquería, opened by the Enrique Olvera Mexican restaurant empire, came out swinging with this taco. It is virtually greaseless, and the fishiness that can exist in this apex sailfish is minimal. If you find yourself spending a small fortune on three of these, you are not alone. - Javier Cabral
2117 Violet St. Los Angeles, CA 90021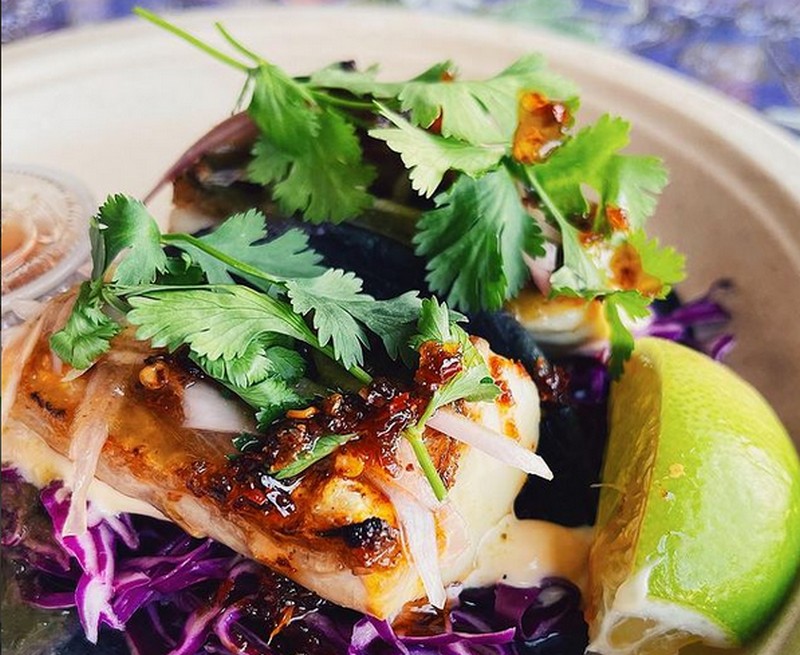 Striped Bass Tacos
The dry-aged taco is the most unique from the weekly Taco Tuesday event held at this perpetual award-winning SFV Thai restaurant. The striped bass is hung and aged for a little over a week, fried at a low temperature, then seared to develop a smokiness. The taco is then topped with Boon sauce, a chile oil made by L.A. chef Max Boonthanakit, as well as a house mayo for a touch of Ensenada realness. The bass' dry aging adds a fruitful flavor that combines effortlessly with the sauce's heat and the mayo's umami. - Cesar Hernandez
14704 Ventura Blvd. Sherman Oaks, CA 91403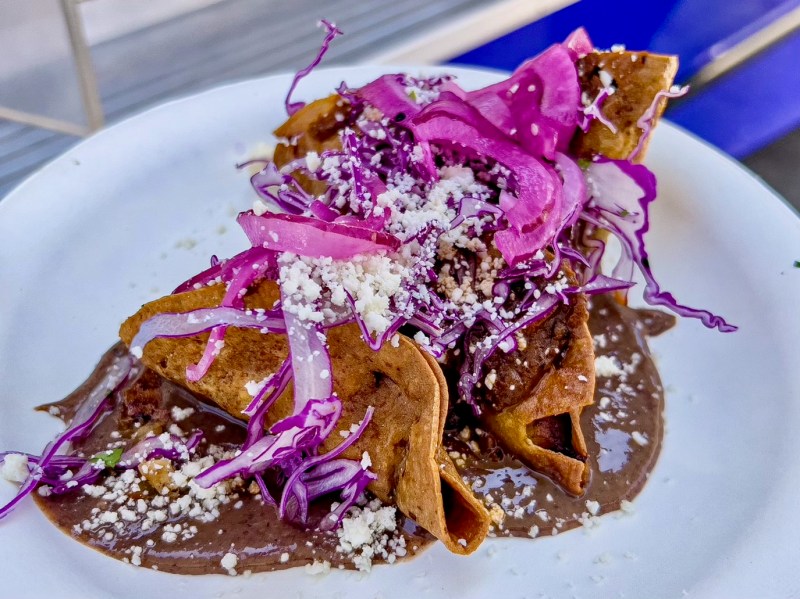 Pescadillas
It is experiences like Simón that provide living proof of the evolution of L.A.'s regional Mexican food scene in real-time. If you've eaten around the southern part of Mexico's Pacific coast, you will immediately trip out on the "Pescadillas" they offer, crispy taquitos filled with a savory filling of seasoned, minced wild fish served over a tasty puddle of umami-intensive pasta de frijol (black bean paste). They are an extremely hard-to-find, the type of crispy fish taco that you'll see in Guerrero's Costa Chica and a handful of beaches in Oaxaca, and now also at Simón L.A. to give Mariscos Jalisco's holy shrimp taco some very serious competition. – Javier Cabral
3667 W Sunset Blvd. Los Angeles, CA 90026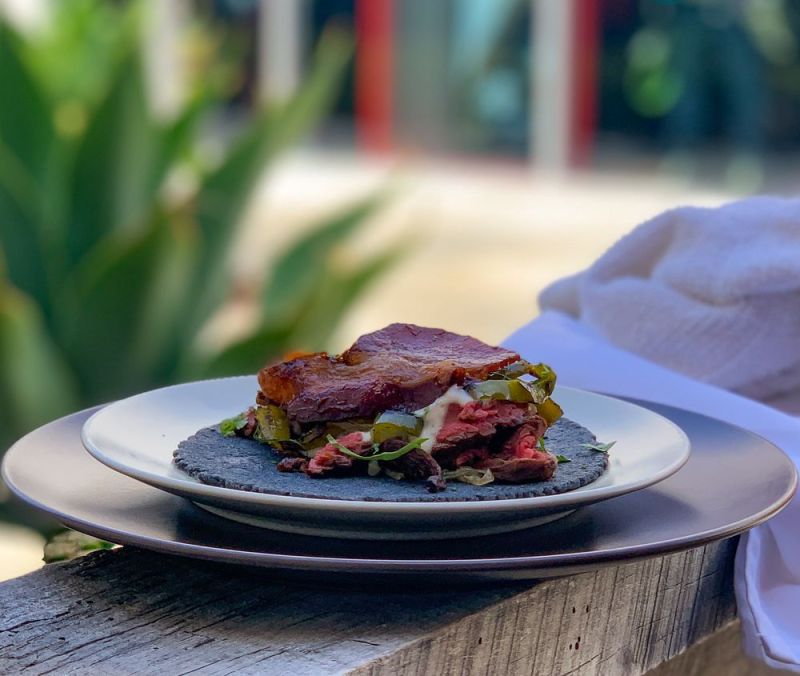 Taco de Smoked Sturgeon
The ultimate expression of fish, smoke, and chiles. The tacos start off on a blue corn tortilla, stuffed with smoked sturgeon fish, then grilled to crisp perfection. They served it alongside sliced cucumbers and salsa macha; options to cool down and heat things up. We know that this taquería is located in Orange County but this taco is so good, Taco Maria will forever be listed on any L.A.-centered taco list. - Cesar Hernandez
3313 Hyland Ave. Costa Mesa, CA 92626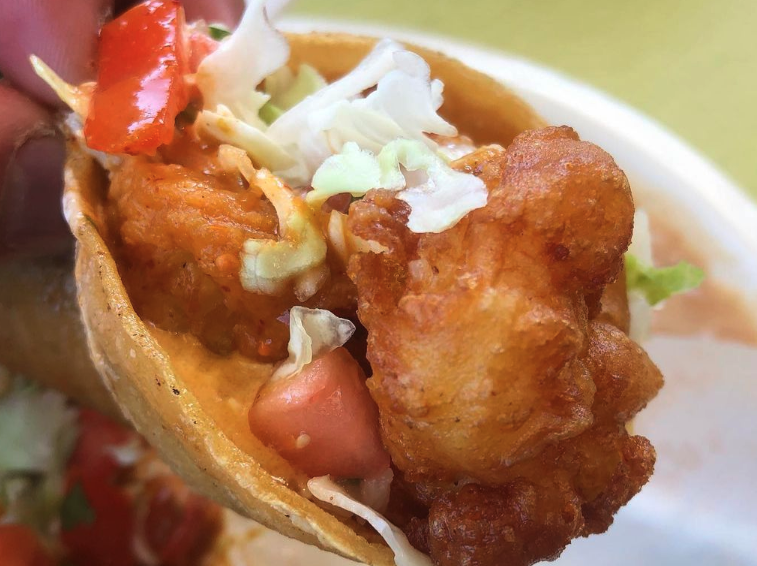 Up there in OGness, is Tacos Baja in East L.A.'s Whittier Boulevard. The taco is perfect every time you order it: a battered piece of catfish that is still crispy on the edges, cabbage, and their chipotle crema that has a little bit of mayonnaise mixed in for extra richness. If you're tight on budget, you can go on Wednesday when each fish taco is only $1.50, but plan accordingly because the line can get up to 30 minutes long. But it's all worth it as soon as you take that first bite. Though, we think this taquería's popularity has something to do with their all-you-can-eat chile güero bar. Note: Some are blindingly spicy and some are like bell peppers, good luck! - Javier Cabral
16032 Whittier Blvd. Whittier, CA 90603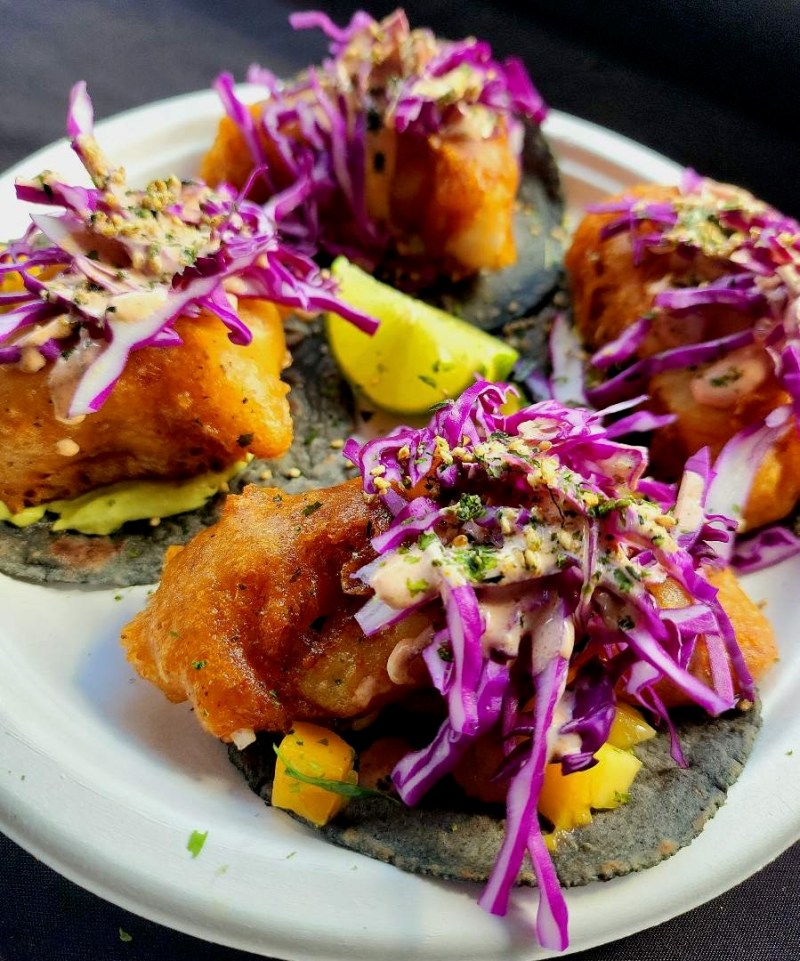 The Goat Mafia
The fish taco is the sleeper hit at the chivo-powered Goat Mafia. They sell a lot of them every Sunday at Smorgasburg L.A. Lead taquero and owner Juan Garcia started making them after his customers kept asking for a seafood option during the Lenten season. The result is an incredibly savory swai fish taco on Kernel of Truth Organics local blue corn tortilla that is fried in beef tallow. It's garnished with furikake, red cabbage.
Stay in touch
Sign up for our free newsletter