Featured
Your Guide to Finding Each Taco Style Featured in Season Two of the 'Taco Chronicles' in Los Angeles
4:15 PM PDT on October 6, 2020
[dropcap size=big]I[/dropcap]f you live in the Los Angeles area and have binge-watched the second season of the Taco Chronicles a few times already, you know that excellent tacos are most likely no longer than a five-minute (max 10 minutes) drive from your home. This ease of taco'ing is one of the privileges of living in the undisputed best taco city in the United States. 
While it is true that "the best taco is always the one right in front of you," as famously said by the author and Mexican cuisine historian Ricardo Muñoz Zurita in the first season, there is something to be said about eating the best version that Los Angeles has to offer of each taco featured in the show. 
As a follow-up to our popular guide on where to find every taco-style featured in the first season in Los Angeles last year, here is this season's list: Suadero, cochinita, cabrito, American taco, burrito, birria, and pescado. 
Each spot is vetted and approved by L.A. Taco.
Suadero
The suadero taco episode may have caught many Taco Life followers in Los Angeles by surprise. While it is the lifeblood of the late-night taco scene in Mexico City and has a strong presence in Tijuana, the L.A.-adjacent taco paradise, it never really took off as a specialty in L.A. While L.A.'s curbside taqueros adapted the infamous "upside-down sombrero" cooking vessels known as "choricera" pans for their stands specializing in "carne asada," tripas, and other fatty cuts of beef and pork. Not all taqueros adapted its suadero traditions.  
As a brief refresher, suadero is the beef equivalent to carnitas: brisket and other long-cooking beef cuts that are slowly cooked in a confit-like fashion in these pans, as mentioned earlier. Some taqueros use lard; others use vegetable oil. The result is deliciously greasy meat to chop and gently place on top of a tortilla dipped and toasted in the same drippings. 
That being said, two places do it and do a decent job here: Ave 26 Tacos in Northeast L.A. and Brothers Cousins Tacos in West L.A. Furthermore, L.A. Taco has confirmed that Ave 26 Tacos indeed does use lard for cooking its suadero. The pork fat-cooked beef is one hell of a study in porcine-meets-bovine umami and richness.  
Ave 26 Tacos has multiple locations.
Brothers Cousins Tacos is at 2914 Sawtelle Blvd Los Angeles, CA
Cochinita Pibil
Few tacos have the power to evoke such a deep sense of voraciousness than cochinita pibil. The chances are that if you love cochinita, you probably are obsessed with it. Whether it reminds you of diving in cenotes and being carefree in Tulum or Yucatán or because you are an avid home cook yourself who loves to recreate the tropical nuances that banana-leaf roasting can impart into pork, cochinita is a Mayan in taco form. In Los Angeles, the champion for cochinita pibil for a couple of decades now has been Chichen Itzá, the restaurant inside Mercado La Paloma next to USC. Those of you in the know probably also love or maybe even prefer the cochinita at La Flor de Yucatán bakery. We cannot forget the James Beard Award-winning pioneering cochinita at Yuca's in Hollywood (and Pasadena).     
Chichen Itzá is at 3655 S Grand Ave c6, Los Angeles, CA 90007 
Yuca's has multiple locations. 
La Flor de Yucatán is at 1800 S Hoover Street, Los Angeles, CA 90006
Cabrito 
Baby suckling goat that is not even a month old is the pride and joy in northeast cities like Monterrey in Nuevo Leon and Saltillo in Coahuila. Despite Monterrey being among Mexico's most affluent and Americanized cities in Mexico, they are obsessed with milk-fed goat's fatty kidneys. The more glazed in fat the cabritos are, the higher the price it fetches. Cabrito is the rare kind of taco that almost has zero presence in Los Angeles, except when The Goat Mafia offers its dish interpretation. They do their best with the youngest goat they can get in a city not known for its goat consumption. It may not be a baby goat, but The Goat Mafia has its deep goat connects around L.A. county's greener parts, perfect for goat rearing.
Follow The Goat Mafia on Instagram to see when they will offer it again.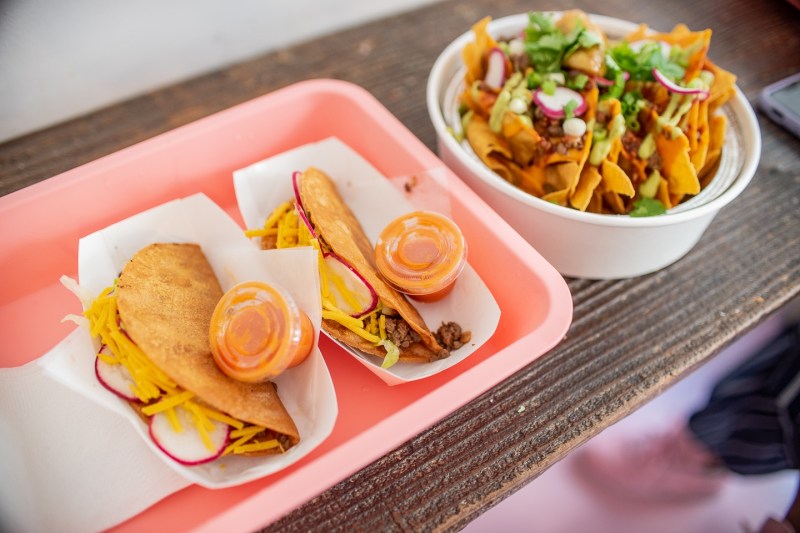 American Taco 
This episode may have caught many viewers by complete surprise, but the fact of the matter is that no matter how polarizing this taco may be—it is still a subjectively tasty taco rich with history. Not to mention that it is a million-dollar industry in the U.S. This episode was one of the few in the series that was shot around Southern California. Hence, it is a no-brainer to recommend the resuscitated Naugles taco shop in Orange County featured in the show. If you want L.A. Taco-approved versions of the American Taco in the L.A. metro area, our Director of Partnerships, Memo Torres, has a soft spot for Tito's Tacos in Culver City. If you don't eat any meat, you'd probably be happy crunching on a few American-style tacos made with Impossible ground fake meat at Chicas Tacos in downtown. When it comes to American taco variations, I prefer puffy tacos forever. Cue Josef Centeno's masterful version at Amácita's that was also featured in the episode. While Amacita's is temporarily closed due to COVID, they are still available off-menu at Bar Amá in downtown L.A. 
Last but not least, an element that didn't make it to the series was how one of the original brothers who created the puffy taco in San Antonio traveled west to L.A. and opened up a taquería in the suburb of Whittier that straddles both L.A. and Orange Counties. Arturo's Puffy Taco is still open today and is definitely worth the long drive to taste the edible act of Mexican American history. 
Naugles has multiple locations.  
Chicas Tacos has multiple locations. 
Bar Amá is at 118 W 4th St, Los Angeles, CA 90013.
Arturo's Puffy Taco is at 15693 Leffingwell Rd, Whittier, CA 90604.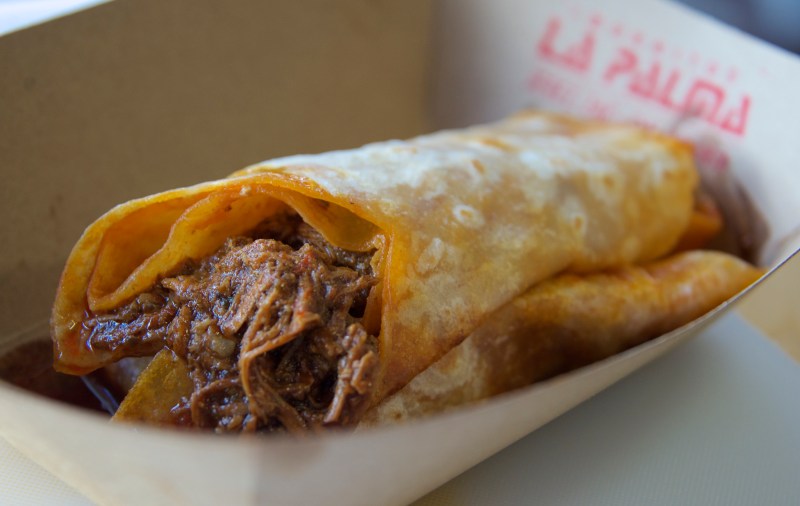 Burrito 
Yes, burritos are indeed tacos. If you don't believe us, ask the country's only other Taco Editor, José Ralat. The burrito episode examined the Ciudad Juarez-style burritos made on the more pita-like regional flour tortilla style down there. It then featured the petite guisados-filled burritos done in the Zacatecas-style as Los Milagros de Delila on the road to Chapala in Jalisco. It then made the connection to L.A.'s version of these slender-style burritos at Burritos La Palma, which just announced a new location in Boyle Heights. It culminated with the most technique-intensive regional style of flour tortillas that go into the burritos in Sonora, known as sobaqueras. If looking for that breadier Juarez-style, the closest thing to that in L.A. is the Texas-style homemade flour tortillas at Homestate. (However, they do not make burritos.) As for sobaqueras, the only sobaquera specialist in town is still El Ruso, and they make burritos somewhere within the styles of Sonora and Tijuana. DM to ask before if they're making sobaqueras. 
Homestate has multiple locations. 
Burritos La Palma has multiple locations.
El Ruso is at 1401 Mirasol St, Los Angeles, CA 90023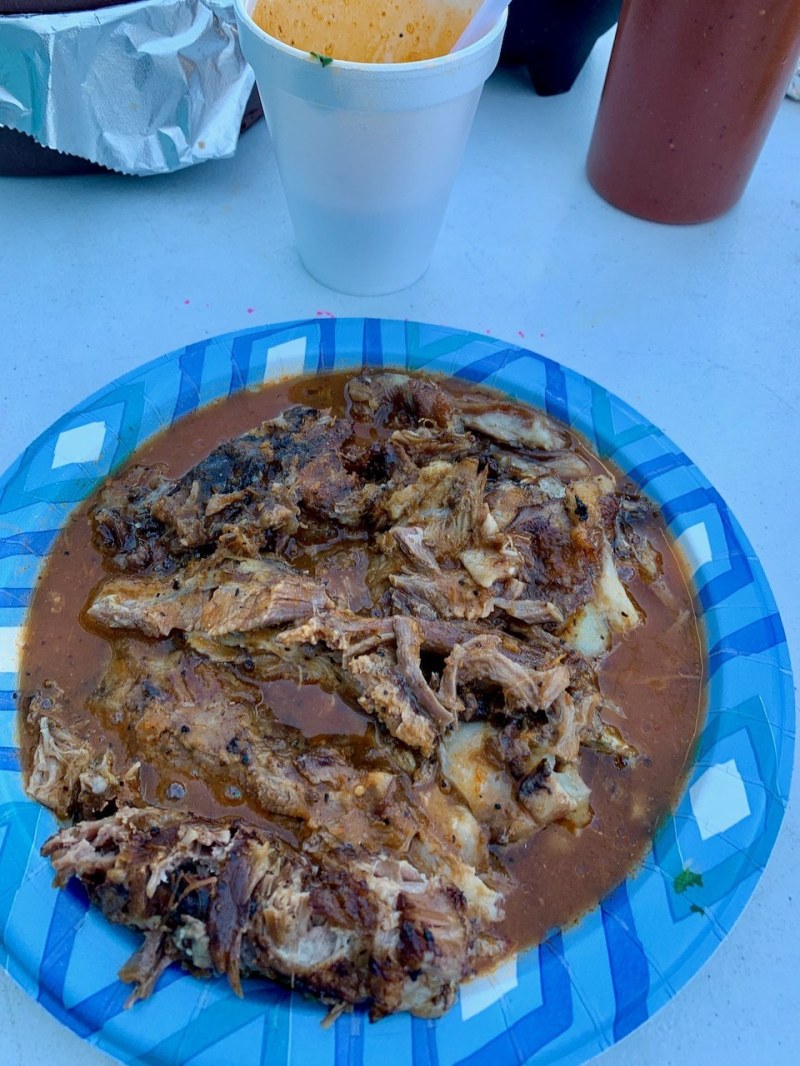 Birria 
If looking for true Jalisco-style birria in the same "tatemado" (crispy-roasted) cooking method as Jalisco's Birria Disneyland known as Birrieria Chololo featured in the episode, then you're going to want to set your alarm right now to wake up early on Saturday morning at head straight to Birrieria El Jaliscience in Boyle Heights. Hector Ramirez, the passionate birriero behind the family-operated stand on Olympic's Taco Row, is from Jalisco's rural highlands. His style is the same as the rustic tatemado-style featured in the show that involves simmered goat that is finished in the oven to develop a BBQ-like slight crust. As for Tijuana-style made with beef instead of goat, Los Angeles is full of taqueros who sell the stuff. However, the only birriero who's consomé consistently stands out for being full-bodied and aggressively spiced where so many others are instead watered down, is Birria Pa La Cruda. L.A. Taco taco contributor Cesar Hernandez says he also loves the birria consomé from El Primo and Memo Torres says he also loves Birrieria San Marcos for being "the perfect amount of greasy." That is birria for you, there are so many great ones in L.A. and everyone has their favorite. 
Birrieria El Jalisciense is open from 8 AM until they sell out every Saturday. They are at 3436 E Olympic Blvd, Los Angeles, CA 90023
Birria Pa La Cruda just got a new food truck! Follow them on Instagram to see where they will post up next. 
Fish Taco
Is there a better taco to eat in the perpetual summer that is Los Angeles? Fish tacos just hit differently than any other taco. Whether because they remind you of chilling in Mexico's beaches while on vacation or because they provide a bonus texture and flavor thanks to the capeado (batter), fish tacos stand out from the rest of the taco pantheon's meatier counterparts. In Los Angeles, the taquero who changed the game with fish tacos a decade ago was Ricky from Ricky's Fish Tacos. He was the first Baja-born taquero to introduce Angelenos to the splendors of deep-frying fish in lard, just as they do in the fish taco's birthplace of Ensenada. Before Ricky's, there were two L.A. fish taco institutions. Tacos Baja is located along the border of the City of Commerce and East Los Angeles and El Taconazo, both of which still pipe out beautiful specimens that are still worth obsessing about. After all, these two still have those addictive lightly fried chile-dusted chiles güeros on their side.   
Editor for James Beard Award-winning L.A. TACO. Associate Producer for JBA-winning Las Crónicas Del Taco. Former restaurant scout for Jonathan Gold. Co-Author of "Oaxaca: Home Cooking From the Heart of Mexico (2019, Abrams) and "Asada: The Art of Mexican-Style Grilling" (2023, Abrams).
Read More:
Stay in touch
Sign up for our free newsletter