Featured
ICE Raids, Socialism, Beats: How Oxnard's Disco Pop Radical Cola Boyy Is Empowered by His Disability
9:33 AM PDT on August 24, 2018
[dropcap size=big]I[/dropcap]f you're familiar with Oxnard, California, you probably know about it because of its strawberries. The city, some 60 miles northwest of L.A. in Ventura County, is the state's largest producer of strawberries. Or maybe you know it for its beaches or as the hometown of some great hip hop musicians – like Madlib, Dudley Perkins, and Anderson Paak – most of whom eventually moved down to L.A. to become vital players in this city's music scene. But Oxnard native son Cola Boyy is sticking around to rep his city, and to give you something else to think about the "805."
"My video shows a side of Oxnard that isn't going to attract people with money to come here," Cola Boyy told L.A. Taco in an interview. "But if they did, and they came to me saying they were inspired to come here because of my video, I'd tell them to fuck off."
Born with spina bifida, a condition where the spinal cord is incomplete at birth, Cola Boyy is also beginning to find power in being a "disabled dude" that can rock a set.
Soundtracked by Cola Boyy's jubilant bedroom disco-funk, which sounds like Japanese boogie genius Hiroshi Satoh met Paradise Garage mainstays Dinosaur L at the beach, the video for his song Penny Girl takes us on a tour of his Oxnard, away from the beaches and the strawberry fields, and into the predominantly Latin community where he was born and raised, and in which he is still so ingrained. The video — filled with punks, karate chopping kids, Cola Boyy's own dad in a vintage "Rock and Roll Gangster" type 70s flannel suit, and bunny rabbits — is a loving portrait of the city of Oxnard.
It's also a fitting introduction to Cola Boyy's parallel interests in music, and community based radical political organizing. He's heavily involved in with Todo Poder Al Pueblo, a group focusing on immigrants rights and highlighting police brutality and misconduct.  Cola Boyy describes the group as, "Non hierarchical. Non sectarian. Organized by communists, anarchists, and leftists.
Cola Boyy will be performing at Ham & Eggs Tavern in downtown Sunday. And L.A. Taco recently had a chance to talk to him about ICE raids in the fields, police brutality, race relations in Oxnard, and finding power in talking about his disability with a brand new level of openness.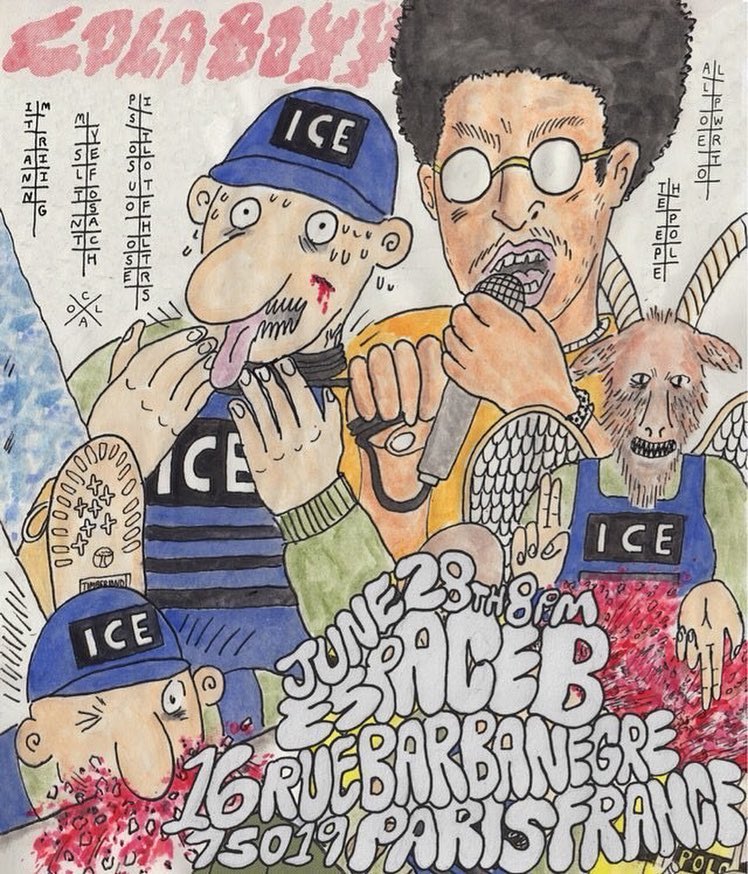 L.A. Taco: Can you tell me a little bit about Oxnard? I don't think that the area is well understood here in L.A.
CB: Yeah. I would agree. First off, the population is around 200,000 people last time I heard. And if I'm not mistaken it's about 80% Latino, most of which is poor and working class people. [Editor's note: Oxnard is 74.3% Hispanic according to the last census]
It's a large agricultural town. We're renowned for our strawberries and avocados. But the main issue in that is the exploitation of the farm workers who are working the fields every single day. I think that's a big part of Oxnard that goes unrecognized, and it's basically a big fucking bane on this town. Things are rough. The big issue right now is ICE. detaining people and splitting up families here. All that shit that's going on in L.A. and San Diego and everywhere else is also happening here.
Are those things more pronounced in Oxnard though? As I understand it, the majority of the population of Oxnard is Latinx, but the power structure is all white.
Well we have a city council that's all white people, and one Latina, Carmen Ramirez. She passes as white though. It's definitely a white power structure, and they don't try to hide it. The police have a big campaign going on right now called DRAGG, which stands for Drag Racing Against Gangs and Graffiti. So they're doing cruise nights with lowriders and old school lowriders, with a cop sitting in one. It's a big PR thing. It's fucked up. Car culture is a brown and black passtime that was used as an outlet against the conditions that are oppressive and repressive in our community. They banned cruising and car shows that were organic, that were organized by the people in 1992, so they're bringing these things back organized and controlled by the police.          
Are they trying to sell Oxnard as a town open for gentrification?
Definitely. It's directly correlated to gentrification.
I don't mean to ask this flippintly, but do you think the music video for Penny Girl might attract some of those people to Oxnard?
That's not what the video was for. It's not a hospitality industry video. What I wanted to show was people I spend time with, who I organize with, who I drink with, doing just normal things that anybody in a town like ours does. I don't know. It is a difficult question though. At the premier of the video somebody said, "Oh well. If your music career doesn't pan out, maybe you can find a job in tourism."
It does sound like a hard line to be cautious of, between trying to show love for the city you're from and kind of showing it off for exploratory purposes. What was your idea for the video?  
Well I met the director, David Luraschi, actually when I was in Paris. We just had the simple idea of filming around Oxnard. He said, "Let's just film the places that are important to you. We wanted to show the town authentically, and not use people for their aesthetic.
Sea Lions - "I Loved Her so Much/I Wish I was Lou Reed"
So how did your Cola Boyy persona develop? Because, correct me if I'm wrong, but you were in the band Sea Lions before, right?
Yep. It's a lot different, right? Well, Oxnard is definitely punk and hardcore orientated. All my friends were either part of the punk, hardcore, or metal scene. So I grew up around that. Pretty much everyone in Oxnard who does music came up through one of those scenes. There was another scene also that was a weird noise and experimental pop scene from this band called Maria in the early 2000s. Members from Maria had this other band called Sea Lions, and they would play pajama party shows in garages where we'd just listen to Boyz II Men. Like on some house party shit. It was just not something you'd expect to see in Oxnard. It was pop as fuck, but hood as fuck, and Chicano as fuck. I was at one of Sea Lions show and I asked them why they didn't have a bass player, because at the time they didn't, and they asked me to play bass. So I joined the band, and for the next eight years I played with them. Those were very formative years for me. Playing music and traveling. Getting out of Oxnard. But at the same time pop music was really what was in my head. What really got me into writing songs was this song called You've Got a Woman by the band Lion. And I was like, "Wow. This song is so good. This music gets me. I want to make music like this." So I broke away from Sea Lions and focused on my own project.
What's your process of putting down a song?
I basically write demos by myself, and then I work with a producer in Paris who goes by the name nit, he's an amazing disco and funk producer. I really like working with people though. I have a big criticism of people who brag about working by themselves. I find it indicative of like individualism that's indoctrinated into us because of capitalism. It's something about individualism and the ego that's like "oh yeah, I did that" and like yeah, props to you, but there's so much beauty in working with others, and so many ideas that can come from group work and organizations in general. My efforts these days are to work with people, as many people I can.
Cola Boyy - "Penny Girl (Fan Version)"
Does that extend into playing with people live? Because you just went on stage by yourself before, right?
Yeah. The live sound is something that can't be replicated. I'm no dictator or anything, but It's just difficult to find musicians who are able to navigate the music in the way I want it to sound, but also flexible enough to add in their own sound and ideas too. Moreso, it's hard finding people that I can relate to. When I send out a call for musicians I tend to get a lot of white people. And I have no problem with white people. But it's hard to find people to be relatable with. But even me being a disabled person, I can count the number of people on one hand that I can reach out to and talk to about being disabled. When I do solo shows with just me and a sampler, I really like it too. Because that fact that I'm a disabled dude right on this fucking stage right in front of you, rockin' a set, that's an important thing to convey. There's power in that.  
Can I just clarify something, what is your disability?
Basically I was born with spina bifida and kyphosis and scoliosis. Spina bifida is the thing that affected my body and caused the kyphosis and scoliosis. I was also born with a clubbed foot, and I actually have a prosthetic leg too. It's a process for me right now, especially doing the music thing and understanding myself and growing and figuring out what I want to represent. I think it's important to acknowledge that detail about myself as well. Like it was even difficult for me to say that right now. I wasn't going to say it. Then I was like, fuck it.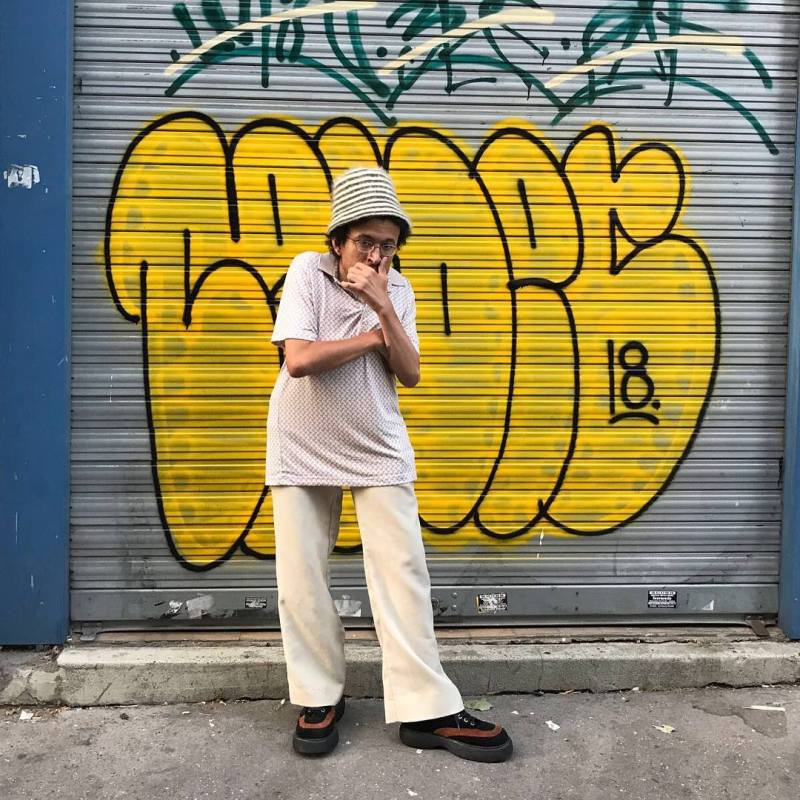 As Cola Boyy, do you feel like you have to a representative for disabled folks?
When I first started doing this project, and this is kind of indicative of how I lived my life, I thought when I step on stage nobody would notice, but that's not indicative of my everyday life. In reality, I step outside and people look at me, and make fun of me, and stare at me. There's no escape no matter how many people know me or where I go. I've come to that understanding. I want people to like my fuckin' music, and like what I have to say, but I never want to be a novelty. Being disabled is part of what makes me who I am. It shaped my outlook in life. It's who I am. I'm proud. I'm not a fucking novelty. I want to write good songs, and play shows, and make people think about shit, and also have a good time and dance.     
Did your political awakening come when you were starting Cola Boyy?
I grew up in the punk scene, and punk is supposed to be political. The words were all political and I thought I understood shit. I thought I had a grip, but looking back there was a lot of lip service. Those lyrics aren't very well applied. I wasn't radicalized 'til right when Trump announced that he was running for president, or maybe a little after. And that actually was around when Cola Boyy was starting. I was invited by a close friend to a news reading seminar, and she didn't even tell me it was radical. But she said it was a bunch of black and brown people who read the news together and analyzed it. I went, and it was dope. Then we started doing a book seminar on the Black Panthers. We read the Huey Newton reader, and we started doing radical film screenings, and that was the formation of my organizing.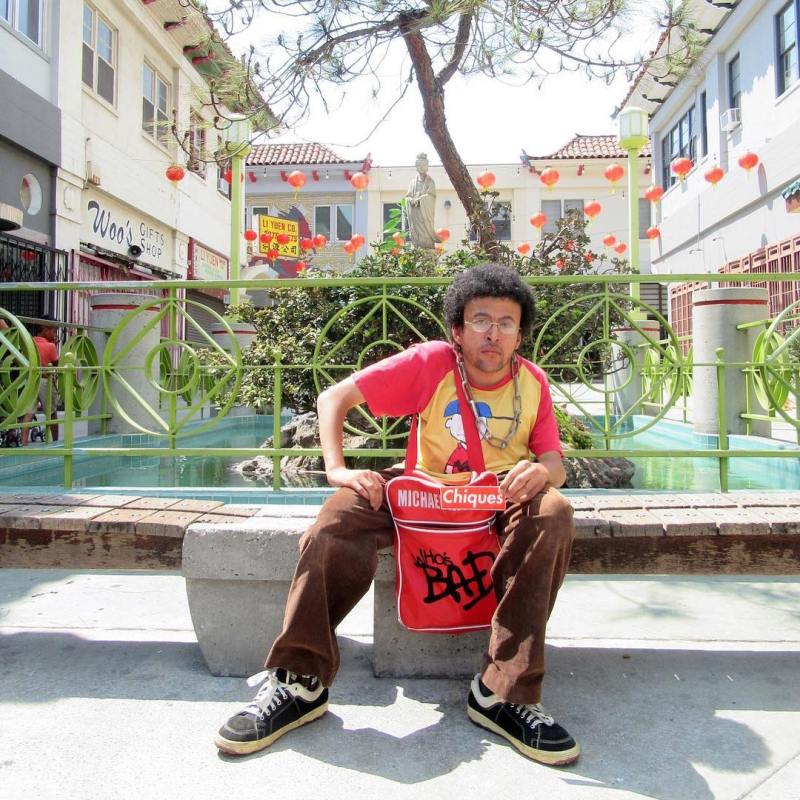 And that lead into your involvement with Todo Poder al Pueblo? Did you help start that?
I did not. It was started in 2007 as an immigrant rights group. We also tackle police brutality, which is a big issue in Oxnard. There were people in the reading group who were a part of Todo Poder al Pueblo and they invited me to a coalition meeting that happened when Trump got elected.
What does the collective do?
We've done "know your rights" presentations, and marches, and we've worked with families of victims of police brutality in Oxnard. We started looking out for police checkpoints too so people don't fall into DUI checkpoint traps. If you look into the statistics, most things that they get people for isn't DUIs, it's other bullshit. They're trying to find undocumented people without papers. We're doing tenant rights right now. Like in L.A., the housing situation is really fucked up right now. Gentrification is hitting Oxnard real hard. So we helped to organize some tenants into a union. We try to build a relationship with our community and the people around. We're taught in this society to not engage with our neighbors or engage with our community, we're taught to just keep to ourselves, and we're trying to break that habit with our organizing.
What's next for your music career
?
In September the EP [Black Boogie Neon] is coming out. But right now I'm starting to write and record for my album. I'm reaching out to producers and musicians that I like. And I'm trying to put together a band in the L.A.-Oxnard-Southern California area.
And you're staying in Oxnard?
Yeah. I couldn't imagine living anywhere else in the United States. This is where the work is that I'm a part of, and devoted to.
Sam Ribakoff is a multimedia journalist and documentary filmmaker from Long Beach, CA.
Stay in touch
Sign up for our free newsletter