L.A. Taco Guides
The L.A. TACO Guide To Eating Veg: Taco Crawling On The Eastside
11:35 AM PDT on May 21, 2021
This is volume one of our new guide to the best vegan and vegetarian tacos in Los Angeles.
"How can you be vegetarian if you're Mexican," was the second most common question I received in elementary school, only after, "if you were on a deserted island, would you eat…" (the answer is no). 
I was born and raised vegetarian into a family of four generations of vegetarians and I'm a proud child of Mexican immigrants. In my home, these two identities never came into conflict. The food on my table was always completely vegetarian and authentically Mexican—it was made by Mexicans, after all. Outside of my home, the little vegetarian options my family had were far from our high desert home, reserved for L.A. and Orange County, and the dishes rarely if ever resembled the food of our culture.
Before the social media boom of the last decade, plant-based dining was rare. One of the best ripples of this boom has been the growth of plant-based diets and dining. In the last decade my family and I have watched as our options have grown. 
Since 2010, many of my friends and peers have transitioned to plant based diets, and because of my background, I have become the go-to veggie guru among them. Now, I've used my veg-edge credibility to put together a list of some of my favorite plant-based tacos, starting with East L.A. County, to deliver my fellow veg-heads from the evil of terrible tacos. We'll check out a couple of vegan menus, then shed some light on a meat-centric L.A. TACO favorite that vegetarians and even vegans can hack.
1. Masataco - Whittier - 14103 Lambert Rd, 90605 - (90% Vegan w/ meat options)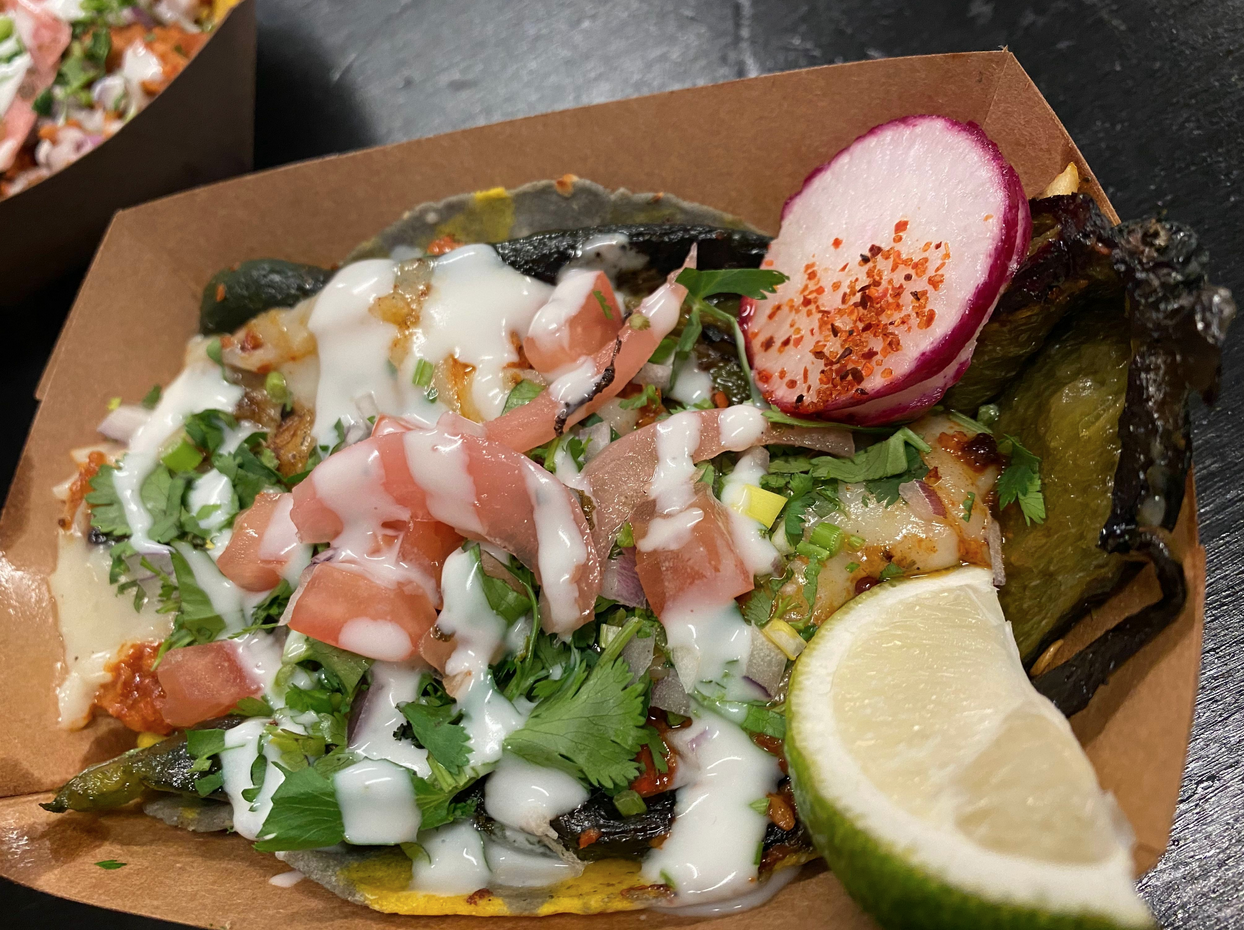 My first stop is Masataco, where I met with Chef David Fuerte. Masataco is no stranger to The TACO. Featured last spring for supplying Whittier with PPE and other essentials in the onset of the pandemic, it is also one of our L.A. TACO membership partners (members get a free taco). 
"We never intended to be vegan," Chef David tells me. Instead, Masataco started in 2016 as a food truck that served all kinds of tacos. At the time, Chef David wanted to incorporate healthier options for a client base that was growing conscious of what they ate, so he included some vegan items. All crafted from the mind of the french trained chef, the few vegan options were an immediate hit. Overtime the vegan menu grew and soon made up 90 percent of sales.
Chef David hasn't looked back since. 
Within seven months, the doors of Masataco opened promoting fresh, handmade tortillas and a vegan menu in a scratch-kitchen. It was important to the Chef that traditional meat options still be available to allow families to dine comfortably together, but he assures me that the meat is kept and prepared in different areas. Before I eat, Chef warns me, "don't expect fast food. Good food takes time. Each tortilla takes eight minutes from press to grill, so be ready to wait 20 minutes at least."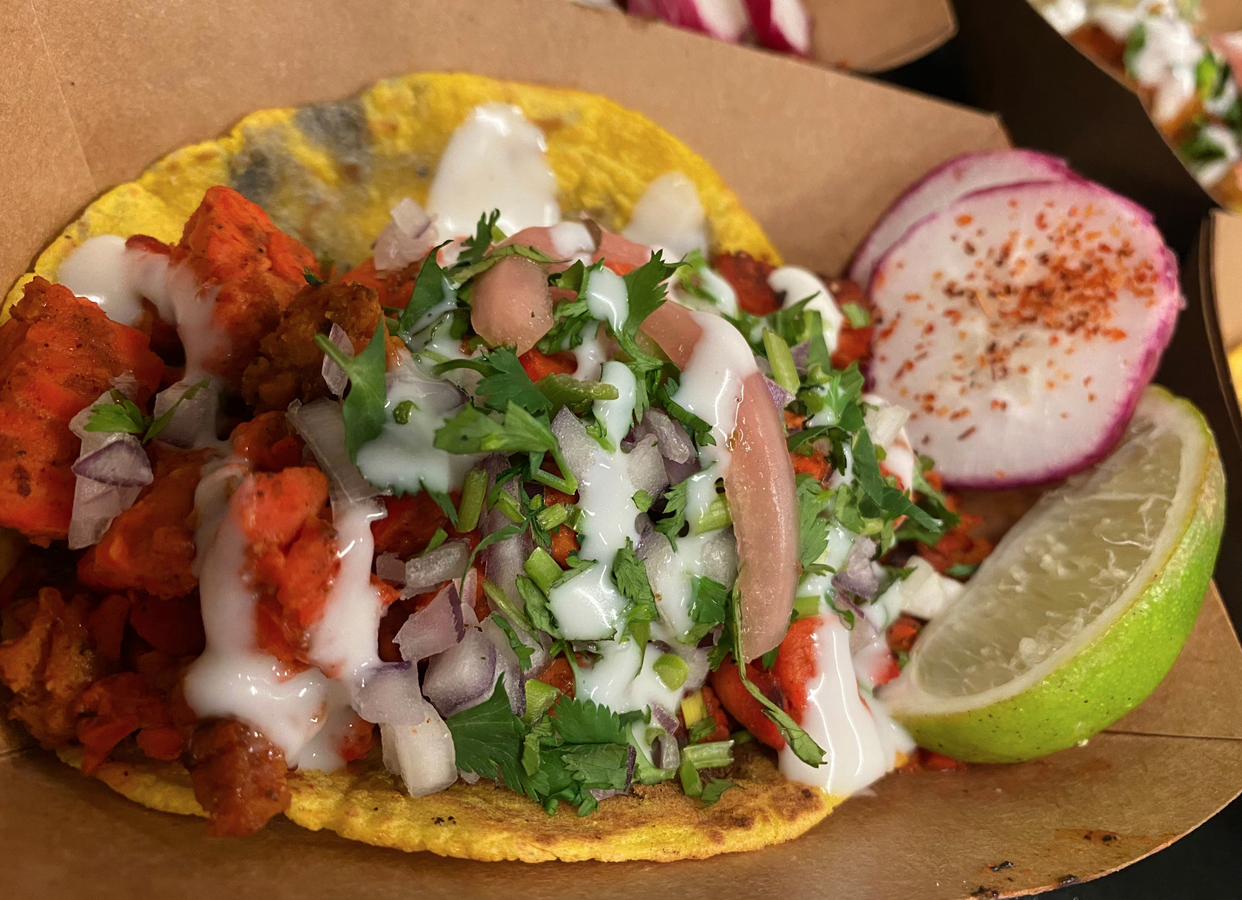 Chef David offers the largest taco selection on my trip with ten vegan tacos. I tried almost all of them but they were fresh out of vegan shrimp. The remaining line-up featured asada, al pastor, tinga, carnitas, chorizo, rajas, buffalo cauliflower, and two specialty tacos: the birria and the chile relleno.
The stand out was the al pastor. Made from in-house tempeh, it carries a perfect crumble and body and nicely absorbs the chile and tangy citrus flavors. This taco best demonstrated the thoughtful balance of flavors that all the tacos embrace.
All of my handheld treats come con todo: onions, cilantro, crema, pickled onions, and a fresh squeeze of lime that marries the ingredients wonderfully into something more gourmet dressing than toppings. The asada was as salty and seasoned as you want it to be, while the oyster mushroom carnitas have the chew, pull, and char you want; the rajas are my personal pick, the squash and cheese medley that accompanies the roasted chiles combines two childhood favorites: calabacitas and rajas con crema. 
But if you want to be blown away, go with the chile relleno taco. A mountain of a morsel, this taco comes loaded with a long, roasted chile pasilla, stuffed with vegan mozzarella and soyrizo, and topped with the con todo "dressing." Every taco served on a delicious, handmade, black-charcoal and seamoss corn-masa tortilla, made fresh to order (as everything is at Masataco).
2. Veggie Y Que - Uptown Whittier - 12924 Bailey St, 90601 (100% Vegan)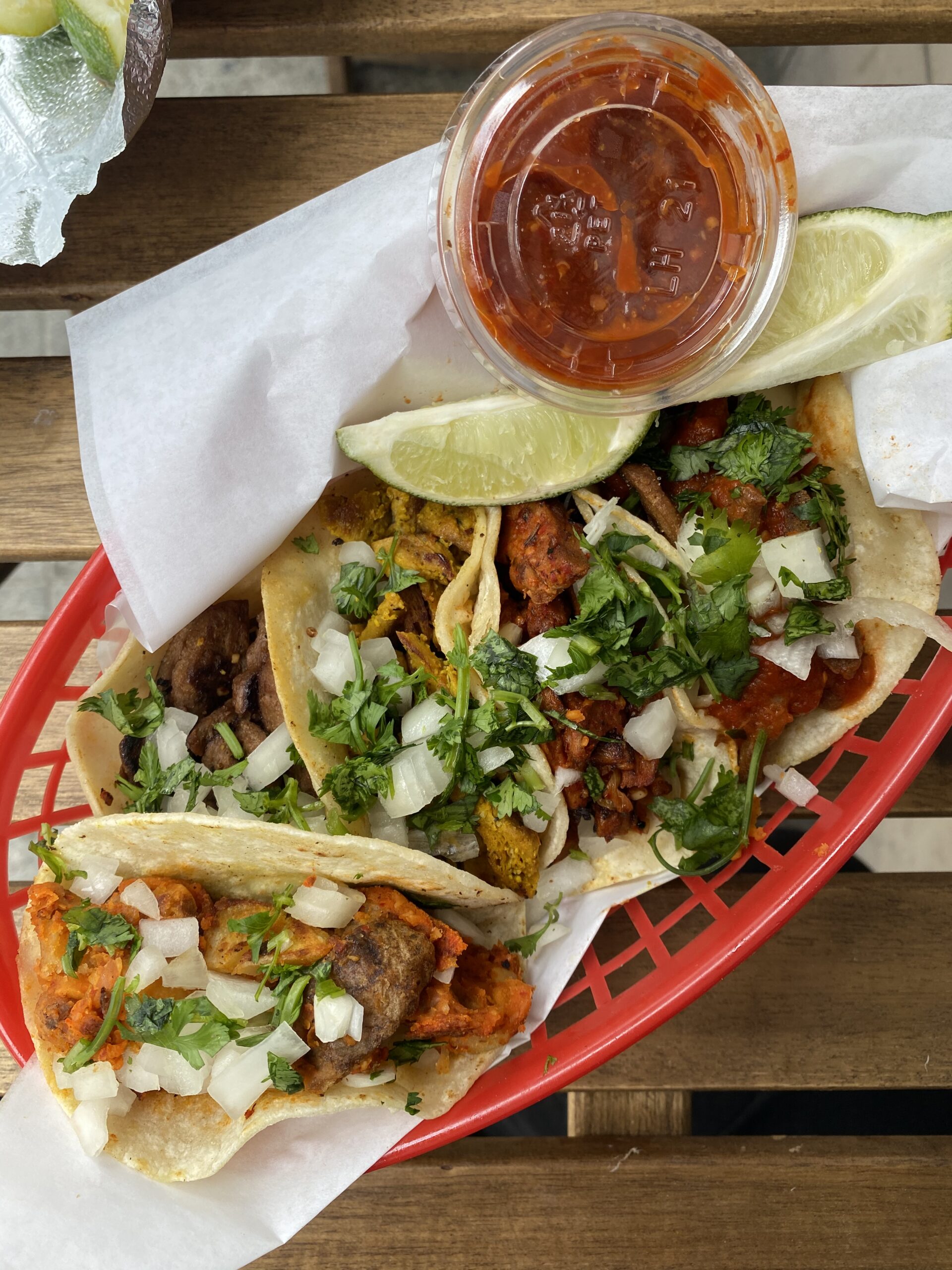 In Uptown, I met with Laura Jardon, the owner of Veggie Y Que. We talked as her team prepared for the day, a stream of regulars keeping rhythm as we chat. 
Veggie Y Que opened in December of 2018, almost two years after Laura Jardon became vegan. Jardon tells us that she had been involved with animal rights activism for seven years, but her culture and identity were obstacles when transitioning to a cruelty free diet.
Her perception of the vegan diet of salads and smoothies didn't fit her Mexican identity and culture, so she made a decision, "I'm gonna take vegan out of the equation, and I'm gonna make it Mexican."
She started from her Mexican perspective, and veganized her home recipes, just like mom used to make. Soon, she started posting her dishes to Instagram, which blossomed into a following that became pop-ups and is now Veggie Y Que, the brick and mortar store. 
I take a seat outside as Laura hands me my first basket and I ogle at the mounds of meat that spill from folds of corn tortillas. I set the feast of five tacos down carefully next to my coca, and I take a moment to behold the sight. The menu calls them Street Tacos, and the basket brings longing memories of the treats served up by taqueros I never had the chance to savor as a kid.
After my meditation, it's time to dig in.
My first bite is chicharron. This is new for me. While the more common asada and al pastor are staples of mexican vegan dining, this was my first encounter with this crispy cut. The airy, crispy texture is unmatched. A truly unique combination of crunch and chew, the soy protein absorbs flavor well and crisps nicely with lightly charred edges.
The asada similarly carries a char, but the meat has more pull and body for a bigger, juicier bite. But the al pastor is king; the adobo is spicy, deep, and tangy, and the small chunks of meat are thoroughly coated. Jardon shares that when she met her boyfriend, he ate her al pastor happily for three weeks, mistaking it for the real thing before being shocked with the truth when Jardon took a bite from his plate, exclaiming, "I'm calling the vegan police!" For Jardon, this is the ultimate compliment, and after destroying the taco in two bites, I nod in understanding.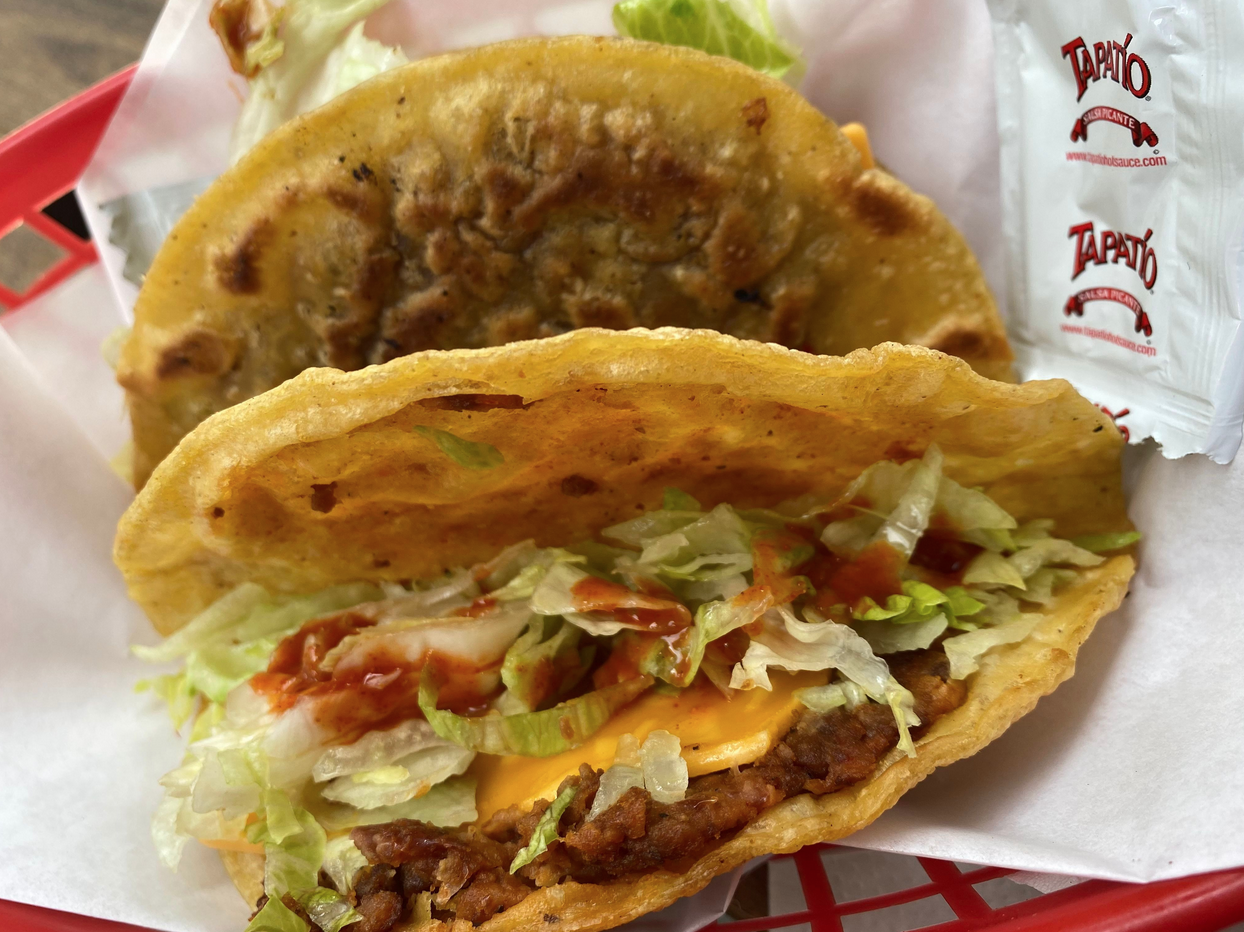 The second basket, a champion of my trip, is the "outta the box tacos," a homage to the Jack in the Box drunken, late-night classic. Laura tells me, "It was my favorite before going vegan, the one thing I would crave." And I can relate, kinda. Even before the burnout borracho days of my early twenties, the Jack in the Box taco was an elusive enigma of easy comfort in a crunchy shell. A thing of legend, my childhood friends touted their taste, and rumor had it, the tacos weren't made of meat anyway. (The consensus seems to be they're at least 30 percent soy. I won't take my chances.) All of that to say, I had waited my whole life for this moment. 
The tortilla is fried crispy, with a delicate crunch that effortlessly gives way to the soft, warm filling within. The filling tastes as close to the real thing as you're gonna get, Laura spent countless hours researching and perfecting the recipe so her ground beef could taste like she remembered. And her quest for authenticity didn't stop at detective work, when her staff suggested melting the slice of their American cheese earlier in the process for an easier build, Laura shut the idea down, because everyone knows the real thing comes with that familiar, rectangle slice. The deep fried delicacy is topped with fresh, cold lettuce and accompanied by a packet of tapatio for the final finish. All together, each bite made me nostalgic for a food I'd never had before.
3. Garduno's King Taco - Baldwin Park - 14604 Pacific Ave, 91706 (50% Vegan, 50% Traditional)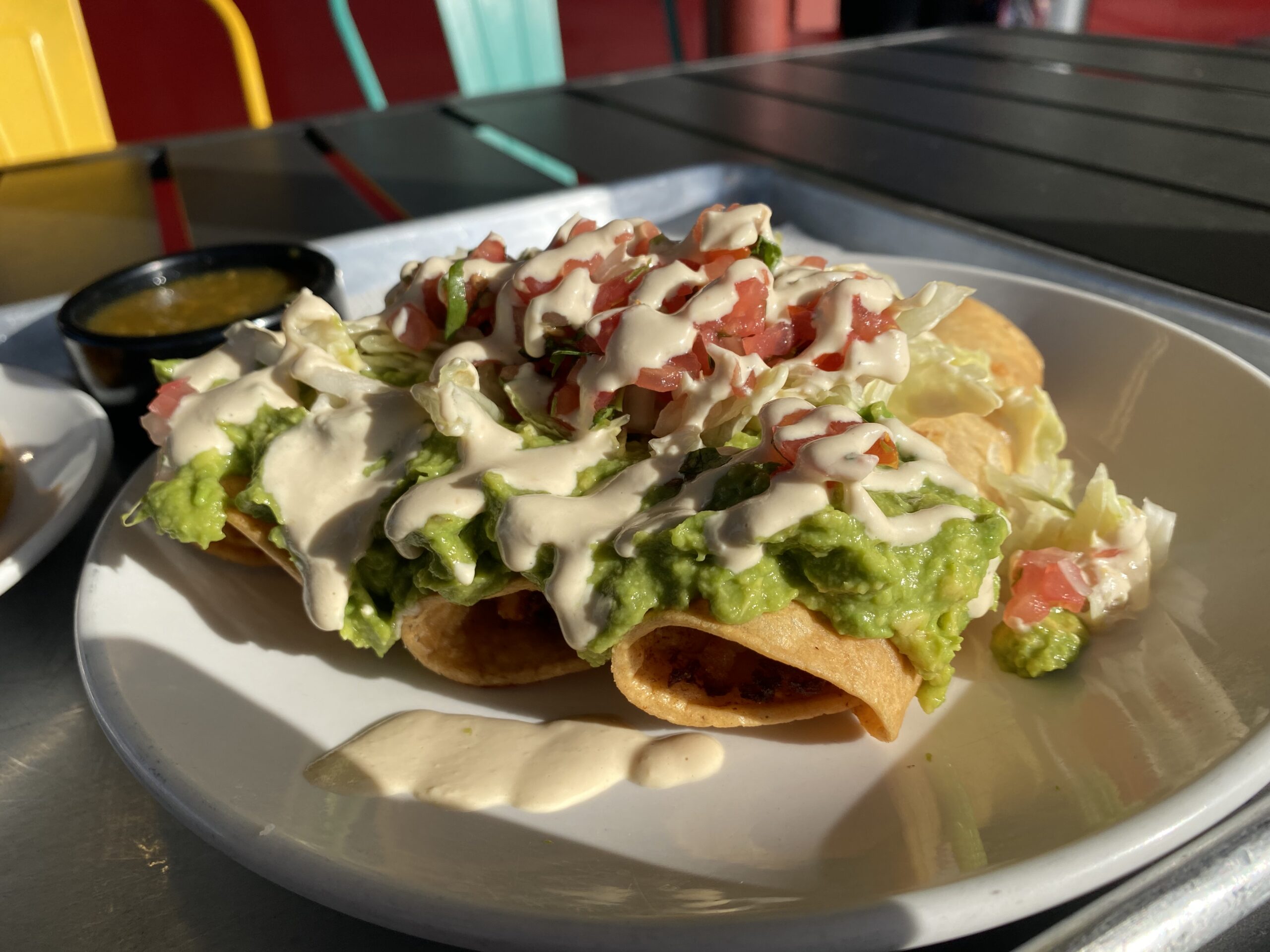 Gardunos is up the 605 freeway, and a short drive through Baldwin Park. I met with Jose Mejia Jr. on the patio of a corner restaurant that reminds me of the mid-century burger windows I'm too young to reminisce over. The history hangs heavy as we chat.
He tells me that his family has owned and run the place since 1987 when he was just a kid. It wasn't until a few years ago, when he became more involved with the business, that he suggested adding vegan items to attract a new customer base. The decision was a hit and soon a new steady base of vegan diners frequented the neighborhood spot. These very customers eventually influenced Mejia Jr. to adopt a vegan diet of his own two years ago. 
Now a vegan chef himself, he tells me he hopes to see more high-end vegan chefs elevate the cuisine with his level of passion. "I know the love that goes into cooking," Mejia Jr. says. With that he's excited to share his food with me, so we head to the window. 
Garduno's vegan selection is impressive for any establishment, but even more for a classic taco and burger joint. Most of the classics you might crave are made vegan, but we're here for tacos. The potato taquitos are a familiar favorite, mashed up potato inside a rolled tortilla and deep-fried, then loaded with plenty of guacamole, lettuce, and crema. The jackfruit verde taco edges out the rojo, but just barely; both feature a deep and true chile flavor that covers the jackfruit, but the verde has just a bit more sazón. The adobo cauliflower has a rich adobo flavor with an airy crunch of cauliflower, the perfect light option. The quesa birria taco is accompanied by a dipping salsa that adds the right amount of kick to the creaminess of the cheese and the savory bite of the birria.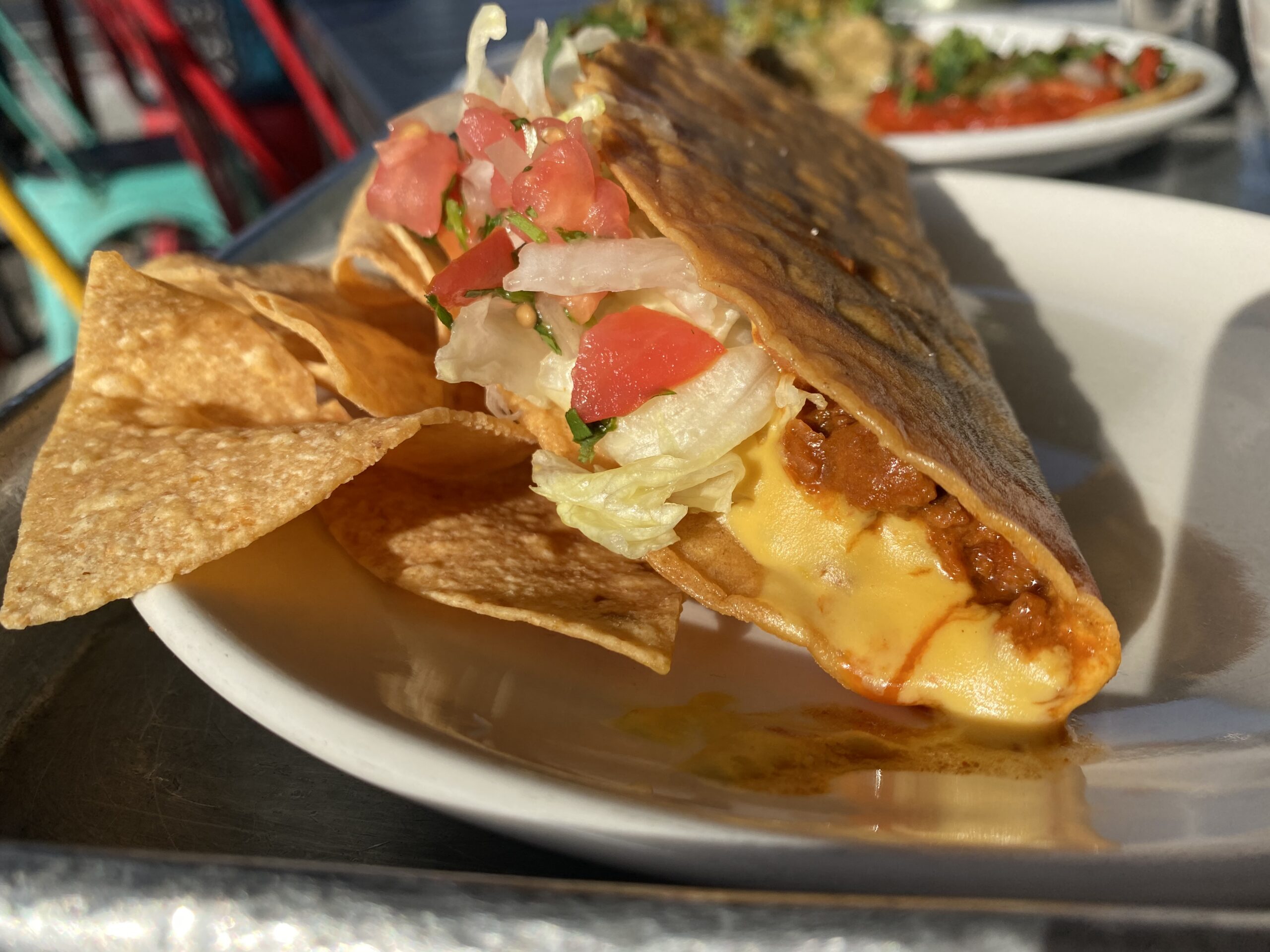 The twin-kitchen influence shines through with the chili cheese taco, a deep fried hard shell taco, filled with classic diner chili, and topped with lettuce, pico de gallo, and loads of nacho cheese.  Every taco but this one is prepared with a freshly made corn masa tortilla, but Garduno's has a final trick up their sleeve: a chili puff taco featuring their chili on a tortilla of deep fried corn masa that crisps and puffs into a delicious chalupa, the whole thing topped with fresh lettuce and tomato. This is their best taco by far, but be warned, it's a specialty item, only available on occasion! 
4. El Ruso - East LA - 1401 Mirasol St, 90023 (Non-Vegan w/ vegan and vegetarian option)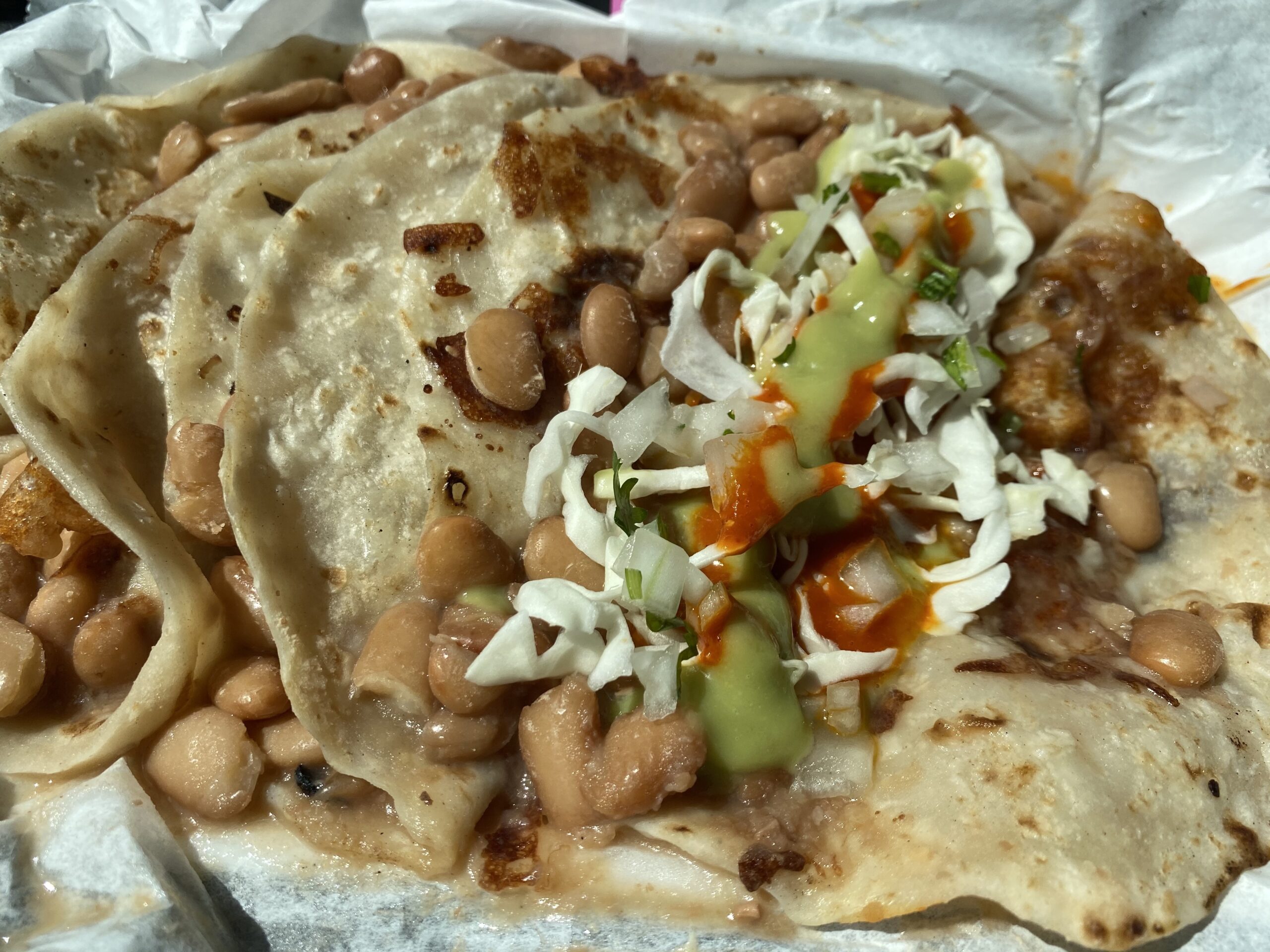 El Ruso is an L.A. TACO Legend. He has on one of our signature hats on when I arrive. I let the ladies behind the register know why I'm there. "Oh, Walter said someone from L.A. TACO was coming, but we thought it was gonna be Memo." Walter, the namesake and captain at the helm has stepped out, but the ladies are kind and helpful in his absence. Walter isn't vegan and El Ruso is famous for tacos of very real, very saucy meat, so there's little to discuss that The TACO doesn't already know. 
On this day though, I've stumbled between warehouses and vacant lots for one reason: fresh, handmade flour tortillas that have haunted me like specters since I first saw them. El Ruso doesn't specifically cater to plant-based diets, in fact, the menu at the truck doesn't even list any options for vegans or vegetarians. But go online, or ask for help and you'll be introduced to the one veg-head friendly item: a bean and cheese taco. 
The tacos are simple, or maybe humble. I get a jamaica and a plate of four tacos de frijol: just tortillas, queso, and frijoles de la olla. The juice from the whole beans spills over onto my pants. I've been here before. When I unravel the foil I remember being a kid and visiting my nána in Sinaloa and how the only thing I could eat was tortillas, queso and frijoles de la olla, because the secret to great refried beans is manteca, lard, every plant-based Mexican's greatest enemy. They put that shit in everything. But El Ruso doesn't, not in the tortillas or in the frijoles, so we're good to go. 
I make sure to pile on everything: cilantro, onion, cabbage, guacamole, and plenty of salsa, all the ingredients present on my parent's table nightly. I take my first bite and immediately the salsa kicks my ass. I pour on more before diving in again. The tortilla is better than I imagined, with a soft floury finish that boasts authenticity, it is truly a star, chewy and salty, but with a starchy sweetness. The tortilla is placed on a bed of cheese that rests on the griddle, resulting in a chewy, melted layer between the tortilla and crunch of burned cheese. The beans are salty and earthy, just like at home. Before I know it I'm done with the plate. 
While the taco de frijol is technically vegetarian, you can ask for no cheese for a vegan experience, and while this location is in no way made for the veggie crowd, this taco is my overall favorite of the trip. This may come as a shock to some, but it's no shock to me. 
Heri grew up in the High Desert but spent most of the last decade as a SoCal nomad before ending up in Whittier. A multi-disciplined writer, Heri strives to use his words to encourage thought and change.
Read More:
Stay in touch
Sign up for our free newsletter