Covina
Chasing Down the Rhino: Catching Up With REV Brewing's Alex "Rhino" Rebollo
10:15 AM PST on December 5, 2014
I really like jazz.  I bring up jazz because I've always loved one thing in particular about it...the way groups shout out their "personnel." If you are part of a good jazz band (even a bad one)...odds are you'll be called out by name during a show to acknowledge your contribution to the ensemble. When they do, it's time for your solo. Everyone gets their shine. But with that comes responsibility...you have to show and prove--you  know, be able to keep your seat. You can't f--- it up. One bad note and it's a wrap. Craft beer is a bit like jazz. It takes a solid squad to produce great beer. No slouches. Everyone has to play a position...and play it well. You have to do your part; otherwise, things can go to sh-t very quickly. Improvisation is encouraged, but you better nail it. Everyone's watching and waiting to see what you've got.
So for this post, I wanted to give some shine to Alex "Rhino" Rebollo...a guy who has contributed his everything in helping build a true LA beer culture---one we can be proud of. I credit him for being an integral part of sparking this whole pedo. Like in jazz, you gotta give props where props are due. Have you heard of this guy called Rhino? If not, then you're probably not deep in this beer game. Let me explain.
About 4 years ago, I was trying to bring a craft beer from Tijuana called Insurgente into the LA market. You may be familiar with these guys now after their collaboration with Stone and Chris Banker for "Xocoveza." But back then, they were one of the few Mexican craft beers really killing it at beer competitions around Mexico...and even getting some attention in San Diego. Man, I was so eager to get them into LA. Only issue, I kept hitting bumps in the road. I was so ready top throw in the towel.
But  I kept hearing the name "Rhino." Everyone I spoke  to told me I had to meet this guy. I heard he was from East Los (like me), knew his stuff, and had been cool with Greg from Stone from Day 1. He was even around when Greg was trying to slang a brew that would later be known as "Arrogant Bastard" back when LA was not really ready for it. Dude also wrote for the Beers In Paradise guys, was a fixture in brew circles, and would most likely be someone who'd be able to help me--or at least point me in the right direction. Funny, he started to sound like a "Godfather" figure or something. I was told you were not legit unless this guy said you were. Long story short, the Insurgente thing fell through, which sucks, but I gained a good friend nonetheless. Word on the street is he is now part of REV Brewing out of Covina...a new brewery that has been gaining a gang of buzz. I'm really looking forward to checking them out when they open to the public on Friday, December 5-- AKA Today. Hope to see you there.
Without further ado...let me introduce you to my friend, Rhino. Salud!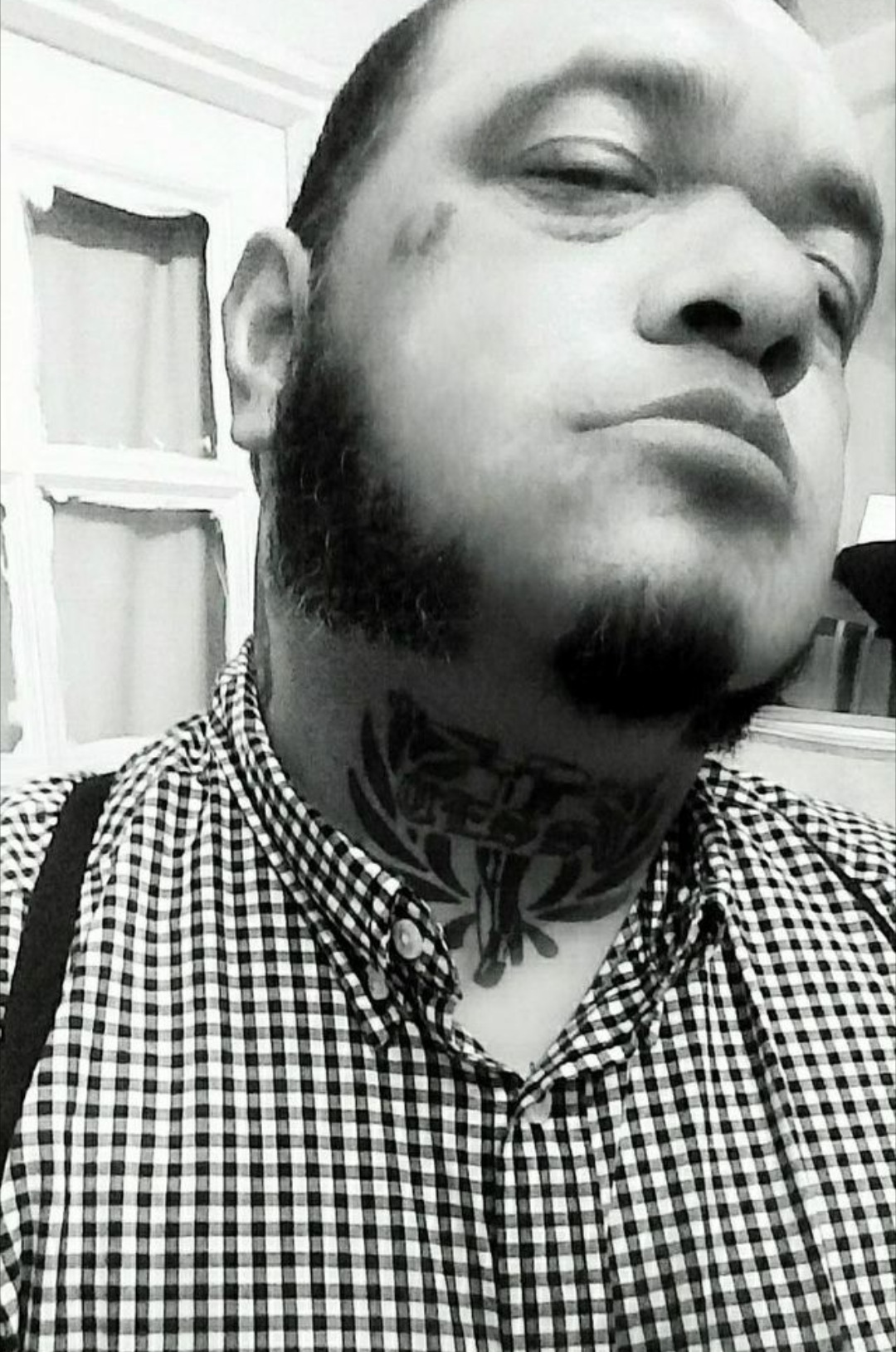 CN: You're a veteran in the craft beer scene. When and how did you get into it?
Rhino: When I started high school, beer was all just called beer...no such thing as craft beer. My older brother came home one day with a six pack by William & Scott from Huntington Beach, Ca called "Rhino Chasers." He said, "Hey, someone named a beer after you, so here." I was called Rhino for years by my best friends, Frank and Leo, so I rode it after fighting it for years.
I also learned they gave a portion of their sales to rhino preservation organizations, including the African Wildlife Federation. I was sold...so I bought every style beer they had...even went on the phone and ordered shirts. Sadly, they closed in 1997.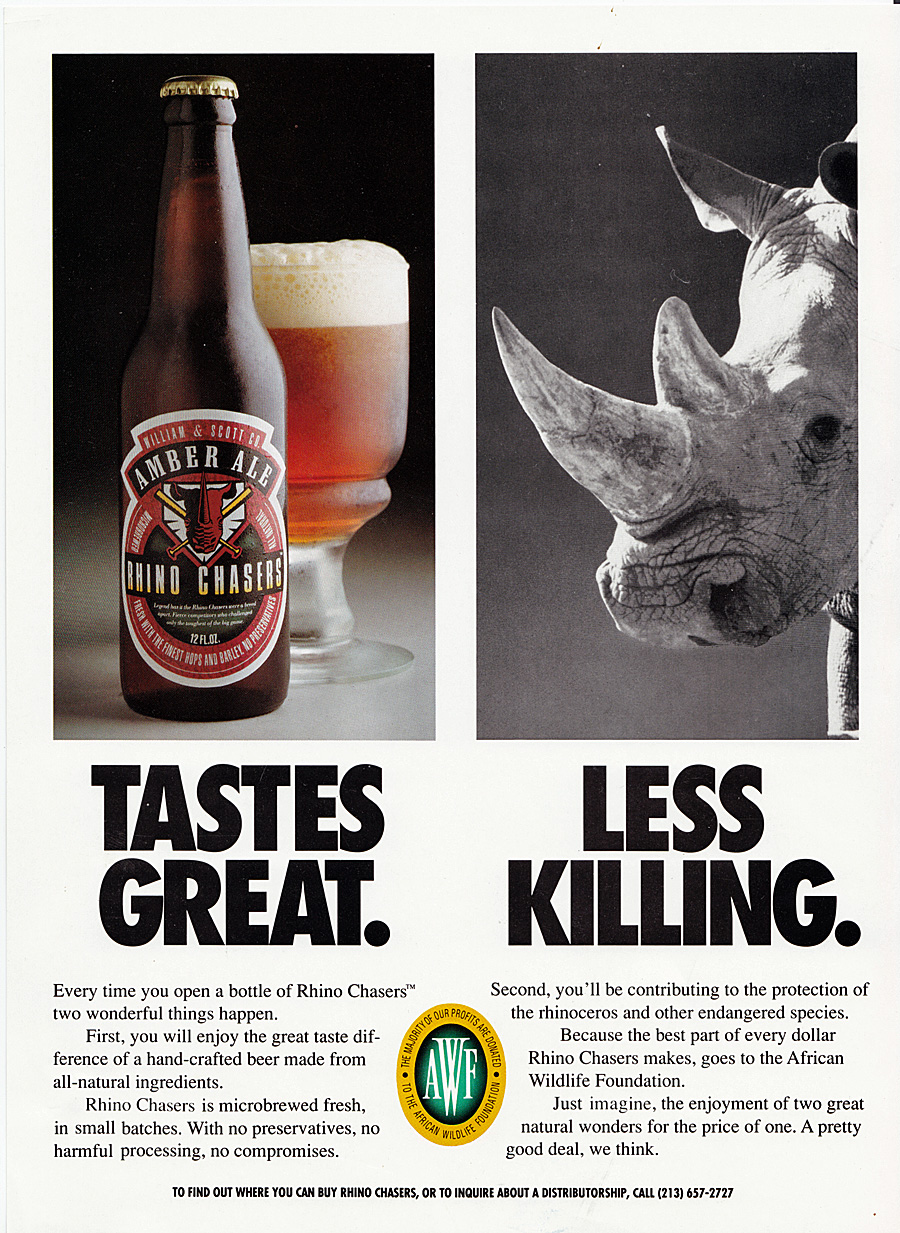 Then comes in Sam of Stuffed Sandwich who thought me  about Belgium beers, then a crazy ale by two local home brewers: Greg/Steve. It's now known as "Arrogant Bastard Ale" by Stone Brewing Co. Between knowing Sam and the Stone guys, I was introduced to Dave at Lucky Baldwin's in Pasadena where I spent 3 days a week for years learning from him. I soaked in his knowledge about real Belgium brews. Between spending my days at Stuffed with Sam and Marlene, knowing Greg and Steve from Stone, and gaining some knowledge from Dave, I think I was taught well. Sadly, we lost Dave first, then Sam next.  May they both rest in peace. Los Angeles will never know what they lost.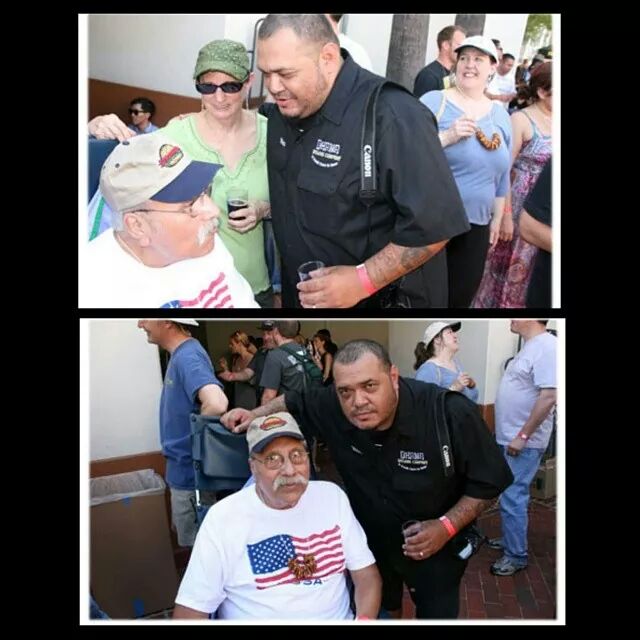 CN: You have become a popular fixture in the LA beer scene and have covered it for a few website sites…even your own, right?
Rhino: Yeah, that came out of nowhere...not what I ever expected. I had a cousin who knew these guys who started on the first L.A. craft beer blog and recommend me to them. I refused for a long time. It was not what I wanted to do. But the day I met them face to face and had a long talk, I was in. Started writing for them...Beers In Paradise. After the craft beer scene blew up, things got wild, so I started a little site of my own: Rhino's Ruin (www.Rhinosruin.com).  I've been a little silent lately, but I want to revive it hopefully soon. Maybe not...not sure yet. Been MIA for 11 months, but I'm happy and glad I came into this scene when I did. There're so many great people and brews.
CN: What do you choose to cover? What do you try to avoid?
Rhino: Everything. I cover it all, I love all brews, flavors, styles, etc...just got to be right for my palate. One thing about me and everyone knows, I don't kiss ass or lie. If I don't like it, I'll tell you. I've had many test brews that were crap, but then had the same beer later and was amazing. All beers change, no matter what people say. Different hops, different brewing techniques and different brewers.
CN: How has the LA craft beer scene changed over the past few years? What has been good? What has been bad?
Rhino: Well last few years its been a boom in L.A. after San Diego being the hub of course for many years. It's all been good. Lots of new breweries coming up hard, and craft beer is in the forefront, just ask InBev and the other big guys. Bad? Well, I personally think it's like the market. I've said this many times and I know its going to piss people off, but some breweries will not make it. Don't get me wrong, its booming, so I'm probably wrong, but don't be surprised when that brew you want is no longer available. There're  so many more new brews coming up and new breweries being founded, so I'm excited to see what they come up with next.
CN: You've been cool with Greg from Stone since Day 1 (and have the tattoos to show for it)…How did you get to know him?
Rhino: Funny story, again I was thought by Sam at Stuffed where it all began as a homebrew club. Years later, I messaged Greg, told him I had a tattoo already done, but wanted to take it up a notch because all the tatts that had been popping off recently with Stone's logo. He wasn't keen on it, so I bugged him a couple more times, but never heard from him. Then 8 years ago he messaged me saying, 'I'll be in Long Beach tonight meet me.' I was like 'Fuck yeah!' It was my bday too. So I went and met him. We talked awhile and realize our connection went past beer. I've managed a few Punk, Oi! and SKA bands. It turns out we always played under his apartment in L.A. while he attended USC. Crazy, but not even the campus bar would offer their beer. 'Too strong,' they said. Well, he signed my arm with the motto: "Cheers to the Arrogance," and I got that tattooed. We've been friends ever since. Great fella. Great friend. I've had a lot of health issues, but always got a call from him asking how I'm doing. Don't care what people say, but this is one legit motherfucker.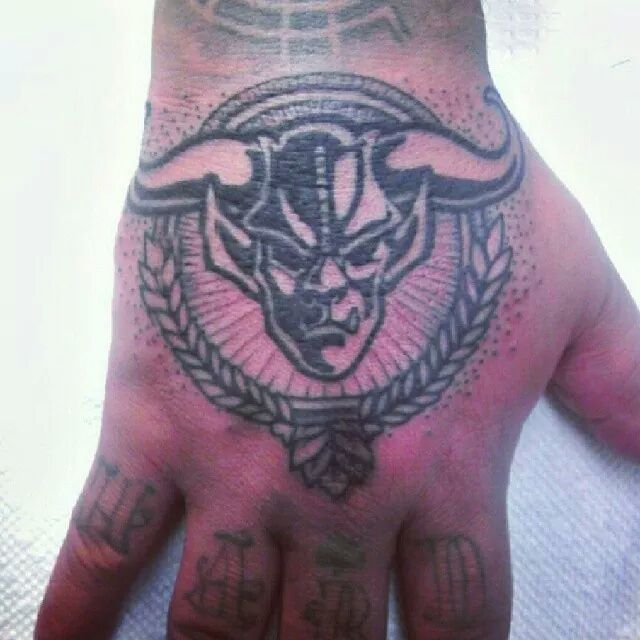 CN: How has Greg impacted the game? People are kinda split on this…but what do you think of Stone's rapid expansion?
Rhino: Well we've had a lot of talks, I can't answer this. I'm not Stone. But the expansion, you know what? Fuck yeah! Do it! Haters are gonna hate. They don't know the facts or what's behind the walls. Say what you want, but it's a good thing. Not hard, people. Do some research. Craft beer is coming to you.  Enough of the shitty tasting beers. Enjoy what's coming to you, stop crying and hating. This goes with any brewery really. If you have a great product and want it fresh across the U.S. then why complain?
CN: You collaborated with Ohana Brewing for a series of brews… the Rhino Series, which included Rhino's Ruin, Rhino's Redemption and Black Rhino.They all really impressed me and a lot of people in LA (Japan even, I hear). How did you link up with Ohana? How did you come up with the recipes for the beers?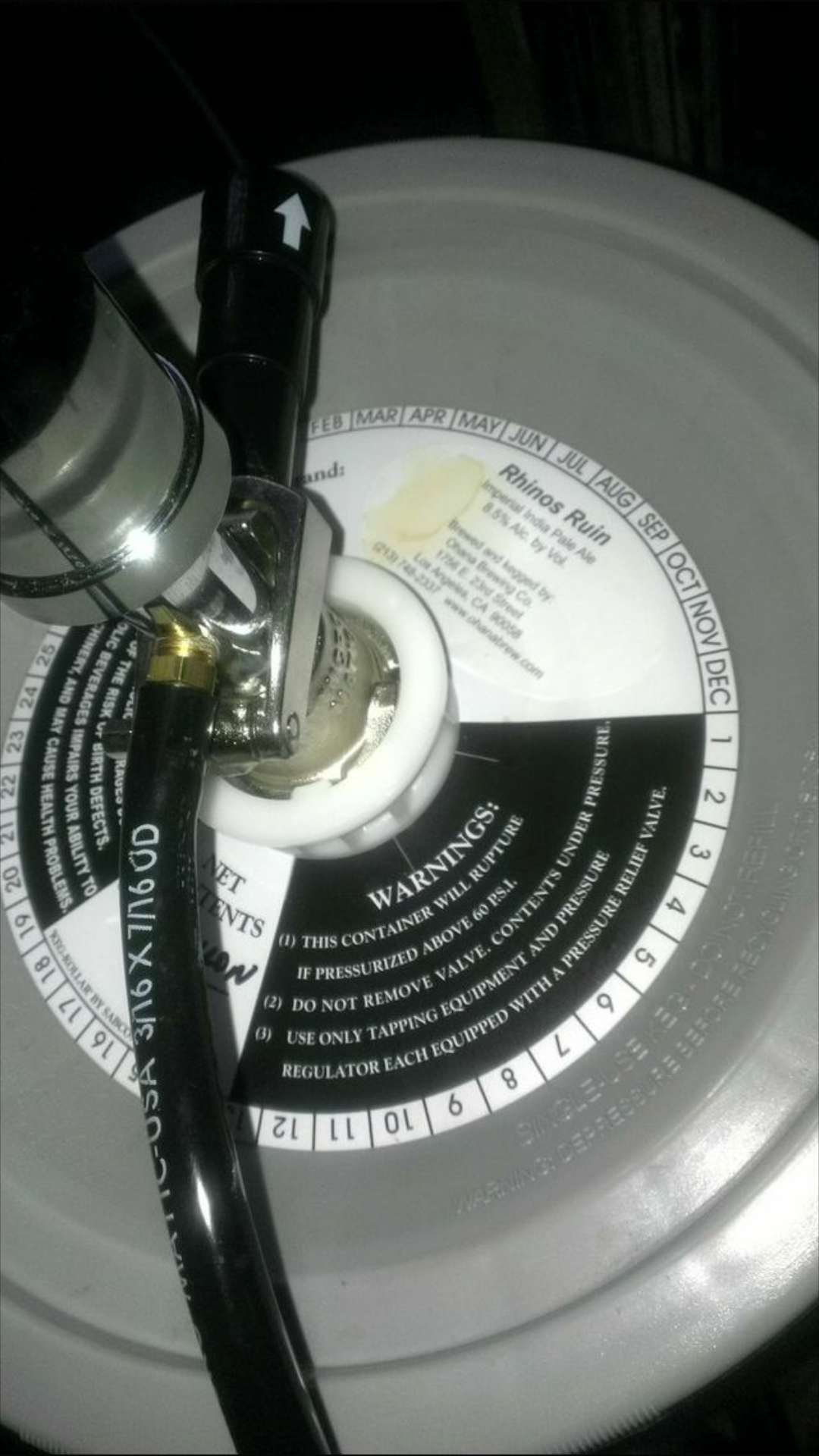 Rhino: I met Andrew Luthi when he was trying to open his brewery, Ohana Brewing Co. Great fella, lots of ideas and beers in mind. He knew I did a few pilot home brews I was never happy with. So one day he asked if I would give him ideas of what I wanted and what I wanted to use. So I sent him some ideas. A week later he came back and said they thought they came up with what I wanted and wanted to name it after me. I have a tattoo on my forearm that says 'Rhinosruin.' They liked how it sounded. I was floored…I was like, 'What the hell?' Of course I said  yes and they brewed it. "Rhino's Ruin" was born an IPA. The following year they wanted to continue the series with "Rhino's Redemption," a double IPA. This one had a limited bottle release. I was surprised how fast it sold out! The third one was changed up a bit, when a new brewer came on board. It was a black IPA. Some batches were infused with coffee…amazing stuff. I was also part of their tasting room opening.  Great brews and family. Their tasting room is a must visit in Alhambra, Ca.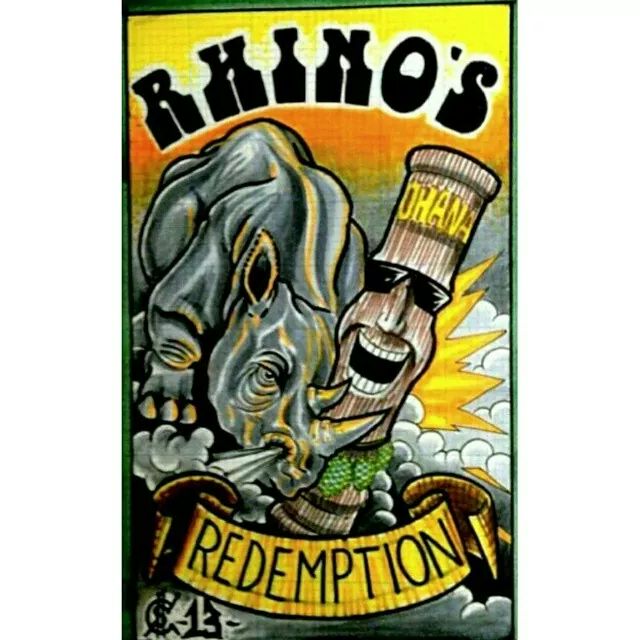 CN: You grew up on the Eastside and are known for being into SKA, reggae, roots, etc… how do you think music influences the craft beer scene?
Rhino: Yes, lived in East Los many years and both my kids grew up there. Music influence a lot in life, and especially socially. You go to a backyard gig, concert, etc…what do you do? Most people drink. A good example and finally glad to see them in California is SKA Brewing Co. from Colorado. Yes, named after the music style known as SKA. Great brews! A must try brew.
CN: You have a background in music. What have you done and with whom have you worked with over the years?
Rhino: I just managed a few Oi! bands from Southern California back in the late 80's/early 90's: Fullyloaded, Toughskins, and helped out Bovver Wonderland and a local SKA band called The Vessels. I did a lot of shows down south in Tijuana, Mexico...mostly punk/Oi/SKA. After 9/11 happened, I quit it all. But, I was lucky enough to meet many well known artists all these years who are close friends now.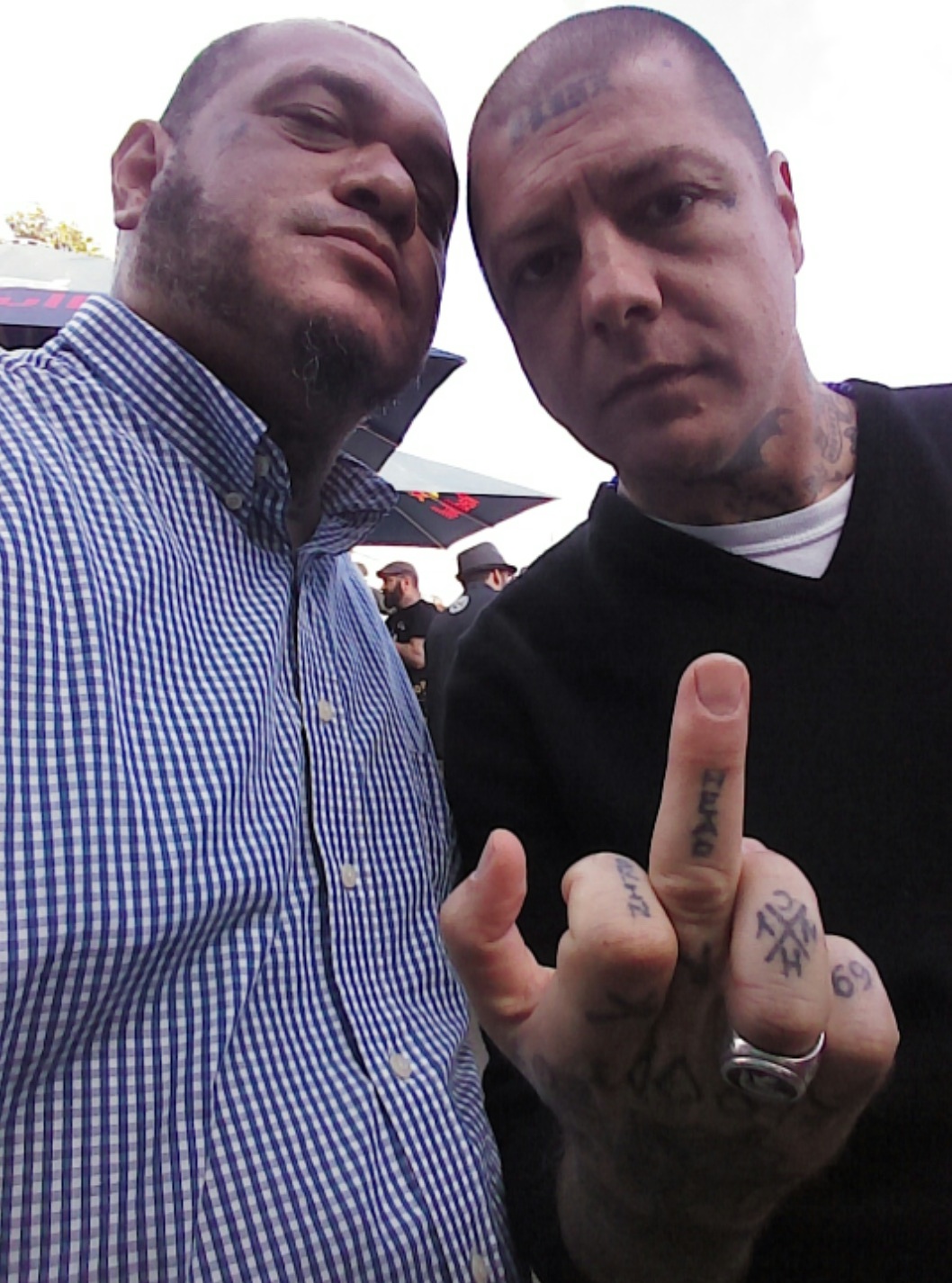 CN: What are some of your favorite craft beers? Any underrated ones?
Rhino: Well, Stone Brewing Co. Ruination kicks ass. I think the under rated one is Hop Stoopid by Lagunitas Brewing Co. Such a classic IPA.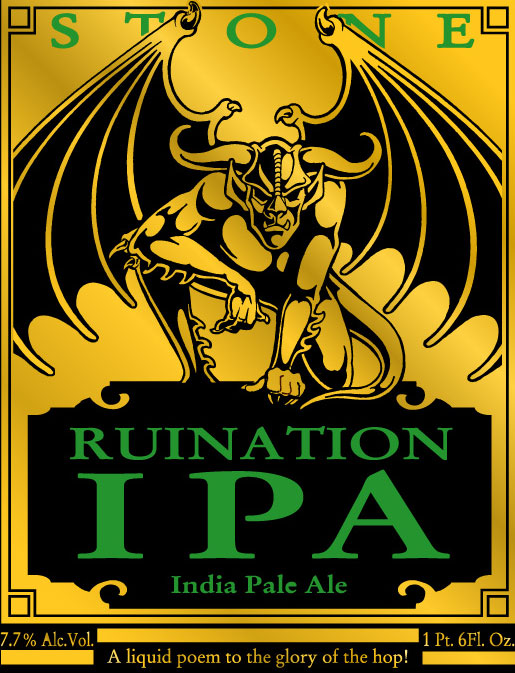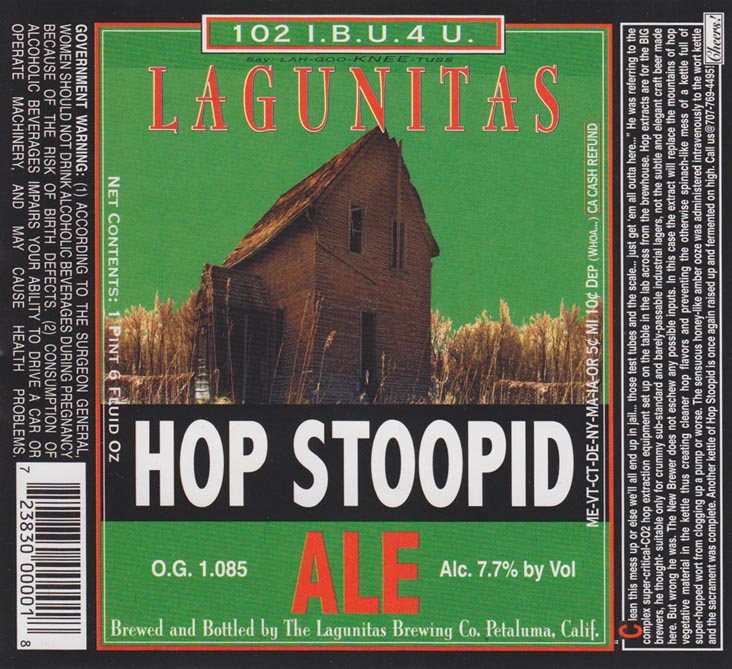 CN: Do you drink brews outside of craft? If so, what kinds do you like? Any favorites?
Rhino: To be honest, I don't,  but I'm really interested in the Mexican craft beers. I hear nothing but good things, I'm glad that they're making a huge change from that crap they only had available to them. I've had my share of crap brews growing up that weren't craft beers.
CN: Are you into tacos? What are some of your favorite spots—and what do you like to order?
Rhino: Wow, I love tacos!! Who doesn't? But I ain't gonna lie, I always enjoyed tacos in Tijuana. I still haven't found a spot that comes close. Yeah, I know, I hear there're many good places in Los Angeles, so let me get to them and I'll answer you then. I do frequent Tacos Omañas in South El Monte. They have great dorados. I'm a sucker for al pastor.
CN: What styles of beers, in your opinion, go best with 1.) carne asada 2.) carnitas 3.) al pastor
Rhino: Carne Asada, I pair it with a Stone Arrogant Bastard Ale. Carnitas...I'd go with a hoppy IPA like Lagunitas Hop Stoopid.  Al pastor? I'd go with a Stone Old Guardian Barley Wine. But that's just me and my palate.
CN: What's next for you?
Rhino: Well, as many of you know I've been in a cave for the last year for personal and health reasons. A lot changed for me very quickly and I wasn't able to handle it. Finally, I decided I had enough and needed to come out of this ugly place. Been looking at all my options, offers and just what I really wanted to do. I realized a year has come and gone quickly, but I got offered a dream job...one I've always wanted to do. I decided to take it, So...I'm an assistant brewer at REV Brewing Co. in Covina Ca. which is also a winery. Great people there. We're a close group that works hard. As for my writing, I'll start writing again. This time...not just beer. I'll be writing about other things. I've got a few offers that I can't mention just yet. I'm excited at the decision I've made and can't wait for you all to try our Rev beers. I'm lucky to be under the head brewer, Riggz, The guy's an amazing brewer and well know name in the craft beer scene.
For more information on REV Winery and Brewery: www.revwinery.com or on Facebook at: https://www.facebook.com/REVwinery?ref=br_tf.
"Thank you for this interview, I do appreciate all the love. I'm glad I'm still here to do what I've always wanted to do. Salud!"--Rhino
Stay in touch
Sign up for our free newsletter