Food
The 26 Best Tacos Al Pastor, Adobada, and Árabes In Los Angeles
12:39 PM PST on March 1, 2023
Here are our recommendations for the best tacos al pastor, adobada, and árabes in Los Angeles.
This list may seem needlessly specific in its varied classifications, but that only speaks to the largess of L.A.'s pastor-packed scene. Almost as well as any Sunday evening drive, when our city streets become illuminated with generator-driven strings of lights and a steady flame shining its beam on a towering vertical beehive of slow-cooked, adobo-marinated pork. Is al pastor L.A.'s official taco? By the sheer amount of seasoned pork stratas on spits, this beloved taco style definitely makes a case for this claim.
The diversity in L.A.'s al pastor scene runs parallel with a growing literacy that allows for the informed enjoyment of this slow-cooked, marinated pork as prepared by different chefs from various Mexican regions and communities.
In L.A., you'll find your al pastor tacos filled with razor-thin slices of red-stained pork butt and possibly a tiny bud of pineapple by dedicated taqueros who come from Oaxaca's Indigenous Mixe community; Tijuana entrepreneurs prone to calling it "adobada" before twisting tacos into a paper cone with a blob of bright green guacamole and a blur of superhuman speed; and tacos árabes, the similar al pastor ancestor credited to the lamb shawarma of Lebanese immigrants in Puebla, Mexico, who helped spread the joys of vertical-spit-roasted carne beloved throughout Mexico (which opted for pork and added adobo), Los Angeles, and the world beyond.
And those are far from the only influences you'll enjoy when eating al pastor in Los Angeles, especially if you're open to the types of ingenious Angelenos who stuff tacos with inky black whole octopus or mushrooms.
Al Pastor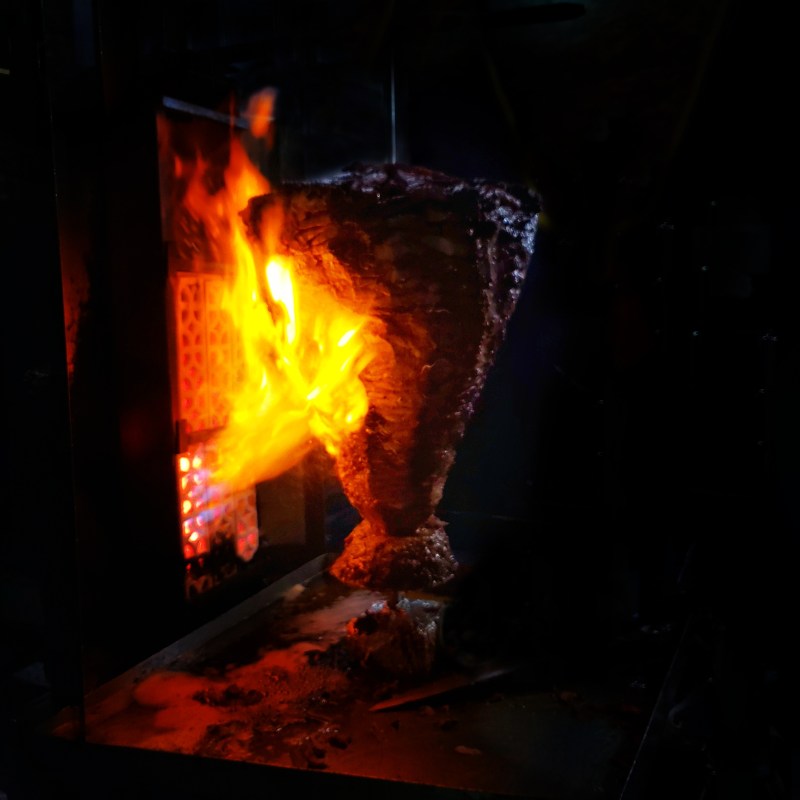 Florence
Tacos Los Güichos is an al pastor king. Its domain is a tire shop right next to the 110 freeway. They take their al pastor so seriously that you get the tacos from the person manning the trompo almost as if it was a separate leg of the company. The sound of the raging fire licking the bright red trompo is mesmerizing. At the trompo station, taqueros will prepare your tacos with a different red salsa specifically tailored to al pastor's flavors. ~ Cesar Hernandez
320 W. Slauson Ave. Los Angeles, CA 90003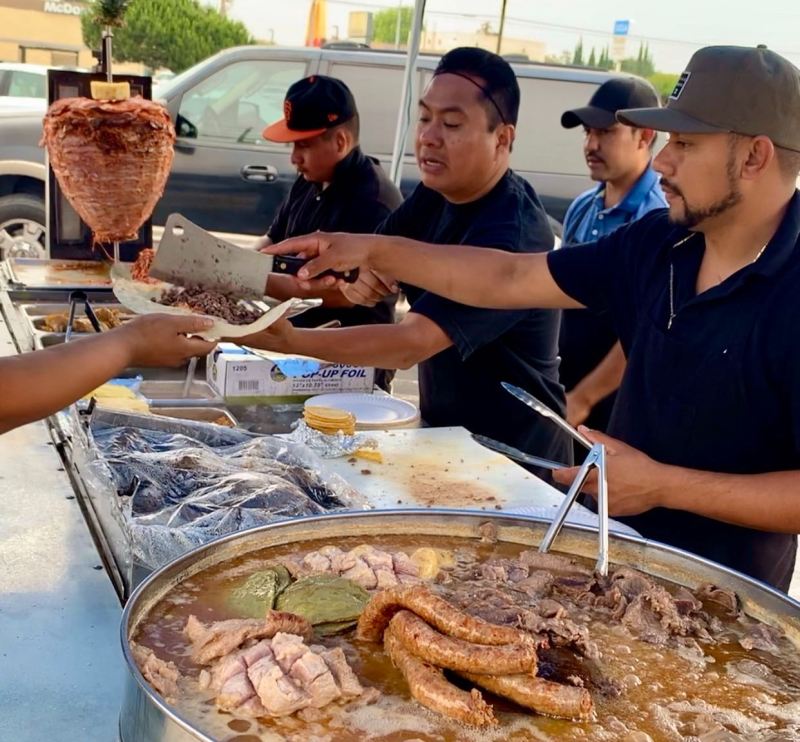 Palms
One of the Westside's best tacos, with the lines to prove it. They skin the slightly cooked pork off the trompo, then finish it on the plancha. After it reaches the ideal sear, it is served on small tortillas. The great thing about taqueros strapped with a choricera pan is that they'll have things like nopales, caramelized onions, and on occasion, potatoes, which are all readily available for your taco's supplemental needs. ~ Cesar Hernandez
11341 National Blvd. Los Angeles, CA 90064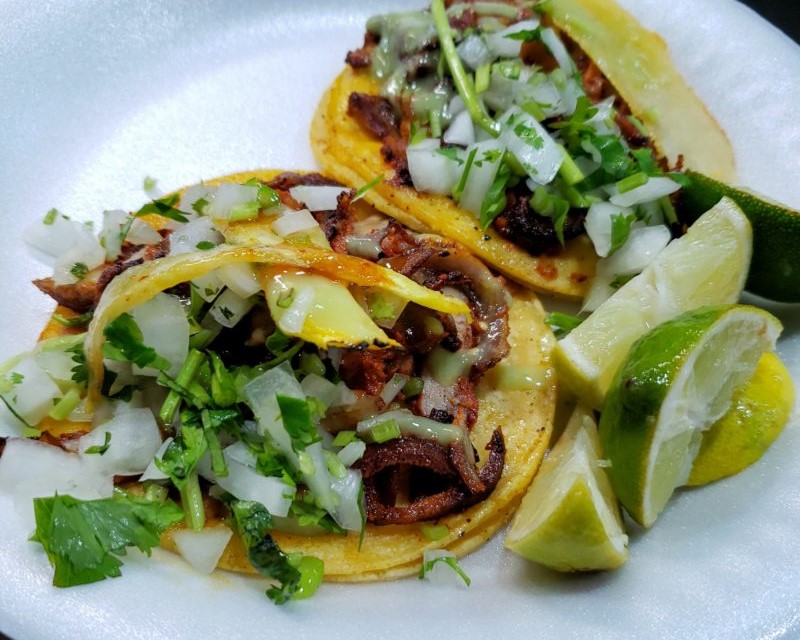 East L.A.

This lonchera is parked curbside on Whittier Boulevard, within an East L.A. pocket known for its powerful taco scene. They keep their trompo outside, so you witness the magic. Attached to the trompo rig is a small plancha where they place the shaved pork and cover it with two corn tortillas—like they're tucking them into bed. Placing the already crispy pork on the plancha for extra crispiness is what we taco-goers deserve. With a flick of the wrist, you'll see a small piece of pineapple flying through the air and somehow, the trompero always catches it. ~ Cesar Hernandez
5851 Whittier Blvd. East Los Angeles, CA 90022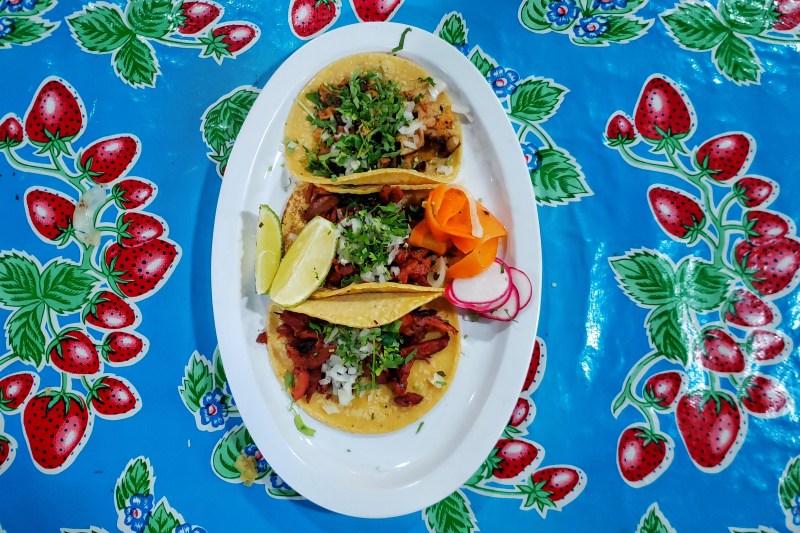 Downtown
Raul Morales has been making al pastor tacos for most of his life. It is his most precious family legacy. The pork glows red and is juicy from its slow trips around the trompo. Each al pastor taco is served with a freshly homemade curtido (pickles) of carrots, onions, and jalapenos, along with a creamy salsa verde. ~ Cesar Hernandez
At Mercado La Paloma ~ 3655 S. Grand Ave. #C5 Los Angeles, CA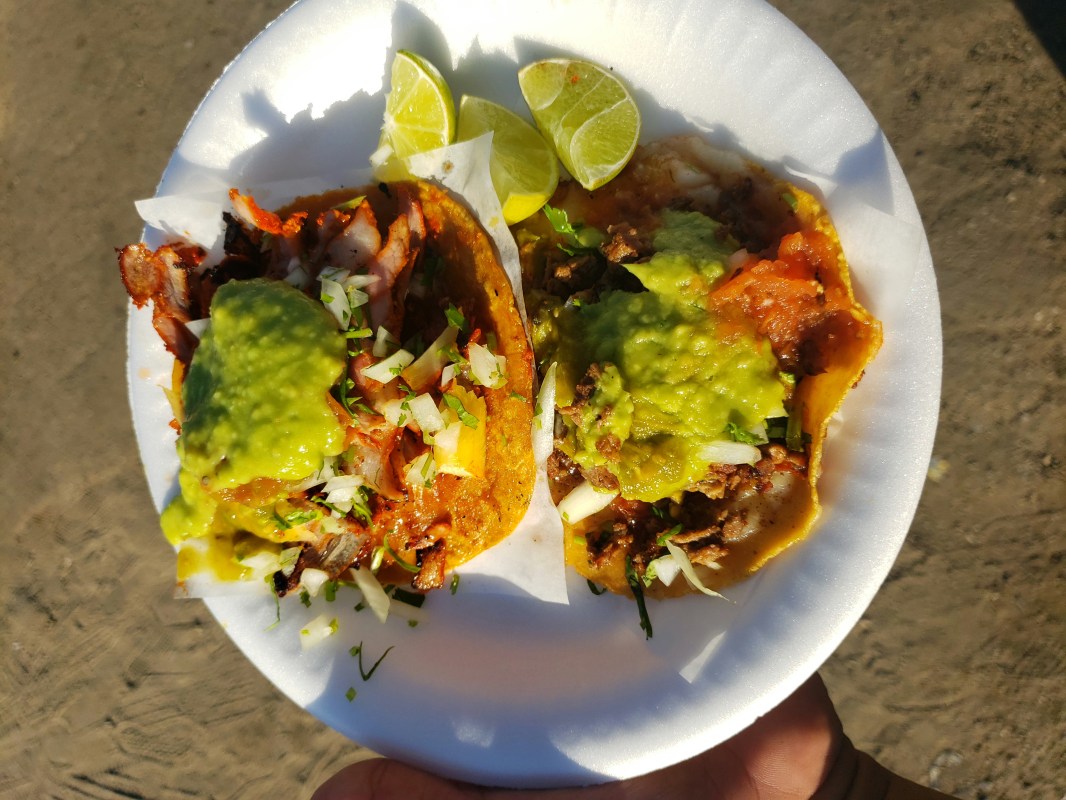 Multiple locations
There's never a lack of hungry patrons at any of Angel's multiple locations and much of that draw is its behemoth trompo. The other carnes are impressive, but al pastor is the star of the show. An impressive flame imparts a quick sear but that trusty trompo swordsman moves quicker, making sure the pork never burns. It always has the right amount of crispiness and char. Each taco comes with guacamole and they'll even dress it for you. Talk about convenience. ~ Cesar Hernandez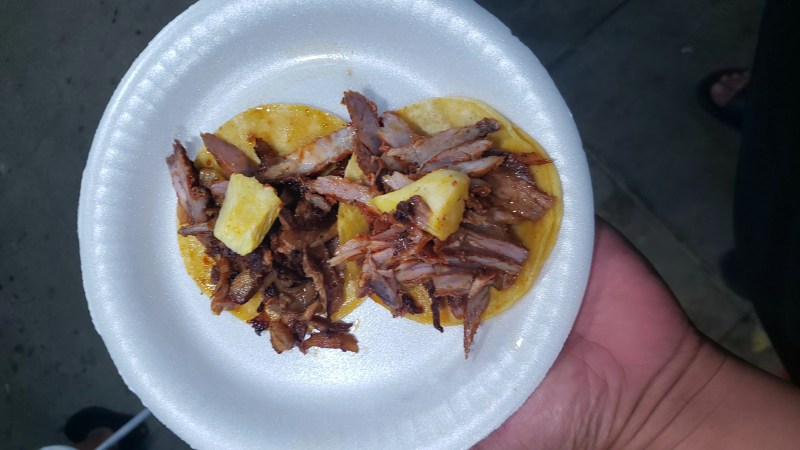 Multiple locations
Sticking to the northern areas of L.A., El Venado is a taco destination. They even made it to round two of our 2019 Taco Madness tournament. They are known for slanging burritos, loaded fries, and fantastic al pastor, often presiding over a crimson trompo scabbed over with crispy parts, just begging to shaved. The crispy bits make a textural treat that imparts a slight smokiness. ~ Cesar Hernandez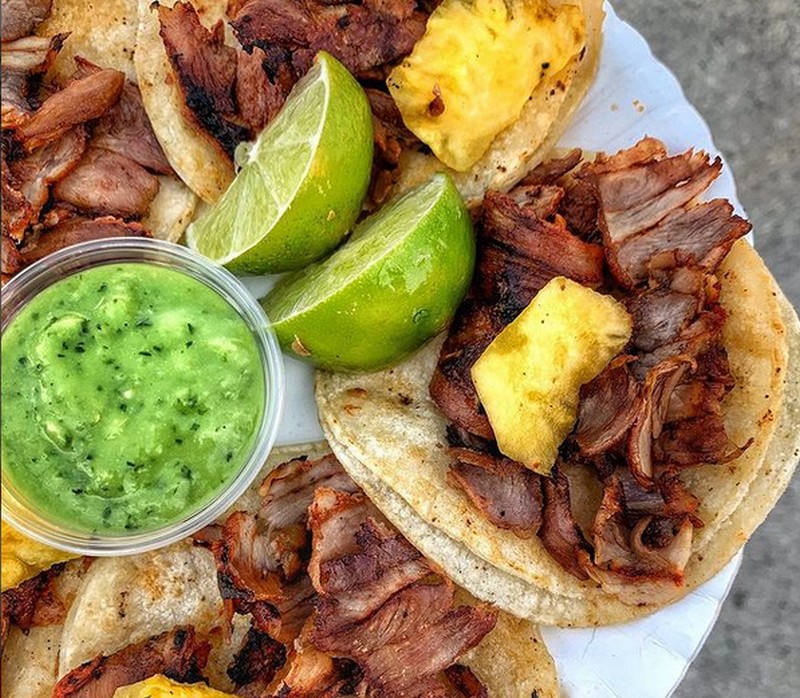 Multiple locations

This trompo flies low amid L.A.'s cutthroat al pastor game but can compete with the best in Mexico City on its good days. This pork is tasty enough to bring staunch chilangos out, who love to come and talk smack about L.A.'s taco scene. One of these tacos usually shuts them right up. ~ Javier Cabral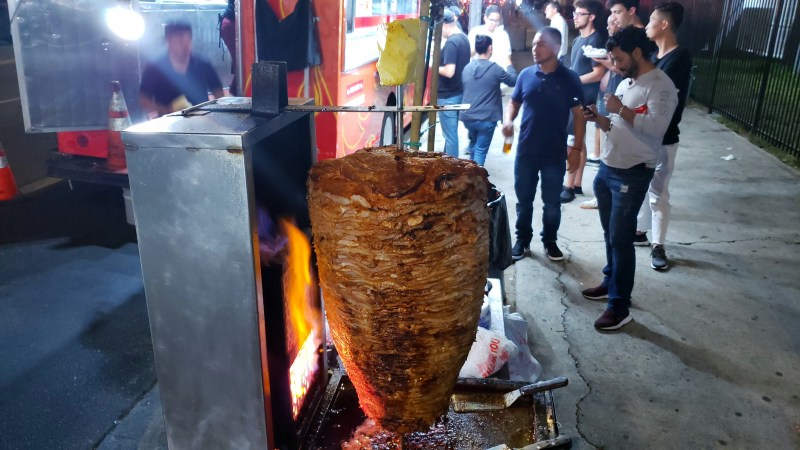 Multiple locations
The adobo used on the trompo here is heavily spiced, but not overwhelming, leading to a maelstrom of cloves, chiles, and acidity that linger slike a ghost. The salsas act as a flavor enhancer, making every bite of your taco shock the palate. The vibe around the truck offers a view into a multicultural scene that the 80s hoped to accomplish. Maybe the melting pot refers to a late-night taco experience? It certainly does to me. ~ Cesar Hernandez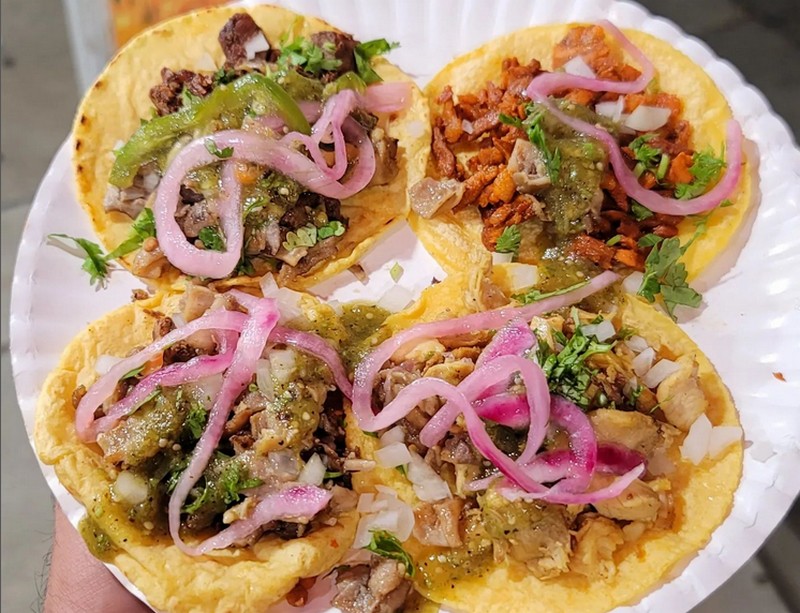 Multiple locations
The al pastor is shaved thinly from a large trompo and bears a slight crisp from the roaring flame that licks the trompo. Each taco de al pastor is topped with shaved pineapple. You can find Taco Los Palomos curbside on Vermont near the 105 freeway, with a bright green banner adorned in white doves. ~ Cesar Hernandez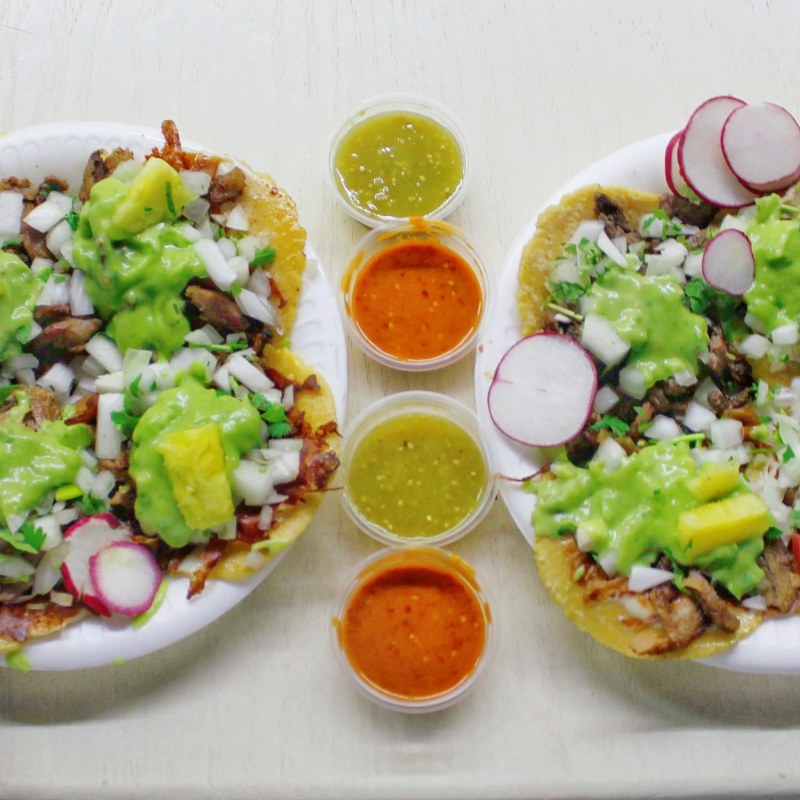 Downey

This Downey taquería is a united front of CDMX and TJ-styles on fresh handmade tortillas. The asada is grilled over flame to endow it with smokey flavor, then topped with guacamole, onions, and cilantro. Just don't overlook the trompo-roasted, pineapple-topped al pastor. ~ Cesar Hernandez
8502 Telegraph Rd. Downey, CA 90240
Mixe-Owned Al Pastor
Long Beach

The Mixe-style adobo found on many of L.A.'s pastor trompos usually has a higher amount of vinegar and dried chiles that reflect Oaxaca's similar use of these flavors in their famed chorizo. The Mixe-powered al pastor taquería playbook usually also includes supplementary options of excellent, fatty cabeza (steamed beef head), and decent mesquite-grilled asada. All these taco standards are honored at Tacos Lionel. ~ Javier Cabral
E. Atherton St. and Clark Ave., open 5 PM to midnight on weekdays, and 5 PM to 1 AM on Friday and Saturday.
Hollywood
What stands out from the al pastor at Taquería Juquilita is the tightly-stacked trompo. The layers are compressed as tightly as a chocolate babka and the crimson adobo's tinge appears to have seeped deeply into the thinly-carved pork, ensuring that it had enough time to marinate in the adobo before being stacked and impaled. The second is the trompero's slices. They are effortless and precise with each pass of the knife. ~ Javier Cabral
5944 Santa Monica Blvd. Los Angeles, CA 90038
Multiple locations
Leo's distinguished itself long ago with the employ of a taquero specializing in al pastor and a hulking trompo that signaled traffic from deep within the chaos of a bust La Brea gas station. While you can now find Leo's in a few different L.A. neighborhoods, it still tastes best to us at its original spot, late at night when surgically sliced fresh from the trompo into thin red bark topped with a wedge of pineapple that lands in the tortilla from off great heights with all the grace of Simone Biles. If this isn't enough, Leo's is also delicious enough for Bad Bunny to feature in his latest music video. ~ Hadley Tomicki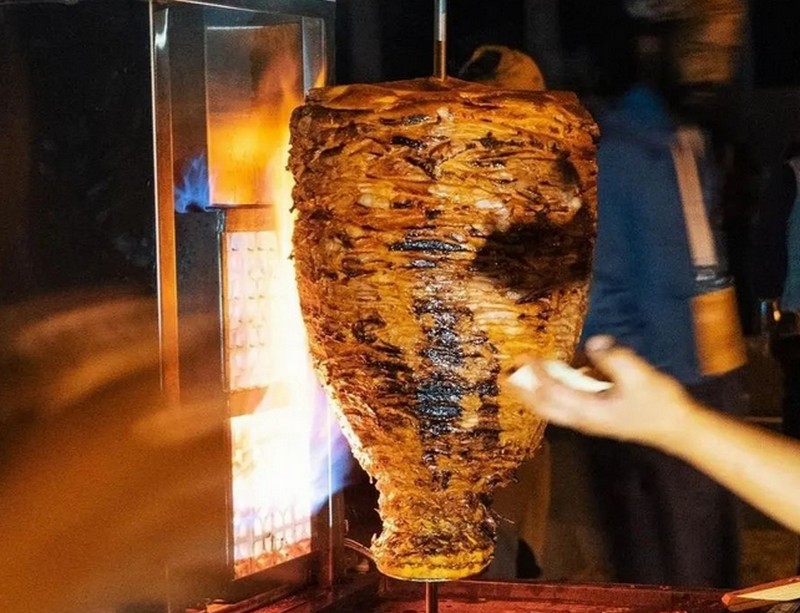 Multiple locations
Tamix is another big player in the al pastor game. After trying a taco, you'll see why. The crispy pieces of al pastor manage stay juicy even though it is sliced very thin. The tortillas are small but absolutely packed with this winning al pastor. ~ Cesar Hernandez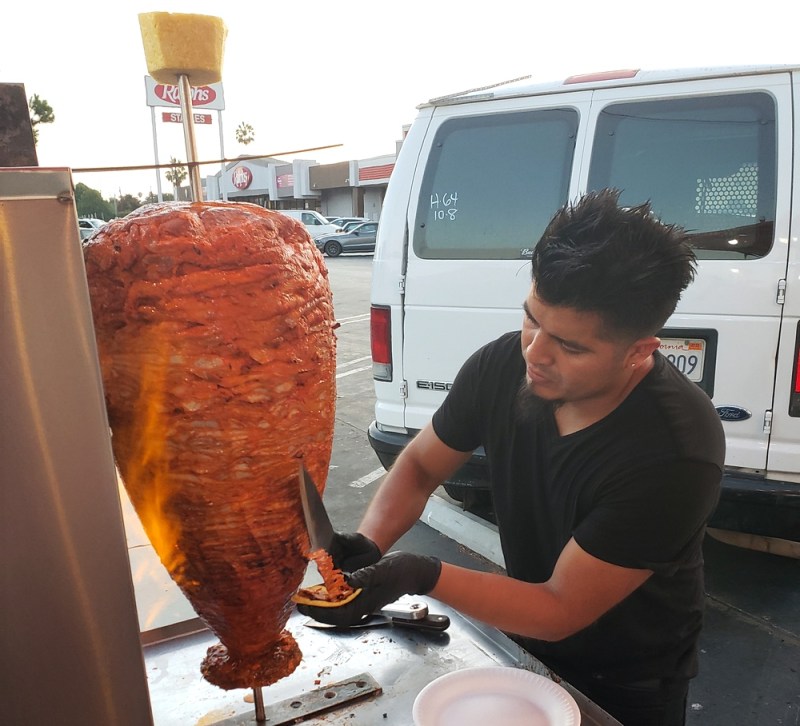 Palms
As its name suggests, the al pastor from a masterful Mixe trompero is the primary attraction at Tacos Zempoal Mixe. Its trompo is a little smaller and tighter, but noticeably a brighter orange, than nearby Brothers Cousins, a result of the specific adobo of chiles, achiote, vinegar, and spices used as a marinade here. The flavor recalls the warm flavors of highly piquant and vinegar-spiked Caribbean cooking. ~ Hadley Tomicki
1321 National Blvd., Los Angeles, CA 90064, or 2541 S. Barrington Ave. Los Angeles, CA 90064
El Monte

Tacos Tlahui is one of the best taquerías in El Monte, sending Oaxacan flavors singing through their powerful trompo of pork. The taquero will shave red slices off his huge meat cone, then place them on the plancha for a crisp sear at the last second. ~ Cesar Hernandez
12000 Valley Blvd. El Monte, CA 91732
Adobada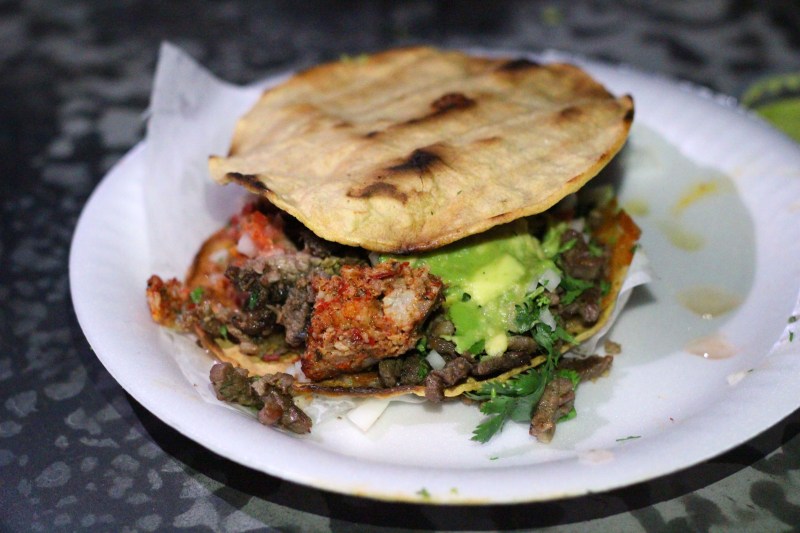 East L.A.

One of East L.A.'s best Tijuana-style tacos, Don Cuco's adobada is grilled over coals instead of on a trompo like al pastor, which they believe to be the true method of adobada. The result is a smoky, succulent pork with a clearly different taste. Try the vampiro with a blend of both adobada and asada, basically a crunchy and meaty tostada sandwich with melted cheese. ~ Cesar Hernandez
752 S. Fetterly Ave. East Los Angeles, CA 90022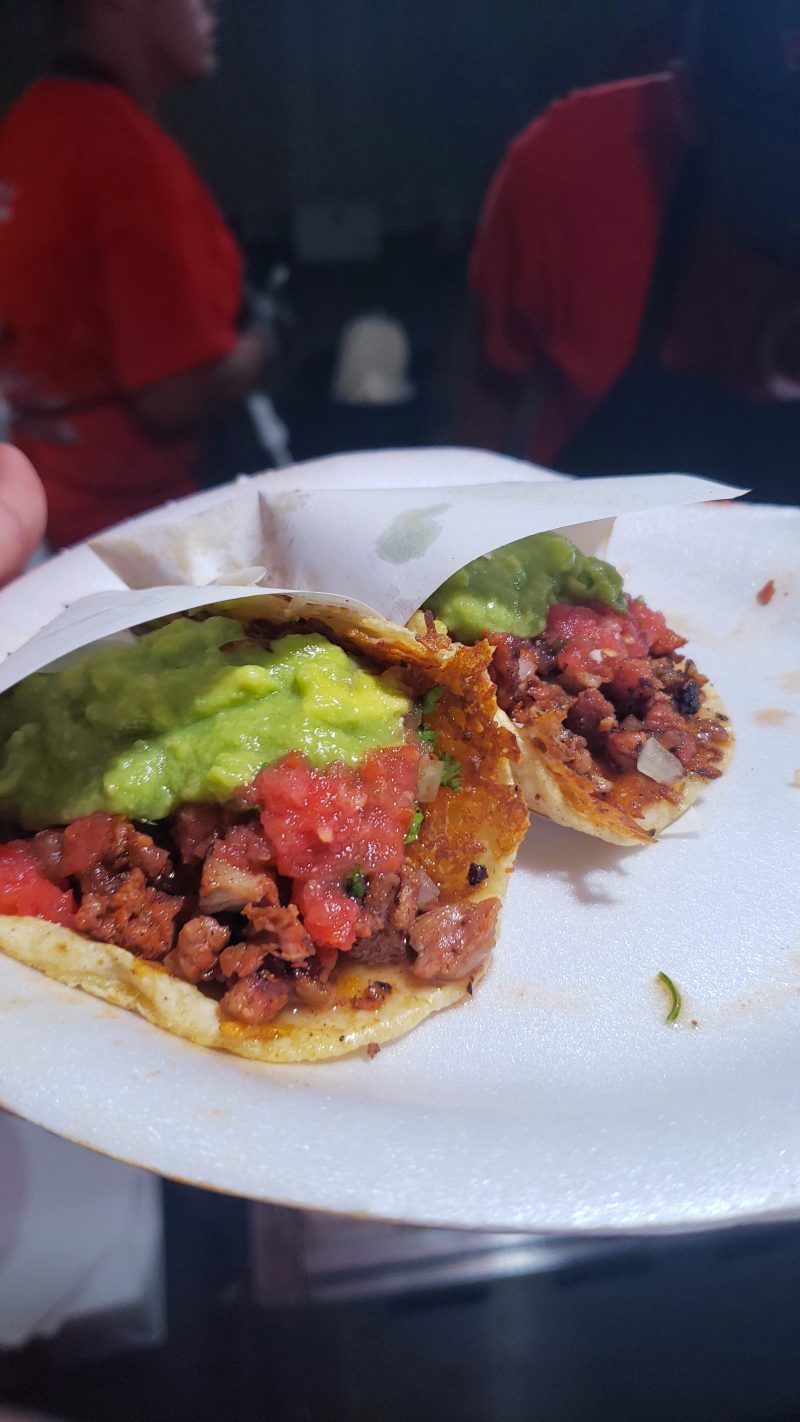 Multiple locations
This is a small puesto specializing in Tijuana-style tacos that started in Whittier and now has three locations. It's known for its grilled meats and handmade tortillas. While waiting in line, you'll be mesmerized by the mechanical speed at which the tortillera works to keep up with the demand. When asked if what they serve is al pastor or adobada, the taquero told me, "It's the same thing." The difference here is that they also grill their marinated pork. ~ Cesar Hernandez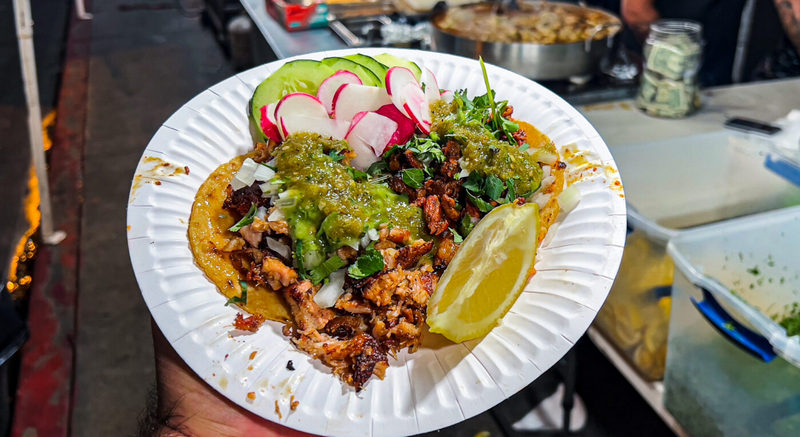 Multiple locations
Mariana's trompo features a Sonora-style adobada with her own flavors. You can almost taste the flavor of the adobada with your eyes alone as the trompo handler turns the spit with his blade and slices delicately charred pork ribbons onto a tortilla in his left hand as he prepares taco after taco. It's like watching a potter sculpt a terra-cotta pot made from flame-kissed pork. It's earthy, seasoned well, and so balanced that it just tastes like a solid but gentle embrace after a long day. ~ Memo Torres
You can find Tacos Naomi's locations on their Instagram or linktree, although not all are listed.
Tacos Árabes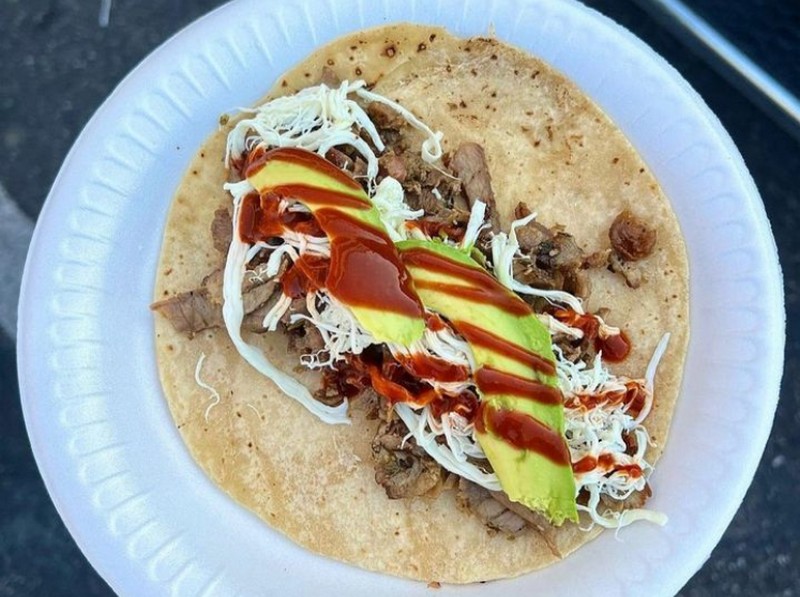 Boyle Heights
As you might have guessed, Lebanese-influenced, Puebla-style tacos árabes are the specialty of this Boyle Heights lonchera. The especiales add stringy quesillo and slices of avocado to thicker flour tortillas known as "pan árabes," filled with marinated pork. Even though the pork is shaved from a trompo, it is not the same as al pastor. This recipe for protein is one of the Villegas family's most guarded secrets, having received and rejected offers of up to $15,000 to sell it. Their lonchera is still the only place to find it. ~ Cesar Hernandez
3600 E. Olympic Blvd. Los Angeles, CA 90023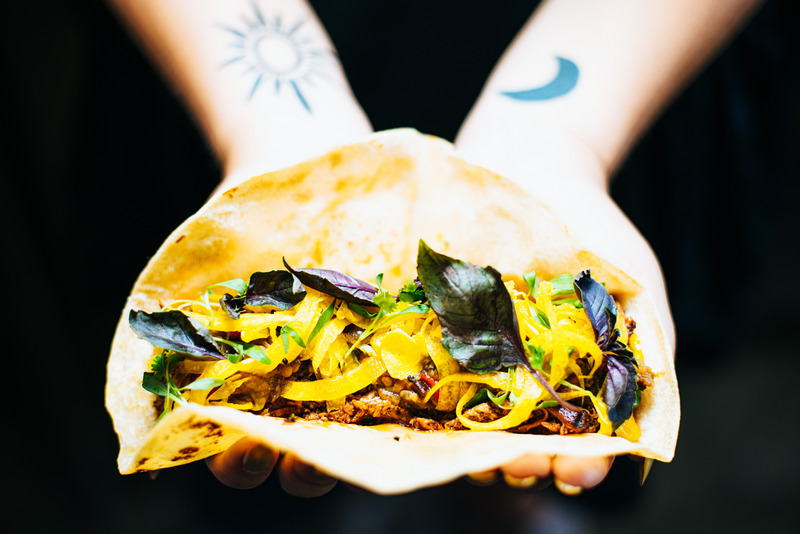 Beverly Hills

Michelin-awarded chef Josh Gil's $22 taco árabe packs a depth charge of luscious, jus-saturated lamb barbacoa inside the cradle of a tender flour tortilla. The end result swirls with sweet and sour notes from pickled fennel and caponata. It may not read as subversively as the pig face tostada served upon Mirame's opening, but it tastes every bit as decadent. ~ Hadley Tomicki
419 N. Canon Dr. Beverly Hills, CA 90210
Only in Los Angeles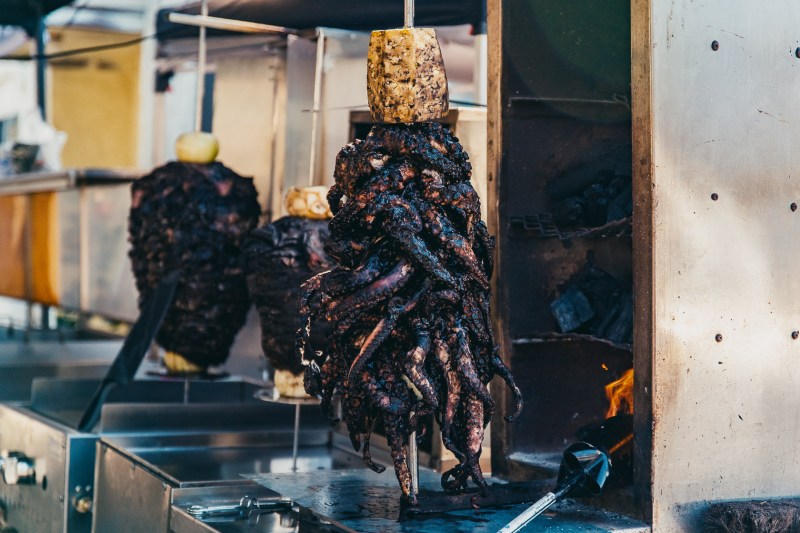 El Sereno/Downtown
The sight of stacked tentacles bathed in Evil Cook's flagship black pastor adobo made from warm Yucatán spices conjures up images of gods from another dimension. While Garcia would love to feature the Octo trompo every weekend, the multi-day prep that goes into it just isn't feasible. So if you didn't get to try it yet, keep an eye on their Instagram for updates on future Octo trompos. ~ Erick Huerta
2461 N. Eastern Ave., El Sereno, CA 90032, and Sundays at Smorgasburg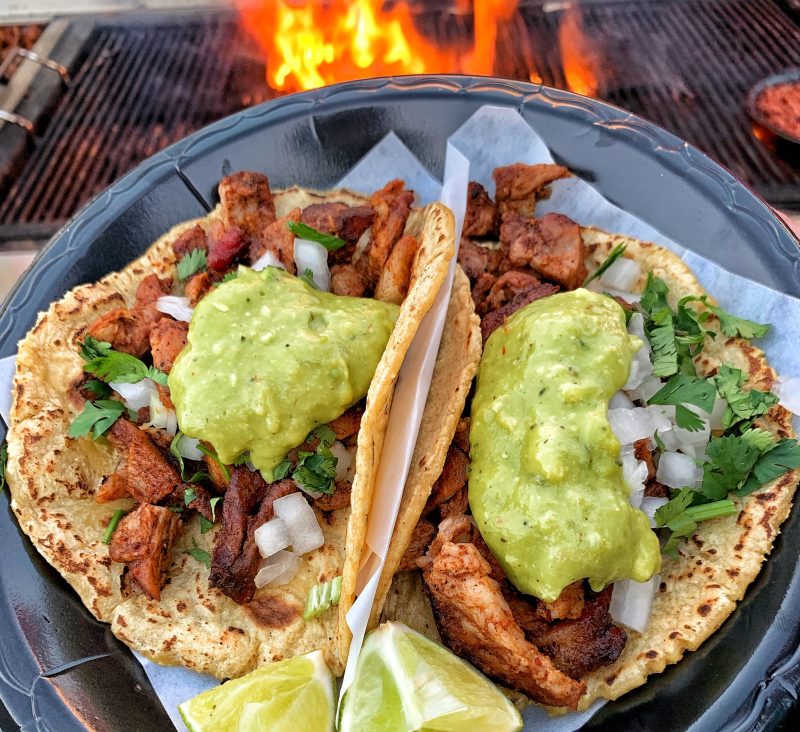 Multiple locations
Pablito's Peruvian-tinged tacos aren't trying to change the traditional street taco formula; they just add a different dimension of deliciousness by tapping into influences from the South American nation. Part of their secret is to add Peruvian chile to the trompo, serving the pork over fluffy but sturdy handmade corn tortillas then topping things off with guacamole and a final spoon of their signature aji ~ Memo Torres
Plant-Based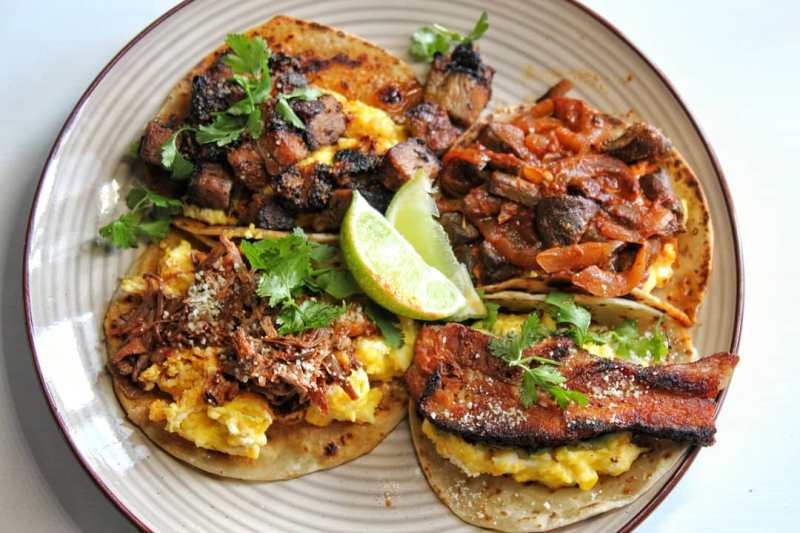 Downtown/Boyle Heights

Macheen, which pops up at Smorgasburg, Milpa Grille, and Distrito 14, is known for wildly creative tacos, like these hongos al pastor breakfast tacos that place mushrooms in a silky adobo over fluffy scrambled eggs, emanating waves of acidity and heat. I urge you to try anything from their menu at any of his restaurants or pop-ups; every taco has the same amount of love and care put into it. ~ Cesar Hernandez
Currently popping up 8 am-2 pm, Mon.-Sat. at Milpa Grille, 2633 East Cesar E. Chavez Ave., Los Angeles, CA 90033, and 10 am-4 pm at Smorgasburg.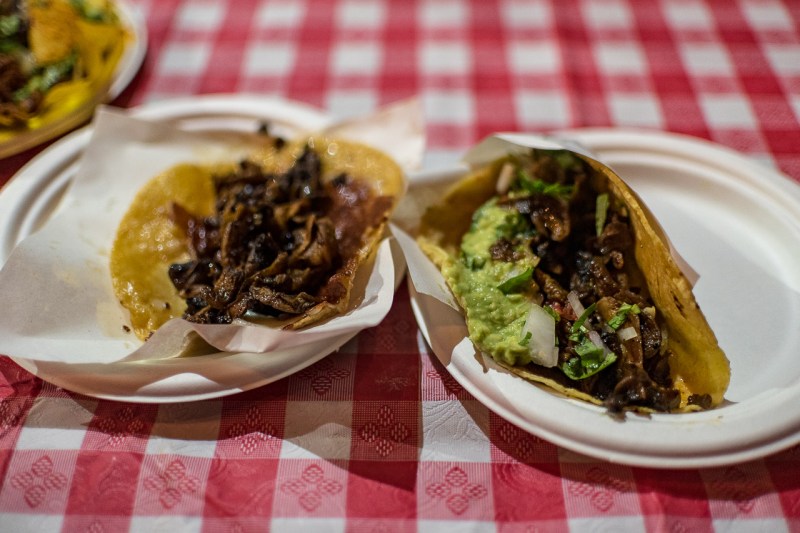 Multiple locations
Tacos 1986 is a homegrown chain of T.J.-style taquerías famous for their rapid expansion from the street, tacos de asada, trompo-shaved adobada, and umami-rich mushrooms, making it a reliable choice for L.A.'s al pastor lovers, who happen to love someone who requires meat-free Mexican food. 1986's adobo stands out with the addition of strawberries that provide a faint, tart tang that is both subtle and unique.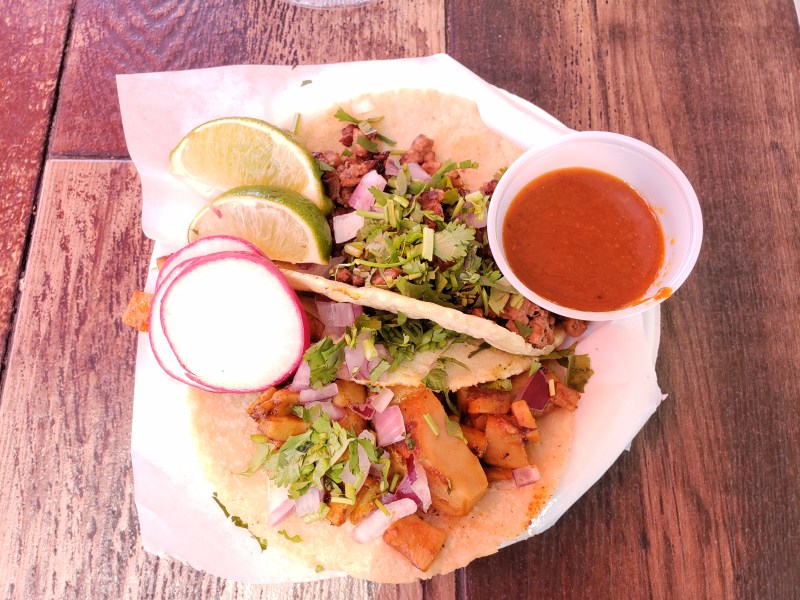 El Monte
The vegan al pastor, a spicy, chile-slicked assembly of crunchy mushrooms cradled in hot corn tortillas sourced from La Gloria in Boyle Heights, was considerably more interesting texturally, if less true to the flavors of its carnivorous forebears. The taco is satisfying and definitely worth ordering if you're seeking meat-free Mex. ~ Hadley Tomicki
10021 Valley Blvd. El Monte, CA 91731
Stay in touch
Sign up for our free newsletter