Featured
Wu-Tang, Lucha VaVoom, Ska-Core in Downtown, Noche Romantica ~ GTFO LA!
1:12 PM PDT on July 20, 2018
Welcome back to GTFO LA!, your guide to the very best stuff to do in Los Angeles every weekend, designed to get you out of the f*cking house. This weekend is a never-ending music dance pari. We've got live show, festivals, benefit concerts and showcases. Take your pick and make this weekend all about the music LA has to offer!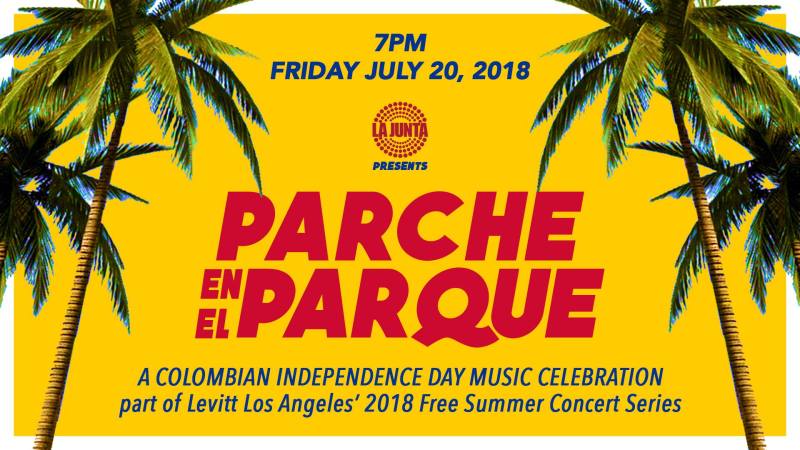 Friday, July 20
La Junta at Levitt Pavilion LA
[dropcap size=big]I[/dropcap]t's Colombian Independence Day Friday and La Junta, a group of DJs, artists and musicians who curate dance and music events in L.A., is throwing down a community dance party as a part of Levitt LA's summer concert series at MacArthur Park. La Junta loves Afro-Latino music and for this special concert they are bringing out Columbia's own Tucupra who mixes a range of Afro-Latino, including Reggae Latino, genres to create their sound. The dancing doesn't stop there. Tucupra will be joined by L.A.'s own Golpe Afro-Caribe, who explore the deep African roots of the Caribbean coasts of Mexico and Colombia. The Junta Sound System will be there too. Catch Glenn Red, Yuki Shimotakahara, David Cardena-degruvme with DJ sets and Luis Nariño with the motion graphics. To top it all off, the dance celebration will be hosted by Vaya Con Diosa Podcast's Divine Diosa. More info here.
La Resistencia and More in DTLA
[dropcap size=big]L[/dropcap]os Angeles wouldn't be the amazingly diverse musical city is without skacore. The genre made up of a hardcore punk and ska thrives in neighborhoods like South Central and East L.A. It's always a good idea to mosh after a long day at work. On Friday, La Resistencia, one of Los Angeles's most well-known skacore bands, is giving you a stronger reason to. The band is playing an all-ages show in DTLA's 1720 along with Fissure, HDC Dskarados and other bands. Before you start reconsidering this all ages show, here's your incentive: There will be a full bar and the event will be free for attendants 21 and older with an RSVP. Get ready to mosh and skank. More info here.
Saturday, July 21

SELA Arts Festival at the LA River
[dropcap size=big]S[/dropcap]ELA or Southeast Los Angeles is adding yet another festival to check off your list this summer. The group of neighborhoods, just above the 105 freeway, is celebrating its arts and culture with its first-ever arts festival right next to the historical L.A. River. The inaugural event's lineup is everything a summer concert should be. Buyepongo (Cumbia, merengue, afro beats, and more,) Quetzal (Chicano rock) and The Altons (Rock with a Latino) twist are headlining the event and turning it into a baile. Hip-hop collective Weapons of Mass Creation will open up the stage with their conscious lyrics and infectious beats. DJs include Gary Alvarez from Persistence of Sound. L.A. TACO's own Astrid poet and writer will perform at the open mic portion. Molcajete Dominguero, Culture Clash, panels on rivers and urban landscapes and so much more going on at this free event. More info here.
RELATED: How Culture Clash Is Striking Back at Anti-Immigrant Hate

Indigenous Literature Conference
[dropcap size=big]T[/dropcap]he Indigenous Literature Conference is determined to make a space for indigenous voices and break away from the mainstream world of literature. The third annual conference is a great opportunity to learn about indigenous authors, their work and how it shapes Los Angeles and other parts of the world. Authors Mardonio Carballo, Francisco Lopez Barcenas, Gloria Muñoz Ramirez, Adelfo Regino, Victor Cata and Pergentino Jose Ruiz, Irma Pineda, Celerina Sanchez will be among those sharing their work. No need for validation by academics or researchers, just a conference for indigenous writers to share their work. Catch them at the Los Angeles Public Library as a part of another insightful event put on by the Frente Indigena de Organizaciones Binancionales, a U.S.-Mexico coalition of organization and communities. More info here.

Noche Romantica
[dropcap size=big]P[/dropcap]ut on your nicest Saturday night outfit, maybe spray on some nice scent and take yourself to this month's Noches Romanticas at the Melody Lounge in Chinatown. If you've never been, Noche Romantica has been around since 2012 and is an all vinyl, all musical Latina kinda event. We're talking boleros, psych, romanticas, boogaloo, cumbia, rock'n'roll and more. Boyle Height's own Que Madre, DJ Chicano Playboy, Mexican/Chicano 50s, 60s music record collector Dave Salvaje and special guest Crasslos, who is coming back from a break of spinning records for this romantic music night.
Sunday, July 22

Riot Grrrl Carnival
[dropcap size=big]Y[/dropcap]ou read about the amazing summer camp for girls in Southeast Los Angeles, Chicas Rockeras SELA, on the L.A. TACO site. Now you can help make it happen. Las Sangronas y El Cabron, a Chicanx, trio punk band from Highland Park is organizing a benefit concert at the Smell for the camp that will feature performances by The Groans, CAUSA, Girl Anachronism and of course, a performance by them. The music camp primarily runs on donations and fundraisers, so know your contributions will make a huge difference. Plus, this female-dominated lineup alone is something to get out for. The show starts 9 p.m., all ages.
RELATED: 10 Artists/Music Genres Mexicans Love that American Music Critics Ignore 'Cause They're Too Obsessed with Morrissey

Daughters Music Showcase
[dropcap size=big]L[/dropcap]ooking for new music to discover? Say no more. We've got the perfect event gathering local and national female talent. Roll through to the Daughters showcase at the Mid City Art House to experience singers, rappers and musicians of all backgrounds perform their latest. Acts include singer Raquel Rodriguez known for her funk, soul, 90s R&B fusion that has played, toured with artists Anderson.Paak and Goapele, as well as self-proclaimed rap nerd Gavlynn. DJ sets provided by Chulita Vinyl club, Arizona's Stoneypie and more. Arrive early or lounge around to see Lil Miss Lonely Fucks and more. You might get musical FOMO, if you miss this.
Thursday, July 26

Lucha VaVoom's Summer Lovin'
[dropcap size=big]T[/dropcap]he electrifying Mexican wrestling that is Lucha VaVoom is back with its Summer Lovin' event. If you haven't been, this wrestling match is anything, but traditional. Comedy, burlesque, Aztec dancers, low-riders and more come together to make this 15-year wrestling show a special, fun and exciting experience. On Thursday, current champ Lil Cholo will defend his title. Other crowd favorites Dama Fina, Dirty Sanchez, Mexico's Diamante Azul, and more will also take the ring. Burlesque will be courtesy of Chicago's Michelle L'Amour and Trixie Leigh Acosta. There will even be a special performance by the LA Roller Girls and Violet Cachki who blends strip tease, aerial acrobatcis and festish aesthetics in her performances. The laughs and commentary will be delivered by comedy hosts Blaine Capatch and Jeff Davis. More info here.
Friday, July 27

Wu-Tang Clan at the Shrine
[dropcap size=big]I[/dropcap]t's been 25 years since "Enter The Wu-Tang (36 Chambers,)" the debut studio album by hip-hop group the Wu-Tang Clan dropped. With the release, the rappers became known for their clever lyrics and pioneering beats. Since then, the group has released seven albums that went gold and platinum and have left their mark on hip-hop as well as influenced rappers and artists after them. All nine members that make up the legendary group are coming to Los Angeles this Friday for a special anniversary show. Get your tickets now, before they sell out. More info here.
Jennifer Velez is a multi-media journalist covering news and culture in L.A.
Stay in touch
Sign up for our free newsletter