News
Roy Choi: 'The Show Is About Us' ~ We Talked to the L.A. Chef About His First TV Series 'Broken Bread'
9:33 AM PDT on May 9, 2019
[dropcap size=big]R[/dropcap]oy Choi is nervous. He's wearing the all-white Air Force Ones, blue jeans, a plain white T-shirt, a white jacket, and black fingernail polish, and he's about to do something he's never done before. It's Cinco de Mayo in K-Town and we're sitting in the basement of the Wiltern under 4,000 people, taco trucks, and a big screen that's about to premiere his new food justice TV docuseries Broken Bread.
"I'm f---ing nervous, man," he tells me. "It's so hard to have a TV show. I don't know if there's another one in the books for me. I don't know if there's a season two, I do know that I have one, so this is the moment to tell the truth. This is the moment to make a show about the things you care about."
[ Update: The show is now available on Hulu as well. ]
Choi's food show premieres May 15 on KCET and Tastemade TV, but it's not just your standard food porn or recipe show. It's got a mission "to change the world" by changing the way people think about food and the people making and consuming it, according to the L.A. native and renowned chef. "I just don't know if people are going to like it," Choi starts to explain. "You just never know …" He's interrupted by one of his close friends who tells him there's a massive line wrapped around the block to get into the premiere.
This seems to steady him, and he jumps up and starts walking into one of the dark corners of this 88-year-old Art Deco L.A. landmark. His Air Force Ones are the last sounds I hear before I see him again up stairs on stage, shining under the spotlight and making the Wiltern fill with cheers and laughter.
"Now Crazy Rich Asians came out, everybody wants to f--- an Asian. Why didn't this come out when I was in High School," Choi joked from stage.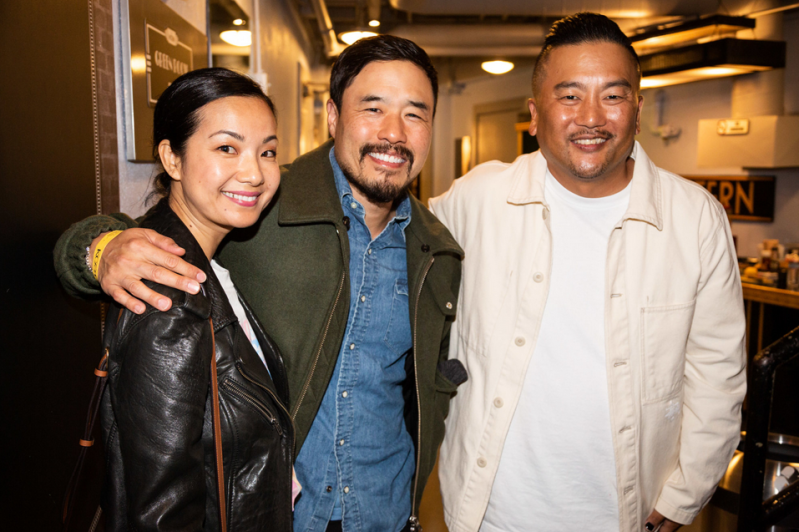 This has been a hell of year for Roy Choi. He just opened a restaurant in Las Vegas called Best Friend. He's also had make the decision to move Chego, reimagine Locol, and just this week, deal with the loss of Big E, the leader of his OC Kogi truck Naranja. The truck is going on hiatus for the time being.
But the show is by far his most ambitious undertaking since attempting to change fast food with Locol. "Man, to have a TV show is hard," he tells me a few days before the premiere at Tastemade Studios in Santa Monica. "There are moments in the last ten years where I thought I was close to having a TV show. But actually, once I didn't get it, I realized how far it really was."
I wanted to do something nice for Roy. Afterall, he and his team invited me out to talk and eat lunch (a really healthy, delicious, plant-based lunch) at Tastemade. So I gave him a frozen Gansito that I brought from home. He recognized it right away. "Oh, yeah. I've had one of these before," he smiled. And from there we had an in depth discussion on his evolution from an out of work chef to blazing a path with the Kogi taco truck, on living high and falling down again, and on why Broken Bread is a true reflection of Los Angeles.
This interview was condensed for time and clarity. Watch a version of it below.
L.A. Taco: I saw the first episode. I was really impressed.
Roy Choi: I don't know if the world is ready for this shit, you know? I hope so. I really do.
It feels like a natural evolution, of what you were trying to do with Locol, right? Sort of impact on the streets somehow.
Roy Choi: Yeah. It's not even like in the sense of next step or replacing Locol. It's a part of Locol. It's a part of the organism, you know, the mutation of Locol and of me and what I've become as a person.
Transformation? (The title of episode 1)
Roy Choi: Yeah, that's why 'Transformation' is number one you know. I've been through a lot of shit in life, man. I've been through a lot of things. I haven't always been on the winning end of those things. I've been on the winning end of some things. This is who I've become as an adult and I'm really proud of that shit. I'm at a point where I've confronted it and I've accepted it. And I'm at a point where I'm gonna start doing some shit with it. This is the beginning of, hopefully, the next ten, twenty years of my life, where I can contribute to not only thinking about changing the world, but actually changing the world.
Did you have any of those thoughts when you were starting? Especially, when you were starting Kogi?
Roy Choi: I had those thoughts as a human all throughout my life, but they weren't specifically designed for Kogi. But then, I think what happened was Kogi unlocked them within me. But Kogi itself, started by trying to make a few hundred bucks.
Right.
Roy Choi: I'm gonna keep it real on that. It was like literally like, "Let's go make 800 bucks. Park in front of the clubs, look at some beautiful people. And we just keep doing that until it stops." It was like a party. And something happened, man. Something happened in that moment in time. We plugged into some other algorithm, you know. I mean you saw the Kogi movement, we brought thousands and thousands of people out on the street every single night. We did it with respect. We got respect from the OGs, we got respect from the previous generation, and we got respect from the future. But Kogi started out just trying to make a couple hundred bucks.
RELATED: 'The Art World Is the World' ~ We Ate Tacos on the Streets of City Terrace with L.A.'s Preeminent Arts Writer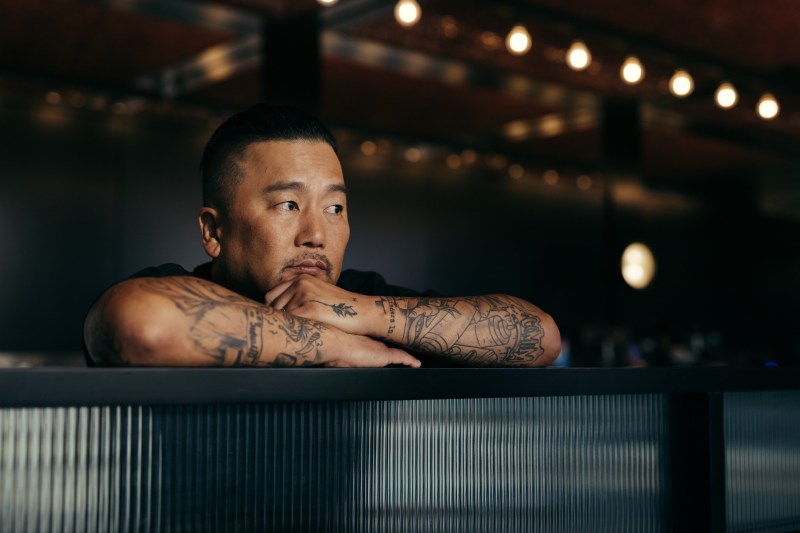 But it came out of a moment in your life where you kind of needed it?
Roy Choi: I had nothing else, yeah. I was jobless, I was at the end of my rope man. You could be at the end of your rope, not because you didn't make it but because you made it. What I mean by that is that you can be overqualified for shit. That's where I was at that time.
We were in an economy that was completely crashed. We were hit with this hurricane and then I was left standing with nothing but then overqualified because everyone wants to save money or doesn't have that job or is consolidating positions. I couldn't find anything so Kogi came at that exact moment. It was a short window, I could have probably eventually gotten a job, right? But that window allowed me to see Kogi and listen to it knocking on my door. Because if I had a job I don't think I would have probably made that decision.
It's kinda like the L.A. hustle though. You could have just chilled for a little bit but you were like, 'I gotta do something.'
Roy Choi: I gotta do something! The L.A.  hustle is you're doing it but you're doing it like you can also do it in a way that's fun too. That's the L.A. hustle. Maybe not all the time but at least in our city we have the opportunity to be outdoors, by the beach, in a neighborhood that you're from, or at a Hollywood event. You could be in these really fantastical moments while hustling, while trying to figure yourself out.
I feel you, man. I really enjoyed your book.
Roy Choi: Thank you.
I really related a lot because I've had my ups and downs too, like everyone else in L.A. You reached me because this is the type of city that will spit you out if it catches you slipping. But now, it's next level with a TV show because you're going to reach people right in their homes.
Roy Choi: It's like, this is the opportunity to see if what you f--- with and what you really think about means something to others. That's why it's a chance and if it does hit my goal is that these things – access, waste, justice, the future of food, plant based economy, plant based eating, not killing so many animals, not doing it in the way that we are, not overeating, figuring out what is causing our cancer and our diseases – that matter, that we are so close on changing, that we think we have no effect on... If these things become popular culture, then what will happen is, just like a taco, it will take over the consciousness of popular culture and that will move out some of the shit shows that we have right now and the propaganda that we are fed everyday.
All the sudden we'll have a different world. When you watch this show, you'll see you are just a step away from making a difference. You can save a kids life that's on the street by just buying a pizza and supporting this organization. You can help someone not go back to jail, who could become a baker that changes the science of baking, that that would have never had that opportunity by buying your croissants at Homeboy instead of Starbucks. We are showing how that can be possible.
RELATED: My Favorite Taco ~ Roy Choi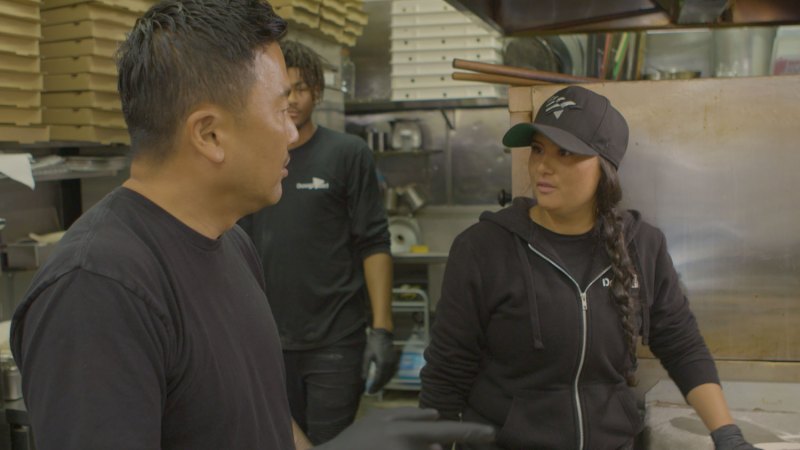 It feels kind of obvious that food would be so transformative because everybody eats.
Roy Choi: Everybody eats and the kitchen in the food environment is like an abuela. It's not locking the doors on you just because you're different today. A kitchen really absorbs and accepts you for whoever you are, and finds a way to get you to be something, even though you think you might be nothing.
Those of us that don't do well in school – whatever the case may be, maybe don't fit in, or maybe aren't good public speakers, or have an addiction, the things that may hold us back – we can really be ourselves in the kitchen. The kitchen is a place that can really change so many people's lives. It changed my life. I see change, you know? I have hundreds of cooks within my businesses. I see how without a kitchen I don't know what they would be doing.
Do you remember your moment, your like transformative moment in the kitchen?
Roy Choi: I grew up in a kitchen but my transformative moment probably came from that moment I was watching Emeril. So it wasn't in a kitchen, but I grew up in a kitchen. I grew up in a professional restaurant kitchen, a Korean restaurant. But that moment was when I was watching Emeril on the couch I felt I had an out of body experience and that he was talking to me. I made a decision to go to culinary school. And then the second part of that realization was when I got to the CIA, which is like Hogwarts for chefs. I put on that chef's coat and the toque, and the knife in my hand, and shit just f---ing zinged.
Like the Iron Man suit?
Roy Choi: Yeah, the shit just came together, man. That was the moment I knew I found something. I never had that feeling before in life. I was 26. For 26 years, I'd never had that feeling before and that shit came together like Iron Man, like clicked. That's when I knew.
But trip on that though. You were watching Emeril, now someone is going to be watching you on TV and you might change someone's life just the same way. It's like this crazy circle.
Roy Choi: I hope so, man.
How does that feel?
Roy Choi: "I'm here for you man, I got your back." That's how it feels. I got your back brother, sister, whoever. I got you.
RELATED: Restaurant Guide: Kogi BBQ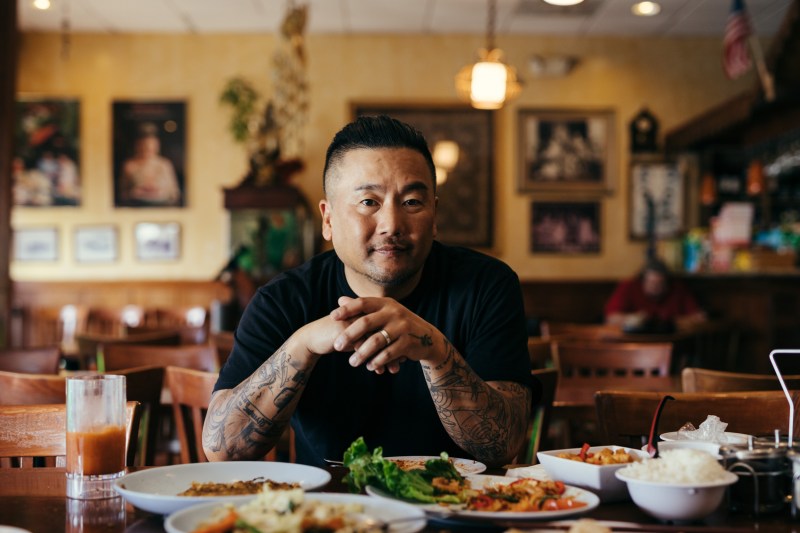 And how's Best Friend doing?
Roy Choi: Best Friend is killing it man. I got ups and downs man, you got some restaurants that don't kill it so the ones that do kill it you gotta celebrate man. Yeah, Best Friend is killing it. It's f---ing Vegas that has really accepted us. We've been holding it down for L.A. The food is delicious, the team is positive, the space is transformative, the subwoofers are bangin. We haven't cracked any speakers yet. With the right song and the right sizzling platter of food coming out and the right crowd, the place is magic, man.
It's cool to see your journey 'cause it's like the journey of the modern taco movement.
Roy Choi: Yeah.
Did you ever think tacos would go this far?
Roy Choi: I didn't imagine all of this but now that it's happened, I wouldn't have ruled it out at that time either. Do you know what I mean? Like, I became a part of this movement. I acknowledge the families that were before me, you know, and I'm a product of that. Even though I'm not Latino, I'm like the Chino of the crew, you know. I'm just a part of it just because I'm from L.A. and Orange County. To be a part of that movement man, it's just completely reshaped my life and I've given back to that because of that.
I would've done the same thing even if it wasn't a worldwide movement just being someone with your friend or compa on the street. I would have done the same thing too, you know. It's all rooted in L.A. culture, in street culture, in neighborhood culture, in Chicano, minority, Asian culture. It's all rooted in all that. And then what was cool though, is that me and the crew of Kogi were able to be a part of holding down that foundation and that tradition of Los Angeles culture but make it fresh – put a candy coated paint job on it you know and make it fresh and make people notice and get with it. That's what I'm proud of.
I already lived through the previous generation and then as an older adult I got the opportunity to come back and contribute to the future of the generation of the culture as well. And that part I'm really proud of, man.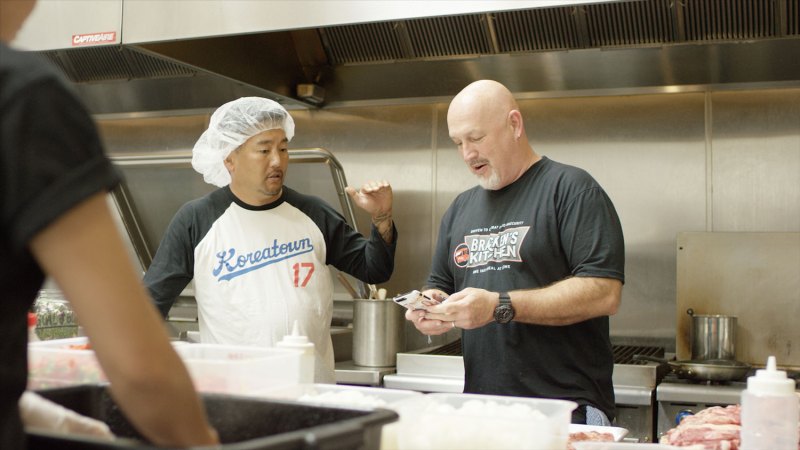 I just tried the mulita the other day. That shit's legit.
Roy Choi: That shit's good, dude.
Is there anything you want to say about the show specifically to people that are going to watch it at home?
Roy Choi: Yeah, especially since it's the L.A. Taco audience: The show is about us. It wasn't even a political destination point to put people who look like us, that are us, that speak like us, that live like us – that, again, are us. Not even like, are us on screen. It wasn't a quota. I didn't even think of that. But now going back into the editing room and seeing the whole show – I see it for hours and hours every single day – every motherf---er on there is brown, man. Brown or black, and it's f---in' cool. But it's like you don't see them that way because you just see it as humans.
Right. It's L.A.
Roy Choi: I made the show that I've always wanted to make, man. The director, I couldn't have made it without James, couldn't have made it without the team, because we really just put the camera on our lives and that became major television, without having to try to manipulate it to make sense to some audience. And when you see it, and you accept it and kinda digest it, it's beautiful.
I'm trying to get to a point – and you can cut all this shit off it doesn't make sense 'cause I'm a little stoned – but I'm getting to a point with this show. When you see a lot of minorities on television, there's always a point where that has to be a point, right? And where that thing has to make a statement, or that thing has to stand out, or that thing has some narrative or curated direction of that. But this show doesn't have that. This show is just life, right. But because the camera was around, it shows everyone. Doesn't matter color, race, creed nothing.
And then you see everyone as humans in this show. But you don't see it like that a lot of the times because you only get one chance to have that Asian character in that sitcom. So get an amalgamation of who we are as a race versus seeing us individually. This show lets you see us individually. That's what I want to say to you.
RELATED: 'Food Will Be Sold on the Street Regardless' ~ Roy Choi Checks Back in With L.A. Taco
Erick Galindo is a contributing Editor to L.A. TACO. He writes the Mis Ángeles column for LAist/KPCC and has written essays on food and culture for the New York Times and Los Angeles Times.
Read More:
Stay in touch
Sign up for our free newsletter