Travel
Tacos on the Streets of Dublin: Tracking the Rise of Mexico's Most Iconic Food in Ireland
8:00 AM PDT on March 17, 2022
"I had never lived in a country where I couldn't get Mexican food."
When Lily Ramírez-Foran first moved to Ireland in 1999, there was no Mexican food anywhere. In Dublin, the capital city where she landed, there were no tortillas, beans, chiles, mangoes, or avocadoes in any grocery stores or specialty food shops. The Monterrey, Mexico native comes from a third-generation family of tortilla makers. She didn't realize how much her identity was tied to the food she was missing in her adopted country until the day she received spoiled tortillas from home.
"The box got stuck in customs, and by the time they were delivered, all of the tortillas were moldy," said Ramírez-Foran. "And I cried."
Twenty-one years after that fateful day, Ramírez-Foran finds herself the award-winning cook behind Dublin's Picado Mexican store and the bestselling author of Tacos, the first Mexican cookbook published in Ireland.  She now makes her own tortillas and teaches people around Ireland how to make and fill them with delicious Mexican-style meats, veggies, and salsas.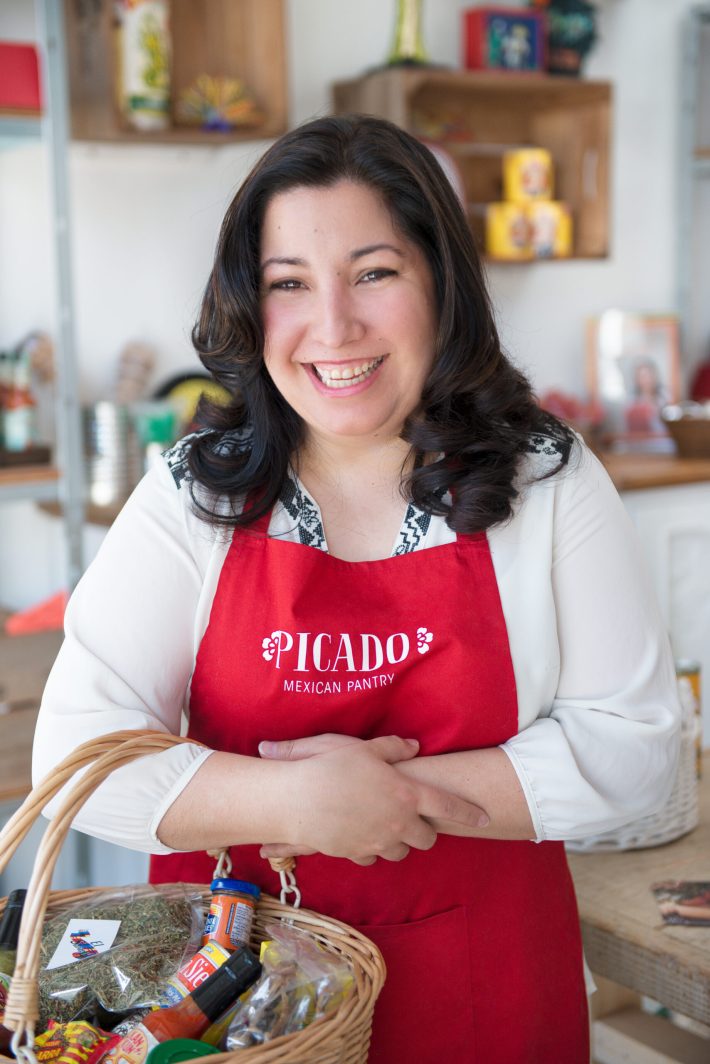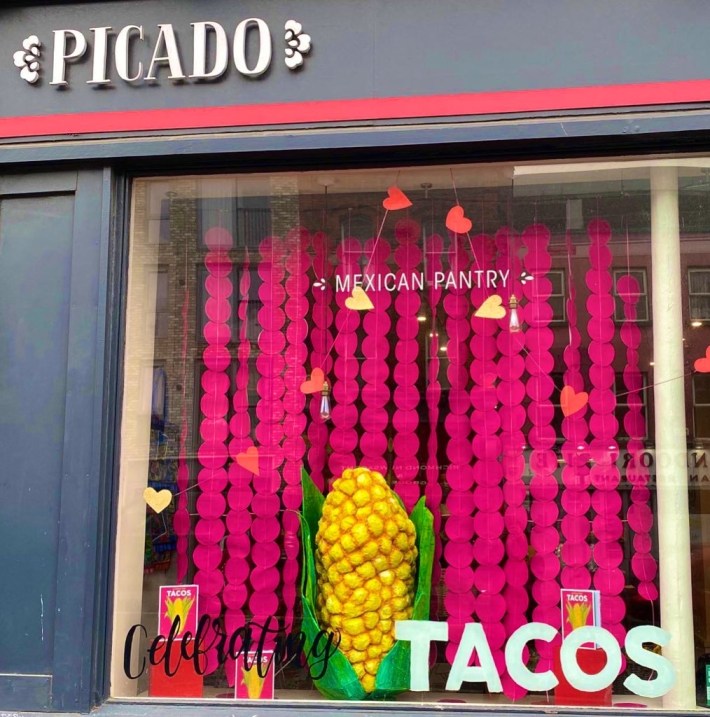 Half a mile up the road from Picado, behind a pub in a graffiti-laden alley, Scott Holder has parked his eye-catching agave-blue colored 24-foot-long truck, Tacos Los Chicanos, which opened in June 2021. It took over two years for the Irish chef to bring the taco truck of his dreams from Los Angeles to Dublin, where Holder and Jesús García Patlán, his chef de partie from Saltillo, Coahuila, prepare mouthwatering L. A. street-style tacos of beef, pork, and prawns. Holder's taco truck is just one of several new Mexican food places that have popped up all over Ireland in recent years. Alongside chipper shops, pubs, and kebab places are burritos, tacos, and "L. A.-style" Mexican street food lining the auld cobblestone streets of Ireland's major cities. From Taco Libre in Galway and Badass Burritos in Limerick to Wild Mexican restaurant in Wexford and Masa Taquería in Dublin, Mexican food thrives in Ireland.
Tacos Los Chicanos and Ramírez-Foran's historic Tacos book are two formidable examples of this surging Mexican food scene that is seeing tacos rise in popularity across the Emerald Isle. Both Holder and Ramírez-Foran believe in the power of tacos to broaden Irish perceptions of what Mexican food can look and taste like in Dublin. 
Tacos and Salsa Picado
Lily Ramírez-Foran was a first-time author when her book, "Tacos," sold out its first printing in two weeks. Released by Blasta Books on February 3, Tacos is the first book of Mexican cooking published in Ireland and will undergo a second printing to meet demand. After television food star Nigella Lawson shared her love for Ramírez-Foran's Tacos book on Twitter, bookshops all over Ireland wanted to carry the hot new Mexican cookbook.  The success of Tacos and Ramírez-Foran's store, Picado, signals the growing Irish appetite for Mexican food beyond "Tex-Mex" and burritos, already familiar throughout Ireland thanks to chains like Belfast's Boojum and "Mex-A-Go" food counters in Centra convenience stores.
Ramírez-Foran opened Picado Mexican shop in Dublin in 2011 as an online store. For four years, she saw brisk sales of corn tortillas, beans, kitchenware, and other specialty Mexican items in Ireland and from around the UK and Europe. In 2014, Ramírez-Foran opened Picado's brick-and-mortar shop, which has enjoyed a growing, loyal customer base. The store offers bottled salsas, spices, candies, and other food items imported from Mexico, which her Irish customers have slowly embraced. The key to Picado's success has been the kitchen and Ramírez-Foran's popular cooking classes, which would lead to the publication of Tacos. "When I first opened the store, I knew we had to have a kitchen. It wouldn't work without a kitchen in the back to show how we use the ingredients," said Ramírez-Foran. "From day one, there was the educational element."
"Back when I first pitched the book about Mexican pantry ingredients, not one publisher in Ireland wanted it. They said Mexican food was too niche. That was ten years ago. Now with the Taco book, they see that books about Mexican food can sell here, and it's not so niche after all."
She describes operating Picado as an educational journey that has expanded her knowledge of Mexican food while teaching others how to cook, eat, and understand the foods of her homeland. "I love to share my heritage through food," says the cook. "The background, history, and political contexts of each dish are so important, and learning these things makes the meal more meaningful."
Her Tacos book directly results from Picado's success as the heart of Mexican food in Ireland. Tacos collect the 'greatest hits' of Ramírez-Foran's cooking classes on a range of Mexican foods, ingredients, and methods. For six years in Dublin's Portobello district, the "Mexican Cook in Ireland" taught home cooks the basics of Mexican cooking, from proper tortilla technique to lessons on dried versus fresh chiles. These popular classes were booked up to six months in advance during pre-pandemic times, challenging Ramírez-Foran and her small staff to keep up with demand. She wrote Tacos during this time, building the book around class favorite recipes, family connections, and personal experiences as a Mexican woman cooking in Ireland.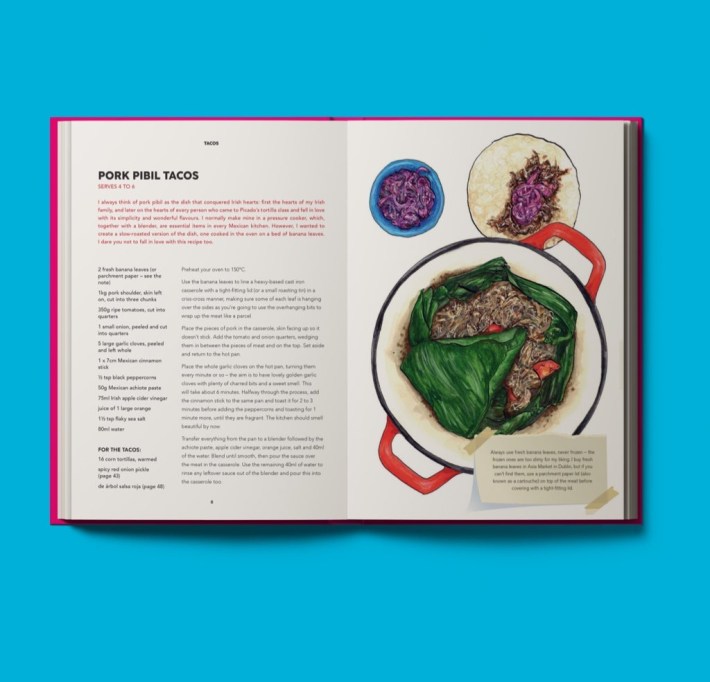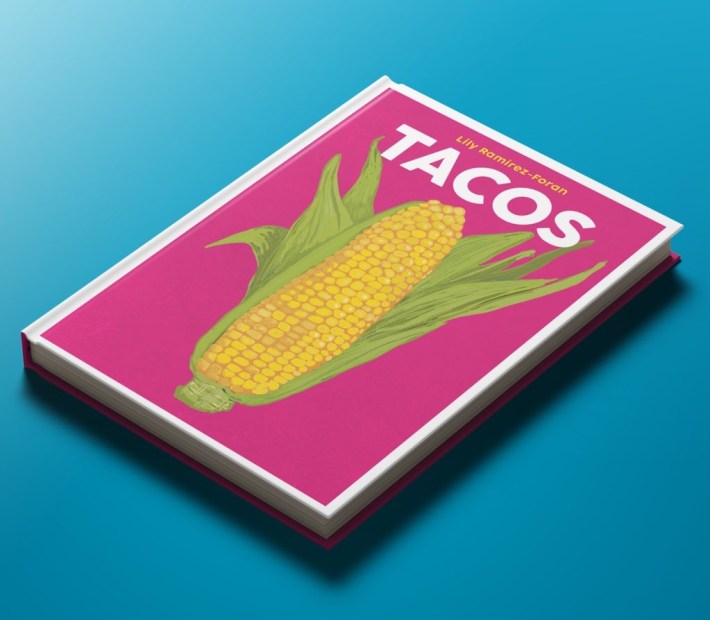 Tacos contain 13 recipes for taco fillings, along with five salsas and six sides that she most often makes at home or at Picado. Most of the taco recipes contain hearty meats, but Ramírez-Foran also includes vegetarian fillings such as sweet potato and carrot tinga recipe she developed when a vegan joined her cooking class. Personal touches, such as introductions to the recipes and instructional advice to guide the Irish home cook along the way, give Tacos the feel of cooking with Lily standing right beside you as she regales you with childhood stories of goat tacos and her mother's kitchen tips.
For Ramírez-Foran, writing Tacos also meant thinking about the ingredients people could get in Ireland, the UK, and Europe. Traditional Irish food consists of meat, vegetables, and potatoes, and lots of stews, soups, and fresh seafood round out the cuisine. Many of these ingredients can easily be transformed into taco fillings. "I wanted the book to be something an Irish person can open and start cooking from straightaway," said Ramírez-Foran. "No special equipment needed, and there's nothing they can't get in stores here. I focus on local Irish ingredients that are seasonal and available, but even tinned tomatillos will be okay because we don't usually grow them in Ireland."
The recipes in Tacos are well-tested through her cooking classes and feedback from customers.
The cochinita pibil and salsa verde are the most popular recipes. Pork is popular in Ireland and of the highest quality. "Cochinita pibil was the easiest way to show a non-Mexican person, an Irish person, that Mexican food is delicious and flavorful and doesn't have to be spicy," she said, explaining that many Irish people at first shy away from the heat from chiles. "Not all Mexican food is spicy, and that's one of the misconceptions people have. I try to show them how to control the heat using salsas." Other popular taco recipes in the book include potato and chorizo, Ensenada-style fish tacos, and carne asada, all of which can be made using ingredients found in Ireland. 
For Ramírez-Foran, the most exciting aspect of Tacos is its potential to expand Irish people's ideas of Mexican food, a regional and diverse cuisine from centuries of colonization and cultural exchange. Tacos are the perfect teacher. "Tacos are iconic Mexican food. They rule in Mexico," she said. "Tacos are approachable, convivial, and limitless. If you have a good tortilla, you can make a taco out of anything."
Tacos Los Chicanos: A Rocky Road from L. A. to Dublin
Scott Holder really wanted this truck. 
The Dublin-born chef spent several years traveling and working in kitchens throughout Los Angeles, San Francisco, and San Diego, where he fell in love with street food culture and made friends with his fellow Mexican and Chicano cooks. Trips to Puerto Nuevo and Rosarito in Baja California and later to Nayarit, Mexico City, and Oaxaca instilled a deep appreciation for Mexican food, its regional flavors, and traditional techniques. 
Meeting his hero Roy Choi in San Francisco inspired Holder to pursue a wild dream of bringing a taco truck in Dublin that would take nearly four years to realize.  In 2017, Holder came to Los Angeles to visit friends, eat tacos, and look for the truck he would ship back to Dublin to start his street taco business. 
"I stayed with friends for a week and searched a different area of L.A. every day," Holder told L.A. TACO. He found an old tool truck he thought was perfect, and he bought it and made all the arrangements necessary to ship it to Dublin. "They told me it would take four weeks," said Holder. But four weeks later, he got a call saying that his truck was stuck in Galveston, Texas.  "They told me the price has tripled because the truck was a lot bigger than they thought, they couldn't tow it, and they couldn't ship it from Galveston. They started charging me a hundred dollars a day to store it." After seven days of negotiations, Holder couldn't afford the fee, so the company in Galveston sold the truck to recoup its costs. Holder called various companies and tried to track down his truck for nine months. His family and friends in Ireland thought maybe it was a lost cause and that he should let the taco truck idea go. But Holder really wanted his truck, and he would not let go of his taco dreams. Online searches and calls to shipping companies came up empty. 
 

View this post on Instagram

 
Finally, in a last act of desperation, Holder came up with an idea. He created fake letterhead of a bogus solicitor's firm in Dublin. Posing as a lawyer and armed with a pile of paperwork proving ownership of the truck, Holder wrote to the Galveston shipping company threatening to sue them. A few days later, Holder gets a call from a guy in Compton! 
"The guy told me they knew where my truck was. It's in Galveston," Holder said, floored that his movida worked. He found a mechanic in Texas to get the truck into driving condition, then found another company to ship it to England. "The truck went from Galveston on a ship to Southampton, England. So I went to England, drove the truck to Wales—the lights weren't working, so my uncle had to drive his car in front of me while I drove the truck—and got it on a ferry to Ireland and drove it here to Dublin." 
Holder would spend two more years customizing the truck himself bit by bit, converting it from a tool truck into an operational food truck. He hired local artists to paint Chicano-style graphics and images, one by one. After a period of repairs and restoration, he opened his "Tacos Los Chicanos" in June 2021. 
Holder hired taquero Jesús Patlán from Saltillo, Coahuila, whose father is a chicharronero and inspired an appreciation for food and travel him from a young age. Patlán was a student in Monterrey before moving to Dublin, where he works with Holden and flawlessly executes his rich and balanced taco recipes. Joining him in the taco truck at 'front of the house' is fellow Mexican Joselyn López Pelayo from Guadalajara. Pelayo worked at a café owned by Holder's mom before joining Tacos Los Chicanos.
He called his labor of love "Tacos Los Chicanos" after the friends and fellow cooks who befriended him, taught him, and inspired him along the way, and after the L. A. food style, he admires and wants to replicate in Dublin.  "I have always loved L. A. since I first visited on a family trip as a kid," said Holder. "My mother lived there for a summer when she was in college." Frequent visits fueled his appreciation for the cultures, foods, and creative energy in L.A. In 2021, Holder visited taco hot spots around Los Angeles and Orange County for research and inspiration, including Tacos y Birria La Única, Mariscos Jalisco, and Taco María.
It's clear that Holder has done his homework, and his deep affinities and ties to Los Angeles and greater Mexico shine through his tacos. Huddled under the roof trying to stay warm in the cold Dublin rain, my partner and I tasted taco after taco, and each one struck us with memories and tastes of home. The cauliflower with macha salsa taco and the carnitas taco was the first to arrive. The fried cauliflower was light and crispy, and the macha provided a creamy balance with the jalapeño crema. The carnitas was spot-on: succulent Irish pork, carmelized and tender, topped with crunchy hibiscus pickled onions and an avocado salsa that cuts right through the fat.
The Baja prawn taco was a pleasant surprise, with the tart mango salsa providing an excellent acidic quality that enhanced the chile morita. The mushroom and mole taco also stood out for its red mole and four kinds of chewy, earthy mushrooms. Holder calls this the "introduction mole" for the Irish palate. "I wanted to start off light and introduce people here to mole," he explains. "I don't think I could do a mole negro or anything too spicy right away because a lot of people wouldn't be able to handle it."
The star of the taco lineup is the beef birria taco with consomé: Irish beef, happy and grass-fed, braised for twelve hours, topped with crunchy onions and cilantro in a warm corn tortilla made by a corn tortilla company two hours away in County Tipperary. The tacos were delicious and not just by Ireland standards. Any Los Angeles taco fan could roll up to this taco truck in the middle of Dublin, down a carnitas or birria taco to a soundtrack of Chente and Norteño music, and swear you were back on Whittier or Sunset Boulevard. No small feat from five thousand miles away.  
When Holder first opened Tacos Los Chicanos, he bought many of his ingredients from Lily at Picado. Now he has his own accounts and suppliers in Mexico for things like chiles and spices, indicating his plans to expand. Holder is eyeing a brick-and-mortar restaurant for Tacos Los Chicanos to offer an extended menu with quesadillas, tamales, and sweets. Ramírez-Foran also has plans: a new molino just arrived at her store Picado, where she will open Ireland's first traditional corn grinding and masa-making operation. She is also working on her second book about Mexican food, which publishers first rejected over a decade ago.
"Back when I first pitched the book about Mexican pantry ingredients, not one publisher in Ireland wanted it. They said Mexican food was too niche. That was ten years ago. Now with the Taco book, they see that books about Mexican food can sell here, and it's not so niche after all."
Melissa Mora Hidalgo was born in Montebello and grew up in the L.A./O.C. borderlands of East Whittier and La Habra. She holds a Ph. D. in Literature from UC San Diego and is the author of Mozlandia: Morrissey Fans in the Borderlands (Headpress UK, 2016).
Stay in touch
Sign up for our free newsletter