Sponsored
Eat This Dish, Hear This Band: Your Ultimate Guide to the 2018 Music Tastes Good Festival in Long Beach
1:41 PM PDT on August 16, 2018
[dropcap size=big]T[/dropcap]he 2018 Music Tastes Good festival rolls into Long Beach on Sept. 29 and 30. Volume III of the all-ages weekend-long food and music party boasts a lineup of West Coast chefs and musical acts to suit all tastes and tendencies. Your ticket gets you access to great comida from the best of our Pacific coast from Baja to Vancouver.
Nosh on delicious bites of roasted pork belly, vermicelli bowls, and vegan carrot cake while you swing, chill, or rock out to your favorite bands, all while taking in the scenic beauty of Long Beach on a warm end-of-summer weekend.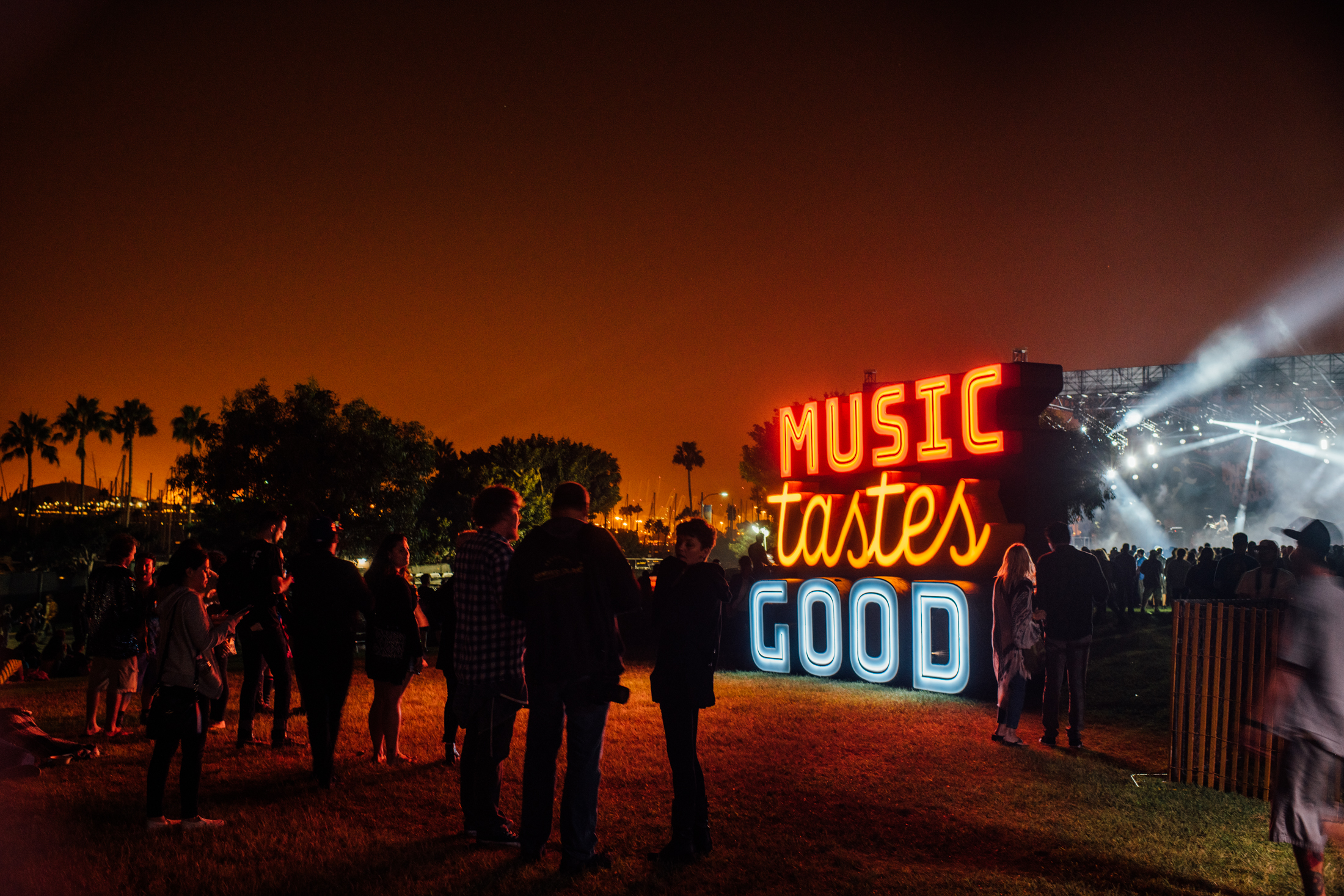 If you have your tickets already, orale! If not, what are you waiting for? Check out the complete lineup of bands and chefs here. If you still need a little push, here's a fun list of suggested pairings of what to eat and who to hear while you're cruising Marina Green Park at this year's Music Tastes Good.
~SATURDAY 9/29~
Saturday's musical lineup features bands from all over, headlined by Manchester's New Order. Other highlights include musical acts from Brooklyn, Philadelphia, Athens, Georgia, and Guadalajara. They include Shame (UK), Princess Nokia (NYC), Los Master Plus (MEX), Santigold (PHI), and Broken Social Scene (CAN). Come early to support great local music from Blcknoise (LBC), Manuel the Band (LBC), Blake Mills (L.A.), and many others. Here are your suggested Music Tastes Good pairings for Saturday: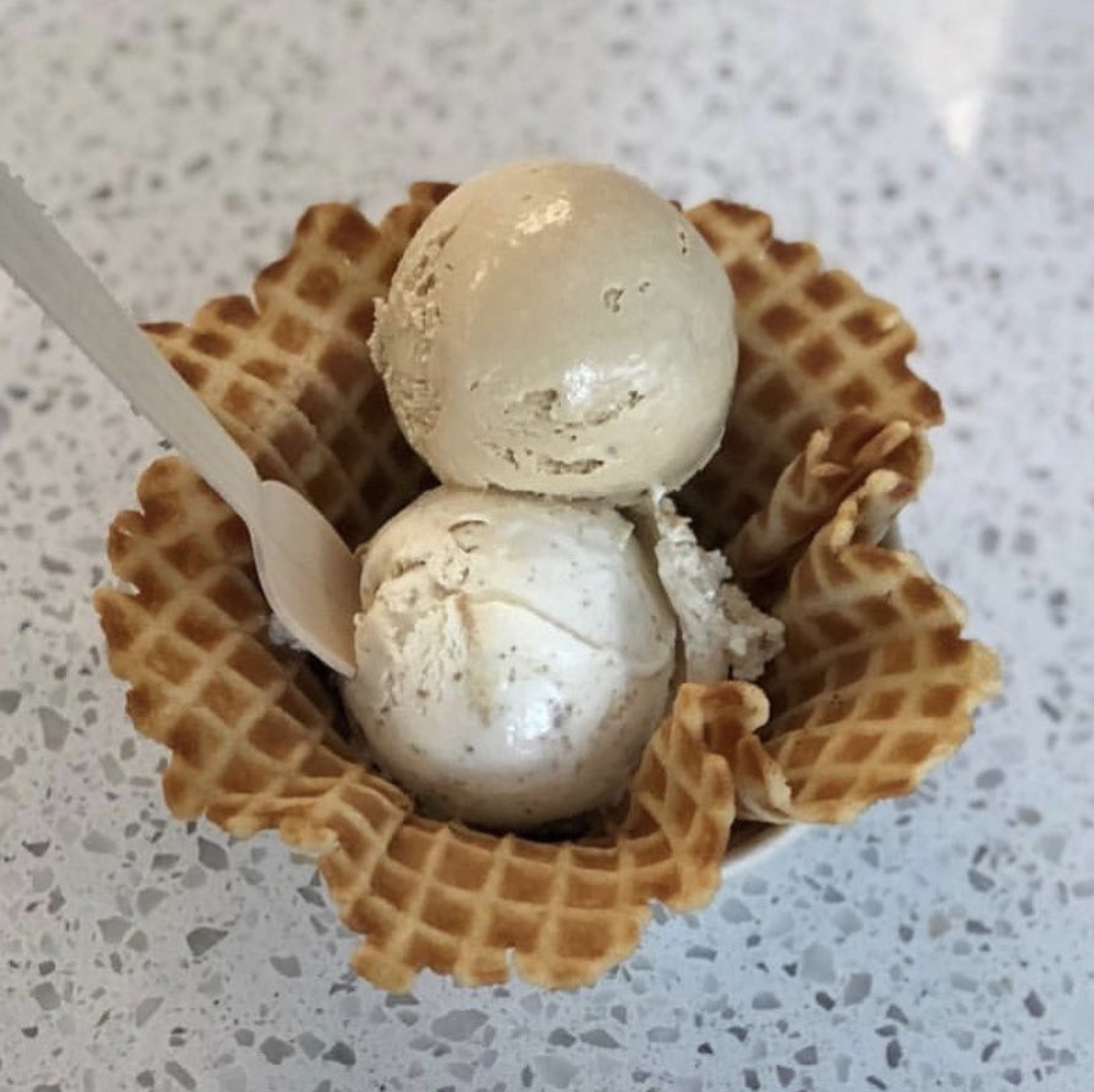 Eat this: Dessert first! Start your MTG experience by satisfying your sweet tooth with treats from Chef Dina Amadril of Long Beach Creamery. Chef Amadril uses locally sourced organic ingredients to create signature ice cream flavors like burnt caramel, cashew fennel chip, and midnight oolong chocolate. Sample these and other ice cream flavor surprises at her two brick and mortar stores in Bixby Knolls and Downtown Long Beach. On Saturday, Chef Amadril will treat MTG festival goers to two special creations—a "Best Of" everything ice cream sundae and a buttercake berry and s'mores bite. Get there early!
Hear this: Local dessert goes best with local tunes. Eat a creamery sundae and catch breezy tunes from Haunted Summer and Feels, or rock out to Cherry Glazerr with a side of berry buttercake. All three bands hail from the City of Angels. To keep it truly local, enjoy Chef Amadril's Long Beach Creamery treats while grooving to Long Beach favorites Blcknoise and Manuel the Band.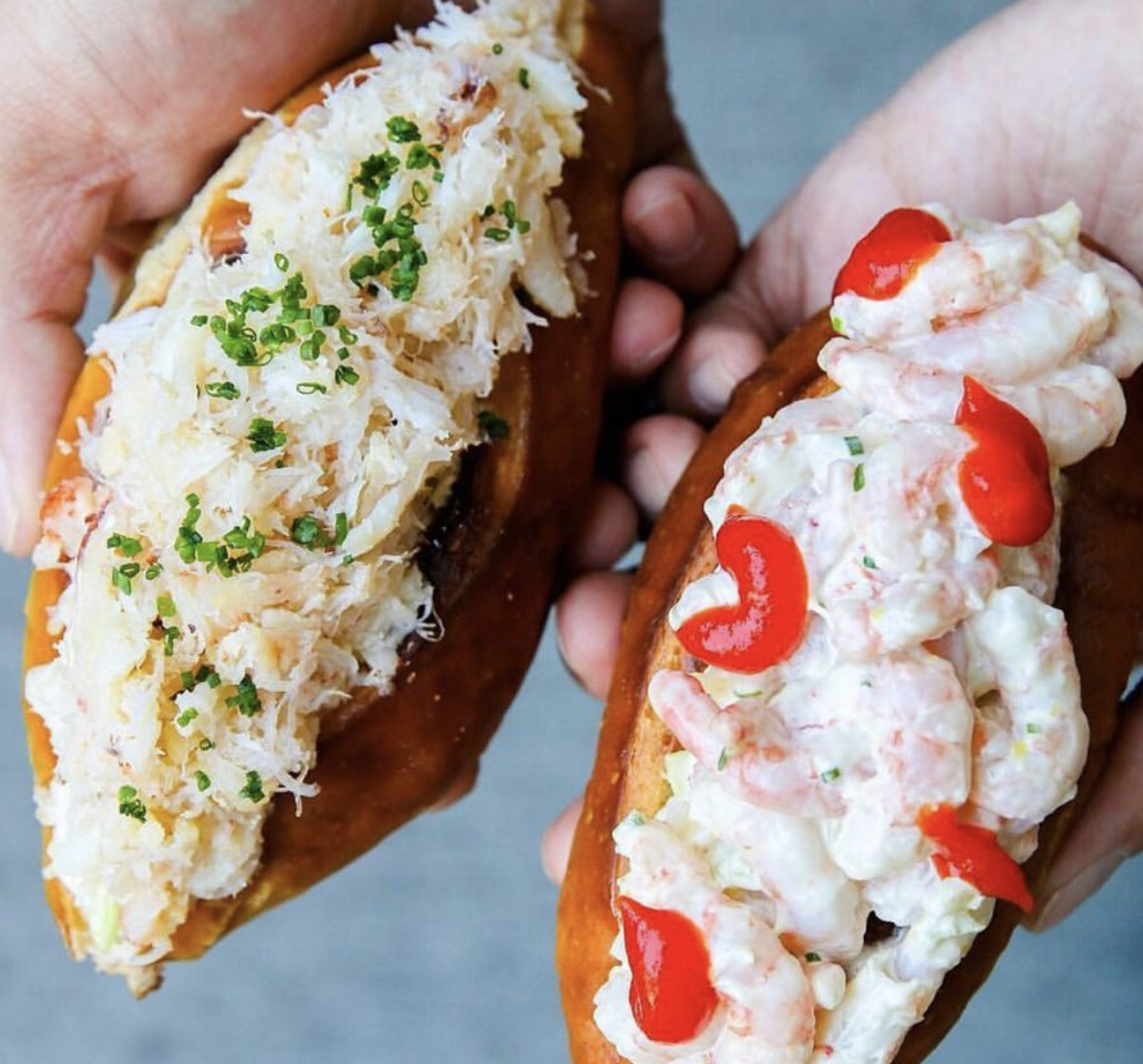 Eat this: Chef Jeffrey Vance comes to the MTG Taste Tent from Seattle's No Anchor Bar, a 2017 James Beard Best New Restaurant Semi-Finalist. No Anchor features craft beer and unique spirits to accompany seasonal dishes that showcase the best produce and freshest seafood of the Pacific Northwest. If you're in Seattle, drop in to sample dishes such as hot smoked sturgeon, corned duck breast, or roasted seasonal vegetables. For Music Tastes Good, Chef Vance will serve up his popular shrimp roll on a pretzel bun with celery lemon dressing and fresh fresno chili hot sauce.
Hear this: Take your lil shrimp roll over to see Lil B, the Berkeley-based rapper and producer. Chef Vance's dish also pairs well with Athens, Georgia-based indie country-rock band Neighbor Lady. Because every neighbor lady needs some fresno chili hot sauce in her bag.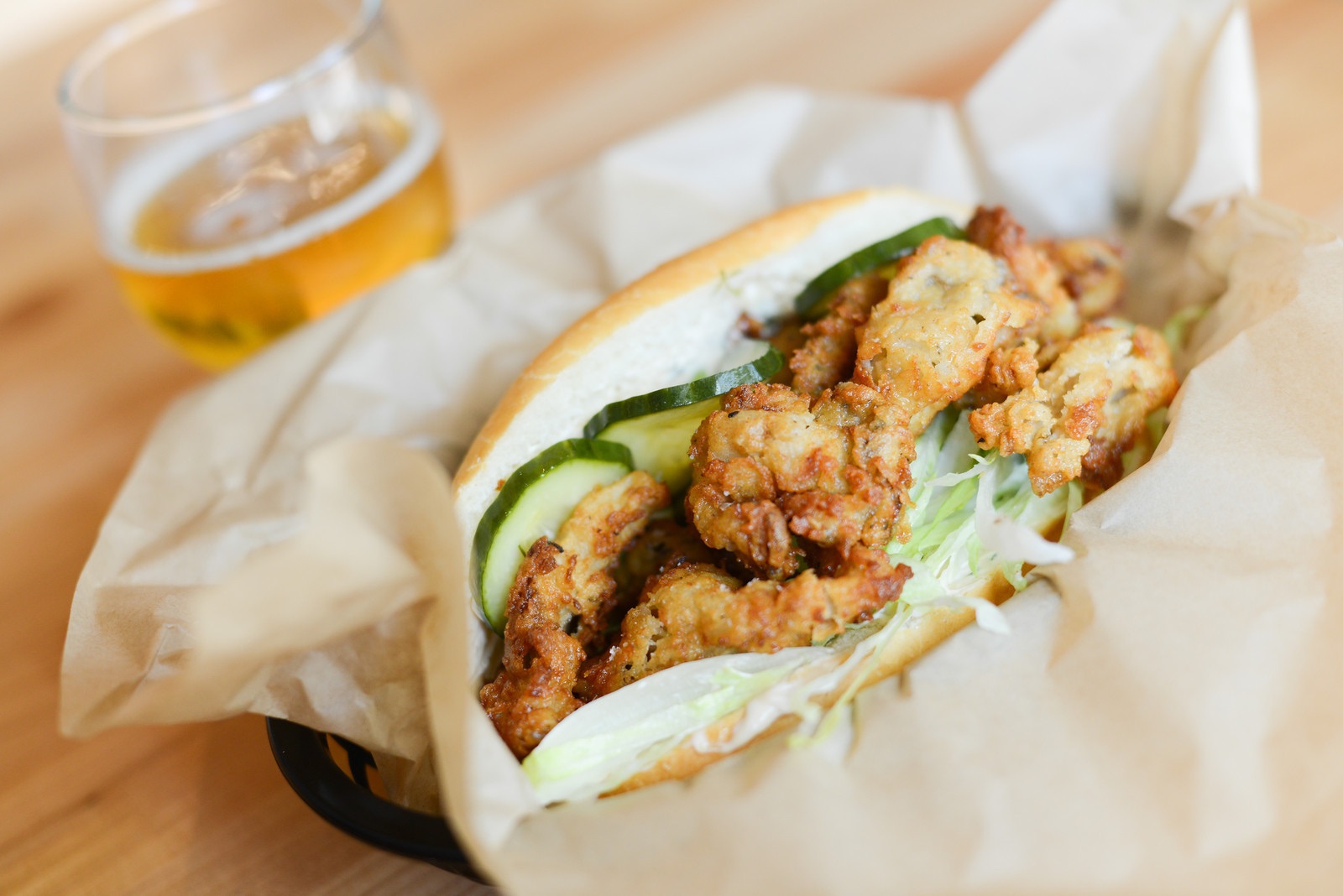 Eat this: Chef Michael Theimann heads Sacramento's Mother, a restaurant that is "tasty, casual and meatless by happenstance." Chef Theimann brings his chicken fried mushroom po'boy, a Mother's menu favorite, to the MTG Taste Tent. The scrumptious sandwich, sure to please carnivores and vegetarians alike, is served with house-made pickles, hot sauce, "Drive Thru" aioli, and iceberg lettuce on a homemade roll.
Hear this: Pair Chef Theimann's hearty po'boy with a heart-pounding set from the No BS! Brass band. The 11-piece ensemble hails from Richmond, Virginia, and plays "East Coast modern funk" with a splash of New Orleans spirit. Add a few beaded necklaces and hurricane cocktails to that brass band and po'boy and voila, you have yourselves an instant Mardi Gras party in September in Long Beach. Get your tickets!
Eat this: Like tapas, pinxos, and other inspired Iberian fare? Portlanders have it made with Chef Pat Manning's Toro Bravo Spanish restaurant, which offers culinary specialties from all over España. Toro Bravo features an impressive list of house-made charcuteria, or cured meats, and the requisite accompaniments such as crostini, honey, cheeses, and various patés. Other Toro Bravo menu highlights include octopus a la plancha, papas bravas, and lamb chops. If Spanish bites are your fancy, go find Chef Manning's table in the Taste Tent and enjoy a Surtido de Frituras, or assorted fried seafood. You'll get a choice of fried shrimp, anchovies, or calamari topped with fennel, lemon, and green harissa mayo to savor like you're in Spain. And you don't even have to cross the Atlantic. 
Hear this: Speaking of crossing the pond, perhaps try your fried fish with London's Shame. The five-piece band is reminiscent of the Sex Pistols, the Clash, the Cure, and a lot of those 90s "shoegazer" bands like My Bloody Valentine and Swervedriver. Or take your surtido de frituras to see the hard-rocking, maraca-playing Miss Pussycat with Quintron, an outfit from New Orleans performing "genre-defying noise" and New Orleans "psychedelic soul." Here, pussy pussy!
Eat this: Your first tacos of the day come courtesy of Chef Sincere Justice Wong, executive chef of Oakland's popular pop-up, Tacos Sincero. Follow the Tacos Sinceros Instagram and Facebook pages to find Chef Wong serving his specialty "Chino-Latino" comida inspired by his Vietnamese, Cantonese, and Mexican culinary influences. Chef Wong was born and raised locally in the San Gabriel Valley — Baldwin Park, to be exact — so if you're from the 626, come by and show Chef Wong some extra special love. He'll bring two of his signature tacos to the MTG Taste Tent. The "Bo Kho Taco" features Vietamese style braised brisket (Bo Kho), roasted garlic labneh, lemongrass morita salsa, herbs, and cucumber. The "Don Camote Taco" is a vegetarian taco with seared sweet potato, yuzu mayo, furikake, and bonito flakes. Did we mention these are the only tacos in the Tasting Tent today? Go!
Hear this: Take your Tacos Sincero and head over to hear Santigold, Los Master Plus, or Joey Badass. It's an eclectic mix of music to match the tacos in your hand: Santigold for the soulful electro pop, Los Master Plus for Mexican electro-cumbia fun, and Joey Bada$$ for Brooklyn-style rap and R&B.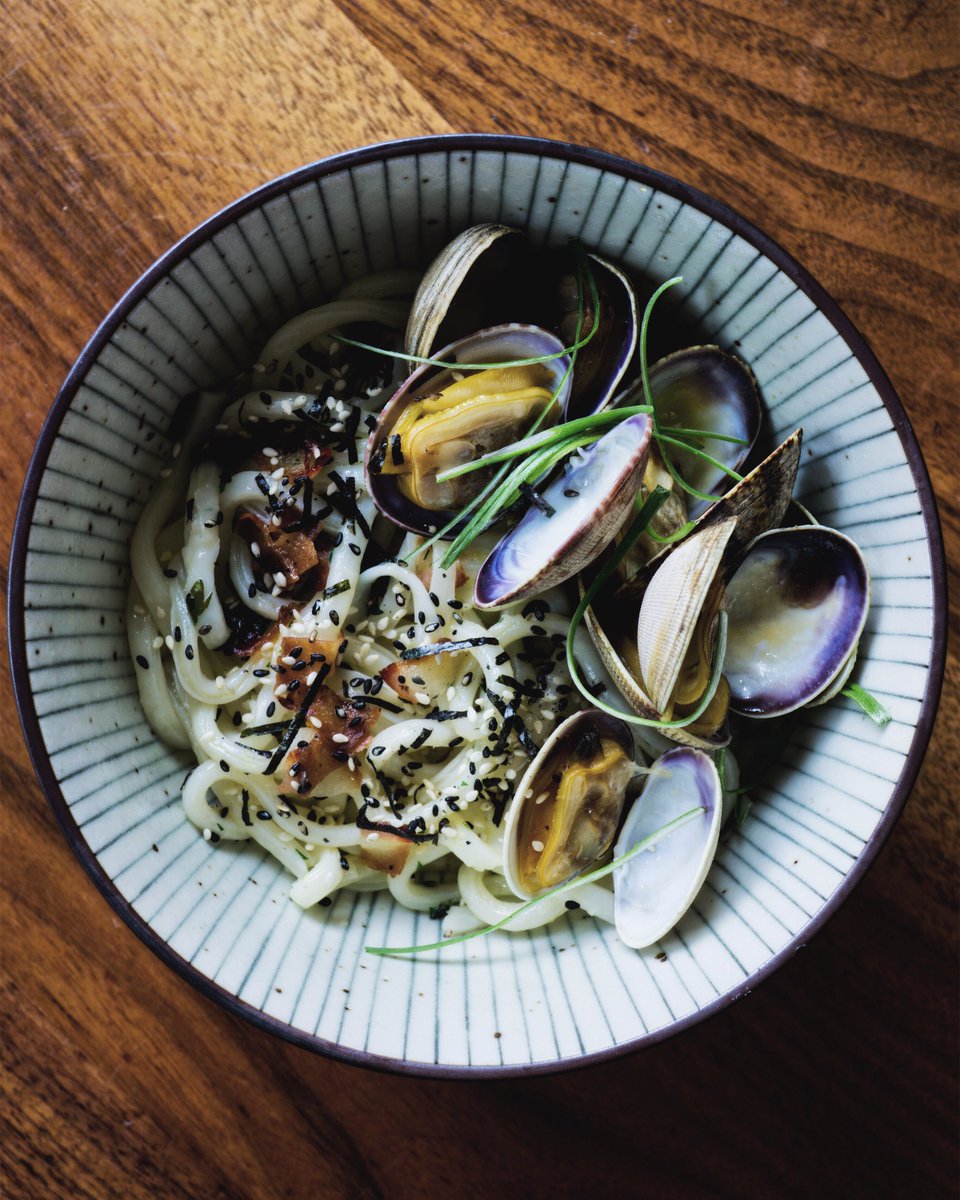 Eat this: Hungry for a Canadian combo meal? East Vancouver native Chef Wesley Young will treat festival goers to a taste of Pidgin, Air Canada's enRoute magazine's Best New Restaurant. Chef Young's menu reflects of the best of Pacific Northwest and Asian ingredients for dishes such as udon vongole and manila clams, Korean rice cake, and a daily ceviche. On Saturday at MTG, Chef Young will serve his popular pork belly rice bowl with Asian pear kimchi, bamboo shoots, eggs. Oh, Canada.
Hear this: Canadian food, Canadian music. Take your Pidgin pork bowl to Broken Social Scene and celebrate the long-awaited return of this classic 1990s-era Canadian alternative music collective. They will perform classics as well as new music from their JUNO-nominated album, Hug of Thunder, the band's first in seven years. Alternative pairing: not an aging KROQer? Get your sweets at the Forest of Tongues set. With songs like "Gummy Gremlins," "Dark Chocolate," "Candy Bars," and "Hard Candies," the Long Beach locals' psychedelic "candy gumdrop rock" songs sound like a dessert basket from Chopped. You be the judge.
EAT THIS: Cap off your Saturday with a pleasant palate cleanser from Chef Aliye Aydin. Chef Aydin will serve za-atar spiced carrot ribbons with parsley, pesto, goat cheese, paired with a Turkish tea. Born and raised in Long Beach by an American mother and Turkish father, Chef Aydin's culinary philosophy honors the power of the home cooked meal for sustaining happy and healthy lives. For the past eight years, Chef Aydin has operated A Good Carrot, a whole foods, organic Mediterranean meal plan service based in Long Beach.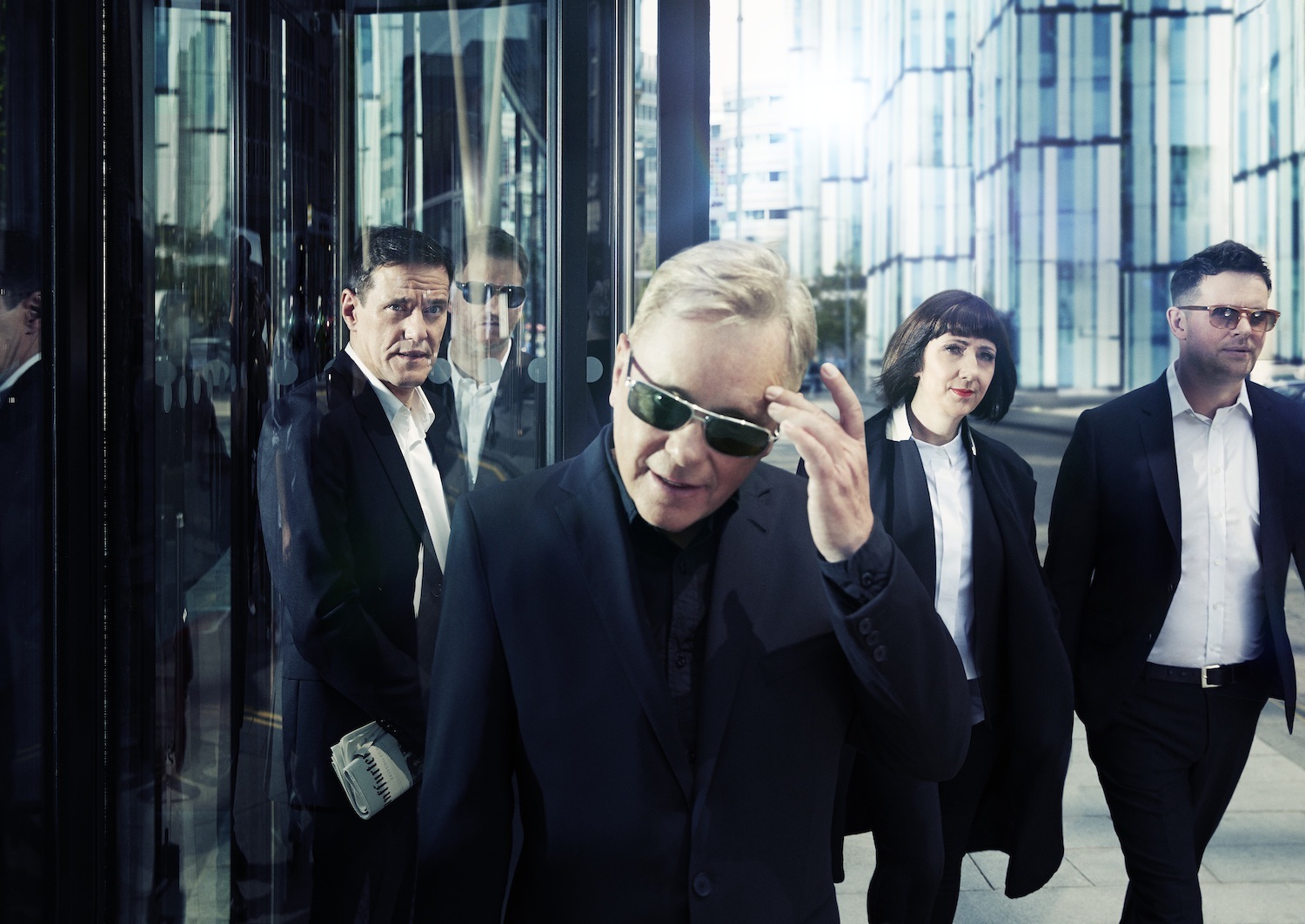 HEAR THIS: A dish like Chef Aydin's za-atar spiced carrot ribbons might just set your "World in Motion." Pair it with a big serving of New Order, Saturday's headliners. For many of us KROQers coming of age in the 1980s and 1990s, New Order represents one of the quintessential UK bands that tickled our SoCal ears with "ear candy," a term I borrow from Professor Karen Tongson's 2011 book, Relocations: Queer Suburban Imaginaries. One of many bands from Manchester, England, that seduced so many of us all the way in Los Angeles, New Order's electro-synth melodies are just as fresh and tasty thirty years later. Enjoy hits like "Blue Monday," "Bizarre Love Triangle," and "Ceremony" from the classic 1980s "new wave" outfit.
~SUNDAY 9/30~
Janelle Monae, James Blake, and The Church top Sunday's bill, closing out Day 2 of an electric lineup of music and food. From Ethiopian jazz and Latin American alternative to queer glam-pop and yacht rock for the millennial generation, Sunday's menu reads more like a musical smorgasbord. Here's a list of pairings to enjoy on your last day of MTG: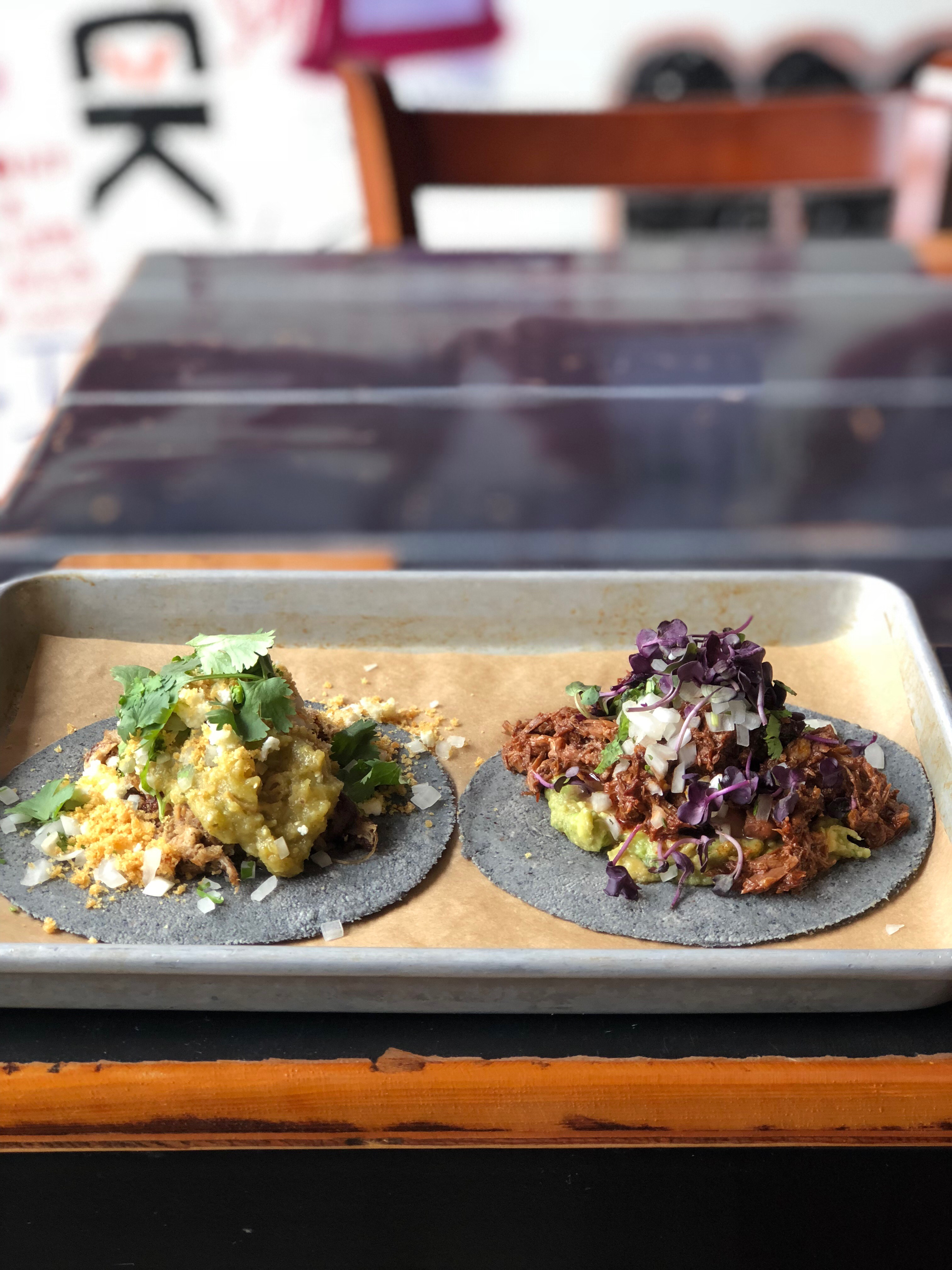 Eat this: Chef Christine Rivera hails from San Diego and is best known for her award-winning tortilla and masa program at Galaxy Taco in La Jolla. She will serve short rib barbacoa tacos on handmade blue corn tortillas of heirloom Mexican maiz. She'll also bring her delicious carnitas tacos served in handmade cilantro corn tortillas. ¡Buen provecho!
Hear this: Galaxy Tacos are best enjoyed "Under the Milky Way" tonight. KROQers  hungover from their post-New Order high from the night before might do well to come back to The Church on Sunday. The Australian rock hall-of-famers are best known for their 1988 hit, "Under the Milky Way," and they will perform their classic album Starfish in its entirety to celebrate its 30th anniversary.
Eat this: Chef Dawna Bass operates Under the Sun, the first and only raw vegan café in Long Beach. Chef Bass will offer two delicious vegan options for festival goers. Enjoy her jalapeño burger with smoked "gouda," followed by a sweet dessert of carrot cake with "cream cheese frosting."
Hear this: Enjoy Chef Bass's Long Beach bites with music from Long Beach bands. Asi Fui plays songs with "lush sonic textures," while The Fling throws us back to the days of the Beach Boys and L.A.'s Laurel Canyon scene of the 1960s and 1970s.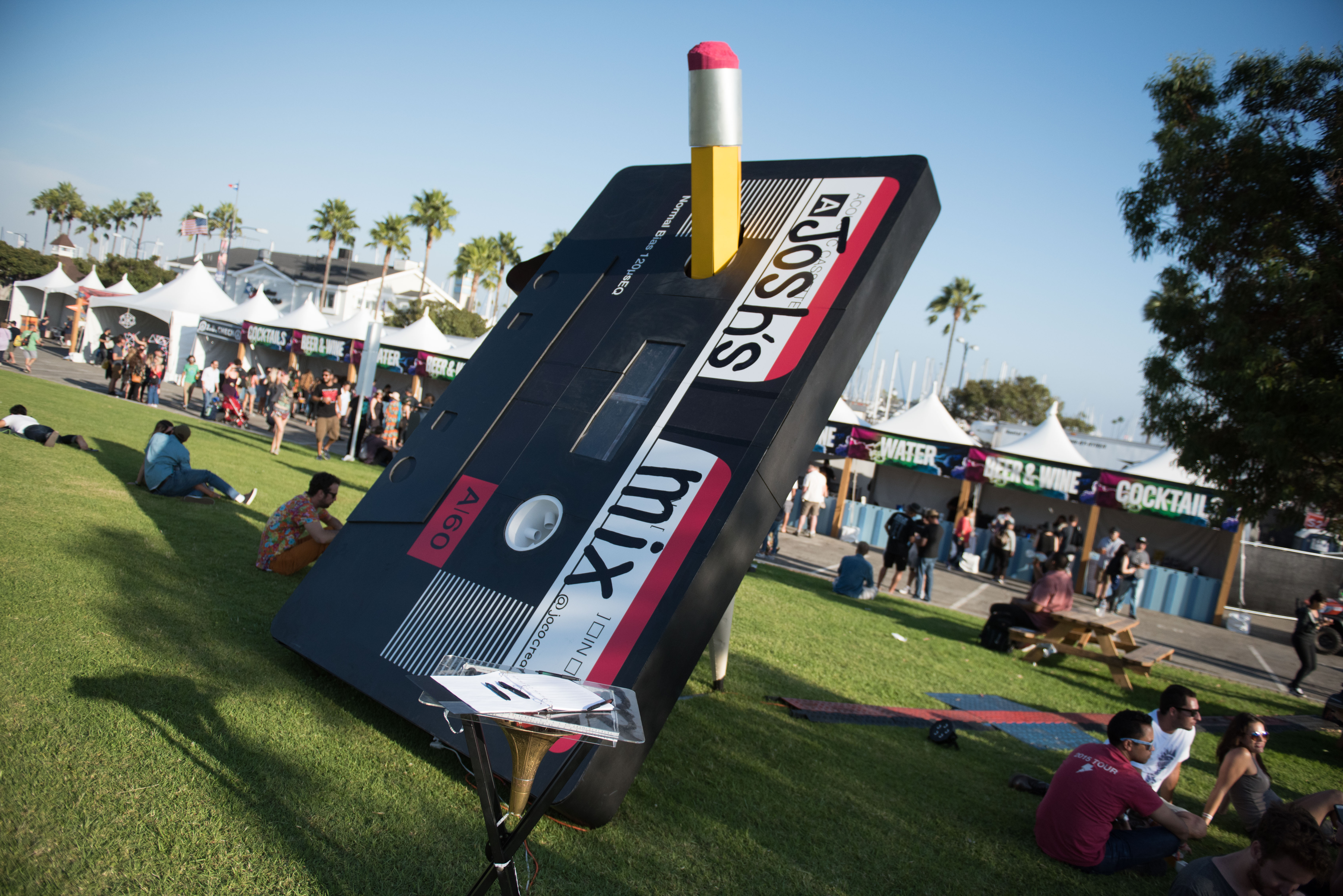 Eat this: Chef Nancy León comes to the MTG Taste Tent from Tijuana, B.C. Chef León is the creator and executive chef of Chan's Bistro, her Asian fusion restaurant in Tijuana since 1998. She features the best of Chan's Mexican-Chinese menu with two items for festival goers. Try her seaweed Baja taco with snow crab, mackerel, avocado, meyer lemon, crispy panko, shiso microgreens, wasabi dressing, or the shiitake dumpling with spicy black bean scallion ginger sauce.
Hear this: Chef León's transnational creations complement the hemispheric pan-Latin American musical flavors of LADAMA, an all-woman musical collective. Or, check out Philadelphia R&B phenom Lizzo. You, too, will be "Feelin' Good As Hell" with a belly full of dumplings and an earful of soul music.
Eat this: Chef Cameron Hanin specializes in delicious fried chicken sandwiches with Asian and Hawaiian flavor profiles. Chef Hanin will represent Ma'Ono Fried Chicken in the MTG Taste Tent. He offers a crowd-pleasing dish of two fried chicken drumsticks with a side of daikon pickles to enjoy on a Sunday.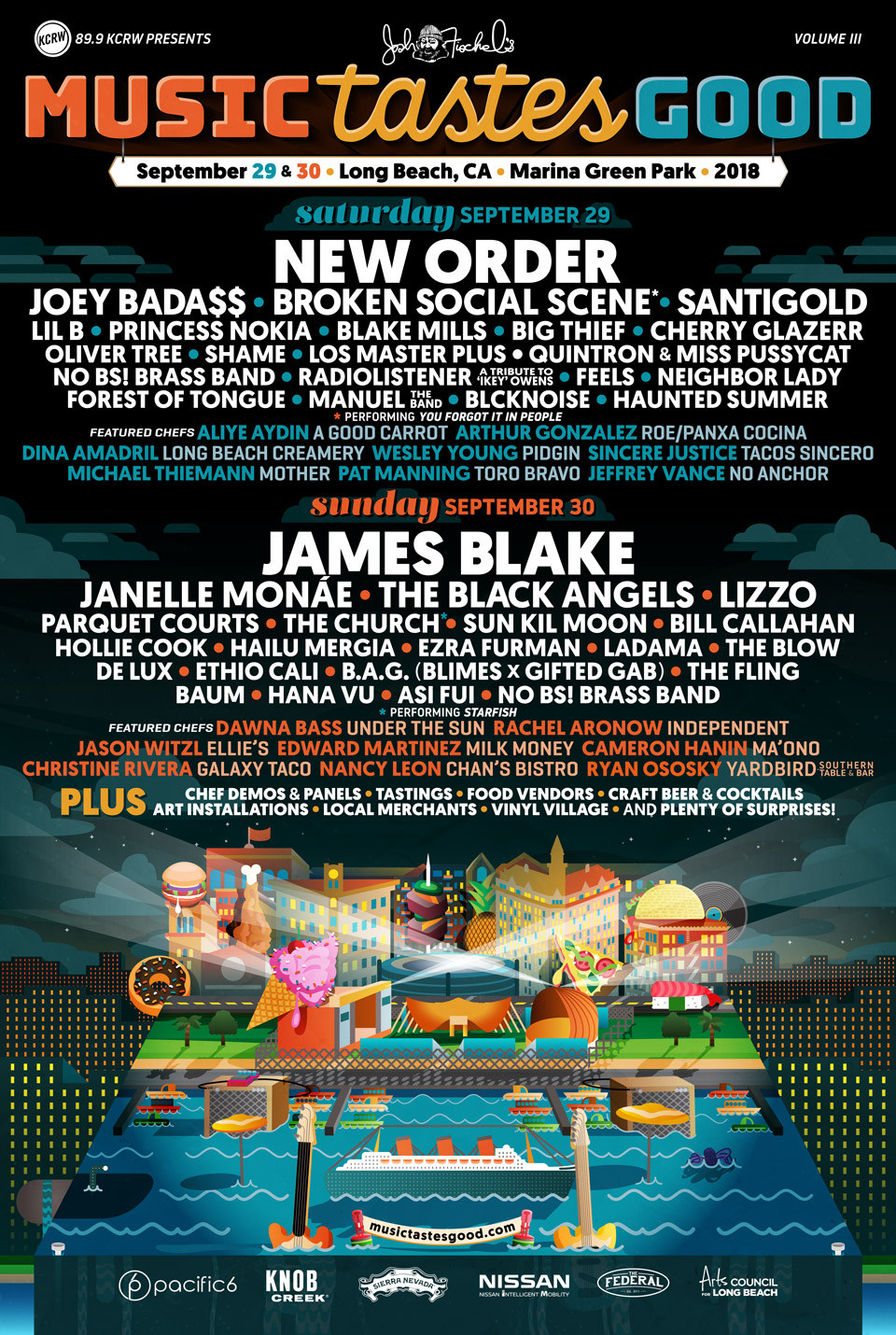 Hear this: We eat fried chicken drumsticks with a lot of different food things: waffles, honey, barbecue sauce, mashed potatoes, boysenberry pie. It's comfort food enjoyed by peoples and cultures all over the world. Take your Ma'Ono Fried Chicken and listen to whatever band or music suits your fancy. There's lonely "bedroom pop" from seventeen-year-old Hana Vu, queer glam rock from Chicago's Ezra Furman, dynamic 1970s-style Ethiopian jazz remixed by L.A.-based Ethio Cali, and electro-dance music from L.A. duo, De Lux. Fried chicken goes with anything.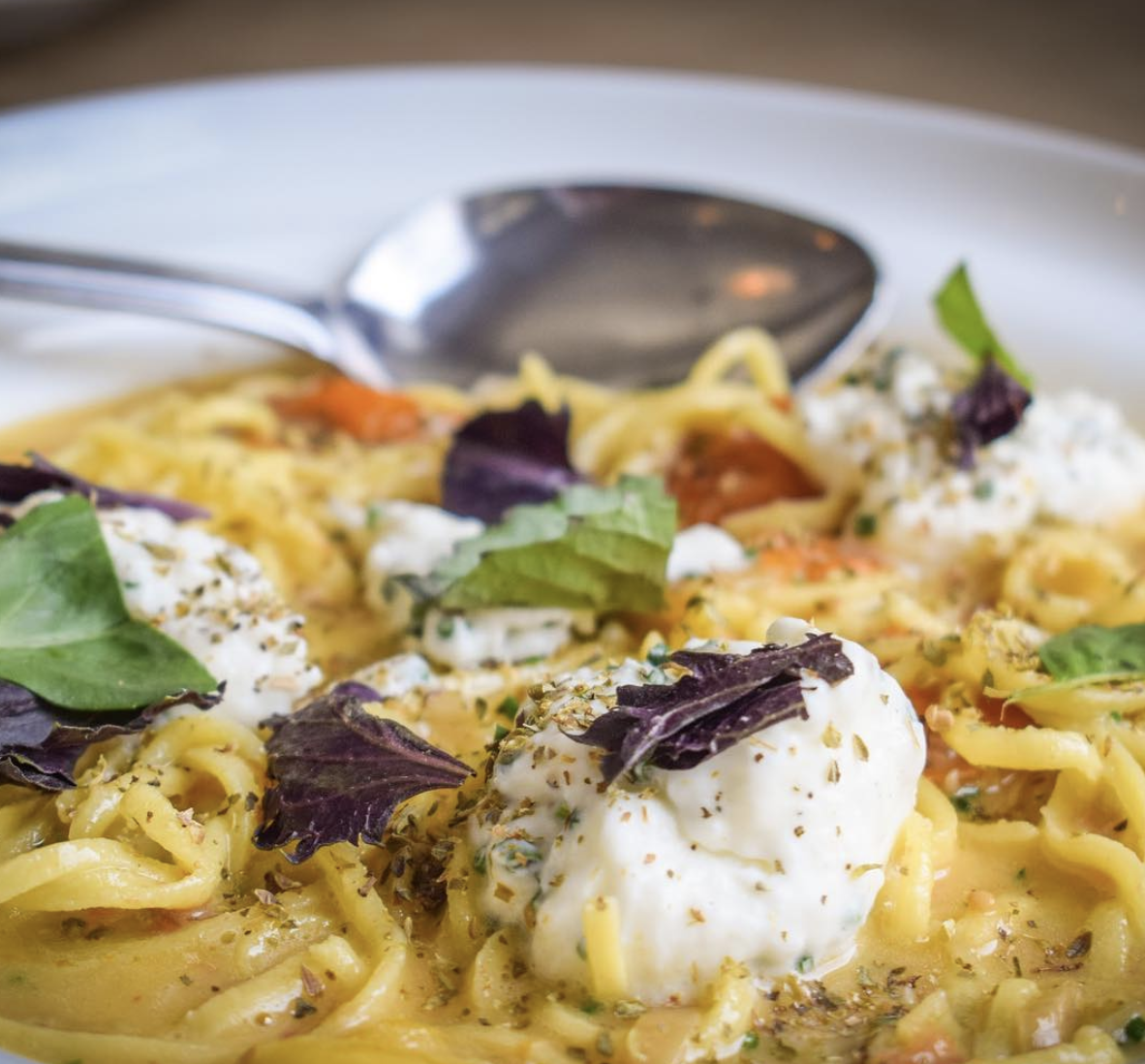 Eat this: Chef Jason Witzl doesn't have to travel too far to the Taste Tent. The "born and bred Angeleno" opened his first solo restaurant, Ellie's, in the Alamitos District of Long Beach. Ellie's features southern Italian cuisine made with carefully chosen specialty ingredients. You'll have to go to Ellie's to try the meatballs, burrata, or handmade pastas. On Sunday, Chef Witzl will serve a dish of heirloom melon, serrano chile, Persian cucumber, and marinated shrimp topped with crème fraîche vinaigrette.
Hear this: Like heirloom foods, the Hailu Mergia's music has been passed down for generations. Now in his early 70's, the legendary Ethiopian keyboardist and jazz musician began his career playing keys and accordion with the Walias Band, a golden-age Ethiopian jazz group founded in the 1960s. Mergia will dazzle crowds on Sunday with music spanning his storied career.
Eat this: Chef Rachel Aronow is a self-described "little Jewish chef" from San Francisco. She incorporates flavors from Latin America, Asian, and Middle Eastern culinary traditions in her cooking. She'll bring two vegan and gluten free dishes to the MTG Taste Tent. Enjoy Chef Aronow's "gazpacho" w/slow roasted beet, fresh citrus segments, bell pepper, and almond broth. She'll also serve a vermicelli bowl w/rice vermicelli tossed in sesame avocado cream and finished with seasonal vegetables, chimichurri, and crisped onion.
Hear this: Enjoy Chef Aronow's dishes with Ms. Janelle Monae: sexy, queer, and vegan.
Eat this: Last but not least, enjoy dessert by Michelin-Star pastry chef, Edward Martínez. Sacramento loves Chef Martínez's small-batch donut and ice cream dessert haven, Milk Money. He'll make his special "Snoop Dog" donut ice cream sandwich to MTG, no doubt in homage to Mr. Dogg, the pride of LBC.
Hear this: West London's Hollie Cook serves up her own brand of soulful "lover's rock." With songs such as "Milk and Honey" and "Walking in the Sand," Hollie Cook provides the best soundtrack for munching on a Chef Martínez "snoop dog" ice cream brioche donut sandwich. Enjoy with a chaser of gin and juice.
Melissa Mora Hidalgo was born in Montebello and grew up in the L.A./O.C. borderlands of East Whittier and La Habra. She holds a Ph. D. in Literature from UC San Diego and is the author of Mozlandia: Morrissey Fans in the Borderlands (Headpress UK, 2016).
Stay in touch
Sign up for our free newsletter