Art
Graffiti History: UTI CREW Celebrates 30 Years
10:56 AM PDT on September 7, 2016
[dropcap size=big]T[/dropcap]owards the end of summer 1986, two Los Angeles graffiti writers shared a similar ambition: To work with the streets and apply graffiti as a free and powerful medium of communication in society. After several attempts to represent small crews, the two writers, Skill and Snap wanted to come up with an original crew that could become something bigger than just graffiti.
Inspired by brotherhood and love, they decided to form "UTI." Today, there are approximately 200 members in a dozen cities in the U.S., Europe, and Mexico. Snap explains, "We were two writers that wanted people who were something like ourselves… That wanted to be part of something that was a representation of our partying, graffiti, and girls. And reppin' our city, Los Angeles. And getting up. So we made ourselves a brotherhood of leaders and thought UTI was a great name because of our lifestyle at the time. And I know Skill and I never imagined the level that it's grown to be, when we started UTI..."
There are numerous amounts of meanings that stand for UTI: Under The Influence, Unite To Ignite, Use To It, Unity Threatens Ignorance, Unusual Teamwork Involved, Underground Territory Invaders, Urban Tract Infections, Understanding The Illusion.
Skill describes UTI as, "One huge dysfunctional family. A support network for underground writers, individuals, urban creatives, including: DJs, MCs, dancers, photographers, and random tagger friends."
He mentions, "I made up the name and logo, but Snap's approval made it official. He put it into effect." To be part of UTI, the crew looks for people with heart, talent, consistency, potential and desire. Snap added that they are also observant of people with "Genuine quality as a productive addition to the crew. Not dead weight. And love for the craft, as well as a quote-unquote 'good motherfucker.' One who is able to take direction and also able to be a leader… Active."
[dropcap size=big]UTI[/dropcap] celebrated their 30 year anniversary in Downtown LA; on Saturday, August 13, 2016. Prior to the festivities, the crew spent weeks and hundreds of hours painting a massive anniversary mural in Downtown. There were no off days, the mural was being worked on literally 24 hours a day, 7 days a week until its completion. Several members spent their Fourth Of July holiday painting these enormous walls.
It was obvious that these guys showed a lot of dedication. But before we review their spirit of determination, and start celebrating at the anniversary party, I had a moment to reflect on the past, present and future of LA graffiti with founders Skill and Snap. We dug deep into their personal background, to see what the root of their graffiti means to them. This allows us to get a better visualization of UTI's history and evolution. Fellow crew members, Fearo and Black Light King shared a few words on what makes them acknowledge the legacy of UTI.
WR: What inspired you to do graffiti?
Skill: I was a strange kid... in 1977, I used to draw dirty pictures on my home walls and school desk and walls. Until I got busted. My mom, she used to doodle pretty good when she was chatting on the phone. I used to look at her sketches afterwards. My dad used to encourage me to draw and be an artist. My older brother, Victor… He is 8 years older than me and used to bust hard rock record cover murals on walls in pencil, 1970-1981. An older cat named, JSKI, moved into my neighborhood and showed me piece books, graffiti, posters, and graffiti record covers from New York. I became his lookout on bombing missions. Snap got into bus writing. DASH2000 (RIP) taught me characters, and got me into taking pictures of graffiti.
Snap: Myself, I was in the streets at a young age. I paid close attention to my surroundings and always wanted and needed to know where I was, and whose neighborhood I was in. So I watched and learned if I was ever in doubt; read the writing on the wall and you'll know exactly where you're at. I got started in writing from a friend of mine named Wisk back in 1984. We were beach kids, boogie boarders, and we had nicknames. And it was about riding waves and beach lifestyle; so, we started a lil crew of body boarders and called it, Santa Monica Shredders, and Wisk gave all four of us our names. They pertained to riding waves and he gave me my name, "Snap". Graffiti had came to the west coast from the east coast and I kept the same name and started writing Snap everywhere I went, and you know the rest of the story…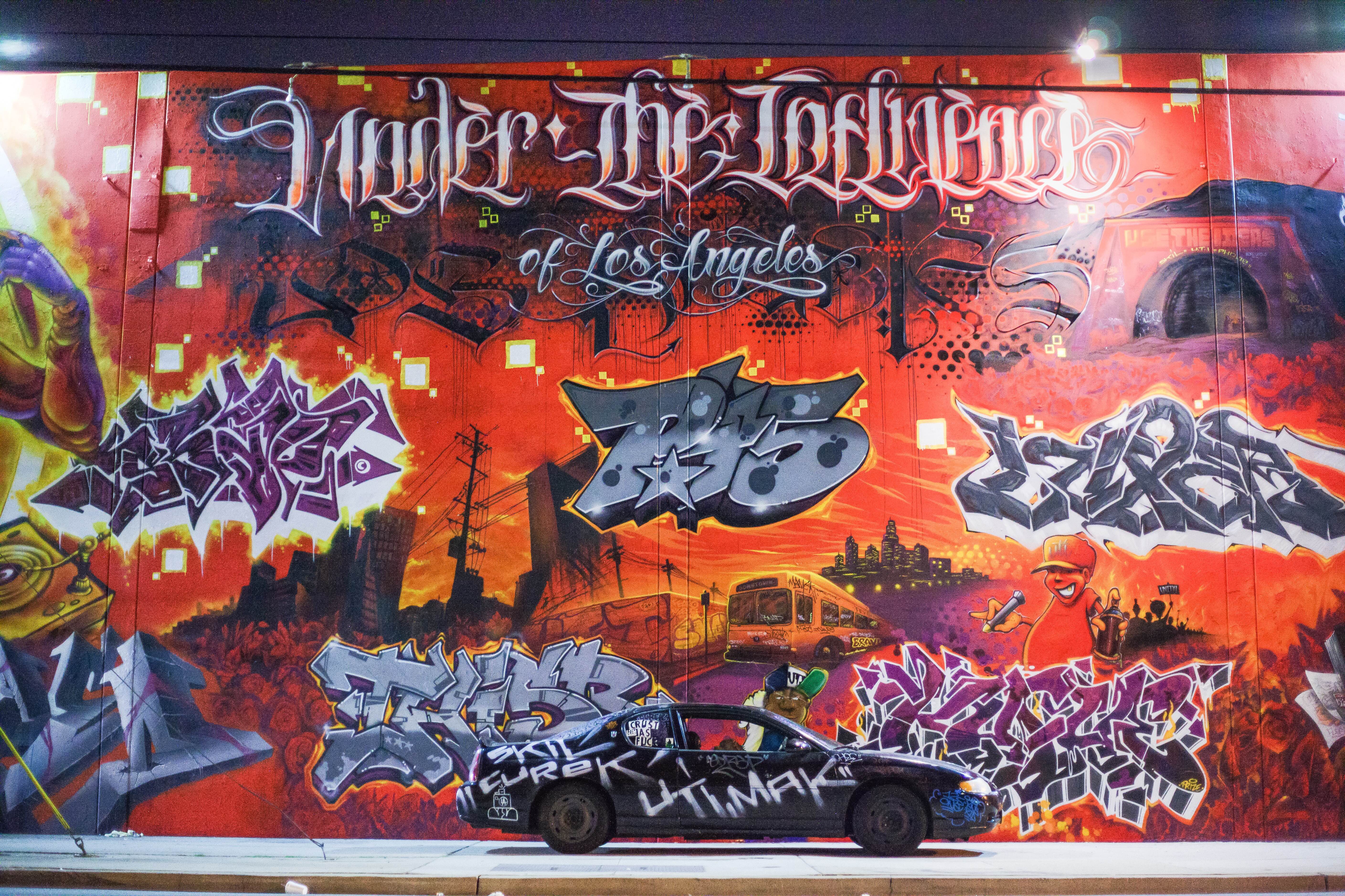 WR: LA has gone through some phases in graffiti. From mobbing buses, the LA River, Belmont Tunnel, even "tag banging" which seemed like a very dangerous and violent time to be involved with graffiti. I mean… Graffiti isn't the safest activity up to this day, but how would you compare graffiti back then, to how it has evolved now? Do you think it has changed dramatically?
Skill: From the 80s to 90s, graffiti was an urban sport, played on the field of the streets. Now it has been taken over by trained artists and businessmen. There are still many real graff writers, but they have been relegated to the shadows by the culture vultures, who have usurped the web to make themselves look street.
Snap: It's definitely changed as you can tell. They've got a good handle on it now to where I don't see it ever being as active as it was in the 80s and 90s. We had a lot of fun with it in its heyday. Lots of twist and turns and pioneering, and friendships were built, and camaraderie, and pure uncharted territories were conquered and beautified. Lots of groundbreaking, lines were drawn, and shit got rocked. And recognition was key, and style, and consistency, etc...
WR: What do you think of today's modern LA graffiti?
Skill: I like it. I can see how they built and advanced on the older patterns. It's really interesting to see the style trends constantly morph and evolve.
Snap: I think its came a long way, and am a fan of the movement in a, "rocking-fresh, productive, and killing it" type of way. No matter what avenue one has as an outlet, for their contribution to the scene... "Just do it." like Nike...
WR: What do you think makes UTI different from other crews in LA?
Skill: We stay in our own lane, style wise. Each member has a distinct style that they are developing at their own pace. We have very few who follow style trends. Most other crews follow style trends religiously. We are somewhat organized and systematic. Most LA crews are loosely organized. We invest in younger talent and help develop inner city writers. We are constantly active, constantly growing. We have expanded beyond LA. Many of our members are cultured. Many have spiritual awareness. Many of us have a strong work ethic. We believe in giving back to the community. We want to see our friends succeed. We have been around 30 years ACTIVE. We have a strong support network from other community organizations, art patrons, businesses, city officials, and fellow crews. We are tightly connected with most every major crew in LA and abroad.
Snap: In my eyes, UTI is a very tight crew, as well as loose enough to be able to make decisions as one's own and to lead, and to be lead as well. Make sense? My favorite thing about UTI has got to be the drive and commitment and camaraderie. The friendships that have been built throughout the years are real and solid. I mean, every crew gonna have issues but I've been to other crews' meetings and I feel we are a little more organized and conditioned, and seasoned in many areas. I think it all comes from experience and solid team members.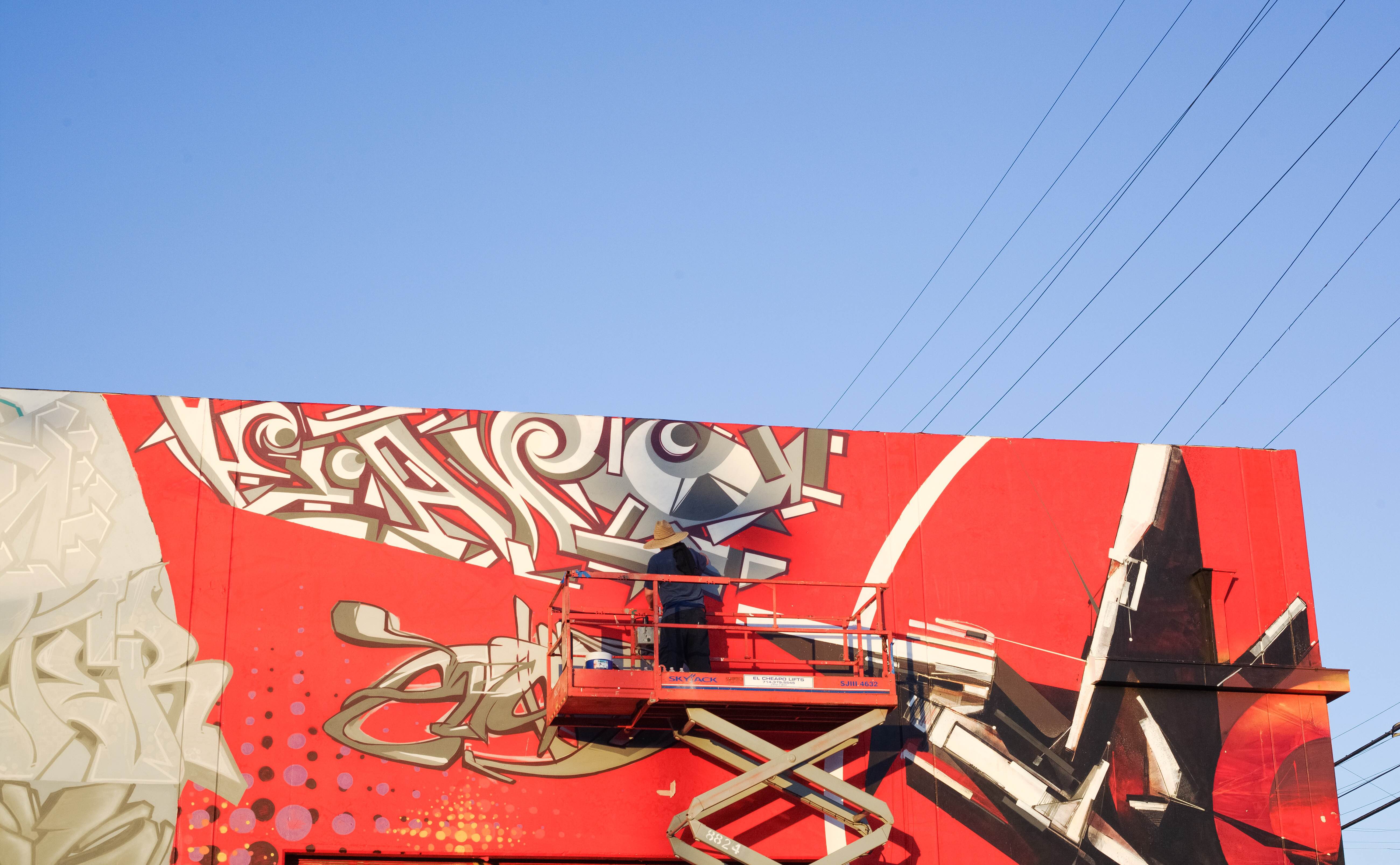 Fearo: I've been in UTI for 20 years now, got in summer of '96. I guess my favorite thing about UTI, is having direct access to many talented writers and artists and being able to collaborate with them. I think what makes us different from most writing crews is the way we managed to maintain our street credibility throughout the years, even after being challenged by so many along the way. We have a strong sense of who we are and where we come from, and stay true to it.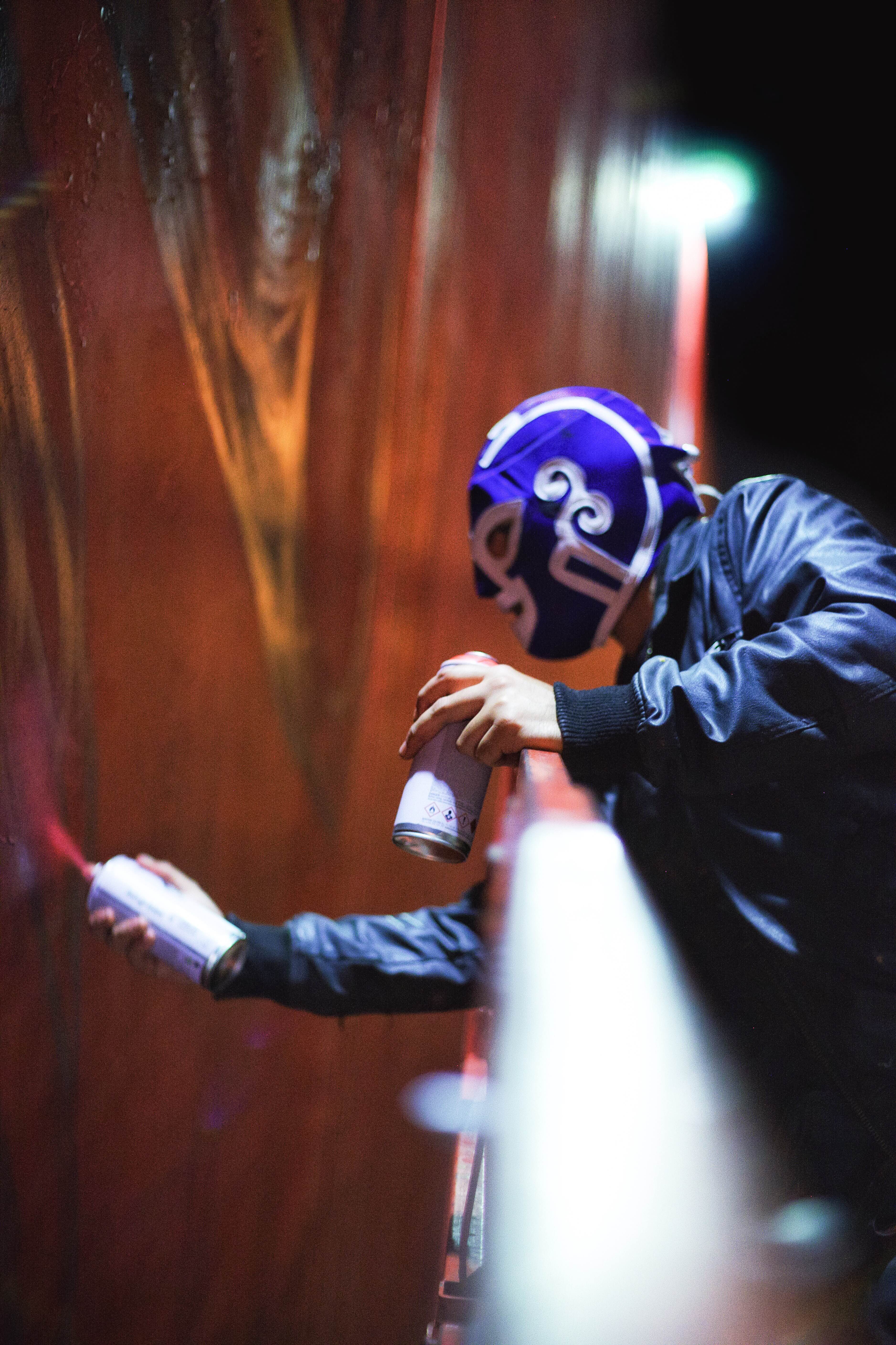 Black Light King: I like the friendship and people; the way we are always there for each other and can find ways to cooperate. I really like the legacy we have, built on loyalty and artistry and how graffiti art brings us together. I could always just show up to a production and know that the homies will welcome me, and will help each other in resources to make art happen.
And now… Let's head over to the gigantic walls the crew produced for their anniversary; located on the south east part of Downtown, on the corner of Santa Fe Avenue and Olympic Boulevard. These warehouse walls belong to a plumbing company managed and ran by, Westbrass. Due to the immeasurable blank walls wrapping around the facility, Westbrass was experiencing a high dose of vandalism throughout their walls. The city's graffiti removal service would appear several times a month by request, to clean up the walls from graffiti. But this maintenance did not seem to get any easier.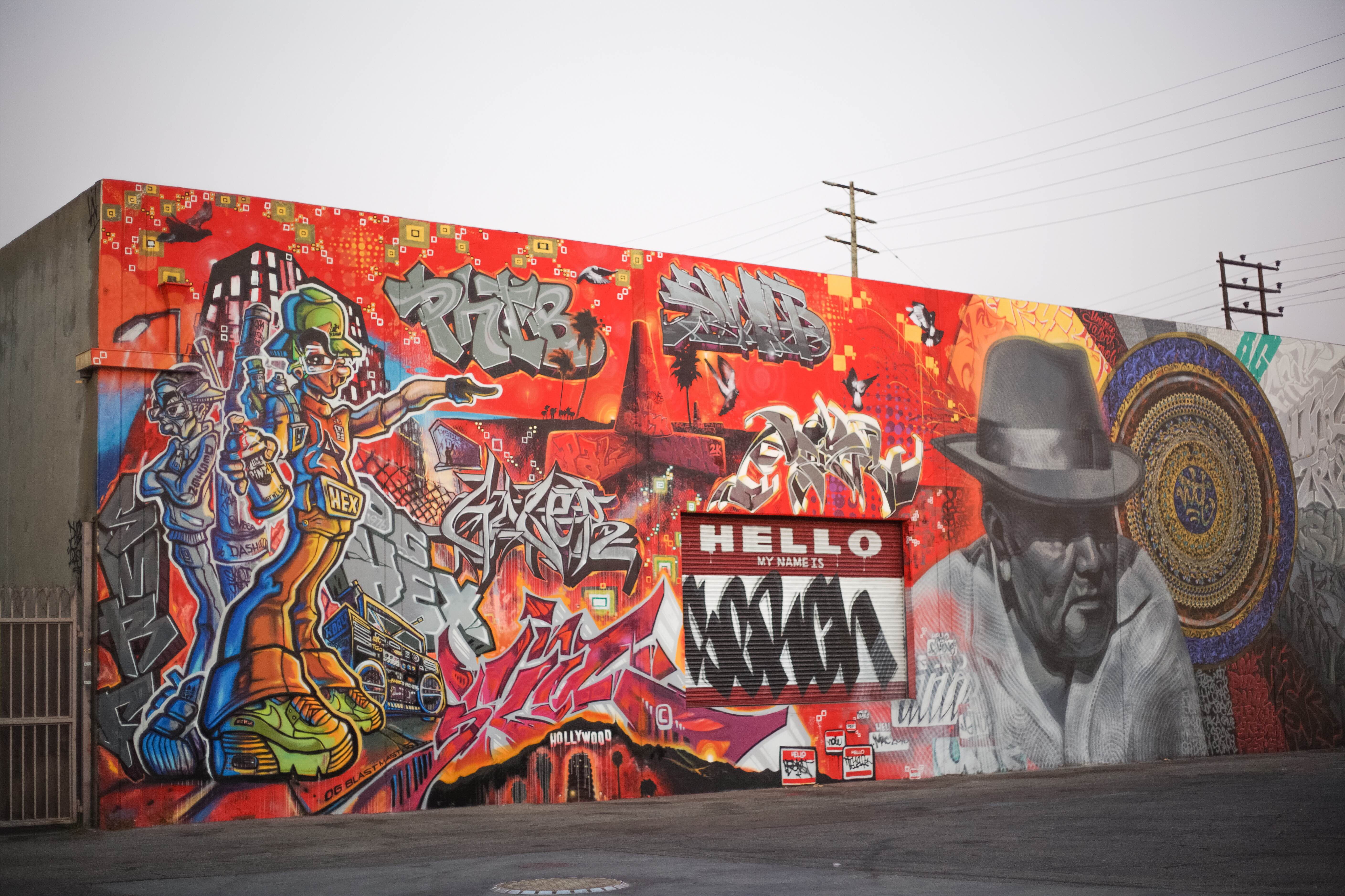 Black Light King and fellow crew mate, Aise Born, saw that situation as an opportunity to create an art production that would benefit Westbrass, the crew, and also the community. With Westbrass' approval, the crew united to paint their personal contributions on the wall, and create one of their most iconic productions as a crew known to date.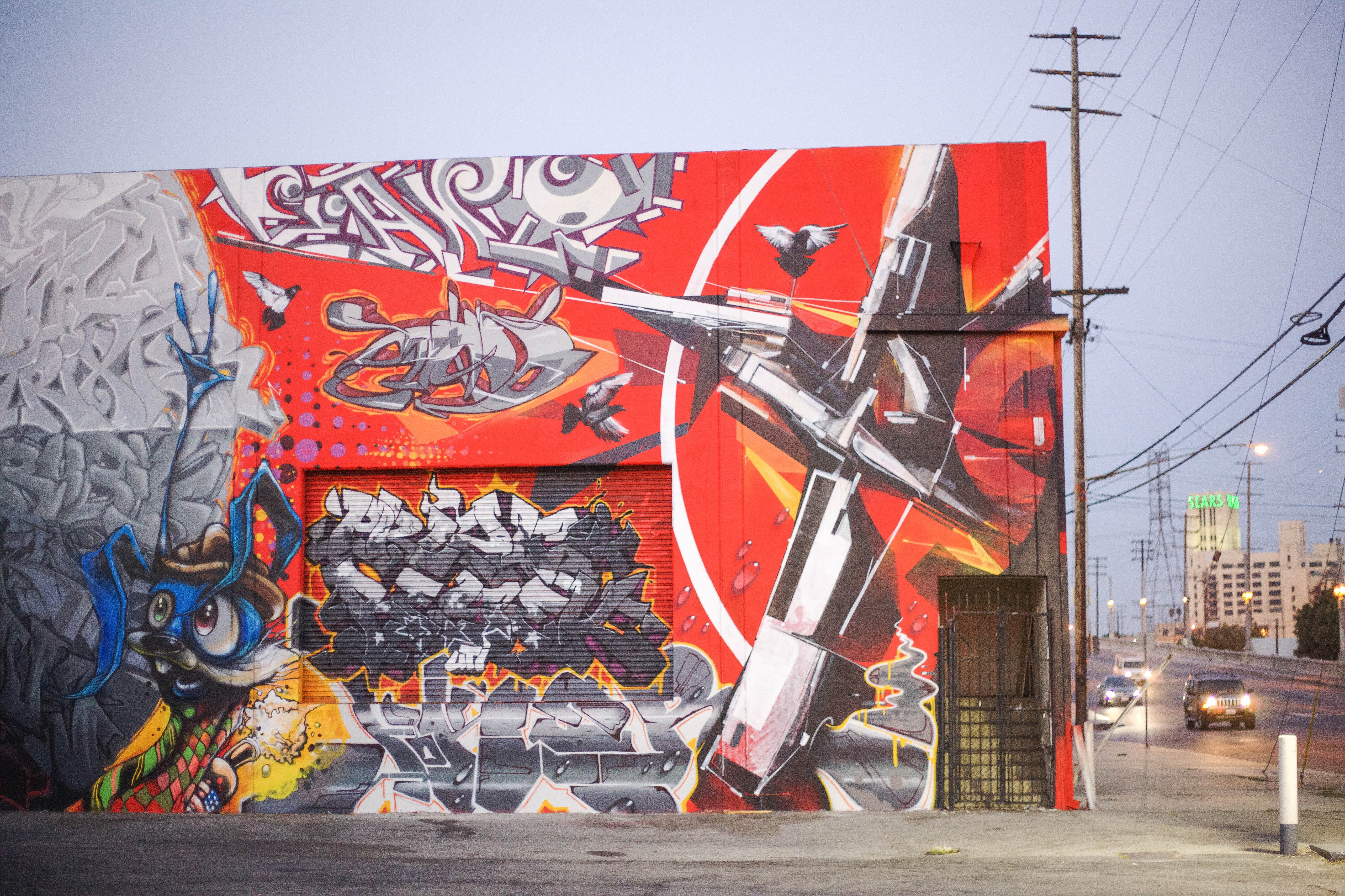 At least 30 crew members spent hours of hard work at this wall, including members who came out to LA from Oakland and San Francisco as well. UTI focused on a theme that paid homage to the LA graffiti culture and long-time unity as a crew. The wall includes some of LA's exclusive landmarks, such as: The LA River and 6th Street Bridge, Belmont Tunnel, Sears Building, the Hollywood sign with a view of the Capitol Records building, and the Venice Beach Art Walls.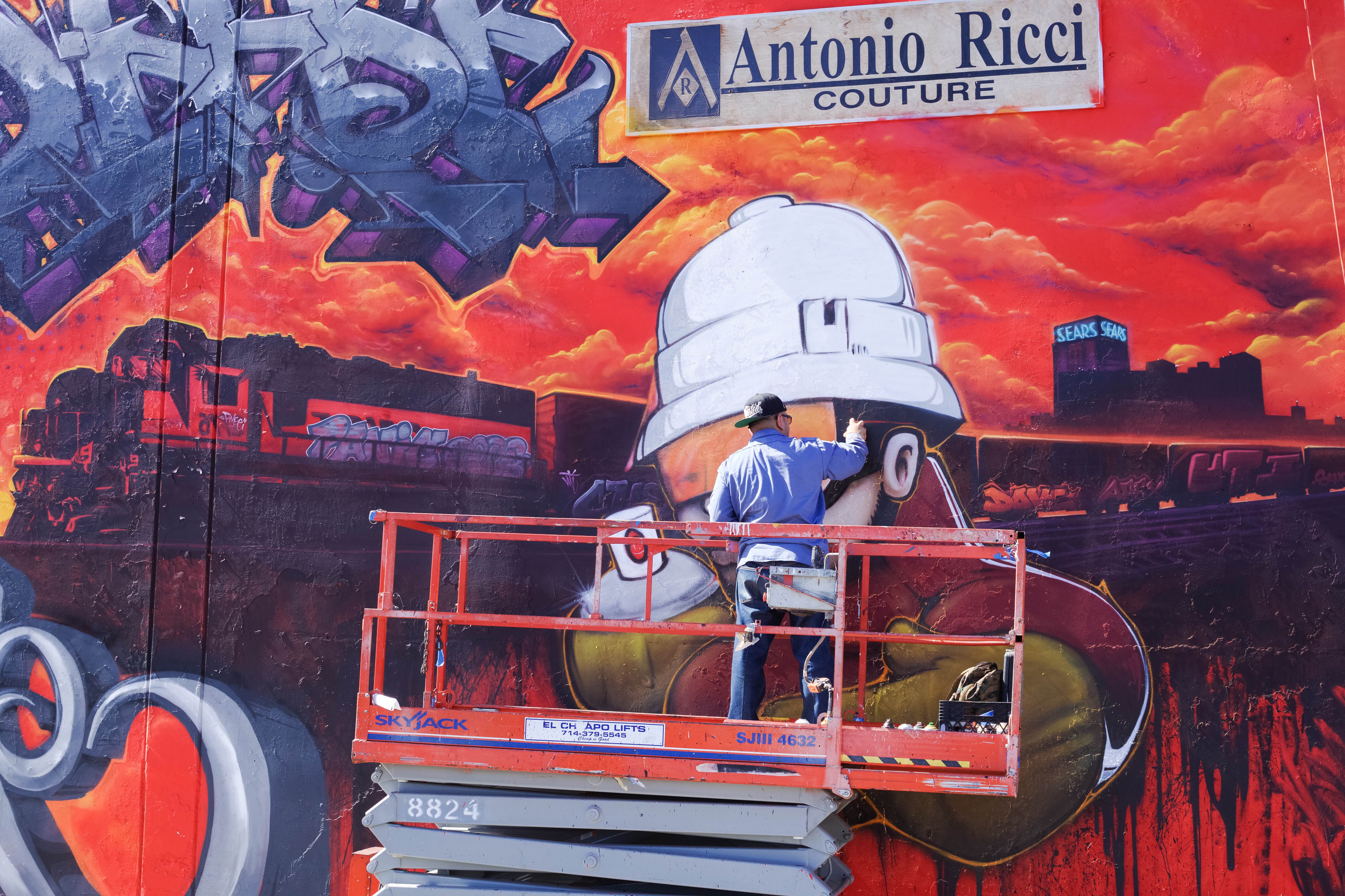 Hip hop fundamentals were thrown in the mix, with b-boy characters provided by Hex, and a DJ on turntables painted by Black Light King. Several LA scenes and additional large scale character pieces were also included by El Mac, Kofie, Chee, Mice Of Millions, Aise Born, and Nuke. The teamwork as a crew was astonishing. Overall, all members worked as a whole and was present to lend a helping hand among each other.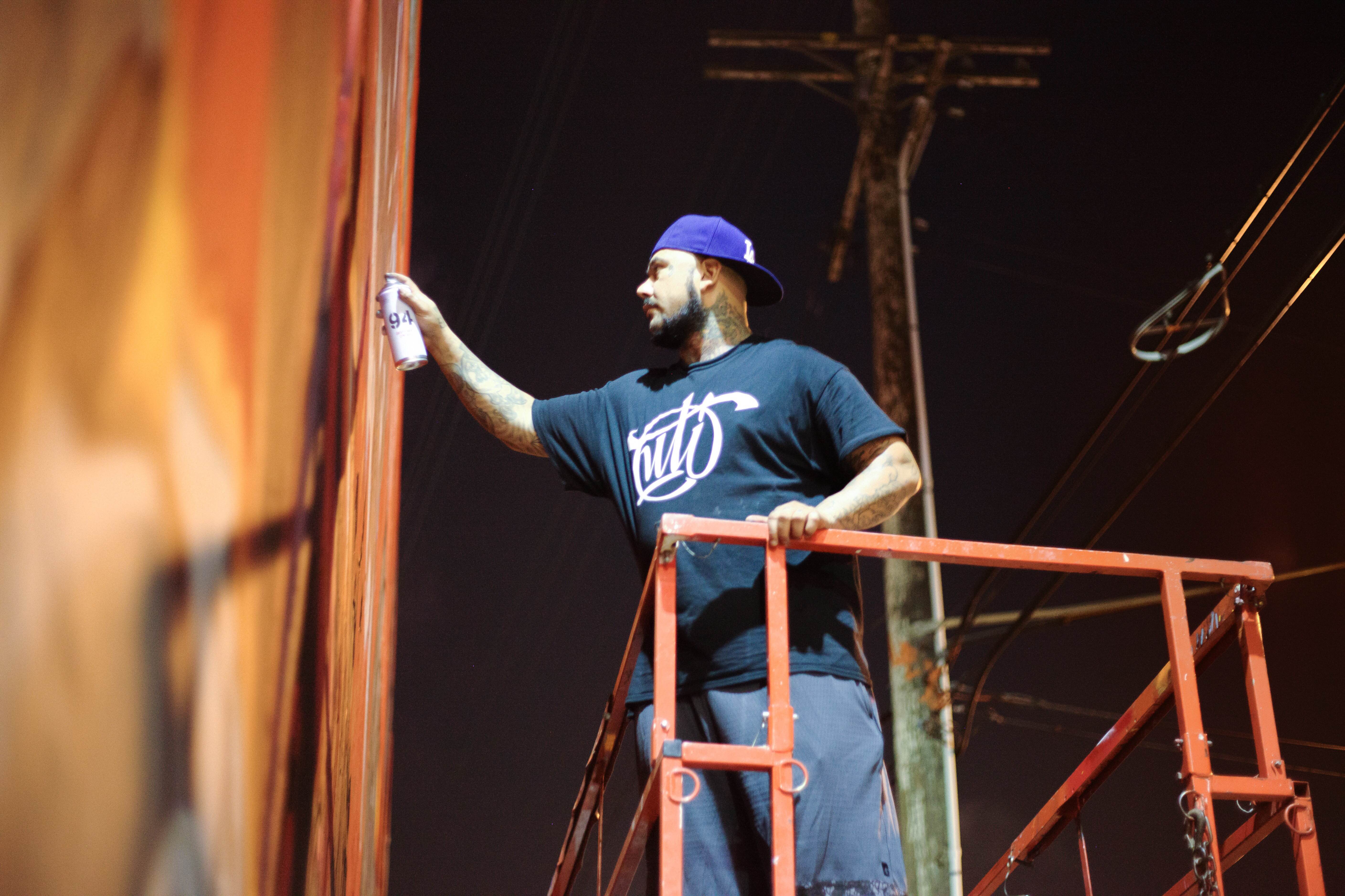 "My favorite part of UTI is that it's embedded in LA's history. And I'm proud to be part of it." Says crew member, Mes, who has been part of UTI for 3 years.
After all the countless hours and dedication the crew spent on their anniversary wall, they finally had a moment to absorb their hard work and celebrate their accomplishments. UTI members, family and friends all gathered to honor 30 years of graffiti and art. The event featured music provided by DJs, live painting, food, drinks, and art work on display throughout the venue. Break dancers hit the floor to bust out their moves, while the crowd circulated them with excitement and encouragement. Everyone simply… "United To Ignite."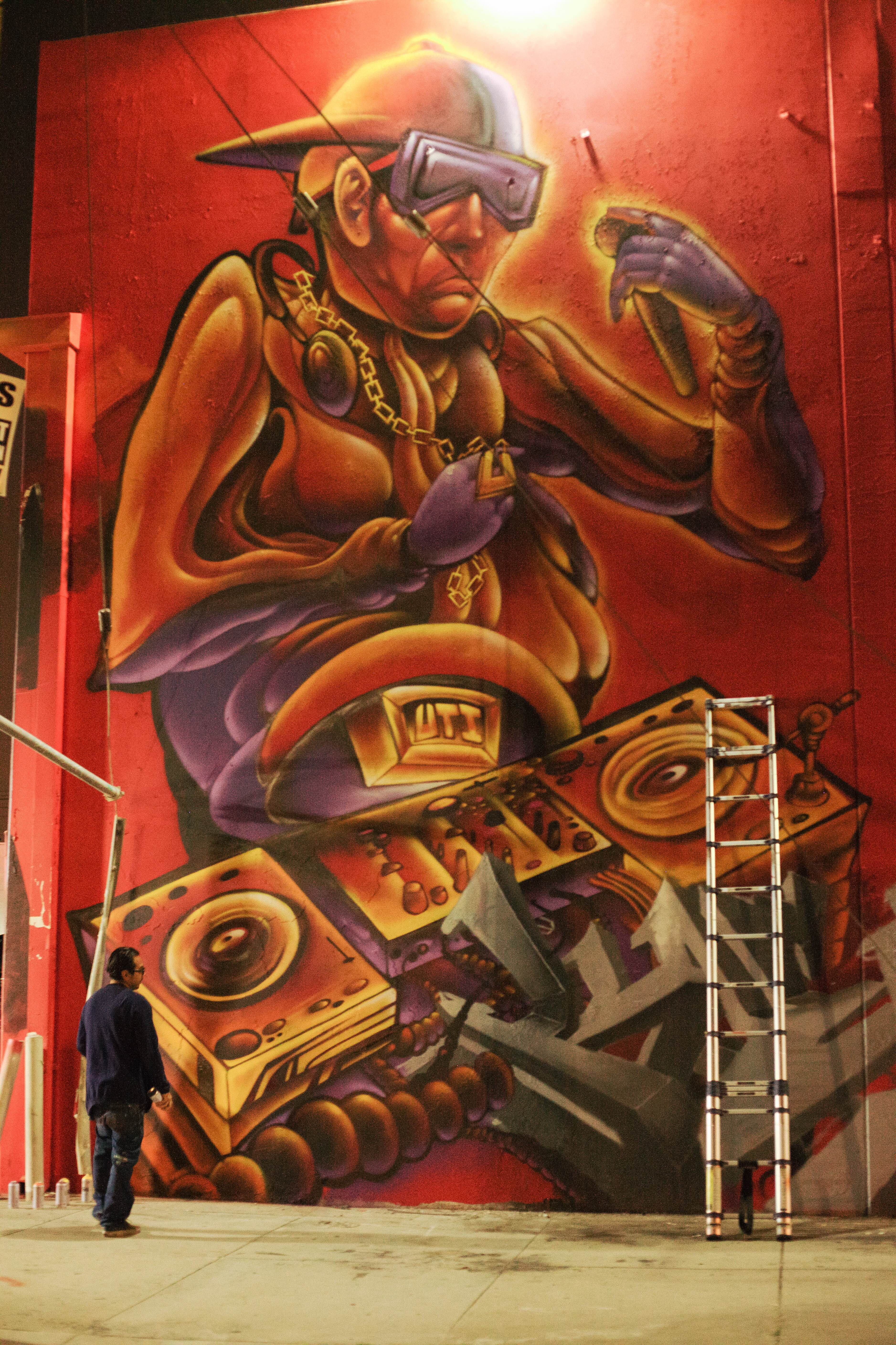 Some final words and acknowledgements by Snap: I'm gonna say, I hope we can have more productions like the Slauson Swap Meet, Western & Washington, Santa Fe & Olympic. They're always a positive push for our crew and the sense of like I said earlier, the comradery… Love your life... UTI 'til I die. Thank you kindly. You know who y'all are. Thank you all of UTI and friends. It's been real... And thank you L.A. Taco and Wendy Random. Remember, we are not guaranteed tomorrow. Real talk, Jesus saves. End of story... Snap One UTI, LA playas… 2016.
Stay in touch
Sign up for our free newsletter