Featured
Meet the Japanese Mexican 19-Year-Old Model from El Sereno Representing Latinx Beauty in the Mainstream
12:04 PM PDT on October 7, 2020
[dropcap size=big]N[/dropcap]ineteen-year-old Genai Nakama has arrived at our Google Meet interview early. Her bleach-dipped hair is slicked back into tight high pigtails with a sharp middle part—not a flyaway in sight. She smiles when our cameras sync up. The lush hanging plant and decorative tapestry in her room tastefully frame the moment. 
Nakama came ready. It's the dancer in her, who spent years studying jazz and ballet before easing into her new modeling career.  "[Dance] helped me with my career now because I already knew how to come to set with my hair and makeup done—all of those things that I needed to know to be in this work field," she says. With the money earned from her recent modeling gigs, Nakama moved into her apartment in Alhambra last month. The neighborhood is adjacent to El Sereno, where she grew up with her parents and younger brother.
"I definitely know everything around here, so it's been nice to be on my own and live my life," she says.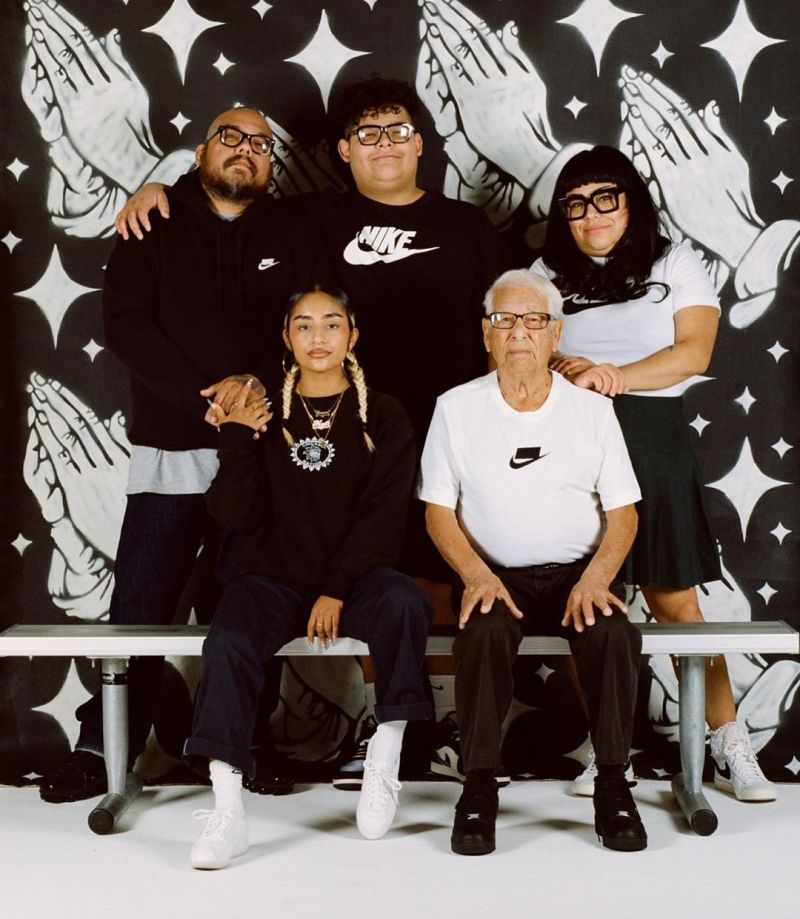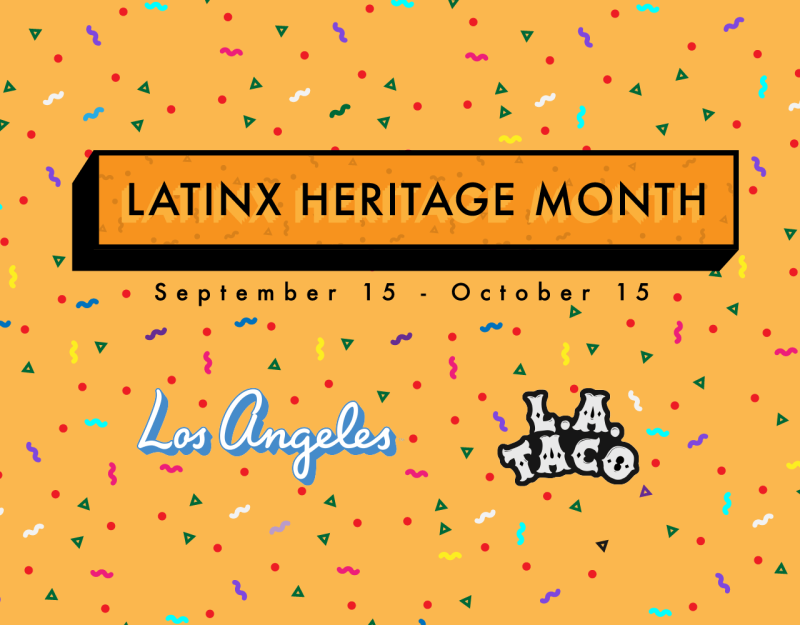 Nakama is currently in the middle of a campaign with Foot Locker Women, working with several Black and Brown women in Los Angeles to portray life in Los Angeles. Her particular story is about growing up here as a fourth-generation Mexican American. Online, she's amassed followers who discover her branded videos and photos on Foot Locker Women's social media pages and love that she is relatable. 
Just last week, Nakama was busy conceptualizing and shooting more photos for the campaign. She is most excited about bringing her photographer friends into the studio to collaborate because they make her feel safe to be herself.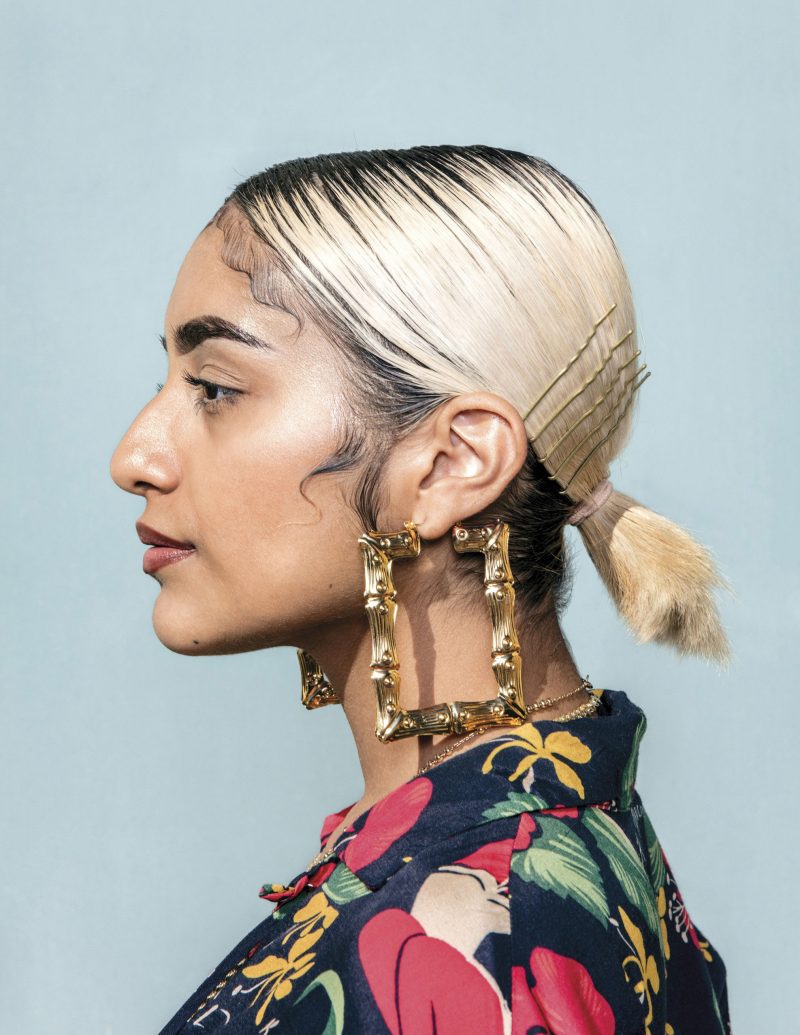 "This [campaign] is a domino effect," she says. "I'm lifting up every one I can and my friends because we have to help each other out. Otherwise, no one else will." 
Nakama has seen for herself how much of Los Angeles has changed. Home base was El Sereno, but she also frequented Echo Park and Frogtown, where she went to high school. She also took dance classes in MacArthur Park and hung out in Pico-Union with her dad's side of the family. In other words, much of Nakama's L.A. has now succumbed to public health crises and private interests that have ravaged small businesses and heritage-rich community spaces. Families of the lost communities in Chavez Ravine still seek compensation for their forced displacement, while Frogtown's current residents are losing their homes to industrial mixed-use waterfront properties along the L.A. River. Nakama does not recognize some of the places she used to go as a child. The strips of sidewalks she used to pass on Huntington Drive are now homeless encampments.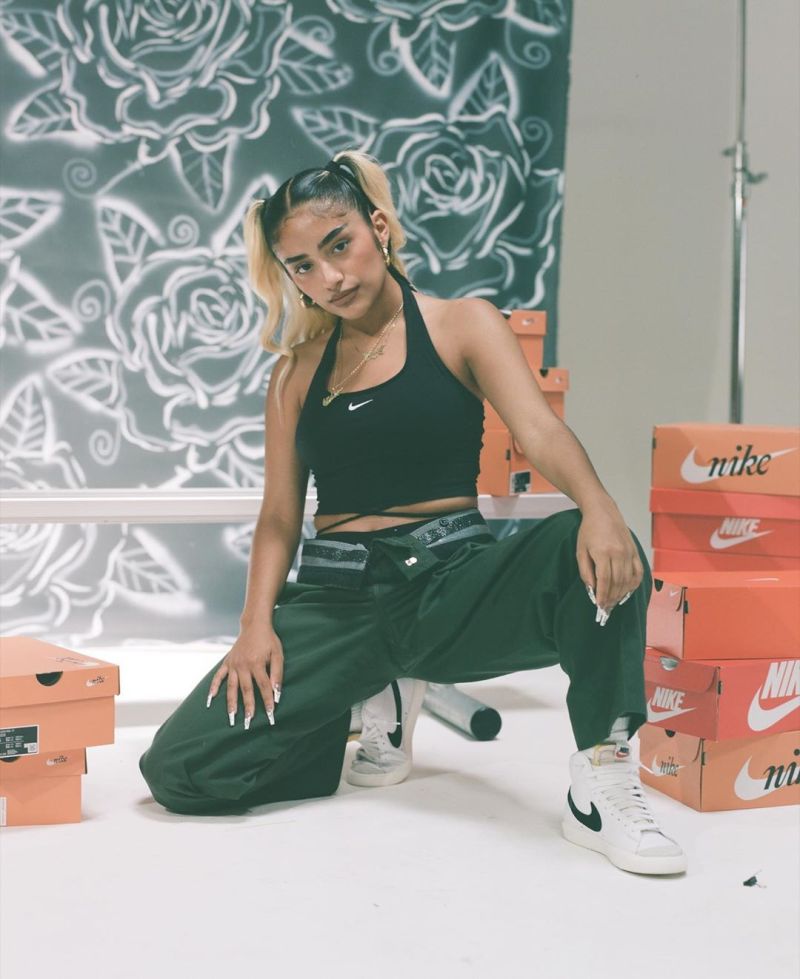 "It's crazy and disheartening to see such a huge shift happen so quickly," she says. "The people who were originally here that created these neighborhoods are not able to be in the communities that they built."
In an industry that has highly favored a specific look to a woman, she serves inimitable East L.A. swagger with a gentle verve.
Nakama is of Mexican and Japanese descent. Her Hawaiian Japanese great-grandfather fought in the 442nd Regimental Combat Team during World War II, then met his wife while in Tijuana, Mexico, before leaving for the Korean War. To honor his heritage, Nakama's mother, Doreen Nakama, launched a pop-up Musubi stand, East Los Musubi, in 2016 with her husband and chef Adam Martinez. Her parents support her creative endeavors in the modeling industry as long as she represents herself authentically and is proud of what she has to offer.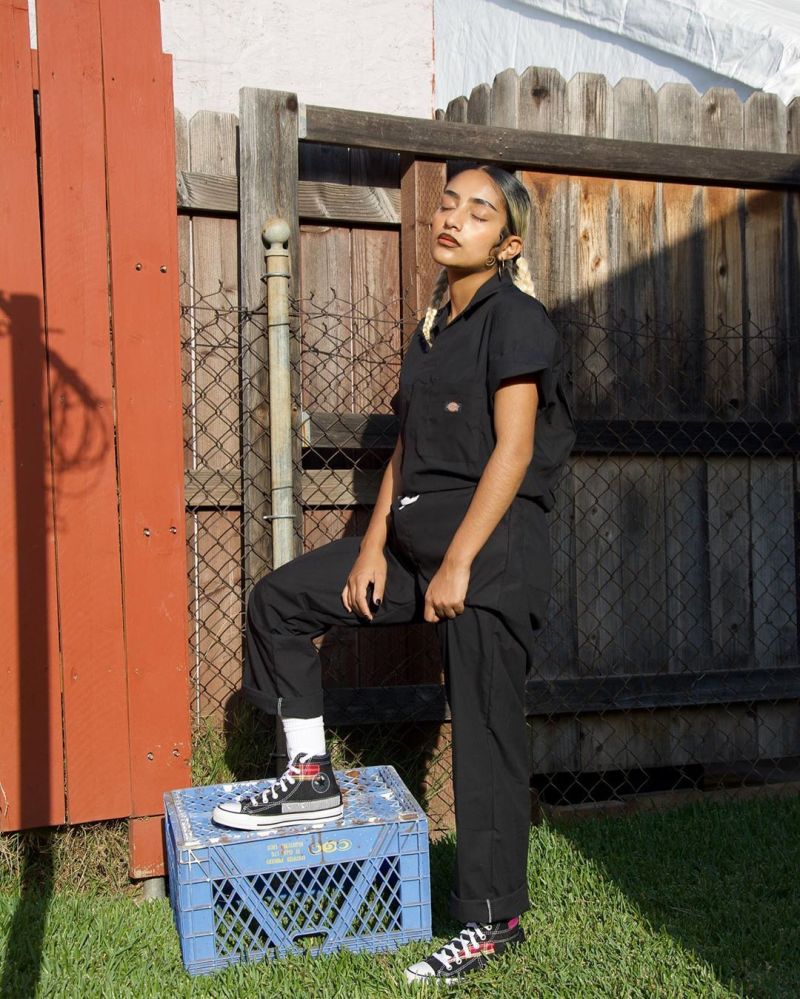 Nakama was surrounded by her family's circle of small business owners and visual artists all her life. It provided her small opportunities to model their handmade curios and apparel in exchange for some quick cash. Throughout it, she discovered her business acumen. 
Nakama loves Los Angeles with the depth of someone whose bloodline has hustled here for several decades.
With the handful of shots she had from modeling for her parents' friends and fellow business owners, Nakama booked her first gig at 18 without an agent. After her first editorial appearance in Vogue, Nakama's phone started to buzz with incoming work inquiries from agencies and brands. She didn't imagine any of this would be an option.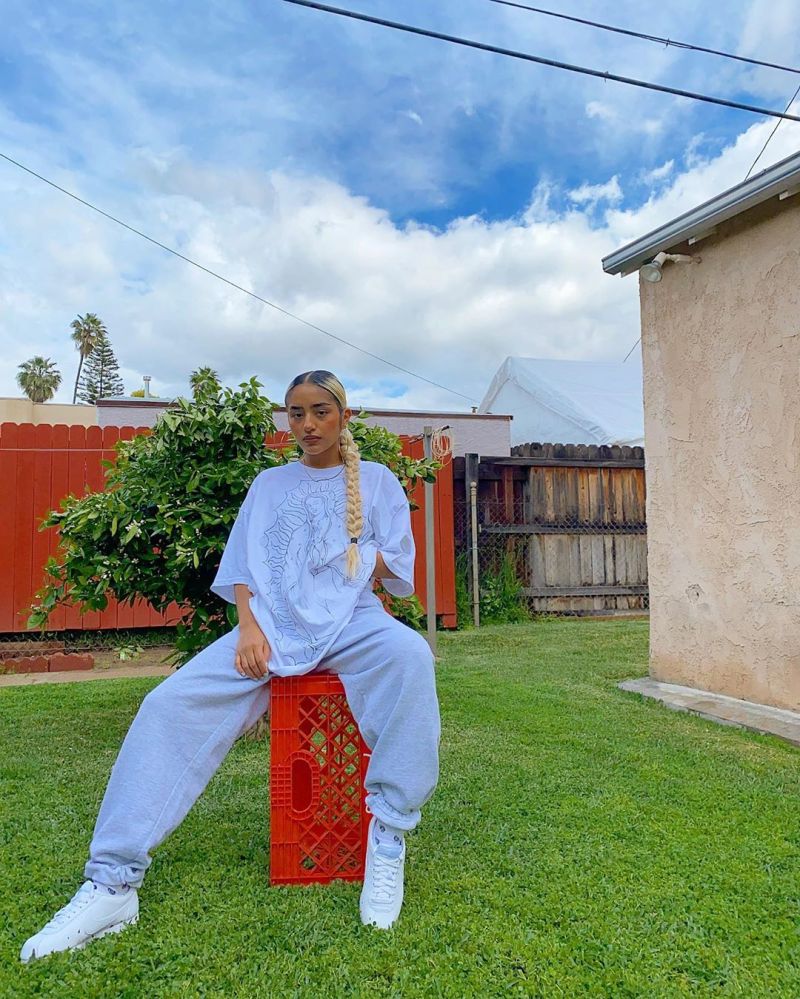 One year later, Nakama's image is above the fold of a Refinery 29 feature, and she has modeled for brands like Converse and Urban Decay. Her latest wins are on display on her Instagram, uploaded alongside the photos—taken by her close friends—that catch the gossamer El Sereno sunlight on her hoop earrings and gold rings. Some of her most popular pictures are the ones of her sitting in her parents' concrete, brick-surrounded backyard; the family's plastic chair and mop are in frame. Though she is on the brink of commercial success, somehow, these images of her at home, shot by her creative confidants, make Nakama feel more aspirational. In an industry that has highly favored a specific look to a woman, she serves inimitable East L.A. swagger with a gentle verve. 
Nakama loves Los Angeles with the depth of someone whose bloodline has hustled here for several decades. Before modeling, she worked in the City's Department of Cultural Affairs to help supply arts, music, theater, and dance classes for students throughout the city. Amidst the department's dwindling resources to accommodate the ever-increasing law enforcement budget (she is well informed on what's going on), Nakama has reflected on how she can give back to enrich her city.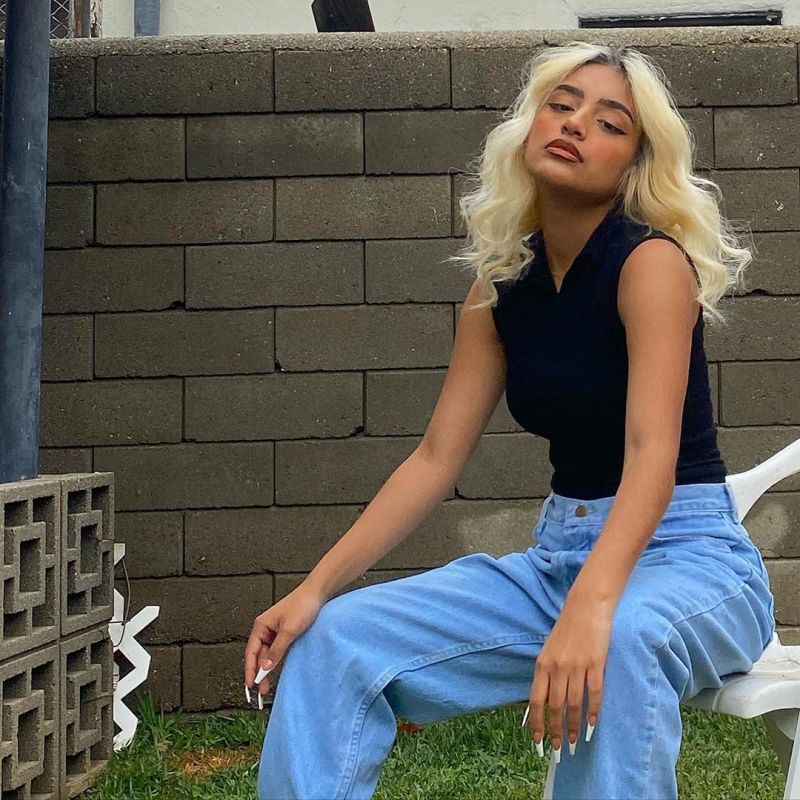 In five years, she wants to start her modeling agency or work as a creative director for commercial brands to bring in an accurate representation of Brown women. She wants to do away with the industry's treatment of BIPOC, who often feel disposable after being told that they can always be replaced if they do not deliver or behave on set. Nakama's modeling agency would provide opportunities to young women with similar backgrounds as hers, or those who didn't get the same opportunities that she did. She would forge deeper connections with them so that it's more than just their images that are being brokered. They would be paid fairly for bringing their lives and stories into a shoot. 
"Even in this age of inclusivity, you still don't necessarily see that a lot," Nakama says, "so for me, it's all about building what built me up."
In the stillness of our interview, Nakama is thinking a lot about how she moves through life. Forget the transience of tourist spots; in Los Angeles, her favorite place to be is on the bus or on the train. She doesn't have a car, nor does she feel the need for one. She has been an avid user of public transportation since she was a child, relying on it to get to school in the next district over, explore East Los Angeles with her friends, or to traverse the expanse of her new Alhambra neighborhood. As a model, Nakama uses it to plan efficient routes that would get her to set on time without breaking a sweat. She's used to taking the bus at 4 AM to get to those shoots; for her, it's time well spent.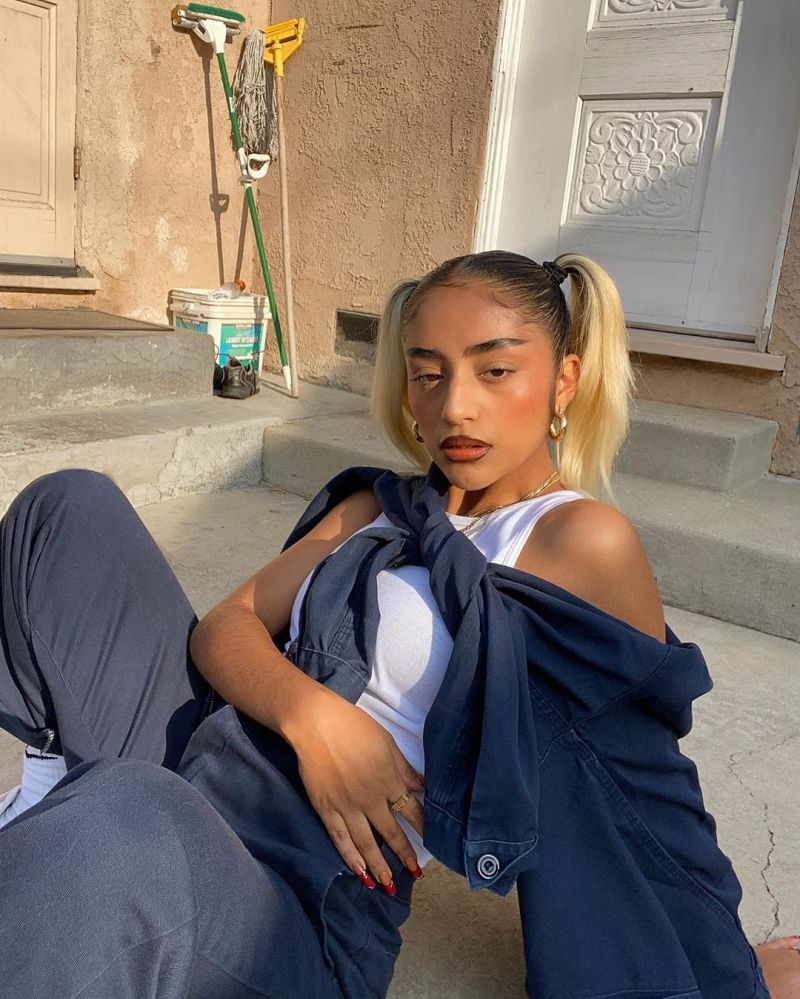 "The bus has been my way of exploring my community and other communities," Nakama says. "I've seen a lot of togetherness and respect for each other on the bus. I see people who have their bus route friends that they greet every morning." 
Nakama's fondness of L.A.'s public transportation reflects how much movement has been pivotal to her growth. Dance was an instrumental creative outlet for her; it helped coax out the feelings that would otherwise be left untapped.
"You can be a model and give back to your community. We're breaking boundaries everywhere."
"I was very much someone who was emotionally shut off and didn't like to talk about things, so dance became my outlet," she says. "It was amazing to be able to express myself that way, but it also helped prepare me for what I do now."
Today, Nakama has found her joy and stability in modeling. The work remains a physical expression just as much as it is creative. With it, Nakama wants to usher in a new era of BIPOC who drive the narrative in an industry that has tried to profit off their culture. 
Modeling is her vessel as a Hispanic, biracial woman with tree-trunk roots in Los Angeles. The ineffable directness of working for the camera has affirmed Nakama that she can uplift her community this way. 
"Through an art form that you really appreciate, your work can impact not only yourself but other people around you," Nakama says. "You can be a model and give back to your community. We're breaking boundaries everywhere."
This L.A. Taco profile is part of a series highlighting the Latinx community in Los Angeles, published in collaboration with Discover Los Angeles, in honor of Latinx Heritage Month. Check back daily for more stories highlighting L.A.'s vast Latinx communities.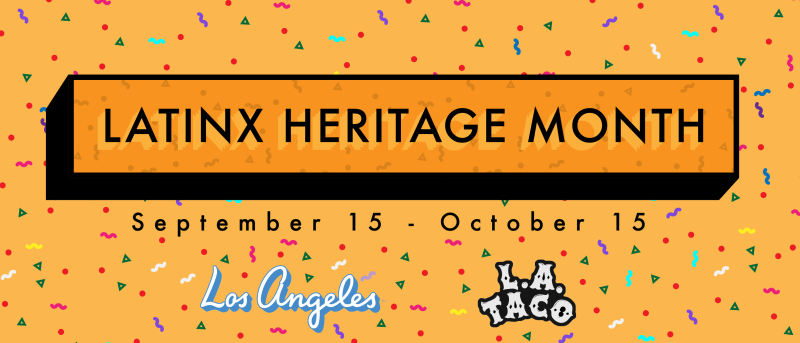 Lisa Kwon is a writer born, raised, and currently living in Koreatown. She will talk your ear off about Korean coffee culture and the dreadful effects of Los Angeles' palm tree fetishism.
Stay in touch
Sign up for our free newsletter