Film
The L.A. Filming Locations of 'Kill Bill: Vol. 1' 20 Years Later
Here are all the locations in L.A. County where Quentin Tarantino shot his iconic pop-saccharine, action-revenge saga, Kill Bill, including the infamous Two Pines Wedding Chapel and many more spots that are still around.
1:10 PM PDT on October 5, 2023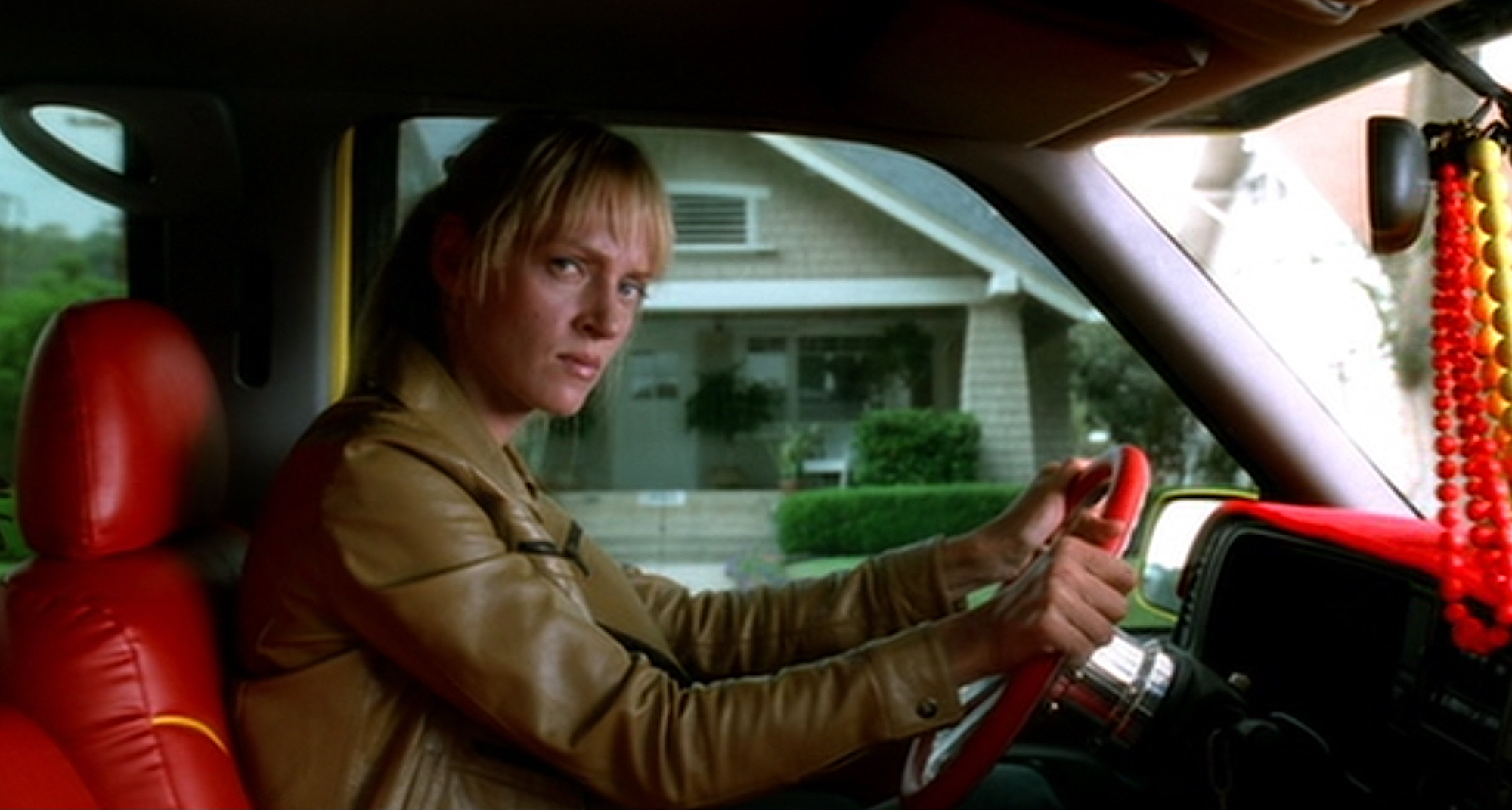 Twenty years after the release of the first installment of Quentin Tarantino's pop-saccharine, action-revenge saga Kill Bill, the location of the film's infamous Two Pines Wedding Chapel is no secret.
The Sanctuary Adventist Church - its actual name - has been written about in countless blogs over the last two decades. It's even pinpointed on Google maps as "The Kill Bill Church."
Upon making arrangements to visit the Sanctuary Adventist Church, pastor and owner Oscar Castaneda voluntarily gives me what he says is the most streamlined route from L.A. While his directions into the high desert have a few less maneuvers than what GPS specifies, the long road traveled is no less draining on the senses. 
Once I'm out of Lancaster city limits, I don't see a single speed limit sign. The sunlight bouncing off the faded grey, two-lane road starts to do funny things to my eyes. I sometimes strain to read the street signs while stopping at an intersection where the cross street blurs into infinity. Though I've been to the church before, it nevertheless feels so far that I begin to question whether I've passed it without noticing, but GPS shows that I'm still a ways out.
The church's remote location in Hi Vista, a sparsely populated, unincorporated Los Angeles County desert community outside of Lancaster, makes for an inspiring (and exhausting) adventure that makes you wonder how the filmmakers even found the place.
It's a question that Maria Colantonio and Tony Babore ask Castaneda after pulling up at the church shortly after I arrive. The two Tarantino fans are driving from L.A. to Vegas, where they will then fly home to Montreal. 
"This was one of our highlight stops," says Babore. "For me it was very impressive to pull up here."
"It's surreal," says Colantonio.
Castaneda never actually answers the Canadians' question of how the filmmakers came to shoot at the church. He didn't own the building when Tarantino made Kill Bill. Upon purchasing it in February of 2003, Castaneda wasn't told anything of a movie having just been through there, nor was he made aware of any previous films that used the location.
"I have never been into movies," says Castaneda. "Not then, not now. I can say this is a working church and, in parenthesis, a movie set."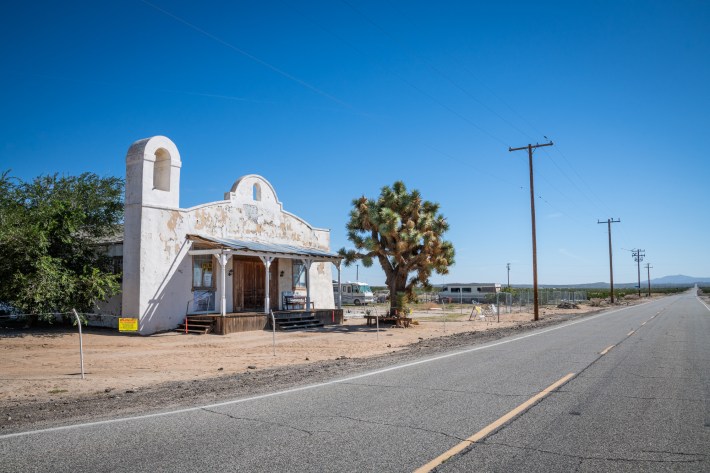 The grey-bearded pastor admits that the bloody affair that is the cinematically notorious "Massacre at Two Pines" is not up his alley, and he had no intention of renting the building as a filming location when he bought it. 
"My purpose of opening this building was only, especially, for having worship," says Castaneda. A technician and mechanic by trade, Castaneda had had enough of Los Angeles and wanted a quieter lifestyle in the countryside prior to buying the church.
When asked if he would have allowed the filmmakers to use the church, had he owned it when Kill Bill was made, Castaneda says, "I would have said, definitely and plainly, 'No.'" 
Lucky for Kill Bill assistant location manager Kyle 'Snappy' Oliver, that wasn't the case when he happened upon the Spanish mission-style church. 
Oliver recalls that the film's Two Pines Wedding Chapel, which is set in El Paso, Texas, wasn't definitively fleshed out in the script. 
"My proudest moments are, among them, with Tarantino's movies, because I get to go out and be creative," says Oliver. "He doesn't have anything to prove, so he is open and willing to receive collaboration."
Tarantino was unavailable for comment for this article.
Kill Bill location manager Doug Dresser says, "We wanted a crossroads. We wanted streets that went out in the middle of nowhere."
So Oliver, who was tasked with finding the church among other locations, scoured the desert.
"From where I was sitting, this was a needle in a haystack," says Oliver. "You're driving on these highways and roads that are in the middle of nowhere." He drew upon his experience scouting the desert for the "Titty Twister," the vampire-infested trucker bar in From Dusk Till Dawn (1996).
"We anguished over trying to find every location on Kill Bill," says the film's production designer David Wasco. "We were doing a no-stone-unturned drive all around Southern California. I mean, we went everywhere."
He remembers looking at St. Raymond Church on Route 66 in the small town of Amboy.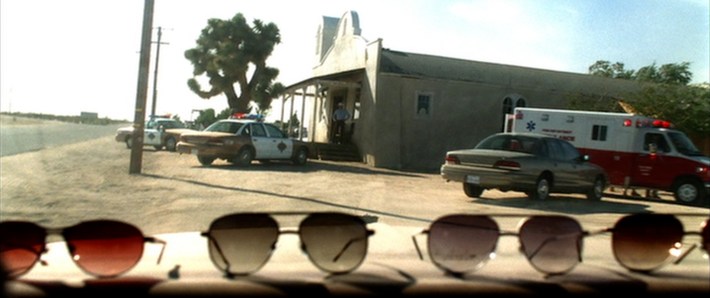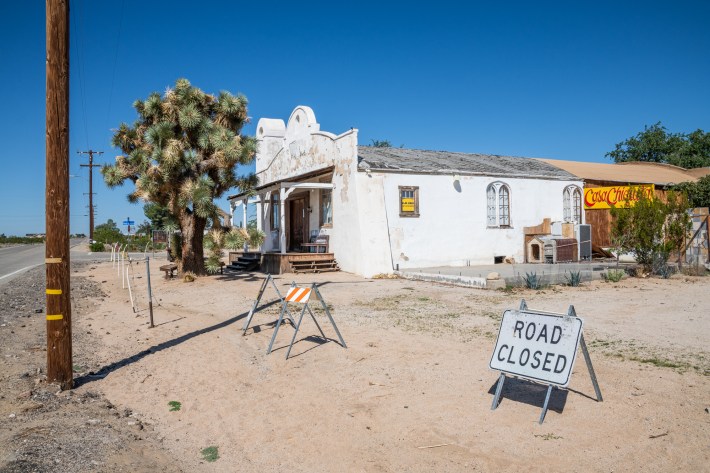 The church, theoretically, could have been built on a plot of land if it hadn't been found in real-life. But it wouldn't have been the preferred method.
Dresser, Oliver, Wasco, and set decorator Sandy Reynolds-Wasco had all worked on Tarantino projects prior to Kill Bill. In fact, it was Tarantino who dubbed Oliver with the nickname 'Snappy."
Excluding Four Rooms (1995) and Death Proof (2007), Wasco and Reynolds-Wasco worked on every Tarantino film up to and including Inglorious Basterds (2009). They were all familiar with the filmmaker's way of thinking.
"Quentin always wants to find the place where the actors can feel it, and they can actually be in a location where the place adds to their performance," says Dresser.
Wasco agrees. "Quentin would lean towards practical locations as much as possible," he says.
"I bet if we would have been asked to build the chapel, it would have been just as hard to find that location," says Reynolds-Wasco. "Because then you'd be looking at beautiful mountains, the sun being in certain directions, and the reverse of hills and prairies." 
But a fortuitous turn of the steering wheel was all it took.
"It was one of those magical Quentin Tarantino moments where I just drove up to this building, and I was like, 'Oh my god, this is it.'" Oliver says. "There was nothing better. There was nothing that could top it. It was the location."
The community of Hi Vista was formed in 1930. By various accounts, the church building was originally constructed in 1934 as the Hi Vista Community Hall. In 2002, when Oliver happened upon it, the building was run as the Cavalry Baptist Church. It took him a couple of days to track down the owner.
"I don't think there was even a phone number outside," says Oliver, who returned on a weekend to find the person in charge. "We told them exactly what was going to happen [in the scene] because that's obviously very specific, detailed and graphic."
Much of the violence that occurs at the church, however, happens off-screen. In Vol. 2, when Bill (David Carradine) locates The Bride (Uma Thurman) at the church, Deadly Viper Assassination Squad in tow, the gunfire takes place inside, while the audience views the church from a high-angle, exterior crane shot.
In Vol. 1, we see the aftermath of these events in surveying wide-angle compositions. Tarantino shows us close-ups of The Bride's bloodied, beaten face, but the entire scenario is largely left to the imagination. This inciting incident feels intensely graphic because The Bride is also pregnant.
"The owners thought we were crazy when we came in and said, 'Can we rent your church for two or three months,'" Dresser recalls. "But they were very nice and welcoming."
Oliver says, "There was no hesitation. It was all, 'Absolutely. 100%. Whatever you need.'"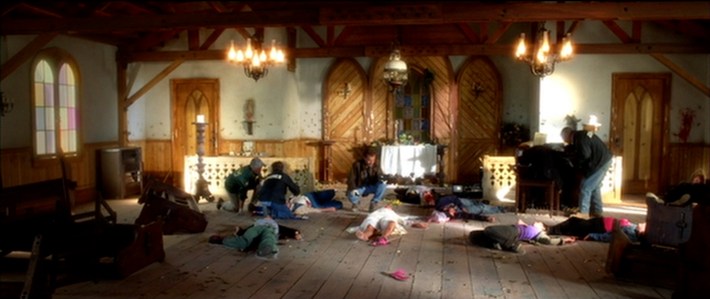 The aftermath of the 'Massacre at Two Pines.' Screenshot via Miramax.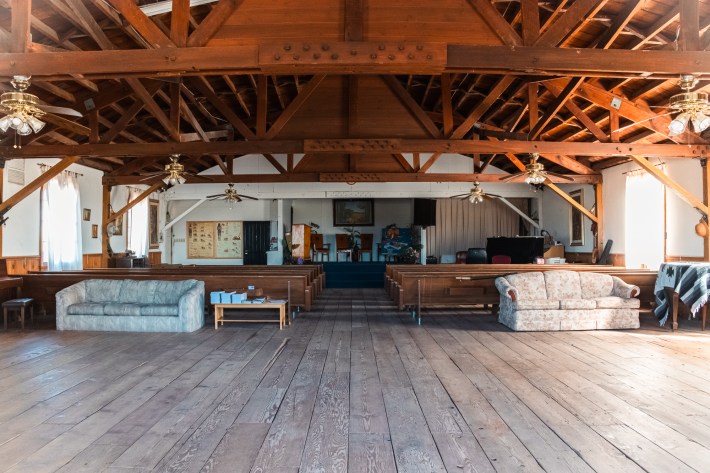 The church wasn't a permanent nor oft-used desert movie set, like Club Ed or the Four Aces movie ranch. Oliver never saw it in anything before, though it appeared on screen prior to Kill Bill: Vol. 1.
The film that is credited with giving the building its Spanish mission makeover is the 1940s-set, L.A. crime-drama True Confessions (1981), starring Robert De Niro and Robert Duvall. Wasco says he was made aware of True Confessions while working on Touch (1997), as the film's director, Paul Schrader, had referenced it. 
"I didn't actually go out and look at the church at that time, but I looked at the movie," says Wasco.
"Funny, it [True Confessions] didn't register when we scouted the church for Kill Bill," Reynolds-Wasco says.
The church exterior had been featured in Inferno (1999), aka Desert Heat, with Jean-Claude van Damme. It was glimpsed in Nurse Betty (2000), which made use of a diner set that once stood across the street. And a year before the release of Kill Bill: Vol. 1, Britney Spears briefly turned up at the church in Crossroads (2002).
The interior of the location as it appears in the Talking Heads' music video for "Road to Nowhere" (1985) is perhaps most similar to how it looked at the time of scouting it for Kill Bill.
"There was no interior of the place. There was no what you see now and what you see in the movie," says Dresser. "It was blue carpet; it was dropped florescent lighting and plastic folding chairs."
"It was a lot of appliqué, veined-mirror decor, and plastic roses," says Reynolds-Wasco.
"There was a dropped acoustical ceiling," Wasco points out. "We basically stripped it down to just the bare framing."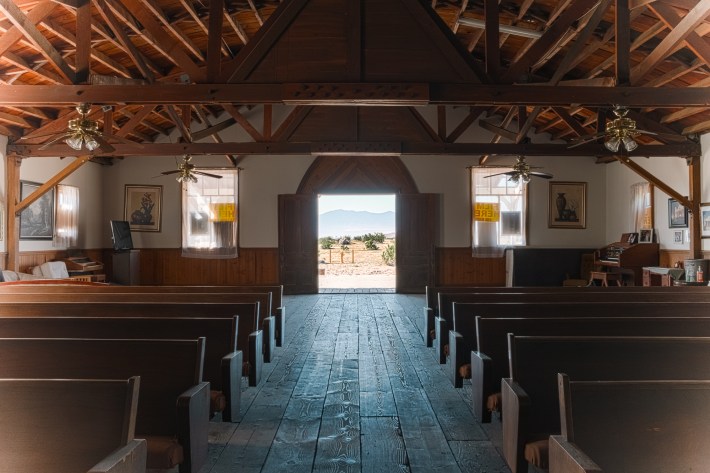 The art department removed the drop ceiling to expose the original, weathered-wood ceiling and rafters. They enhanced the stucco and added the front porch, vintage pews, stained glass, gothic design elements, and wood paneling. They also removed the blue shag carpet and underlying linoleum in order to construct a wooden floor.
"Quentin had in his mind that he wanted to show close-ups of cowboy boots clicking and clacking, which doesn't really work unless you're doing a wood floor, so the wood floor really sold it as a western thing," says Wasco.
Minus the fake blood stains and bullet holes, a number of the film's design integrations are still evident at the Sanctuary Adventist Church.
The Hi Vista church, though the central location of the film, is just one piece of the sprawling epic.
The phonebook-size Kill Bill script was shot as one film and later edited into two.
"When people say Vol. 1 and Vol. 2., it always confuses me," says Oliver. He knows the project and experience only as Kill Bill.
The same goes for everyone else I spoke with about Kill Bill: Vol. 1, which was released on October 10, 2003. Vol 2. followed six months later and a cut of the entire four-hour film, Kill Bill: The Whole Bloody Affair, premiered at the Cannes Film Festival in 2006.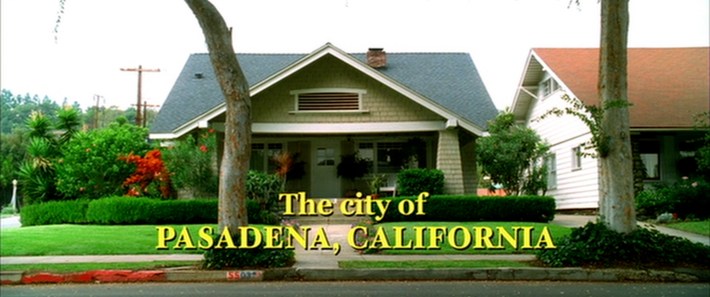 Of the handful of Los Angeles spots featured throughout the entirety of Kill Bill, only a couple are supposed to be in L.A., most notably the quaint, suburban home of Vernita Green (Vivica A. Fox), aka Copperhead.
The ex-member of Bill's highly skilled team of international assassins has been adjusting to life in Pasadena as a suburban housewife and mother when The Bride comes calling to cross another name off her Death List Five. 
"There's no doubt in my mind that by writing 'The city of Pasadena,' that speaks to Quentin," says Kill Bill key assistant location manager Nancy Haecker. "He loves Los Angeles. He loves celebrating it. He loves showing it. So, Pasadena, the word, the name, the city, Pasadena, says something about who you are."
"Pasadena is known for being just a nice, pleasant place to live, and this character was supposed to be so far removed from her previous life that she was living the suburban dream," says Dresser. "By Quentin writing 'The city of Pasadena,' we knew it wasn't going to be a new construction."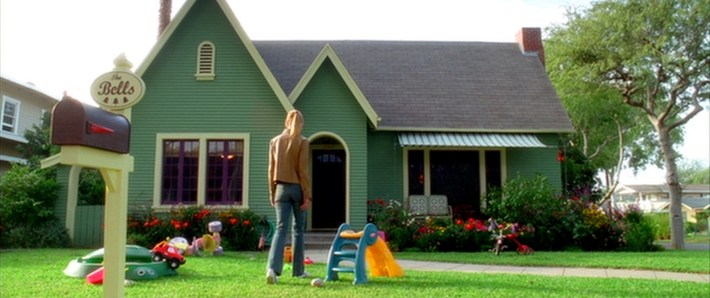 Even though Pasadena is a patchwork of various architectural styles, the locations department and design team honed in on a particular type of house.
"Vernita is in sort of a real bedroom community," says Reynolds-Wasco. "Her new identity [as Mrs. Jeannie Bell] is something she's worked to get and she wants to hold onto."
"Quentin wanted the incongruous juxtaposition of it being a sweet, cute house," says Wasco.
The house they found wasn't in Pasadena, but rather in the neighboring Northeast L.A. neighborhood of El Sereno. The storybook home built in 1925 had steep roof-lines and narrow archways. 
"Everything is pushed with Quentin," says Haecker. "He is okay that every location is extreme and interesting. You're scouting for interesting, wild, out-of-the box stuff."
"It has to propel the story," says Dresser. "It has to be a character in the movie. Each individual location says something about the characters that are inhabiting them and the action that takes place there. You do that with every project, but Quentin has a particular aesthetic and he has a particular feeling that he's creating. Each story is unique and so the locations tend to be unique as well."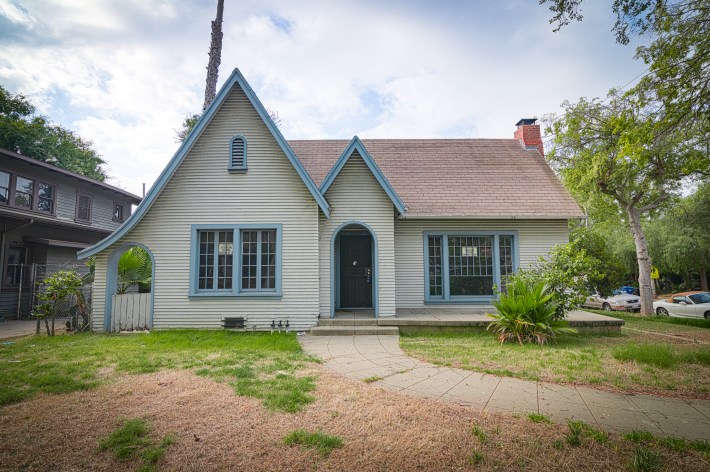 The Vernita Green house was unoccupied and owned by Caltrans, which had been planning an extension of the 710 Freeway between Alhambra and Pasadena as early as 1963. The State began purchasing swaths of homes in El Sereno, Alhambra, South Pasadena, and Pasadena that were in the path of the proposed extension.
When Kill Bill began filming, these homes were either empty or being rented to people on a month-to-month basis on the condition that they might have to move out at any time.
The El Sereno house was rented to the production as part of the STAR Program (State Theatrical Arts Resources Partnership). Proposed by Governor Gray Davis in 2000, the initiative promoted the rental of state-owned properties to the entertainment industry as an incentive to fight runaway film production.
"They used [us] as an example of how making movies in Los Angeles, and how utilizing underused properties, how that could benefit a community," says Dresser.
The house had fallen into a state of disrepair and the production was able to take it over completely, which was favorable considering the one-and-a-half-minute, no-holds-barred fight sequence that was to take place within the tight quarters of the living room, dining room, and kitchen.
Traditionally, Wasco explains, a fight scene in this type of setting would be done on a set with float-away walls for ease and ability to capture dynamic camera angles. The fight between The Bride and Vernita, however, was mostly filmed within the confines of the location without removing any of the actual walls.
"We tore up that house," says Haecker, laughing. "I believe we had it for months and we could destroy it and put it back together."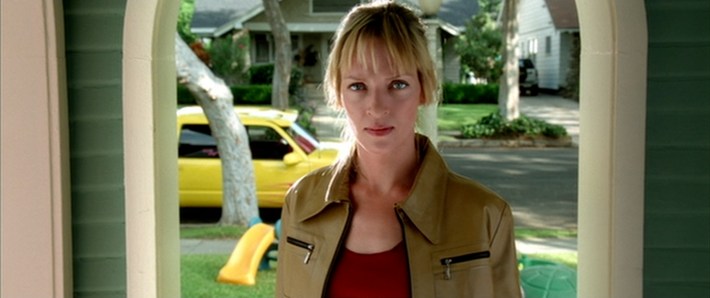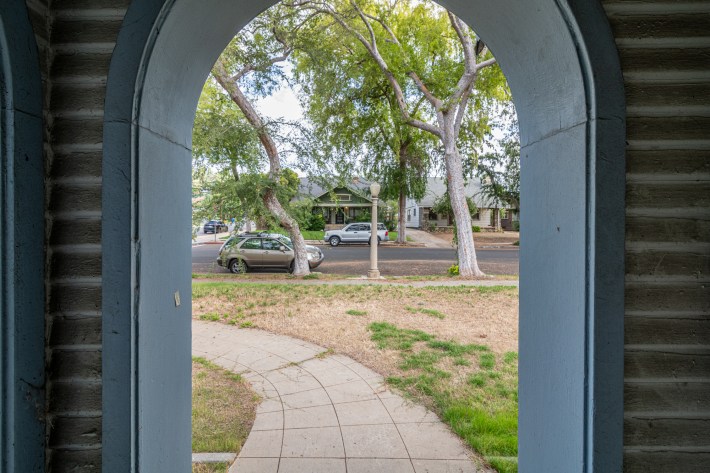 "We did a full redo on the house. We gave it fresh paint; we fixed the floors; we went through and made it almost habitable again," says Dresser. "David and Sandy did a masterful job of taking that house and making it into something special."
New grass, sod, and flowers were laid in the front yard. The house was painted a seafoam green, a visual reference to Vernita's previous surname, says Reynolds-Wasco, who also drew upon the character's background to inform the interior design.
"I figured it would look just like the Friends television show because the only thing she may have thought was, 'I'll make it look like that,' having no understanding of a homemaker and what it would be like," says Reynolds-Wasco.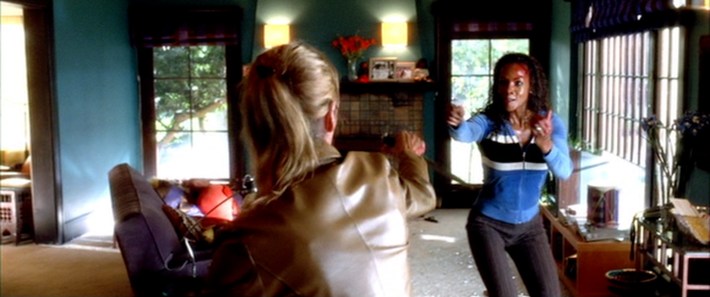 The kitchen was built on-stage as an expanded version of the actual kitchen in order to capture an omniscient overhead shot.
The tree-lined street also 'sold' Pasadena and provided a juxtaposition for the florescent yellow, custom pickup truck, the "Pussy Wagon," parked outside Vernita's house.
Plans for a 710 gap extension were scrapped a few years back, and Caltrans began selling the designated homes in late 2022. But signs posted in the covered windows of Vernita Green's house show that it is still owned by the State.
Though the home was located in El Sereno, an actual Pasadena filming location did make an appearance in Kill Bill: Vol. 1.
St. Luke's Medical Center, built in 1933 on the border of Altadena, closed its doors in 2002 shortly before Kill Bill began shooting. The location played as the El Paso-area hospital where The Bride is laid up in a coma after the incident at Two Pines.
Dresser says that there were still doctors and patients at the hospital when he scouted it. Since its closure, St. Luke's Medical Center has been used as a permanent movie set, appearing in a number of films, TV shows, and music videos. Recently, however, the City of Pasadena has accused the building owners of neglecting the property as it continues to be vandalized.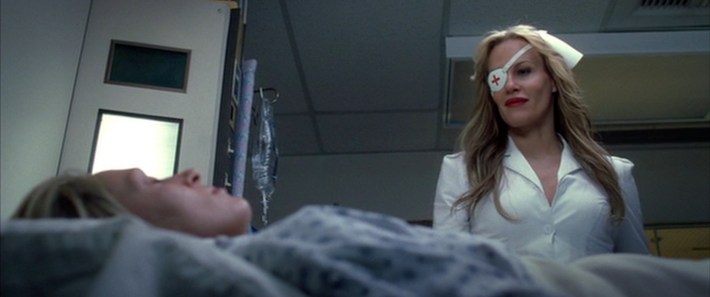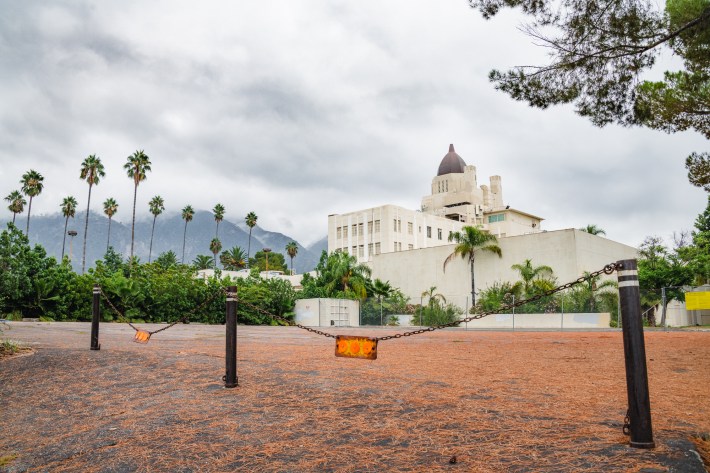 The scene from the connecting hospital parking garage was "doubled" miles away from Pasadena at the American Cement Building in MacArthur Park. Built in 1961, the parking structure and tower both feature unique cement designs that, from the outside, appear almost like an exoskeleton.
The location was an early favorite after Oliver scouted it. He says it's one of his proudest finds on Kill Bill. Like the church, it wasn't a commonly used location. There was hesitation on the building's part, Oliver says, over concern of disturbing residents and County offices that were located in the building.
Dresser recalls, "They thought it was a pain in the butt, and they couldn't care less if we were there."
Unsure if they'd be able to use the location, the American Cement Building was the prototype on which they based further scouts.
"I must have looked at 50 parking structures," says Haecker.
After some persistence, however, the production was granted permission to shoot at the American Cement Building. 
Dresser recognizes Wasco and Reynolds-Wasco's love of mid-century architecture as the catalyst for pursuing the visually dynamic environment where the aforementioned Pussy Wagon is formally revealed.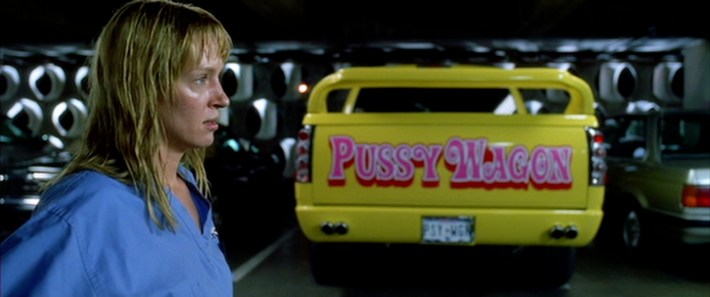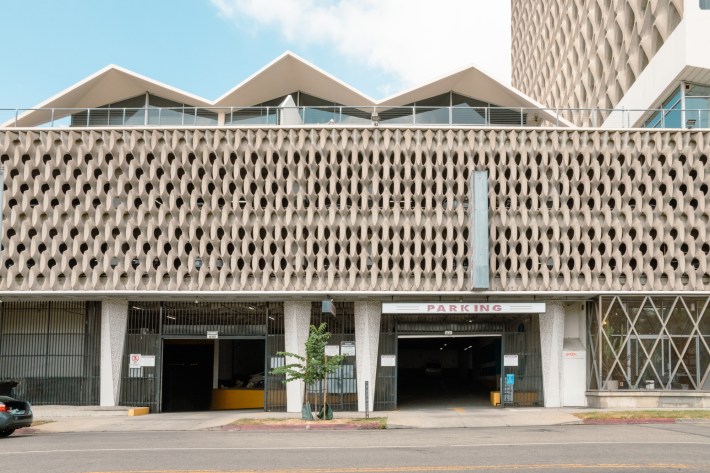 "What I love about David and Sandy is that their love of locations comes from love of character," says Dresser. "A parking garage can be a throwaway location to most people, but to them, having the ability to create character in what might be a throwaway scene is a testament to their creative abilities."
It's akin to the supposed LAX parking structure from Jackie Brown (1997), which, for convenience and cost, was actually shot at the Del Amo Mall. In that instance, Wasco and Reynolds-Wasco incorporated brise soleil concrete blocks as a tie-in to structural design elements seen at the Theme Building at LAX.
Even though most of the L.A. locations from Kill Bill are fairly well known twenty years later, conversations with the locations team and art department heads yields some surprises about the Tokyo settings.
The production shot O-Ren Ishii's (Lucy Liu) motorcade traveling over Tokyo's Rainbow Bridge and through a tunnel under Tokyo Bay. The Bride was filmed driving her yellow Kawasaki motorcycle around neon-lit Shinjuku City and futurist-style Daiba Station. But the handful of remaining Tokyo locations in Kill Bill: Vol. 1 were all L.A.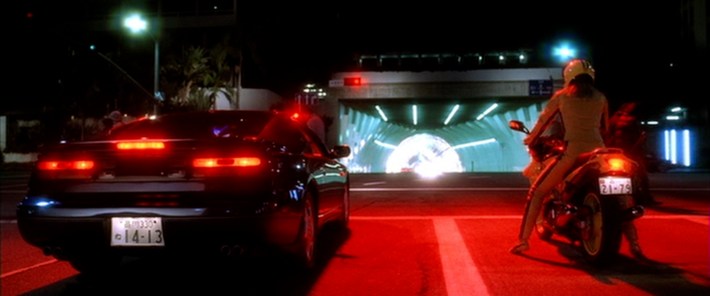 Wasco, Reynolds-Wasco, Dresser, Oliver, and Haecker worked the film's Southern California and Mexico locations. Japanese and Chinese crews were largely responsible for material shot in those respective countries.
Dresser says that the production anticipated shooting as much as possible in Tokyo but ran into some problems.
"When they got to Tokyo, they realized that they couldn't drive over thirty-five-miles-per-hour on public streets; they couldn't close any streets and they couldn't do a lot of the action that they wanted to do," says Dresser.
"One of the key points was an intersection that they needed to control to get proper coverage. I don't know if they were originally told they could shut it down and then the city denied them, but we ended up having to bring that scene back to L.A."
The scene shows The Bride pulling up next to a car driven by Sofie Fatale (Julie Dreyfus), O-Ren's lawyer, best friend, and second lieutenant. It was shot at the intersection of 2nd Street and Figueroa Street in downtown, near the entrance of the 2nd Street Tunnel.
Japanese street signage was brought in; vertical traffic signals were replaced with horizontal ones; English lettering was painted out and substituted with Japanese markings; and the traffic direction was switched.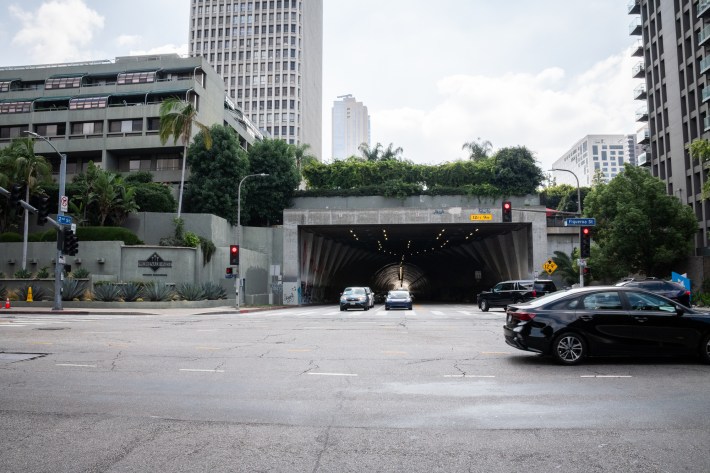 "We brought in Tokyo-style picture cars, which was an enormous challenge to find right-hand-drive vehicles," says Dresser. "I think they ended up bringing a few in [from Tokyo], and they ended up going to some specialty car vendors."
The shell-like, futuristic west entrance of the 2nd Street Tunnel is good match for the area surrounding Tokyo's Daiba Station. Concrete structures adjacent to the tunnel are also reminiscent of Tokyo's brutalist architecture. 
The 2nd Street Tunnel is perhaps a fairly well-known Kill Bill Tokyo double, as it's listed on the film's IMDb location credits. A few other L.A.-Tokyo doubles, however, took me completely by surprise.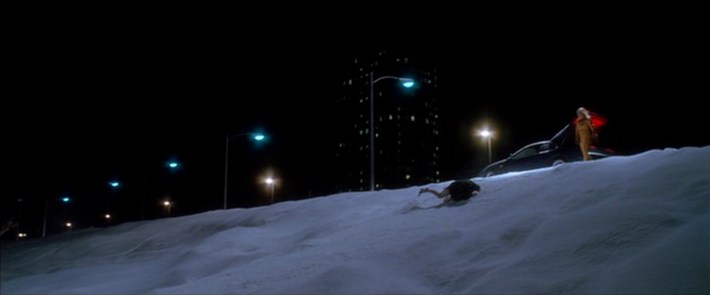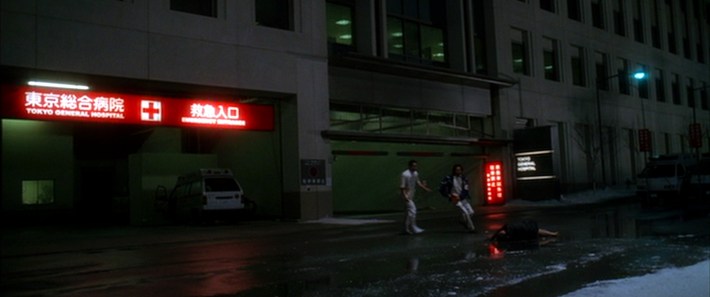 In one nighttime scene, The Bride rolls a dismembered Sofie down a snow-covered hill. Her body stops in the middle of the street outside the emergency room of Tokyo General Hospital.
"The hospital was completely driven by the action," says Wasco. "We needed a pitch of a hill and then a structure that you'd buy as a hospital."
"Searching for those pieces of it, we just kept scouting," says Haecker. "It doesn't sound like much, but it was."
She credits Dresser with remembering an area behind Union Station near the Metropolitan Water District building with an adjacent hill leading up to the train tracks. Massive hospital signage in Japanese lettering was attached to the building and the hill was snow-blanketed.
"What else screams a snowy Tokyo landscape than Union Station," laughs Dresser. "Anytime you can do snow in the middle of downtown Los Angeles, that's always fun and challenging."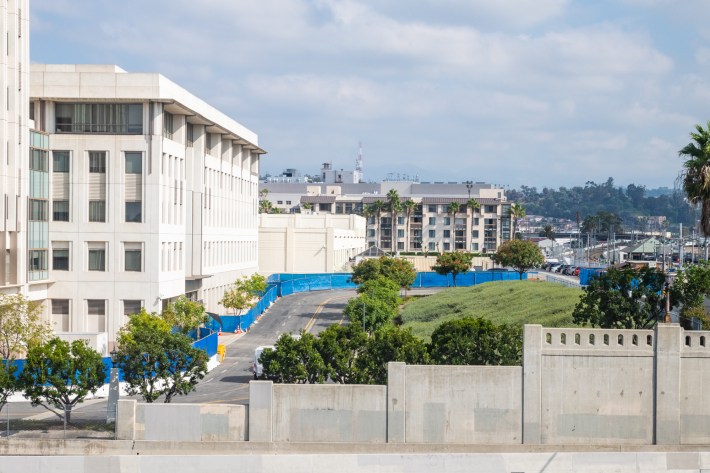 The most fleeting Tokyo-set images are shots of The Bride driving her motorcycle next to Sofie's car, which were filmed under the 105 freeway near LAX. A scene of O-Ren being chauffeured in the back of her town car was shot in the Sepulveda tunnel underneath the south runway of LAX.
"Just imagine the permissions from the Department of Transportation, from the airport, and then, of course, the airport is dealing with all the airlines," says Haecker. "Then you have all of the warehouses. They're all the industry that serves the airport. Then you have rush hour traffic. A lot of jurisdictions want to say no."
"This was twenty years ago," she adds. "Now I don't think we would even entertain the idea."
There are a handful of other tunnels in L.A. that would have been easier to control, but Haecker believes the selection of the LAX tunnel had to do with the length of the run and how many vehicles were required to create the desired effect. Also, other L.A. tunnels are instantly recognizable as just that - L.A. tunnels.
"It was certainly a good find to look at that, not see L.A., and match it for some other looks in Tokyo," says Haecker.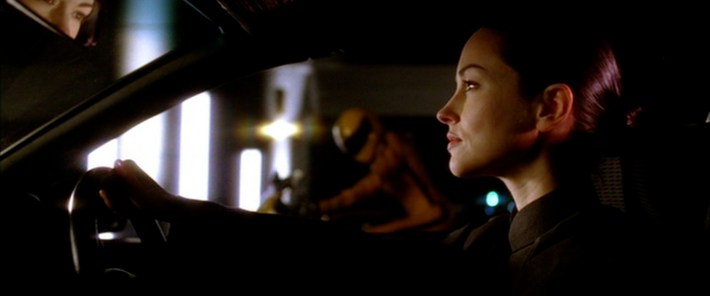 "We put lights on every column underneath the runways. We had, I think, thousands of feet of electrical cable. We had electrical generators at both sides of the tunnel," says Dresser. "I believe we shot the scene in one or two nights."
It's arguably the most logistically challenging location featured in Kill Bill Vol. 1.
"I don't think you could ever do this again," says Haecker of the tunnel shoot.
A hundred miles from LAX at the Sanctuary Adventist Church, Castaneda invites Colantonio and Babore up to the alter, where he asks them to join hands. Castaneda raises his hands over their heads.
I'm asked to take a photo on a cell phone as the pastor pretends to marry the couple at 'the Kill Bill church.' While this is all in good fun, Castaneda has actually married dozens of couples from countries including France, Spain, Australia, Chile, Mexico, and Croatia.  
When I tell Oliver that a location he found has had this worldwide impact, he is taken aback.
"Thank you for telling me that because that's amazing," Oliver says modestly. "I've never heard that before."
Before the two Canadians continue on their way to Vegas, and eventually on a plane back to Montreal, Castaneda asks them to sign the guest book, which contains signatures from almost every corner of the globe. He began asking visitors to sign guest books in 2008 and he's now onto book number twelve.
"That means twelve-thousand people have come over here," says Castaneda. "And that is only the people that like to sign the book."
Even 20 years later, visitors show up at 'the Kill Bill church' every day.
During the week, Castaneda might see anywhere from five to twenty people a day; on weekends he gets anywhere from twenty to fifty people a day. Some of them have Tarantino-inspired tattoos, says the pastor.
When he purchased the location the same year that Kill Bill: Vol 1 was released, Castaneda didn't understand why so many people were showing up unannounced.
"I just thought that they were a little bit crazy coming over here in the middle of nowhere to take pictures of a church," says Castaneda. "I thought they were out of their minds."
Two years after buying the church, he gathered the courage to ask a woman why she was outside his church taking pictures. Then he went to the library and borrowed the DVDs for both volumes of Kill Bill. Castaneda immediately understood.
He has had mostly positive experiences with visitors, but he's also had occasional run-ins with people trying to film or shoot professional photos without obtaining a permit or paying a location fee.
He has encountered multiple people shooting explicit material. As a result, Castaneda has installed a number of security cameras around the church; barbed wire lines the front of the property and a flatbed truck obscures the porch constructed for Kill Bill. (Castaneda agreed to move the truck for the photo element of this article.)
Around the time Castaneda learned about Kill Bill, the Antelope Valley Film Office came pleading to open the church up for filming, which would help boost the local economy. Eventually, Castaneda welcomed Hollywood back.
Some of the projects he's hosted include a season two episode of Terminator: The Sarah Connor Chronicles (2008) and Cardi B's music video for "Be Careful" (2018), in which Castaneda appears as a priest performing a wedding. (It's the one film experience Castaneda has regretted due to the lyrics and content.)
Kacey Musgraves shot her Star-Crossed (2021) film project, in part, at the church. But these appearances come off as self-referential nods to Tarantino's films, as an attempt to suggest that the location is anything other than the church from Kill Bill would prove futile.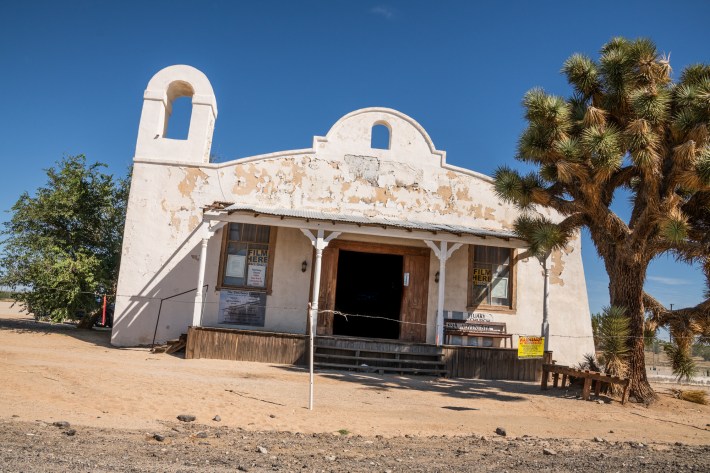 Though Castaneda doesn't necessarily approve of the content in Tarantino's film, he uses it to further his holy mission. 
"I used to go door-by-door offering Bible studies," says Castaneda. "Now I don't have to go to them. Thousands of people come over here without me calling them or going to their houses."
For every person who comes through the door to see 'the Kill Bill church,' Castaneda hands out a souvenir from a few stacks of various religious books. Inside each text is the pastor's contact information alongside a stamp that reads "The Kill Bill Church" over the location's address.
"Twelve-thousand books, at least, have been given to them," says Castaneda. "So, the message of God has traveled around the world because of Kill Bill." 
But sitting opposite the stacks of books, I notice a black-sheathed samurai sword that, according to Castaneda, was left behind when he bought the church.
This radical juxtaposition, along with the taxing excursion to Hi Vista, bring to mind the small bit of spiritual guidance bequeathed upon The Bride by the master sword maker of Kill Bill: Vol. 1, Hattori Hanzo (Sonny Chiba):
If on your journey, you should encounter God, God will be cut.

Jared Cowan writes and podcasts about L.A. filming locations. He also works as a photographer and camera operator.
Stay in touch
Sign up for our free newsletter