Featured
From Bettie Page to Alfalfa: Six People You Didn't Know Were Buried In Los Angeles
If you think L.A.'s studios, supermarkets, and freeways are stacked with Hollywood stars, you should see its cemeteries.
10:07 AM PDT on October 18, 2023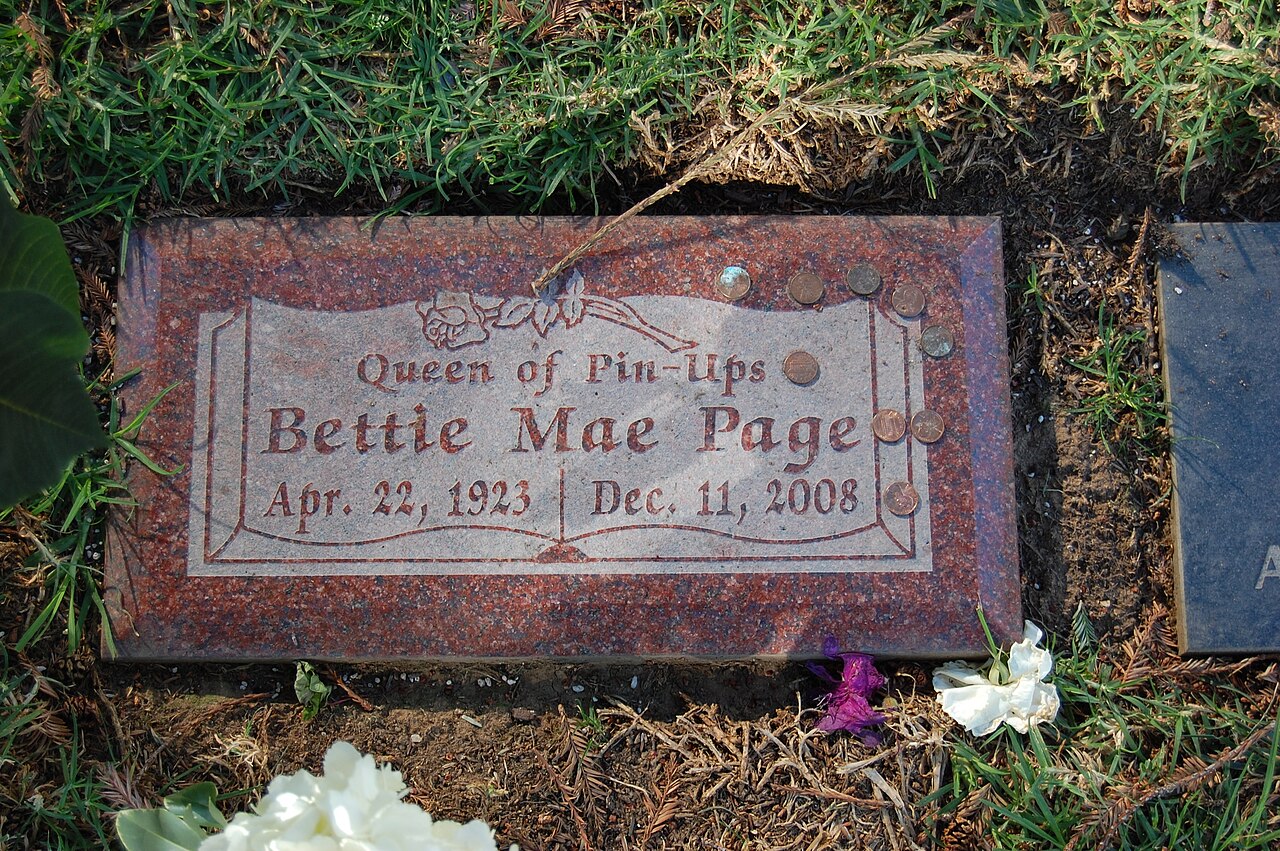 If you think L.A.'s studios, supermarkets, and freeways are stacked with Hollywood stars, you should see its cemeteries.
Paris' Père Lachaise may possess the graves of Oscar Wilde, Marcel Proust, Chopin, and a fat Jim Morrison. Buenos Aires' Cementerio de la Recoleta might count the eternal resting places of Eva Peron, Luis Ángel Firpo, and Victoria Ocampo.
But L.A. has Mel Blanc, Iceberg Slim, Rodney Dangerfield, and Rasputin's daughter. So clearly, we win.
For every well-trodden resting burial site of, say, a DeeDee Ramone (Hollywood Forever), Walt Disney (Forest Lawn), Charles Bukowski (Palos Verdes Estates), or Marilyn Monroe (Pierce Brothers in Westwood), L.A. remains filled with the less visited, lesser-known graves of historical footnotes, cult favorite performers, serial killers, and underground authors.
Join us now as we look at six people you might not have known were buried in Los Angeles. And where to find them.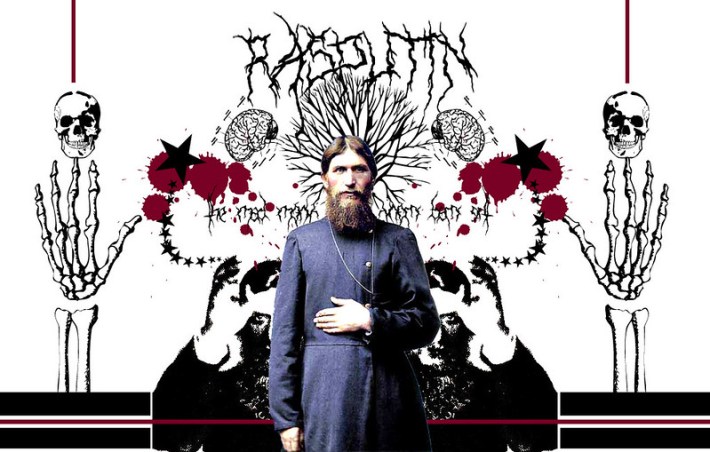 Maria Rasputin ~ West Adams
Maria Rasputin spent much of her life defending her father. This Siberian mystic ingratiated himself with the family of Russia's Tsar and was assassinated under mysterious circumstances by a band of Russian nobles at a housewarming party.
She married a man on the advice of séance participants (he went on to controversially sell the Romanov family jewels), fled Russia in exile, took to dancing in Parisian cabarets, wrote three books about her father, and was mauled by a bear while working in a circus, where she often found employment based on her last name and was often left to dance out the scene of her father's murder. Her move to Los Angeles may have come during World War II, where she may have begun work as a riveter in San Pedro. In old age, she offered Russian lessons, babysitting, and hospital work while living and eventually passing in Silver Lake, where an active Russian church still stands today.
Today, you can find the final resting place of Maria Rasputin at Angelus-Rosedale Cemetery in West Adams, where Hattie McDaniel, Freaks director Todd Browning, Fernando Lamas, serial killer Louise Peete, and pioneering actor Anna May Wong are among the many historical names buried here.
1831 W. Washington Blvd. Los Angeles, CA 90007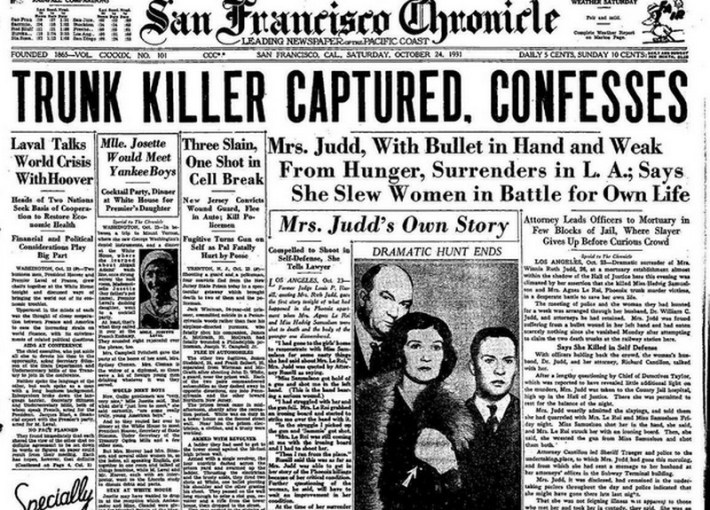 The Trunk Murderess ~ Inglewood
On the night of October 16, 1931, in Phoenix, Arizona, Winnie Ruth Judd shot and killed her two friends and former roommates, Agnes Anne LeRoi and Hedvig Samuelson, with a .25 caliber pistol in a jealous dispute and ensuing physical fight over a man. She then dismembered Samuelson and put the parts in a trunk, stuffed LeRoi's corpse into a second trunk, and took them by train to Union Station in L.A., blood leaking from the trunks drawing scrutiny that would ultimately make her a wanted woman. After her brother, a junior at USC, picked her up and dropped her off in L.A., Judd hid and, after several days, surrendered to LAPD at Alvarez & Moore Funeral home in Downtown.
Judd's case caused a near-OJ-level media firestorm. She would later have a death sentence repealed and enter a mental institution in Arizona, escaping six times. After her last escape, she began working as a live-in maid for a family in Northern California before eventually being recaptured, being released, and going back to work for that family. She died at age 93. The makers of Texas Chainsaw Massacre attempted to produce a film about her life. Still, the honor would eventually go to a short film starring an all-puppet cast called Murderess: The Winnie Ruth Judd Story.
You can find her grave at celebrity-packed Inglewood Park Cemetery, alongside big names like Etta James, Ella Fitzgerald, Ray Charles, Tom Bradley, Caesar salad creator Caesar Cardini, no-hitter-pitcher-on-LSD Dock Ellis, the great Art Laboe, and proto-stripper Gypsy Rose Lee.
720 E. Florence Ave. Inglewood, CA 90301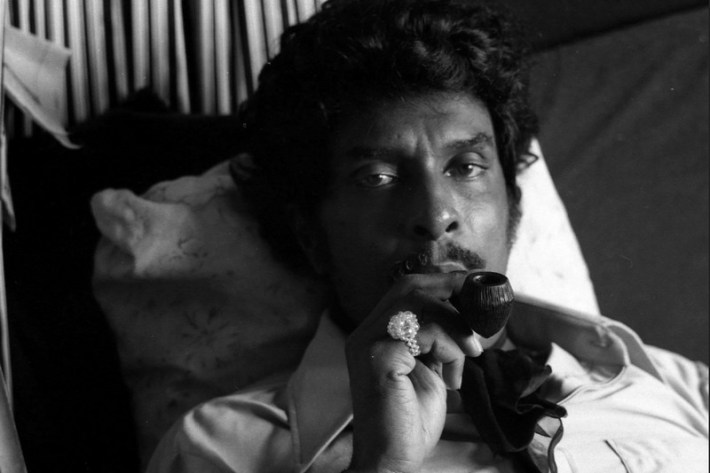 Robert Maupin "Iceberg Slim" Beck ~ Glendale
Robert Maupin was kicked out of Tuskegee University for bootlegging, an early sign that his good upbringing wasn't enough to fight the lure of the streets. Beck would go on to spend 30 years as the successful, dogged Southside Chicago pimp named Iceberg Slim. He'd go on to detail The Life and its real characters in 10 non-fiction books and narrative novels after getting popped in his early forties, spending 10 months in solitary, and moving to Los Angeles to change his name to Beck and make his living as an author.
Beck's books sold over six million copies in his lifetime. He died of liver failure a day before the 1992 L.A. Uprising.
You can find his grave, inscribed with both his real and street names and the words "Truth, Still Shining Down," at Forest Lawn Memorial Park in Glendale, where we like to think his ghost mingles with the likes of Dorothy Dandridge, Michael Jackson, Sammy Davis Jr., Errol Flynn, Bobby Womack, Walt Disney, Billie "Buckwheat" Thomas, and the scores upon scores of other dead celebrities packing this famous memorial site.
1712 S. Glendale Ave. Glendale, CA 91205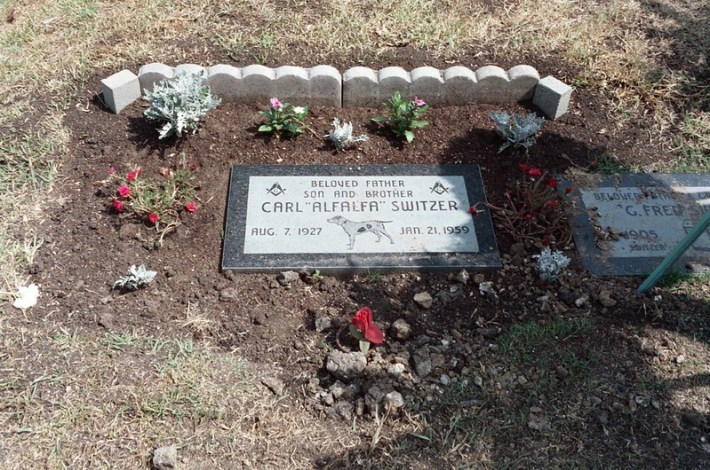 Carl "Alfalfa" Switzer ~ Hollywood
Long before Macaulay Culkin, Amanda Bynes, and Screech, the demises of Carl Switzer and several of his fellow cast members from The Little Rascals/Our Gang films foreshadowed the often disastrous results of childhood stardom. After years of making audiences double over with his antics and drawing versions of "Clementine" and "The Barber of Seville," the Illinois-raised actor who portrayed Alfalfa fell on harder times, as his parents supposedly spent his money. He relegated to bit parts in movies (you can see him in A Wonderful Life and playing a slave in The Ten Commandments, among other award winners). Rumored to be an addict, Alfalfa, Alfie, or Alf, as he was commonly called, also had the occasional run-in with cops as he supplemented his income by bartending, shining shoes, and working as both a tour and bear hunting guide, and hunting hound trainer. The nature-loving Switzer was arrested for chopping down trees without a permit in the Sequoia National Forest and was shot outside of a Studio City bar in 1958.
On the night of January 21, 1959, a drunk 32-year-old Switzer went to the home of one Moses "Bud" Stiltz, a St. Louis-raised bodyguard and welder, believing the man owned him money for a reward Switzer had paid someone for finding a hunting dog he'd lost that belonged to Stiltz. Switzer appeared at the man's door with a fake police badge and a friend and was later said to have Stiltz on the head with an object and locked him in a closet. A struggle involving a gun occurred, a shot was fired with no victim, and later, Stiltz managed to shoot a supposedly charging Switzer, who was possibly armed with a jackknife. Abdomen bleeding, Switzer died on the way to the hospital, marking the first of a few early and or tragic ends for the Our Gang troupe, which includes acquitted accused murderer Robert "Bobby" Blake and Alfalfa's own older brother, Harold, who died by suicide.
Carl Switzer can be found, not far from where he lived, at Hollywood Forever, where you'll also find Chris Cornell, Douglas Fairbanks, two Ramones, Mel Blanc, Harry Chandler, Jonathan Gold, Estelle Getty, Rozz Williams, Benjamin "Bugsy" Siegel, and Anton Yelchin, among its many big names.
6000 Santa Monica Blvd. Los Angeles, CA 90038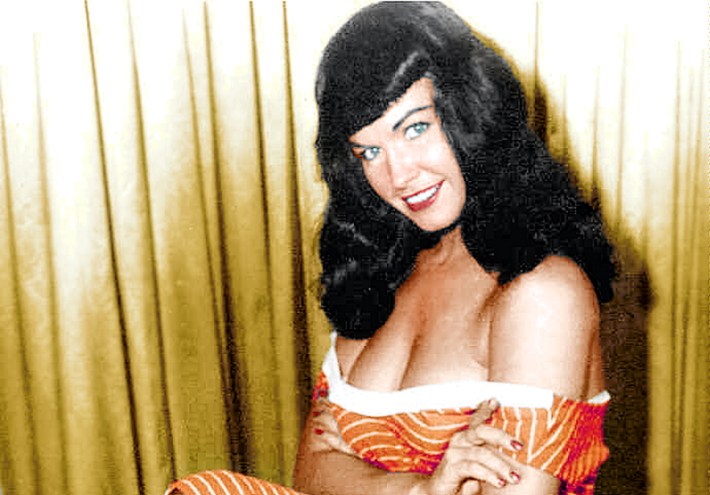 Bettie Page ~ Westwood
Many visit Westwood's Pierce Brothers Memorial Park to see Marilyn Monroe. A smaller, no less devout number comes to pay respects to pinup queen, actress, and kink pioneer Bettie Page.
With her girl-next-door looks, iconic bangs, and way with a bullwhip, Page is a legend towering decades before anyone who ever snapped a selfie of themselves in stockings in front of a bathroom mirror.
Page was born in Tennessee, but she and her family moved around a lot. Page was temporarily placed in an orphanage with two sisters at age ten. Her father was convicted of car theft when she was young, and according to Page, started sexually abusing her at the age of 13.  Page was later sexually assaulted by a group of men in New York City, where she worked as a secretary, causing her to go home to Tennessee.
She was no stranger to L.A. and California, too, but it was while walking in Coney Island that a cop and photography hobbyist approached her and convinced her to pose for pin-up photos with him, even suggesting she adopt bangs to keep the lights out of her eyes. A legend was born, with Page starring in still-iconic pinup shoots, often making her own outfits and bikinis, and appearing as a trained actress in both film and television.
Page became a Born Again Christian in Florida and publicly disavowed her sexy shoots. In her fifties, she moved to Southern California. She was diagnosed with acute schizophrenia, spent time in a San Bernardino mental institution, even was arrested for stabbing her landlords and being deemed "not guilty by reason of insanity" and placed under state supervision until 1992.
Meanwhile, a devoted Bettie Page cult was flourishing. The pinup queen herself tried to have lawyers get some of the money being made on her image and wouldn't allow cameras to capture her in older age. Page died in a hospital at the age of 85 when her family discontinued life support following what may have been a heart attack or pneumonia.
A simple headstone for Bettie Mae Page with the words "Queen of Pin-Ups" lays on the lawn at Pierce Brothers, which has some of the funniest celebrity graves in L.A., including Rodney Dangerfield's headstone reading "There goes the neighborhood… " and director Billy Wilder's, which states "I'm a writer, but then nobody's perfect."
1218 Glendon Ave. Los Angeles, CA 90024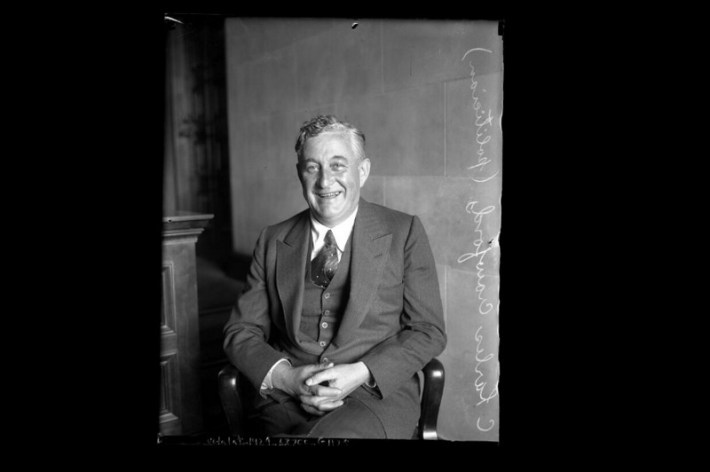 Charles H. Crawford ~ Glendale
Charles Crawford was a gangster politician who ran L.A. like his own personal Tammany Hall. His City Hall Gang helped decide who was in power, while Crawford, a former operator of Seattle saloons and dance halls, oversaw bootlegging, bordellos, and casinos in a mini-empire of vice.
Called "vicious" by the L.A. Times, Crawford was also known as the Gray Wolf of Spring Street," who wore showy clothing and jewels. By 1929, the tide had turned thanks to the L.A. Times' uncovering of widespread city corruption, and Crawford was arrested for crimes including framing a city councilman and bribery.
After making a big show of going legitimate and going religious, Crawford was shot at his private office in Hollywood and died hours later, refusing to snitch on his assailant, who was later caught regardless.
Crawford is buried in Forest Lawn.
1712 S. Glendale Ave. Glendale, CA 91205

One of L.A. TACO's co-founders, Hadley Tomicki is a critic and journalist whose work has appeared in the Los Angeles Times, New York Magazine, and many other places.
Read More:
Stay in touch
Sign up for our free newsletter