News
More Than 2,000 Patients In L.A. Unknowingly Received a Diluted Dose of the Pfizer Vaccine, They Found Out Nearly a Year Later
1:36 PM PDT on September 1, 2022
September 8, 2022 Update: In an interview with the L.A. Times conducted after we published our story, Carlos Vaquerano, the chief executive of Clinica Romero told The Times that they found out about the error through a staff member in May. Vaquerano said so far no patients have come forward with "any problems." "We understand their concern and I apologize for what happened."  The issue allegedly stemmed from an employee who continued to dilute Pfizer vaccine doses after they no longer needed to be diluted. Vaquerano told The Times that the employee was placed on leave and eventually fired.
Pedro suspects he got COVID during the first month of the pandemic, long before testing and vaccines were widely available. Although he experienced hardly any physical symptoms, long COVID symptoms like brain fog, insomnia and aphasia got so bad that the 37-year-old thought he might be disabled for a while.
So in late October of last year, Pedro didn't waste any time when he became eligible for his third booster. He walked over to Clinica Romero, a nearby low-income health clinic in his neighborhood, and got his shot.
Ten months later, Pedro received a letter from Clinica Romero that he initially almost threw away. "Dear Valued Patient…Clinica Romero has been made aware that we may have diluted the Pfizer COVID-19 vaccines."
Pedro was stunned.
The booster shot that he received almost a year ago had likely been overly diluted, resulting in a "lower than recommended" dosage of the Pfizer vaccine being administered, the letter indicated.
"I open it, and I'm like, what the hell?" Pedro said during an interview with L.A. TACO, days after he received the notice. The clinic advised him to get another shot. "How am I getting this letter dated August 1st telling me they immediately corrected a situation that happened in October?"
"That's not right. Something's wrong."
Pedro doesn't suspect Clinica Romero did anything intentionally, but he blames them along with the local health department for doing a poor job of notifying patients. "I think it was an honest mistake, but what wasn't an honest mistake is them telling me this ten months later."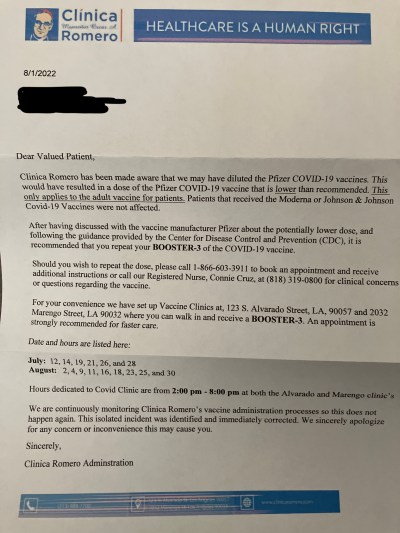 Towards the bottom of the letter, the clinic offered a 1-800 number to patients with questions. "So I call the number, and it's a dead phone number, and it's out of service." The letter also listed vaccine clinic days at both locations where patients could walk in and receive an additional shot but six of the dates already passed by the time Pedro received his notice."That's not an honest mistake," he said.
Pedro is not alone. In total, about 2,100 people were affected by this error at Clinica Romero's Boyle Heights and Westlake locations, a spokesperson from the Los Angeles County Department of Public Health (L.A. Public Health) confirmed. It was the only instance in the entire county that the department is aware of as of early August, a spokesperson said.
Founded in the early 1980s, Clinica Romero initially served as a vital health provider for the thousands of men, women, and children fleeing El Salvador's civil war. Today they continue to provide healthcare services to uninsured immigrants and low-income families, all of whom live either at or below the federal poverty level.
In 2021, the same year Pedro received his shot, Clinica Romero estimated that their average test positivity rate between their two clinics was 32 percent, or two times higher than the county rate and five times greater than the state rate.
Despite more than ten thousand patients each year, the clinic has struggled to stay open at times. Ten years ago, Clinica Romero faced a $1 million budget deficit that almost forced them to close. The financial trouble resulted in layoffs and created turmoil between leadership and employees, resulting in protests calling for Carlos Vaquerano, the current CEO of Clinica Romero and former president of the board, to step down. At the time, workers complained about "insufficient medical supplies, including needles and basics like toilet paper," the L.A. Times reported in 2011. 
Clinica Romero has similarly struggled financially during the pandemic and impending recession despite proving to be a vital resource for low-income families during the COVID-19 crisis. In February, Vaquerano told LAist they had not received any money from Medicaid for the thousands of doses of vaccine that they'd administered up until that point. 
According to an annual report, the first year COVID vaccines became available, Clinica Romero estimated that they administered more than 25,000 shots. That means nearly 10 percent of the shots that they administered were overly diluted that year.
Both of Clinica Romero's locations are in low-income, largely-Latino communities that have been hit hard by the pandemic. But an annual report from Clinica Romero shows their patients experienced even higher rates of COVID than the general public.
In 2021, the same year Pedro received his shot, Clinica Romero estimated that their average test positivity rate between their two clinics was 32 percent, or two times higher than the county rate and five times greater than the state rate.
'I don't trust them anymore'
Clinica Romero did not respond to this story's multiple emails, calls, or voicemails. L.A. TACO left a message with someone in accounting listed on the nonprofit's tax forms, but we never heard back from anyone. Follow-up calls were not returned. We also reached out to the registered nurse listed on the letter that the patients received, but nobody answered.
L.A. Public Health told L.A. TACO that they found out about this error on June 8, two months before Pedro was notified, after they were contacted by the California Department of Public Health Immunization Branch. "[LA Public Health] nursing staff reached out to the provider that day to determine what happened and confirmed that errors in diluting the vaccine occurred at two different sites," a spokesperson for the department said.
Five days later, L.A. Public Health sent nursing staff to both of Clinica Romero's locations and addressed the issues with Don Garcia (Clinica Romero's Medical Director), their vaccine coordinator, and their clinical team, a spokesperson said. "No other issues were identified during the visits."
A spokesperson for California Public Health confirmed that they also found out about the administrative error on June 8, after the Center for Disease Control (CDC) reached out. "CDC was notified by Pfizer, who had been contacted by the healthcare provider about the administration errors," a spokesperson from the department said in an email.
A spokesperson from Pfizer would not confirm if or when Clinica Romero reached out to them. In a statement, the New York-based biopharmaceutical company told L.A. TACO, "Pfizer ships the doses according to the country's preferred channel to designated vaccination locations, following relevant regulatory authorizations, monitoring the temperature and location 24/7 during the shipment. Once the vaccines are received and accepted by the designated facility or point of use, the facility is responsible for storage and administration."
The CDC did not respond to multiple requests for comment for this story. On their website, the federal public health agency recommends that providers notify patients of any vaccine errors, consult with the state immunization program and report to the federal database that tracks adverse reactions and administrative errors related to vaccines.
A source who worked with the L.A. County Department of Health Services COVID Response Team said it's not unusual for vaccine errors to be detected more than a month after they occurred. "Pfizer gets diluted 1:3 (1 ml of vaccine, 3 ml of saline), so if someone did that wrong and didn't chart it correctly, it wouldn't have been caught."
"They [probably] discovered the error during an audit and then reported it."
There are two formulations of the Pfizer vaccine authorized for people 12 and older; only one needs to be diluted before use. It's unclear if over-diluting the Pfizer vaccine makes the shot ineffective. But the CDC advises that patients repeat their dose immediately if they receive an overly-diluted dose (although some experts suggest waiting eight weeks). 
To avoid diluting errors, the Institute for Safe Medicine Practices (ISMP), a non-profit committed to preventing medication errors, recommends that healthcare providers "implement an independent double check" system when preparing the Pfizer vaccine to ensure that the dose is properly diluted. Otherwise, "If you add too much diluent, doses may be ineffective [and] if you add too little diluent, doses may invoke stronger adverse effects (if one happens)," the ISMP wrote in a 2021 report. 
According to media reports, there have only been a handful of similar cases in the United States, and most of them involved kids (the amount of diluent for vaccines administered to kids is different than adults). Many of those instances appear to be accidents. But in New York City, two former health clinic workers alleged in lawsuits that the Bayside clinic that they worked at systematically diluted vaccines in order to stretch the supply and collect more money in kickbacks.
"I'm paying for this. We're paying for this. So they gotta be held accountable."

"Someone's gotta be held accountable."
A Yale immunologist told the New York Daily News they believe over-dilution shouldn't impact people's immune response to getting the vaccine but stressed that healthcare providers should be following CDC guidelines. "Obviously, it's not a recommended thing to do," said Akiko Iwasaki. "But with respect to antibodies and t-cells, I would expect it wouldn't make that much difference."
Pedro questions why Clinica Romero immediately went to Pfizer, not L.A. Public Health. "It seems like they don't want people to know that this happened," he said. "They're just trying to sweep it under the rug, but it did happen." He also wonders why L.A. Public Health didn't contact patients directly or make a public announcement when they found out about the error in June. 
Despite holding weekly COVID news briefings and sending out daily press releases five days a week on coronavirus, L.A. Public Health did not make any public announcements about the error at Clinica Romero. Neither did the state health department or Pfizer. "We remained in contact with the provider as they disseminated letters to affected individuals and established an 800 number to answer questions," a spokesperson for L.A. Public Health told us. Later, when we told the health department that the 1-800 number didn't work, they responded, "Thank you for letting us know. We're getting in touch and asking them to fix that." They declined to comment further on why they didn't notify patients themselves.
Pedro does not intend to repeat his third booster; he feels it's too late. Instead, he has his eyes set on the recently approved "fourth booster" that is expected to offer more protections against the Omicron variant. Although he says he doesn't trust Clinica Romero enough to go back, he believes ultimately they're doing good work. But that doesn't mean they should escape accountability. "I'm paying for this. We're paying for this. So they gotta be held accountable."
"Someone's gotta be held accountable."
Lexis-Olivier Ray is a housing, justice and culture reporter for L.A. TACO.
Read More:
Stay in touch
Sign up for our free newsletter