Food
The XVIII Best Wings In Los Angeles
5:06 PM PST on February 6, 2023
Today you earn your wings.
The very best chicken wings in Los Angeles, a city literally named for tasteful winged creatures.
Here you'll find Cambodian, Caribbean, and Thai wings. al pastor, garam masala, and mole wings. Buffalo, Korean fried chicken, wood-smoked wings... and Flamin' Hot Cheeto-dusted wings.
(There's even a secret place in here that Steve Lacy would pay $1,000 to know the exact location of. But that we are bound by honor to never reveal... )
All because it's Super Bowl week. And big Super has convinced us that Game Day shall be to feast on tiny glistening poultry parts what Thanksgiving is to the post-Colonial ritual of trying to enjoy dry turkey. Fortunately for us, wings are juicy.
Hut-hut-hike!!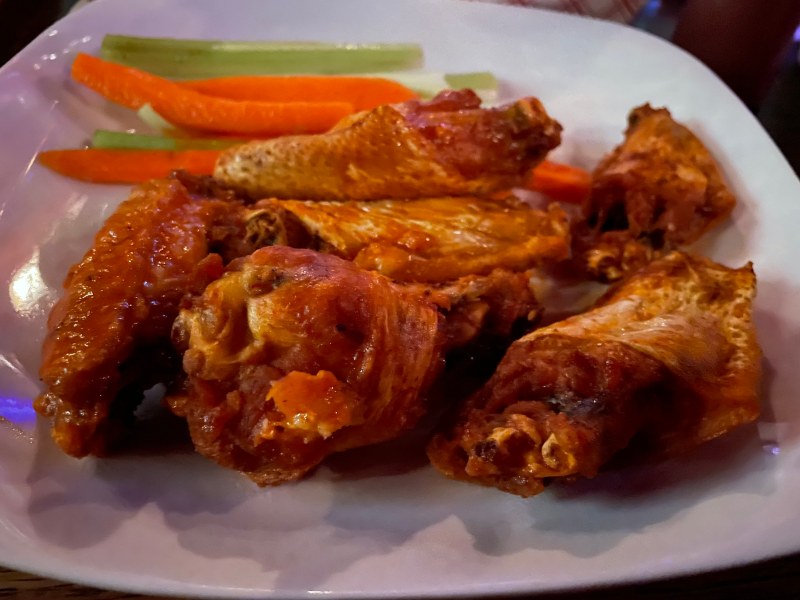 Ye Rustic Inn in Los Feliz remains the best option in the city for classic Buffalo wings. It's no coincidence that the bar happens to be an official destination for fans of the Buffalo Bills. Many natives of Buffalo, New York, swear by the wings at Ye Rustic Inn. Crispy on the outside and juicy on the inside, the wings here have been churned out with stalwart consistency over the years. Sit at the bar for a game, a beer, and a platter of wings. There are few better ways to watch football in L.A. - Lynn Q. Yu
1831 Hillhurst Ave. Los Angeles, CA 90027. Closest Metro lines and stop: Bus Line 180 - "Vermont/Melbourne" or Bus Line 182 - "Talmadge/Franklin."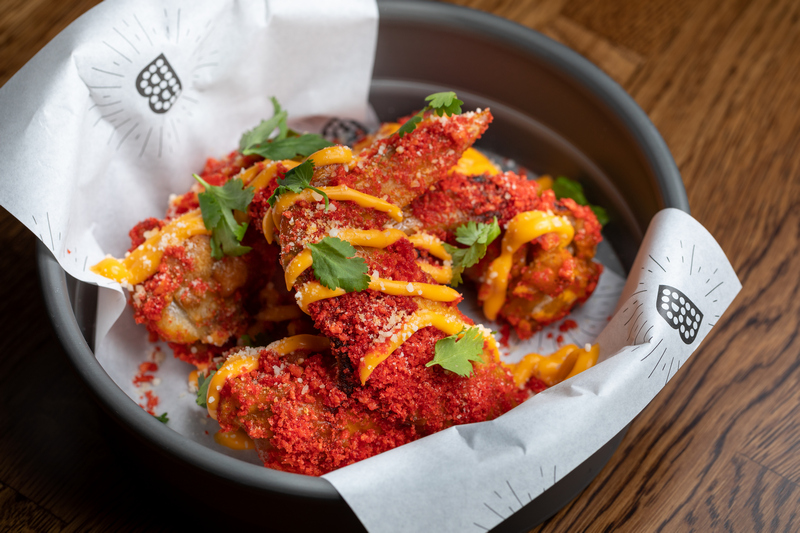 This new-school Boyle Heights pizzeria, runs a strong wing offense, offering jumbo wings in a range of recipes, including mole wings, a sauceless version of lemon-pepper wings, traditional Buffalo, and wood-fired wings topped with a picadillo-reminiscent mix of garlic, herbs, and raisins. But the wings dusted with Flamin' Hot Cheetos and drizzled in nacho cheese are the ones to beat when it comes to firing off our fondest junior high pizza parlor flashbacks.

2706 E. Cesar E Chavez Ave. Los Angeles, CA 90033. Closest Metro lines and stop: Bus Line 70 - "Cesar E Chavez/Mott" or Bus Lines 251 or 605 - "Soto/Cesar E Chavez."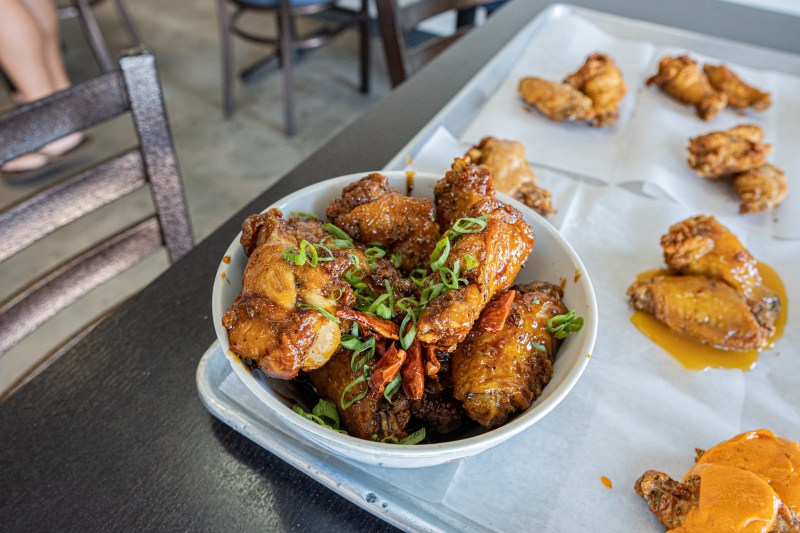 Shlap Muan translates to "chicken wing" in Khmer. Not only are they my favorite Cambodian wings, but they're also my favorite wings, bar none. The wings are crispy and juicy, served with various spice or sauce options. Flavors include the citrusy "Cambodian Dirt," sweet and spicy Elvis wings, and the nutty and earthy "Spicy Elephant." For those looking for a more Buffalo-style experience, they have that too. - James Tir
2150 E. South St. #105, Long Beach, CA 90805. Closest Metro line and stop: Bus Line 265 - "Paramount/South."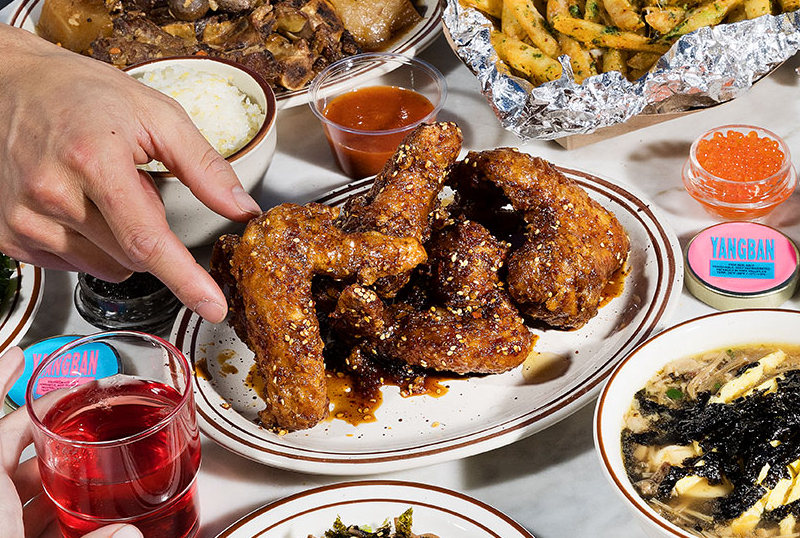 Yangban Society's wings are twice fried, shellacked in a sauce of soy, sugar, mirin, and garlic, and speckled in hot Korean chile flakes. While these wings are to die for, keep in mind, they also arrive at $30 per order. - Lynn Q. Yu
712 S Santa Fe Ave. Los Angeles, CA 90021. Closest Metro lines and stop: Bus Lines 60 or 62 - "7th/Imperial (westbound)" or "7th/Santa Fe (eastbound)."
Some like it hot and some cry and drool and turn red and say "oh, fuck" a lot when the heat is on. Ask Memo Torres and Brian Feinzimer, who can be seen on this video taking on all the wings, including the hottest of the hot, whole wings at Howlin' Ray's, the smash-hit Nashville fried chicken favorite in Chinatown. Then you can decide how far you're willing to go here.
800 S. Arroyo Pkwy. Pasadena, CA 91105. Closest Metro lines and stop: Metro A Line - "Fillmore Station" or Bus Line 260 - "Fair Oaks/Bellefontaine."
727 N. Broadway STE. 128, Los Angeles, CA 91102. Closest Metro lines and stop: Bus Lines 81, 90, 94 or 96 - "Hill/Ord", Bus Line 45 - "Broadway/Ord" or Metro A Line - "Chinatown Station."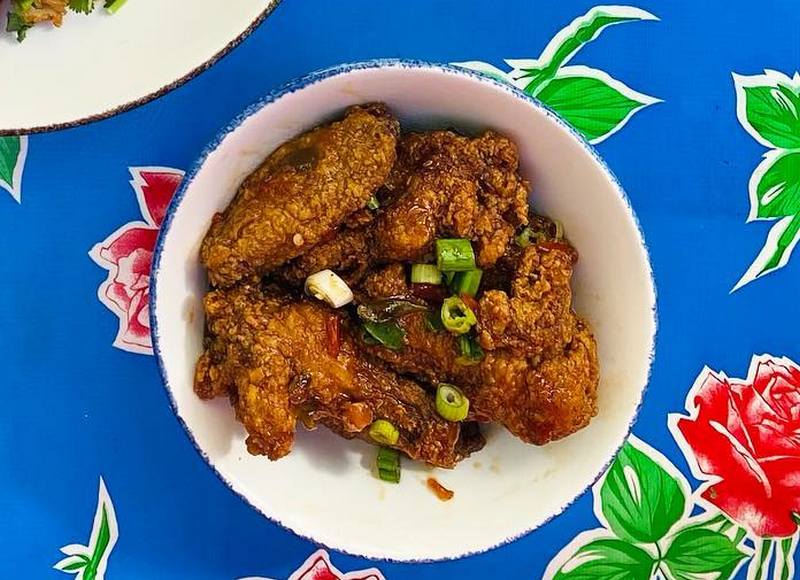 Ever since opening, Night + Market has been applauded for their stellar Thai chicken wings. The peek gai hey-ha (signature "party wings") are slathered in a three-flavor sauce that leaves a pleasant after-burn on your palate. Thai chicken wings, distinctive for their use of chile sauce, embody a world of flavor unto their own, and the ones at Night + Market do not disappoint.  - Lynn Q. Yu
3322 Sunset Blvd. Los Angeles, CA 90026. Closest Metro lines and stop: Bus Lines 2 or 4 - "Sunset/Micheltorena."
9043 Sunset Blvd., West Hollywood, CA 90069. Closest Metro line and stop: Bus Line 2 - "Sunset/Doheny."
2533 Lincoln Blvd. Venice, CA 90291. Closest Metro line and stop: Bus Line 33 - "Venice/Lincoln."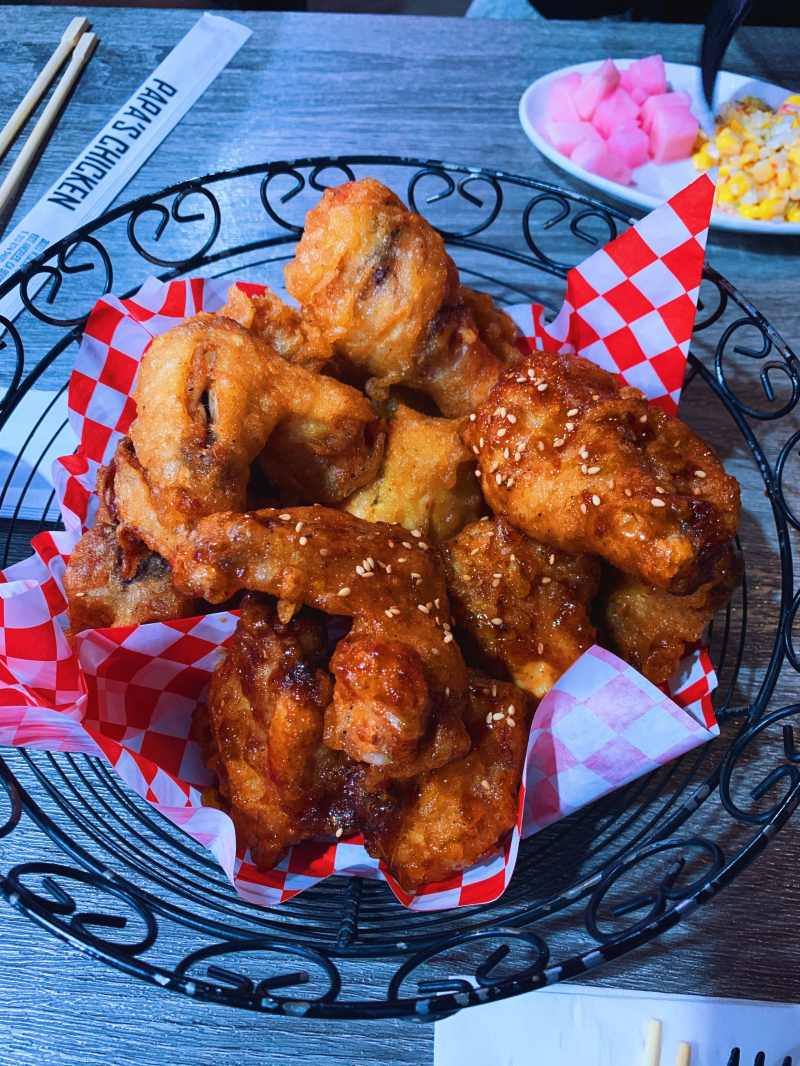 The secret to Papa's Chicken golden, crispy skin is rice flour. It is finer and more granular in texture than all-purpose or wheat flour, which keeps the skin brittle in the fryer. Rice flour also has a neutral flavor, which makes Papa's glazes sing. One of their most popular offerings is the honey soy sauce chicken. The flavor dances between sweet and savory as it seeps into every crevice of the cooked bird. No need to dive in gingerly. The plates come with disposable plastic gloves. - Lisa Kwon
3003 W. Olympic Blvd. #103, Los Angeles, CA 90006. Closest Metro lines and stop: Bus Lines 28 or 206 - "Olympic/Normandie."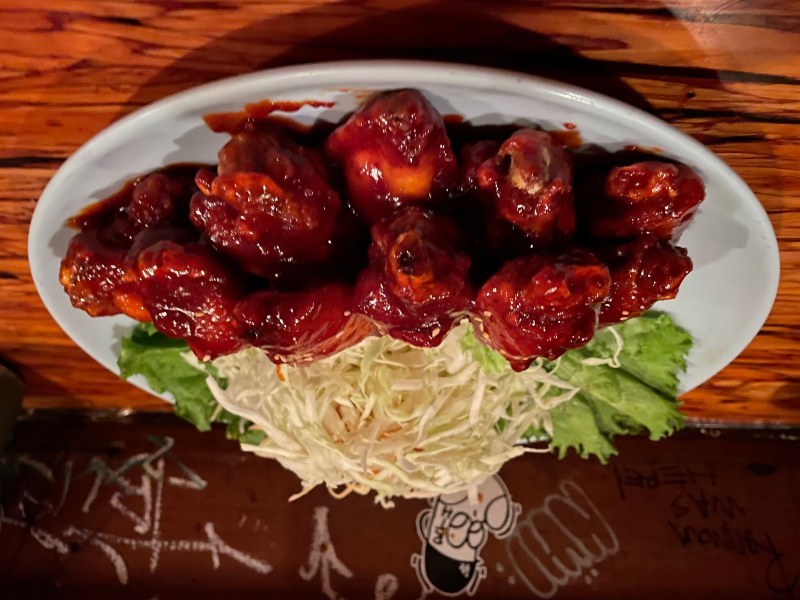 The hallmark of the Korean chicken wing is a delightful combination of sweet and spicy stickiness. Covered in a sweet and spicy glaze, Dan Sung Sa's wings are fried to perfection and offer a hearty kick. Offering an expansive menu filled with Korean street food eats, Dan Sung Sa makes it easy to dabble in kimchi hand rolls and light cold noodles alongside your plate of wings. - Lynn Q. Yu
3317 W 6th St. Los Angeles, CA 90020. Closest Metro lines and stop: Metro B and D Lines - "Wilshire/Vermont Station" or Bus Line 18 - "6th/Catalina."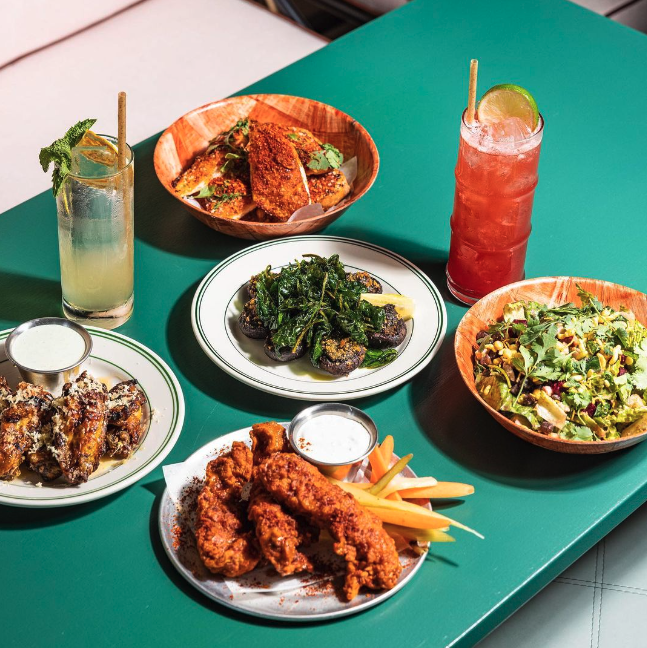 The city's premier Indian-influenced sports bar has not one, not two, not three, but FOUR flamin' hot flavors of char-branded wings, including cauliflower wings with Fresno chiles for the veggie people. Carnivorous hot-heads may veer more towards jalapeno-spiced, mint chutney green wings, spicy mustard and turmeric-tinged yellow wings, or bracing tandoori-red wings balancing the heat of Kashmiri chile with the sweet warmth of garam masala. Either way, prepare to drown something in a side of curry leaf ranch.
2711 W. Sunset Blvd. Los Angeles, CA 90026. Closest Metro lines and stop: Bus Lines 2 or 4 - "Sunset/Benton" or Bus Line 603 - "Coronado/Sunset."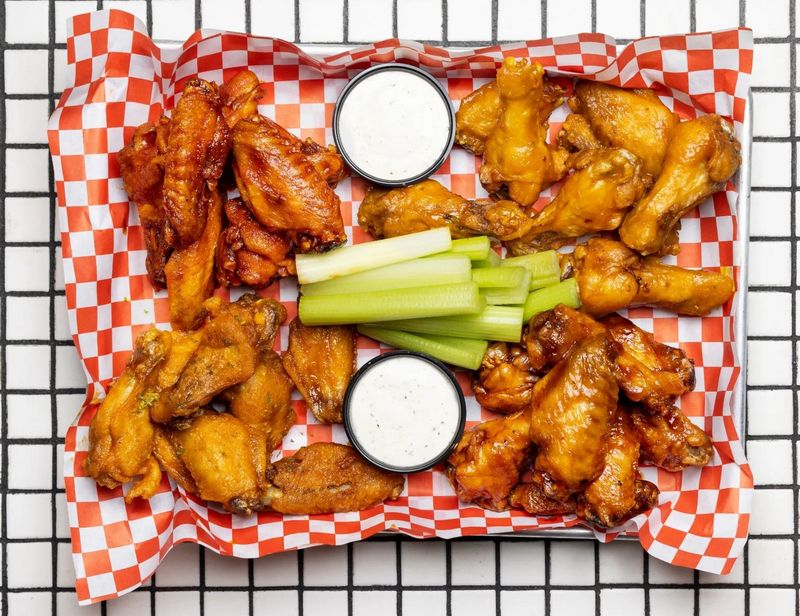 No wing need goes unfulfilled at The Greyhound, which is also dedicated to sports and beer, and other such diversions. In a perceived slight to Buffalo's wing dominance, perhaps, they refer to their bone-in wings as "Great Lakes-style" and claim to employ a scientific approach to wing size for the perfect sauce-to-meat surface ratio. Damn. If that's not enough, the wings, also available in plant-based and boneless versions, have the options of sauces like al pastor, gojuchang, and the spiked-heat of "Judgement Day."
5570 N. Figueroa St. Los Angeles, CA 90042. Closest Metro lines and stop: Metro A Line - "Highland Park Station" or Bus Lines 81 or 182 - "Figueroa/Avenue 56."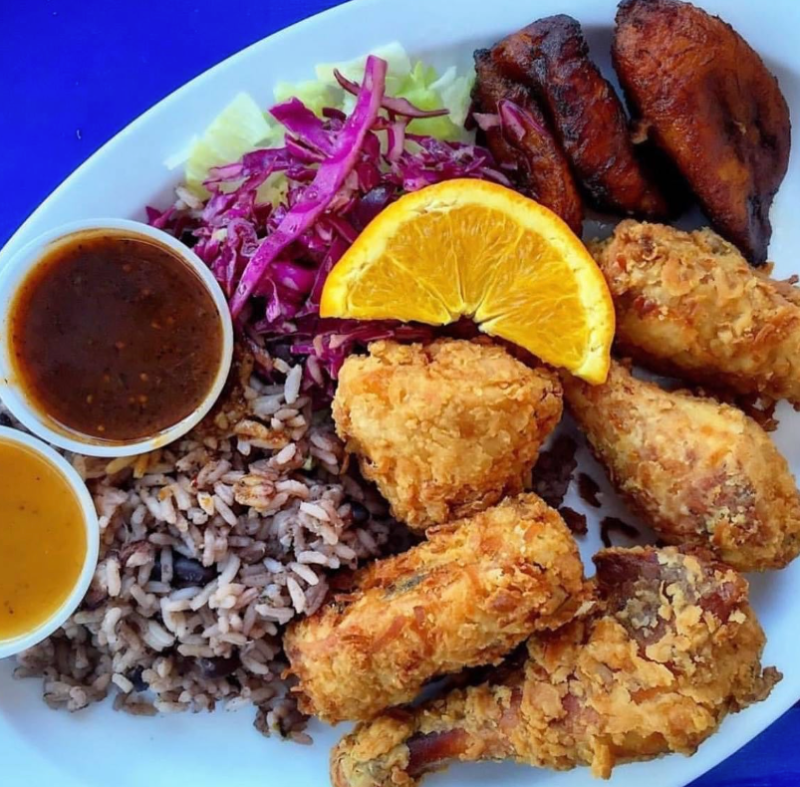 No wings list is complete without a jerk chicken version. The wings at Cha Cha Chicken are coconut battered and covered in a spicy pineapple jerk sauce. Located near the beach in Santa Monica, Cha Cha Chicken has two decorative outdoor patio spaces with a BYOB policy. Grab a six-pack from a nearby liquor store, and plop down to enjoy the ocean breeze and a delightful plate of Caribbean chicken wings.- Lynn Q. Yu
1906 Ocean Ave, Santa Monica, CA 90405. Closest Metro lines and stop: Bus Line 33 - "Main/Pico" or Metro E Line - "Downtown Santa Monica Station."
16912 Parthenia St, Northridge, CA. Closest Metro lines and stop: Bus Lines 235 or 236 - "Balboa/Parthenia."
A Taiwanese fusion restaurant emphasizing freshly sourced ingredients, Yang's Kitchen in Alhambra offers a plate of chicken wings that stand out for their simplicity and excellence. The chicken wings at Yang's don't have any special sauce or glaze smothered over them; they are fried to a nice bronze color and served with a small dish of salt and pepper, and lemon. And yet, despite not having any of the "fancier" flavor profiles some of the other wings mentioned above have, they are still delicious and memorable. - Lynn Q. Yu
112 W. Main St., Alhambra, CA 91801. Closest Metro line and stop: Bus Line 78 - "Main/2nd."

Wood-smoked, juicy, and simultaneously meatier than most chicken wings that come to mind, Maple Block keeps its wings simple, honoring barbecue tradition while also recognizing that a side of ranch is always nice, too.
3973 Sepulveda Blvd. Culver City, CA 90230. Closest Metro line and stop: Bus Line 33 - "Venice/Sepulveda."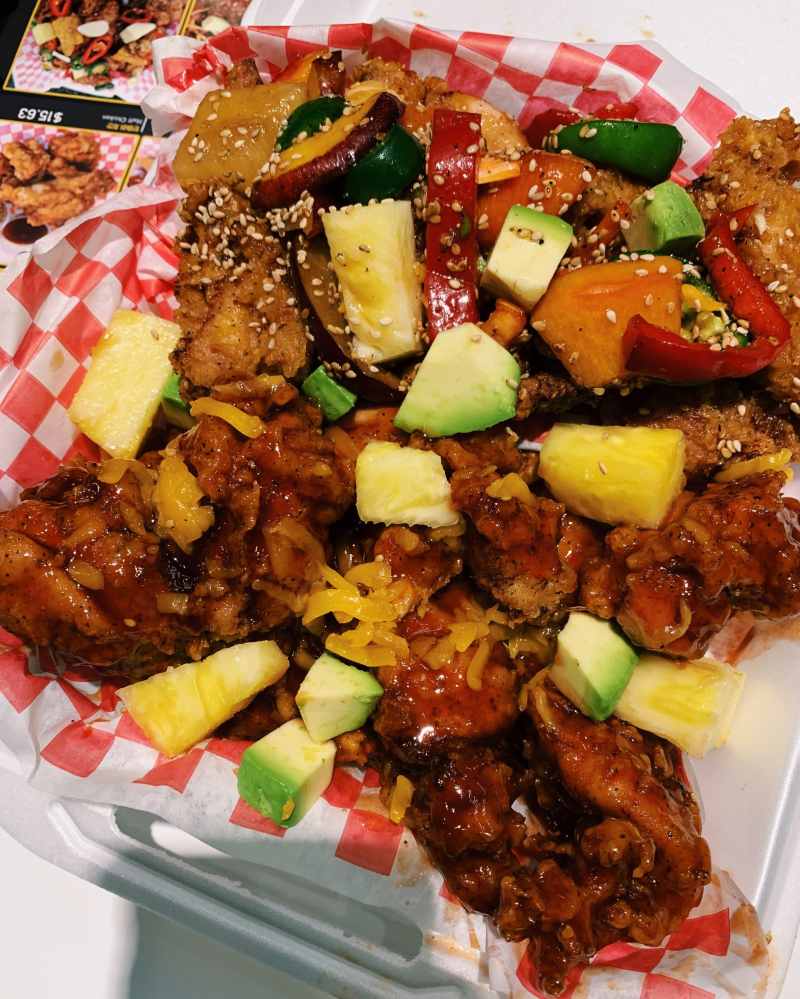 Gol Tong Chicken, an eponymous, one-man operation, has the closest thing in town to a contemporary form of dakgangjeong: deep-fried, boneless chicken glazed in a sweet and spicy sauce. If you're big on sauces, Gol Tong delivers. All of his are homemade and experimental. - Lisa Kwon
361 S. Western Ave. #101 Los Angeles, CA 90020. Closest Metro lines and stop: Bus Lines 16, 207 or 210 - "Western/3rd."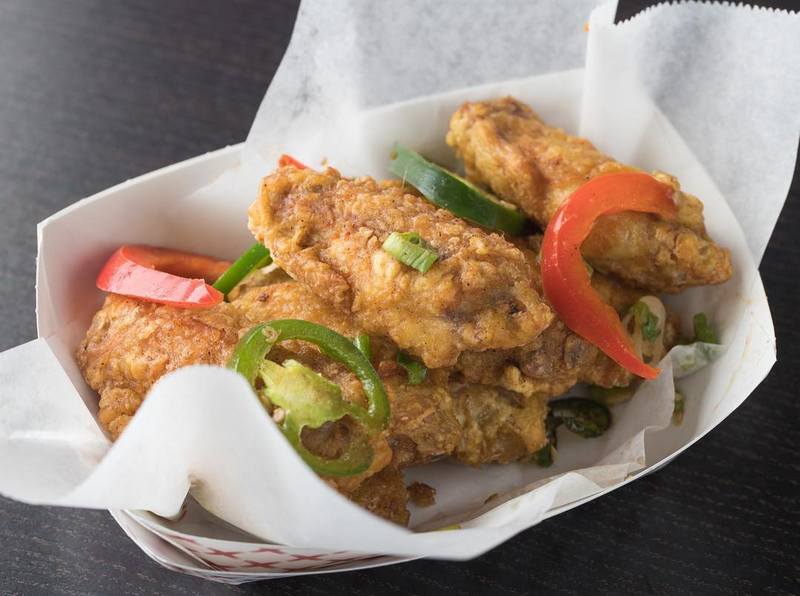 When you think of Chinese food, chicken wings are not the first thing that immediately comes to mind. But don't sleep on Chinese chicken wings, which can be just as tasty as their Korean or Thai counterparts. Cluck2Go, located in Pasadena, Arcadia, and Rowland Heights, is best known for its Hainan chicken. But their wings are also one of the menu's highlights. At eight pieces for $14 (one of the few places charging under $2 a wing), the Cluck2Go wings come in honey garlic or salt-and-pepper flavors. Order the wings and a side of the insanely good homemade chicken soup — this is the comfort food you've been craving. - Lynn Q. Yu
1771 E. Colorado Blvd, Pasadena, CA 91106. Closest Metro line and stop: Bus Line 686 - "Colorado/Allen."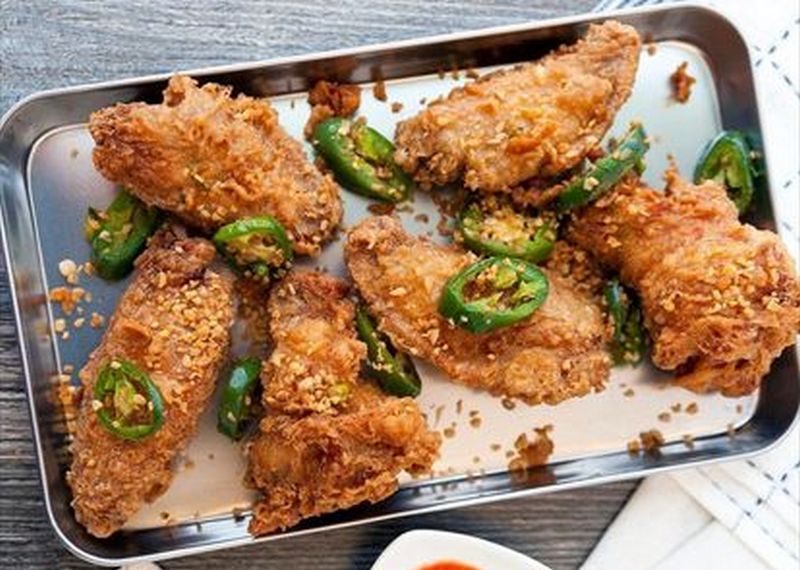 A family-run, neighborhood Chinese takeout spot in an Echo Park strip mall, Combo A offers a variety of diasporic classics such as chow mein and beef and broccoli. But its wings are the standout. Fried with garlic and jalapenos, Combo A's wings are juicy, affordable, and a great addition to a Sunday football party platter. You can order them in bulk or three pieces at a time, and they're usually served with whole slices of jalapeno. Your correspondent has brought Combo A wings to many a party and potluck, and they're a hit every time. 1411 Echo Park Ave. Los Angeles, CA 90026. Closest Metro line and stop: Bus Line 4 - "Sunset/Echo Park." - Lynn Q. Yu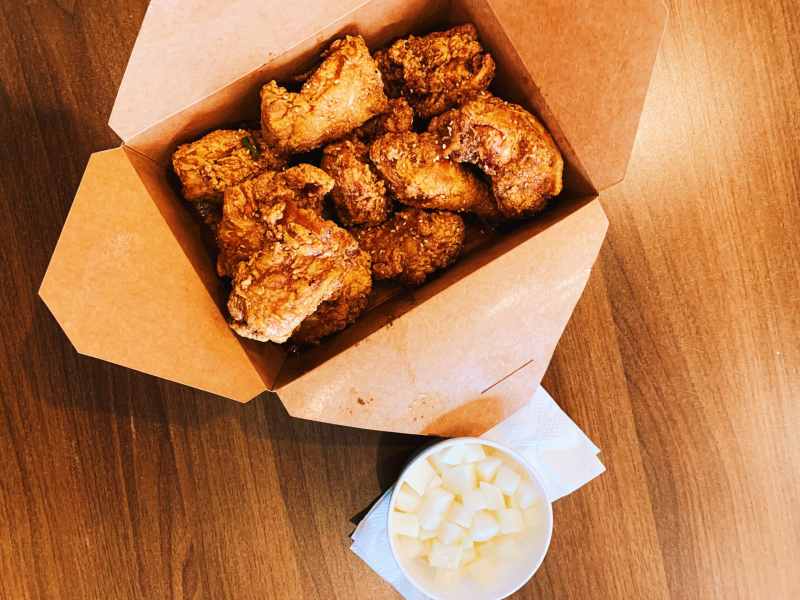 HoHo Chicken has mastered the crackle. Gaze into the skin to find deep-set ridges coating the chicken, like mouthwatering marbling. The poultry comes soaking in tender garlic cloves, soy sauce, sesame seeds, and thinly sliced serrano peppers. The skin stays crisp, even after swimming in zingy soy garlic sauce. - Lisa Kwon
2625 W. 6th St. Los Angeles, CA 90057. Closest Metro lines and stop: Bus Lines 18 or 603 - "6th/Rampart."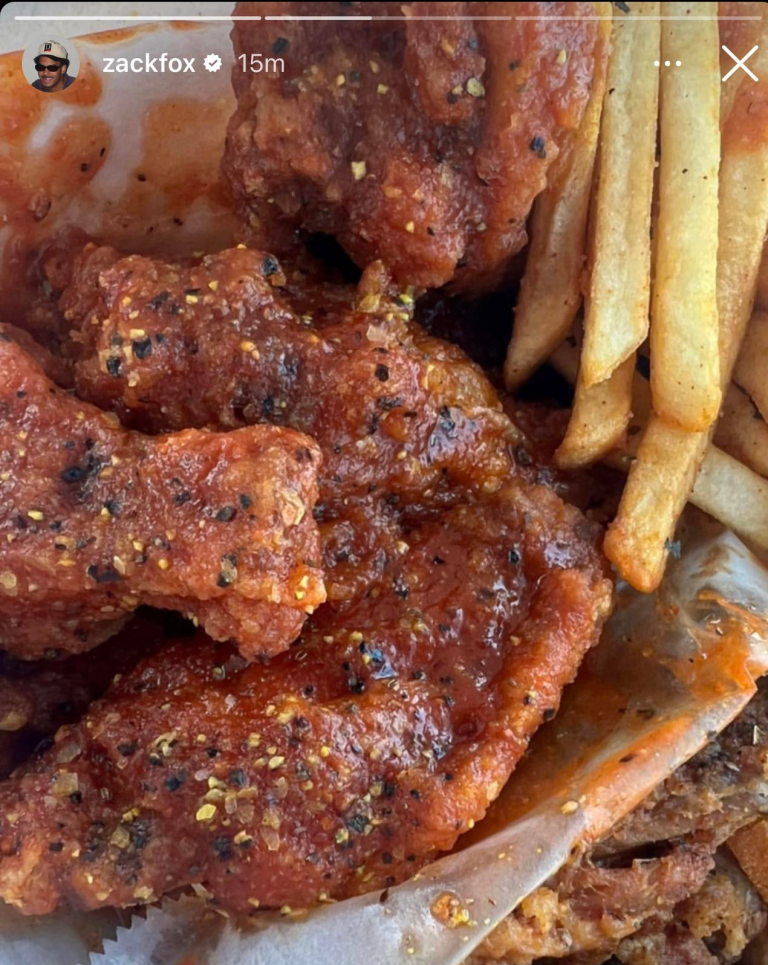 Leave it to Lexis-Olivier Ray, ace L.A. TACO investigative journalist, to uncover the secret to rapper and comedian Zack Fox's favorite lemon pepper wings, which he calls "the best wings in L.A." According to Ray, musician Steve Lacy even offered Fox $1,000 for the secret. Lex doesn't want to blow up the spot though, so we'll all need to do our own detective work on this one.
Stay in touch
Sign up for our free newsletter