L.A. Taco Guides
The Seven Best Tacos Along Metro's K Line, From Crenshaw to Inglewood
The K Line is Metro's newest light rail line that cruises through the heart of Black Los Angeles, from Nipsey Square to Leimert Park. The taco scene along this route is all about hustle, featuring some of the cities must under-the-radar community gems like a historic L.A. taquería with a killer red salsa, lightly crunchy "enchilada tacos," and so much more. Next stop: flavor.
7:00 AM PDT on September 29, 2023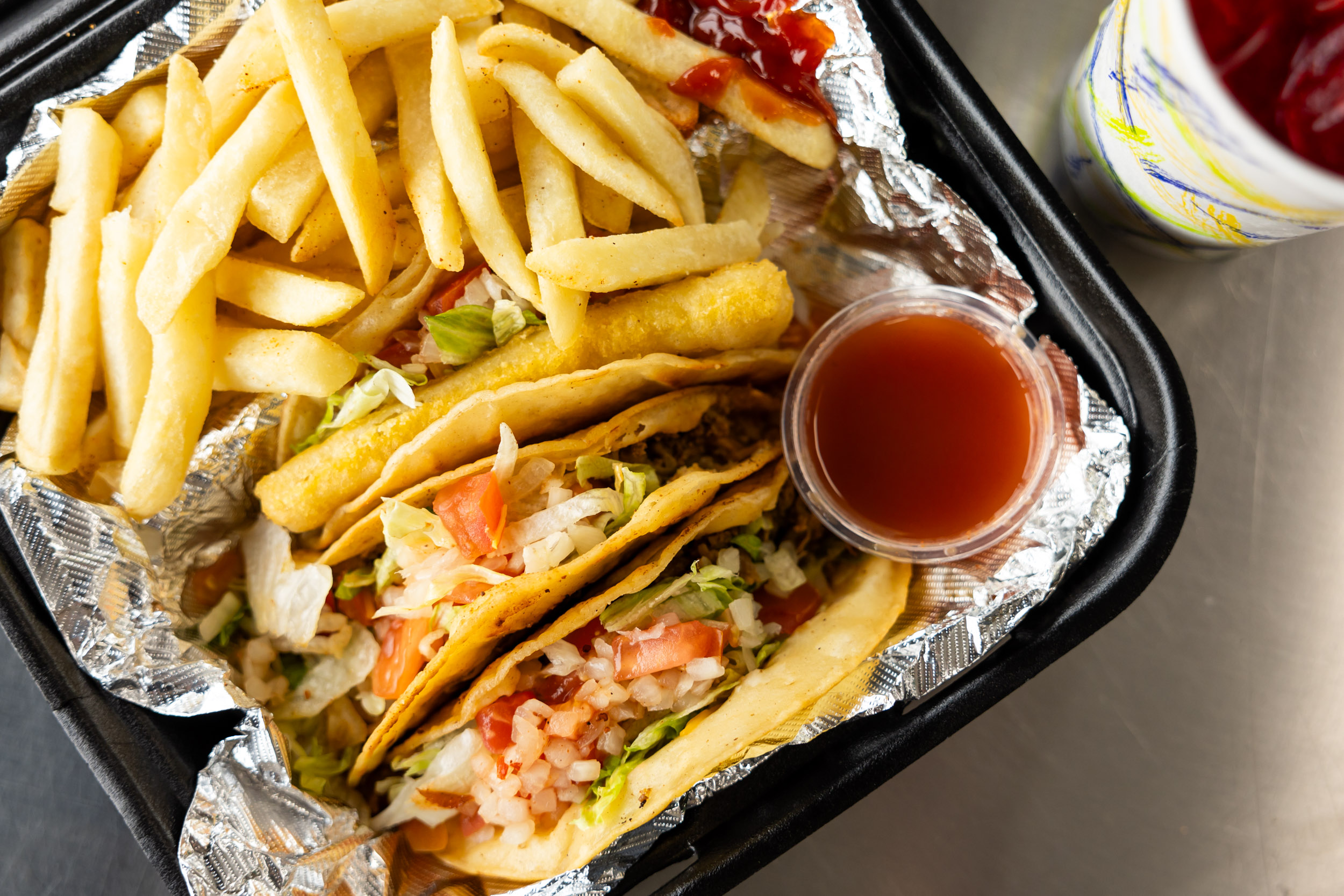 Metro's K line cuts a line right along Crenshaw before swerving east into Inglewood, conveying train riders across a unique, diverse, and ever-developing taco landscape. The taco scene along Crenshaw is all about hustle, with both legendary and new businesses striving for reward and consecration in the L.A. taco game. 
You'll begin your tour by crunching a classic crispy taco that has been around longer than Tito's and Taco Bell, a titan of Mexican supermarket staples from a locally raised player in the U.S. government. You'll also encounter a South Central entrepreneur who left incarceration behind to join the taco lifestyle and now tucks a heavy hand of crawfish into her corn tortillas. And you'll run right into a beloved artisan of confit pork adhering to a regional Michocán recipe.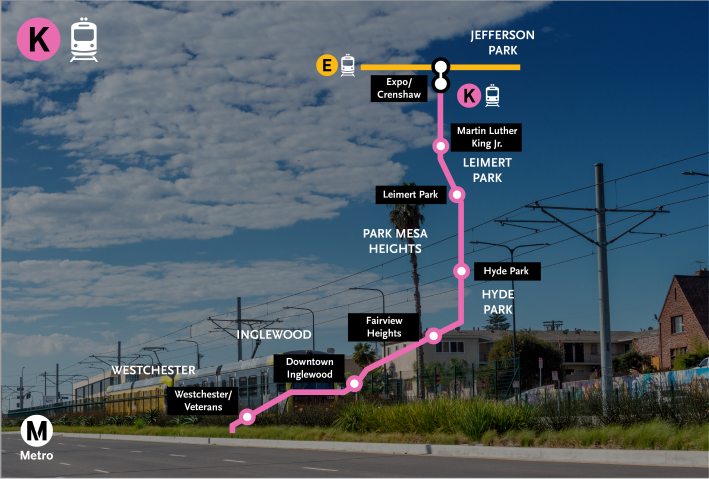 South L.A. is home to a unique style of taco informed as much by the cafeteria and generations of aunties as it is by any fonda or celebrity chef formula. A noticeably healthier approach to the taco where fat-rimmed reels of asada are replaced by chopped steak, beef picadillo with ground turkey, and traditional cuts of al pastor and chorizo with shrimp, fish, or simply beans. And where tortillas are usually called "shells."
Travel with us as we jump aboard Metro's K Line to behold what terrific taco moments await on Metro's K. All aboard!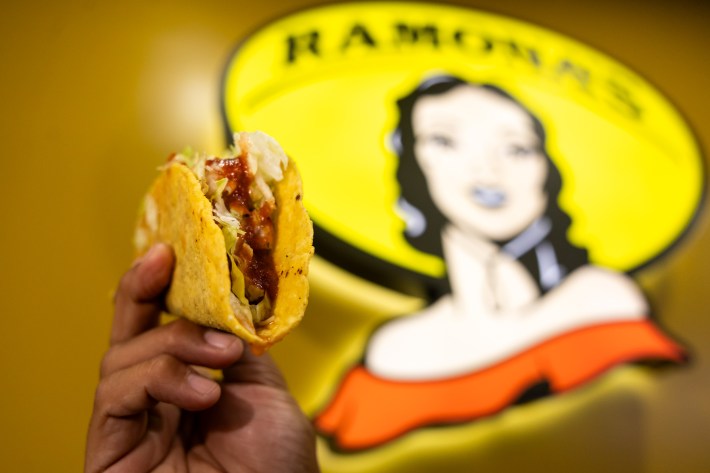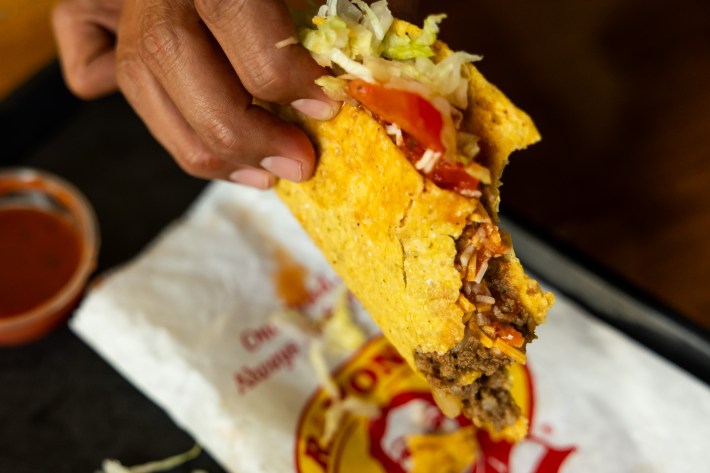 Chicken-and-Chile Taco
Ramona's is a classic you need to visit at least once in your L.A. TACO life to pay respect to the legend. This four-location-strong Mexican chain was born and raised in Los Angeles in 1947, when Romana Acosta Bañuelos took the Sonoran recipes she'd been raised on and transformed her Echo Park tortillerería into a small restaurant empire, with the first Ramona's opening in Gardena in 1954. 
It would take a small book to tell the rest of Bañuelos' story, in which she'd go on to have a multimillion-dollar packaged foods business under Ramona's name (aka the frozen burritos you may have grown up on), won awards for her involvement in the Pan American National Bank, and became U.S. treasurer of the United States under Nixon, despite targeted immigration raids designed to foil her nomination and business.
When you do come to pay homage to Ramona's, the chicken-and-chile taco will be your best bet. A savory, peppery guisado of shredded poultry is ladled into a hard-shell tortilla, topped with milky threads of commercial cheddar, tomato, and lettuce, laying traps of various crunch points that flood with the creamy, spicy stew and leave a lingering sear on the palate; an express train to comfort and satisfaction, regional purists be damned.
3728 Crenshaw Blvd. Los Angeles, CA 90018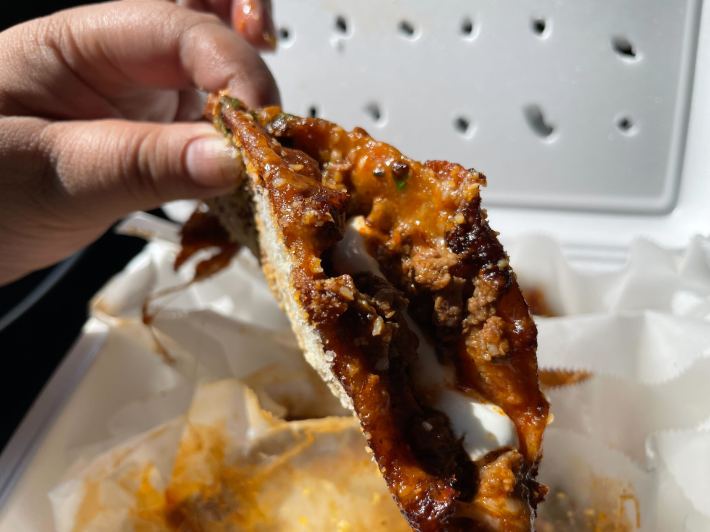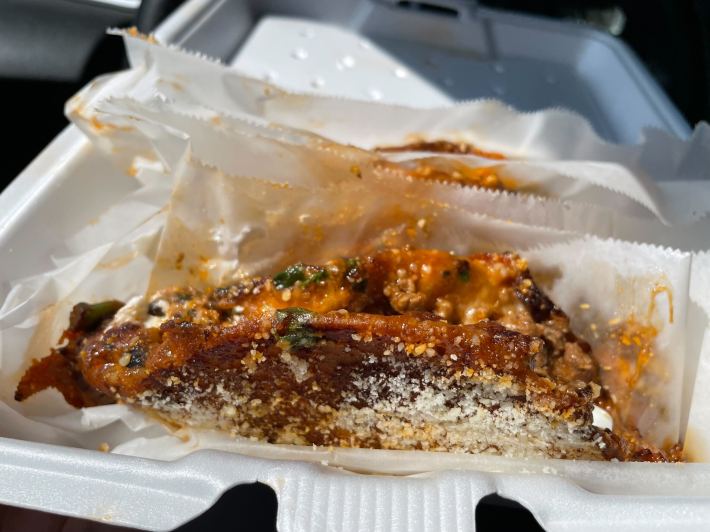 Enchilada Taco
Not Yo Tacos is home to the enchilada taco, a lightly crunchy taco dipped in enchilada sauce and filled with parmesan and romano cheeses, sour cream, cilantro, olives, and onion. You can choose protein from ground meat, turkey, chicken, and more. The food truck recently celebrated three years of being open. Not Yo Tacos is a proudly Black-owned food truck that started out as the owner—who preferred to stay anonymous for this story—wished to create a taco that he hadn't tasted before. He said he knew he wanted a taco "with color" but didn't want to make birria tacos and one day, he got the idea to create an enchilada taco. The taco itself is crunchy and reminiscent of a Michoacán style enchilada where it's folded in half and fried; it is deliciously messy. However, it has its own distinct L.A. flavor that is one of a kind in a city full of just about every taco variation on the planet. - Janette Villafana 
3722 Crenshaw BI, Los Angeles CA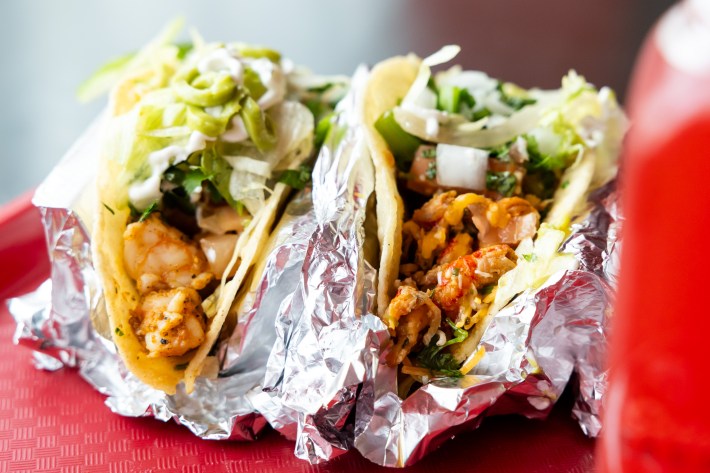 Crawfish Taco
Growing up in Watts in an era she describes as "really rough," the only place Tieshae Huntsman found peace and sanity was in her grandma's kitchen, where she learned to cook downhome recipes with her Southern-migrated matriarch. 
Years down the road, while incarcerated in federal prison, Huntsman struck upon the idea of beginning her own catering business to start a new path, earn a living, and create a legacy for her own children, recalling her "happy place" by grandma's side. After a few years of catering, Southern Taco went brick-and-mortar in Leimert Park right before the pandemic.
To the left of inspirational posters of Nipsey Hussle and Southern children facing Bull Connor's fire hoses, you'll find Huntsman warmly taking orders from customers and giving them back to her kitchen. Clean, healthy, straightforward flavors rule here in soft tacos on corn tortillas filled with ground turkey, ground beef, shrimp, and chicken, with sides of simple black or pinto beans and cilantro-lime rice. She also has "taco wings," which are chicken wings with taco flavoring, which she says is her most popular item.
"Growing up, our tacos, the way we make them, are not traditional from Hispanic culture," she says. "We take bits and pieces of that culture and put it all together. That's why we call it Southern Taco. I've got the soulful flavor, the flavor and seasonings from my grandmother, and then the cultural part, growing up in Watts with the Brown and Black community. It all just comes forward in the taco."
Standing out from the pack is Huntsman's crawfish taco, which comes packed with a fistful of pearly white mudbugs to pop and crunch between your teeth as you bite in, a chile-flecked salsa verde providing all the necessary acid and heat.
Huntsman built her business around tacos due to both their low overhead and affordability. But it's the love she felt in the kitchen as a youth and the love she puts into her food that she credits for her success.
"For me, it's all about the love," Huntsman says. "I cook with love and passion. For your food to really have a good taste and a good flavor, with a healthy balance, you have to cook with passion and love. And that's what makes my tacos stand out from the rest. It's the soulfulness of it. And that's it. That's just it."
4116 Crenshaw Blvd. Los Angeles, CA 90008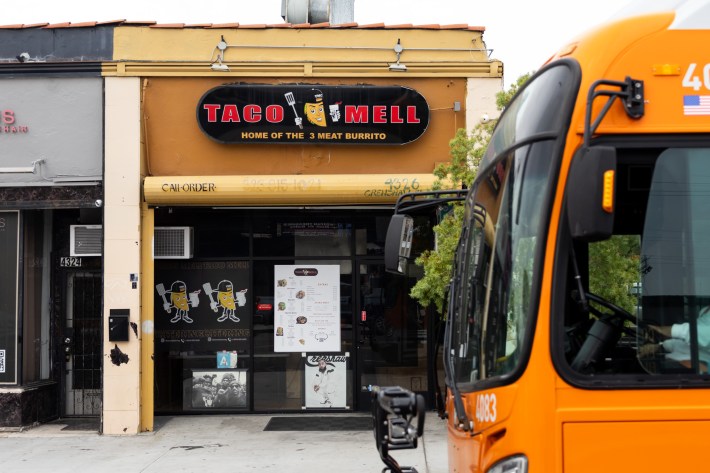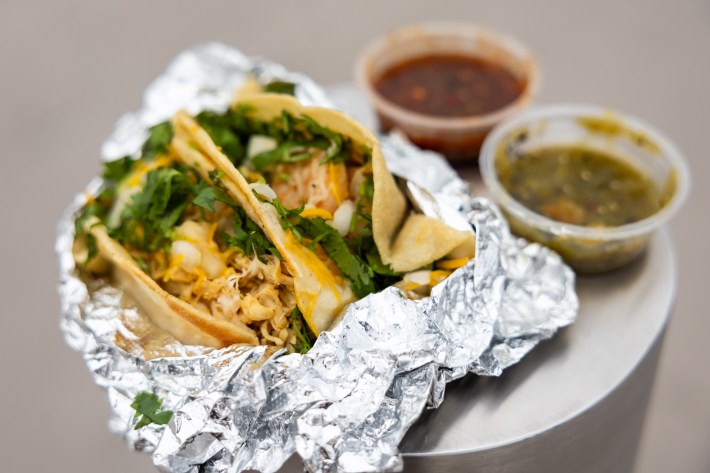 The BRC Taco
Taco Mell will charm you from the jump. Who doesn't love a motivated businessman willing to take it straight to Taco Bell with a name like that? And the logo? Looks like the foo' cousin of our own TACOMAN just out on work release.
Owner and Mexican food fanatic Jermelle Henderson started selling tacos from a cart in 2011, soon running a catering business that would serve YG's "My Krazy Life" album release party in 2014. DJ Mustard and Shaunie O'Neal have also hired Mell's services in the ensuing years. 
Mell opened his first brick-and-mortar in Manchester in 2015, serving his beloved burritos, with surf 'n turf-style shrimp-and-steak, chicken-and-steak, and the ultimate: a 3-meat burrito with shrimp, chicken, and steak. Seeking a location in more neutral territory, he eventually concentrated on Crenshaw.
It's not all carnivorous here at this tiny storefront steps from the K-Line. Like many of the Black-owned taco shops in South L.A., there are options for tacos that don't taste like post-lunch guilt and regret and won't bust your gut.
Tacoheads who aren't hankering for Mel's buttery shrimp tacos or chicken-and-steak taco campechano can get a heart-healthy fix with his simple BRC (bean-rice-and-cheese) taco, with your choice between black and pinto beans in a soft corn tortilla. This is another taco that hits cleanly, its ingredients straightforward, absent of grease, and full of pure protein, in the form of the most magical legume, brought to full flower by a hearty dab of chipotle crema. 
Eat enough of these, and it won't be long before you'll deserve one of the stars of this show: Mell's triple meat monster burritos.
4326 Crenshaw Blvd. Los Angeles, CA 90008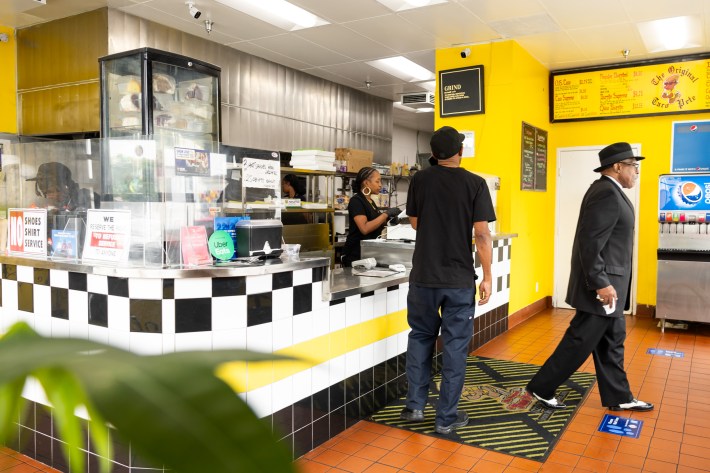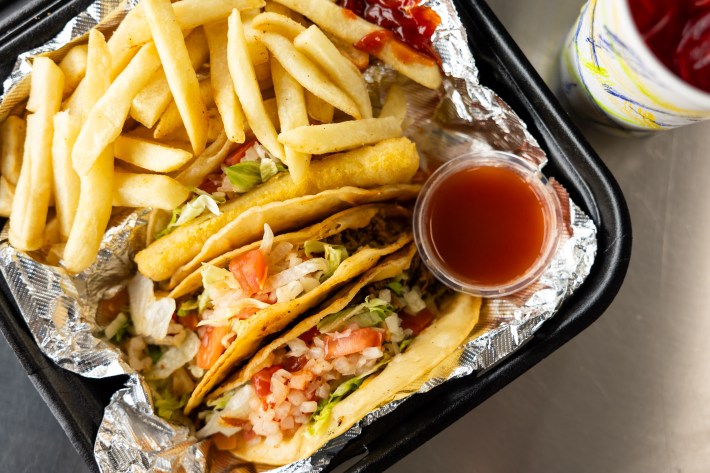 Turkey Taco
Chef Aaron, the original owner of OG Taco Pete, has been serving his aunties' secret recipe for crispy tacos for over 30 years. His son, Chef AJ, is the fourth generation and is learning the ropes. Their second location, Nipsey Square (the intersection of Crenshaw Boulevard and West Slauson Avenue), doubles as a space to get a snapshot of the neighborhood; sharply dressed older couples come in for their brown bag of tacos to go while regulars whom the cashiers know by name post up to eat their tacos in one of the two tiny tables inside the corner restaurant. The white corn tortillas here are sourced locally—from Diana's Tortillas—and are freshly crisped up to order on a plancha. It's stuffed with highly seasoned ground beef, chopped steak, ground turkey, and even a piece of fried fish if you're pescatarian. The tacos are gently tucked with shredded cheese, chopped tomatoes, chopped lettuce, and a squiggle of their house hot sauce, which leans more towards refreshing than spicy. This is one of the only places where they will ask you if you want fries with your tacos, and to that, we say, why not? If San Diegans can stuff their "California Burritos" with french fries, why can't we have fries with our crispy tacos? Wash it down with a can of Strawberry Crush soda or Cactus Cooler from their grab-yourself fridge and you have one hell of an L.A. cultural experience in taco form. 
3272 W Slauson Ave, Los Angeles, CA 90043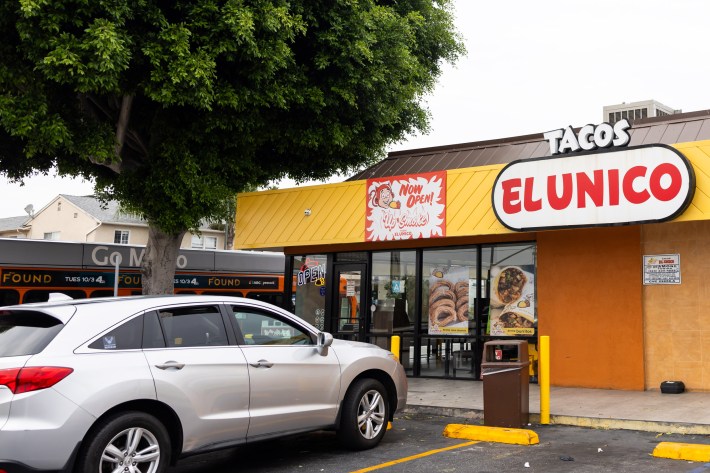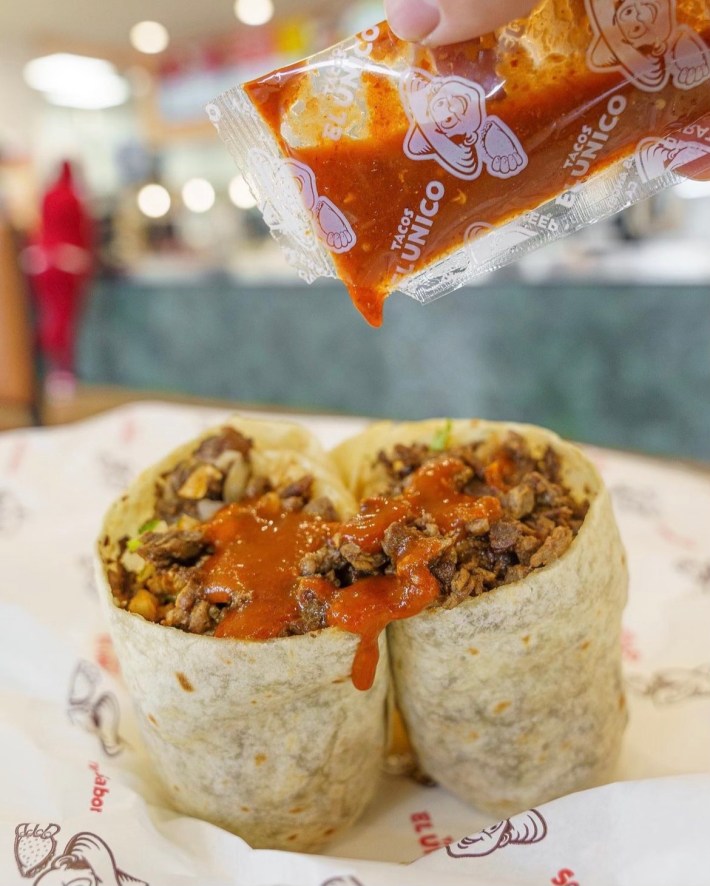 Al Pastor
A salsa roja that matches, or that at least comes extremely close to matching, King Taco's cultishly beloved salsa roja? That's Tacos El Unico, which was also one of L.A.'s first taco trucks to open in the city. Manuel Sanchez first opened his taco truck in 1981 in Compton. Soon after that O.G. taco truck, Manuel opened the first brick-and-mortar taquería in Compton. He first arrived in downtown Los Angeles in the early 70s from Coatzingo, Puebla, and worked in the garments industry, saving up for five years to open his first truck. He added a little bit of his smoky sazón poblano to his taco shop's famed red salsa, and the rest is history. His sons, Eric and Victor Sanchez brothers, have taken over the operation. However, you'll still find Manuel working at the original El Unico in Compton, even though technically he is retired. That deeper Poblano flavor is also present in the restaurants' adobo for their al pastor trompo. They have also started to use Mejorado flour tortillas for their burrito offerings. Their location off the K Line is one of their rare outposts offering all-you-can-scoop beans in their salsa bar, a dying art in L.A.'s taco culture.   
6650 Crenshaw Blvd, Los Angeles, CA 90043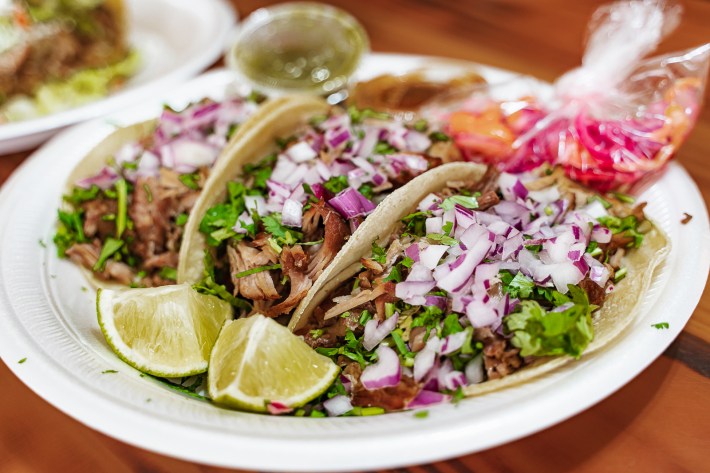 Downtown Inglewood ~ Carnitas El Artista
Costilla Taco
For true Michoacán-style carnitas, there are few options in all of Los Angeles that are on par with Carnitas El Artista, and Inglewood is fortunate to have this champion of confit pork. Their carnitas recipe is four generations old, stewed in traditional hefty copper pots for ultimate quality, and served with love and pride. The carnitas is "traditional rancho style" as Gustavo Chavez, the founder and carnitas master, puts it. He is unafraid of giving away any secrets, just garlic, lime, salt, and a little Coke for coloring. Order pounds of these glistening hunks of juicy pork meat, tortillas, and salsa to make your taco feast, or order the carnitas by the taco. - Memo Torres 
510 N La Brea Ave, Inglewood, CA 90301

One of L.A. TACO's co-founders, Hadley Tomicki is a critic and journalist whose work has appeared in the Los Angeles Times, New York Magazine, and many other places.

Editor for James Beard Award-winning L.A. TACO. Associate Producer for JBA-winning Las Crónicas Del Taco. Former restaurant scout for Jonathan Gold. Co-Author of "Oaxaca: Home Cooking From the Heart of Mexico (2019, Abrams) and "Asada: The Art of Mexican-Style Grilling" (2023, Abrams).
Stay in touch
Sign up for our free newsletter