Tacos
L.A. Taco's 19 Best Tacos of 2019, Ranked and Mapped
10:05 AM PST on December 20, 2019
[dropcap size=big]A[/dropcap]nother year gone, another belly full of tacos.
2019—and the 2010s in general—was one hell of an era for things on top of a tortilla. As expected, the flurry of Tijuana-style beef birria tacos raged on in the city, indeed popping up nearly on every corner. Then came the wave of younger taqueros applying their creativity to the art of tacos, which gave us all fun creations like a taco-fied Nashville-style Hot Chicken sandwich! Yes, tortillas replaced the buns. 
And who can forget the first dessert Flan taco that Los Angeles has ever seen? 
This was also the year street food became legal, which explains why you saw more and more neighborhood taquerias pop up than ever as you drove by the barrios of Los Angeles.  
After much deliberation and going bodies with Cesar Hernandez on Slack, the L.A. Taco newsroom has agreed that the following 19 tacos best represent the city of Los Angeles and shows why we are the best city to eat tacos in the U.S. Our criteria was flavor, innovation, regionality, and being the kind of spots we would love to take our friends and family to try when they are in town. Read them, download our map of them, and embark on the best taco crawl of all time.     
Here are the best tacos of 2019.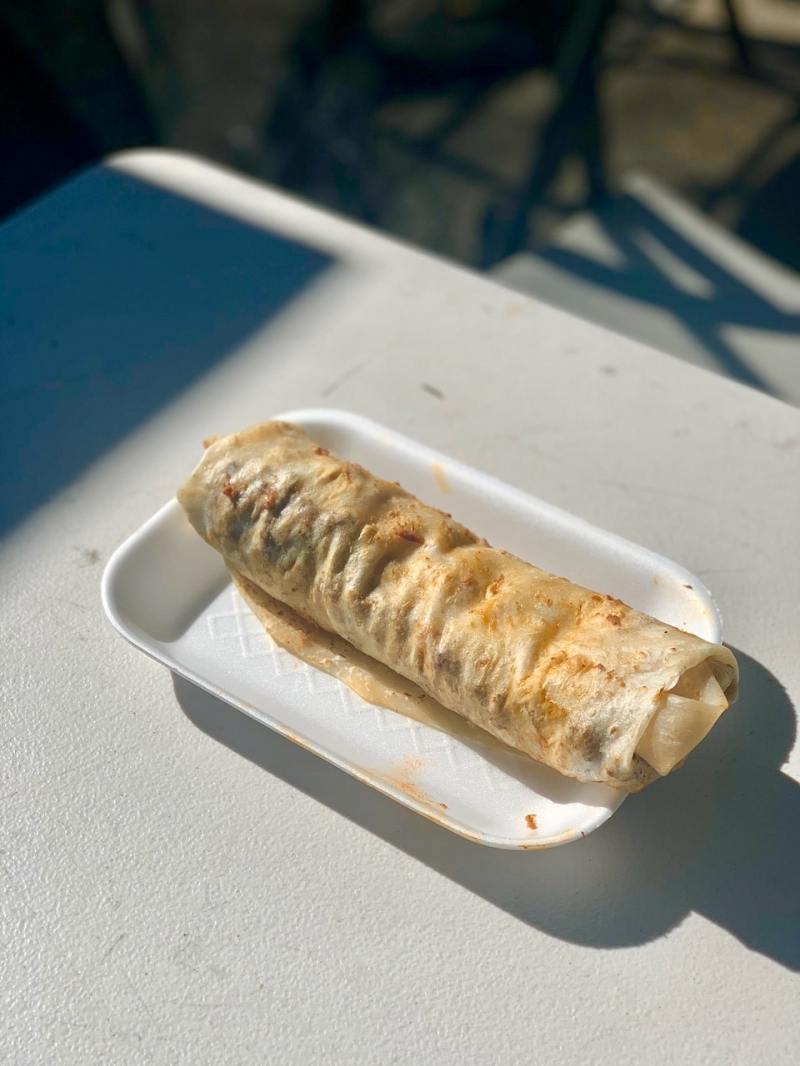 1. Burrito de Asada on a Sobaquera - El Ruso 
Walter Soto, the TJ-born owner and taquero behind El Ruso, has had one hell of a year. He became L.A.'s first daytime taqueria to offer handmade flour tortillas and Prime-grade carne asada in the streets of Boyle Heights and just before the year was over, he brought fresh, handmade sobaqueras—jumbo-sized Sonoran-style paper-thin, chewy flour tortillas—to Los Angeles. In a city full of tacos, he found the one style of taco that still was not available here. His sobaquera burrito has changed L.A.'s taco game forever. - Javier Cabral
El Ruso is at 1401 Mirasol Street. Los Angeles. 90023. Only available on Saturdays.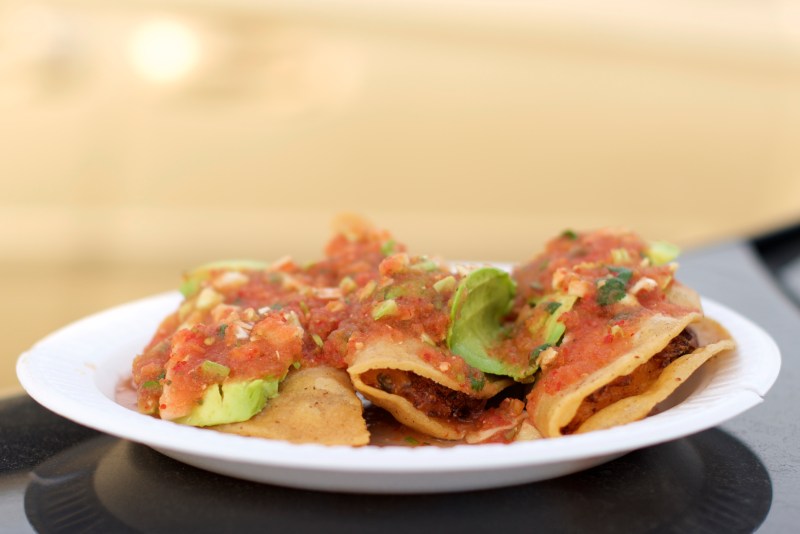 2. Taco de Camarón - Mariscos Jalisco
If you only have time to try one taco that perfectly summarizes Los Angeles—a crispy taco de camarón from Mariscos Jalisco would be it. It is a taco that originated in the highlands of Jalisco approximately 290 miles away from any ocean but perfected next to the Wyvernwood Projects in Boyle Heights. Speaking from purely a gustatory standpoint, no other taco is as purely delicious to inhale as these; crispy, creamy, refreshing, and spicy all the same time. Whether you eat just a couple or five—it happens—this taco is timeless. - Javier Cabral
Mariscos Jalisco has multiple locations.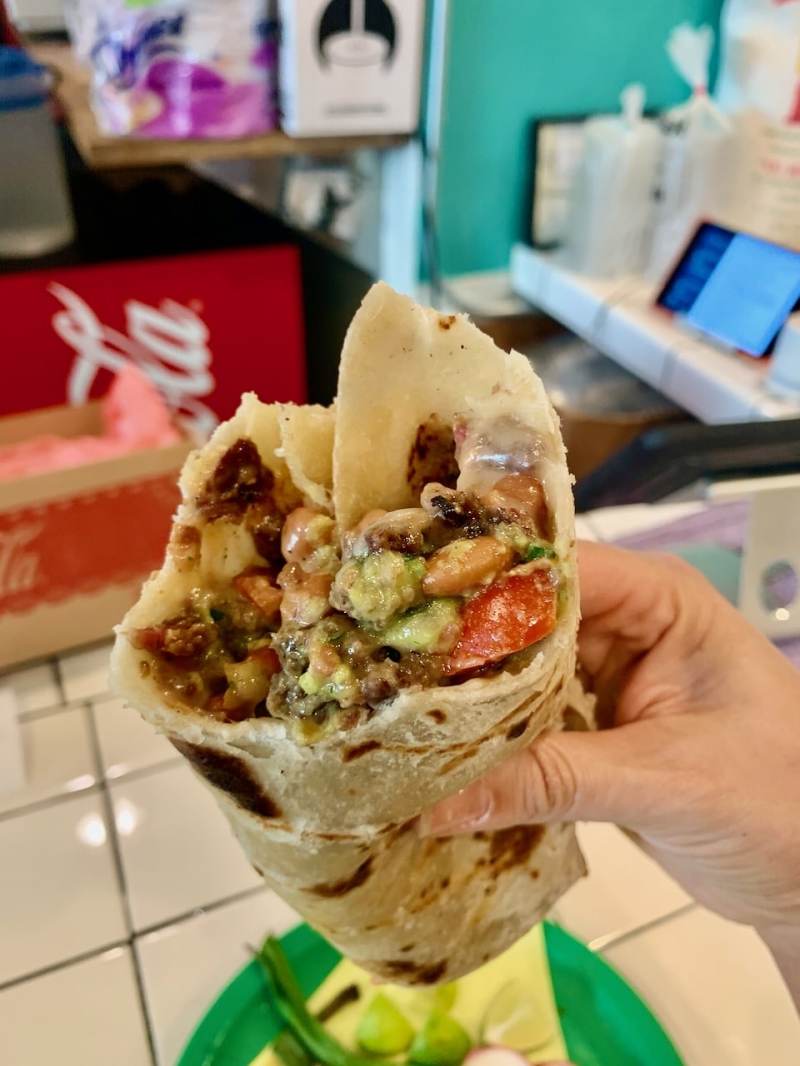 3. Burrito 2.0 - Sonoratown
Sonoratown's burrito 2.0 is the best 2.0 to ever 2.0. The latest firmware for their burrito uses a jumbo-size version of their lard-reinforced, nationally recognized Sonoran flour tortillas. It's particularly good because of its simplicity. Good meat. Good tortilla. Make sure to add a 2.0 Chile Poblano because you only live once. - Cesar Hernandez
Sonoratown is at 208 East 8th Street. Los Angeles, CA 90014.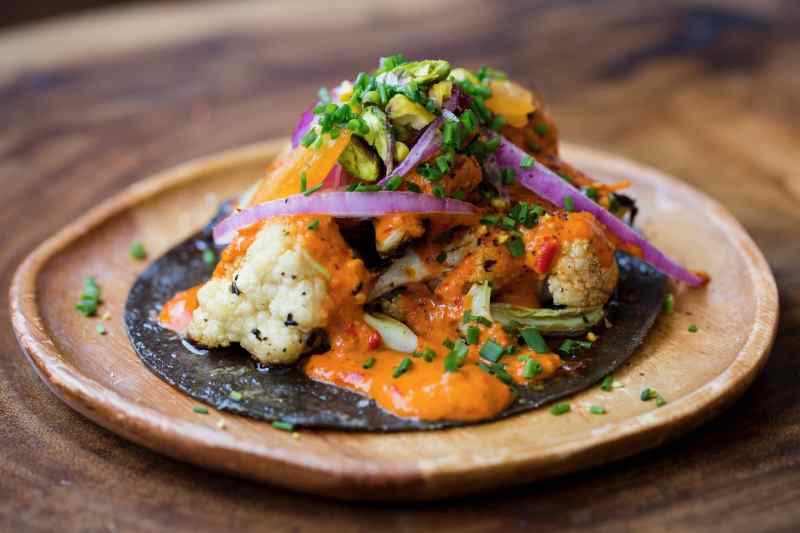 4.
Smoked Cauliflower Taco with Almond Salsa, Chile del Valle, Pistachios, White strawberry, and Chives - Guerrilla Tacos (Seasonal) 
If there is one lesson to learn in Wes Avila's school of tacos, it is that even the most simple-sounding items on his menu have the power to stop you in your tracks at first bite. His smoked cauliflower taco is a perfect example of this. The cauliflower is smoked low and slow and basted with a mushroom jus then crisped up in a pan until the edges are crispy. While this painstaking process of layering flavor isn't advertised anywhere, this innocent-appearing vegetable proves why Wes Avila will and always will be L.A.'s Golden Boy of tacos, and deserves to be in any "best of L.A." list alongside any fine dining restaurant in the city. After all, L.A. don't play. - Javier Cabral      
Guerrilla Tacos is at 2000 East 7th Street. Los Angeles, CA 90021.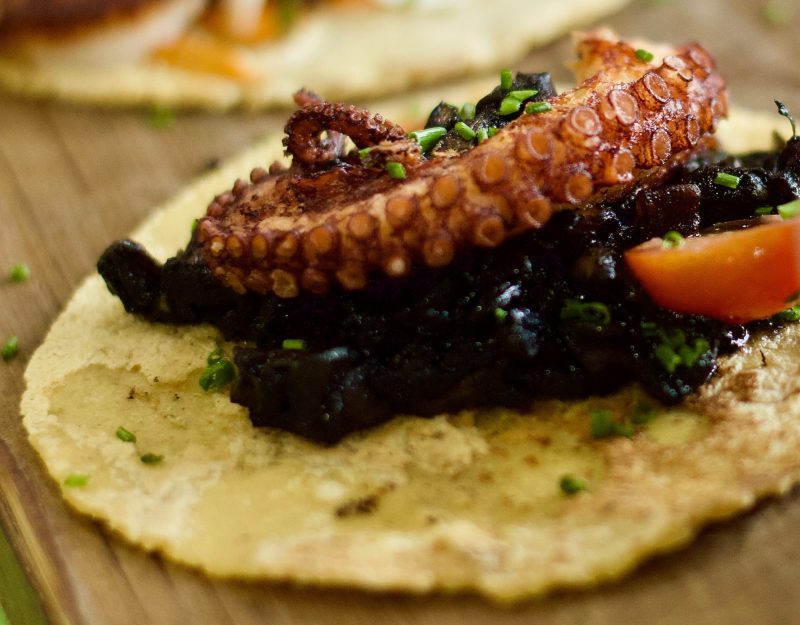 5. Octopus Taco - Holbox 
There are things I still think about from time to time; like how the Dodgers were robbed by the Astros, or about the first time I had this taco. The octopus ink is seasoned and its flavor is cooked down over hours, intensifying its almost sweet flavors into a uniquely memorable experience. You'll want to thank Chef Gilbert Cetina Jr. for bringing out the bountiful flavor of octopus, a.k.a., the pork belly of the sea, in this taco for you to appreciate. - Memo Torres
Holbox is at 3655 South Grand Avenue, C9. Los Angeles, CA 90007.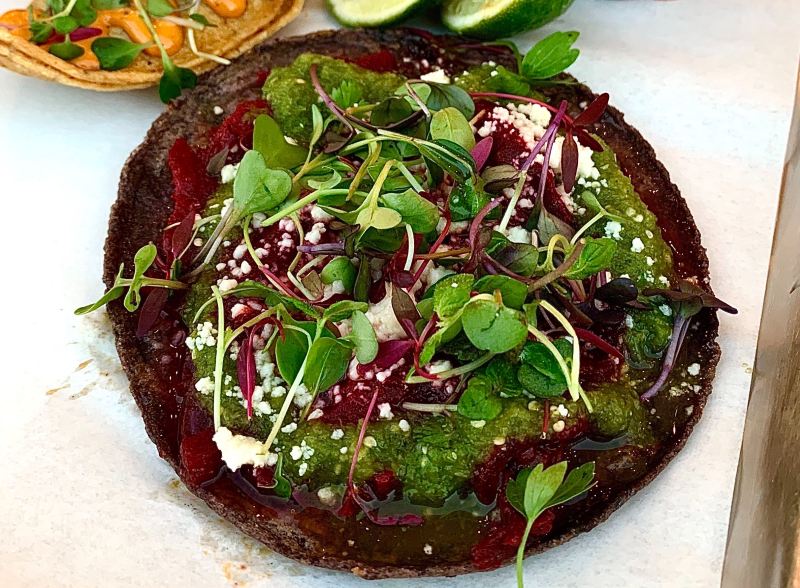 6.
Tinga de Betabel - Bee Taqueria
Tinga de Betabel is the result of chef Alex Carrasco's colorful approach to tacos at Bee Taqueria. This vegan option uses tender beets instead of the traditional chicken. It is then slow-cooked Tinga style with chile ancho, morita, chipotle, and topped with a tart salsa verde and microgreens. This is one smooth taco packed with rich full-bodied flavors, and it gets bonus points for being good for you? Further proving why tacos are the best and most versatile staple foods on the planet. If you're feeling voracious, call and ask about their taco omakase. - Memo Torres
Bee Taqueria is at 5754 W Adams Boulevard. Los Angeles, CA 90016.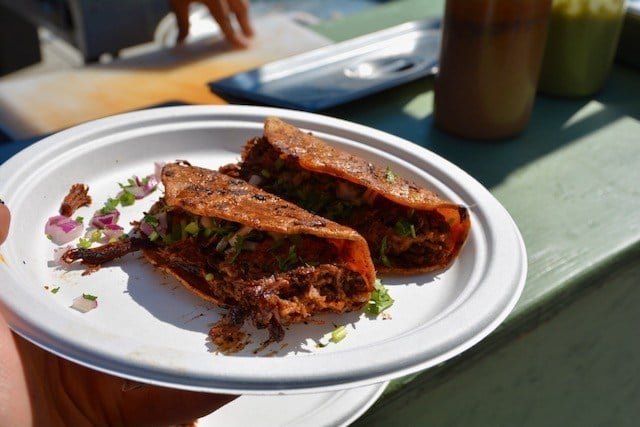 7.
Taco de Birria - Birria Pa La Cruda 
"Cooking birria is a form of cultural resistance, it's keeping our oral traditions alive through techniques, spices, and beef," says the casual fine dining butcher-turned-birriero Carlos Jaquez of Birria Pa La Cruda. He just turned 25 but he cooks like a wise, old taquero. His consomé is not watered down and the spices he uses in it are a kick in the teeth. - Javier Cabral
Birria Pa La Cruda sets up every Sunday (only) on the corner of Eastern and Lombardy in El Sereno.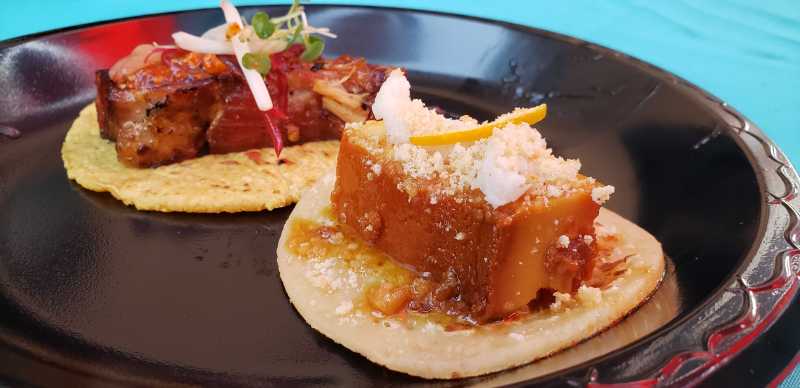 8. Flan Taco - Evil Cooks 
The Flan Taco turned heads everywhere at our Taco Madness event where Evil Cooks first debuted this dessert taco. It did the same when they took it on tour to Texas for an event there later this year. This taco witchcraft was concocted by the sweet skills of Elvia Huerta, a.k.a., La Bruja, one half of Evil Cooks. Everything on this taco has an extra touch of creative genius; the citrus-infused flan, the crepe-like tortilla made from a 50/50 mix of flour and corn. It is topped with Mexican shortbread cookies, seared coconut candy, and fresh mint. It's unorthodox, unthinkable, and it's fucking metal as hell in its boldness and flavor. If one taco could win it all in 2019, this taco could. - Memo Torres
Evil Cooks is at Smorgasburg every Sunday.
9.
Fried Chicken Taco - Macheen 
Macheen's fried chicken taco was developed by chef Jonathan Perez's brother, Rolando, who has a profound love of fried chicken. One of the secrets of the chicken is the heavy use of white pepper. It is a reflection of L.A.'s current obsession with fried chicken but with that  Macheen edge. It starts with a colorful infused tortilla, wonderfully fried chicken, and it is finished with a jamaica slaw. A fried chicken taco is peak L.A. - Cesar Hernandez
Macheen is at Smorgasburg every Sunday.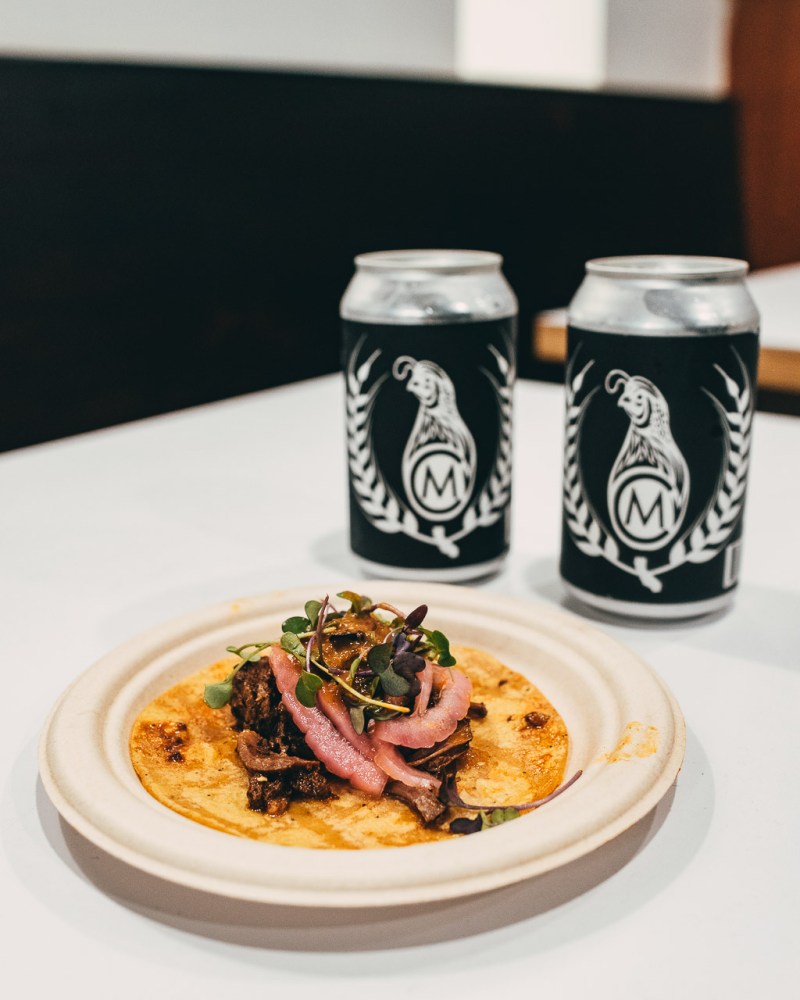 10. Birria Taco with Off-Menu Consomé - The Goat Mafia 
In a city full of renegade beef birria taqueros, Juan Garcia is the lone birria purist, maintaining the protein that birria has always been made from since day one in Jalisco: goat. Through years of practice and mastering his recipe passed down from his father, he's nailed a meaty, satisfying, gamey enough but not barnyard-like taco de birria de chivo. His secret involves using pork to absorb some of that grassy goat funk, but we'll let him get into the details of it the next time he serves you. Just make sure to ask nicely for some of his consomé made with his family's blend of dried chiles and spices to sip on the side. - Javier Cabral 
Follow the Goat Mafia on Instagram to see where they will pop up next.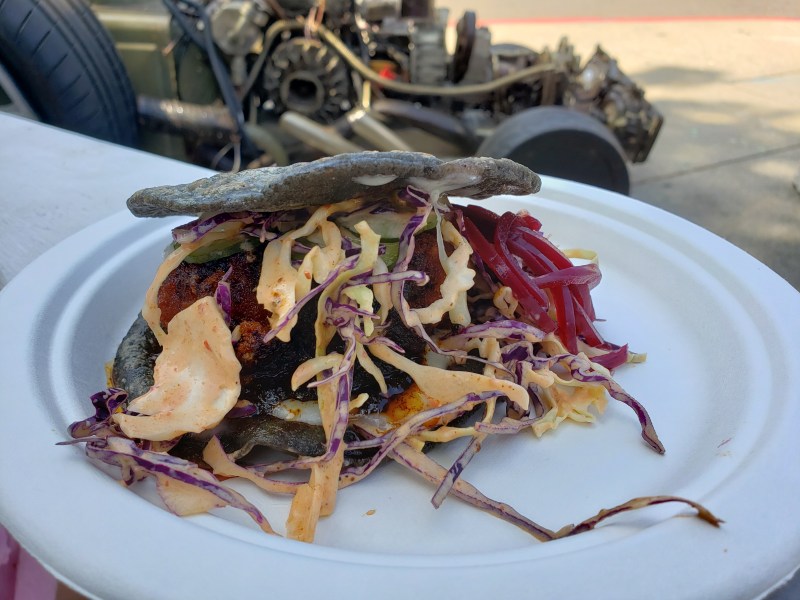 11.  Hot Pollo Mulita - Metztli Taqueria
Metztli Taqueria utilizes spices so masterfully and their hot pollo mulita is a great example. It gets to the edge of spicy without being overbearing. It is yet another perfect example of the way modern taqueros take in the eating habits of Los Angeles and translate it onto the tortilla. - Cesar Hernandez
Metztli Taqueria currently has a residency at Melody Wine Bar. Follow them on Instagram for their hours.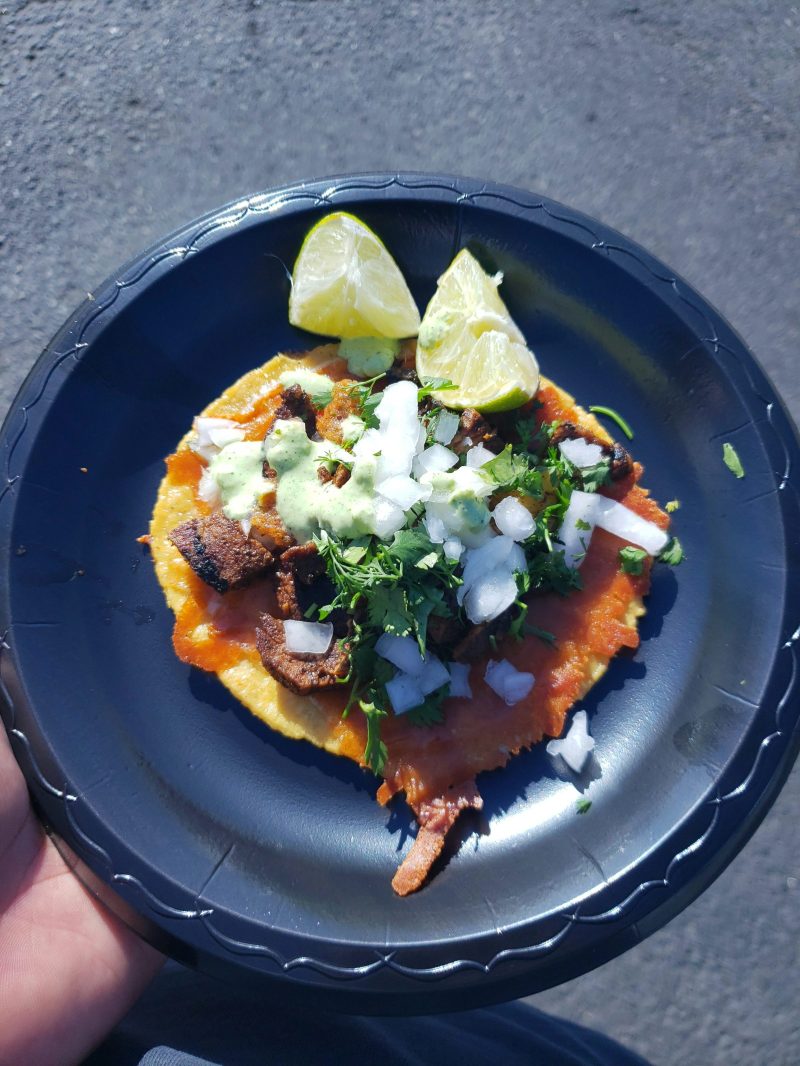 12. Al Pastor Taco with Jalapeño-Aji Crack Sauce - Pablito's Tacos
Pablito's Peruvian-tinged tacos aren't trying to change traditional street tacos; they just added a different dimension of deliciousness using Peru's best flavors. They start with your traditional Tijuana-style taco, add a little Peruvian chile to the trompo, make a fluffy but sturdy handmade corn tortilla, top it off with guacamole, and lastly spoon their signature aji, a.k.a., "Crack Sauce." One bite and you'll respect L.A. a little bit more for its power to bring together al pastor and aji chiles on a tortilla just for you. - Memo Torres
Pablito's Tacos has multiple locations.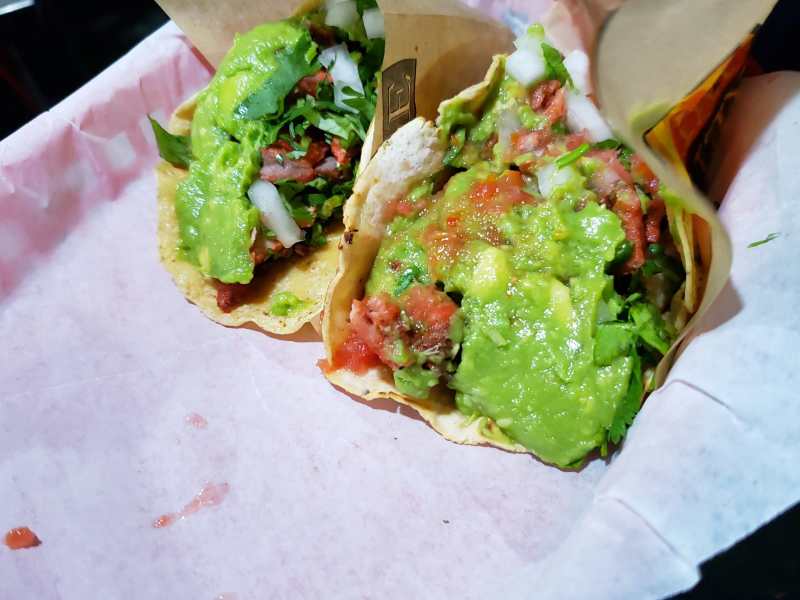 13. Adobada - Tacos Don Cuco
Adobada is not al pastor. Not for people who grew up eating the sweeter adobo-slathered pork grilled by moms and grandmas in a sartén that migrated here from Tijuana in the early 80s. That's the magic that Tacos Don Cuco replicates and elevates from a TJ-style puesto in East L.A. - Erick Galindo
Tacos Don Cuco is at 752 South Fetterly Avenue. Los Angeles, CA 90022.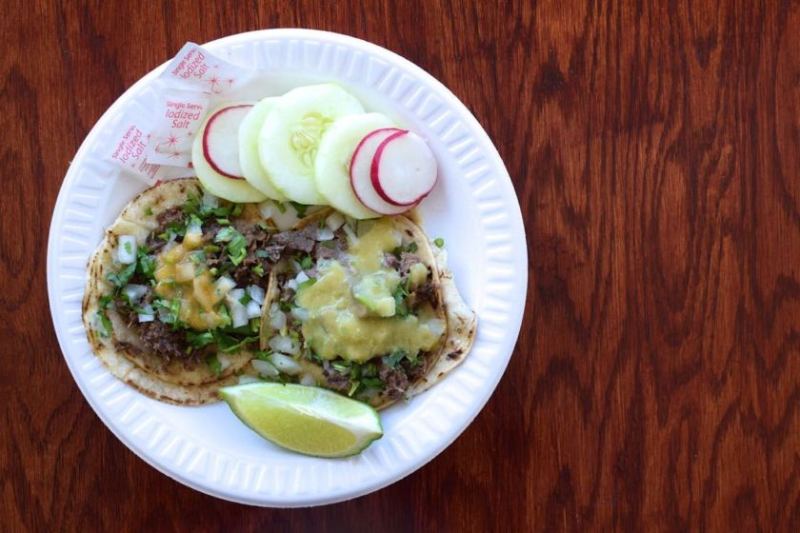 14. Taco de Cabeza - Tacos Estilo Guadalajara 
There isn't a better taco in Southeast Los Angeles than the cabeza at Tacos Estilo Guadalajara. A close second, maybe, is the tacos de lengua—also from Tacos Estilo Guadalajara. They have a location in Lynwood and one in Downey, which feels like it's also in Lynwood. - Erick Galindo 
Tacos Estilo Guadalajara has two locations. Visit their website for the details.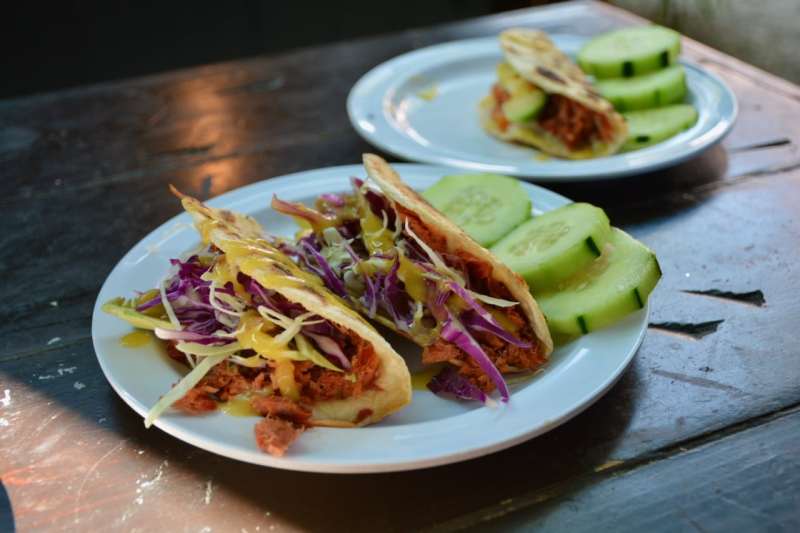 15. Taco de Marlin - Underground Seafood 106 
For the uninitiated, smoked marlin fish tacos are pretty much the gringas of the mariscos world. Instead of your usual taqueria meats, however, you will find ham-like smoked marlin, a large game fish that doesn't taste too different than tuna when cooked or smoked. At Sergio Peñuelas' backyard restaurant, his marlin tacos are juicy, meaty, and mostly marlin—not a marlin mixture mostly full of filler vegetables like how you will find other mariscos restaurants. Paired with an ice-cold beer, it will hold you over until your next trip to Baja, Sinaloa, or Puerto Vallarta. - Javier Cabral 
Underground Seafood 106 is an underground restaurant in Lennox, California. Follow the founder and chef to score the address.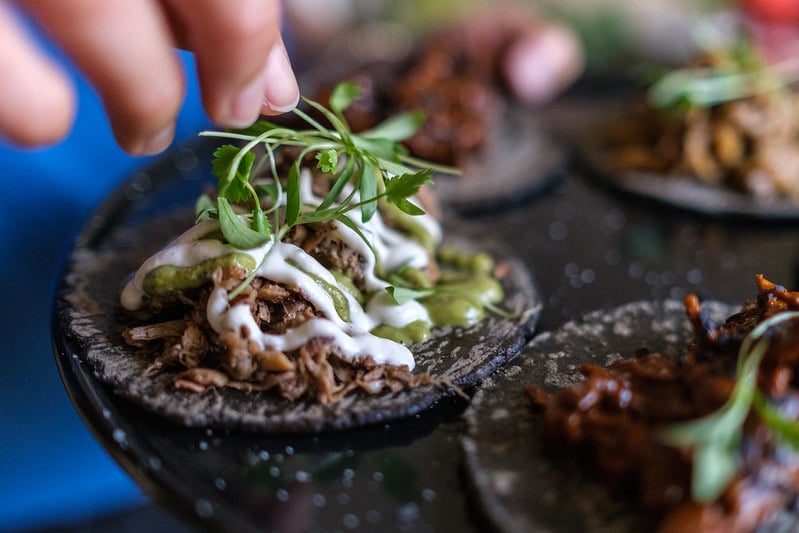 16. Jackfruit Carnitas Con Pipian Verde y Cashew Crema - Todo Verde 
Jocelyn Ramirez and her Todo Verde crew have carved out a place for themselves in Los Angeles' highly competitive plant-based taco scene. Through lots of early mornings and hours of hustling, they have gone from a chill spot offering superfood smoothies at Smorgasburg to the purveyors of one of the most satisfying, sazón-filled vegan tacos in the city. Their flattop-seared jackfruit tacos are now their best-selling item. - Javier Cabral
Todo Verde is at Smorgasburg every Sunday.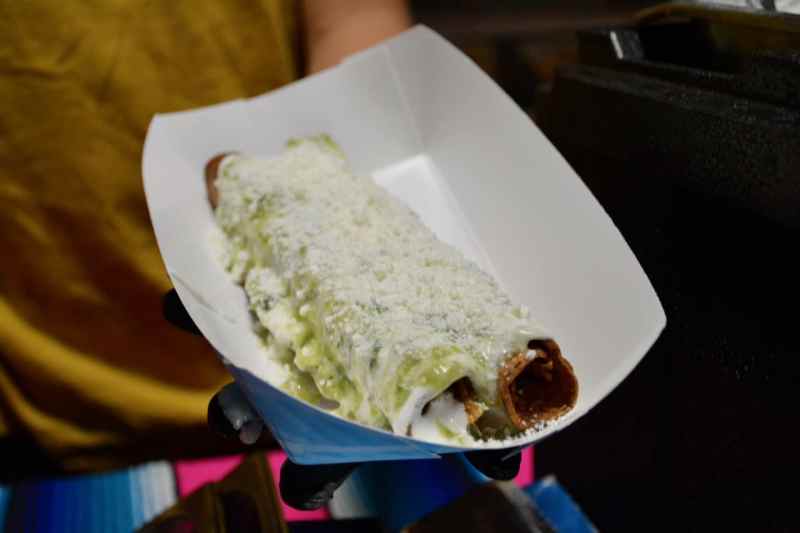 17. Tacos Dorados de Barbacoa de Borrego - Los Dorados LA
If you've found yourself stumbling out La Cuevita, smelling the agave on your breath after a recent bar crawl in Highland Park on a Friday or Saturday night, you've undoubtedly been tempted by the flautas being fried to order next to their entrance. The owner comes from the family of El Taurino in Koreatown so now you now know why their fire red and green salsas taste familiar. These tacos pick up where Cielito Lindo on Olvera Street left off. Crispy and a heavenly bite after a night of drinking, or anytime for that matter. - Javier Cabral 
Los Dorados LA sets up every Friday and Sunday night at La Cuevita in Highland Park. Follow them on Instagram to see where else they pop up.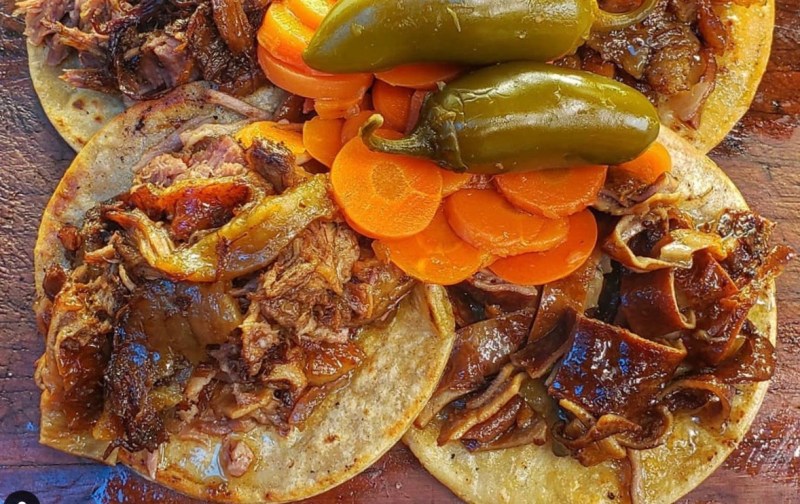 18. Taco de Migajas - Carnitas El Momo
Next time you go to El Momo, resist the temptation to get the traditional carnitas or just order a pound to go. Instead, get a taco de migajas. Often, the man, the legend, Momo will offer you one as a lil' snack as he prepares your tacos. Migajas are made up of the pieces of pork that sink to the bottom of the cazo which is why they have a darker appearance, and why they have so much more flavor. It's a luxury and a privilege to get this sort of pork mastery in L.A. - Cesar Hernandez
Follow Carnitas El Momo on Instagram to see where they will pop up next.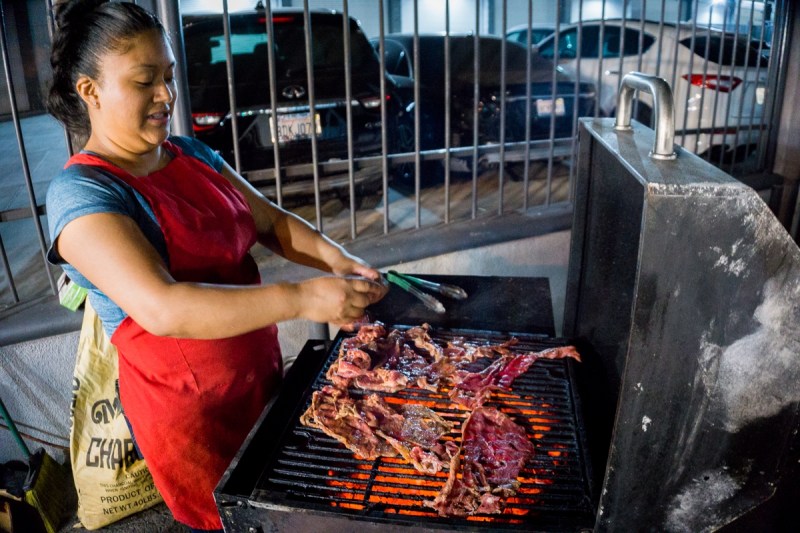 19. Carne Asada Tacos - Tacos Soloma
When talking tacos, the following three little words make all the difference in the world: mesquite charcoal grill. The asada here is steak-like and a thicker cut than the rest of the asadas you'll find roaming the streets. I'll say it straight out of the gates: If I was forced to only eat tacos from one place for the rest of my life, it would definitely be from Tacos Soloma. Long live the San Fernando Valley. - Noe Adame
Tacos Soloma sets up at Lankershim Boulevard and Vanowen Street (In Front of Advance Transmission).
Director's Pick
El Perrón - Tacos 1986
All the cool spots have a secret menu and why would Tacos 1986 be any different? With its white tiled walls and their signature bright Fresa red appeal, Tacos 1986 is the In-N-Out of TJ style tacos and the Perrón Taco is their secret menu item. It's a crisped cheese quesadilla on a flour tortilla with quality mesquite-smoked asada, creamy guacamole, onions, cilantro, and salsa. I'd like to think the frijoles de la olla topping it off is the animal sauce equivalent of this growing classic. - Memo
Tacos 1986 is at 609 South Spring Street. Los Angeles, CA 90014 and also at Smorgasburg at every Sunday.
Honorable Non-Taco Mentions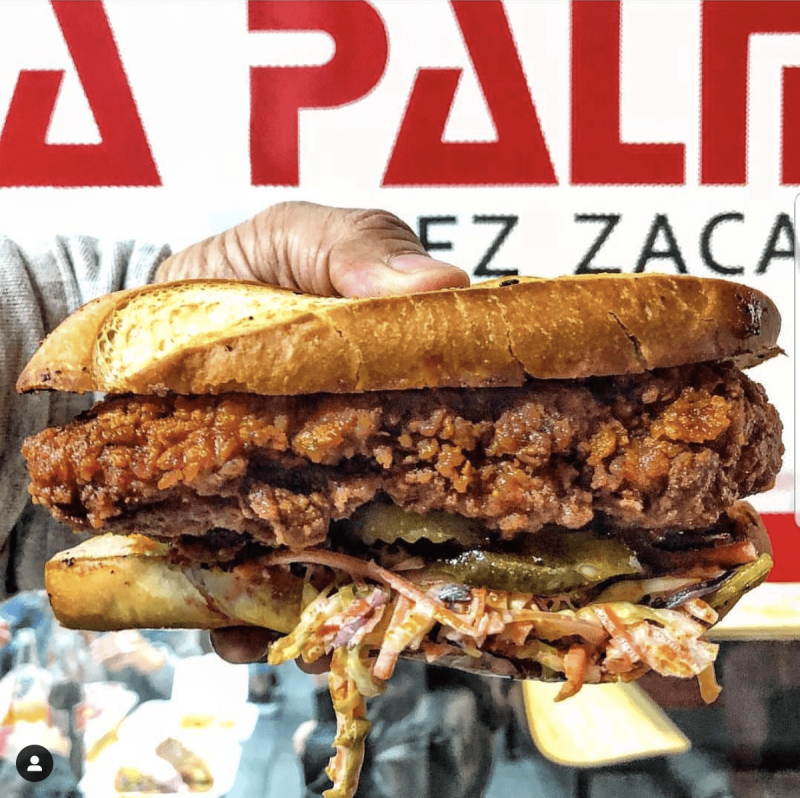 R
ojo's Hot Chicken
The evolution of the almighty torta is on full display at Rojos Hot Chicken, the first fully Mexi-fied Nashville-style hot chicken sandwich pop-up. Is it a torta? Is it a hot chicken sandwich? Is it both? It doesn't matter, because it is delicious, and we can't believe it took this long for someone to combine two of the best sandwich styles into one. - Gab Chabran
Follow Rojo's Hot Chicken on Instagram to see where they will pop up next.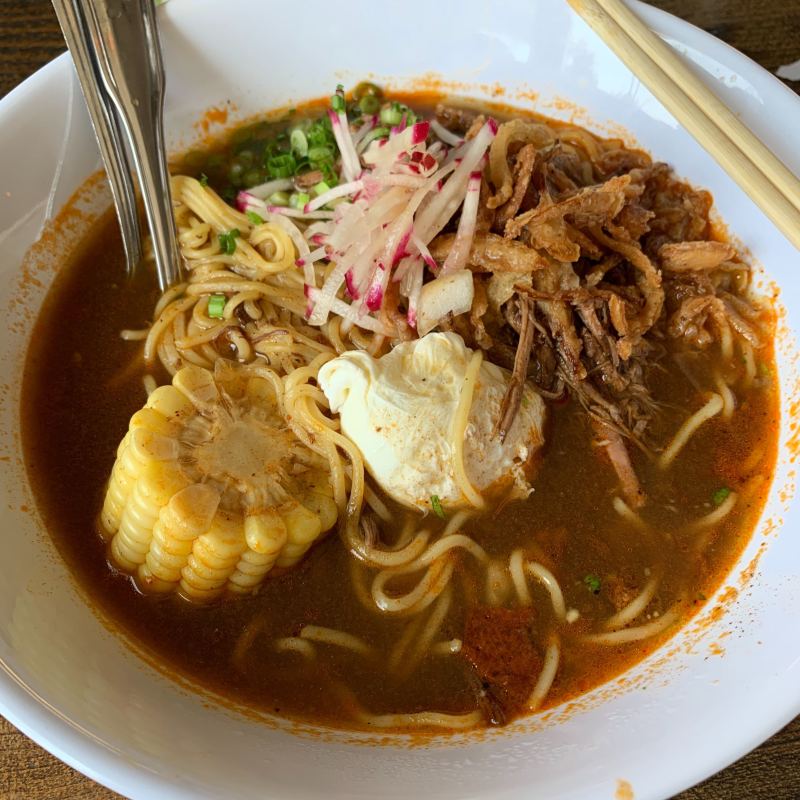 Birria Ramen - L.A. Ramen
This beautiful hybrid dish hits both ramen and birria cravings. It's a perfect mashup of Japanese and Mexican food cultures that belong together like distant soulmates destined to fall in love in L.A. You can thank L.A. Birria's founders who used to work at a prominent Japanese restaurant empire before they opted for the birria way of life. Will you choose tortillas or noodles when it's your turn to order? This is a very good problem to have and we wish you luck with your decision. - Memo Torres
L.A. Birria has multiple locations. Follow them on Instagram to get the details.
Stay in touch
Sign up for our free newsletter