Featured
The L.A. Taco Guide to Argentinian Food In Los Angeles
1:57 PM PDT on May 10, 2021
[dropcap size=big]W[/dropcap]hen I was just five years old, my family immigrated to Los Angeles from Buenos Aires, and like many Argentine immigrants, with us came our love for a good empanada and fútbol y asado on Sundays. 
For my brother and me, growing up felt like we still lived in Argentina at home and as soon as we stepped out the door and kissed our parents goodbye, we were in the U.S. We spoke Castellano at home, drank yerba mate in the morning and listened to Argentine folklore music after school. Not to mention all the moments we spent catching up around the dinner table, trying to finish off the churrasco and vegetables our mom made us, so we could have our favorite treat: a chocolate alfajor with dulce de leche. 
Our parents made sure we grew up knowing where we came from and were proud of it. They told us about the great influence Spanish and Italian immigrants had on Argentine food. All of the bodegones or small shops in Buenos Aires they'd visit often to have some fresh gnocchis. But also just how culturally diverse the country was, with many families originally from countries like Germany, Russia, and Japan.
So naturally, as we grew up in L.A., we gravitated towards places that felt familiar to us. Especially when it came to food. We often visited markets and restaurants like Rincón Argentino in Glendale, Lala's in Melrose, and Mercado Buenos Aires in Van Nuys. They had all of our favorite Argentine snacks and meals, so we quickly got to know their shops and menus inside and out.
Over the years, my family would go on to celebrate birthdays, wedding anniversaries, and college graduations with their help. They had us coming back with the variety they offered, the quality of their ingredients, lovely presentation, and all the natural, rich flavors that made our mouths water. 
It's safe to say they've made us feel at home in L.A., providing a sense of comfort in all the good ways. But, of course, you don't have to be Argentine to enjoy them. As my dad likes to say, "Hay algo para todos los gustos…" or in English, "There's something for everyone's tastes." 
Each place is family-owned and unique in its own way. Hope you'll get to know them for yourself.
Rincon Argentino
1375 E Colorado St, Glendale, CA 91205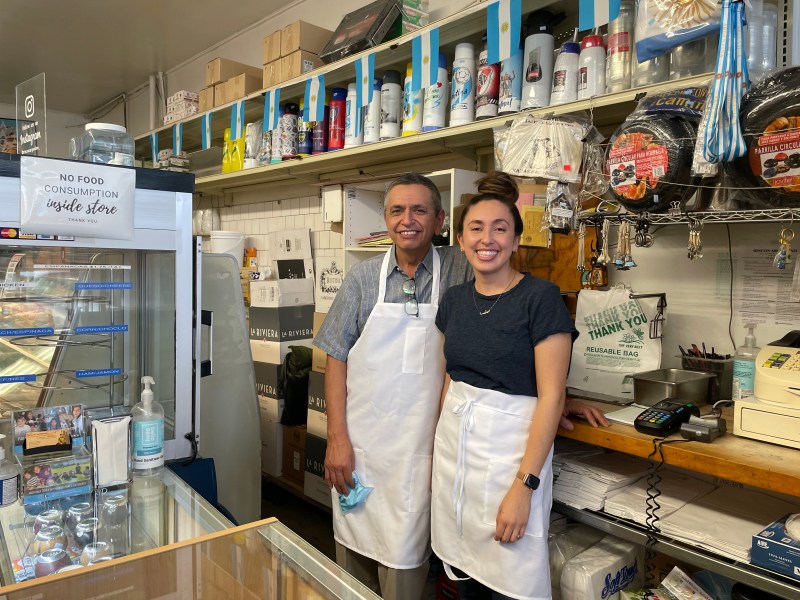 Since 1978, Rincón Argentino in Glendale has been providing all the Argentine goodies you can imagine. The mom-and-pop market sells a range of beef cuts, wines, yerba mate, freshly made pastries, empanadas, and sandwiches de miga. Not to mention the imported snacks and treats they have from Argentina, like my personal favorites: the Don Satur bizcochitos de grasa, Havanna alfajores, and galletitas Criollitas. 
The shop is small but mighty! It's like a tiny Buenos Aires in the heart of Glendale. They carry everything you need for a typical Sunday gathering with friends and family. Socially distanced, of course.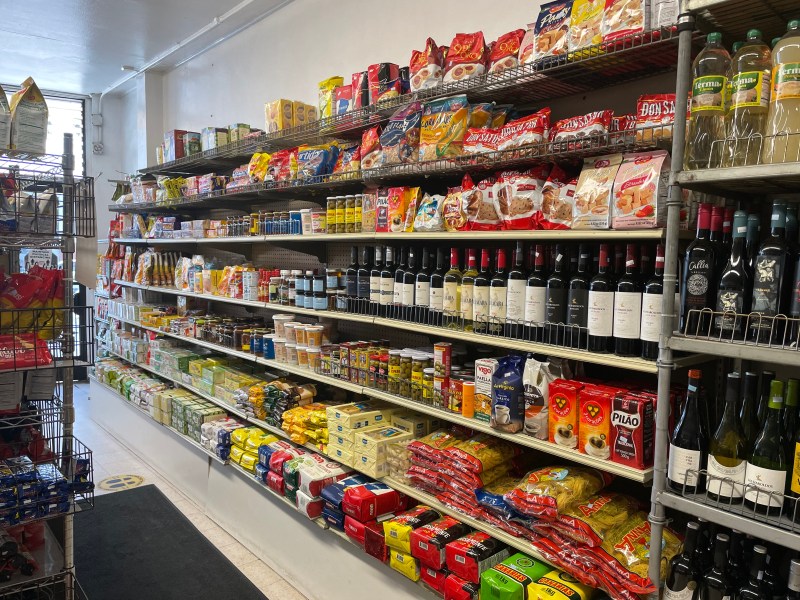 Edward Ahamad, who's the owner of Rincon Argentino, says his own family's background is a testament to what makes Argentinian food special.
"My mom's side is 100% Italian and my father's side is Palestinian and native Argentinian," he said. "There are people from all over the world in Argentina. A lot of different communities...Jewish, Armenian, Korean, Spanish, German. I mean you name it, there's everything. So I think that mix of cultures definitely comes through in the food and makes it unique."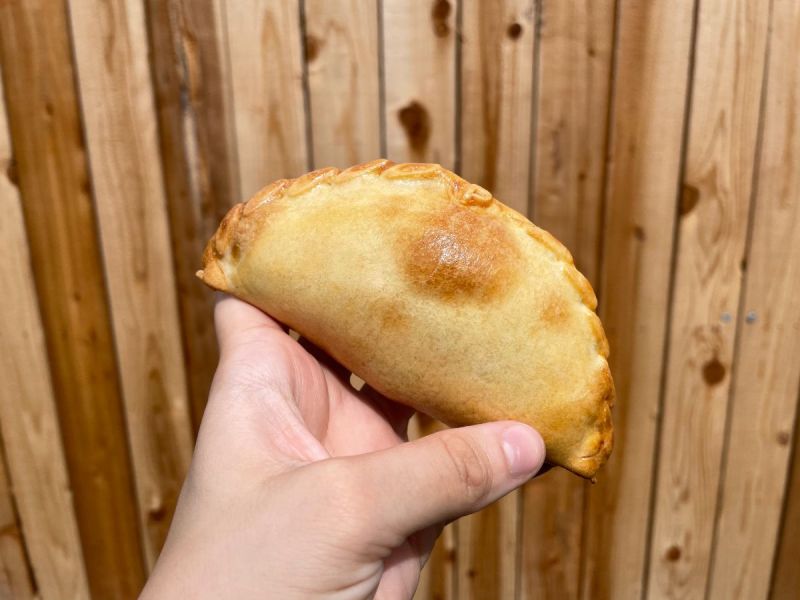 Ahamad adds that over the years he's traveled frequently to his native Buenos Aires to gather inspiration and make sure the deli is staying at the top of its game. 
"It's a lot of work," Ahamad says about the upkeep of Rincon. "It's a never-ending amount of work. And when you go home, you take the work with you. It's like caring for a baby. It never stops."
For more information about Rincon Argentino, you can visit their website here or check them out on Instagram @rinconargentino_. 
Lala's Argentine Grill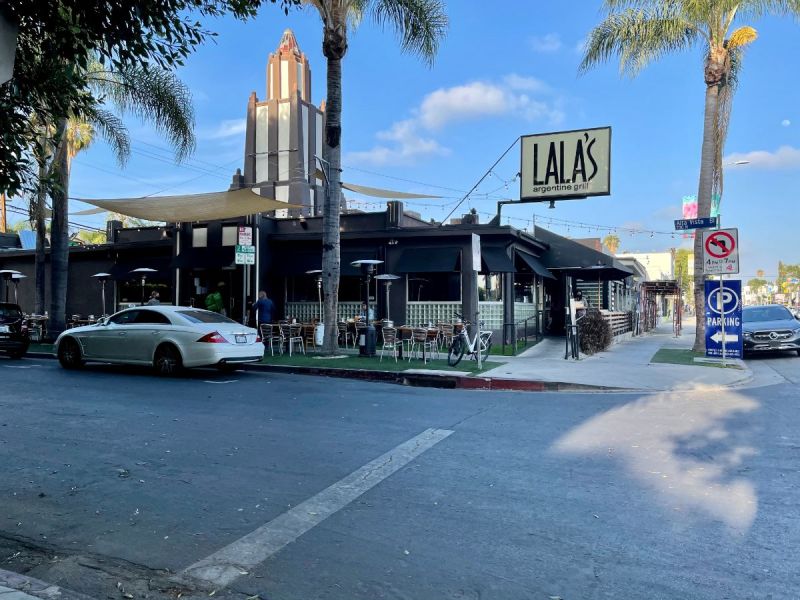 101 W 9th St, Los Angeles, CA 90015 
7229 Melrose Ave, Los Angeles, CA 90046
11935 Ventura Blvd, Studio City, CA 91604
If you're looking for the perfect restaurant for a first date, especially now that we can get out more, then Lala's is the place to be. All of their locations have an intimate, yet casual and bustling feel to them. Ideal for those sometimes nerve-wracking first conversations.
Named after one of the owners' moms, Lala's opened up its first location in Melrose in December of '95 and over the years has built up its name as a steakhouse. They offer some of my family's favorites like costilla (ribeye steak), entraña (skirt steak), bife de chorizo (New York steak), and lomo (center-cut filet mignon). And vegetarian options too like their brochette de vegetales, which are 2 skewers of grilled zucchini, eggplant, mushroom, onion, tomato, bell peppers.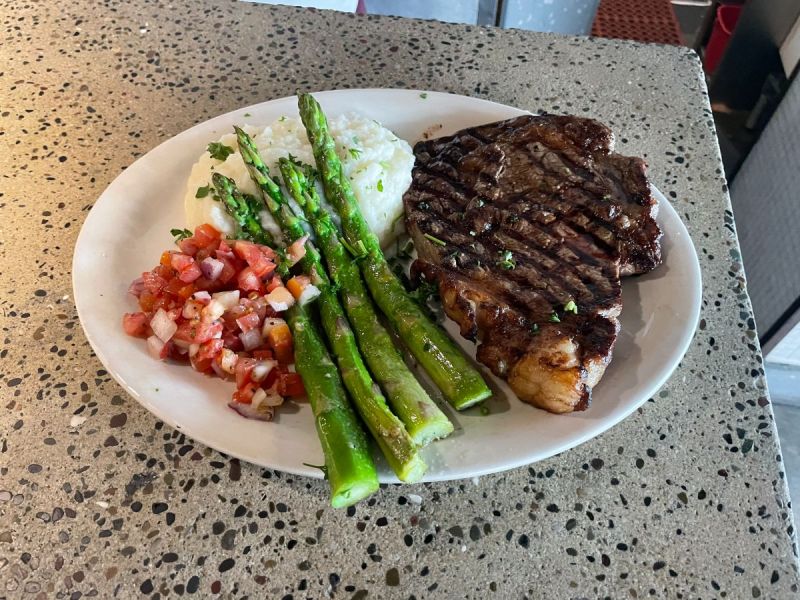 But if you ask me what I've ordered the last couple of times I've gone, it's always been the suprema a la napolitana… a chicken breaded cutlet with tomato paste and mozzarella cheese or the potato ñoquis. Oh, and for dessert: a mouth-watering flan with dulce de leche, of course. 
Horacio Weschler, who's one of the owners, immigrated to Los Angeles from the barrio of Palermo in Buenos Aires in 1988. He started out working for Gaucho Grill, another Argentine restaurant in LA, and after six years decided he wanted to start his own restaurant.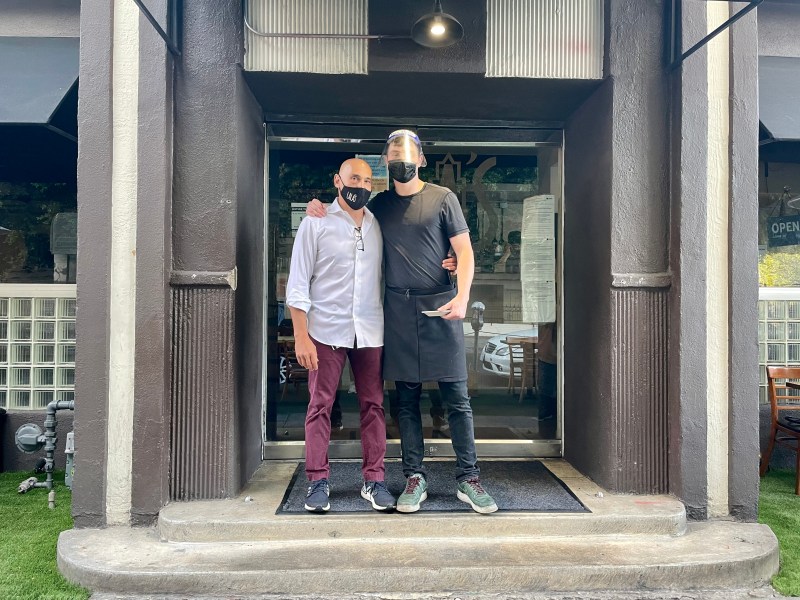 Weschler says his mom Lala was an amazing cook and helped inspire a lot of the recipes. 
"We use my mom's recipes in the empanadas, champignon, and flan. And even though it's been more than 20 years since we first started, we're still using them," he says. "Argentinian food is very simple. It's the kind of food you can basically eat every day. It's more healthy and delicious."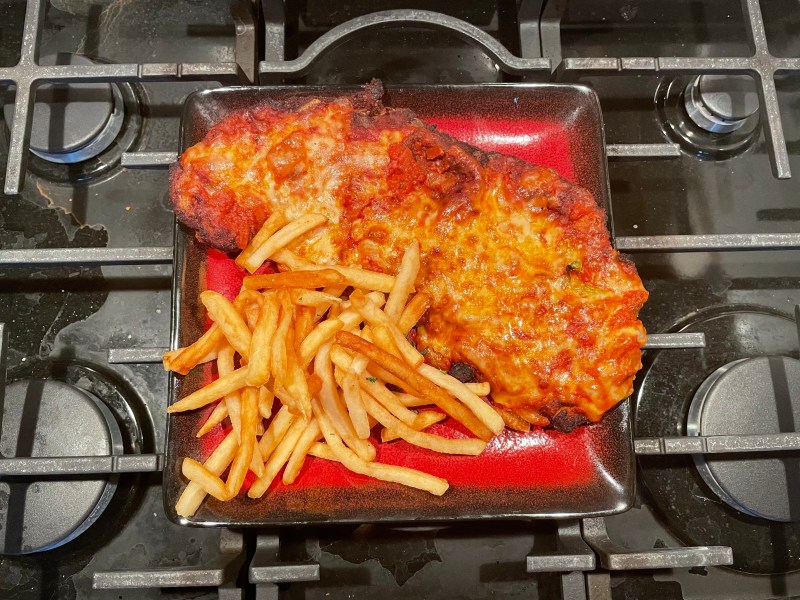 For more information about Lala's Argentine Grill, you can visit their website here, or check them out on Instagram @lalasgrill.
Mate Conmigo
19257 Roscoe Blvd, Los Angeles, CA 91324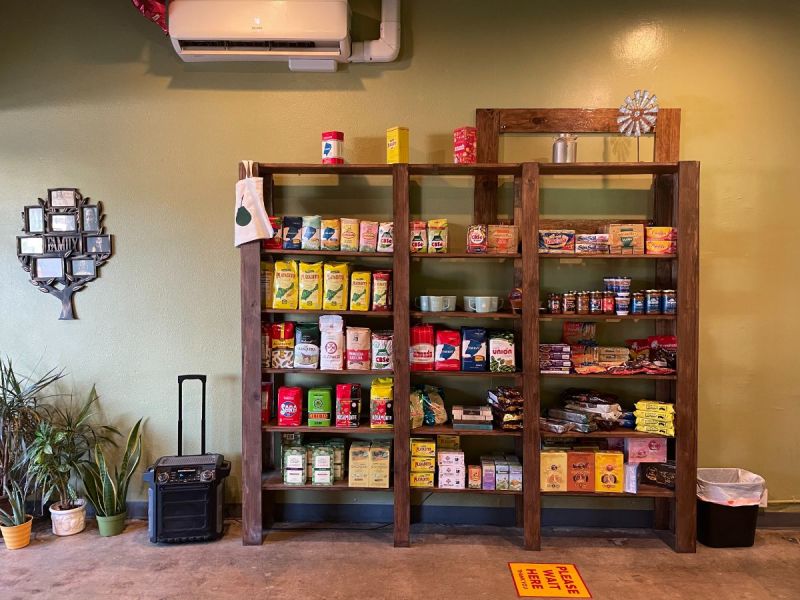 Mornings can be hard. If you're like me, then you're probably not up until your alarm goes off for the third time at least. Even then, you still might need that extra push. And that's where Mate Conmigo comes in. The materia offers seven different fruit-flavored iced mates, everything from pineapple to strawberry, peach and mango along with a number of pastries, sandwiches de miga, coffee and empanadas of just about every kind. Vegan ones too. 
Originally from a pueblo in Cordoba, Argentina called Melo, Gabriela Simoni started Mate Conmigo in August 2018 with her two sons Juan Carrasco, 27, and Tomas Carrasco, 20. She had experience running her parent's grocery store in Cordoba and had also worked for Argentine restaurant Gaucho Grill for years. But she says the idea for the materia came about because she had recently divorced her husband, was out of work, and needed to find a way to help support her family.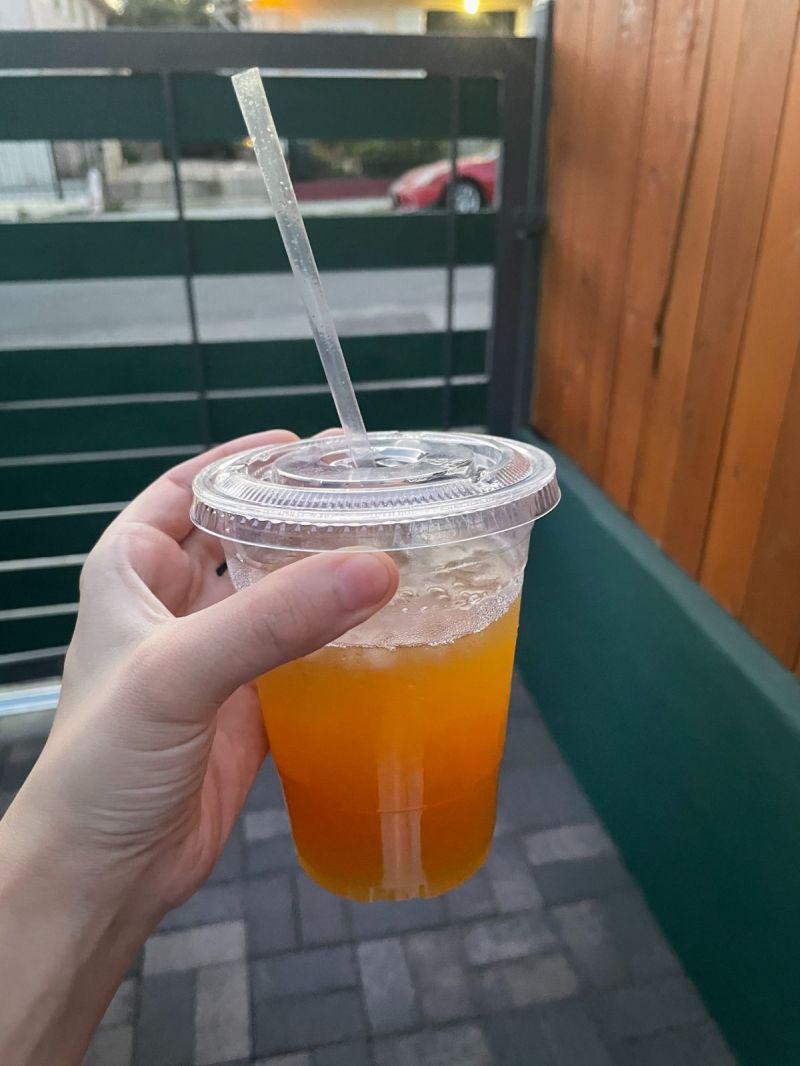 "Working hard is in my blood. But it's hard to open something in the U.S., right?"  she says. "Because I'm a woman, Latina and alone... but then we did. We opened up and I thought, 'Why not explain to the world what mate culture is.'"
Simoni's son Juan adds that they're not only dedicated to building up the business but also having the materia feel like home for people.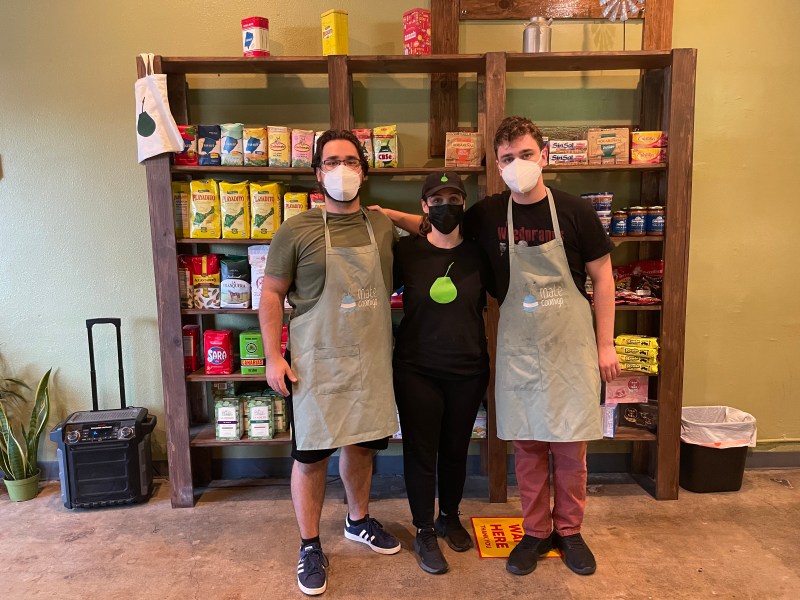 "It's really important for us to make the community feel like they're part of our family, because one they support us. And two, we just want to help bring a smile to their faces," Carrasco said. "We always try to talk to people to see how their day is going, really connect with them."
And it's true. That warm and friendly Cordobes approach is no joke at Mate Conmigo. Expect all that good energy with your sandwichito and iced mate. 
For more information about Mate Conmigo, you can visit their website here, or check them out on Instagram @mateconmigo.
Mercado Buenos Aires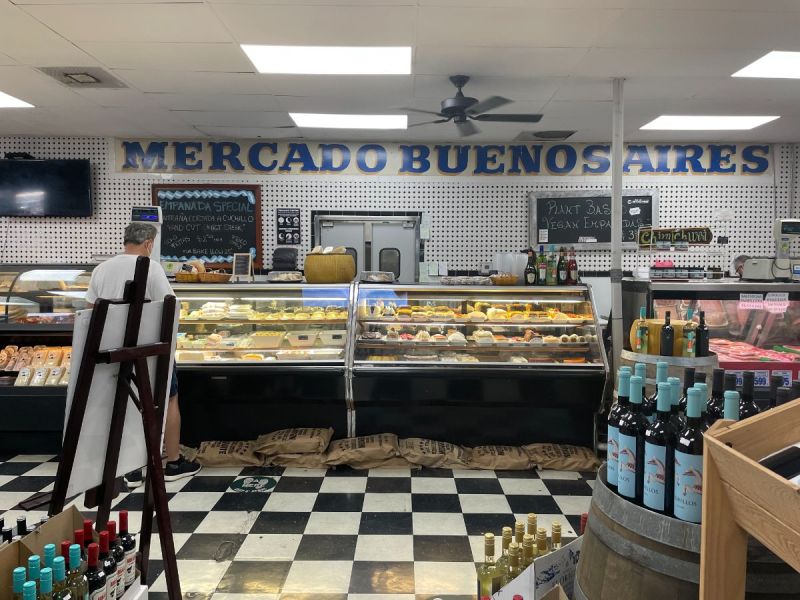 7540 Sepulveda Blvd. Van Nuys, CA 91405
16137 Devonshire St. Granada Hills, CA 91344
8856 Corbin Ave. Northridge, CA 91324
Over the years, whenever I wanted to introduce my friends to a piece of my culture, I would take them to el Mercado Buenos Aires in Van Nuys. They just had everything you need to give someone the complete Argentine experience. From their bakery filled with facturas con dulce de leche, their market that sells imported Argentine goods like yerba mate and chocolates like Bon o Bon to their restaurant and to-go service that specializes in empanadas and grilled meats, the mercado is the one-stop-shop for Argentine food. 
But more importantly, it really feels like a gathering place where you can spend hours with your friends and maybe hear a fútbol game in the background.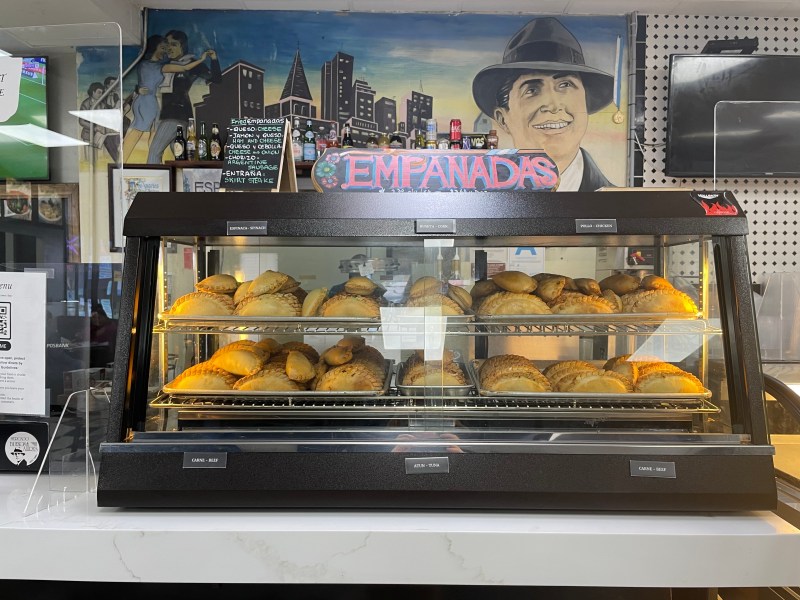 Daniel Sanchez is seen here making sandwiches de miga. He's from Michoacán, Mexico and has worked at Mercado Buenos Aires for the past 15 years. His favorite beef cut is "la carne de lomo" or in English: tenderloins.  
Family-owned since 1989, chef Paul Rodriguez took over the business in 2009 and committed to his dad Manuel's original mission of showcasing Argentine culture. 
"We have always tried to stay as authentic as possible, which has been a difficult challenge," Rodriguez said. "Because as our regular customers grew, a younger generation entered the picture and we've had to adapt to providing healthier options. For example, we now sell vegan empanadas, too."
Rodriguez adds that there's plans in the works to keep expanding Mercado Buenos Aires to different cities and an upcoming empanada project that will be announced soon. 
For more information about Mercado Buenos Aires, you can visit their website here, or check them out on Instagram @mercadobuenosairesusa.
Empanadas Chimi
Avenue 56 & York Blvd, Highland Park 90042, Los Angeles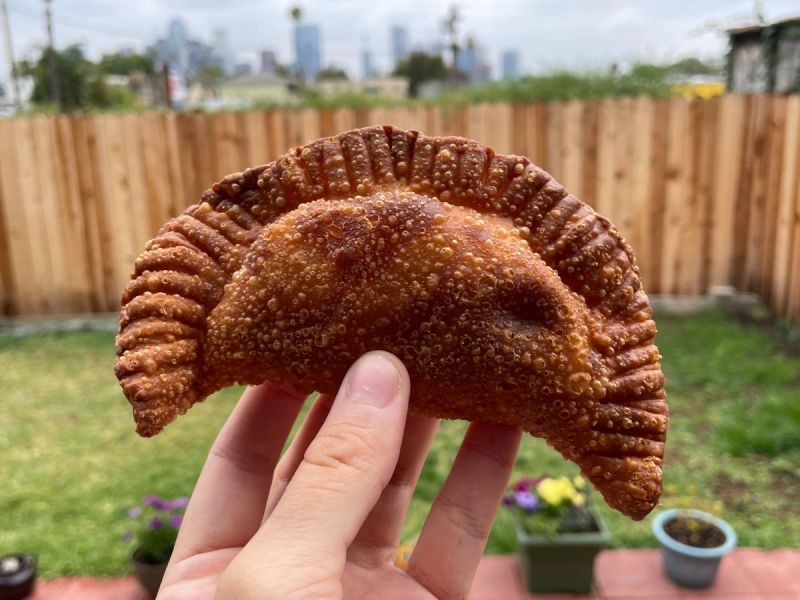 Up and running since June 2020, the empanada stand is a pop-up place found in front of a supermercado in Highland Park. They operate out of a wooden food trailer that used to be a taco stand and offer fried empanadas filled with beef, chicken, spinach, ham and cheese, and corn. And to make things that much better they throw in some chimichurri on the side, a traditional Argentine sauce that's prepared with parsley, garlic, canola oil, spices, and a zest of lemon.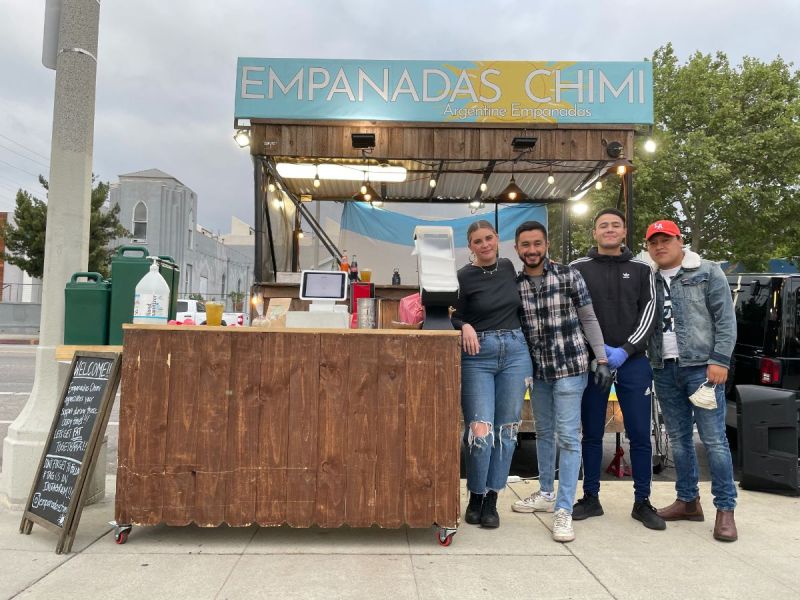 Janet Flores, whose family is from a city called Presidencia Roque Sáenz Peña in Chaco, Argentina, says she grew up watching her mother Elena make empanadas. But it wasn't until the pandemic hit that she decided to turn them into a business.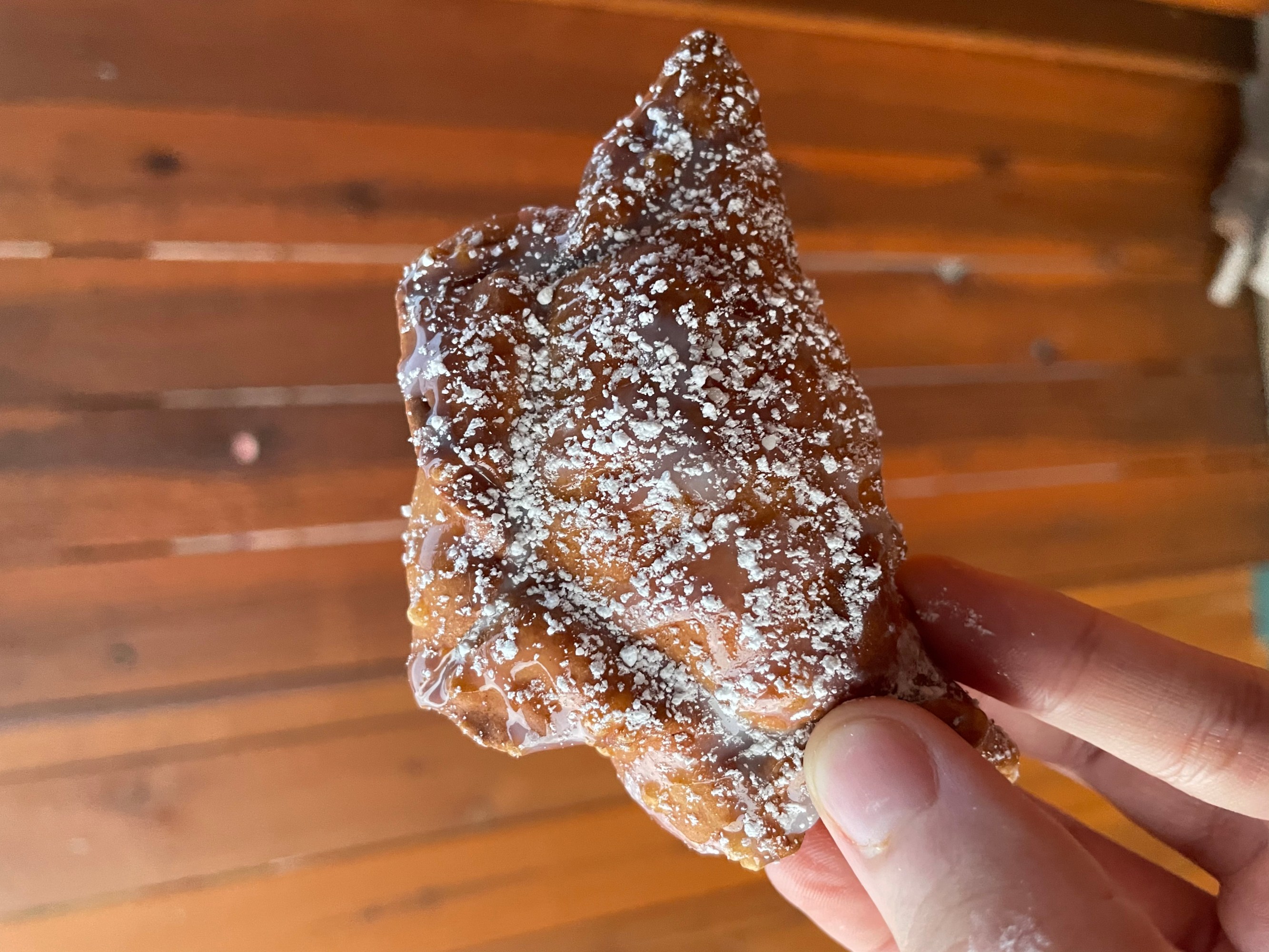 "We started Empanadas Chimi because we had no income coming in," she says. "We were running an event venue business before this and then the pandemic hit. We needed to do something that would help us. So we started by making them at home and then we decided to grow the business and come here."
Flores now runs Empanadas Chimi with her husband Javier and their two friends, only on weekends. She says the four of them have plans to move into another trailer and add some new items to their menu: choripan (chorizo-chimichurri sandwich), lomitos (steak) and Maradona's fritas (french fries with chimichurri). 
For more information about Empanadas Chimi, you can visit their website here, or check them out on Instagram  @empanadaschimi.
Malbec Cuisine
1001 E Green St, Pasadena, CA 91106
1632 Colorado Blvd, Eagle Rock, CA 90041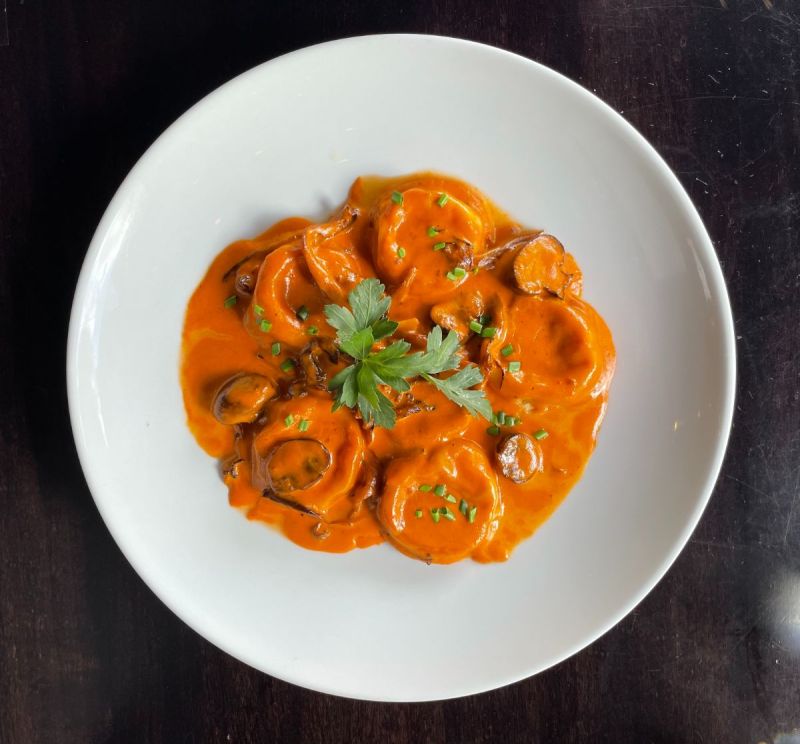 Brothers Luciano Alcorta and Pablo Alcorta, who are from a small city in Chubut, Argentina called Trelew, opened the first Malbec in Pasadena in 2008. 
Pablo had gone to culinary school in Buenos Aires and had previously worked for different French and Italian restaurants, while Luciano was prepared to help with everything on the business end.
"For many years, we've focused on trying to expose customers to the idea of the popular supermarket Malbecs from Argentina," Luciano says. "We created the concept back in 2007 and became known for our wines. We really think that that's part of the success of why we were lucky to grow the business."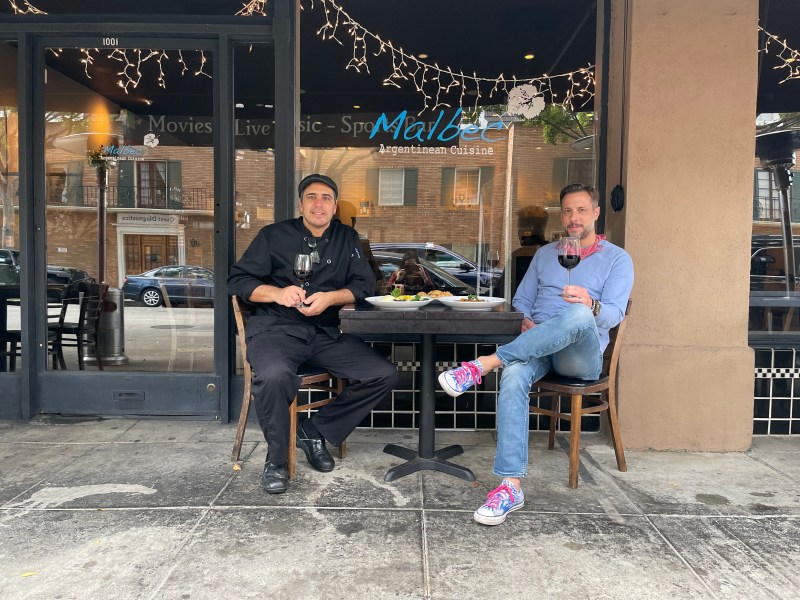 For more information about Malbec Cuisine, you can visit their website here, or check them out on Instagram @malbeccuisine. 
Un Rinconcito Argentino 
10633 Imperial Hwy E, Norwalk, CA 90650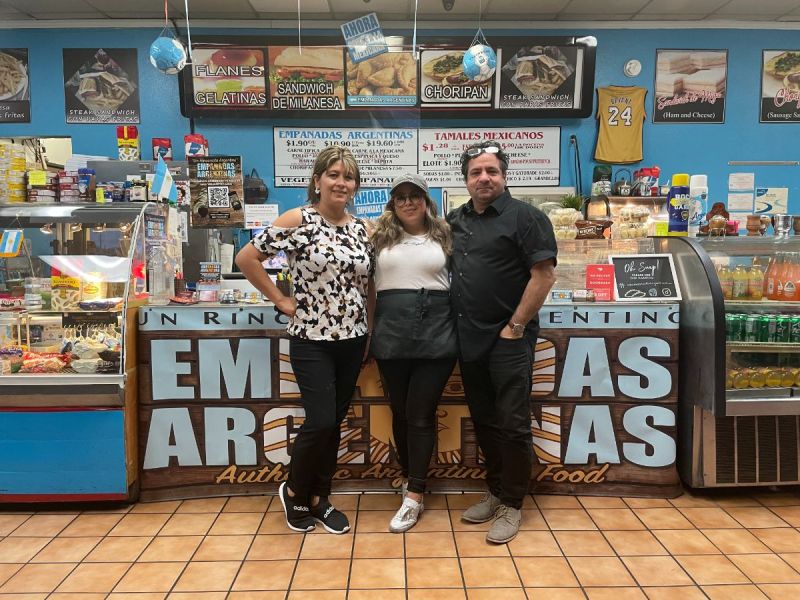 Un Rinconcito Argentino feels like home to me. It's one of the most unassuming and welcoming cafes I've walked into in a long time. You step in and can immediately tell that most people are regulars. The empanadas are delicious and about $2 each, which if you know about empanadas in LA, you know you're getting a good deal. Even more so if you buy them by the dozen. 
They also make sandwiches de miga, de milanesa and de lomito. And for dessert: flan de queso, cajeta, coco, chocolate, nuez, mango, rompope and café de olla. As well as alfajores. But if you're looking to change it up one day, Un Rinconcito has you covered. They also offer tamales mexicanos: de pollo, puerco, queso jalapeño and chicharron. And that's because they were once a tamalería.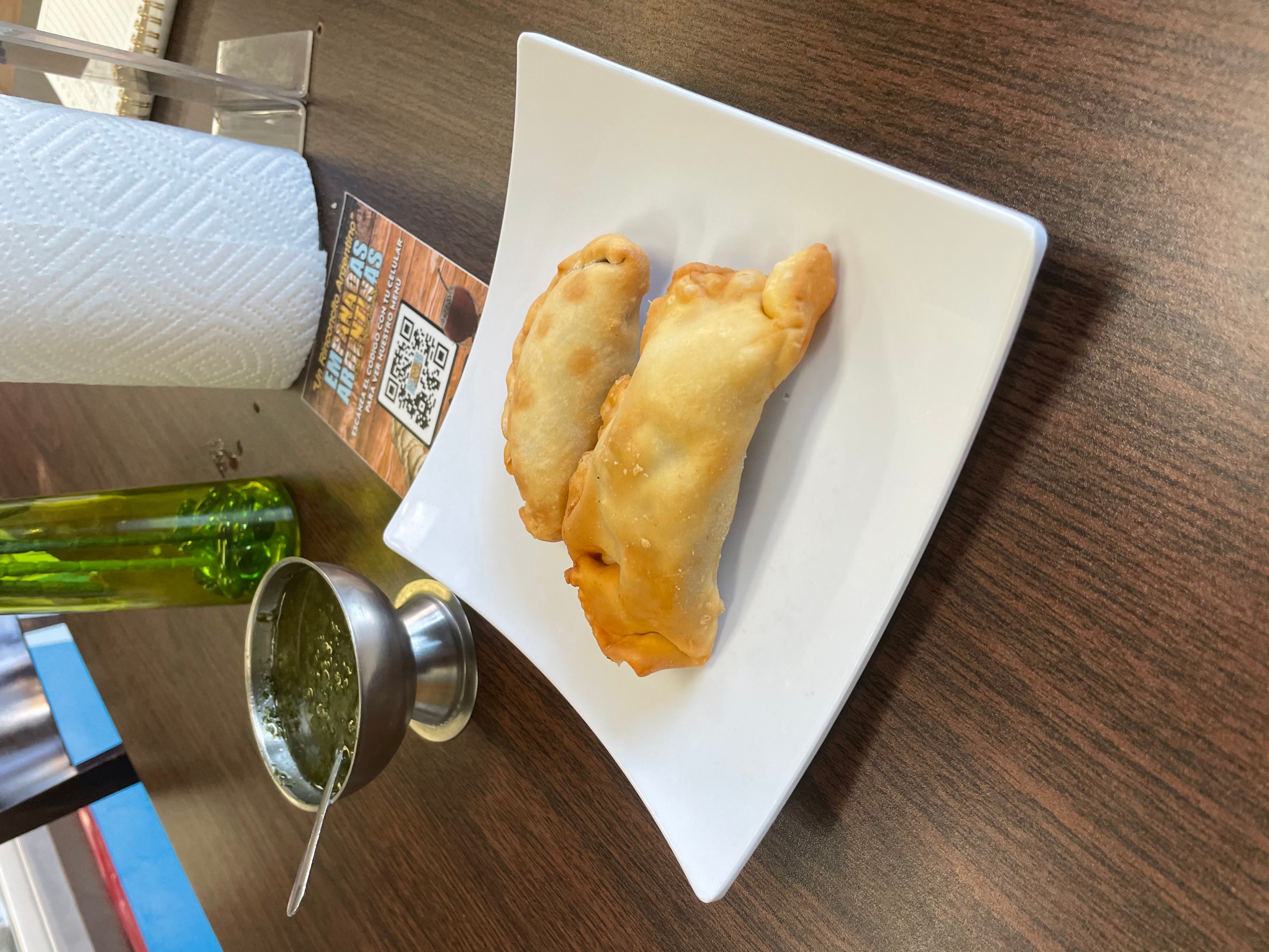 Marcelo Rosenbolt, who's from Villa Crespo, a barrio in Buenos Aires, says he's had the idea of starting an empanada cafe since he immigrated to LA in the mid-90s. "Many years ago, my uncle had a pizzeria in Buenos Aires where they sold fried empanadas similar to the ones we sell now. I worked in that pizzeria and the idea of the empanada stuck with me," Rosenbolt says. "Years later, I convinced the owner of the tamalería that was here before us to let us sell empanadas because the business wasn't doing well with the tamales. He let me and miraculously we started doing really well."  
Rosenbolt says he thinks the empanadas were successful because of how simple they are. 
"It's countryside food. Very criollo and simple. Very gaucho," he says. "It's extremely unlikely you'll find someone who doesn't like an empanada." 
For more information about Un Rinconcito Argentino, you can visit their website here, or check them out on Instagram @unrinconcitoargentino_. 
Marina Peña is a writer and news producer who covers the social issues that affect Angelenos. She loves strawberries and a good empanada.
Read More:
Stay in touch
Sign up for our free newsletter