Featured
Tacos Before Vatos: 13 Tacos In L.A. That Will Make You Forget About Him
11:04 AM PST on February 14, 2023
[dropcap size=big]F[/dropcap]ebruary is here, and so is heart-shaped and "love" themed everything. Cookies, bouquets, chocolate-covered strawberries, heart-shaped boxes full of tacos, and every other gimmick are all available at your fingertips as gifts for your sweetheart. 
For some, this month allows for the celebration of lovers, complete with expensive dates, long romantic drives down Whittier Boulevard in a classic car, rose petals flung across a bed or hot tub, and luxurious gifts. For others, it's a holiday appropriated by corporations to profit off of relationships and to shame sad, lonely, but dope-ass foolanas without a hot date to celebrate. 
For L.A. TACO, love is always in the air, and it smells like charcoal burning on a sunny day, carnita asada, tortillas hot off the comal, vibrant salsas, caramelized onions, and thick guacamole. 
We're here to remind you that despite your relationship status, a recent breakup, or recent ghosting, you matter. Meet your romantic needs and be your own damn Valentine this season.  Support local taqueros and follow this guide to enjoy 13 tacos that will help you forget about that wack-ass vato.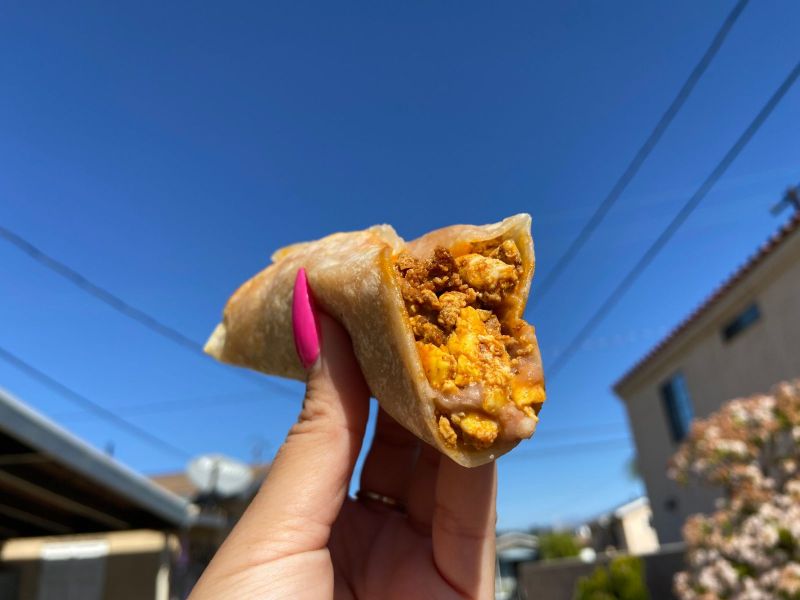 Sometimes, what we most miss about our exes are those morning rituals. Did that foo cook you huevos con chorizo and wake you up with a smile? Well, the taqueros at La Azteca Tortilleria will mend that mundane desire with a combo of chorizo con huevos. Better yet, their refried beans are way better than the frijolitos that scrub could have whipped up out of a can. This taco is wrapped in a fresh, homemade tortilla. Stop playing and wake up to something satisfying for a change. I'm sure the taqueros will greet you with a warmer smile the morning after, too. 
4538 E Cesar E Chavez Ave. Los Angeles, CA 90022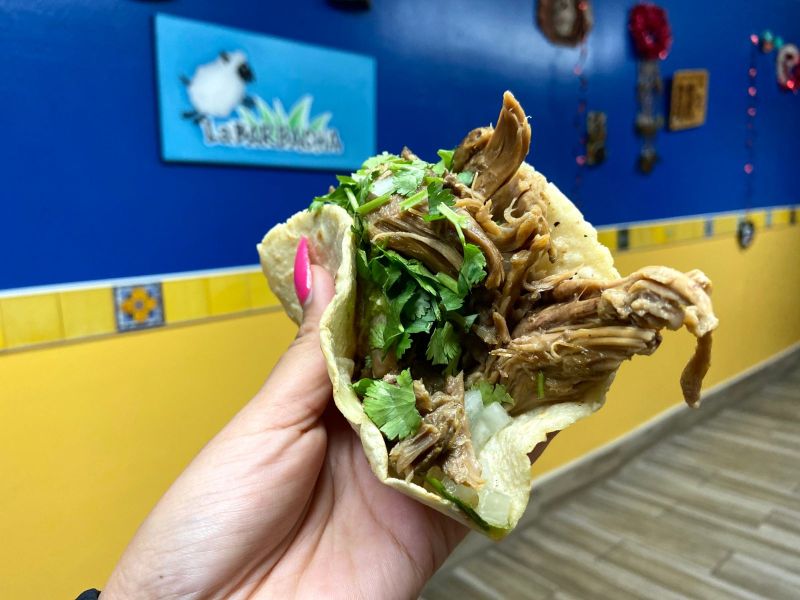 Is one of your love languages quality time?  Did that vato you lack in providing this to you? Don't trip. The folks over at La Barbacha will show you love and tender care in the form of tacos de long-cooked barbacoa de borrego. These taqueros will lift your disheartened spirit with their lamb barbacoa that they cook for eight hours in a pit underground. One bite of their 1/4 pound of juicy and flavorful lamb, stuffed in a warm homemade corn tortilla, is a tight hug in taco form. 
2510 East Cesar E Chavez Avenue, Los Angeles, CA 90033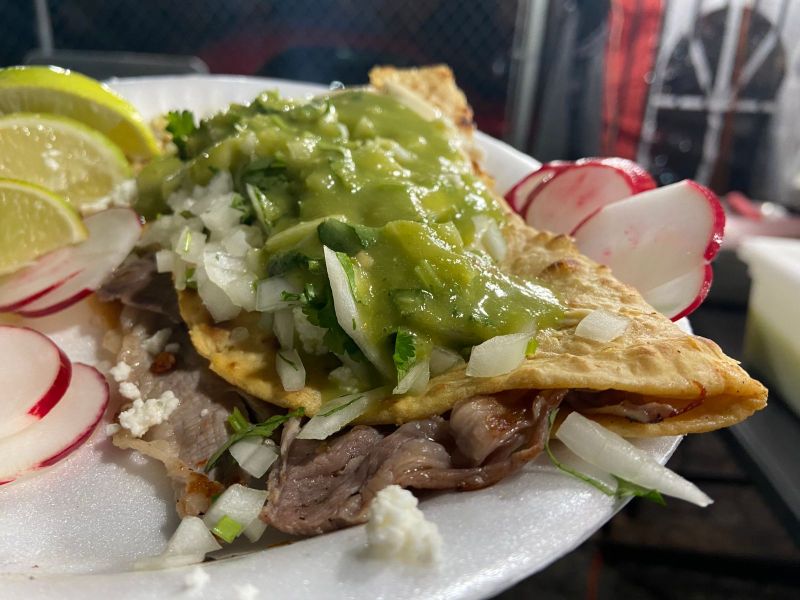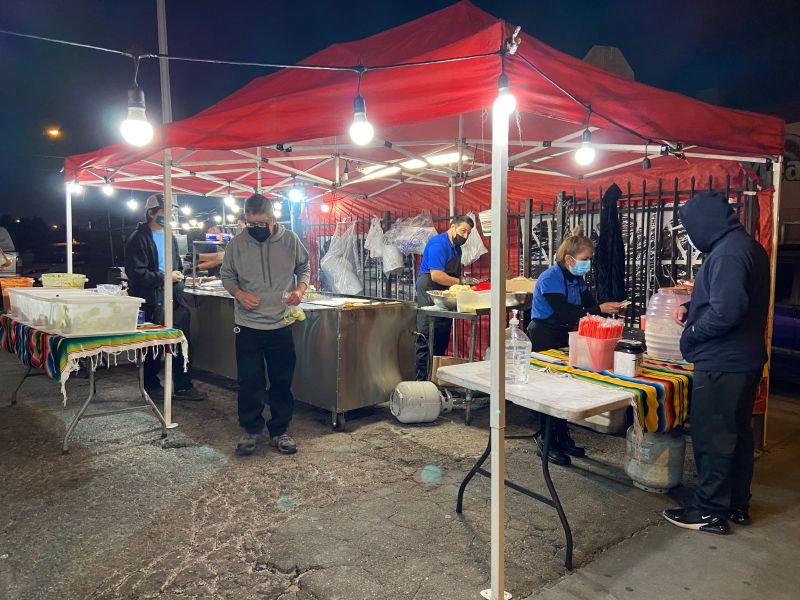 All of us dream about that love that feels like it's one of a kind. If that vato is mediocre, forget that foo like you'd forget a bad taco. At Tacos San Juditas, you won't have this problem. You'll feel that one-of-a-kind love instantly when you smell the burning mesquite charcoal and feast your eyes on their taco de costilla. You may have liked to bite on your exes lips, but you'll forget about them when you bite into these juicy beef ribs. In the mood for a kick? Taste their perfectly spicy taco de chicharrón en salsa. The meaty pork skin engulfed in salsa will make you forget you were tripping about a guy and remind you it's more worth it to trip over a good taco instead. If you're in the mood for more than a taco, we encourage you to indulge in their burritos, they're bigger than your exes biceps and will satisfy you, too. 
4740 E Olympic Blvd. Los Angeles. CA 90022
11636 Cedar Ave. Bloomington. CA 92316
2400 E 1st St Los Ángeles. CA. 90033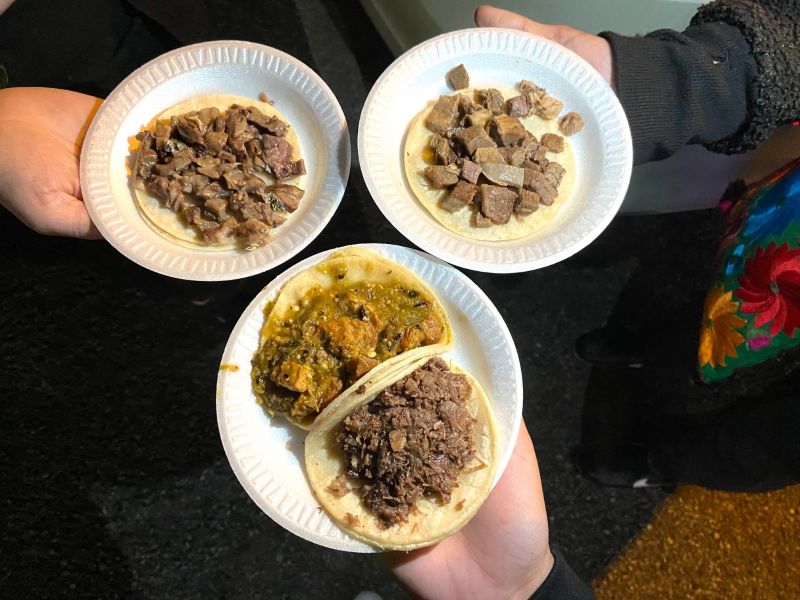 Want a hot and steamy experience without the bad relationship? Visit Tacos Al Vapor El Canelo. Upon picking up a taco de vapor made in La Barca, Jalisco-style, the warmth from the steamy tortilla and perfectly steamed meats will envelop you in a comfort better than any wack foo's hug. Aside from the warmth, at Tacos El Canelo, you have some tasty meat options to enjoy, like their tacos de labio (beef lips), the fatty kind that will arouse your taste buds and stimulate your nerves. The best part? These scrumptious lips are the kind that won't cause you to second-guess yourself. Also, why wait for someone to kiss you on the cheeks when you can kiss a taco de cachete (beef cheeks)?
6168 Whittier Blvd, East Los Angeles, CA 90022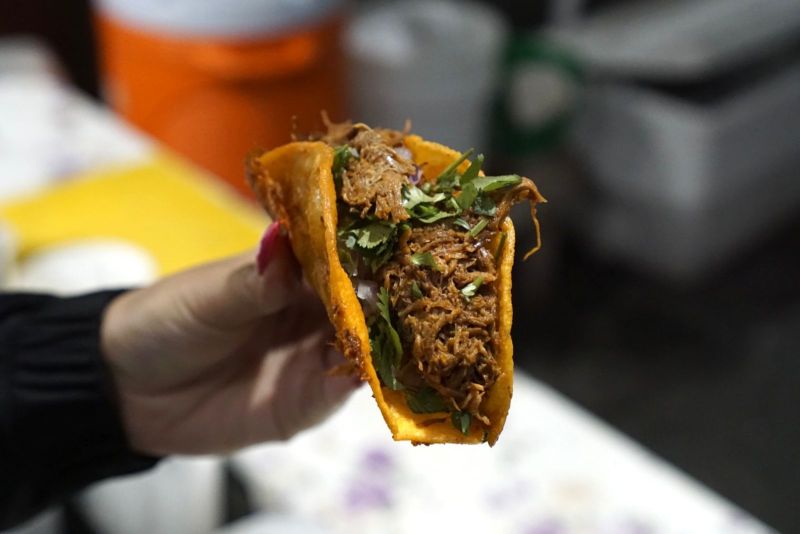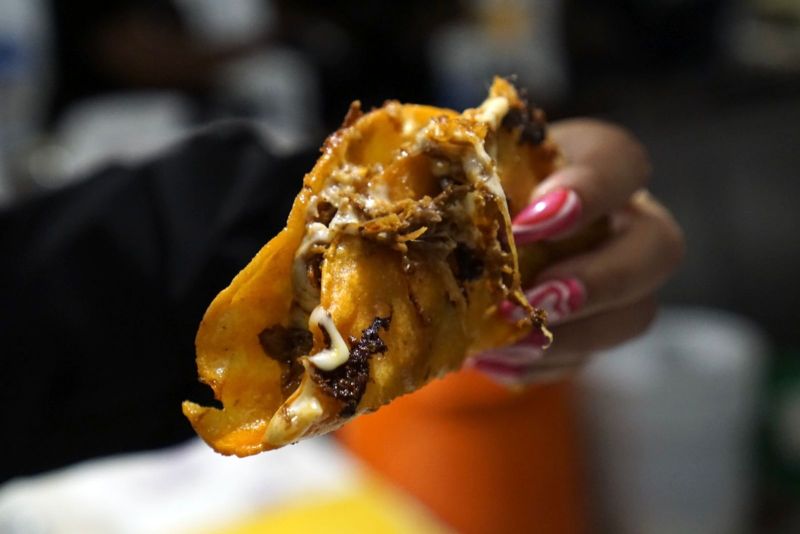 Your ex-man probably lacked in the affection he gave you, and to make up for it, we suggest you visit a taquero who will provide you with the devotion and attention you deserve. Birria Los Socios will leave your heart happy and wanting more after biting into their taco dorado or quesataco. Both are made of tortillas slathered in consomé, warmed or toasted on a comal, and then stuffed with copious amounts of birria de res. Your loneliness will disappear as you hear yourself indulge in the crunch. When eating a meaty, flavorful taco that hits all the boxes, nothing else matters. 
3544 E. 3rd Pl. Los Angeles. CA 90063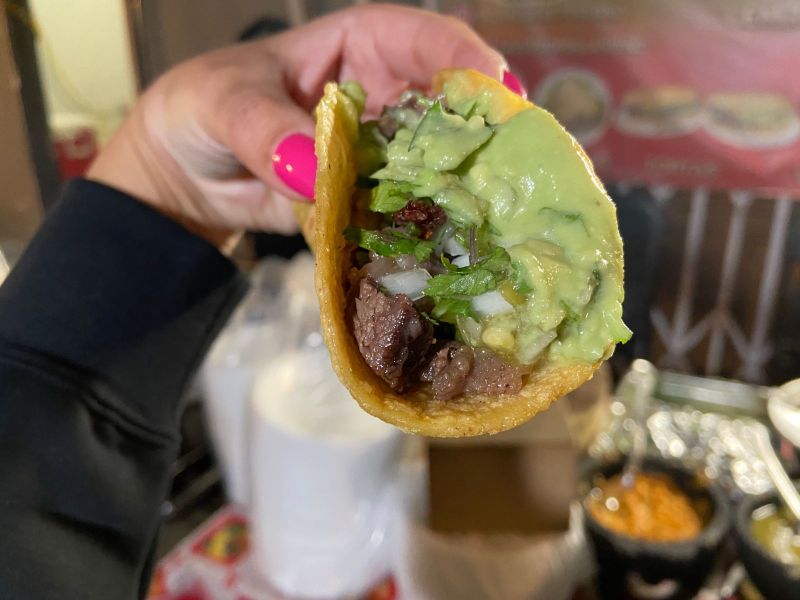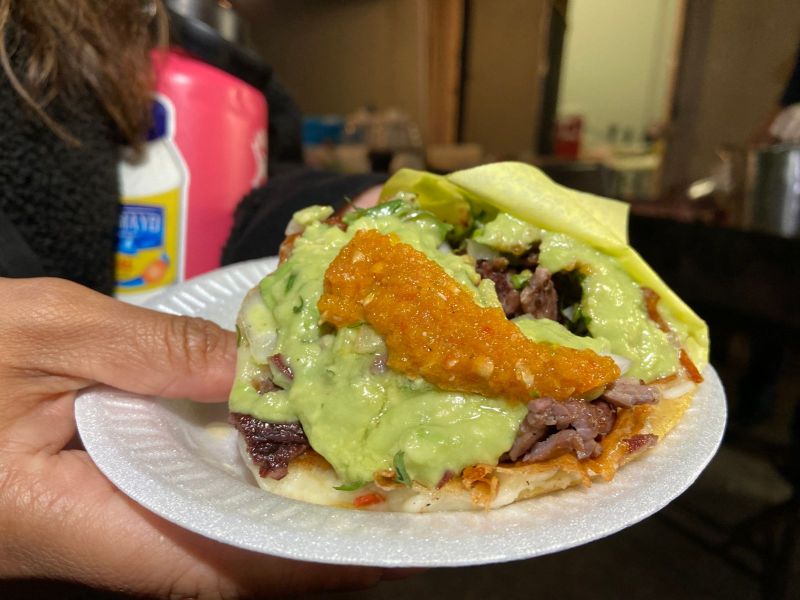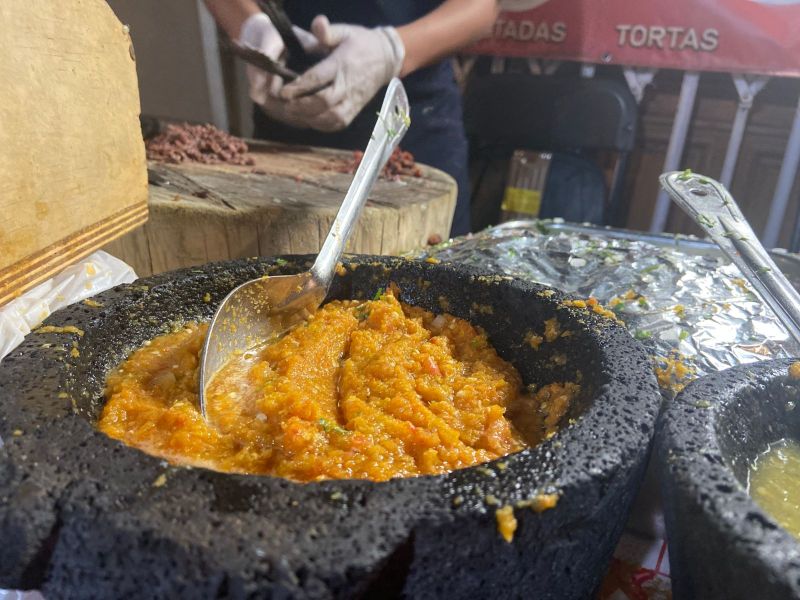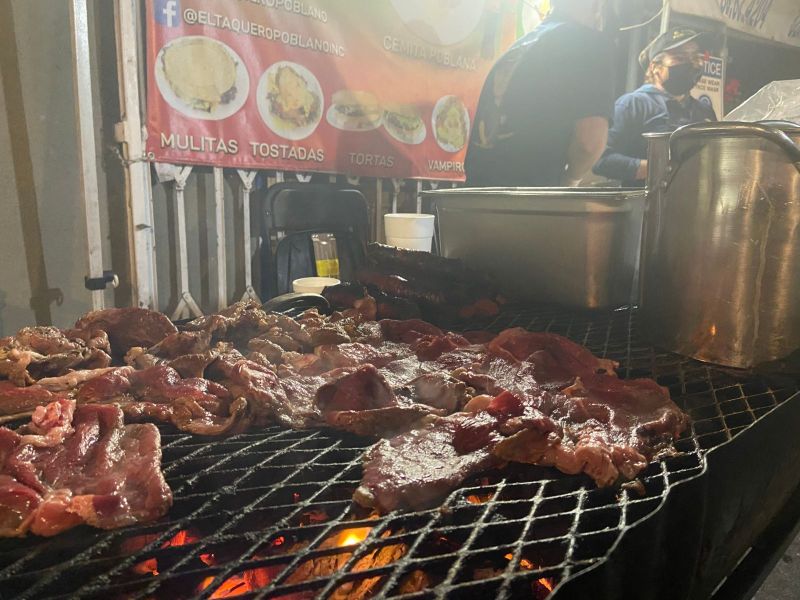 Reminder: Toxic men exist everywhere. However, the taqueros over at Tacos El Poblano have a molcajete salsa made with serrano chiles that is so spicy and flavorful that your tongue will forget any tóxico you entertained before tasting it. It'll destroy your tongue, but not your heart. Pair their salsa with some Tijuana-style tacos, made with love on a handmade corn tortilla, filled with mesquite-grilled meat, and a slab of guacamole more attractive than your ex could ever be. We recommend the cabeza for a broken heart. The tender, collagen-filled meat will cause a twinkle in your eye and remind you that tenderness can come from something more than a relationship.
43717 Division St. Lancaster, CA. 93535
38235 47th St. E Palmdale, CA. 93552
3521 E 4th St. Los Ángeles, CA. 90063
Any good relationship begins with trust and respect. If the foo you're sad over couldn't give you that, the taqueros over at Carlos' Tacos definitely will. They are known for their suadero and tripas, which becomes instantly apparent when you see the respect the taqueros have when grilling and cooking the meat in its glorious fat. The crisp on the tripas will haunt you long after you eat them, and the soft suadero is cooked so perfectly and slowly that the bite of it will make you feel like it's just you and the taco on that street corner and no one else, like that good high school-style love.
518 S Indiana St Los Angeles, CA 90069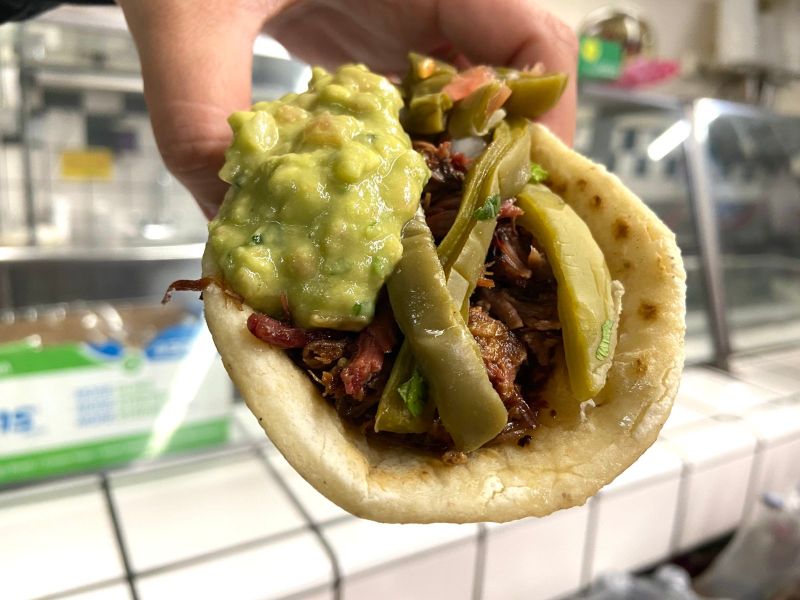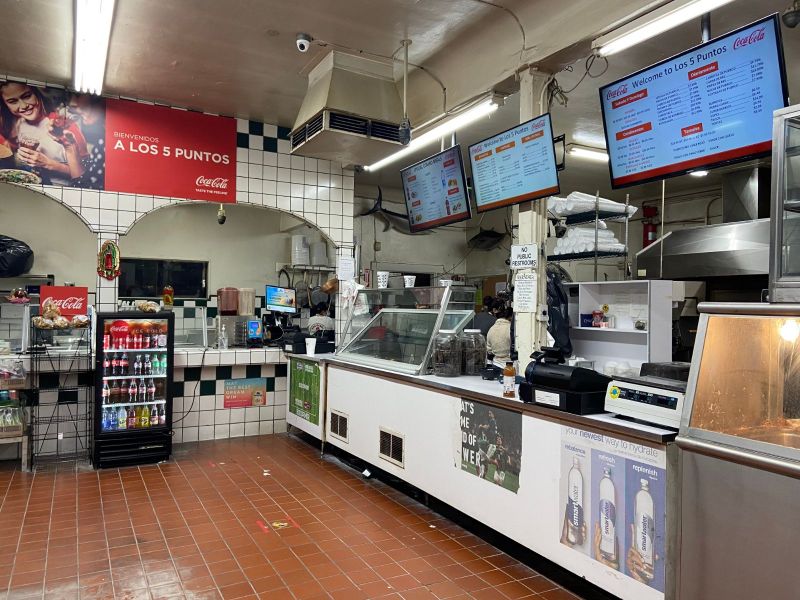 A perk of having a partner to come home to is that sometimes they have dinner ready. However, sometimes they forget, are too busy, or don't feed you at all, ever.  Don't fall for this kind of trap. Visit a taco spot that provides that homemade flavor in every bite without the tears and hours-long wack arguments. At the famous Los Cinco Puntos, the deli counter is filled with options to satisfy your taste buds and your heart. The carne de res taco tastes as if your abuela roasted a beef shoulder herself in the oven and made a taco especially for you. The beef is simmered in spices that will make you feel like you're enjoying a meal only cooked for special occasions. Treat yourself to date here, the guacamole is always fresh, and the taqueros will never forget to ask how you want your taco dressed perfectly. 
3300 East Cesar E Chavez Avenue, Los Angeles, CA 90063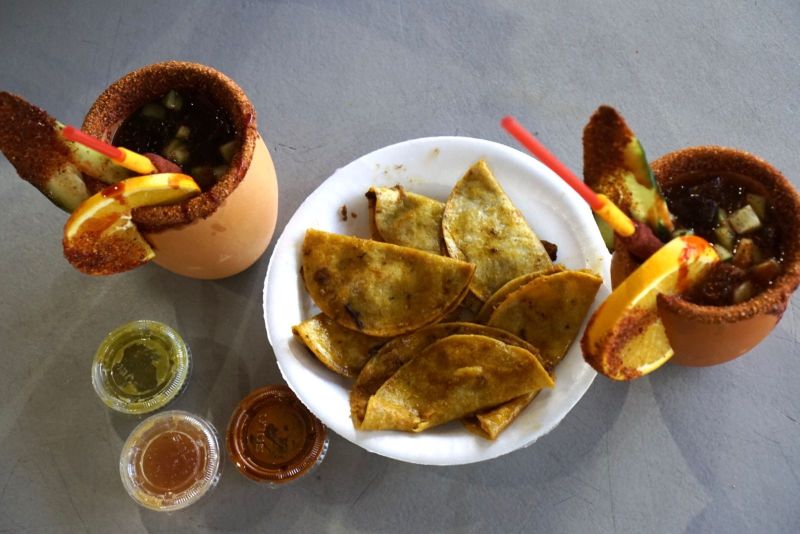 Are you tired of asking your boo to take you on cute picnic dates? Complete with good meals and drinks? Ditch him like you would ditch 6th period and take yourself and your homegirls to La Salsa Tacos De Canasta. They have a special basket made of a reed similar to bamboo, filled with stacked tacos waiting JUST for you. Tacos de canasta are distinctively unique because of the ways they're carefully prepared and cooked. The taqueros at La Salsa prepare the taco fillings of beans, potato, stews of chicharrón, and chorizo con papa in the late night. After cooking the stews, they wake at dawn to lather the tortillas in them and then fill them with each respective filling. They then stack the tacos carefully in a basket lined with towels and plastic that support insulation. Once stacked, a combination of piping hot rendered lard and spices is poured over the tacos, and then the basket is sealed for hours. We bet your ex foo's love wasn't as intricate as the preparation of these tacos.
1285 S Maple Ave. Los Angeles, CA. 90015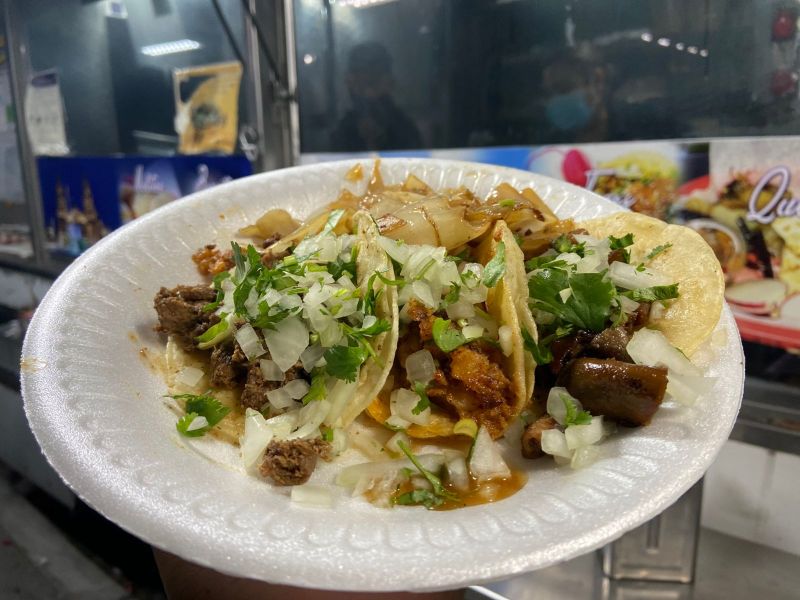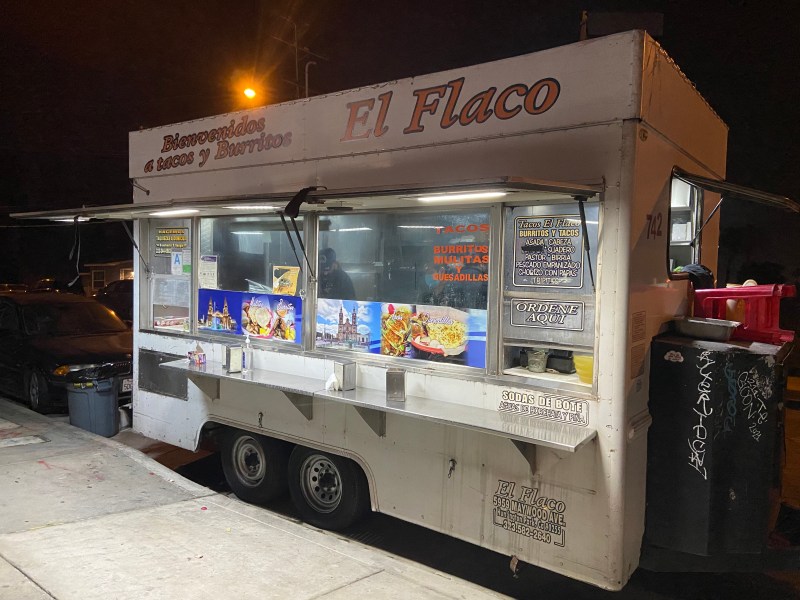 Why call your ex when you can call Tacos El Flaco for a pick-up order instead? There's something special about a taco truck that can whip up a papas con chorizo on a late night. Real ones know that late-night papas con chorizo satisfies a particular craving after a late night of drinking and warms the heart with love and joy. Our other favorite meats are the asada, which always tastes perfectly marinated, and their tripas, which you can ask for extra crunchy. You may not have felt cared for with your ex-foo, but the taqueros at El Flaco also always provide the extra touch with their grilled onions and chiles de árbol for that sweet crunch and extra hot kick.
3875 E 3rd St. Los Angeles. Ca. 90063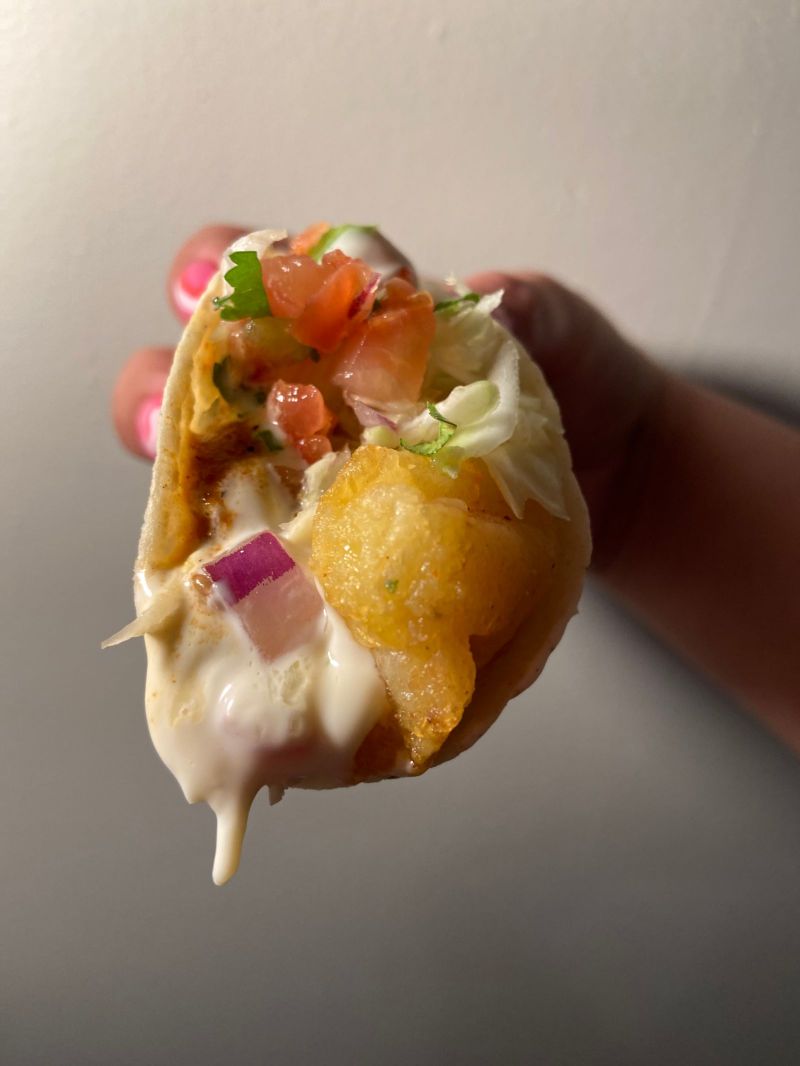 After a tragic breakup or being disrespectfully ghosted, the one thing that eases the pain is a getaway. With COVID and all, we suggest you head over to Tacos Ensenada! The fish tacos at this shop will make you feel like you're at El Malecon in Ensenada, Baja California, smelling the ocean, sun shining in your face, and michelada in hand without a care in the world. Each bite of the taco is evidence that the taqueros took their time to batter carefully and fry perfect pieces of fresh fish. They care about you at Tacos Ensenada more than any fake foo could. 
5161 Pomona Blvd, East Los Angeles, CA 90022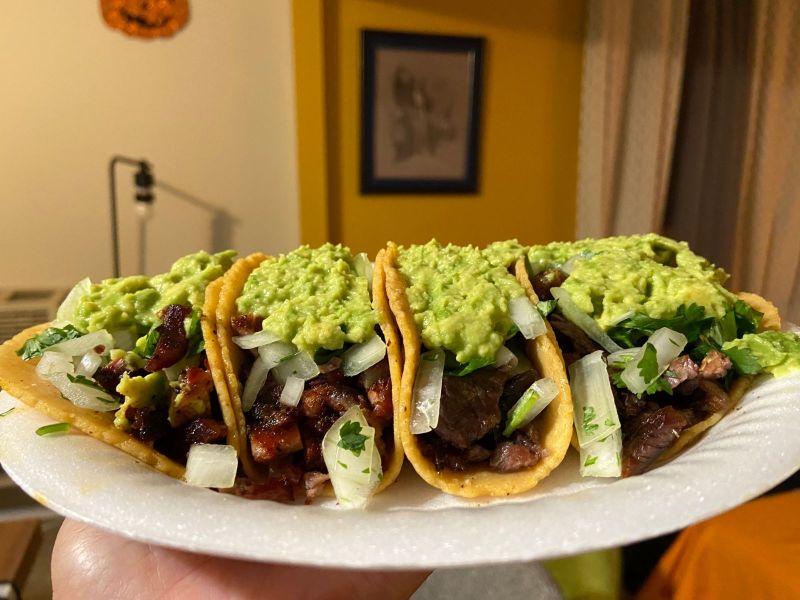 An amorcito corazón and precious lover will never forget the details you share about yourself. If he doesn't, then you deserve better. You deserve people like the owners of the Tacos Don Pollon truck in your corner. Whether it's a warm greeting, great conversation, or a casual chat, this taco truck makes you feel like you're more than a hungry customer. The Tijuana-style tacos that the taquero whips up are the kind of tacos that stimulate all of your senses and make your mouth water at first whiff. The grill is carefully positioned on the side-walk right next to the truck as if the taquero wants the smell and fire to graze your cheeks romantically. Get your hands on their vast tacos stuffed with flawlessly charred meat, thick and chunky guacamole that not watered down like the "love" he gave you. Don Pollon is comforting and consistent, two things your ex couldn't be.
440 S Atlantic Blvd East Los Angeles CA. 90022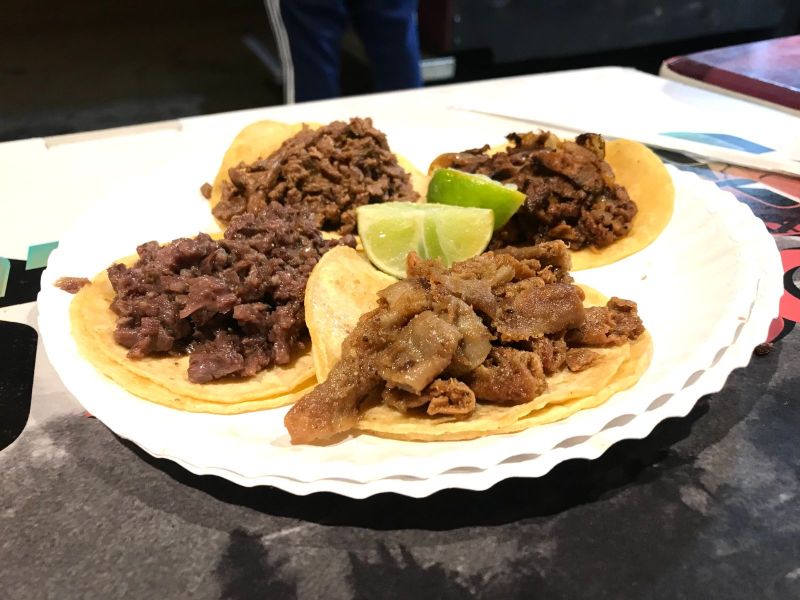 Feeling lonely without a partnership can hurt. Most days, sad girls just want to be seen, loved, heard, and appreciated. The taqueros over at East Los Tacos will make you feel like a million bucks with the way they prepare your tacos. Don't let no wack foo make you feel less than, you deserve the meatiest, tenderest, most flavorful tacos and East Los Tacos delivers with soft and lightly greased tortillas and your choice of graciously seasoned tripas, lengua, asada, pastor, pollo, or cabeza. Thinking of cutting out carbs like you cut off your ex? They also have a delicious keto taco where a blanket of crispy griddled cheese replaces the tortilla. Skip the tortilla and let those taqueros get cheesy witchu!
4500 E Cesar E Chavez Ave, Los Angeles, CA 90022
Whether you try all 13 or not, this guide is evidence that true love does exist, and it is found between fresh tortillas and salsa; in the hands of the sometimes handsome but always endearing taqueros that work endlessly to make sure you're happy.
Don't go back to that wack foo, forget him and spend time with things that matter in life; tacos, forever. 
Laura is a desmadrosa, a product of East Los, an educator, and a hood establishment connoisseur.
Read More:
Stay in touch
Sign up for our free newsletter