Film
This Is the Century City Skyscraper That Became a 'Leading Man' with Bruce Willis in 'Die Hard' ~ 30 Years Later
5:41 PM PDT on July 12, 2018
[dropcap size=big]A[/dropcap] Rubik's Cube-like office building in the style of Late Modern architecture towers over Century City on an overcast Sunday morning. The streets are empty. The surrounding office buildings are closed, and the gates of the nearby Fox Studios parking garage are rolled down.
It's the middle of July 2018, but it might as well be the fictional Christmas of 1988, and there might as well be pandemonium breaking loose on the upper floors of the 34-story building, where East German terrorists have invaded a company Christmas party. No help is on the way and no one in the immediate area suspects anything out of the ordinary. But don't worry, "John McClane" is loose somewhere, terrorizing the terrorists.
Thirty years ago, this building, Fox Plaza became one of the most recognized filming locations in the history of motion pictures, when it was converted into "Nakatomi Plaza" in the iconic film Die Hard. Sunday, July 15 marks the 30th anniversary of the film's release, again bringing Fox Plaza to the forefront of city's imagination.
The building has become cemented in the minds of moviegoers as Nakatomi Plaza. Though you won't see a Nakatomi logo posted outside the driveway of 2121 Avenue of the Stars today. Fox Plaza is privately owned by The Irvine Company, which declined requests to photograph its interior.
"It's an organism," Die Hard production designer Jackson De Govia told L.A. Taco in an interview. "It was meant to be looked at and regarded in the same way that a leading man takes over a movie. "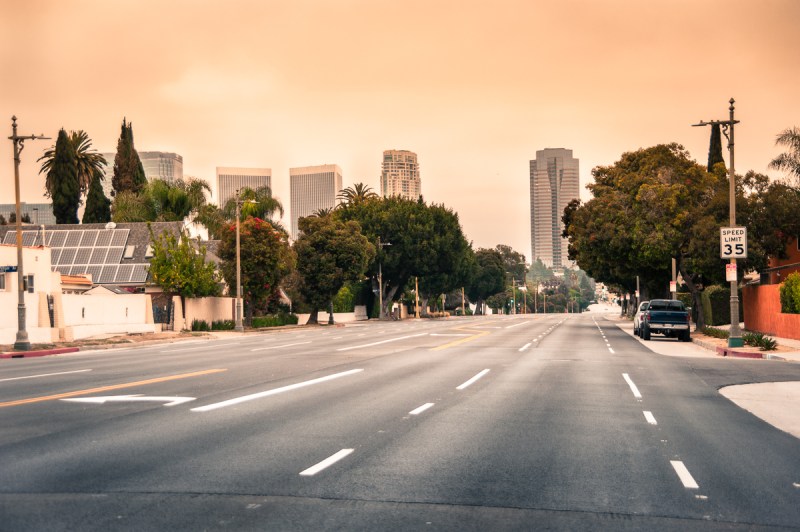 When Die Hard was released July 15, 1988, by 20th Century Fox, single-location films had already been well established. There was the confinement of Greenwich Village apartments in Rear Window (1954) and Wait Until Dark (1967). Then there was the inverted luxury cruise liner of The Poseidon Adventure (1972), and the intimacy of a restaurant conversation in My Dinner With Andre (1981). We felt the claustrophobia of a German submarine in Das Boot (1981), and a frozen Antarctic research station in The Thing (1982).
RELATED: Photographing the Filming Locations of 'Menace II Society,' 25 Years Later
Perhaps most influential on Die Hard was The Towering Inferno (1974). The disaster film, about a raging fire breaking out inside the 138-story Glass Tower, was set almost entirely in and around a fictional building in San Francisco.
Die Hard, however, ran with the idea. Set on Christmas Eve, the film's action-adventure plot was driven by a unlikely hero and set in a central location. It's unique approach resonated with audiences and became a massive hit, creating a sub-genre all its own.
The harrowing holiday triumph of Bruce Willis's gruff New York detective John McClane over a group of terrorists occupying the L.A. headquarters of a Japanese corporation quickly inspired other films about singular heroes in singular locations. The film's worldwide gross of over $140 million on an estimated $28 million budget began a trend of films that were pitched to studios as "Die Hard on a blank." Movies like Under Siege (Die Hard on a boat), and Passenger 57 (Die Hard on a plane) became fairly commonplace. Die Hard's influence can still be felt in movies like the sensational Indonesian martial arts film, The Raid (2011), and the newly released Skyscraper (2018) starring Dwayne "The Rock" Johnson.
However, 30-years later, Die Hard remains a standout due in large part to Willis's on screen magnetism, a super intelligent villain in Alan Rickman's Hans Gruber, and director John McTiernan's unrelenting pacing. And of course, for its iconic building location — Fox Plaza as the fictional Nakatomi Plaza.
On Location
[dropcap size=big]T[/dropcap]he location acts as a personification of the main character as well as the film's main setting. Like McClane's hardened physical presence, Nakatomi Plaza's fortified façade, which Die Hard production designer De Govia referred to as "skin," gives way to a complex series of zigzagging stairwells and cramped air ducts, as well as cavernous ventilation and elevator shafts that work like arteries through the building.
The chaos inside runs analogous to McClane's conflicting emotions of a Christmas reunion with his children and estranged wife, who's being held as one of the dozens of hostages inside Nakatomi Plaza. Until he defeats terrorists intent on stealing hundreds of millions of dollars from the building's impenetrable safe, McClane can't reconcile with his family.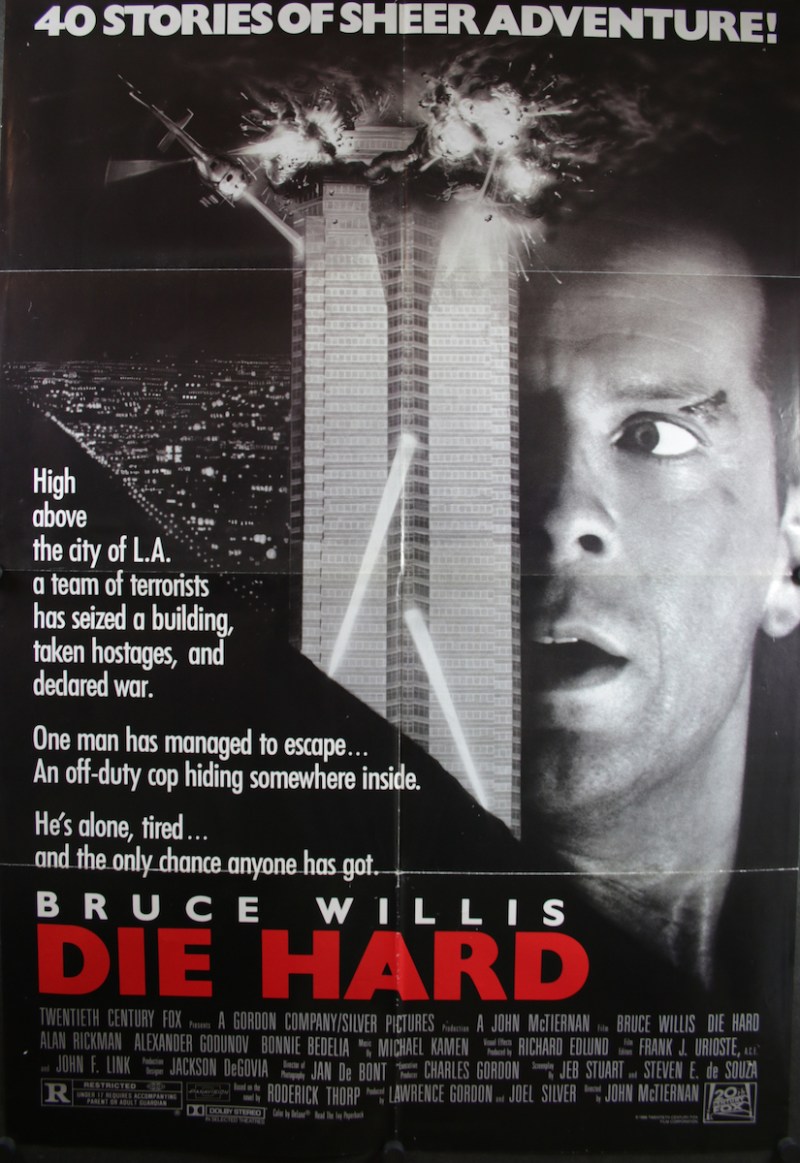 Completed in 1987, Fox Plaza, composed of glass and a rust-red granite exterior, was designed by architects Scott Johnson and Bill Fain under the guidance of noted Futurist architect William Pereira, who designed other L.A. landmarks such as LACMA, CBS Television City, and LAX's Theme Building.
A 1987 Los Angeles Times architectural review of Fox Plaza was somewhat mixed. While criticizing the design of the building's public areas like the lobby – the writer called it "claustrophobic" – the review gave high marks to the exterior. "Not another boxy, boring building in the severe International style, the Fox Plaza is clad in pink-toned granite and gray tinted glass and tilted and angled at the upper floors to subtly reflect light," said the article, which also praised Fox Plaza when comparing it to the surrounding buildings.
"This was the leading man of the buildings in Century City at that time," De Govia concurred.  "For a production designer, that is point one. That's where you start. That's what you look for." De Govia has been a production designer for more than 45 years, working seamlessly between popular action flicks like Red Dawn (1984), Speed (1994), and Volcano (1997), and hit comedies such as Roxanne (1987), Sister Act (1992), and The 40-Year-Old Virgin (2005).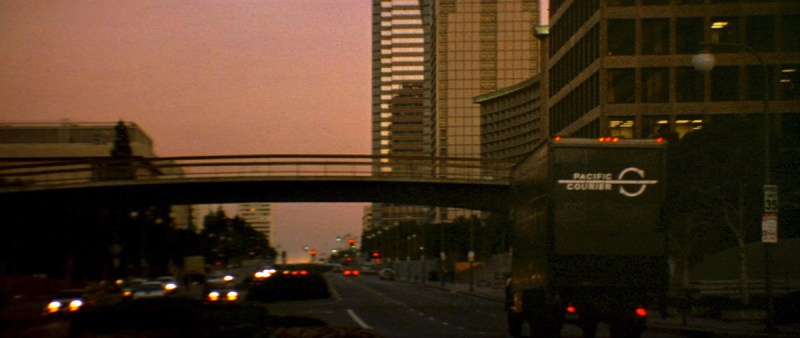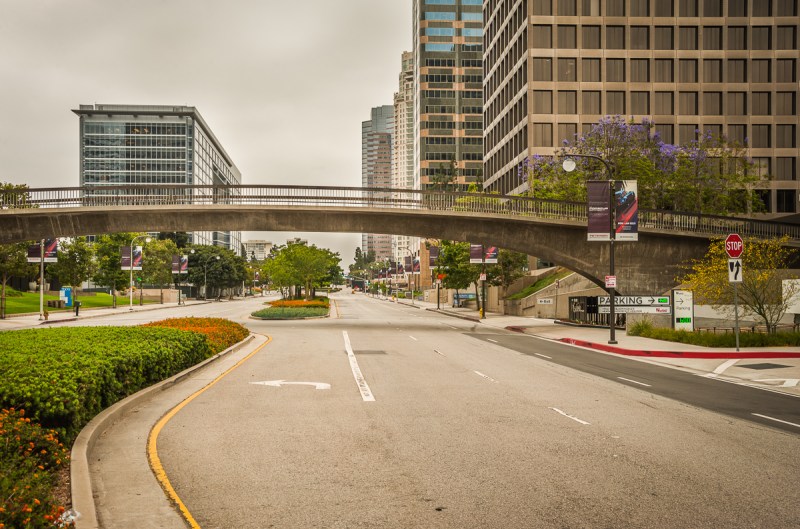 The connection between Fox Plaza and Willis goes even deeper than the metaphorical relationship, as neither were the original choices to appear in the film.
In Sinatra's Footsteps
[dropcap size=big]D[/dropcap]ie Hard was based on Roderick Thorp's 1979 novel Nothing Lasts Forever, which tells the story of NYPD detective Joe Leland fighting a group of terrorists who have taken over the Klaxon Oil Corporation building in Los Angeles. The novel was a follow up to Thorp's 1966 book The Detective, which was adapted into a film two years later and starred Frank Sinatra as Leland. Contractually obligated, the studio offered Sinatra the role that would turn into McClane. Over 70-years-old at the time, Sinatra declined the part.
According to Die Hard: An Oral History by Brian Abrams, Willis was a desperate measure after a number of other leading men passed on the role. Proven box-office action stars like Sylvester Stallone and Arnold Schwarzenegger — the latter of whom had just worked with Die Hard director John McTiernan and producer Joel Silver on Predator — turned down the McClane role. The hit comedy TV series Moonlighting had put Willis on the map, but he had only starred in two films prior to Die Hard: Blind Date and Sunset, neither of which were hard-hitting, tent-pole action films. Today, we can't think of Die Hard without Willis's no-nonsense, charismatic performance much in the way we can't think about the film without Fox Plaza.
RELATED: Watch TAG, a Short Film About a Young Graffiti Artist On the Run in Los Angeles
Though the novel on which Die Hard was based is also set in Los Angeles, the Klaxon Oil Corporation of the book was changed to the Nakatomi Corporation, speaking much more to the time in which the film was produced. The Japanese economy was thriving in the 1980s, having been largely rebuilt after taking severe hits during WWII. In the 80s, Japanese companies were scooping up American assets like Columbia Pictures, Rockefeller Center, and Firestone Tire & Rubber Company. That being said, had the film stuck with Klaxon Oil, it may have been a better fit if the filmmakers proceeded with their initial idea for a location.
De Govia said that when he came on the film, the producers were considering an empty office building in Houston. "The first thinking had been, 'Yeah we need to have the whole building,'" De Govia recalled. Going out of state, however, didn't seem financially practical. "One of the things that was dispositive in the Die Hard question was that it was made with very little time." Filming in Texas would have made it imperative to fly cast and key crewmembers to the location and house them there. Equipment would need to be shipped. Certain set pieces would need to be constructed in Los Angeles and sent to Houston because most of the industry's film artists, technicians, and state-of-the-art production facilities were based in Hollywood at the time.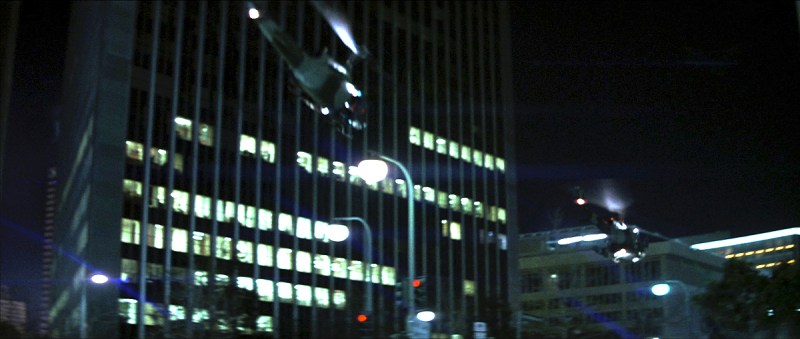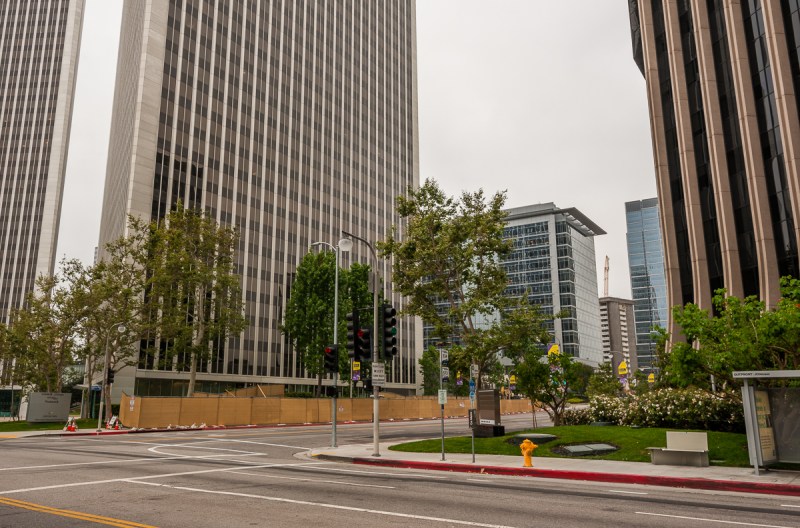 Century Park East and Constellation Boulevard, July 2018. Photo by Jared Cowan.
"One of the problems at that time, we didn't have the same location culture that we do now," said De Govia. "In other words, now you have different centers of film production, Atlanta being the [most] well known. Canada has gotten pretty sophisticated. But at that time, Hollywood was the place to be, and for very good reason, because it was the spot where the motion picture industry in America had been developed for [almost] a century."
Though Houston itself would have been a cheaper place to film, more time and money would have ultimately been spent. They decided to bring Die Hard back to L.A. For the creative forces behind the film, the move also made sense for the story. Geographically, a Japanese company setting up an American headquarters in Los Angeles was far more congruous.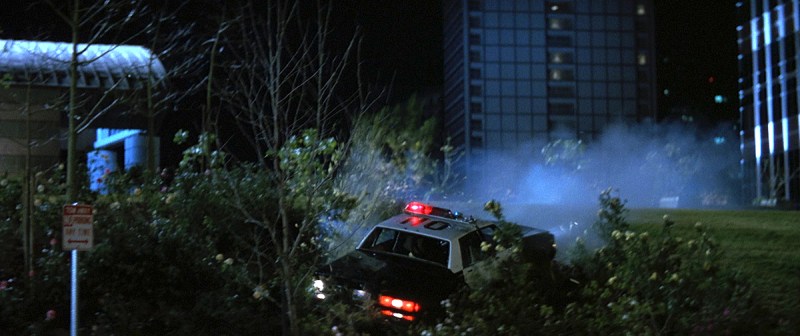 Creating Nakatomi Plaza
[dropcap size=small]A[/dropcap]fter scouting Fox Plaza, it was an obvious choice according to De Govia. Under control of 20th Century Fox, the building was walking distance to the studio, which afforded the filmmakers convenient access to soundstages, workshops, and technicians, as well as parking and a commissary. "Why would you want to go to Houston?" De Govia asked. "There was this perfectly lovely tower, quite striking, isolated enough; it wasn't lost in a 'forest'. It was new, it was up-to-date, it looked exotic, and there were a lot of empty floors because it wasn't completely inhabited yet."
The empty floors gave De Govia a blank canvas in which to compose a complicated jungle-like environment that he compares to something out of a Tarzan film. "Tarzan's not running along the ground. He's swinging through the trees; he's climbing the vines; he's jumping; he's up there where you don't expect him to be." Like Tarzan's jungle, Fox Plaza would provide McClane a fighting chance to prevail against Gruber and his associates.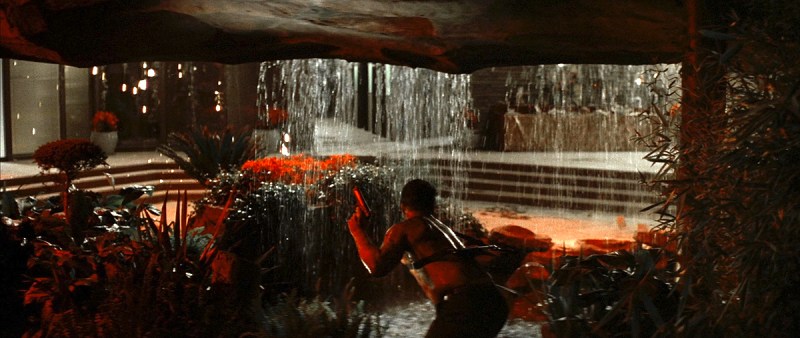 Nakatomi Plaza's beating heart, its atrium, was built as a set inside Fox's Stage 15, one of Hollywood's largest soundstages. It incorporated aspects of Frank Lloyd Wright's Fallingwater, the idea being that the company acquired the architect's organic, domestic masterpiece, disassembled it, and put it back together on the 30th floor of Nakatomi Plaza.
In order to best convey the geography of the building, the atrium, empty floors, executive offices, lobby, and maintenance areas each had to possess their own particular sense of character. The office of chief executive Mr. Takagi (James Shigeta), the "samurai warrior" of Die Hard who died, nobly, rather than surrender the safe's combination to Gruber, was embellished with Japanese architectural motifs and other Asian-inspired artifacts. The Terracotta Army had been discovered and excavated in China in 1974. De Govia modeled three life-size statues out of plaster that closely resembled the clay figures and placed in Takagi's office.
"When Bruce threw that guy through the window he was being watched by three fellow samurai," De Govia said.
The Nakatomi corporation logo — a series of asymmetrical blocks, zig zags, and a trio of circles — was inspired by the helmets of samurai armor as well as the jutting angles of Fox Plaza's exterior, which reminded De Govia of the sigil of a Japanese military clan.
"The shōgun's stamp is what it is," De Govia noted. "You have to reflect where you are. What that does is, it flips it. In other words, it makes the building that exists grow out of the design." The graphic, still popular to this day, shows up on T-shirts and was featured in the 2002 video game for Nintendo GameCube, Die Hard: Vendetta, which included other elements of the location, like the lobby.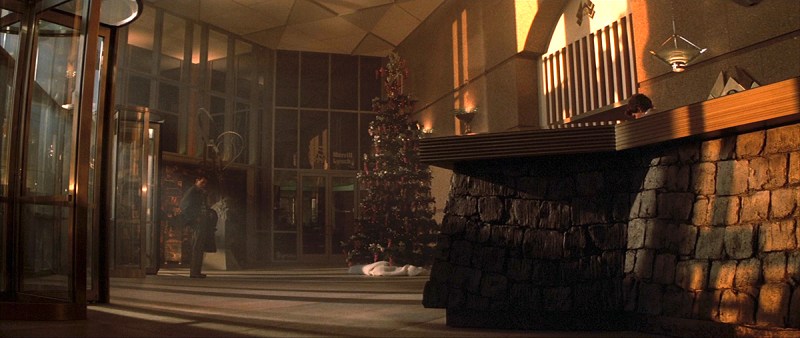 Making a Fortress
[dropcap size=big]A[/dropcap] Japanese military architectural technique called ogi kobai — "fan sloping" — integrated into famous Japanese castles like Nagoya Castle and Himeji Castle was adapted into a stone reception desk added to the Fox Plaza lobby.
"They would build a rock wall that you could possibly climb up – it's not shear – but if you do it doesn't offer you any cover from arrows," De Govia explained. "It's a very Japanese idea: you design the building so the enemy attacks it the way you want them to." Like the castles in Japan, in which stone walls slope outward from top to bottom, the sides of the reception desk taper out as they get closer to the lobby floor.
Final touches added to the lobby included drop-down, steel security gates that closed off the elevator banks and sealed Nakatomi Plaza from an approaching SWAT team. "Suddenly, [the building] became a fortress at war," De Govia said.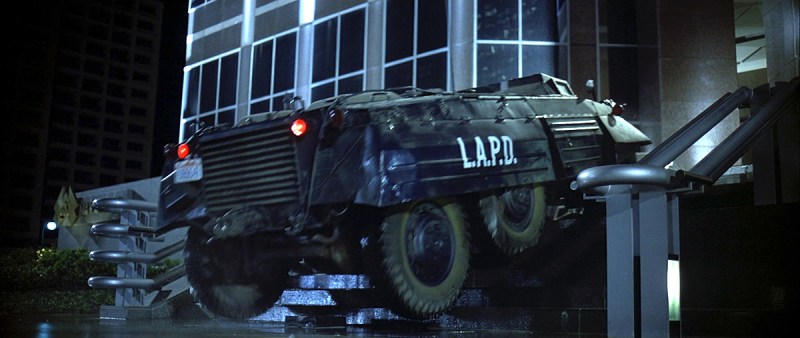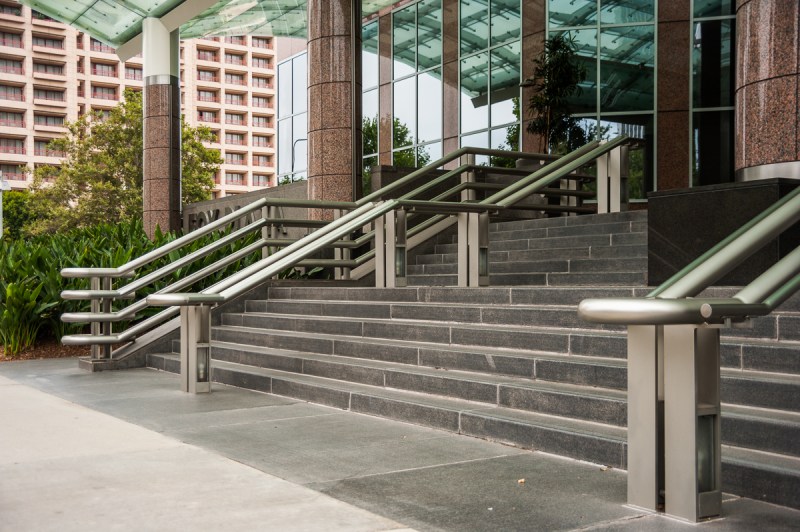 The filmmakers also used an adjacent construction zone, complete with concrete and steel reinforced columns, which when completed would become the Fox Studios parking garage at the end of Galaxy Way. "It looks like after a battle or during a battle, which is exactly right," De Govia said of the film's police staging area.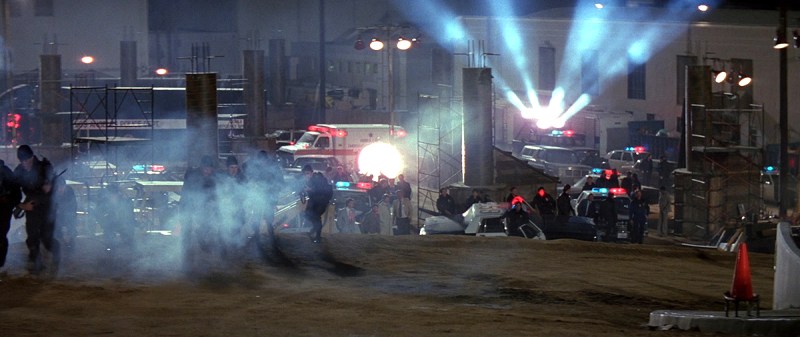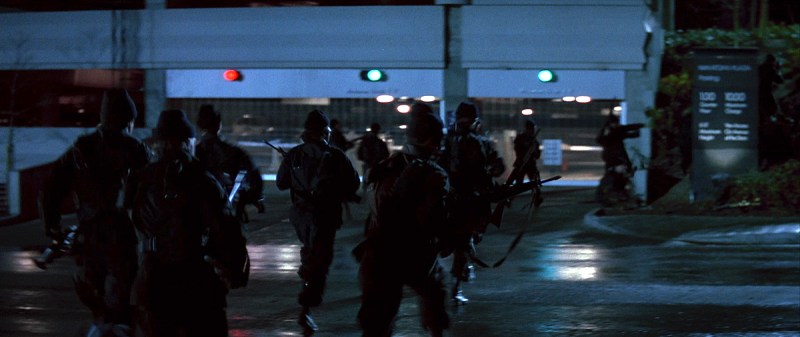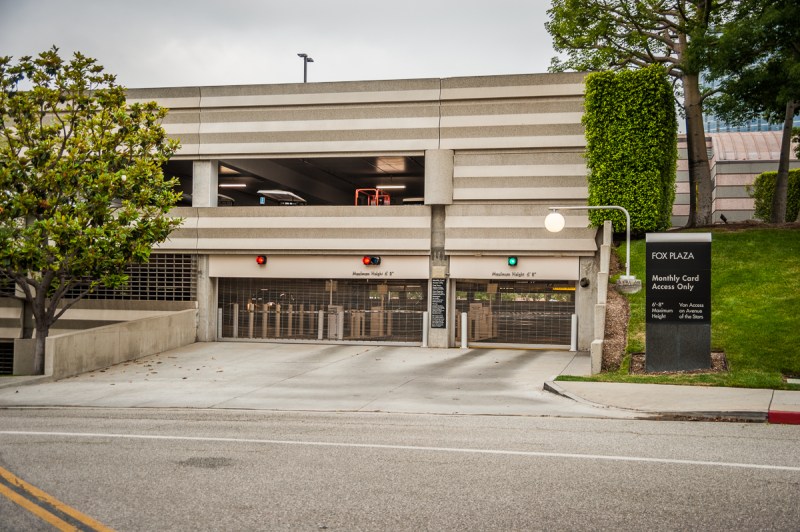 Nearby on Olympic Boulevard stood an ARCO gas station with an AM/PM convenience store that had a direct line of sight of Fox Plaza. The location made it so that when LAPD Sgt. Al Powell (Reginald VelJohnson) — McClane's only ally outside the walls of Nakatomi Plaza — got the radio call to investigate the building, the police officer could leave the store, walk to his patrol car, and look up at the tower. Today it is a Goodwill Donation Center.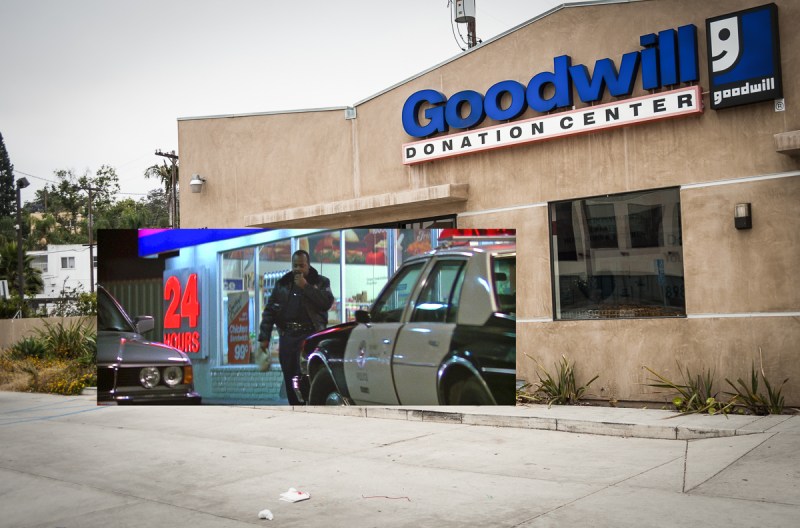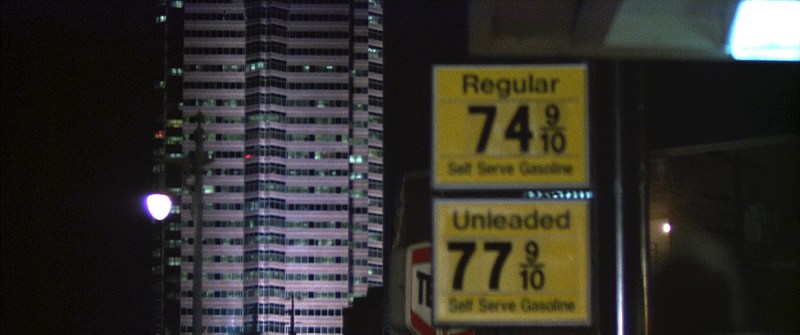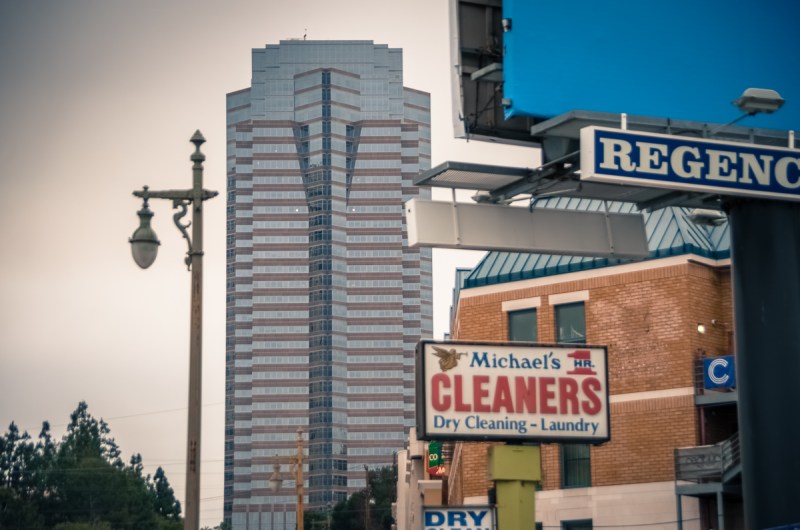 Though a couple of other locations were used – the arrivals hall at LAX's Tom Bradley International terminal and the McClanes' house, chosen for its distant view of Fox Plaza – the film will always be about the Century City office building. De Govia called the use of the Fox Plaza "a great production achievement."
The building was 75 percent occupied at the time of filming. Luckily for the filmmakers, the story took place mostly at night and the 9-to-5 crowd had gone home. "You couldn't have done that building in the daytime [with] all the stuff we did," De Govia explained. Some of that "stuff" included Willis riding the top of an elevator in the building's actual elevator shaft. "There weren't a lot of executives around at 3 o'clock in the morning telling us what to do," De Govia laughed. "We were playing in the night. We were the bad kids. We were the ones who snuck out of our bedrooms and had taken over the town."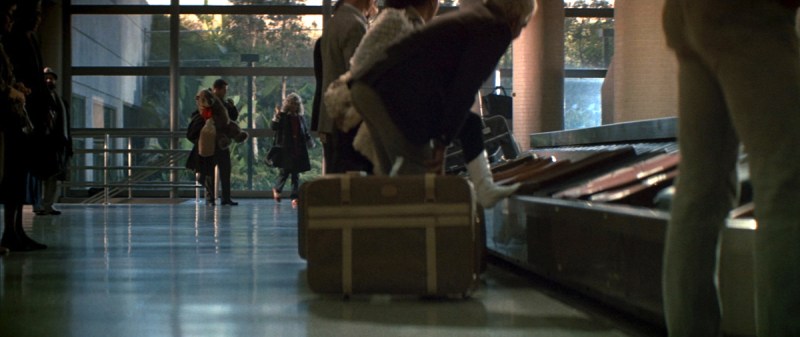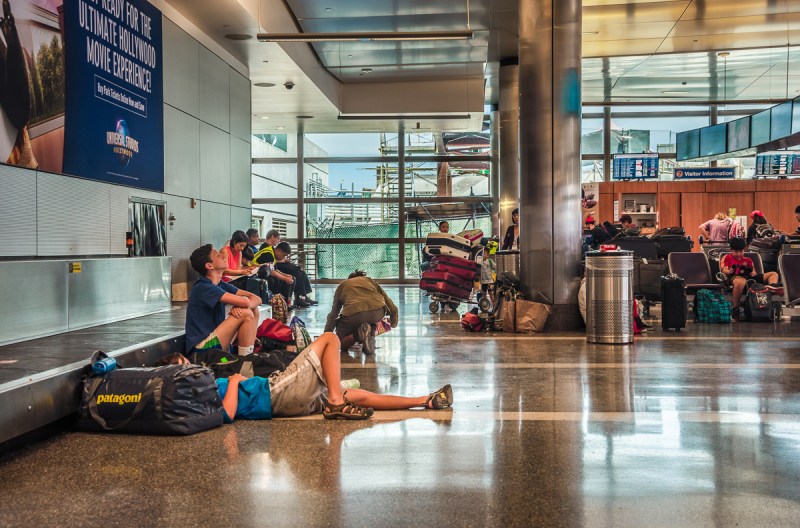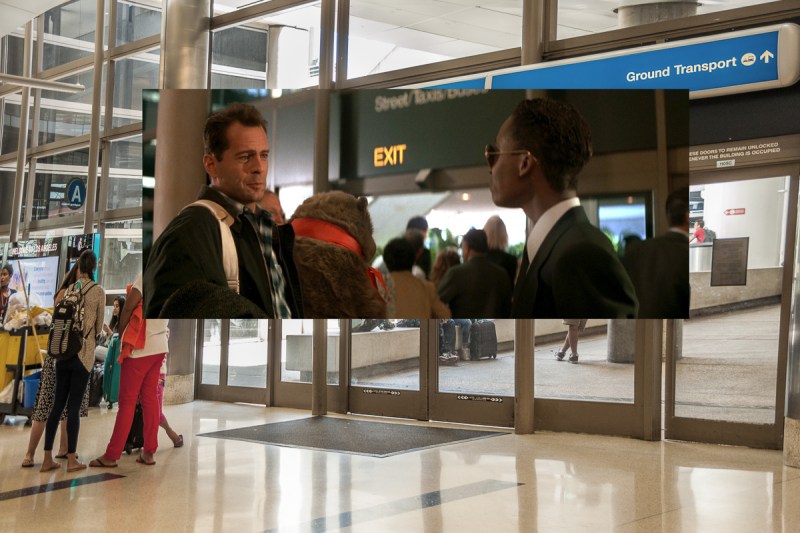 After Die Hard
[dropcap size=big]S[/dropcap]ubsequent to Die Hard, Fox Plaza has shown up minimally in other films. Airheads (1994) used the plaza and parking structure as KPPX Rebel Radio in what was another single location movie with a hostage scenario, though a comedy. It was also seen as one of the Century City buildings blown up in the explosive climax of Fight Club (1999), a sort of meta tribute to Die Hard. Both films were Fox productions.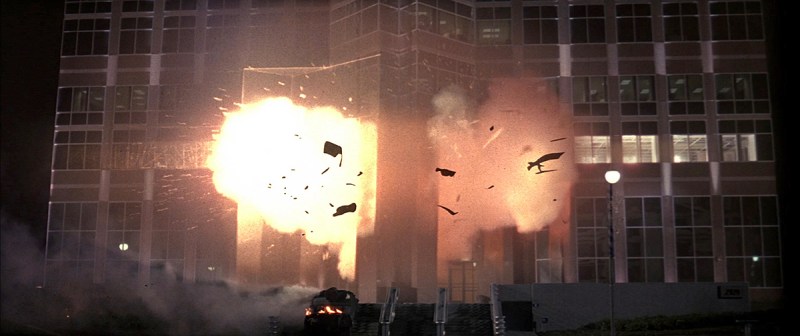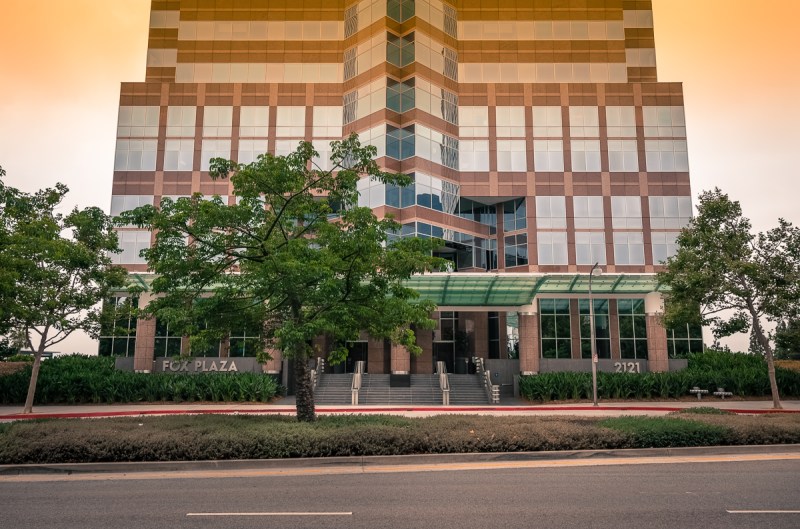 Shortly after Die Hard wrapped, former President Ronald Reagan famously moved into a suite on the building's top floor, where he would go to work for close to a decade.
De Govia, who hasn't been inside the building since shooting Die Hard, said, "Unlike most movies, it doesn't live through catholicity of locations,  so all the variety has to take place in the building. The thing about that building was it had variety."
And today, if you visit Century City on a quiet Sunday morning, it might be just still enough to hear a voice on the wind whisper, "Yippee-ki-yay, motherfucker," and you'll know that all might be not what it seems inside Fox Plaza.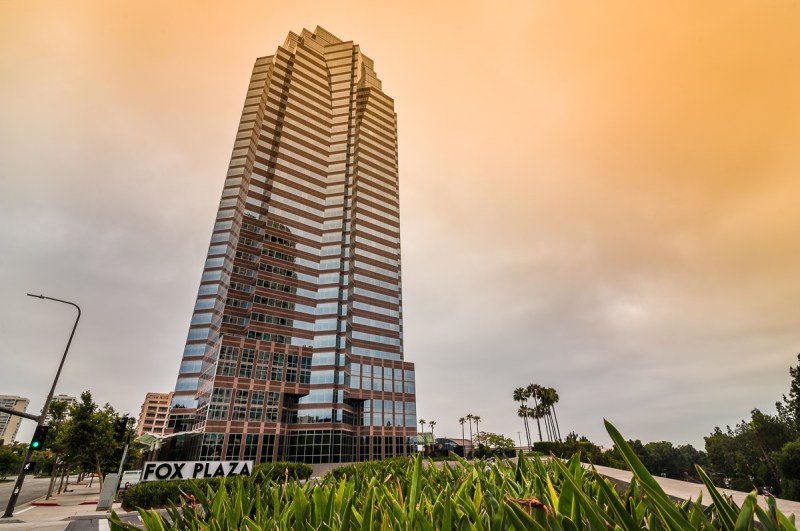 Photo by Jared Cowan.
RELATED: How Quentin Tarantino and 'Jackie Brown' Made the South Bay a Star
Reminder: Fox Plaza is located on private property. 
Jared Cowan writes and podcasts about L.A. filming locations. He also works as a photographer and camera operator.
Stay in touch
Sign up for our free newsletter