Food
Spot Check! Burritos La Palma Now in Highland Park, Beef Cheek Pastrami Tamales, Filipino Tortas, and THC Ketchup
2:23 PM PDT on March 28, 2023
Spot Check! Welcome to L.A. TACO's latest column, where we bring you the latest and most exciting openings, pop-ups, finds, and food events around all of Los Angeles this week. Because the newer the spots, the downer the food…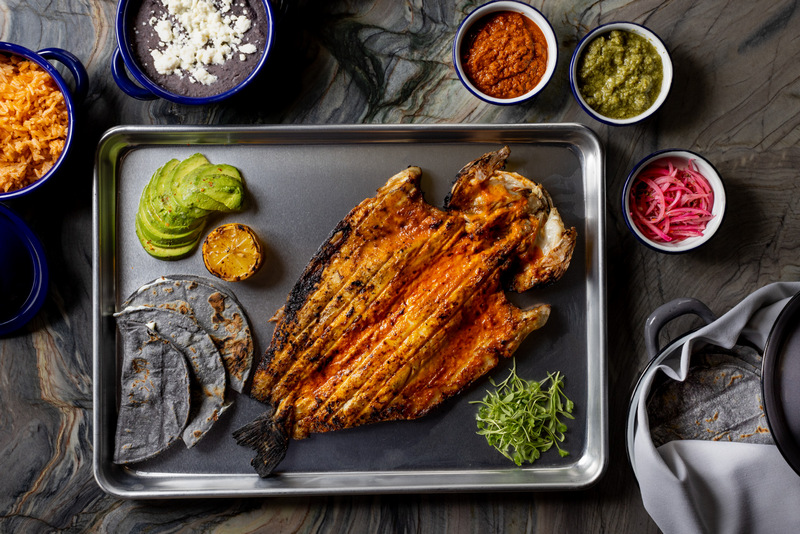 Loreto - Barra de Peninsula is now open in Frogtown/Elysian Valley from the owners of Downtown's LA Cha Cha Cha. Inspired by the coastlines running along Mexico's Sea of Cortez, the concept spans Baja, Sonora, and Sinaloa and imports all of its seafood from Baja (except Maine lobster). Executive chef Francisco "Paco" Moran's menu includes eye-catching dishes like "Ceviche Magdalena" with honeydew, yellowtail, and Maui onion; mariscos towers; aguachile negro y rojo; prawn tacos with bacon morita aioli and pineapple; lobster tortas ahogadas, elote with uni; and octopus, lobster, shrimp, and pescado zarandeado. 1991 Blake Ave. Los Angeles, CA 90039
El Capitilano Mx is a recently opened truck in Lennox specializing in deep-fried quesadillas. You'll find it between Jet Strip and the Inglewood library, so no matter what you're doing over there, you can get quesadillas fritas made with fresh, hand-pressed masa, with fillings like chicharron, asada, rajas, and chicken tinga. The menu also has pambazos, sopes, and tostadas de pata (cow's foot). Flautas de tinga are available off-menu. Thurs-Sun. 3-9pm, 10624 Hawthorne Blvd. Lennox, CA 90304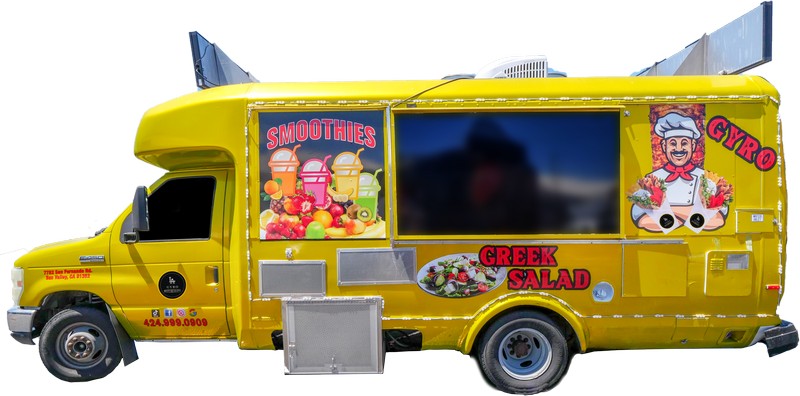 A gyro-slinging party bus is parking its wide load in Glendale these days under the official name LAGyro. The menu combines Soviet Armenian, Ukrainian, Russian, Greek, and U.S. fast food influences revolving around marinated chicken thighs and pork shoulder gyros, as well as chicken, beef, and pork shawarma, available in pita wraps and what the owners call buggata, or sandwiches on baguettes. There are also chicken nuggets, Greek salad, the Armenian yogurt and herb drink known as "tan," and okróshka, a cold raw root vegetable soup popular in Ukraine and Russia. Speaking of which, fuck Putin. For the less adventurous, French fries, Philly cheesesteaks, and chicken nuggets are also available. 11 am-11 pm, 1717 W. Glenoaks Blvd. Glendale, CA 91201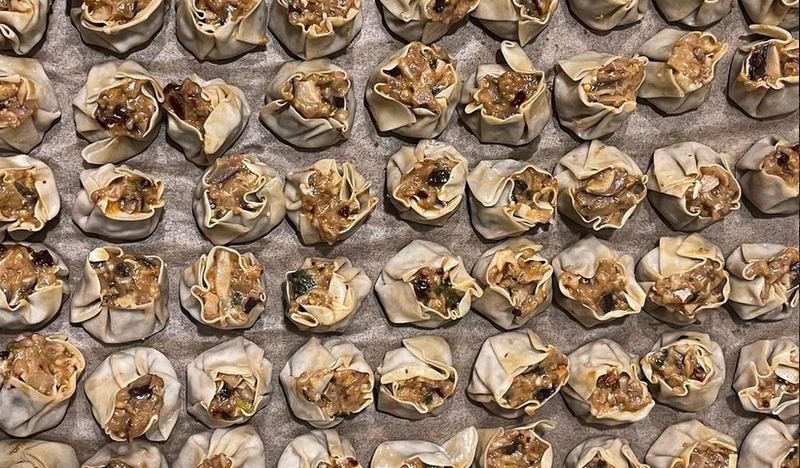 DumpLins offers a wide variety of Chinese, Korean, and Taiwanese dumplings prepared by a lawyer named Jodi Lin, who's been making them her whole life. She makes kalbi dumplings, niu rou mian (beef noodle soup) dumplings, seasonal XLB, and deconstructed zhajiangmien dumplings, among the many, and also offers frozen versions of several varieties for home. You can catch DumpLins live this Friday at Hop Merchants in North Hollywood from 5-10 pm, and April 8th at Benny Boy Brewing in Lincoln Heights from 12-5 pm.
Speaking of Soviet eats, a Russian-speaking food truck called Super Pie is popping up around Hollywood with sunflower oil-baked pirozhki filled with flavors like beef and pinenuts, ham-and-cheese, potato, and Nutella. Other offerings include sandwiches, deep-fried, Jamaican patty-meets-empanada-looking handpies, beef or turkey Hurricane dogs, and braided, chocolate-filled pastries. Delivery is available from Uber Eats.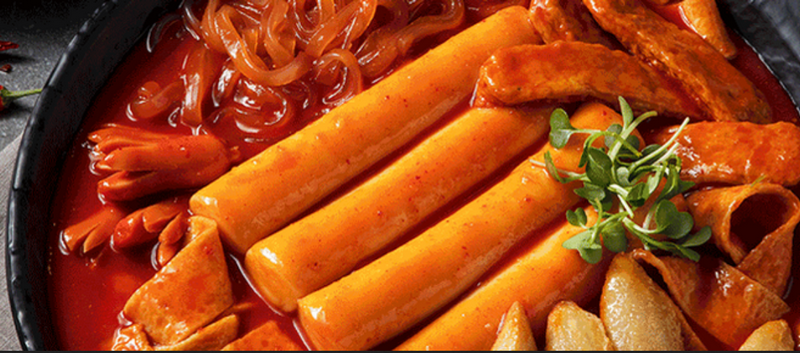 HalGaTteok, a three-year-old brand found throughout Korea that specializes in the spicy simmered rice cakes known as tteokbokki, is now open in Koreatown. See the full menu here, which includes the original "Grandma" tteokbokki, as well as black bean sauce jjajang tteokbokki, mouth-numbing mala tteokbokki, and rose sauce tteokbokki. Sides dishes include soondae blood sausage, squid tempura, and deep-fried dumplings. 3524 W. 8th St. Los Angeles, CA 90005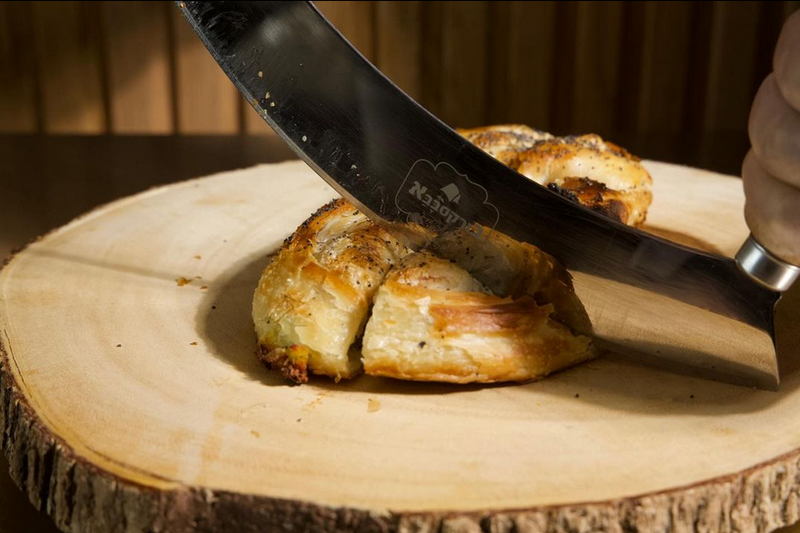 Baba Burekas is now open in Tarzana, baking crisp and flaky Israeli burkeas fresh each day. The Kosher business offers its puff pastries filled with cheese, spinach, spinach-and-cheese, and potato, with a side of hard-boiled egg, za'tar, Israeli pickle, and a choice of three sides or sauces, such as cracked olives, sriracha, or freshly grated tomato. For dessert, you'll have Turkish coffee with a hot drink of sahlab or maybe a coconut flake and pistachio-topped malabi. Or maybe both. 6030 Reseda Blvd. Tarzana, CA 91356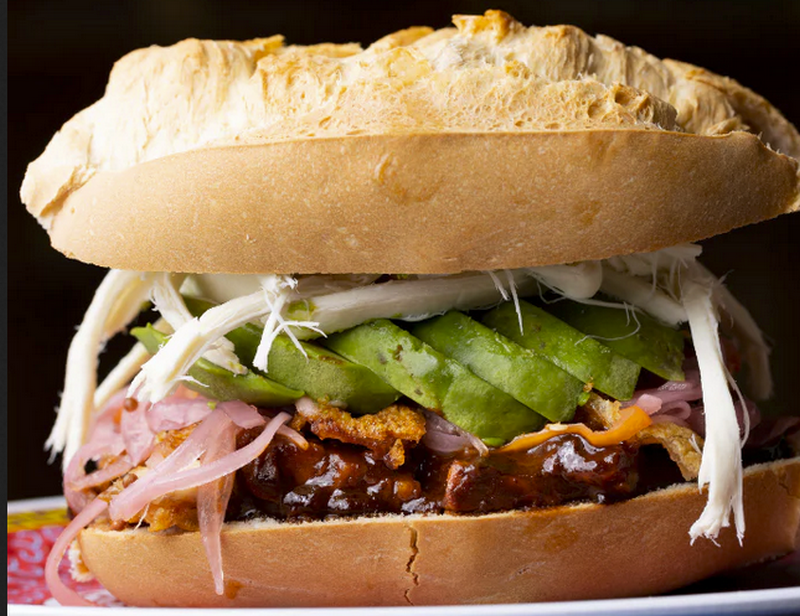 Guelaguetza's Bricia Lopez is teaming up with Open Market LA's Andrew Marco to make Filipino tortas this Sunday, April 2, available through pickup or when dining-in at Open Market via Biite Club. The sandwiches are described as "freshly baked Mexican rolls filled with crispy cebuchon (Filipino pork belly), drenched in mole rojo, and topped with all the fixings," and come paired with forbidden rice horchata for $25. Sunday April 2nd, 11:00am-2pm; 3339 Wilshire Blvd, LA, CA 90010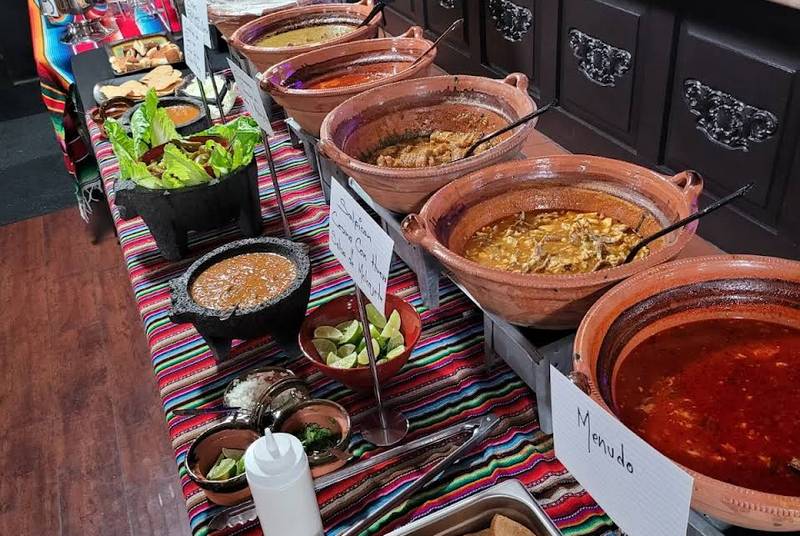 Safari Restaurant & Bar recently debuted in Boyle Heights, with Brag Brunches and Mexican buffets on weekends, Guerrerense pozole every Thursday, chamoy-and-shrimp-crested Modelos, tacos, molcajetes de mariscos o carne, Siete Mares stew, and tortas gigantes, as well as lots of live and lively entertainment. 2321 1st St. Los Angeles, CA 90033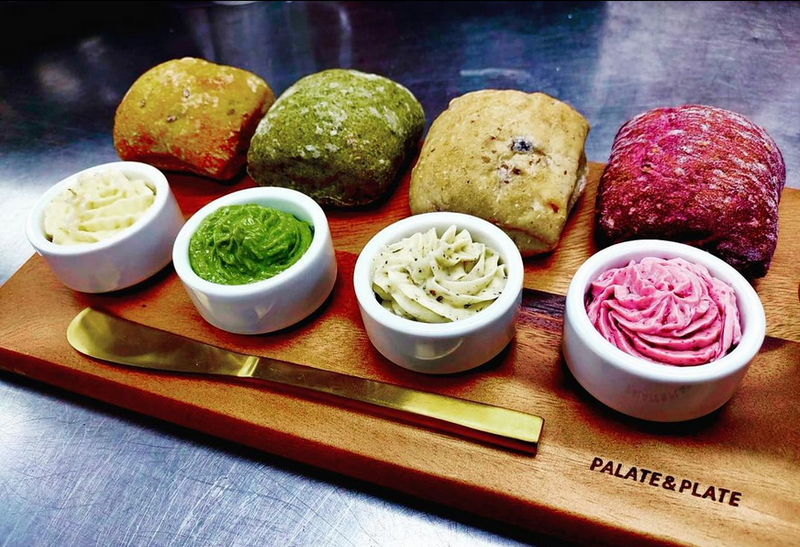 A romantic French steakhouse grows in Glendale. It's called Epique and features such Francophonic options as frog leg salad, Burgundy escargots, flash-seared magret de canard (duck breast), herb-crusted lamb, 12 oz. strips, and 32 oz. Tomahawk steaks. Separate "surf" and "turf" boards provide tastes of seafood and steak.  204 1/2 N. Brand Blvd. Glendale, CA 91203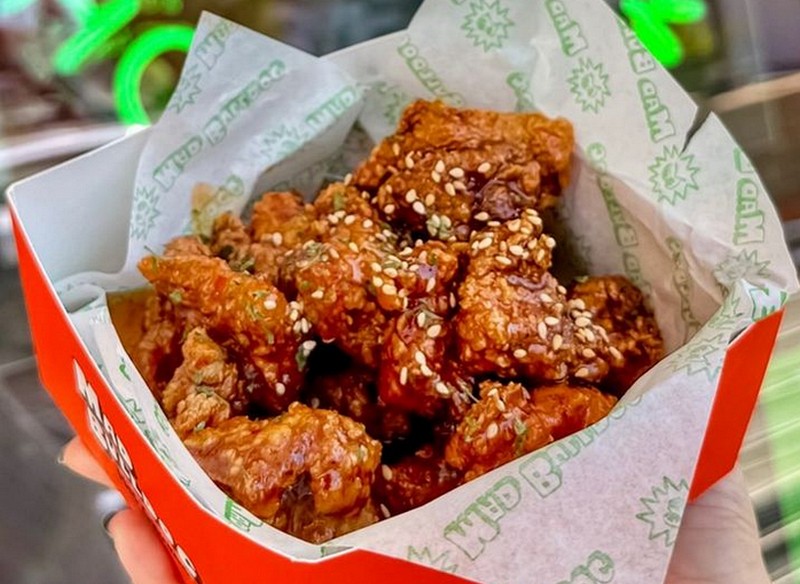 Mad Bulldog Hot Chicken has been open in Mid-City's Carthay neighborhood for the last four months. Inspired by Nashville's hot chicken craze, the restaurant serves chicken tenders and sandwiches, as well as popcorn chicken in styles like "Korean Sweet Chili" with gochujang, "Soy Garlic," and "Cheese Snowflake" with a sweet cheddar powder. Additional options include butter-garlic and bacon-cheese fries, and banana pudding for dessert. 1080 S. La Cienega Blvd. Ste 110 Los Angeles, CA 90035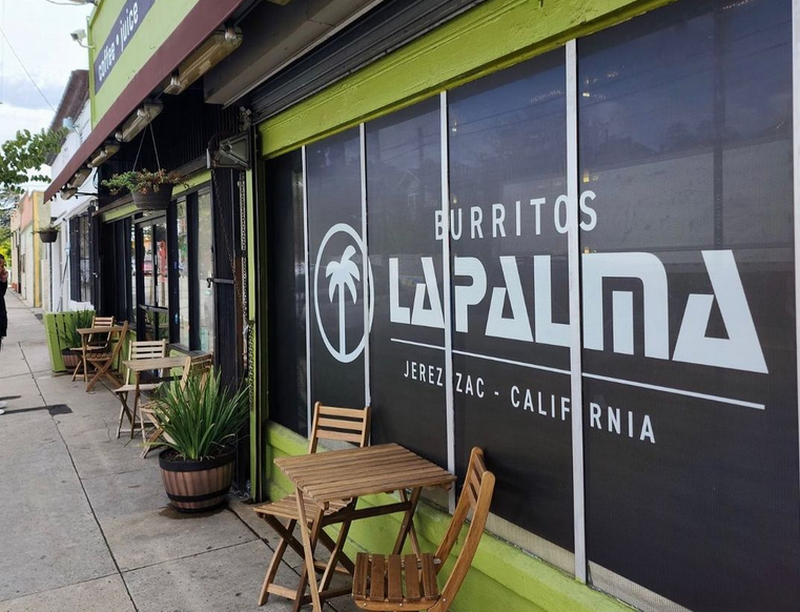 The incredible, edible Zacatecas-style beauties of Burrito La Palma will be now available at Highland Park's La Tropicana Market from 11 am-7 pm each day. 5200 Monte Vista St. Highland Park, CA 90042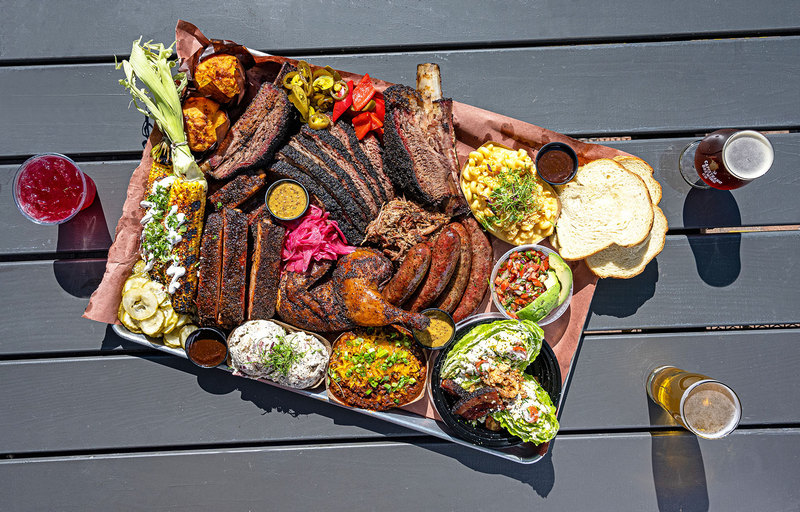 San Juan Capistrano's Heritage Barbecue now has brewer Michael Aubochon making beers for the Orange County restaurant at its Oceanside location. There are currently 12 brews on tap, including a 5% ABV Mexican Lager called "Smile Now, Cry Later," a 6% West Coast IPA known as "Locos Only," a 7% stout called "Z to the Power of 3," and a few collaborations, including a German altbier named Du Hast, made with Stolberg's Freigeist Bierkultur.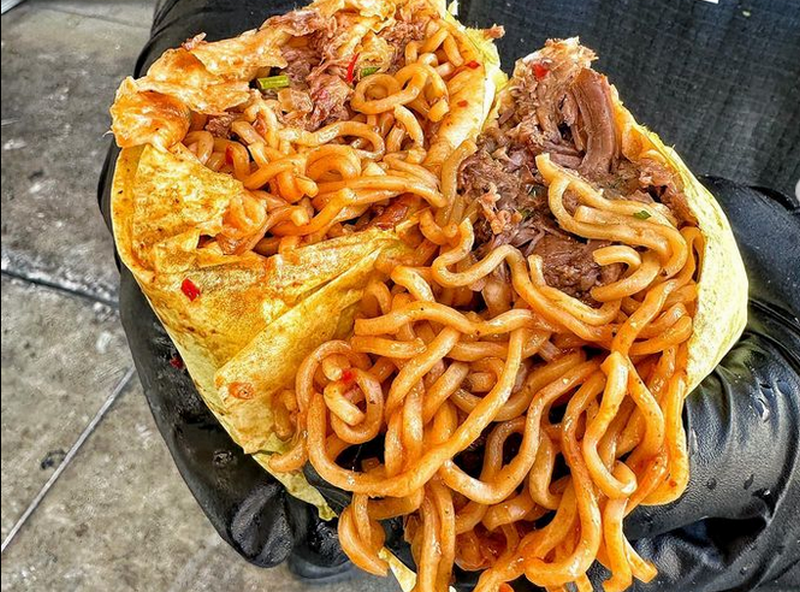 Taquería Guerrero Style, a taco truck in Westminster, Orange County, now serves an Extra Hot He-Man Quesadilla stuffed with Flamin' Hot Cheetos. You have the power! The business also sells Korean tacos and this Birria Ramen burrito you see before you. Because F.I.D.L.A.R. 966 Westminster Blvd. Westminster, CA 92683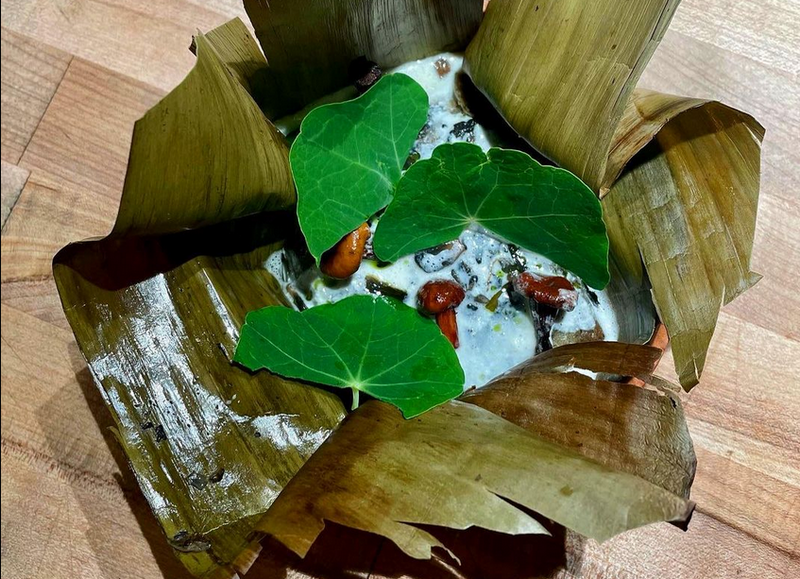 Jewish-Mexican-inspired pop-up Malli will pop up this Thursday evening at Asi Asi in Boyle Heights. Dishes will include sesame bourekas with requesón and avocado honey, confit of young leeks in mole pipian with gribenes, and these beef cheek pastrami tamales.
Not Yo Mama's Tacos will grand-open in Valencia on April 6 at Real Life Church's "What the Truck" festival. The bright green truck features handmade tortillas from Ana Lomeli, who graduated from the culinary arts program at College of the Canyons before spending a decade as a private chef. Her menu of L.A.-influenced Mexican food includes chimichurri-topped surf-n-turf tacos with grilled steak, shrimp, and shoestring fries; Yucatan-style panuchos with achiote-marinated chicken; smoked brisket tacos on corn bread tortillas; and vegan versions with jackfruit or fried tofu. Mmmmm.... April 6, 4-9 pm at 23841 Newhall Ranch Rd, Valencia, CA 91355
Or perhaps you'd like to be the one making tortillas? Lanea in Downtown Santa Monica is offering a make-your-own-tortilla night every Thursday. According to the bar, you sign up karaoke-style with any bartender, and then at every half-hour mark, someone will hand you masa and a tortilla press and let you have a go at it. Anyone who does a notable job gets a free shot. 217 Broadway, Santa Monica, CA 90401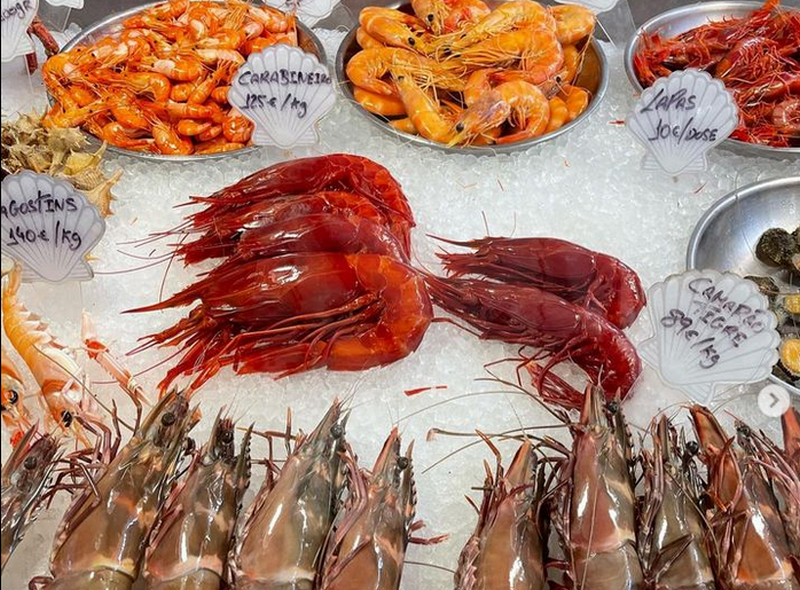 A Portuguese restaurant and wine bar named Barra Santos is now open in Cypress Park by Mike Santos and chef Melissa Lopez. Dishes include a urfa chile-marinated pork bifana sandwich, piri piri chicken, bacalao fritters, head-on prawns in vinho verde, and starters of Iberico ham and alorena olives. The Iberian wine list includes a lot of Xs, as well as sections for sherry, Maderia, and port. 1215 Cypress Ave. Los Angeles, CA 90065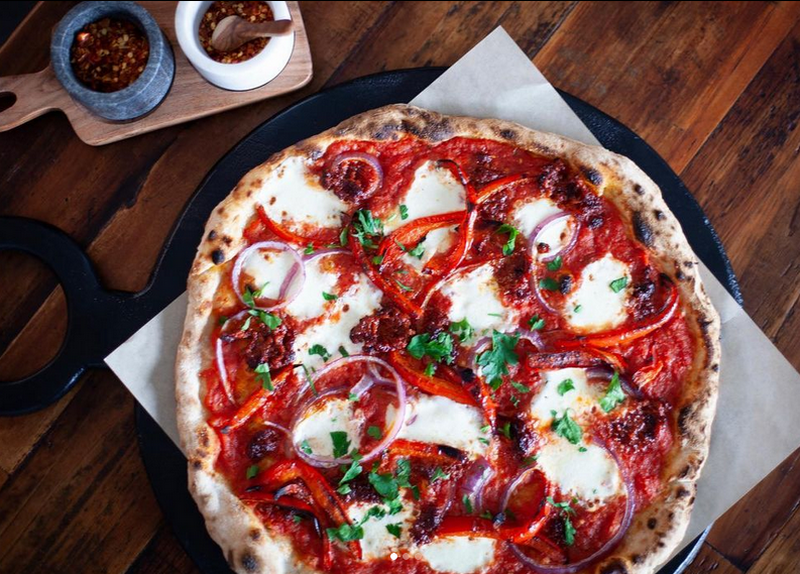 The Little Goat Pizza House is now soft-open in Glendale. Wood-fired Neapolitan-style pies include Margherita with burrata, pancetta-and-pear, and goat cheese-and-fig, 'nduja, and a Four Meat pie with salami, pancetta, pepperoni, and sausage. 942 N. Brand Blvd. Glendale, CA 91202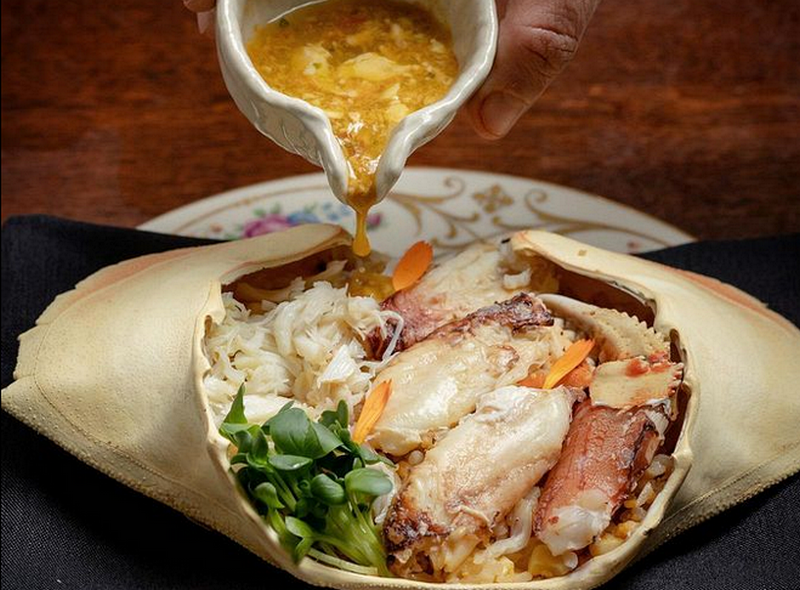 Calling all craaaaab peeeeeople!! East Hollywood's KinKan is holding its next crab night on April 2nd, with a tasting menu featuring dishes like a live Georgia soft shell crab crudite, creamy tom yum crab with ramen noodles and housemade wontons, crab curry chawanmushi, and live king crab Thai-inspired shabu-shabu. Craaaab peeeeople! 771 N. Virgil Ave. Los Angeles, CA 90029
Poncho's Talyudas is popping up Downtown this Thursday night. Find Zapotec chef Alfonso Martinez selling his famous Oaxacan tlayudas with blood sausage, tasajo, and chorizo at Bar Clara on the roof of Hotel Per La from 6-9 pm, along with pollo con mole, beef barbacoa with cactus salad, handmade tortillas, DJs, and mezcal tastings. No cover, 3/30. RSVP here.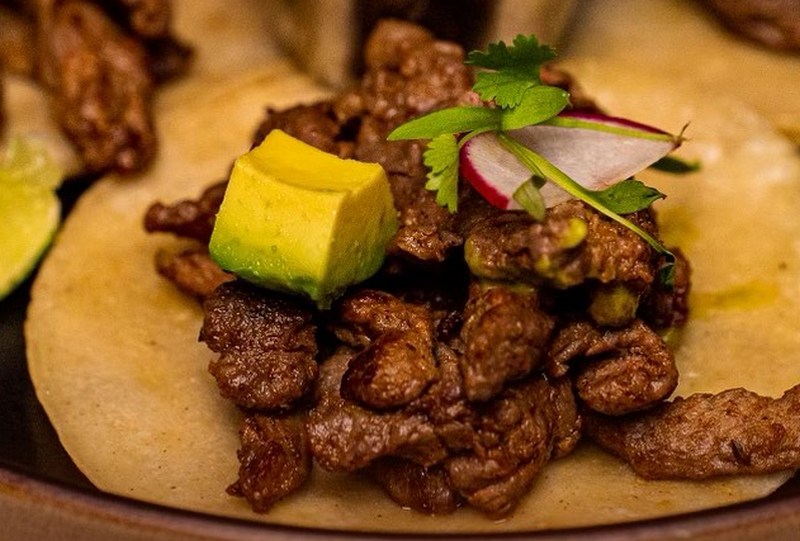 Proabition DTLA has a new Taco Tuesday, offering $5 tacos, including shrimp, lamb, chicken, papas, and ribeye on handmade tortillas, paired to mezcal selections and cocktails from the bar. And it comes with... get this... complimentary guacamole!!! Reservations here. 117 Winston St. Los Angeles, CA 90013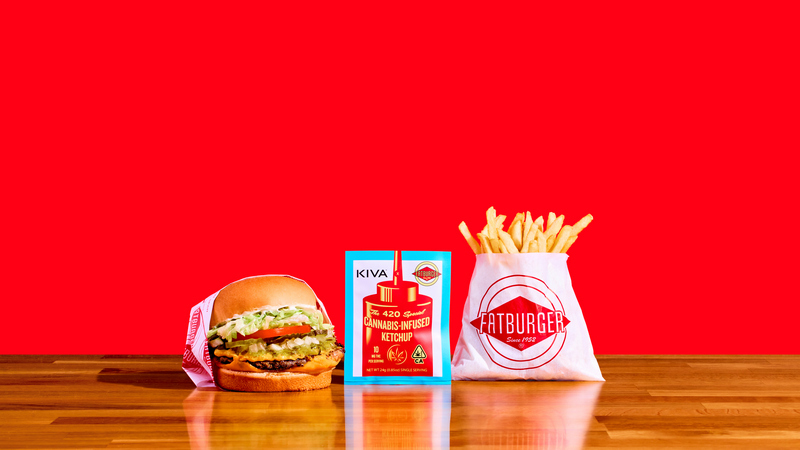 Kiva Confections and the iconic burger chain Fatburger have teamed up to celebrate 4/20 with the launch of a limited-edition Kiva x Fatburger THC-infused ketchup officially launching today. The first-of-its-kind Cannabis Ketchup ($5), available for a limited time only beginning April 6th at participating Artist Tree and Sweet Flower Los Angeles locations, encourages consumers to add some elevation to their fave munchies while furthering Kiva's mission to continue the conversation around cannabis normalization in California and beyond.  Kiva x Fatburger will feature 10mg of THC per packet, making it the ultimate "canndiment' for all of your Fatburger built-to-order hamburgers, fries, and onion rings ahead of 4/20.
Lawless Brewing in North Hollywood is holding an OysterFest this Saturday, April 1, with bivalves courtesy of Overall BBQ, s'mores from a s'mores cart, the day's Final Four games, and a buck off pints of its Irish stout.
Metztli and Cold Hearted Gelato are teaming up on a Taco Bell-inspired pop-up this Saturday, April 1 and Sunday, April 2, at Melody Bar in East Hollywood. Dishes include a Munchwrap Supreme with ground chuck and short rib, aged cheddar fundido, and yuzu cream, and shoyu adobo-marinated steak burritos with grasshopper-chile mayo. For dessert, there's a Baja Blast sorbet with sour candy chapulines and Horchata Crunch Gelato, among your choices.
Color us intrigued. La Puente's Red's Oyster Bar is holding up at a hip-hop show called the "Mystery Meat Pop-Up Barbecue." Expect at least five DJs, an open grill with PAWZ ONE and open turntables, plus drinks and vendors at a secret location, with your RSVP.
Rockstar Eater points us towards West Covina's Media Noche Cuban Cuisine, promising an all-you-can-eat Cuban buffet with live music on Sundays for just $25. We're in!
Tiny's Dive, a new-ish Chicago-inspired bar in West L.A.'s Sawtelle neighborhood, is offering a $5 Mystery Shot under a brown bag for the bold and beautiful. Available all day, with no "takebacks" or "crying" allowed.
House of Xelas in Boyle Heights will greet Thursday's Opening Day with Dodger Dogs that, frankly, look a whole fuckuvalot better than actual Dodger Dogs.
Coooooooookies!! Last Crumb is an L.A. delivery service dropping freshly baked cookies at your door with limited batches. Sign up for their updates if you're intrigued about warm, gooey key lime pie, red velvet, s'mores, pistachio, and classic chocolate chip cookies.
Vanessa Lilaka Kalb, the co-owner/lead cheese monger at Agnes in Pasadena is offering Cheese 101: hands-on classes that dive into tasting different styles of cheese and milk, and the art of cheese-pairing. The next class, which starts with a welcome drink with bubbles and ends with each student making their own cheeseboard, is April 4, 6-8pm, with tickets on Resy.
One of L.A. TACO's co-founders, Hadley Tomicki is a critic and journalist whose work has appeared in the Los Angeles Times, New York Magazine, and many other places.
Stay in touch
Sign up for our free newsletter