Featured
'Knowledge is Power' Southeast L.A. Students Empower and Fight For Environmental Justice in Their Comunidades
1:07 PM PDT on April 29, 2022
Welcome to L.A. TACO's new monthly education column, "The L.A. Public School Report." If you have any story tips, send them to Janette@lataco.com for consideration.
When asking students in Southeast Los Angeles what they love about their community, most said they love that it is a friendly place where it feels like everyone knows each other. Where the señora at the corner store where you buy your chucherías (snacks) after school already knows you by name. However, in the midst of admiration for their city, they also recognize the environmental issues and changes that need to happen in order to ensure a healthy future for them and their families.
With an urge to get involved and do their part, students like Elizabeth Zamarripa, a senior at South Gate High School join groups like SELA Youth for Environmental Justice. A youth-led group in connection with Communities for a Better Environment (CBE) that runs action clubs in nine different schools.
The goal of the club is to empower youth to take action and transform environmental conditions in their communities which are predominantly communities of color. If you asked any of the students involved they'd tell you they are clear on their vision, they simply want to make sure their communities have access to basic necessities like quality water, air, and soil.
"The quality part is important because a lot of people think that because you have access to something that it's enough, but no, we have to make sure that these resources are clean and good for our health too," said Zamarripa after getting home from school.
One of the main issues she has personally noticed on her daily walks to and from school are things like the lack of greenery in her neighborhood. Zamarripa noticed the difference in the number of green spaces there is in other communities compared to hers. And living near the 710 freeway doesn't help either. She describes air pollution as one of the biggest issues in her neighborhood. Other issues include a foul smell that has hovered over Southeast LA for decades.
"Oh my goodness the smell is really bad on some mornings, you'll be walking to school and you can smell it and it doesn't go away sometimes it lingers around the entire day," Zamarripa recalled the stench coming from the Farmer John's facility in Vernon.
As L.A. TACO reported, the Farmer John's facility is one of five known major meat processing plants in Vernon that have been the cause of the foul smell casting over Vernon and neighboring cities. Combine this with the 710 freeway which has been dubbed a "diesel death zone" and you slowly begin to understand why youth feel the need to get involved. The 710 is one of three major freeways that are used by cargo trucks making trips along the freeway every day. The health repercussions of living near a freeway are not good. According to a study, exposure to diesel truck traffic can be associated with numerous health problems like asthma, respiratory diseases, lung cancer, birth defects, and cognitive impairment. Dilia Ortega the Youth Program Coordinator for CBE has heard about these concerns from students.
"In part, it's called the diesel death zone because of the elevated hospital trips due to asthma and other respiratory issues," Ortega, told L.A. TACO. "These issues are very hard to ignore, these students and communities are experiencing this on a daily basis, students smell foul odors on their way from school, and along the 710 you can visibly see the dark gray smog in the air."
For students like Zamarripa, learning about the environmental injustices happening in her community has allowed her to not only combat them but to inform the older generation, like her parents. "Knowledge is power," she said over the phone. "I think it's incredibly important to start addressing the issues when someone is young because otherwise we literally become accustomed to living with the issues versus wanting to fix them." 
Like her parents who at first were hesitant to learn about how they were being impacted by living where they live. She was often told "Así ha sido siempre." "That's how it's always been."
Similar to Zamarripa, students like 18-year-old Allison Olver, who is also from South Gate High School, refused to give up when it comes to the older generation. For her, environmental justice means ensuring that people who are impacted by environmental racism are centered in the process when cities make decisions for major projects that will affect their communities. She also lives near the 710 and the L.A. river, and since joining YEJ in 2018 she has not only informed her parents about the impacts on their health due to the toxic air around them but has done presentations at her school. She said for her it's important to not just spread information to adults but to engage other students too.
"Oftentimes young people get overlooked, but they have a lot of ideas about possible solutions and historically youth have been leading a lot of the social movements," Ortega said. "Young people just provide such a critical and fresh perspective and if people followed their lead we would probably see a lot more progress."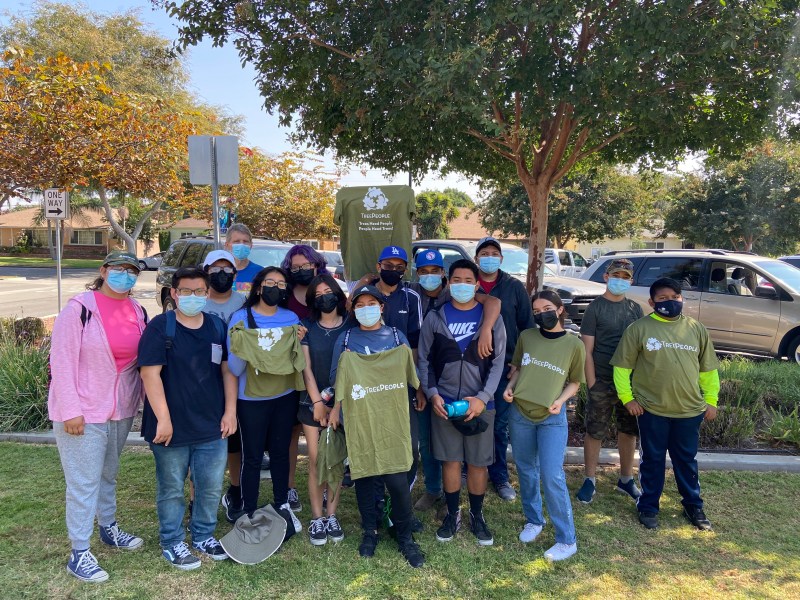 In Lynwood, students are also fighting for their communities to have access to cleaner air, water, and soil. Brenda Citlalicue Rivera, an educator at Lynwood High School who grew up in the area, said she has been able to work with Tree People to further involve her students in environmental justice efforts. "Everything I do is for the next generation," she said.
Just last year, thanks to Tree People and Loyola Marymount University, her students and community members were able to plant 1,000 trees throughout Lynwood's neighborhoods. Slowly resolving the issue of needing more greenery, and shade.
This came after a study by Tree People showed the importance and need for more trees, particularly in communities described as "concrete jungles" or "heat islands" where on hot days temperatures inside and outside the home can reach high levels. Lynwood is one of these concrete jungles, as it's sandwiched between the 105, 710, and Imperial Highway. On top of the heat, air quality is another issue they deal with. 
"Osea (I mean) tóxico to the max, the toxicity levels in the land and the air is just asco (nasty), so bringing justice to that would be finding ways to remediate," Rivera said. "We don't have a magic wand but in the meantime, we can organize just like youth are doing."
Aside from involving her students with Tree People she also has students doing community projects. Next week, they will be starting their projects by doing a community needs assessment, asking the question, what does our community need?
In the past their projects have focused on creating a recycling program. A group of students also tested the water in Lynwood after noticing brown water coming out of the faucet. The projects are aimed to help students not only assess what problems or needs are in their community but also give them the opportunity to find solutions. 
"It allows them to not feel detached from the issue, imagine if people learned all these skills at a younger age, how much better our lives and the world would be," Rivera tells L.A. TACO. "And sometimes you hear this information and you think about it as something that is far away in the future, but it's not, we need to start now."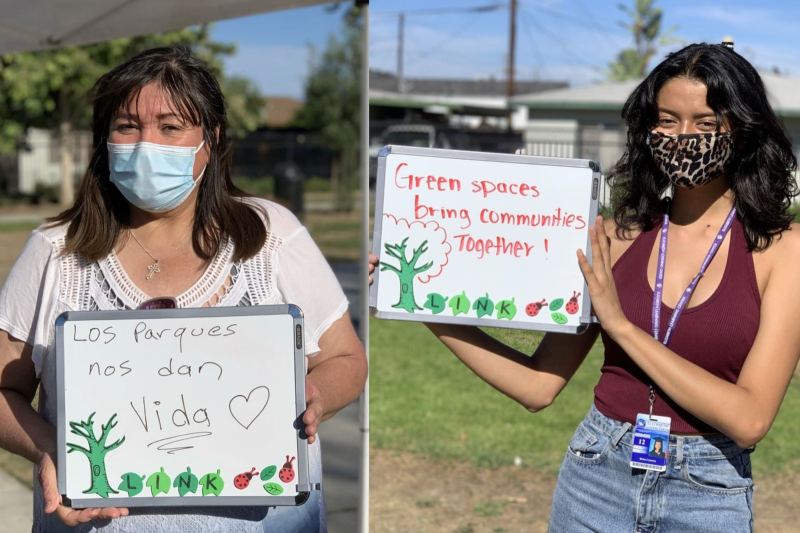 Rivera's student, Maryli Gutierrez, is just one of many students who have volunteered their time planting trees with Tree People. In her eyes, the need to take action now rather than later is crucial. Gutierrez is also involved with East Yard, another environmental justice group in Los Angeles. While volunteering with them she said she has been able to learn about other issues like when East Yard filed a lawsuit against Exide technologies for refusing to invest money in cleaning out the communities harmed by them. Traces of lead were found in the soil of homes near Exide, and people suffered health conditions as a result of it. However, Gutierrez said not all hope is lost despite being exposed to all these health hazards, she said being involved has created change in the past. Like when the community was able to stop the widening of the 710 freeway which threatened not only the health of the community but also had plans to displace residents from the area. Overall students like Gutierrez simply want more youth to get involved in their communities before it's too late.
"At this point, if the younger generation doesn't consider living a more sustainable life or considers getting involved, there probably won't be another generation to figure it out," she said.
Janette Villafana is a multimedia journalist from Santa Ana, CA who often covers stories that highlight diverse communities, their issues, success, and personal stories.
Read More:
Stay in touch
Sign up for our free newsletter