Featured
The Legacy of Northeast L.A. Pop Art Icon Richard Duardo Is Alive and Thriving In Lincoln Heights
1:52 PM PDT on November 2, 2022
L.A. TACO is embarking on its biggest mission yet: to create a taco guide for every single neighborhood in Los Angeles! Along the way, we will also be releasing brief histories of each neighborhood to understand L.A. a little more and why each and every neighborhood that makes our fine city is unique in its own way, plus a bonus arts and culture feature like this one along the way. Check out our Artesia guide and history from last week on our neighborhood page. 
--
On the eastern edge of Albion Street, steps from the L.A. River on a block lined with warehouses, a locally-grown, globally-celebrated pop art legacy is alive and burgeoning in Lincoln Heights.
Modern Multiples is a screen-printing studio specializing in large-format serigraphs and giclées crafted in collaboration with renowned artists and makers.
It was also the last in a long line of studios opened by Richard Duardo, an L.A.-raised royal of Pop Art whose seminal influence echoes through the Chicano Art Movement, punk rock, the rave scene, and this century's upsurge of street art.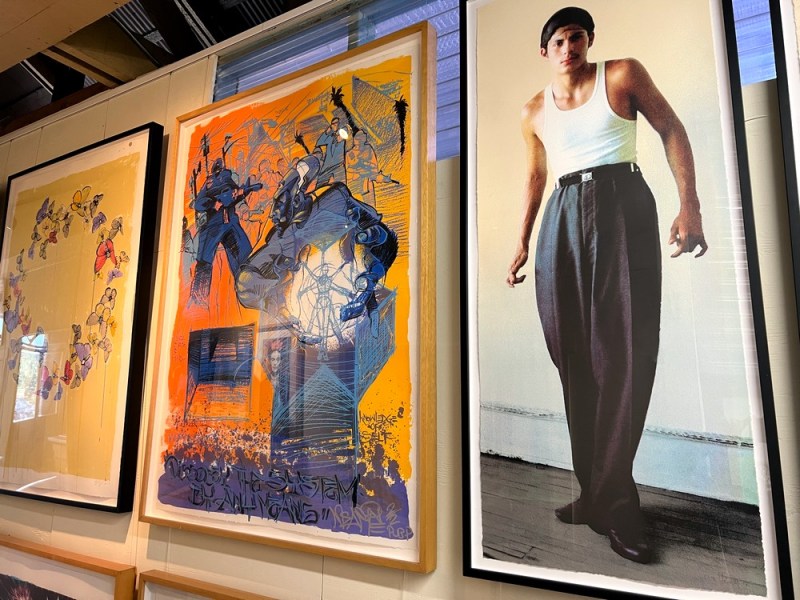 Every surface of Modern Multiples corroborates Duardo's prolific output and his close relationships with prominent artists, those he inspired, and those who influenced him right back. Posters, prints, stickers, bits of stray humor, and poignant propaganda cover the space, from its clean, curated walls to the ink-splattered floor of the silk-screening shop that sits at its heart.
Colorful serigraphs by Ed Ruscha and Frank Romero share the walls with arresting, framed photographs by Eriberto Oriol and his son, Estevan, not far from a halo-encircled head wheatpasted by Jaime "Germs" Zacarias, a circle of Sage Vaughn's butterflies, a full-color John Valadez portrait of a screwfaced L.A. gangbanger, and the forceful visions of MEAR ONE.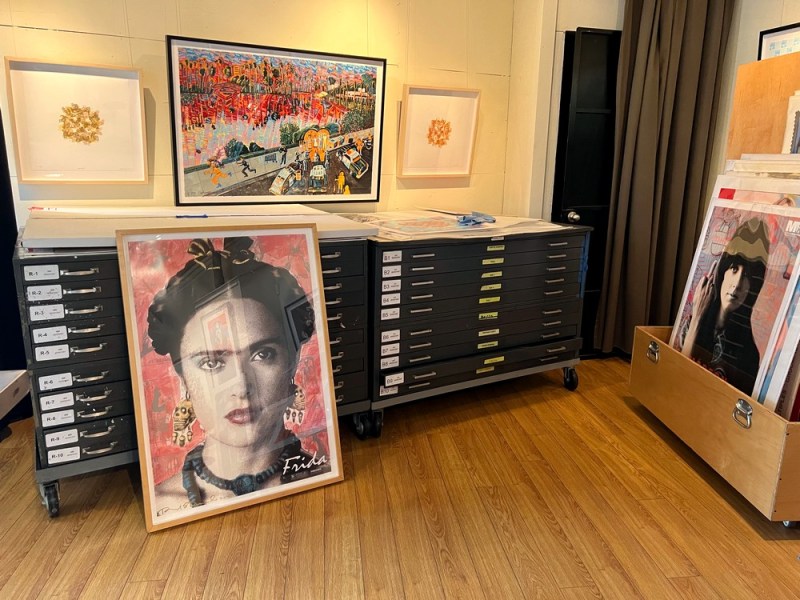 A print by O.G. L.A. graffiti writer Defer rests on a glossy table not far from Duardo's own artwork used for the movie poster for Frida, two of many works pulled for a later meeting with UC Merced, which is intent on building their Chicano Art collection. The estates of both Kiss and the Doors have recently come through these doors to collaborate, as have Wiz Khalifa and the Goo Goo Dolls.
Duardo worked with several different generations of legendary artists over his 62 years, from David Hockney and Keith Haring, celebrated album artwork designer John Van Hamersveld, Devo leader Mark Mothersbaugh, and The Plugz, to Shepard Fairey and Banksy. Today, his work is featured at shows worldwide and is locally prominent in the new Cheech museum in Riverside.
But his notoriety all started with "Hecho En Aztlán."
Duardo grew up on Echo Street in Highland Park, where he first started print-making through vocational training at Franklin High School. He wound up going to Pasadena City College, then transferred to UCLA for graphic design and his undergrad degree, later turning down its free ride offer for a Master's.
Duardo helped set up the poster-and-screen-printing operation at Self-Help Graphics in Boyle Heights with Sister Karen Bacalero, where he became its printer, and was soon sharing spaces and exchanging philosophies with Carlos Almaraz, Frank Romero, and John Valadez, three linchpins of the Chicano Art Movement. One of their first studios was on the second floor of the Figueroa Boulevard building that Stones Throw Records currently calls home.
"Carlos had just come back from Cuba and got the whole Little Red Book. He was all about it, 'do it for the people, give back,'" Montana Mills, Duardo's nephew who currently owns and operates Modern Multiples, tells TACO. "They all went to a meeting. Frank and Carlos were the older ones, and my uncle was one of the just-out-of-college types. And they decided that day to start Centro De Arte Publico (CAP)."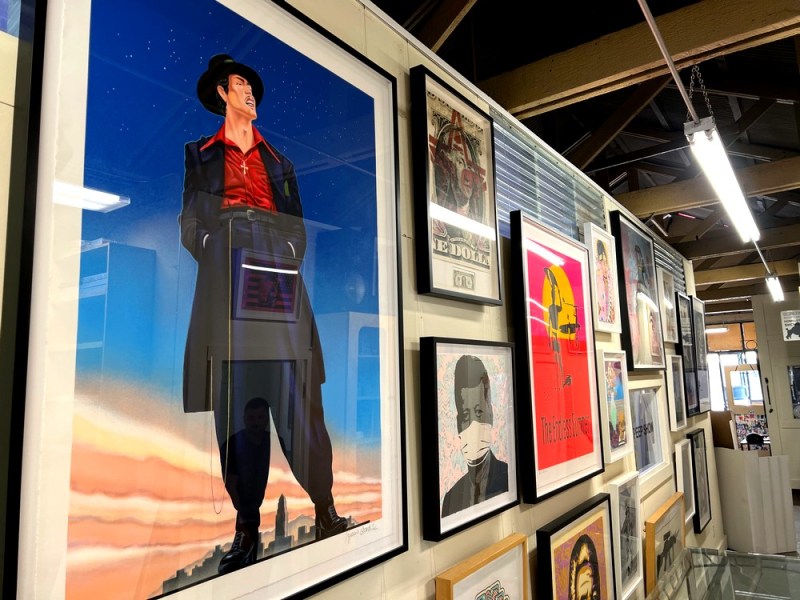 This outlet of design and activism would quickly become the epicenter of Chicano and West Coast art in Los Angeles, unleashing an extraordinary output of creativity and expression. Duardo's "Hecho En Aztlan" piece was recently front-and-center in a Smithsonian American Art Museum show called "Printing the Revolution: The Rise and Impact of Chicano Graphics," which highlighted print's role in the movement.
"He felt slighted by being put into a blue-collar track of printing," continues Mills. "Being a maker, not a thinker. So he said, 'alright, I'll make, but I'm going to outthink all of you and I'm going to brand your shit with my history, with 'Hecho En Aztlán.' It was him basically saying he's had all this training…but if anyone's going to come through this part of Northeast L.A.—this part of Los Angeles—they're going to know that their shit was printed en Aztlán, the legendary land that was Mexico, the people's land.' It was his first big stamp."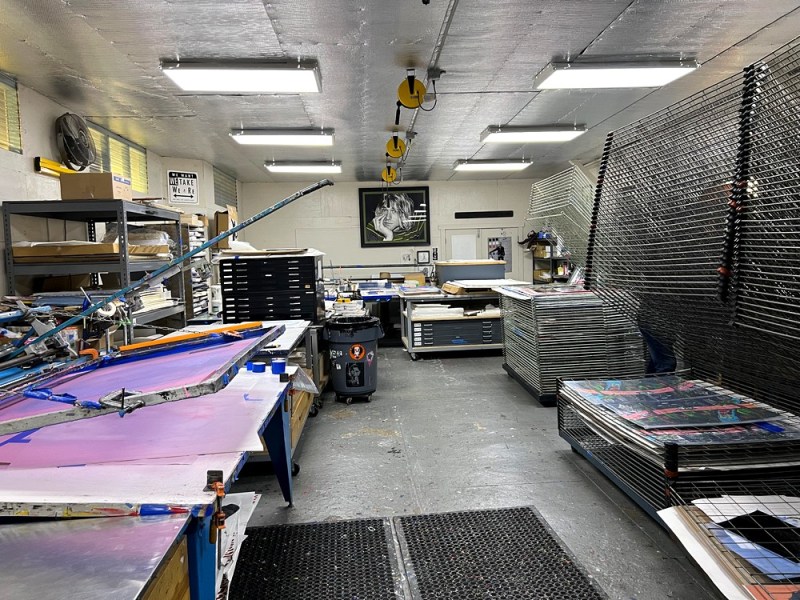 A few years later, the core team went their separate ways while Duardo kept the studio full of his equipment. He later started his own label there, Fatima Records, with Yolanda Comparan Ferrer and Tito Larriva of the Plugz.
The first album stemming from this collaboration was Attitudes from local Chicano punks The Brat, featuring Duardo's print of the band on the cover and screen-printing directly on the hand-cut vinyl itself. He hosted numerous shows in the space, too, designing posters for concerts around L.A.'s punk scene, which thrived as the territory of working-class Mexican-American artists like himself.
A series of studios followed at the rate of one for every decade, during which Duardo would typically undergo a small metamorphosis. Aztlán Multiples was followed by his opening seven more studios, including Multiples Fine Art, Future Perfect Fine Art, Allied Artists Inc., and Modern Multiples, which would eventually grow to a second location at WalArt/Modern Multiples West on La Cienega.
After his politically pointed work with CAP and his prominence in local punk, Duardo is credited next with inspiring many EDM giants of today–including the founder of Electric Daisy Carnival– through his embrace of the rave scene. He pre-dated the Deadmau5ses of our world by centering the DJ at his legendary party series, Circa, which stretched from '92 to '97.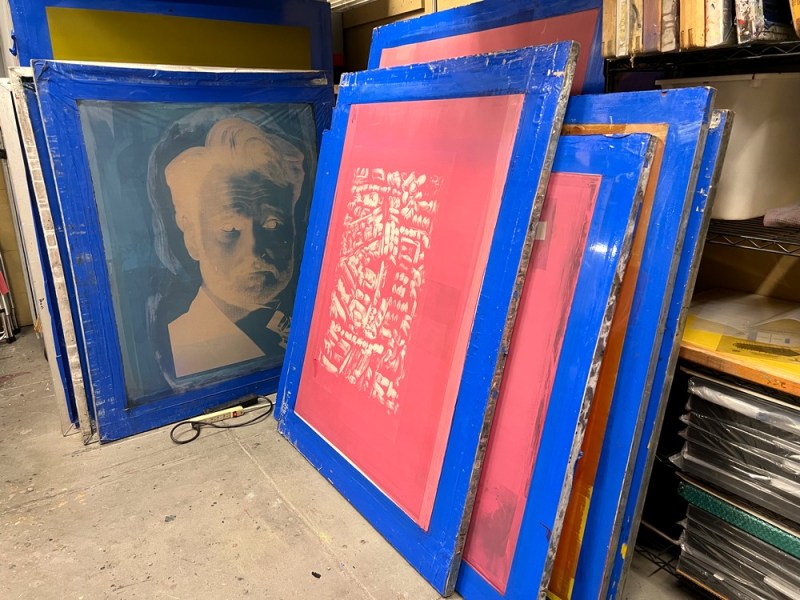 Duardo's social and inspirational fulcrum prospered then in the once-neglected corners of the Arts District that surrounded long-gone Al's Bar, a favorite fixture of junkies and hardcore artists, once located across from today's popular Wurstkuche restaurant. The artist had several studios in this neighborhood throughout the years.
Modern Multiples opened in Lincoln Heights in the early aughts. The prestigiously pedigreed space is as much a creative hub and incubator for other working artists as it is a commercial studio with an eye on making a profit, while maintaining Duardo's artistic legacy and fulfilling Mill's motto since his uncle's passing: "Do good work with good people."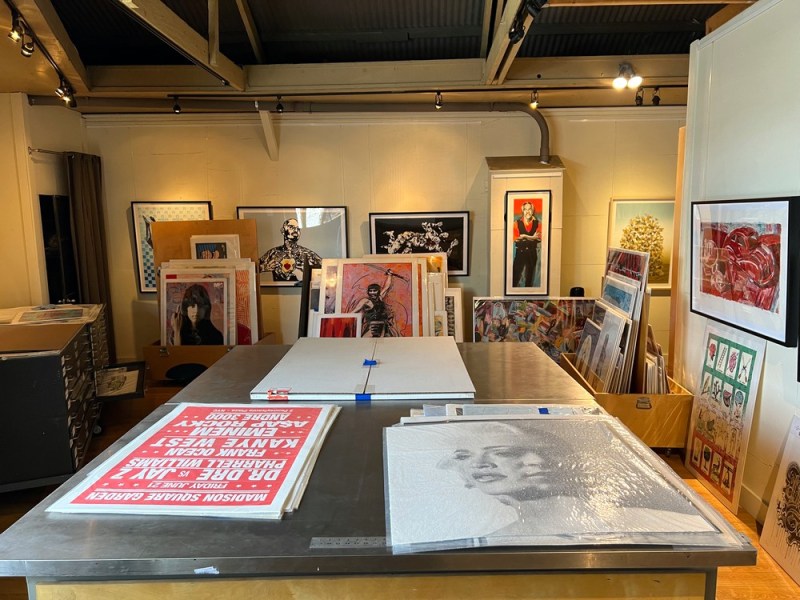 The studio (under master printer Ivan Alpuce, son of Self Help Graphics' master printer Joe Alpuce) interfaces with artists and the occasional corporate client to discuss what they want to be translated into print. The pieces are then hand-shot, hand-registered, and hand-pulled with "everything done like an atelier." One of Duardo's last working projects was going to be offering up the cottage next to the studio for different artists in residence.
The timing of the opening and its generous outreach to others made it an incredible hub for graffiti and street artists looking to create fine prints and editions as their fame blew up in that era. Duardo's attention given to their projects also helped raise the price of their pieces in turn.
"One of the aspects of the life he chose was making other people's art," Mills says. "I've heard people say he was always there to see people take off and land. But while they were in the world of fame, he was here printing somebody else."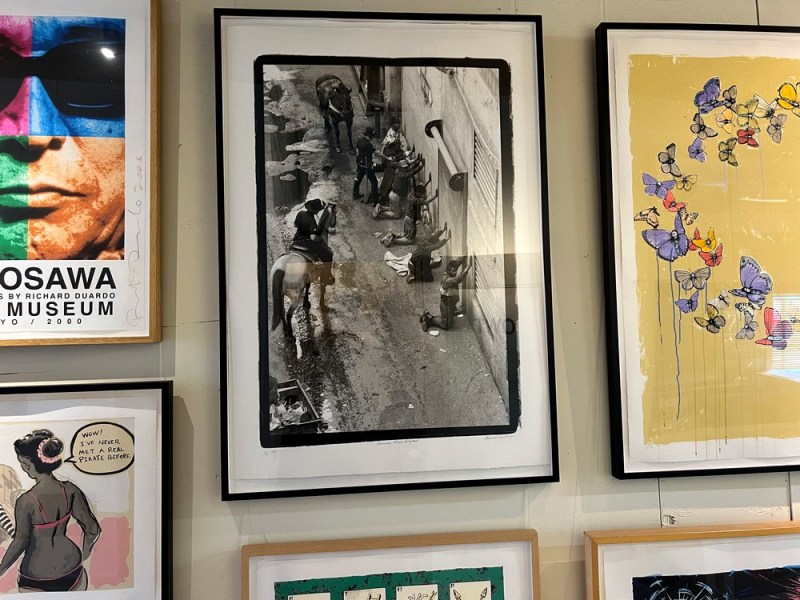 In those early years of the new millennium, Shepard Fairey came to the studio and produced a lot of work with Duardo, long before the Obama campaign would turn him from the "Andre the Giant Has a Posse" guy into a household name.
Banksy was also brought in during 2006 and did all six Barely Legal editions there, only to "never to be seen again." Duardo has never been referenced in the numerous documentaries about the elusive British artist, even after the show moved to the UK, featuring work from the unmentioned studio gracing the walls of massively publicized shows.
"I have a letter here that Richard wrote to Banksy, offering him a published, ambitious, large-format edition to follow up with, with a new artist," Mills tells TACO. "[Duardo] wanted to continue the relationship but had to clear the air first regarding missing proofs. It was, 'hey, your team is throwing me under the bus. I'd like you to right this wrong,' and there was no response to that, and Richard was thrown under the bus, and he never came back for another edition. But it also brought in an entire era of attention. So you know, the good with the bad."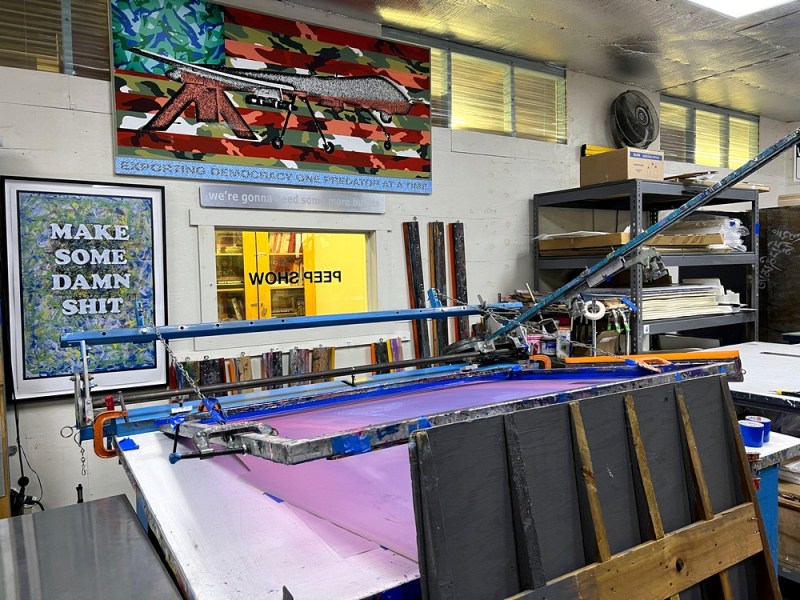 Duardo's work is bursting with self-aware, often provocative humor, as well as honorifics to other artists he admires. Asked about his uncle's artistic mission, Mills points to a sign that was gifted to Duardo from Coronado Press in Texas that hangs in the print room with the motto the artist adopted and lived by: "Make Some Damn Shit."
Mills shows off another gem Duardo made in tribute to the familiar piece spelling "LOVE" by Robert Indiana. Only Duardo's reads "Fuck Fake Punk," and is titled "FUCK FAKE PUNK (In the Grand Manner of Robert Indiana)."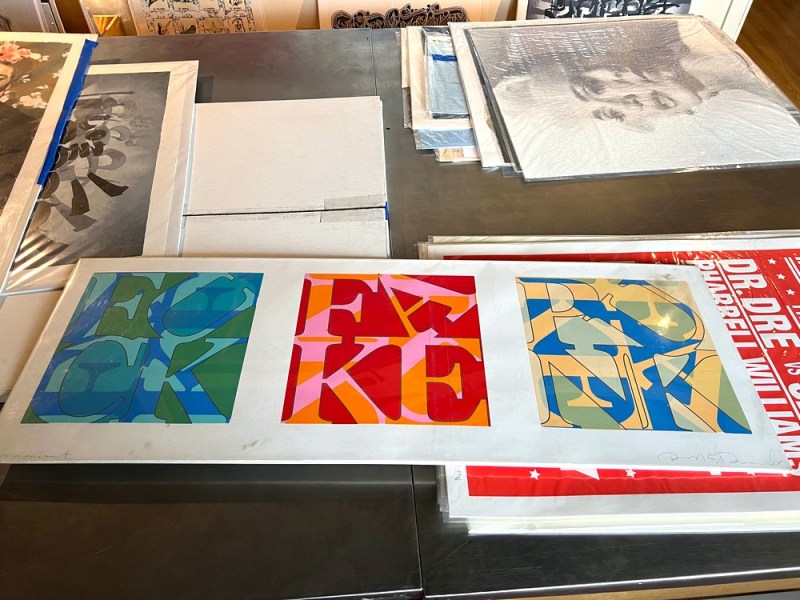 In time, Duardo would go from an early innovator in the Chicano Movement to the Chicano Art Museum itself. Duardo was the chief collaborator with Cheech Marin on The Chicano Collections tour that helped spread and validate the artistic movement and is now part of the collection of the museum, which bears the famous comedian and collector's name.
In his 2014 passing, Marin told the L.A. Times, "An artist could have no better friend than Richard."
In his last decade, Duardo dove heavily into a cheeky, third-generation pop portraiture style that has earned him the nickname "West Coast Warhol," which has been used in shows displaying his work, as well as in the headlines of numerous articles. A 2021 museum show at San Antonio's McNay Art Museum featured the two Pop artists side-by-side.
The Warhol sobriquet is one that Mills imagines Duardo had a complicated relationship with, though he prefers it somewhat to "Chicano Warhol," which also comes up.
He explains: "I think he leaned into it sometimes, and I think he spited it sometimes. He has a Chicano background, obviously, but I think Richard would have said, 'I am first an artist. I am also Chicano.'"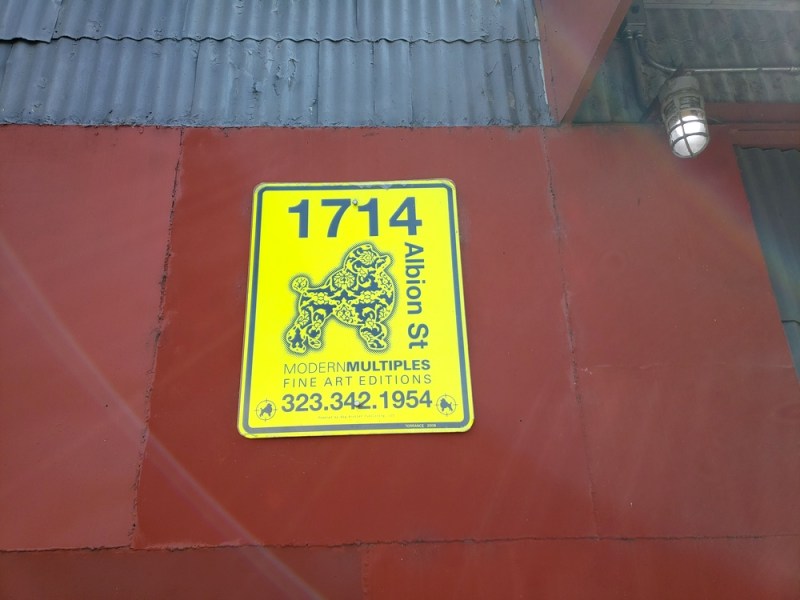 The nickname brings bigger issues with the art world into perspective.
"We know Cubism, Impressionism, and Fauvism, these -isms that get named for what [artists] believe in or their aesthetics, not by who did them," Mills says. "So just the fact that Chicano Art is labeled because of who made it, and not why they made it—I think he had a similar qualm with the vocabulary. I imagine him thinking, 'yes, we're Chicano, and yes, we're going to celebrate the Chicano Arts,' but there must have been a love-hate relationship there regarding how one thinks of themselves as an artist and how one markets themselves as an artist. I think 'West Coast Warhol' is obviously some really cool branding and speaks more truly to what he thought of himself as an artist."
As Northeast L.A. changes under mass movements of transplants and real estate prices, it's a fitting testament that Duardo's legacy survives in the region where the Boyle Heights-born artist grew up, with both the L.A. River and Brewery Art Lofts within reach.
Like his uncle, Mills appreciates the Lincoln Heights location and neighbors, telling Taco about a gangsta rapper and his son who recently came and hung out as one of the employees from nearby family-owned Lanza Brothers Market stopped to chat over a drink. The deli was a neighborhood favorite of Duardo's.
"He knew the whole family over there," Mills says, while also recommending Los Tres Cochinitos and Wendy's Tortas come lunchtime. "He had a tendency to really know, befriend, and support the neighborhood."
Mills thinks Duardo's influence, be it in Pop Art, EDM, or punk, still hasn't been fully unpacked, as Warhol's was so many epochs ago.
He sees the popularity of art from the Chicano Movement–especially as the popularity of Chicano culture spreads to Japan and beyond–the opening of The Cheech, and the sizable funding going to Self Help Graphics as harbingers of greater recognition to come.
Cornerstone Theater recently staged a play on Richard and the Duardo family called "Highland Park is Here," and Mills has his sights set on "To Print and Die in L.A.," a forthcoming documentary about his uncle.
"Richard left behind clown shoes, and nobody has clown feet," Mills says in summation. "I want to keep the history of Richard alive. I totally appreciated the guy that my uncle was. If there is a modern contemporary artist deserving of some international platforms, some international stages, it would be this 'Chicano Motherfucker' Ricard Duardo, who is just a badass at pulling ink, a cool guy to party with, a mover-shaker, and hustler that you might have gotten one over on, and he might got one over on you, but everybody loved it. Richard had a posse."
Modern Multiples ~ 1714 Albion St. Los Angeles, CA 90031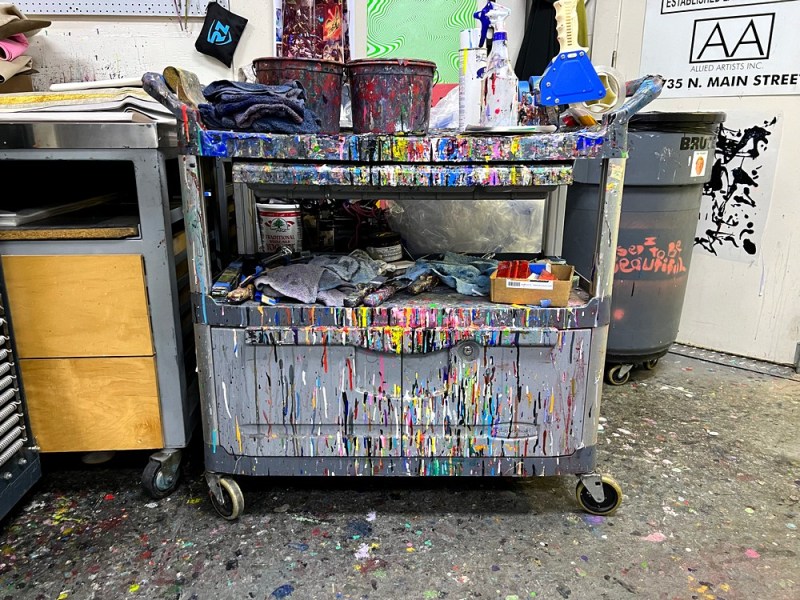 One of L.A. TACO's co-founders, Hadley Tomicki is a critic and journalist whose work has appeared in the Los Angeles Times, New York Magazine, and many other places.
Stay in touch
Sign up for our free newsletter