Brentwood
"Prince" Danny Bearer ~ RIP
12:06 PM PDT on September 29, 2009
Daniel Bearer, a skateboarding pioneer, has passed away at his home in Santa Monica. One of L.A. TACO's most prolific commenters, Danny posted excerpts from his autobiography "Defense Above All" in our comments section for a few years, which we have attempted to collect below, with some light editing, into a cohesive whole.
One of the world's first pro skaters, sponsored at the age of 13, Danny remained passionate about skating, Los Angeles, and skating culture until the very end. He was a unique person and will be missed by his friends, family, and all of us at L.A. TACO.
A memorial service will be held at Corpus Christi Church on Sunset in Palisades this friday at 10.00 am

Defense Above All: The Danny Bearer Story
This book is dedicated to my Father, Mother and my luv, Dessarea Mary A.Bradford and the whole wide world !!!
Chapter 1
Once upon a time 1950. He was born rich; his first sleeping quarters were the top dresser drawer. They were on Ocean Park Boulevard of his young mother and father's home in the heart of Santa Monica, California.
Thomas George Ryan was his paternal grandfather, a talented fine artist for Sunkist and Carnation before photography was invented. He hand-painted the posters and billboards in his studio. With this talent, he bought a part of the American dream on a well located street in sunny Santa Monica. A palace with grape vines weaving through the rafters of this ancient renaissance replica, with its terracotta Florentine tiled roof and its slate stone patio flooring. There was a fishpond in the front of the patio and a lion's head where the waters would flow from its realistically shaped mouth to the mound of moss living at the base of the waterfall.
His mother and father were both champion volley ball players from Will Rodgers State Beach. Shortly before I was born, my father took a loan from gramps and his Uncle Tom Hamilton, the creator of Windfield China and found a partner, Harold Wall. They formed Los Angeles Designcraft Inc. on 1977 Sepulveda Boulevard by the railroad tracks.
My first job was collecting bottles at State Beach at the mouth of the Santa Monica Canyon. Next I learned to play poker on Bel Air beach to the north of the Canyon. At the end of my first summer, at the age of twelve, my Bank of America account reached a whopping one thousand dollars!
I was good at all sports, but my favorite two were always skateboarding ans surfing. By a stoke of good luck I met Jon and David Rochlan Jr. They liked me, so they picked me so they picked me up and drove me to the hottest skateboarding banks all over town. David had just started a club: Makaha Skateboard Club for Richard L. Stevenson, the founder of Surf Guide Magazine. This was the first Club of skateboarders backed by a major company.
Chapter 2
Bill Clinton has had just four years of a Catholic school education at Georgetown University in Washington D. C.-- Dan Bearer has had seven. I began my Catholic school career at Saint Joan of Arc School on Gateway Avenue in West Los Angeles. Finally in 1963, in the eight year of my elementary education, I graduated CORPUS CHRISTI in the Pacific Palisades. This was the best gift my father gave me.
I then earned my first surfboard by becoming an Alter Boy and learning the Latin phrase "Ad Deum, qui laetificat juventutem meum" To God, who gives joy to my youth." My best friend, my dad gave me the last $50 dollars, and I bought a nine foot two inch Dave Sweet rounded pintail board. This was the board I used during the summer of 1963 to surf at Malibu Beach with Dan Case and Donald Takayama, a senior surfer and a legend in his own time!
I surfed effortlessly. One could often find me lingering about the blue green see-through water dangling my toes over the front of the surfboard during the early glassy mornings of the day. The bottom of the ocean was so clear that it was not difficult to make out abalone and starfish.
Chapter 3
In 1964, at the age of 14, I won first prize at Covina Skate Park as the first National skateboard champion on a Hobie Fiberflex and on a nine-piece wood laminated 30-inch skateboard built by Hobie Alter. The competition was judged by Phi Edwards the same year he was chosen as " Surfer of the Year" in Surfer Magazine's first surfer poll ever conducted.
In 1965, I won the first of three events in the First International Skateboard Championships. The events were the Flatland Slalom, the Downhill Slalom and the Freestyle Event. In 1966 and 1967, I won first place in the Santa Monica Mid-Winter Surfing Championships in the junior division. Adding to these challenging victories, I also won the Junior Residence only Champion in 1967.
In 1968 Richard Wilken Surfboard Company sponsored a Senior Division Championship at Sunset Point in Los Angeles County. I participated for the firt time in the Senior Division and won First prize! In 1970 at Malibu Invitational Classic I placed fifth in front of the older Hawaiian surfer Donald Takayama. At the Malibu Interclub Surf Championships I placed First, which was my Senior Division Championship. All told, I won seven surfing championships in the Junior Division and two Senior Divison Championships, all on Hobie Surfboards shaped by Phil Edwards, Ralph Parker, and Mickey Munoz. That same year, I earned acceptance to the prestigious University of California at Santa Barbara as a pre-medicine student.
Chapter 4
I had an Evening Outlook paper route for six months in the Pacific Palisades; it earned fifty dollars a month. The Hobie Super Surfer Skateboard worked for no pay. All surfing and skateboarding equipment and all clothing such as Vans blue sidewalk surfing shoes, one pair a week, red, white and blue striped t-shirt uniforms, wet suits, surfboards, bathing trunks, and bikinis for the one female rider, my sister Wendy, were all supplies upon demand with great generosity from Hobie Alter, Barron Hilton,and VitaPakt Orange Juice Company.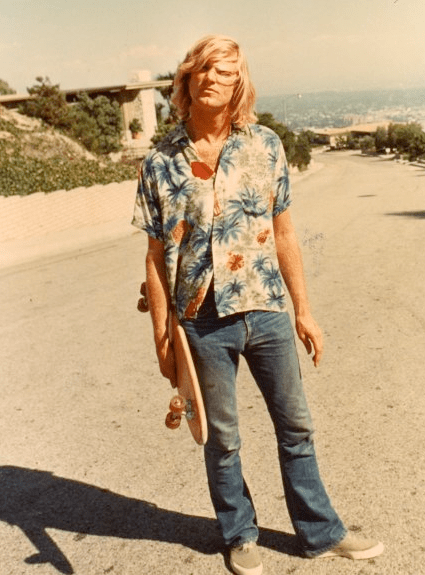 After we won The First International Championships in the spring of 1965, the team took off on a nationwide tour. Woody Woodward, Torger True Johnson and Steven Hilton took the central states and Jon Freis, Davey Hilton and myself took New England through the southern states. The campaign ended in Houston, Texas at the Shamrock Hilton Hotel, the same place where Danny had landed as the First National Skateboard Artist of 1964.
In New York City, the two-part Club joined together at the New York Hilton. The first half of the team or club flew home, while David, John, and I toured Massachusetts, Delaware, Rhode Island, Maryland, Virginia and Washington DC. With the air temperature at 98 degrees and humidity at 100%, the team further toured North and South Carolina, the Peach State of Georgia, Florida, and Cypress Gardens where we rode the wake of a Navy Vessel in a large lake in the middle of the state. We also visited Arkansas, Alabama, Louisiana, and Texas.
This first campaign featured the new Hobie Fiberflex Skateboard along with the two nine-piece Hardwood 28″ and the 30″ Hobie Classics. The tour ended with a rewarding vacation at the Hilton Hawaiian Village on the south shore of Oahu at Waikiki Beach. All the guys surfed Kaiser's Bowl, Number Three's and Ala Moana everyday. There they met World Surfing Champion and Senator Fred Hemmings doing reverse stance surfing maneuvers like a Football Fullback Bull.
Chapter 5
Torger True Johnson was the son of a man from South Dakota. Every year, two students from every state in the Union received a full scholarship to Harvard Law School. Torger's father, Leroy Johnson who was one of the two students chosen circa 1945.
Torger was a leader and trend-setter, as he invented such moves on a skateboard as the "Space Walk" which was the art of propelling himself along with a forward thrust in a side by side rhythm that kept the nose or front of his board in the air. It was very beautiful to watch.
Steven Michael Hilton was fantastic stylist and a great example of moderation for the whole team Hobie Vita Pakt Super Surfer Skateboard Club. His brother David was a true Champion with the Hilton acumen as a businessman.
John Freis turned out to be the Grand-prize winner at the First International Skateboard Championships at La Palma Stadium in the City of Anaheim in the County of Orange, California, The United States of America which had over 280 competitors from all over the world. He was also the one of two I could not catch up to on the steep high-spreed cross-country runs through Brentwood in Los Angeles County along with Woody Woodward.
Woody Woodward, the youngest member of the Makaha and Hobie Skateboard Clubs,was the most radical. his head was completely shaved. He was born to be wild and lawless. He is incredible to watch as he out speeds the riders of both clubs.
I was chosen the First International Champion with my victory in the first Event, the Flatland Slalom.
Larry Stevenson once paid me $25 for doing a 360 degree turn on the Bullocks Department Store eighth floor making me the first money making skateboarder!
Chapter 6
IT WAS EASTER OF 1967. GLISTENING TUNNELS WERE IN VIEW SOMETIMES FOR TWO WEEKS AT A TIME ! IT SEEMED LIKE IT WOULD NEVER END ! ITS CRESTS ARCHED AND THREW OUT THICKLY CARVED FACES, LOOKING LIKE THE RESURRECTION ! THE SUN SHONE WARMTH LIKE THE WOMB OF A WOMAN, 98%,BARRELS OF CASCADING FREEDOM. THERE WAS ONLY LIGHT. THE PLACE WAS Mazzzzzzzzzatlan, Mexico. THE WATER SO CLEAR, WE COULD SEE THE BOTTOM HOME OF STARFISH AND CORAL BEAUTY. REDS, ORANGES,PURPLES,BROWNS, WHITES,BLACKS AND BLUES! ZEBRA SEASHELLS WERE SO MAGNIFICENT THEY MADE YOU FEEL LIKE YOU COULD TOUCH THE FLOOR AS WE SAT ON OUR BOARDS BY SIMPLY DIPPING YOUR FINGERS SEEMING AS IF THEY WERE JUST INCHES AWAY. THIS IS THE SURFING SPOT CALLED CANNON'S POINT, MAZATLAN, MEXICO.
Chapter 7
Gearge Trafton was the older member of the first Makaha and Hobie Super Surfer Clubs. His father was a graduate of Notre Dame University in Indiana. His father had become a professional football star and was considered the best center in professional history. Eventually he was inducted into the Football Hall of Fame circa 1949. George's dad use to drive us on the weekends to all of the different school grounds located in the greater Los Angeles area. The gridiron was the asphalt-paved banks were very much the same shape as the waves we used to surf!
Bellagio Road Elementary School was not only located on the street Conrad Hilton lived on, but was also the WAIMAEA BAY of Skateboarding. David and Steven's grandfather's home was located high on this road, and his back yard touched the Bel Air Country Club golf course. Everyday after school when the team was not doing exhibitions at shopping centers, they practiced on the heavies skill on this beautifully shaped, elliptically banked bowl. Now there was Banzai Pipeline banks and Sunset Beach banks. Paul Revere Elementary and junior high and Marquez Elementary School slopes to hang Ten. To us, it resembled Hawaii!
Chapter 8
Today is 1969, September, I have just returned from Morocco, France and fourteen other countries surfing a Hobie Honker and a Silver Bullet seven feet, 8 inch rounded pin nosed board. We finished in London, England.
Each country had its own architecture, each one unique. Rome and Vatican City is a country also called the headquarters for the Holy Roman Catholic Church, The Eternal City of Rome, ALL ROADS LEAD TO ROME, ITALY!
Chapter 9
In 1974, I completed an Associate of Arts degree from Santa Monica College. In 1975 I transferred to UCLA in the English Department in Rolfe Hall. Course study included John Milton's PARADISE LOST AND PARADISE REGAINED.
I got back into skateboarding competition in San Diego at La Costa and decided to continue my study of the Presidency at UCLA later. Stacy Peralta paid Danny Fifteen Hundred Dollars to appear in TRANSWORLD SKATEBOARD MAGIZINE AS THE FIRST INTERNATIONAL SKATEBOARD CHAMPION!
James Fitzpatrick and his wife Francis were Montessori School teachers who lived in Santa Barbara and do good things for skateboarders.The image of the sport at this time had no structure. In the origin 1965, the three event format featured the Flatland Slalom, Downhill Slalom, and the Freestyle Event.
JoJo Perrin and I had a meeting at Point Dume to create a surfboard for my bride to surf in Kauai, Hawaii. I then proceeded to take a tour of London Town and France, with my true love Janet Gloria Freeman. Together we lived on the left bank of the river Seine in Paris. That summer was filled with many sensual memories in the then quiet city of Paris as most of the Parisians take their vacation and leave to the South of France. The weather was perfect and the sky clear. I studied music and played the guitar and the piano.
Chapter 10
IN THE SUMMER OF 1975 I formed Clear Faith Production. I met Susan at Topanga Beach and we took a home together in the Santa Monica Canyon. She was an African American bombshell from Simi Valley who helped me in building surfboards. The surf was good at this time.
The second coming of skateboarding had just begun this year this year with the discovery of the urethane wheel, the evolutionary result from the old style clay wheel, and the even older steel wheel. In 1976 I moved to Brentwood then I organized and was commissioned by the YMCA Pacific Palisades branch to drive 12 young surfers to the tip of Baja, California to a spot called San Jose del Cabo, a spot comparable to Leo Carillo, Secos in Malibu. It was 15 hundred miles south of the border.
I drove a sixteen foot flat bed sixteen gear red truck and we camped out.The group endured two Hurricanes with windspeeds of one hundred twenty five miles an hour. The break was tropical, warm water and soothing. At one point on the journey home, we bent a tie rod under the front of the truck and were stranded in a riverbed. The local natives came to our rescue and straightened the rod. With everyone pushing the truck through the dry riverbed, sixty seconds after they pushed to the top of the bed, a flash flood of water and mud came rushing down the river. 60 seconds from death!
Chapter 11
The Hobie Reunion took place with Phil Edwards at San Juan Capistrano Factory with Hobie Senior. Daniel gave Hobie a copy of "Surfin' Shorts" by Bruce Brown, who was the producer of " Endless Summer" smash hit. Phil shaped me a board measuring nine foot seven inches long built for specifically winning the Malibu Classic Annual Surf Tournament. "God Only Knows"by Brian Wilson what will happen!
The cream of the crop of this bubbling fermentation of creative genius began. It was not only an artistic ideal, but also it revolved around set rules and regulations of a competitive race,a rhythmic dance, and stylistic logic. The scene was the First International Skateboarding Championships 1965 May 23rd and 24th which was held at La Palma Stadium in the City of Anaheim, the County of Orange, the Great State of California. The event had 280 competitors from around the world. Scholarships were given to three winners. The Hobie Super Surfer Skateboard Team won first place by 47 points and Makaha won second place followed by Don Burgess Pool's Team lead by Don Jr. Hobie and Larry Stevenson flew the teams to the Hilton Hawaiian Village for three weeks of surfing at #3's, Kaiser's Bowl and Ala Moana. What a blast !
Chapter 12
My last course at UCLA was in Political Science. The course title was " The Presidency " I read three books on Abraham Lincoln, who was the most Christ like man I ever read about. Just before his sister Sally wed, he wrote a poem for her: "When Adam was created, He dwelt in Eden"s shade As Moses has recorded; and soon an Eve was made. Ten-thousand times Ten-thousand of creatures of creatures swarmed around Before the bride was formed ! The Lord then was not willing The Man should be alone But caused a sleep upon him, And took from him a bone. And brought her to amen The Adam he rejoiced to see his lovely bride. A part of own body The produce of his side This women was not taken From Adam"s head we know, to show she must not rule him 'tis evidently so. This woman she must be protected Form injuries and harm,""Abe said" Reason, cold calculating, unimpassioned reason must furnish all the materials for our future support and Defense, But the cold reason that controllled his mind never chilled his heart."
Chapter 13
He's ruled by his head She's ruled by his heart And she's his special lady though she looks like a little girl And she's his special lady though she looks like a little girl written by Willie Wingard
Chapter 14
MY REVOLUTION IS WON THROUGH THE REALIZATION IN THE TRUTH OF THE CHILDREN OF THE DISCIPLES OF THE GRAVITY FORCE, THE G-SPOT OF THE WOMB FOR THE SUPREME BEING CREATED TO BRING UNION TO ALL PEOPLE AND ALL SKATEBOARDERS THROUGHOUT DISCOVERIES IN OTHER GALAXIES AS WELL AS ON EARTH. THEY LEAD WITH DILIGENCE, HUMILITY, AND BREAK THROUGH WITH NEW HOPE AND UNITY THROUGHOUT THE ENDLESS UNIVERSE.
Chapter 15
ST, PATRICK'S DAY DANIEL WAS SKATING AS USUAL ON VACATION TODAY VISITING REVEREND MARTIN LUTHER KING'S BOULEVARD IN SOUTH CENTRAL TO HAVE A THRIFT'S CHOCOLATE CHIP ICE CREAM CONE WHILE TALKING TO THE LOCALS. THE FRIENDLY FACES WERE EVERYWHERE. CHOCOLATE TONES AND IVORY TEETH. TO THE WEST IS WINDSOR HILLS. LUXURY CONSTRUCTION AND FAMILY LIVING ON TOP OF THE HILLS, OVERLOOKING THE LOWLANDS OF LYNWOOD,WATTS, AND WALNUT, THE HOME OF THE RICH AND ST. BERNADETTE'S CHURCH.
Chapter 16
First, there she was the finest girl that boy had ever seen. Green eyes, delicate long brown hair in the oval lawn at Palisades High School. She was a student of the highest class. Daniel cried for her. The tears ran from his cheeks and the sound of Bob Dylan could he heard from behind,"Come in she said, I'll give you shelter from the storm."
They went surfing at Topanga Point, laughing and singing with George Trafton, surfing Champion and skateboarding sage. The love that we feel was strong and true. Her voice was feminine,soft and gentle. She made him feel like being a better man!
Stay in touch
Sign up for our free newsletter