Los Angeles
The Plus Bus: A Glassell Park Boutique Unapologetically Celebrates Fat Chick Style
10:52 AM PST on November 12, 2018
[dropcap size=big]T[/dropcap]he song "I'm in Love with the Shape of You," plays in the background of The Plus Bus Boutique in Glassell Park.
I'm in love with your body
Oh—I—oh—I—oh—I—oh—I
I'm in love with your body
The Ed Sheeran tune is a perfect fit for the on-trend resale shop that specializes in sizes 12 and up. You'll find sequins. You'll find chiffon. The owners of The Plus Bus say what you won't find in their store are what they call 'fat girl' clothes. "If you want to wear a crop top, wear a crop top and we're where you will find that," co-owner Marcy Guevara-Prete told L.A. Taco.
She and clothing designer Jen Wilder opened up the Plus Bus two years ago after they got a sense of the demand while selling clothes from their own closets at the Rose Bowl Flea Market. "I think that if you are a fat girl or a fat gender-nonconforming person, expressing yourself through fashion has been a sort of a closed off realm to us," Wilder said.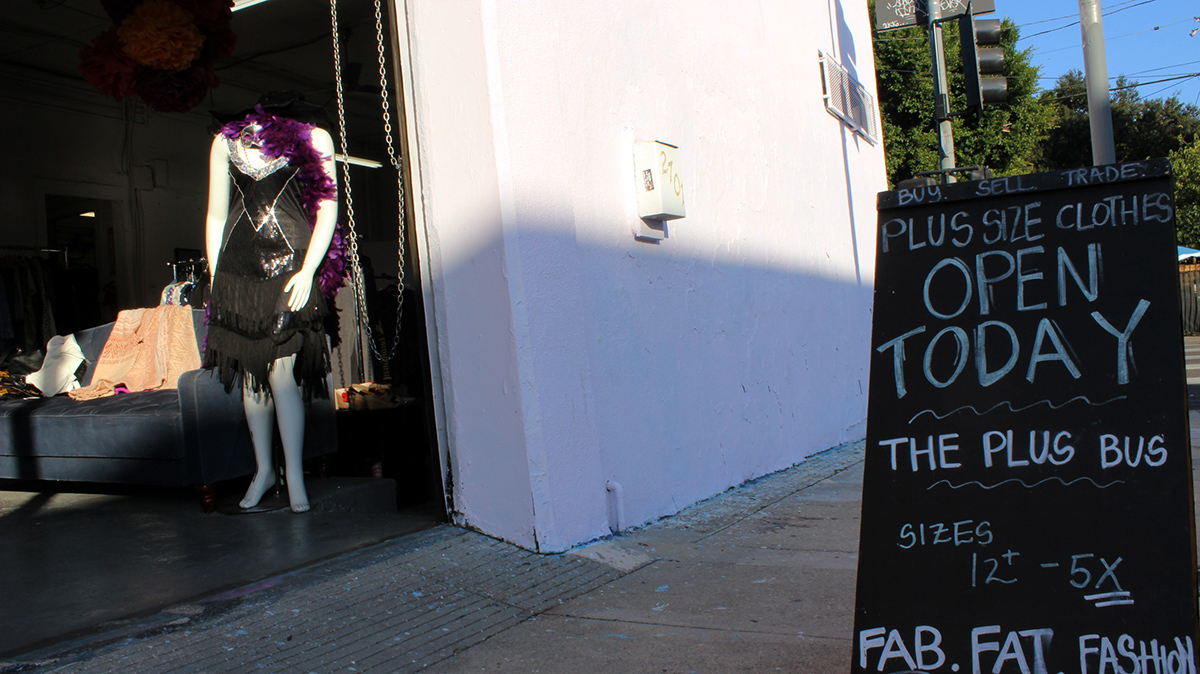 It's an exploding niche. An estimated 67 percent of American women are size 12 and up. An increasing number of designers are acknowledging the obvious. Labels in regular rotation at The Plus Bus include Eloquii, Calvin Klein, and Michael Kors.
Retailers beyond the walls of The Plus Bus are slowly opening up access too. By 2020 Nordstrom says all of its women's clothing brands will offer sizes 00 to 24. Meanwhile in Los Angeles, The Plus Bus is creating a world of its own.
Wilder explained all this while expressing herself fully via aquamarine hair, cat eye glasses, and a floral blouse cut down to poitrine a plenty. "I mean, we are literally the only place in Los Angeles that you can come and do what we do in a retail environment. We are the only place that offers so many brands on the floor, and we are also the only place in L.A. that does consignment for plus-size clothing exclusively," Wilder explained.
"I think that we fill an incredible niche," she added.
Guevara-Prete, who works full-time behind the scenes producing reality shows, told L.A. Taco that big names from the world of Hollywood have come onboard The Plus Bus. "Many of our curvy actress friends lend us their closets when they're done with them. We have Carla Jimenez who is on The Mick, and Gabourey Sidibe is a supporter."
Social media influencers also offer their curated clothing. There's Coco of Coco's Curvy Closet who regularly bares her midriff on social media, stretchmarks and all, to adoration and acclaim. And there's Gabi Fresh who describes herself to her 657k Instagram followers as the "OG fat girl." Google her and the first photos that come up are likely to be her modeling the lingerie.
Gabi and Coco's rolling racks are among the most popular in the store. Giving fashion forward voices a place to live is exactly what Wilder and Guevara-Prete envisioned when they opened their store.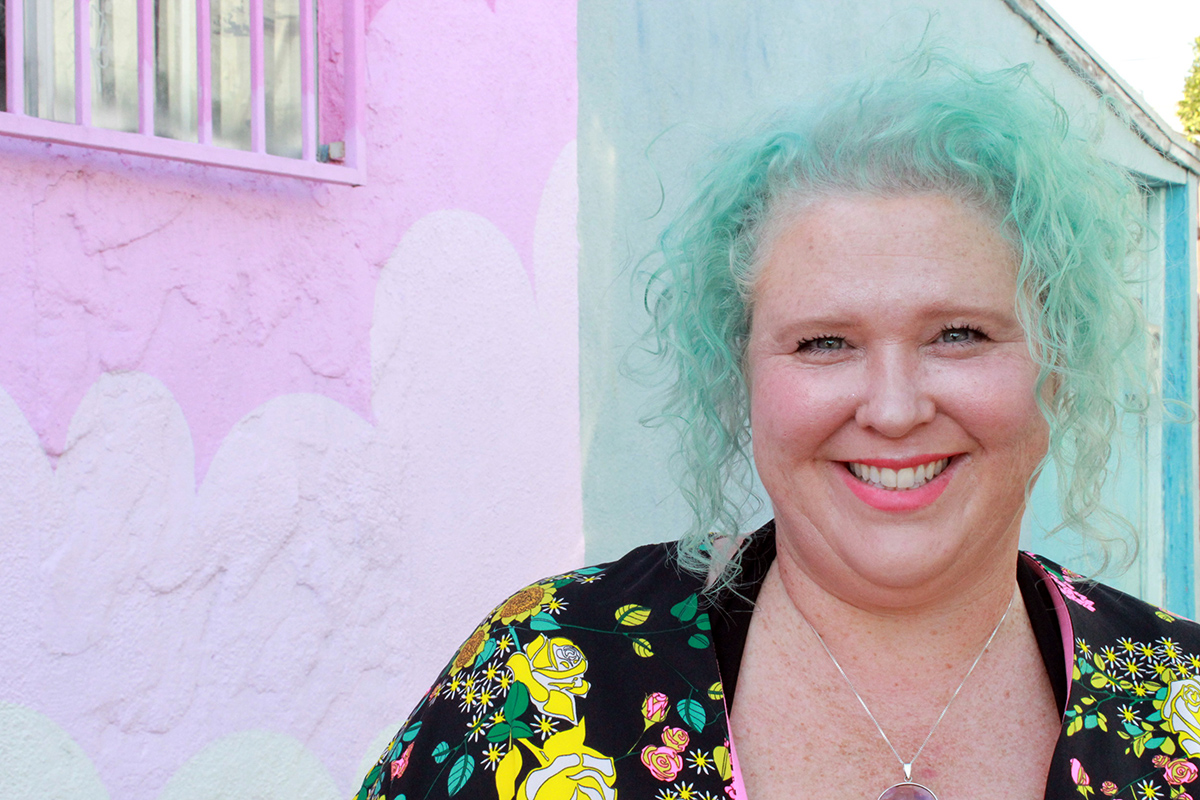 'Fat Girl Clothes'
[dropcap size=big]W[/dropcap]ilder was posing for a quick photo session for L.A. Taco alongside employee Tara Joy Quinteros, who was wearing a black bodycon dress with booties.
Meanwhile, a Plus Bus regular named Bevin chose a mod-style yellow lace dress for her weekly appearance on the Plus Bus' Facebook Live show. The sessions are designed to sell clothing to customers not able to come into the shop. "I identify as fat person. I've never known my body to be anything but fat. And when I was a teenager I had to shop in matronly stores that were geared towards women who were in their fifties," Bevin told L.A. Taco.
Bevin said this was doubly disheartening. "It's really hard to feel like you can't fit in with your peers, both because of your size and also because of the clothes that you can or can't access," she explained.
Along with the bejeweled Melissa McCarthy jeans and the incandescent round sunnies, comes a lot of heartache and bullying for nothing more than size.
"Fat girl clothes, you know, [are] about covering," Wilder said in between poses. "It's about hiding. And we're not here to participate in that conversation. We are here to express ourselves fully, to engage in fashion as a tool of artistic expression, creativity, and to use it as something that serves you in your life."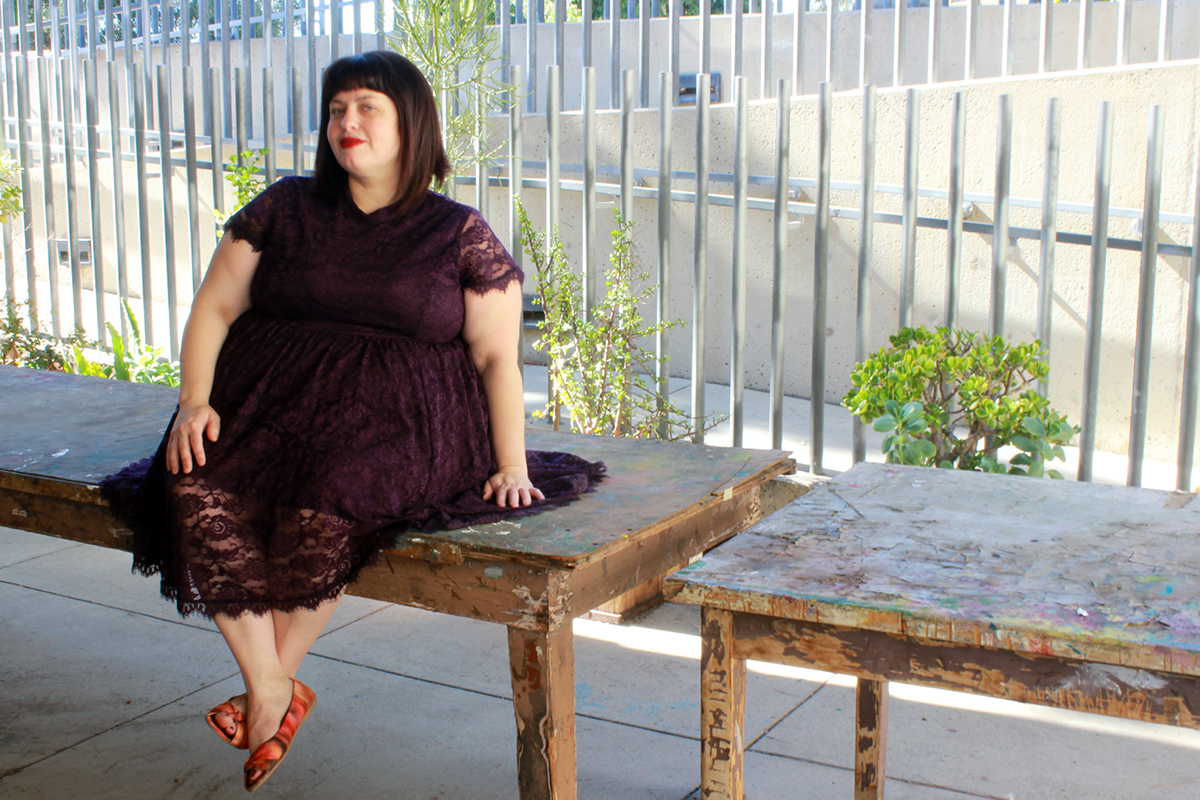 'Fab Fat Fashion'
[dropcap size=big]T[/dropcap]he sign outside the store expressly says "Fab Fat Fashion."
While you do hear words like curvy or thick to describe shoppers at the Plus Bus, both the customers and  the store owners I spoke with said they prefer the word fat.
Wilder is unapologetic about it. "Yes, yes. Fat is a descriptor and it is what I am. I'm a fat woman," she said. "I also am a lot of other things." It's not just the clothes that drive Byner to the Plus Bus. It's also the opportunity to be uplifted by kindred spirits who have similar life experiences.
"Taking back the power of the word fat has become something that I'm very passionate about because it was used as a derogatory term towards myself and most of our clientele our entire lives," Wilder said. "So embodying the word and showing that fat does not mean those stereotypical things that people think of when they think of a fat person. Yes, you can be fat and you can be beautiful."
Plus Bus employee Quinteros, who posed so confidently in the black bodycon dress admitted in a Facebook post that she used to feel "extremely nervous" about how she looked, so much so that she was "consumed with worry" about what people around her thought "to the point of nausea." 

Actress and model Jazzy Byner is a Plus Bus regular and she recalls the ugliness she has faced for the simple act of going to the gym.
"At gyms I have experienced things like a group of young boys making fun of me because of working out and talking shit about it," she told L.A. Taco. "They were standing five feet from the bench where I was doing sit ups on. They were talking as a group about how I should not even be there because of my size, because it was not obviously helping me anyway."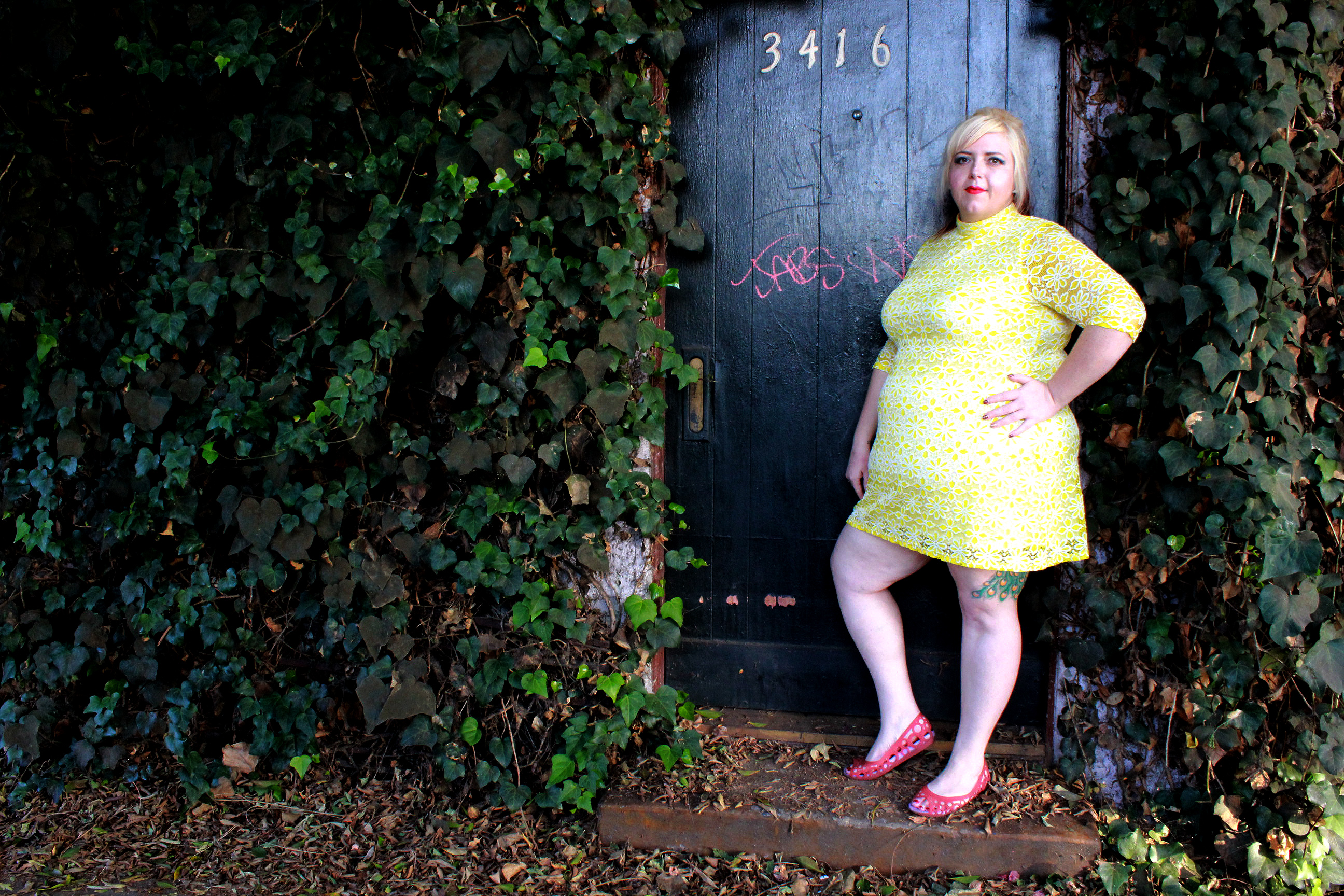 'Fat Kid Dance Party'
[dropcap size=big]T[/dropcap]he Plus Bus is very much evolving beyond a place where you can put cute outfits together to a place where those seeking body positivity get together.
"The community element of our space is probably the most important element to us," Guevara-Prete said. "Because I think for most of us that have grown up plus size, there's such an emotional attachment to clothes."
"So when you finally sort of aren't just the fat friend shopping and you're not relegated to the accessories section and you can meet other people like yourself, it's kind of fun to have a gang and a group. We have created a really fun atmosphere here."
That includes comedy and karaoke night along with regular parties.
The store hosted Fatchella earlier this year in celebration of its two year anniversary.
"We focused on that festival look of Coachella and we had the hippie look and we had bikinis with leather fringe skirt and just over-the-top things like that," Wilder explained.
There are also book signings and concerts and pop-up events. And every week regular Bevin leads what she calls the 'Fat Kid Dance Party', a fun movement class.
She says this is the class she wished she had when she was a fat kid in middle school. Rupaul's song "Peanut Butter, which features the lyrics, "Must be jelly 'cause jam don't shake," is in heavy rotation during her classes. And jiggle is definitely embraced in this space.
"I use the word party because I don't want it to seem like exercise," she said. "I don't want it to seem like punishment. So much of movement is used to punish people, especially for fat kids. They're forced to exercise, they're forced to diet. I was forced to diet when I was small and it really screwed me up."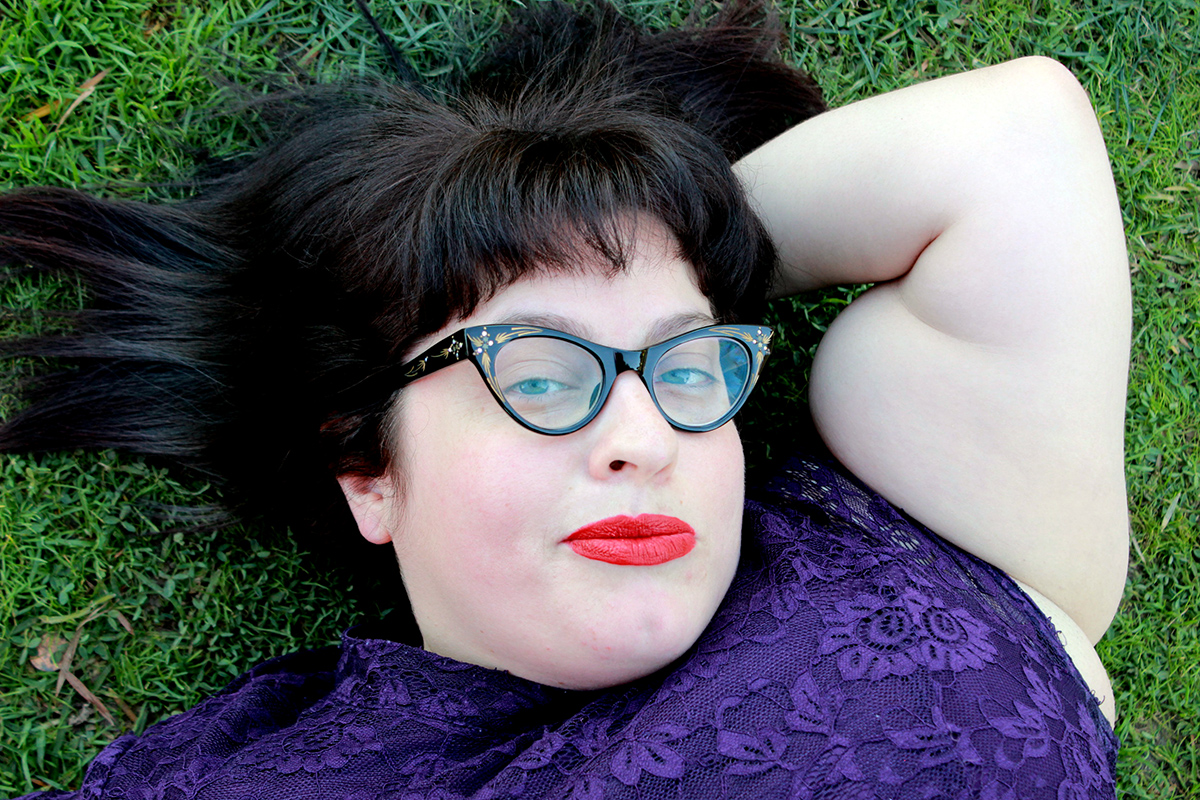 Byner, who has been fat-shamed at other gyms, feels at home in Bevin's class.
"As much as it is an aerobics class it is also a deprogramming class," Byner said. "It has been deprogramming me that I had to cover certain things in order to be happy and be beautiful and feel beautiful. It was okay not to cover up and to let loose and love my body openly with the people who also love their bodies."
The store reinforces that mantra.
"I believe that being fat is a civil right. We have the right to remain fat," Guevara-Prete said with a chuckle. Although, she is quite serious about her message. "If you choose to be fat you should be able to go places and do things and wear things that make you feel good."
Wilder echoed this philosophy. "Yeah, I am beautiful. I am smart. I am educated. I am married, I have kids. I own a business. I create my own clothing lines. I manifest my own destiny and my fat is not a hurdle to be overcome." You could almost hear Ed Sheeran playing in the background.
Every day discovering something brand new
I'm in love with the shape of you
RELATED: How This POC, Women-Led Group Is Taking a DIY Approach to Feeding South L.A.'s Homeless
Lena Nozizwe is an award-winning journalist whose storytelling toolkit includes a pen, a DSLR camera, a digital recorder, and a sense of adventure.
Stay in touch
Sign up for our free newsletter