Alhambra
Pasadena's First Taproom Took Four Years to Open and Is Now a Community Space for L.A.'s South American Community
9:28 AM PDT on October 12, 2021
Welcome back to L.A. TACO's column, "Dr. Beer Butch," where Professor Hidalgo examines L.A.'s craft beer scene using her background in academia, LGBTQ, and [real] eastside L.A. culture.
here's more to beer than IPA." 
The hoppy West Coast version of the India Pale Ale is overrepresented on shelves and taps all over SoCal, but that won't stop Martín Quiñones from adding one to his lineup at Cervecería del Pueblo, the Pasadena craft brewery he owns and operates. Quiñones is running a business, after all, and IPAs are what the pueblo wants and have come to expect from a craft brewery. 
"I want to give people something new, something they haven't tried before," he said. 
So Quiñones will make his IPA with panela, a raw sugar from Colombia, inspired by his father. "My dad loves panela," said Quiñones. "He usually drinks Aguila, a Colombian beer that's like a lager. And he likes our IPA." Quiñones takes inspiration from his family and the flavors of his homeland, Colombia, and South America more broadly to craft his own creative and popular cervezas. Cervecería del Pueblo specializes in refreshing, easy-drinking lagers and light-bodied ales brewed with locally sourced South American herbs, sweets, and grains.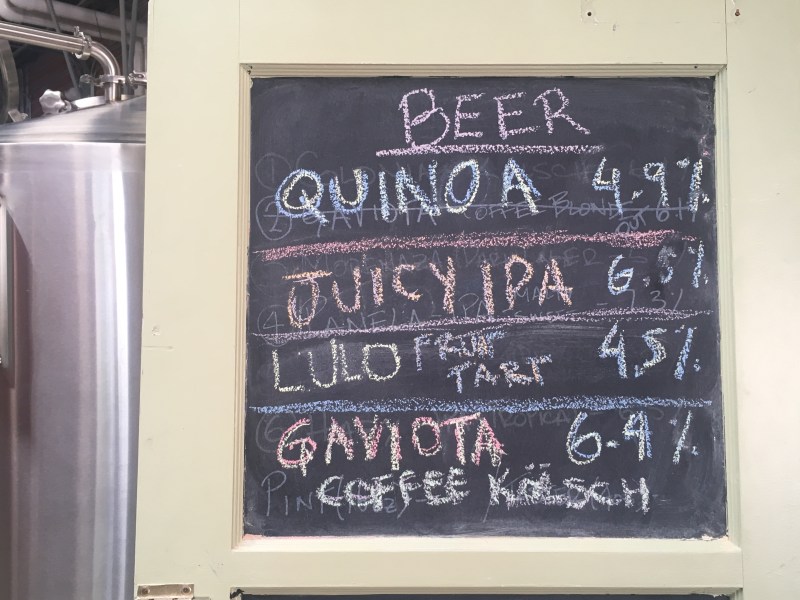 Cervecería del Pueblo is finding its footing in the community after a rocky opening year in the middle of the COVID-19 pandemic that saw them resort to canning beer by hand for delivery and pickup.  With ten taps pouring tasty craft beer and seltzers and a steady stream of food trucks, the small but mighty brewery is "selling beer faster than we can make it," said Quiñones. "We're new, we're open, and we're excited to bring people here."
Cervezas with South American Sabor 
Located in a cozy corner driveway on leafy West Bellevue Drive, Cervecería del Pueblo invites locals and newbies with warmth and friendliness. Green ivy crawls along the chain-link fences and brick walls hued in bright reds, yellows, and oranges that line the welcoming patio space where twosomes and groups with kids enjoy pints of yerba mate beer or "Orxata" seltzer and arepas or charburgers from today's food truck. Yellow, red, and blue stripes mark drainage poles inside.
"We use ingredients from all over South America, and we always try to use Pasadena sources to get them," said Quiñones. "Our Argentina mate comes from a local mate bar, our cacao from Ecuador and Peruvian quinoa come from local merchants. Our Colombian coffee for Gaviota comes from Jones down the street."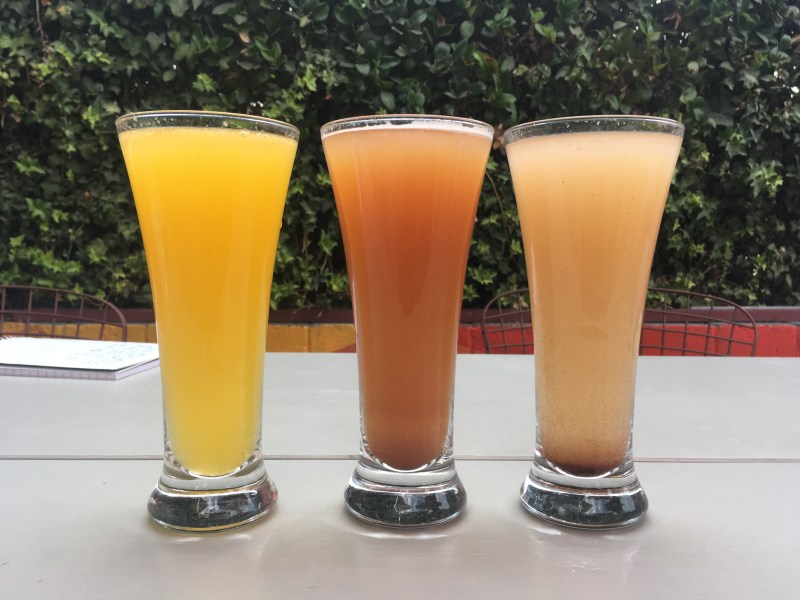 Jones Coffee Roasters provides special medium-roasted coffee beans exclusively for Cervecería del Pueblo's signature beer, Gaviota Coffee Kölsch (6.4%). Named for a blonde character in a popular Colombian telenovela, Gaviota features whole coffee beans added after fermentation and before carbonation for a subtle finish befitting the 'hybrid' ale-lager style. "I want people to change their ideas about what a beer can be, like the idea that the Gaviota can't possibly be a coffee beer because it's not dark like a stout," said Quiñones. "The kölsch a refreshing style and a good gateway beer for new drinkers, and people don't expect a beer to look like this to have those flavors."
Quiñones also makes a quinoa wheat beer (4.6% ABV) with orange peel and coriander for a grainy, earthy, satisfying flavor. Other flavorful beers on rotation include Lulo Fruit Tart (4.5% ABV), an effervescent Berliner-Weiss brewed with lulos, small orange fruits that are green inside like an heirloom tomato. It has such wide appeal that "people who don't like beer tend to like Lulo," said Quiñones.
Another sign of what the pueblo wants are the seltzers on tap at the Cervecería. While Quiñones admits the spiked fizzy waters are wildly popular right now, he also sees their value as a gluten-free alternative to beer. "Seltzers use no malt, just sugar, water, and yeast. We use fresh fruit purees for the passionfruit and tamarindo for our seltzers. They're trendy, but they're also another medium to show our flavors." 
Taking Flight for First Responders 
In August 2021, the brewery hosted a highly-anticipated benefit supporting 809 Fight For Awareness, a non-profit organization founded by active duty Pasadena firefighters of local 809. Their mission is to promote mental health awareness for first responders and provide services and support for first responders and their families' mental health and wellness. Quiñones poured Flight of the Parrot Pilsner, a collaboration beer made by Cervecería del Pueblo from a recipe created by some firefighters.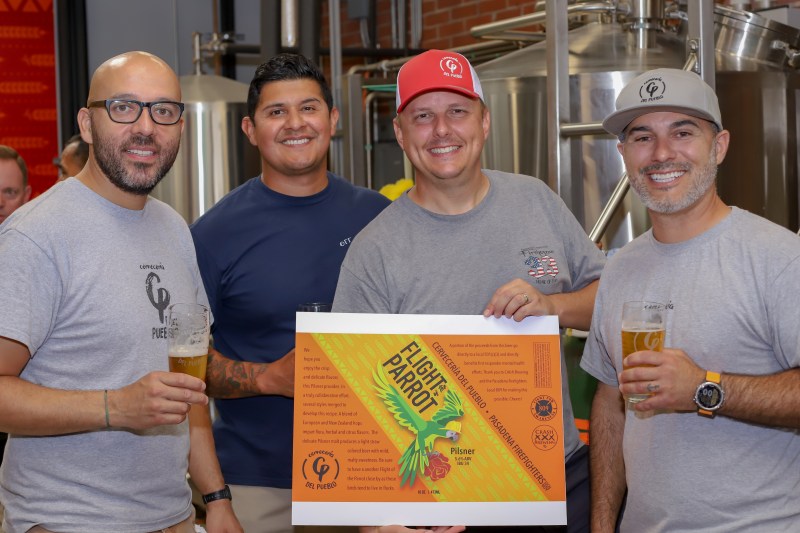 "We pre-sold 1,200 cans of Flight of the Parrot before we even brewed it," Quiñones told L.A. Taco. "It was a pilsner we made with New Zealand hops to switch up the flavor a bit, and everyone liked it." Nearly 40 firefighters helped brew the beer. Twenty percent of the proceeds for Flight of the Parrot Pilsner went to 809 Fight for Awareness.
Quiñones has several friends who are firefighters and first responders, so he feels especially proud to help their cause of mental health awareness in this way. 
"They see things most of us will never ever see, and they struggle. Their families struggle. The foundation is there to provide help beyond what the first responders' regular health insurance covers," said Quiñones. "The foundation is saving lives."
Flight of the Parrot represents Cervecería del Pueblo's efforts to be a good neighbor and business partner as a new brewery. "Supporting the 809's foundation was a great opportunity for us to help in this way," said Quiñones. "I'm humbled and honored to be part of it." Although this first batch is gone, Quiñones plans to brew more "Flight of the Parrot" and keep it as part of Cervercería del Pueblo's regular tap rotation in support of the 809 Fight for Awareness foundation's work. 
Pasadena's First Taproom Took Four Years to Open 
Before he found beer as a vocation, Quiñones worked in the film industry for 14 years as a sound editor. "But I lost my passion for editing," he said. "I wanted to be passionate about work again." He had already been homebrewing and was a member of a local homebrewers' club for eight years. When Quiñones started to consider brewing for a living more seriously, he fortified his homebrewing foundation with an intensive 26-month program through the American Brewers Guild. He spent two weeks working and capping off his certificate at the Guild's brewery, Drop-In Brewing, in Middlebury, Vermont. 
Back home in Pasadena, Quiñones got to work on making the transition from sound editing to small brewery owner-operator. 
Craft beer drinkers far and wide have known about Pasadena as home to the award-winning Craftsman Brewing, which distributes its beer to area bars and restaurants but does not have a public tasting room. 
Quiñones saw the opportunity. 
"There was a huge hole in Pasadena with beer," he said. San Diego's Stone Brewing opened its taproom there in 2012. Plenty of local bars and gastropubs offered great craft brew selections. But to visit a local brewery, Pasadena residents would drive to Alhambra, Monrovia, or beyond. "I live here, and so I wanted my brewery to be here in Pasadena. I didn't want to go anywhere else."
From the start, Quiñones wanted to make the brewery a truly local business enterprise that valued community-based efforts. He hired as many engineers, contractors, plumbers, electricians, designers, and other workers as he could from Pasadena and surrounding areas. He found the space in early 2017, and after a city hearing and permit process that took over 2 ½ years to complete. "We were going to be the first taproom in Pasadena," he said. "The City had no idea how to classify us. We were in the space for almost four years, but we're brand-new and just starting to operate fully."
Now, Quiñones and his crew—Pablo Quiñones, brother and brewery manager, and beertender Angelica Moreno—enjoy regular crowds on Wednesdays through Sundays for DJs, game nights, and Colombian food vendors that draw people from around L. A.
Del Pueblo means a village, town, people.
More than anything, Quiñones and the Cervecería del Pueblo crew want to offer customers a genuine experience. "You can be a beer snob or have no clue about beer, but you can be here because there's something for you. We hope we can make life a little better." Like many craft breweries around L.A. County, Cervecería del Pueblo welcomes pets and families. "We are inclusive and cannot discriminate," said Quiñones. "I listen to feedback. I installed diaper changing stations in the men's room for the dads who come here with their kids."
Quiñones wants people to enjoy his beers and experience something a little different from what they might expect from a craft brewery. "I'm happiest when I see families coming in. They can be anywhere else, and they're here." I brought my compadre Gio, born in Bogotá and sporting a bright yellow Colombia fútbol shirt. It was Gio's first time there, and he ran into six people he knew—some of them family, all of them Colombianos from around Los Angeles. 
Cevecería del Pueblo, living up to its name.
Melissa Mora Hidalgo was born in Montebello and grew up in the L.A./O.C. borderlands of East Whittier and La Habra. She holds a Ph. D. in Literature from UC San Diego and is the author of Mozlandia: Morrissey Fans in the Borderlands (Headpress UK, 2016).
Stay in touch
Sign up for our free newsletter