Drink
Find The Only L.A.-Made Sake at This Covina Brewery, and Beer Made with Rice and Tea
12:21 PM PDT on June 3, 2022
Welcome back to L.A. TACO's column, "Dr. Beer Butch," where Professor Hidalgo examines L.A.'s craft beer scene using her background in academia, LGBTQ, and [real] eastside L.A. culture.
When Emiko Tanabe and James Jin envisioned their dream sake brewery, they aimed to champion sake in Los Angeles and make the centuries-old Japanese fermented rice beverage more accessible to local drinkers. The couple met while studying for their sommelier certification at downtown's Sake School of America. Motivated by a love for sake and a desire to see it brewed again in Los Angeles, Tanabe and Jin opened Nova Brewing Company in December 2019—L. A.s first sake brewery in over 70 years.  
Head brewer Jin makes his artisanal California sake with Calrose rice and imported Japanese ingredients, using an innovative if not maverick approach that blends traditional and modern sake-making methods. 
He kept brewing through 2020, even when the lockdowns and closures in the early days of the pandemic threatened to throw the new brewery and its sake-only plans for it off-track. Within a year, Jin was churning out award-winning craft sake, nabbing two silver medals at the 2021 New York Wine and Spirit Competition for the upstart brewery.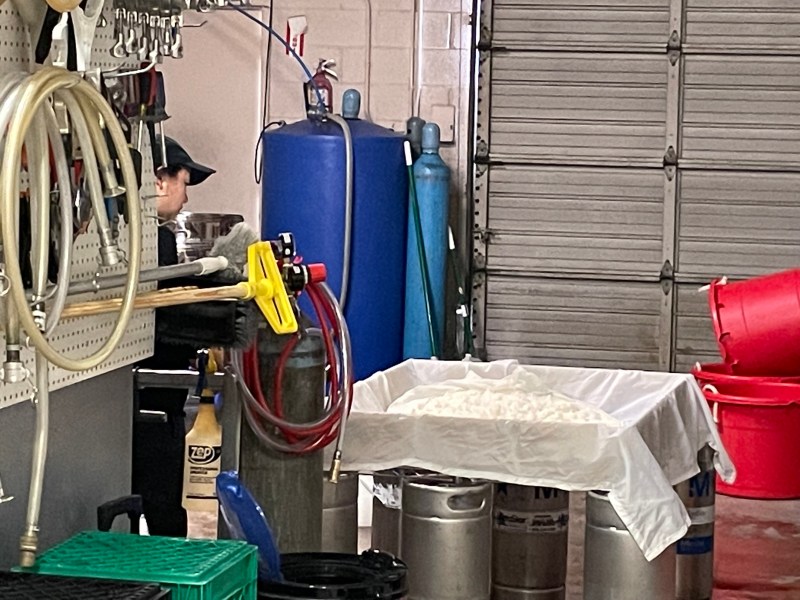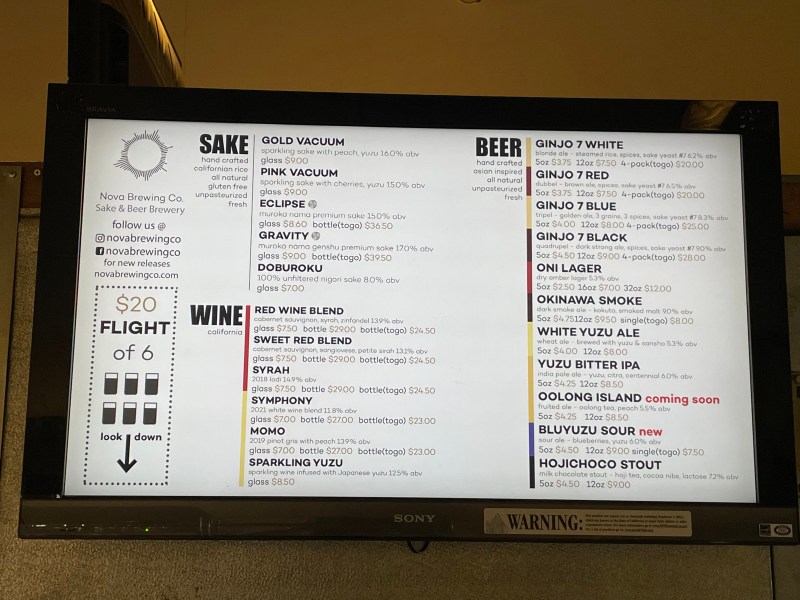 As if medal-winning sake wasn't enough, Nova stands out for another reason. 
A unique hybrid brewery, Nova Brewing Company also makes an impressive lineup of beers using its sake rice, and yeast. Jin's ales and lagers come alive with the clean, balanced, herbaceous flavors imparted by the sake ingredients. From Ginjo 7 blonde ale to Hojichoco stout, Nova's singular beers are fresh, memorable, and a welcome change of pace for the curious craft beer drinker.  
The acclaimed sake is the rightful star of the show, but Nova's unique Asian-inspired beers make this Covina brewery shine. 
Keep the beer, save the sake 
It's hard to believe that beer was not an original part of the founders' vision for their brewery. On the taproom menu at Nova, ales and lagers outnumber the sakes two to one.  As Jin tells L. A. TACO, "Nova Brewing's plan was never to brew beer. Our main goal was to be a sake brewer in L. A., to bring fresh local sake to the people here."
Jin and Tanabe, his wife, business partner, and Nova's brand visionary, are part of a handful of sake specialists in Los Angeles trying to promote the Japanese beverage. "But it's not easy," says Jin. "When you go to a liquor store, most of them will tell you sake sales are just around one percent of total sales. It's hard to introduce, and we understand that."
Sake presented another complication when it came time to apply for permits. "The government thinks that if it's under 8% ABV, it's beer, and if it's higher than 8%, it's wine," he said. Sake is neither, but as a fermented rice beverage, its ABV can range from 8% up to 17%.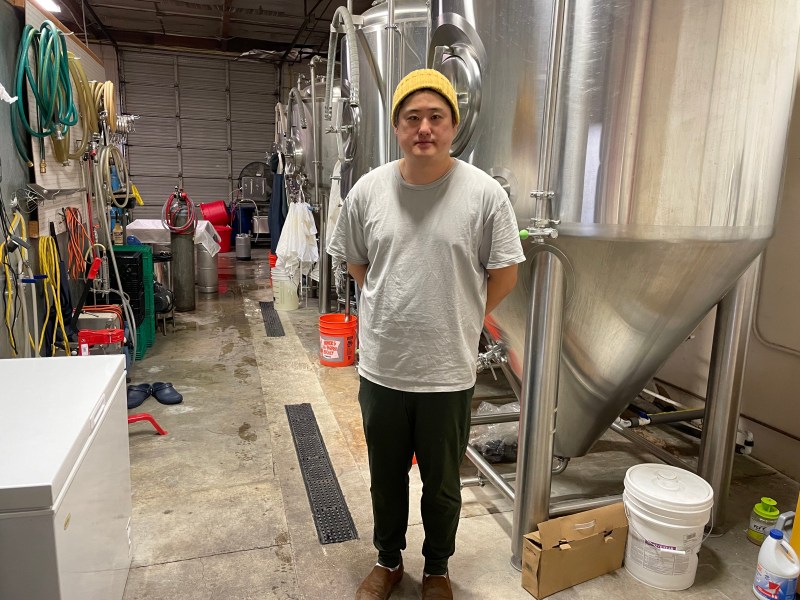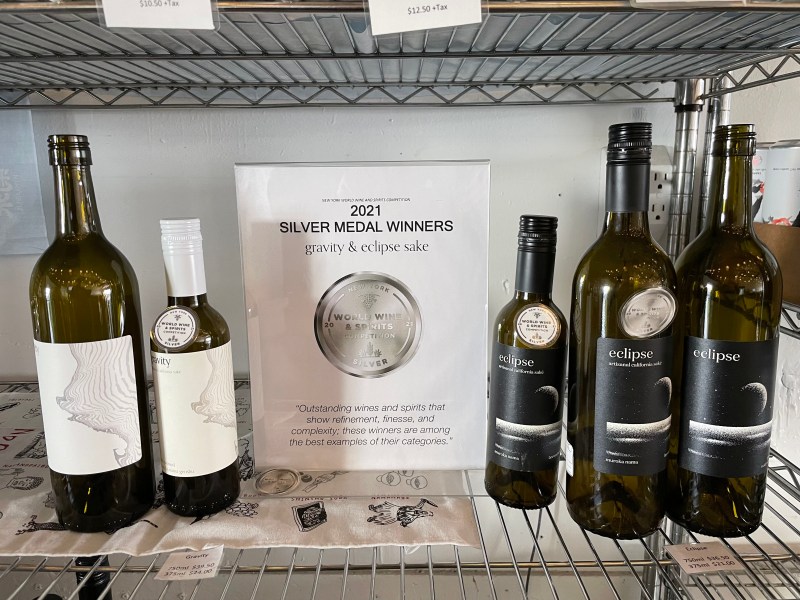 To bring sake to L. A. and meet drinkers where they are, Jin and Tanabe looked to rent a space close to another brewery. Their search led them to an industrial part of Covina, where they happened upon a brewery and a winery, complete with permits, about to be put up for sale by the owner. 
Tanabe and Jin bought it in October 2019. The setup was ideal and made it easier to obtain the sake license. They also liked Covina's central location, reachable from other parts of L. A., Orange County, and the Inland Empire. They replaced the wine-making equipment with sake brewing tools and kept the existing beer brewery, changing their sake-only plans.
"We knew we had to keep the beer in order to continue running the place while we made and introduced the sake," said Jin. "People like beer, and they drink a lot of it." When the pandemic forced them to lay off their entire staff, including Jin's assistant brewer, the couple realized that Jin would have to brew both sake and beer himself. 
Months of lockdown forced them to downsize, regroup, and refresh their brand. They tossed out old beer recipes and styles and rebuilt brewing equipment for efficiency and sustainability. That's when Nova's beer star was born.
California beer that's "as Asian as possible" 
Jin described the lockdown as a hard but necessary time for Nova to grow and make important changes. 
He tells L. A. TACO, "When we decided that I had to start brewing beer, I knew that I didn't want to make the same stuff that everyone else is making. I realized back then that we're one of the very few Asian breweries, so we decided to press the pedal on that and just be all Asian, be as Asian as possible. We had to have our own identity, do our own thing, add our own flavor."
Ginjo white's soothing, round mouthfeel gives way to a spiced-up, creamy taste that lingers in the finish, and you just want to keep sipping.
For inspiration, Jin drew on the few weeks he spent training at Japan's Kiuchi Brewery, which specializes in sake and is known among beer fans for its Hitachino Nest owl-label beers. He threw leftover steamed Calrose rice from sake batches in the beer mash and used sake yeasts during fermentation. He found many advantages for using the sake ingredients already on hand to make beer. 
"As a hybrid brewery, it just made sense for us to focus on yeast that not many other breweries are using," said Jin. "Using the same yeast reduces the risk of contamination between sake and beer."
Once he brewed his first batch of beer with Japanese sake yeast #7, Jin realized that in terms of flavor profile, body, temperature, and alcohol level, it performed much like a Belgian yeast did.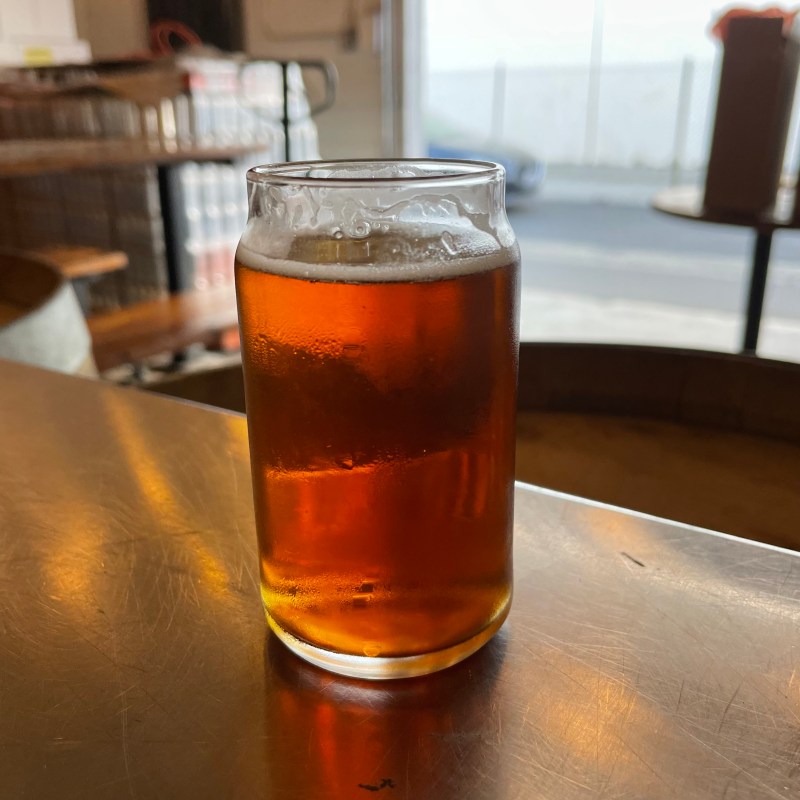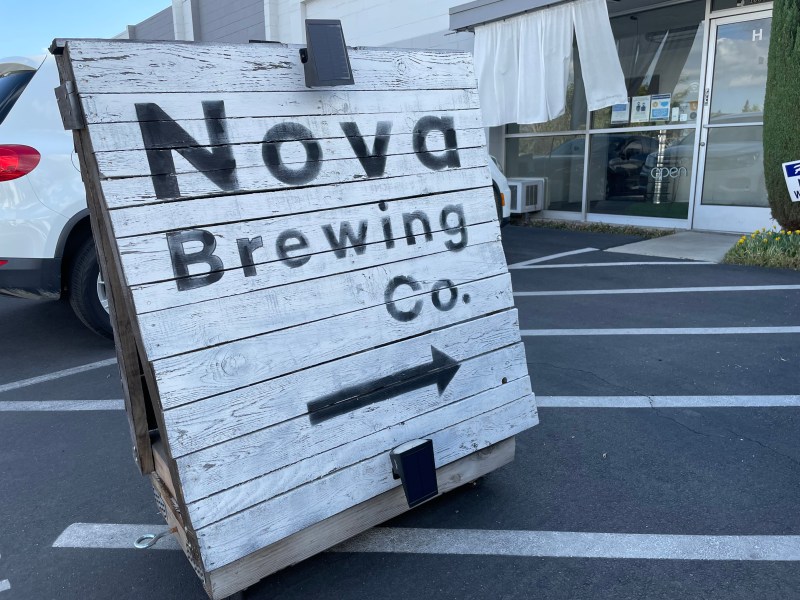 "That's when Ginjo 7 was born." 
Ginjo 7 blonde "white label" ale became Nova's flagship beer and the first in its signature "Ginjo 7" series that pays homage to some of Jin's favorite Belgian ales by St. Bernardus or Chimay, for example, which use different label colors to denote progressively stronger versions of the same base ale and yeast strain. 
The clear, golden straw-colored ale and lightest of the Ginjo 7 ale series, "white" clocks in at a buzzworthy 6.2% ABV. And it's delicious. Ginjo white's soothing, round mouthfeel gives way to a spiced-up, creamy taste that lingers in the finish, and you just want to keep sipping. 
"Ginzo 7 is inspired by a Belgian beer I really like, so we decided to continue it and explore four different Belgian style beers using the same sake yeast," said Jin. "After Ginzo 7 blonde ale came the red dubbel, blue trippel, then black quadruppel versions." 
"That's part of being a brewer, knowing what tastes good or bad, and I find that if I think it tastes good, I realize a lot of others think it tastes good too. If it's not the best beer that I brewed, then you can see that in people's reactions, too."
Every Ginjo 7 beer uses sake #7 yeast and a combination of spices, grains, and steamed rice. They're all so easy to drink and very good, nothing too heavy, syrupy, yeasty, overbearing, or overwhelmingly strong in the way that some Belgian-style ales can taste. The lighter, more pleasant qualities are attributed to the sake ingredients and the floral, herbaceous, balanced flavors that enhance, rather than mask, the beer itself.  
Nova's lagers and other ales also incorporate sake yeast, rice, and other Japanese ingredients. Favorites include yuzu, seasonal fruit, and oolong tea—anything that tastes good to Jin and that people want to drink. 
"That's part of being a brewer, knowing what tastes good or bad, and I find that if I think it tastes good, I realize a lot of others think it tastes good too. If it's not the best beer that I brewed, then you can see that in people's reactions, too."
Take oolong tea, one of Jin's favorites. "I love oolong tea, and I always imagined it would be nice in a beer. Oolong is partially roasted and would add a nice flavor and aroma, and beer is basically barley tea. People ended up enjoying it." Oolong Island (5.5%) ale, brewed with oolong tea and peach, became one of Nova's bestsellers.  
In two visits, I tasted all ten of Nova's beers and three of its sakes. Visitors who enjoy both sake and beer would be hard-pressed to find something they didn't like. 
"The Hybrid Experiment" (6.6%) is a drinkable lighter-bodied beer aged six months that reflects Nova's hybrid sake-beer identity. The White Yuzu Ale (5.3%) is a flavorful, floral unfiltered wheat ale brewed with yuzu, a favorite of co-owner Emiko. There's also Bluyuzu Sour ale (6.0%) with blueberries and yuzu, refreshing and quenching, and sure to become a summertime favorite. 
I loved the Oni Lager (5.3%), a dry amber lager, clean-tasting with pleasing malt and honey flavors with a crisp rice finish, and the Hojichoco Stout (7.2%) brewed with haji tea, cocoa nibs, and lactose reminiscent of the dry Irish styles like Guinness.
But the showstopper is Okinawa Smoke, a one-of-a-kind dark smoke ale brewed with smoked malt and kokuto, an Okinawan brown sugar, and measuring at a dangerously deceptive 9.0% ABV. Treat it like the mezcal it tastes like and go slow, ideally paired with some carne asada nachos from Alberto's down the street. 
Covina's 'Bright New Star' in L.A.'s Craft Beer Constellation
Nova is Latin for "new," and in astronomy, a "nova" refers to a bright new star in the sky. 
For Jin, a UCLA grad and self-described "space geek" who took a lot of astronomy classes in college, the name Nova was an apt description for a dying old brewery that got a fresh new start.
Nearly three years later, Nova Brewing Company continues to shine as Los Angeles's only sake brewery that also makes a stellar line of Asian-inspired ales, lagers, sours, and stouts. They hired a new assistant brewer, Akane Kinjo, who helps brew beer and was preparing steamed rice to make her first solo batch of sake the day I visited. Weekends buzz with visitors from all around Los Angeles and Orange County. 
"What I really like to hear is that my beer is like nothing people have ever had before. And that's what makes me happy."
Their impact on the local drinking landscape was apparent on my first visit on a Thursday afternoon in April. When I walked in five minutes after doors opened, one regular was already perched at the bar, eagerly awaiting a fresh pour of his favorite beer, Ginzo 7 blonde. He introduced himself as Edward Arthur Cruz and said he works at a neighboring Italian restaurant and enjoys trying different area breweries. 
Cruz finds himself returning to Nova for many reasons. "The beers are unique and distinctive, not just any regular beer. I like the flavors. And the taproom here is so relaxing and peaceful." As I chatted with Cruz, I spotted a couple walking in with a bag of takeout and a board game to set up while they sipped tasters from a sake and beer flight. Another couple sat with large steins of ale they earned from being early Nova mug club members.
Nova occasionally hosts food trucks and pop-ups, including special Japanese-inspired Otsumami snacks that pair with alcoholic drinks. In addition to their signature sakes and beer, Nova serves wines and ice cream. Visitors are welcome to bring their own food. "I don't have to make the best beer in the world. I just want to be different and not be just another brewer out there," said Jin. "What I really like to hear is that my beer is like nothing people have ever had before. And that's what makes me happy."
1580 W. San Bernardino Rd UnitH&I, Covina, CA, 91722
Melissa Mora Hidalgo was born in Montebello and grew up in the L.A./O.C. borderlands of East Whittier and La Habra. She holds a Ph. D. in Literature from UC San Diego and is the author of Mozlandia: Morrissey Fans in the Borderlands (Headpress UK, 2016).
Stay in touch
Sign up for our free newsletter