Art
The Mural Mile ~ A History of Pacoima Told Through the Tapestry of Street Art
10:57 AM PDT on April 7, 2019
[dropcap size=big]'I[/dropcap] change myself, I change the world,' is one of the beautifully painted messages along Van Nuys Boulevard in Pacoima's Mural Mile. Gloria Anzaldua's words from her seminal book Borderlands, directly relate to the artist Kristy Sandoval and her artistic work in her hometown of Pacoima in the Northeast San Fernando Valley. Sandoval inscribed this quote on one of her several murals in Pacoima because Anzaldua's message directly connects to her own evolution as a woman and the transformation of the neighborhood she grew up in.
Sandoval's powerful spirit has kickstarted a cadre of painters and activists that have transformed a three-mile stretch of Van Nuys Boulevard in Pacoima into one of the most colorful thoroughfares in Southern California. It's been an organic process from within rather than developers or corporate investors. Sandoval and her fellow artists have turned this section along Van Nuys Boulevard into a living gallery of over two dozen murals extending from Arleta Boulevard on the south to Glenoaks Boulevard on the north featuring hand-painted images of sunflowers, Ritchie Valens, Danny Trejo, Aztec mandalas, Assata Shakur, eagles, indigenous grandmothers, and the California grizzly bear, among dozens of other breathtaking images.
The genesis of Mural Mile is a multigenerational coalition of artists including Sandoval along with the environmental justice grassroots group, Pacoima Beautiful. Though there have been some murals in Pacoima since the late 1960s and early 1970s, in the last seven years the number has tripled.
Pacoima Beautiful has worked closely with several artists, including Sandoval, the HOODsisters, Juan Pablo Reyes, Erica Friend, Manny Velazquez, Hector, Levi and Sarah Ponce, the GR818ers and several others to encourage the use of arts to empower community development. Before sharing stories on these transformative artists and Pacoima Beautiful, it's important to discuss Pacoima's history as a neighborhood and why it needed to be transformed.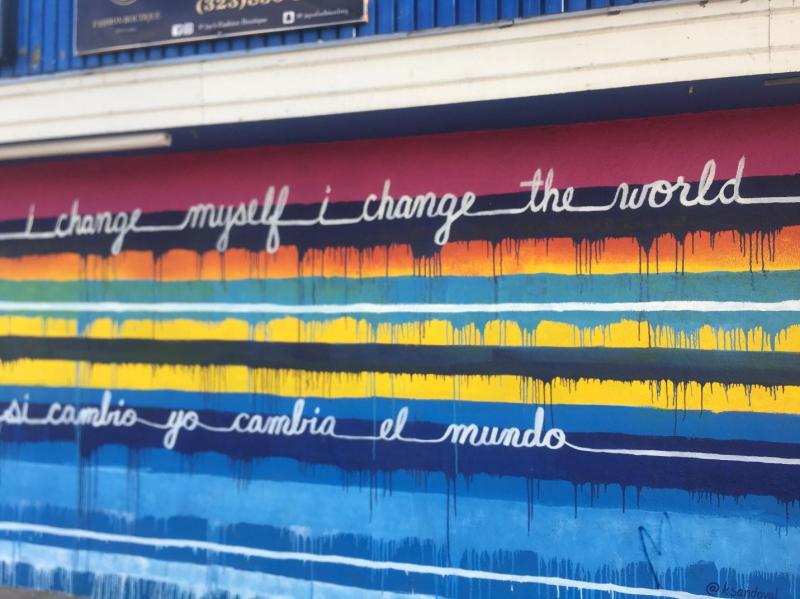 Agricultural History
[dropcap size=big]W[/dropcap]ith Native American roots dating back centuries before the Spanish colonized the nearby San Fernando Mission in the late 18th century, Pacoima is one of the most historic areas of the San Fernando Valley. Historian Leonard Pitt explains why it is named Pacoima. "The name derives from a Gabrieleño (Shoshonean) word possibly meaning 'rushing water,' a reference to the beautiful canyon to the north, once a favored place for summer homes but now under water," Pitt states. "The founder of Pacoima, Jouett Allen, purchased the land from Charles Maclay, who established the town of San Fernando."
By the end of the 19th century, Pacoima was sheep fields, wheat farms and citrus groves. There were also large dairy farms in the area until after the Second World War. Pacoima was originally a separate city, but it was annexed to Los Angeles in the early 20th century for the water rights that came from the Owens Valley Aqueduct.

Following the Great Migration around World War II, Pacoima became a majority African American neighborhood. (One of Kristy Sandoval's best-known murals, a piece honoring Assata Shakur is outside on the wall of Stylesville, a Black-owned barbershop on Van Nuys Boulevard.) Local factory jobs at Lockheed and General Motors provided many of the residents' steady income. Through the late 1960s and into the 70s, the Latino population increased and economic restructuring caused many of the local factories to close in the 1980s and early 1990s. By the mid-1990s, Pacoima was the poorest area of the San Fernando Valley.
Richie Valens, Judy Baca, Danny Trejo and Cheech Marin are a few luminaries that either came from or have lived in Pacoima at some point. In recent years, one of the main well-known locations in the general Pacoima area was Tia Chucha's Centro Cultural and Bookstore, the gallery and performance space in nearby Sylmar owned and operated by best-selling author Luis Rodriguez and his wife, Trini Rodriguez. Tia Chucha's opened almost 20 years ago and it is no surprise that many of the main contributors to Mural Mile came through Tia Chucha's including Pacoima Beautiful staff members Celia Contreras, Sandra Ramirez, and the artist, Kristy Sandoval.
RELATED: A New Mural For Boyle Heights Commemorates the Past and Comments on Gentrification of Today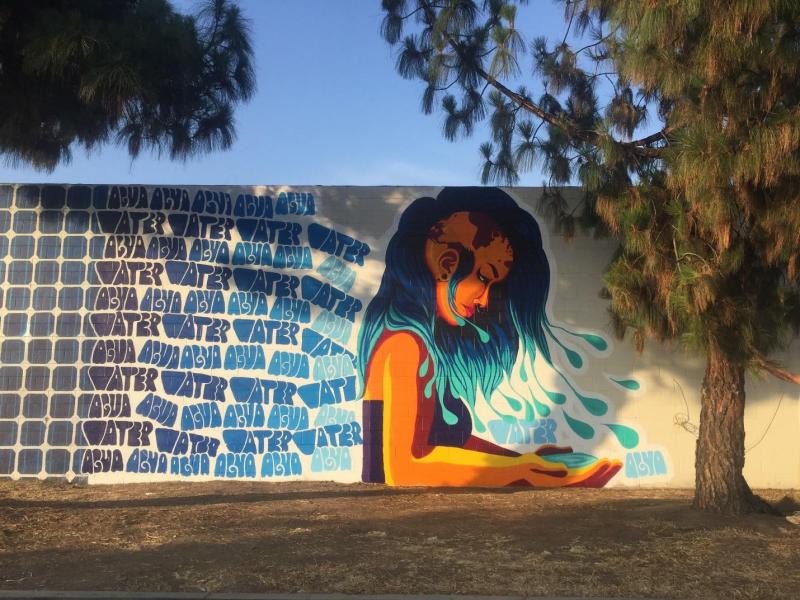 From Dive Bars to Mural Mile
[dropcap size=big]M[/dropcap]uralist Manny Velazquez is someone that has seen Pacoima in all its incarnations. Born in 1960, Velazquez grew up in Pacoima and painted his first mural in the neighborhood 45 years ago.
"I painted my first mural at the age of 14 in 1974 on a building that used to house a Non-Profit called El Proyecto Del Barrio, a community rehab for recent released inmates, gang members, youth, and others with drugs and alcohol problems," Velazquez recalls. Years later, he not only continues to paint murals, but he's mentoring youth. Like Sandoval he's personally invested in beautifying the neighborhood.   
Velazquez can tell you the history of every building on Van Nuys Boulevard. Among the many stories he shared with me, the most powerful is what the street looked like 30 years ago. "In Pacoima, where the Mural Mile is located, during the 80s and 90s there were about 98 outlets of alcohol," he recllas. "Bars that featured dollar dances, strippers, banda music, and prostitution; liquor stores and markets that featured beer advertising women in a very demeaning way; billboards featuring women promoting Gentlemen Clubs outside of Pacoima. At one time we had more bars than schools and churches."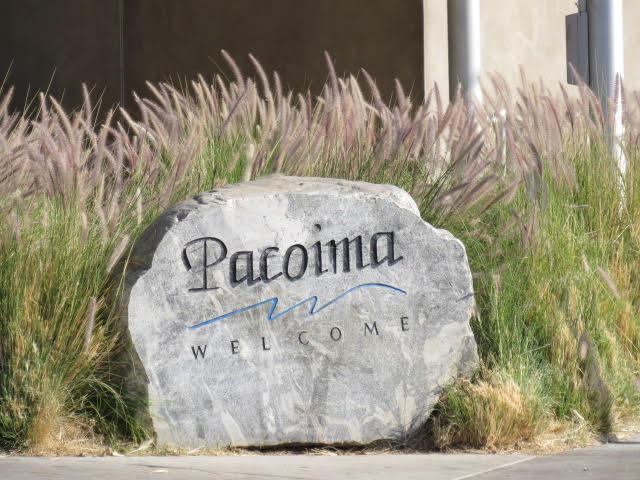 Kristy Sandoval echoes Velazquez when she says, "Growing up in Pacoima has given me perspective in what it's like to grow up in a neighborhood that isn't always put first when it comes to city funding. I learned that speaking up, organizing, and making things happen is how we create change in our communities." As Sandoval inscribed on her mural, she learned that when she changes herself and her local community, she is changing the world.
Initially, Sandoval started as an energetic artist that loved her neighborhood. After graduating from the Academy of Art University in San Francisco over a decade ago, she came home to Pacoima and wanted to get to work. In the midst of soul searching and taking a long hard look at herself, she was reading Gloria Anzaldua and becoming more inspired. "I wanted to share this knowledge and experience with all those around me who hadn't discovered it yet," she says. "Murals seemed like a great way to do so. I was reminded of the murals in the alleys in San Francisco and wondered why there was nothing like it in my hometown of Pacoima. One morning I decided I was going to change all that. Pitching mural design workshops I eventually began teaching all over the Northeast Valley. To middle schools first, then high school and eventually elementary." She felt motivated and determined to make a change. She decided to paint as many murals as she could.  
Over the last seven years, Kristy Sandoval has walked up and down Van Nuys Boulevard asking just about every business over a three-mile stretch if she could paint a mural there. The only business she has not asked, is a new building on the west side of the street near the middle of Mural Mile. Eventually, the Mural Mile happened as she came in contact with artists like Manny Velazquez, JP Reyes, Levi Ponce and the activists at Pacoima Beautiful.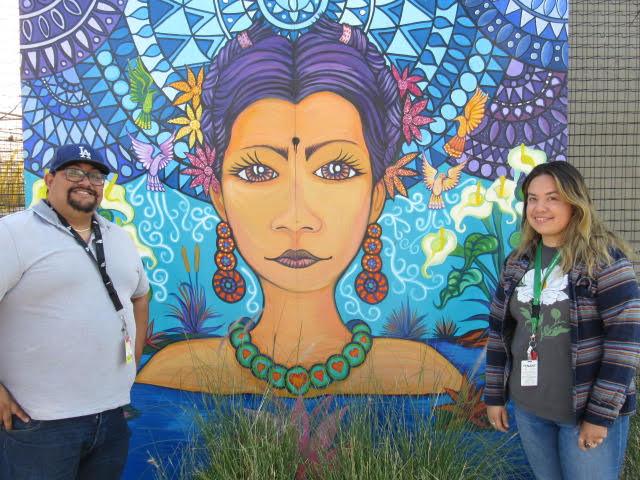 Pacoima is Beautiful   
[dropcap size=big]E[/dropcap]stablished in 1996, Pacoima Beautiful was started by a team of mothers who took notice of the poor air quality and other toxic elements in the Northeast San Fernando Valley that were making their families ill. "Pacoima Beautiful is the only environmental justice grassroot organization in the Northeast San Fernando Valley," says their community organizer Celia Contreras. "We mobilize the community to become leaders. We do this by providing them with the necessary tools to speak up about issues that matter to them."
Sandra Ramirez first volunteered with Pacoima Beautiful through a mural project when she was 11 years old. "It was a collaborative effort with a gang intervention group at the time," she tells me. "[It was designed] to help involve youth in beautifying the community and as a double benefit adding artwork to the community."
Ramirez also remembers the big picture. "The art of 'Muralismo' is not a contemporary concept," she states. "This concept dates back thousands of years where our original ancestors also used these murals as a way of identifying themselves, their people, and their culture. Similarly, local artists and volunteers began to reimagine our urban spaces and the current conditions of our community. It really began shaping the way locals owned their neighborhoods and took up space." 
Sandra Ramirez comments on the emerging spirit rising along Van Nuys as the murals continue to increase. "You really see everyone come together for these murals, from the 'vecinos' or neighbors coming out to help sweep the sidewalk or offer bottles of water, to the local students who pick up a brush and help complete the murals." she says. "I think it also started a wave of tourism of art enthusiasts who come out to see the artists' work and honestly it was a huge effort in fighting back the stigma that Pacoima once had." 
RELATED: Alma Rosa Rivera: Building Bridges in the Poetry World Between Brown Love, Motherhood, and Politics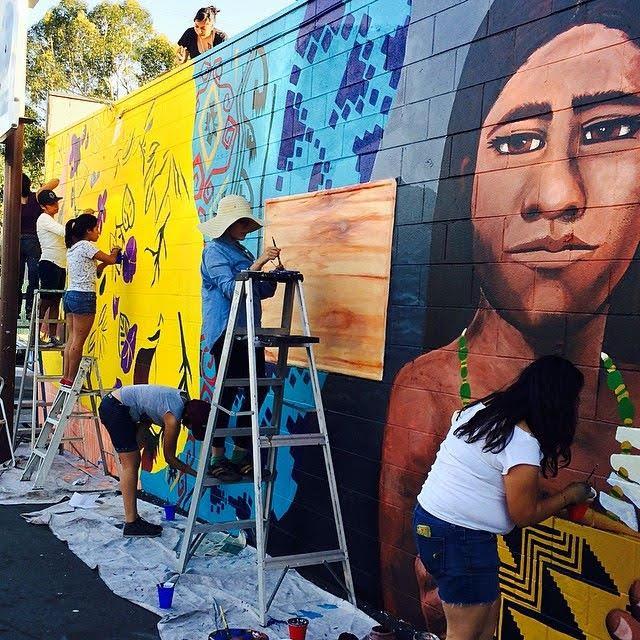 Needless to say, the area now looks much more beautiful with the murals and simultaneously it still has many independent businesses. But they are family run eateries and local businesses rather than Starbucks and the usual corporate chains that so often come into transforming districts. The coalition of artists and local activists mentioned in the introduction deserve high praise for taking control of their neighborhood and rewriting the narrative. Sandoval says that the name Mural Mile first appeared in an article written by the I am San Fernando blog as more and more murals began to appear along the street. "Some think that every mural painted in Pacoima is beautifying it," Manny Velazquez effuses. "But in reality we're just adding more bling to what is already, Pacoima Beautiful."
Trini Rodriguez from Tia Chucha's recently told me, "It is so encouraging to see the cultural boldness of Northeast San Fernando Valley's young artists beautifying the streets of Pacoima with their dreams and images. They follow in the heels of veteran Valley muralists like Manny Velazquez who continues a relentless schedule of bringing art to public spaces."
Trini and Luis have been instrumental in inspiring these artists. I met Kristy Sandoval at Tia Chucha's in 2006 when she was first beginning to paint murals. Trini tells me: "It is particularly amazing to witness the work of Kristy Sandoval emblazoned on walls once white, which now display the unapologetic spirit of feminine creative energy, asserting life and stirring the imaginations of local residents and visitors alike who to take in the vibrancy of Pacoima's ever-emerging Mural Mile. The all-womyn art crew the HOODSisters was born of this craving to create awareness through public art."
Trini and Luis feel tremendous satisfaction in seeing the success of Sandoval and the artists working alongside her: "It is a testament to the wisdom of investing in the inherent creative wells of our community, young and old, to seed individual and collective wellness. May the artist in all of us continue to flourish!"
Sandoval returns the love and still works closely with Tia Chuchas. "I continue to learn about my roots and culture through Tia Chuchas," she says. "It's a place I can always go when I have questions about who I am and how to discover it by looking toward generational healing and growth."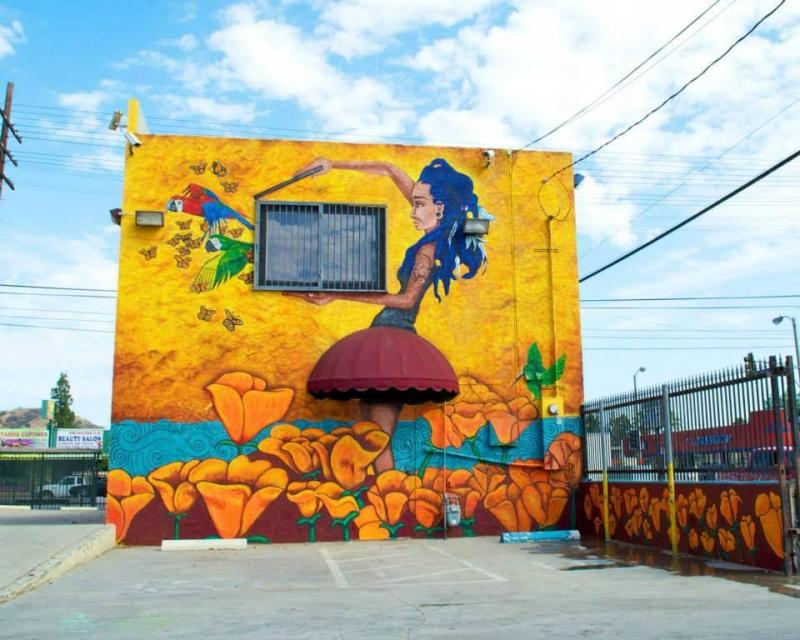 Reimagining Van Nuys Boulevard 
[dropcap size=big]A[/dropcap]nother important element to note is Van Nuys Boulevard's history within the legacy of Los Angeles streets. The popularity of cruising Whittier, Sunset and Crenshaw is widely known by Angelenos, but less known is that Van Nuys Boulevard was also famous for cruising by Los Angeles teens, especially in 1950s, 60s, and 70s. There was even a 1979 film, Van Nuys Boulevard, capturing the spirit of youth cruising along Van Nuys in days gone by.
The rise of Mural Mile rightfully reestablishes Van Nuys Boulevard into the spectrum of iconic Los Angeles streets. Van Nuys Boulevard stretches over ten miles north to south across the floor of the Valley and the Mural Mile portion is near the northern end where it starts to curve northeast. Mural Mile's aesthetic charm punctuates Van Nuys's northern edge and goes a long way towards what urban planners and theorists call "place-making."
"Pacoima has always been my home," effuses Kristy Sandoval. "Being able to contribute to the changing aesthetic and be a leader in providing arts education to community youth has been my niche." Sandoval has worked with dozens of schools and recently completed a project with youth in Inglewood. She has evolved herself through the process. "As a first generation, woman of color and mother, the challenges I faced were not the same a male artist faces," she explains. "I learned to be more direct with my work and intention, there was no room for self-doubt. Realizing, the more I told my story the more opportunities and support came my way. It felt great, it was beautiful, it gave me strength. Making sure to take the time to appreciate all of it and not take it for granted but at the same time owning it. I learned to step into myself."
Art historian and former executive director of the Los Angeles Mural Conservancy, Isabel Rojas-Williams recently told me, "Breaking into the male-dominated mural world and empowering women while doing so, is what muralist Kristy Sandoval has done since the early 2000s. Sandoval's powerful murals came to the attention of mural historians and politicians at the time when muralists, mural-advocates, city officials, and the community at-large were all fighting to stop the 2002 decade-long mural moratorium in Los Angeles."
Rojas-Williams elaborates further how Sandoval has played a major role in recent artistic developments across the city. "The year Mayor Garcetti signed the mural ordinance (2013) restoring muralists' freedom of expression in Los Angeles, Sandoval's painted Decolonize in her native Pacoima in the San Fernando Valley," Rojas-Williams explains. "Her mural awoke the imagination of many, conveying, through a playful perspective, a woman releasing butterflies from a cage, setting them free from the things that held them back. The butterflies not only symbolizing immigration reform and the strong energy of the female community in the Valley, but muralists finally being set free to paint murals legally once again, thus giving birth to the current mural renaissance in Los Angeles!"
RELATED: These Oaxacan Muralists Brought Indigenous Flavor to the Central Library; Now They Are Deported ~ An Exclusive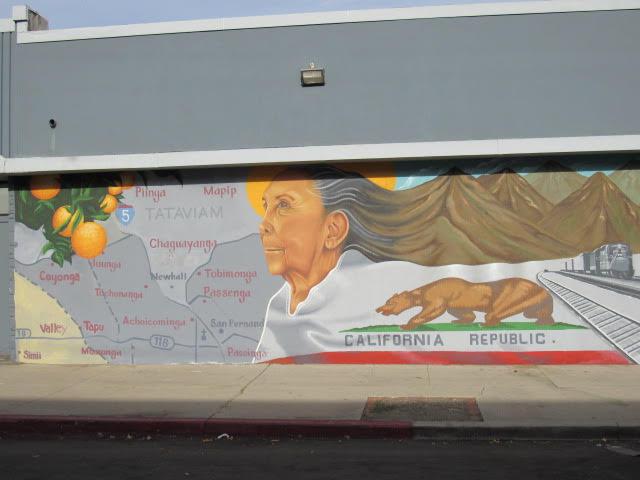 Pacoima Ends the Mural Moratorium
[dropcap size=big]M[/dropcap]anny Velazquez remembers the mural moratorium. Sometime around the time it ended, he met Kristy Sandoval and the movement of muralists that have transformed Pacoima, started to coalesce. Velazquez has always been supportive of women artists because his mother was a muralist, artisan, and feminist. He worked with her on several mural projects over the years. "The last six years of her life, she dealt with dementia and Alzheimer's," he confesses. "At times she would forget my name or who I was, yet she still managed to paint very well."
Velazquez has worked closely with both Kristy Sandoval and the women from Pacoima Beautiful. "Working with the women from Pacoima Beautiful is very easy, because we pretty much share the same mindset of art, on women empowerment, and community issues. My Mom's feminist energy total rubbed off on me and influenced my views and working with women, so it is easy for me to take the back seat and play a supportive role when working with the Women from Pacoima Beautiful." Velazquez also appreciates that "for the first time we have two local community women on the L.A. City Council, Nury Martinez and Monica Rodriguez." There is also Assemblywoman Luz Rivas.
"It's important to provide an alternative to those youth, artists, and muralists who are looking to find themselves through art," Velazquez explains. "Some people struggle to think outside the box. As artists we're the ones who are drawing on the box!"
One of the artists Velazquez has influenced is Juan Pablo (JP) Reyes. Reyes is 24 and has been painting murals in Pacoima along Van Nuys Boulevard since he was in high school. "Manny Velazquez always showed me unconditional support," Reyes says. "Manny has served me as a real wise mentor that tells it to you how it is with no bullshit. He knew the way I grew up and what my environment consisted of because he did many murals in the project with older homies I used to only hear stories about."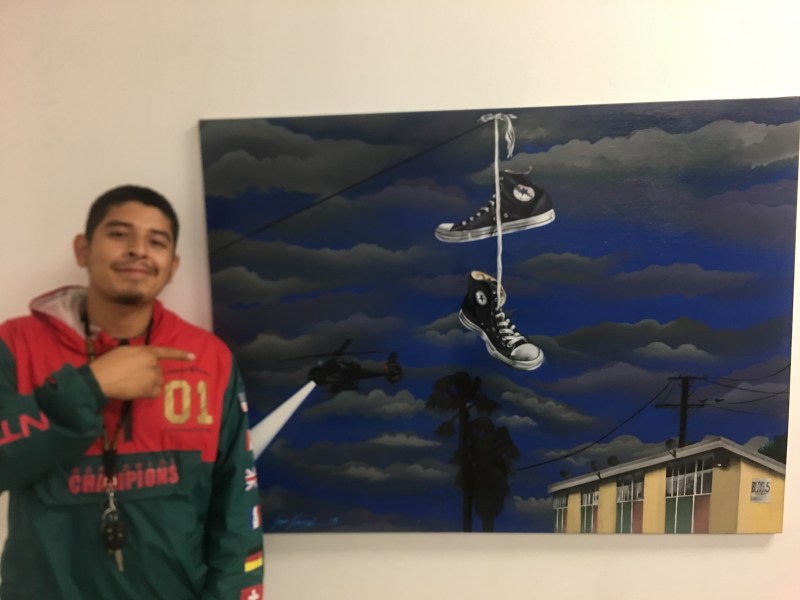 Rolling Down Van Nuys
[dropcap size=big]I[/dropcap] took a drive down Van Nuys Boulevard with Reyes and Kristy Sandoval and he told us about how people like Manny and the love of art saved his life. "I went from drawing book covers in the second grade to doing graffiti in middle school," Reyes said. "My environment profoundly influenced my artistic growth. It gave me a raw perspective of what is truly real in my life. which is my family, health, my future and mental stability. I found myself through art at a point in my life where I was going through turmoil. Some of my friends were getting murdered and others were catching 25 to life."
"Remember all of this was going on while I was in middle school," he continues. "I was only 14 years old.  When no one else was there my spray can, brushes, pencils and passion always kept me company. Despite going through turmoil, I knew art was a way out for me. Everyone in the hood knew that my hands were gifted. They protected me because they knew a young kid had a future and I could possibly break the cycle of poverty and gang violence. In my mind, I wanted to carve a new way on how to heal our community through artistic growth." 
Reyes's' mural Forgotten Roots is a map of the San Fernando Valley that shows the names of the Native American villages that were in the area before the Valley was colonized. It sits on the southern wall of the Pacoima Arts Incubator. The mural includes a few famous Valley freeways like the Interstate 5 and the 118, along with oranges paying tribute to the once plentiful orange groves in the area in front of the Santa Susana Mountains, a California grizzly bear and a Native American woman with long flowing hair that merges with the foothills behind her.
As someone that really loves thematic maps, this mural is one of my favorites along Mural Mile. Reyes told me, "My biggest inspiration for this mural is the fact that many people forget the rich history that our ancestors had on this land due to the industrialization that quickly developed. I want my mural to help people rediscover their roots and become educated on their rich culture." Reyes recently completed a mural at Virgil Middle School in the area where East Hollywood and Koreatown intersect. Reyes is beginning to be known outside of Pacoima but it all started for him along Van Nuys Boulevard. Reyes has also worked closely with Levi Ponce. Ponce is an equally prolific muralist as Sandoval and Velazquez and he has also taken Reyes under his wing.
Manny Velazquez has also mentored a group of young painters and activists called, The GR818ers. The GR818ERS (pronounced great-one-eighters) were co-founded by three Pacoima natives as high-school seniors, Pierre Arreola, and Eric and Lorenzo Chapman. Working across generations with other artists in Pacoima and across the San Fernando Valley, they have organized art shows, poetry events, and workshops to provide intergenerational and intercultural programming and events aimed at empowering youth and adults alike.
Steeped in social justice initiatives, they have been very busy over the last 5 years. Pierre Arreola says one of their biggest projects was The Lady of the Valley mural on the corner of Van Nuys and Arleta. The mural was a collaboration between Pacoima muralist Levi Ponce and GR818ER artist Serv One. "It serves as a beacon of hope on Mural Mile that amidst the tumult of our daily lives, peace and serenity live in the manifestations of faith in a better tomorrow," Arriola explains.
Manny Velazquez says, "My favorite part of working on the Mural Mile is showing the unity among muralists, painting along with each other and strong creative women is a blessing... knowing it will inspire change on how the community views the role of women in art, in our community through the murals they paint." Velazquez is currently finishing a large mural at San Fernando High School and he recently had an installation at the Incubator Space in Pacoima as a part of their The Heart Museum exhibit.
Positive Identity
[dropcap size=big]V[/dropcap]eronica Padilla, the executive director of Pacoima Beautiful is thrilled with how Mural Mile has given Pacoima a positive identity. "I love how the Mural Mile was so organically developed by the talent in our community and it seems to me it was a collaborative effort," she recently told me. "I think it's a beautiful tribute to our culture. The murals bring color and a sense of place, a sense of home."
Pacoima will always be home to Kristy Sandoval. Even though Sandoval is becoming a leader in the Los Angeles arts community having painted over 40 murals across the city and even one internationally in Istanbul, Pacoima always remains closest to her heart. The City of Laverne recently honored her with the Community Design Award for a mural she painted at the University of Laverne, and she recently made a presentation at the Natural History Museum in Exposition Park for a student mural project she directed in conjunction with their Becoming LA exhibit.
Moreover, Sandoval was recently on a panel at the Natural History Museum for Women Paint LA with a few of her role models: Barbara Carrasco, Noni Olabisi, and the art historian Denise Sandoval (no relation). She is thrilled to be mentioned in the same sentence as the women who laid the groundwork for her, she tells me.
Sandoval is paying it forward as a teaching artist with Artworx LA, where she just completed a collaborative mural with students at a high school in Inglewood and she has two more underway at schools in North Hollywood and Van Nuys. Everywhere she goes she takes the message of using art to empower citizens and beautify the community. She understands art's transformative power because its created miracles in her own life.
Her own evolution has happened in lockstep with the changes in Pacoima. The more she worked on herself, the more her career has taken off and the more Pacoima has started to transform. "Changing myself for the better and letting out all that I had buried deep inside, the world around me began to look brighter and my force became stronger yet more humble," she states. "The ego had died and I continue to carry out my work with gratitude for the opportunities that come my way. I couldn't believe how much came out, how much I released. I felt lighter and renewed. I was reminded of Gloria Anzaldua's words. 'I change myself, I change the world.'"  
This theme of personal transformation leading to transforming the world around you espoused by Anzaldua and Kristy Sandoval resonates equally with Manny Velazquez, JP Reyes, and the committed citizens of Pacoima Beautiful. The remarkable success created by this coalition of artists and activists provides an inspiring template for neighborhood transformation from within by long-term stakeholders rather than carpetbagger developers. In the age of gentrification and corporate culture, the story of the uncorrupted transformation of Van Nuys Boulevard in Pacoima along Mural Mile is one to behold.  
RELATED: 'Postcards Written With Ocotillo and Yucca': City of the Future ~ New Book By Sesshu Foster Is A Poetic Elegy For Los Angeles
Mike Sonksen aka Mike the PoeT is a 3rd-generation Los Angeles native. Poet, professor, journalist, historian and tour-guide, his latest book "Letters to My City" was just published by Writ Large Press. He teaches at Woodbury University.
Read More:
Stay in touch
Sign up for our free newsletter