Street Vending
Tensions Rise Among the Street Vendors Outside LACC Swap Meet and the Open-Air Market's New Owner
12:51 PM PDT on October 13, 2021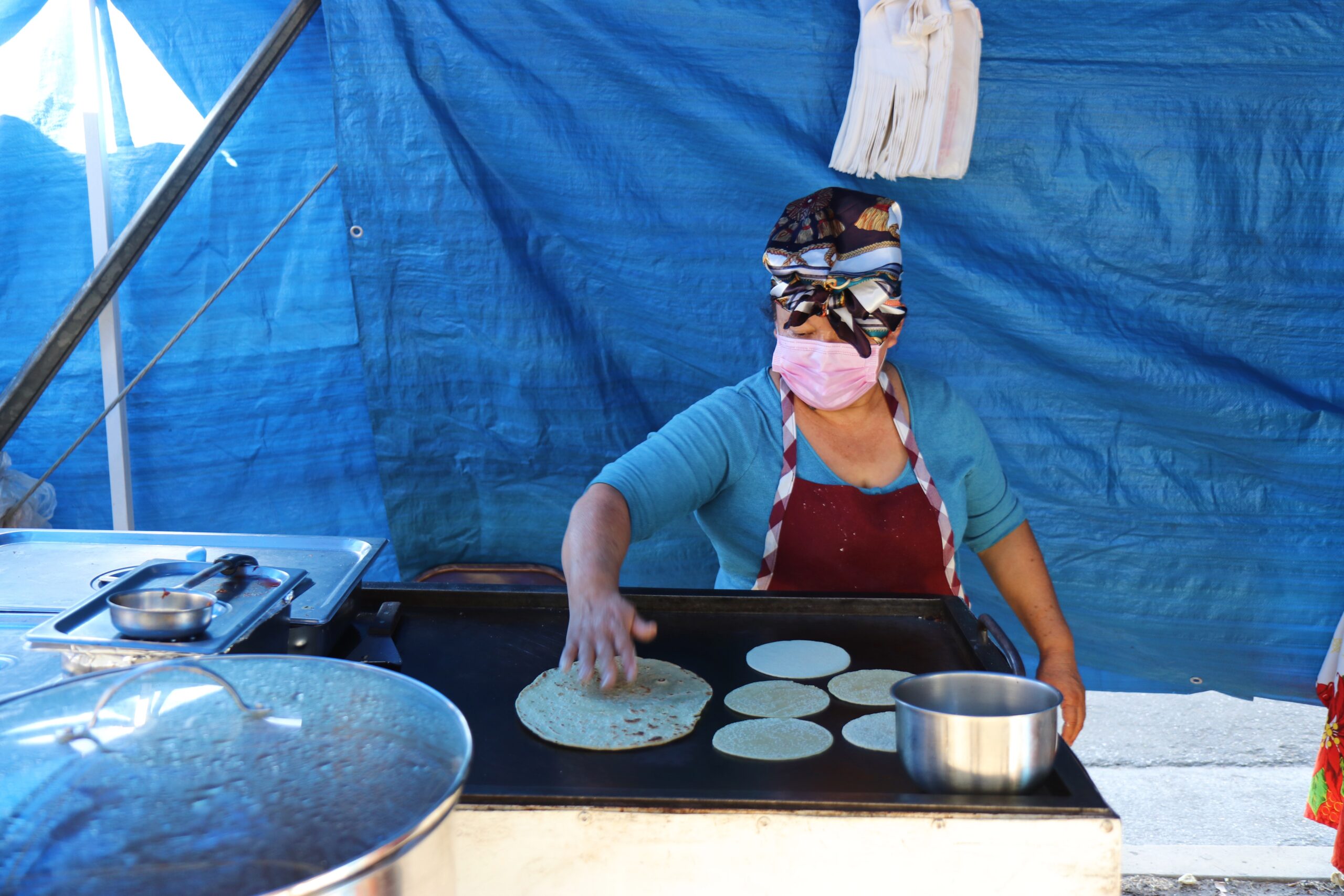 [dropcap size=big]S[/dropcap]treet vendors from all over Los Angeles took action Tuesday morning in front of city hall to once again demand from the county, city, and state to put a stop to the continued criminalization and displacement of street vendors. Among them were vendors from Avenue 26, Bonnie Brae, Hollywood, and sidewalk vendors who operate outside of the Los Angeles Community College Swap Meet, also known as LACC Swap, who are currently facing threats of displacement.
The vendors outside the swap meet have an uphill battle as they fight to stay at their current location on Vermont Avenue and Monroe Street. A strip outside of LACC that is lined with merchandise and food vendors twice a week. The sidewalk is a location that many vendors turned to during the pandemic when the swap meet closed its doors for the first time in two decades. But since the reopening of the swap meet, what has troubled vendors the most has been what they described as ongoing harassment and lack of understanding from Phillip Dane, the new owner of LACC Swap, his team, and the LACC Foundation who oversees the swap meet. 
"No trabajamos en paz," "We don't work in peace," said street vendor Erika Ruiz. "He has done so many things to try and intimidate us, the sprinklers are turned on when they see us arrive, the portable bathrooms inside (the swap meet) which before were emptied when the swap meet would close are now being emptied during peak business hours and the smell alone drives customers away."
Ruiz, who began selling her merchandise outside of the swap meet last year after she lost her job due to the pandemic, said Dane himself has not attempted to talk to vendors. "There's no communication between us, it's either we move inside, or we move from the sidewalk," she said.  
Most vendors cannot afford the fees or permit the swap meet requires to vend inside. Each booth can cost up to $50 per day. Although competitive bidding on stalls that often raises the cost way beyond $50 is not currently being done, Dane stated in an interview with The Eastsider that he's thinking of bringing back the bidding later. 
And although the pandemic has proven to have negatively impacted many businesses financially due to closures, the previous owner, Newport Diversified, and LACC Foundation officials blame the 75% to 80% drop in revenue since the reopening on the increase of vending outside of the swap meet. But the reality for many vendors who sell on the sidewalk rather than inside is that they too have had a significant loss.
"Estamos aquí por necesidad," "We are here out of necessity," said Ruiz. "During the pandemic, we all lost money, and we are trying to recover. We have nothing against the vendors inside because they were out here with us when this place was closed. We just want to continue to work."
Other vendors like Arely Tafolla Garcia, 28, who sells aguas frescas outside the swap meet, said she was hit hard by the pandemic. She not only lost income but was in and out of hospitals for about a month after testing positive for covid-19 in March. To make matters worse, after recovering from COVID, she was informed that she was left with damage to her heart.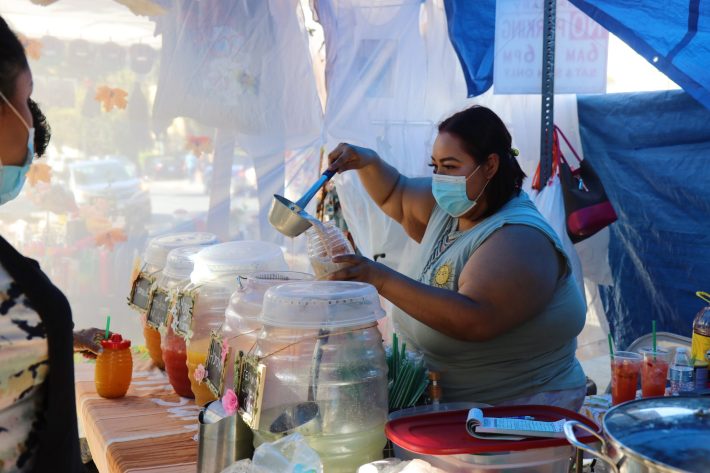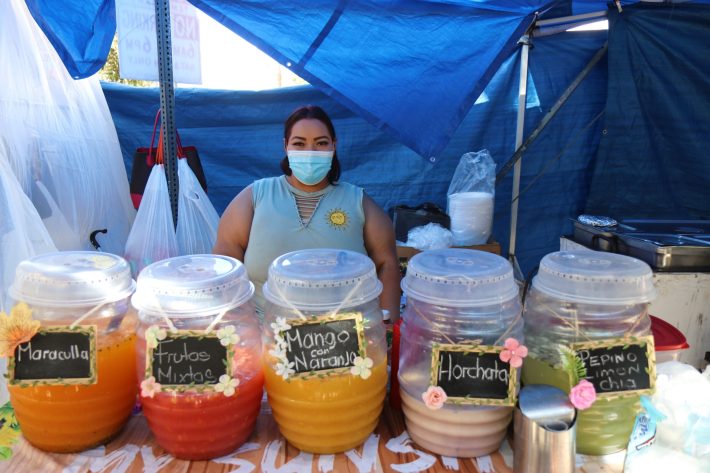 Because of this, Garcia had surgery just 22 days ago to have a pacemaker installed in her heart and has been put on a waiting list for a heart transplant. The idea that she may need to look for a new place to sell worries her. 
"This is my only job. I'm here working porque (because) healthy or not, a mi no me perdonan mi renta (no one is going to forgive my rent)," she said in Español. "The owner has every right to defend his swap meet, but we aren't doing anything that harms him. I really wish he would just come and ask us why we're here. Maybe then he would understand our need." 
The 28-year-old vendor works alongside her mother and sister, who sell in a puesto (stand) next to her, selling steamy pozole, menudo, tacos, quesadillas, and guisados. She said if it weren't because of street vending, they would not have survived the pandemic. As food vendors, they both face even stricter demands like acquiring a health department-issued permit. A permit that has proven to be challenging to attain, as only 165 out of 10,000 street vendors currently operate with the permit. 
Garcia said recent tactics by the owner have only made things worse and have made working there more difficult, but like many vendors, she said moving is not an option. 
This past weekend Garcia and other vendors in the area who often arrive as early as 5 AM were met with signs that read "No Parking SAT-SUN 6 AM TO 6 PM," which are continually operating hours for both the swap meet and the vendors outside. The new parking signs put on by the swap meet affect not only sidewalk vendors who use the parking to unload their gear but also residents. Residents like Jonathan Arrebolo recently moved across the street from LACC. 
"Parking in Los Angeles is hard enough as it is, but I'm not trying to wake up at 5:30 in the morning to move my car every day during the weekend just not to be ticketed or have my car towed away," he said.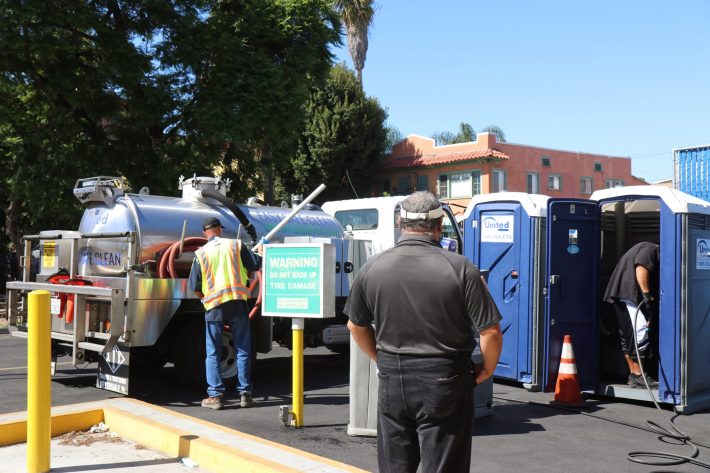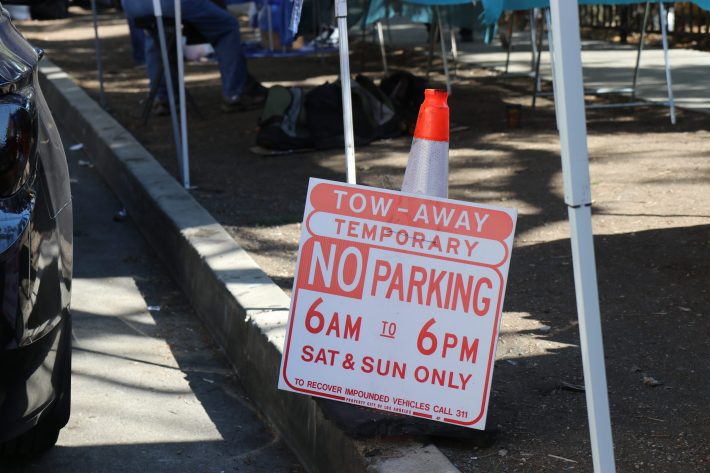 Tickets for parking during no parking hours can run up to $78 according to vendors who've been ticketed, almost $200 for two days, half of what a vendor makes a day. 
Lawrence, a former professor at LACC who would prefer to go by his first name, has personally seen the changes going on since the re-opening of the swap meet. He usually helps his friends set up their stand every weekend and occasionally helps them sell when they can. He is also one of many who have helped vendors communicate with Dane via email.
"In an email he sent, he expressed his intentions to drive the people away, I've known these people for about ten years, and they're good people they live off of these sales, they aren't all of sudden going to give up their own source of income because he says so," said Lawrance. 
"They are trying to push us out. We see it. It's hard not to notice," said Sandra Escalante, one of the first three vendors who sold inside the swap meet 20 years ago and is now selling outside the gates.
According to vendors, they have also been told by the swap meets security that if they were seen parking on the side or inside the free public parking structure for the swap meet, they would have a tow truck called on them. L.A. TACO did reach out to LACC Swap and LACC Foundation for comment on the vendor's claims, but they have yet to respond. 
There are a little over 50 street vendors who operate outside the swap meet, and about a dozen of them said other attempts have been made by the LACC Foundation and Dane that plan on having the sidewalk go through a "beautification process" that will include adding 20 trees and two-foot shrubs throughout the perimeter.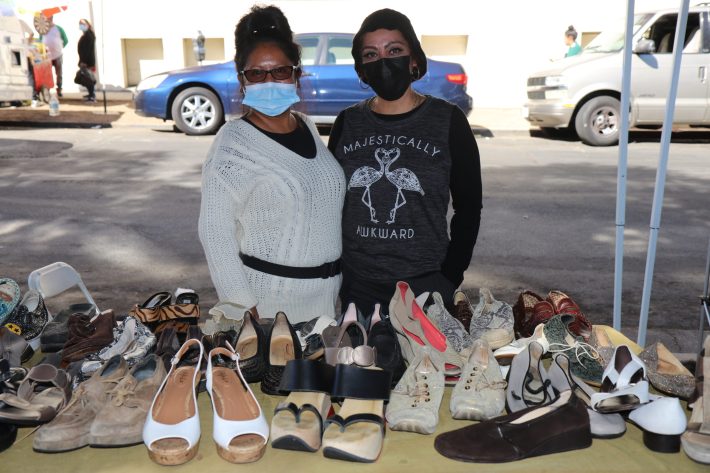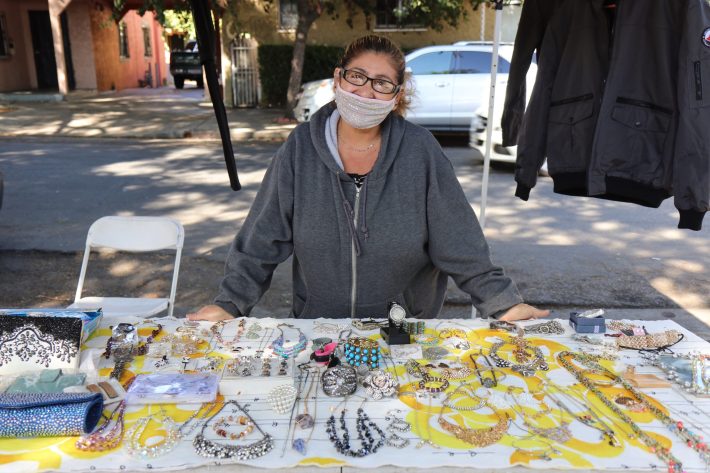 The vendor's concerns about this possible beautification are valid considering in many cases. Similar coded wording has been used right before removing street vendors from their communities, like with Avenue 26 and Patata St. They were displaced due to claims of sanitation concerns, lack of permits, and in some cases, alleged beautification efforts. While in other cases, like in the Melrose corridor, a report by LAPD and StreetsLA that places the blame on the rise of crimes in the area to street vending is being used to make Melrose a no vending zone potentially. 
"They are trying to push us out. We see it. It's hard not to notice," said Sandra Escalante, one of the first three vendors who sold inside the swap meet 20 years ago and is now selling outside the gates. 
She said that's why vendors from the swap meet joined other L.A. street vendors on Tuesday to bring awareness to the many obstacles vendors have been facing not just in the past but recently. 
"This isn't just about us we're raising our voices for all street vendors, porque nosotros también valemos (because we matter too), we are out here selling to provide something better for our families, it isn't a crime, we shouldn't be targets," said Escalante.
--
AUMENTAN LAS TENSIONES ENTRE LOS VENDEDORES FUERA DE LACC SWAP MEET Y EL NUEVO PROPIETARIO DEL MERCADO AL AIRE LIBRE
Vendedores ambulantes de todo Los Ángeles tomaron medidas el martes por la mañana frente al ayuntamiento de Los Ángeles para exigir una vez más al condado, la ciudad y el estado que detenga la criminalización y el desplazamiento continuo de los vendedores ambulantes. Entre ellos se encontraban vendedores de Avenue 26, Bonnie Brae, Hollywood y vendedores ambulantes que operan fuera del Los Angeles Community College Swap Meet, también conocido como LACC Swap, que actualmente enfrentan amenazas de desplazamiento.
Los vendedores fuera del swap meet tienen una batalla cuesta arriba mientras luchan por permanecer en su ubicación en Vermont Avenue y Monroe Street. Una franja en las afueras de LACC que está llena de vendedores de alimentos y mercancía dos veces por semana. La banqueta es un lugar al que acudieron muchos vendedores durante la pandemia cuando el swap meet cerró sus puertas por primera vez en dos décadas. Pero desde la reapertura del swap meet, lo que más ha preocupado a los proveedores ha sido lo que describieron como acoso continuo y falta de comprensión por parte de Phillip Dane, el nuevo propietario de LACC Swap, su equipo y la Fundación LACC que supervisa el swap meet.
"No trabajamos en paz," dijo la vendedora ambulante Erika Ruiz. "Ha hecho tantas cosas para tratar de intimidarnos, los rociadores (sprinklers) están encendidos cuando nos ven llegar, los baños portátiles adentro (del swap meet) que antes se vaciaban cuando cerraba el swap meet ahora se vacían durante las horas mas ocupadas, y el olor aleja a los clientes."
Ruiz, quien comenzó a vender su mercancía fuera del swap meet el año pasado después de que perdió su trabajo debido a la pandemia, dijo que el propio Dane no ha intentado hablar con los vendedores. "No hay comunicación entre nosotros, o nos movemos hacia adentro o nos movemos desde la acera," dijo ella.
La mayoría de los proveedores no pueden pagar las tarifas o los permisos que el swap meet requiere para poder vender adentro. Cada puesto puede costar hasta $50 por día. Y aunque actualmente no se están realizando ofertas competitivas en puestos que a menudo aumentan el costo más allá de los $50, Dane declaró en una entrevista con The Eastsider que está pensando en recuperar la oferta más adelante.
Y aunque se ha demostrado que la pandemia ha afectado negativamente a muchas empresas financieramente debido a los cierres, el propietario anterior, Newport Diversified, y los funcionarios de la Fundación LACC culpan de la caída del 75% al ​​80% en los ingresos desde la reapertura al aumento de las ventas fuera del swap meet. Pero la realidad para muchos vendedores que venden en la acera en lugar de adentro es que ellos también han tenido una pérdida significativa.
"Estamos aquí por necesidad," dijo Ruiz. "Durante la pandemia, todos perdimos dinero y estamos tratando de recuperarnos. No tenemos nada en contra de los vendedores adentro porque estaban aquí con nosotros cuando este lugar estaba cerrado. Solo queremos seguir trabajando."
Otros vendedores como Arely Tafolla García, de 28 años, que vende aguas frescas fuera del swap meet, dijo que la pandemia la dejo con un gran golpe. No solo perdió ingresos, sino que estuvo entrando y saliendo de hospitales durante aproximadamente un mes después de dar positivo por covid-19 en marzo. Para empeorar las cosas, después de recuperarse de COVID, se le informó que se quedó con daños en el corazón.
Debido a esto, García se sometió a una cirugía hace solo 22 días para que le instalaran un marcapasos en el corazón y ha sido incluida en una lista de espera para un trasplante de corazón. La idea de que deba buscar un nuevo lugar para vender le preocupa.
"Este es mi único trabajo. Estoy aquí trabajando porque sana o no, a mi no me perdonan mi renta," Garcia dijo. "El propietario tiene todo el derecho a defender su swap meet, pero no estamos haciendo nada que lo perjudique. Realmente desearía que viniera y nos preguntara por qué estamos aquí. Quizás entonces él entendería nuestra necesidad."
La vendedora de 28 años trabaja junto a su madre y su hermana, quienes venden en un puesto junto a ella, vendiendo pozole, menudo, tacos, quesadillas y guisados. Dijo que si no fuera por la venta ambulante, no habrían sobrevivido la pandemia. Como vendedoras de alimentos, ambas enfrentan demandas aún más estrictas, como la obtención de un permiso emitido por el departamento de salud. Un permiso que ha demostrado ser un desafío, ya que solo 165 de cada 10,000 vendedores ambulantes operan actualmente con el permiso.
García dijo que las tácticas recientes del propietario solo han empeorado las cosas y han hecho que trabajar allí sea más difícil, pero como muchos proveedores, dijo que moverse no es una opción.
El fin de semana pasado, García y otros proveedores en el área llegarron a las 5 a.m. y se encontraron con letreros que decían "No estacionarse SAB-DOM DE 6 AM A 6 PM", que son horas de funcionamiento continuo tanto para el swap meet como para los vendedores afuera. Las nuevas señales de estacionamiento colocadas por el swap meet afectan no solo a los vendedores ambulantes que usan el estacionamiento para descargar su equipo, sino también a los residentes. Residentes como Jonathan Arrebolo que se mudo recientemente al otro lado de la calle de LACC.
"Estacionarse en Los Ángeles ya es bastante difícil, pero no estoy tratando de despertarme a las 5:30 de la mañana para mover mi automóvil todos los días durante el fin de semana, simplemente para no recibir una multa o que me remolquen el automóvil," dijo él.
Las multas por estacionarse durante las horas en las que no hay estacionamiento pueden costar hasta $78 según los proveedores que han recibido multas, casi $200 por dos días, la mitad de lo que gana un proveedor en un día.
Lawrence, un ex profesor de LACC que preferiría usar solo su primer nombre, ha visto personalmente los cambios desde la reapertura del swap meet. Por lo general, ayuda a sus amigos a montar su puesto todos los fines de semana y, de vez en cuando, les ayuda a vender cuando pueden. También es uno de los muchos que han ayudado a los proveedores a comunicarse con Dane por correo electrónico.
"En un correo electrónico que envió, expresó sus intenciones de alejar a la gente, conozco a estas personas desde hace unos diez años, y son buenas personas que viven de estas ventas, no van a renunciar a su propia fuente de ingresos porque él lo dice," dijo Lawrance.
Según los proveedores, la seguridad del swap meet también les ha dicho que si los veían estacionarse al costado o dentro de la estructura de estacionamiento público gratuito para el swap meet, se les llamaría con una grúa. L.A. TACO se comunicó con LACC Swap y LACC Foundation para comentar sobre las afirmaciones del los vendedores, pero aún no han respondido.
Hay un poco más de 50 vendedores ambulantes que operan fuera del swap meet, y alrededor de una docena de ellos dijeron que la Fundación LACC y Dane han hecho otros intentos que planean que la acera pase por un "proceso de embellecimiento" que incluirá agregar 20 árboles y arbustos de dos pies en todo el perímetro.
Las preocupaciones de los vendedores sobre este posible embellecimiento son válidas considerando que en muchos casos se ha usado una redacción codificada similar justo antes de sacar a los vendedores ambulantes de sus comunidades, como en Avenue 26 y Patata St. Fueron desplazados debido a reclamos por problemas de saneamiento, falta de permisos y, en algunos casos, supuestos esfuerzos de embellecimiento. Mientras que en otros casos, como en el corredor de Melrose, se está utilizando un informe de LAPD y StreetsLA que culpa al aumento de los delitos en el área a la venta ambulante para hacer de Melrose una zona potencialmente prohibida.
"Están tratando de expulsarnos. Lo vemos. Es difícil no darse cuenta," dijo Sandra Escalante, una de las tres primeras vendedoras que vendió dentro del swap meet hace 20 años y ahora vende fuera de las puertas.
Ella dijo que es por eso que los vendedores fuera del swap meet se unieron a otros vendedores ambulantes de Los Ángeles el martes para crear conciencia sobre los muchos obstáculos que los vendedores han enfrentado no solo en el pasado sino también recientemente.
"No se trata solo de nosotros, estamos alzando la voz por todos los vendedores ambulantes, porque nosotros también valemos, estamos aquí vendiendo para brindar algo mejor a nuestras familias, no es un crimen, no deberíamos ser ostigados," dijo Escalante.
This story was translated by Janette Villafana.
Update on 10/15/21: Phillip Dane has responded to the initial email sent by L.A. TACO on 10/07/21. His statement is below.
"I've stayed away from the market and let my bilingual staff work the communication between the vendors and everybody. I'm not harassing them, I'm begging them to come on in and ten of the vendors outside have, so why is it so hard for everyone to do the same?... As for the sprinklers, there are no sprinklers outside anymore...We did the street closure because the illegal street vendors outside have taken over the parking, so I had the idea of creating these no parking times so we have some type of control and give priority to vendors inside...I am not the bad guy...if things continue the way they are with vendors outside my wife and I will have no other option but to close the swapmeet, and no one else is going to come to save it."
Janette Villafana is a multimedia journalist from Santa Ana, CA who often covers stories that highlight diverse communities, their issues, success, and personal stories.
Stay in touch
Sign up for our free newsletter