News
L.A. Sheriff Vows to Roll Out Body Cams: Alex Villanueva's First Sit-Down Interview as Sheriff-Elect of L.A. County
5:01 AM PST on November 27, 2018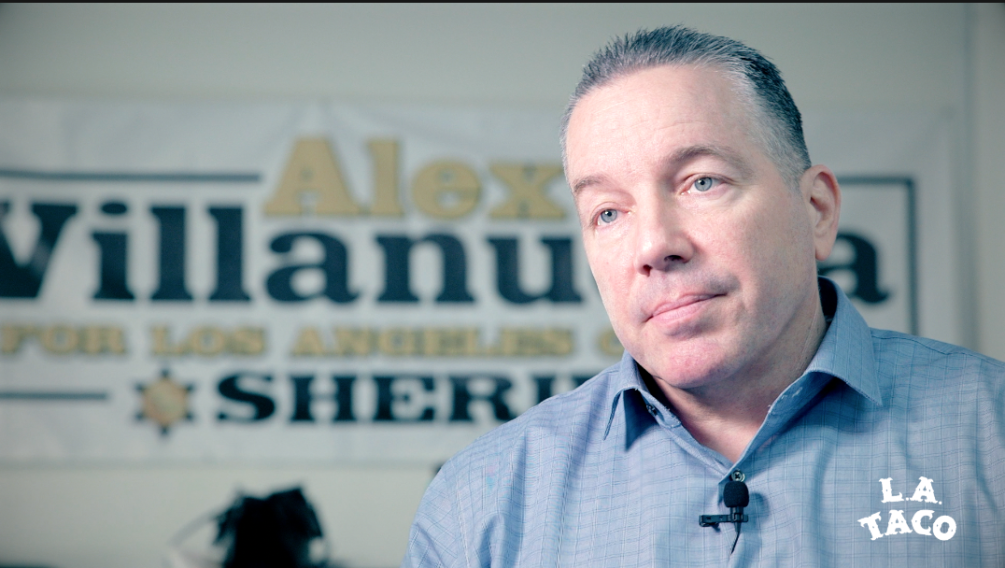 [dropcap size=big]A[/dropcap]lex Villanueva has upended the political establishment in Los Angeles County.
The 55-year-old retired law enforcement officer has officially beaten incumbent Sheriff Jim McDonnell, who out spent him 8-to-1 and garnered every major political endorsement from the Los Angeles establishment in his bid to be re-elected. But none of that mattered.
McDonnell conceded the election Monday, nearly three weeks after the Nov. 6 vote, and the same day Villanueva sat down for an exclusive on-camera interview with L.A. Taco. You can watch the full interview below. 
Villanueva vowed, among other changes he said are coming once he assumes the sheriff's office, to implement a long overdue body cam program for patrol deputies — the Sheriff's Department is one of the few large law enforcement agencies in the United States that has not yet provided body-worn cameras to all of its patrol officers. Villanueva officially takes office Dec. 3.
RELATED: Villanueva Extends His Lead For L.A. Sheriff, and Huge Latino Voter Turnout Put Him There
The following excerpts have been edited for brevity and clarity.
L.A. Taco: You criticized [Sheriff Jim McDonnell] for promoting people you described as "Paul Tanaka's foot soldiers." Two people were James Tattreau, promoted to Captain of Norwalk Station, and Roosevelt Johnson, promoted to commander of the Custody Services Division. Did they deserve their promotions?
Alex Villanueva: In the manner in which they were promoted and based on the background that was available publicly, they would not have qualified under my administration for promotion. I have people who are actually doing the job without getting into trouble, and doing it competently at every single rank. Those are the people I am interested in promoting to those ranks of higher responsibility, people who are ethical.
So, what will happen to them when you become sheriff?
Well, they occupy ranks that are protected by civil service. I am not going to get into details with individual employees. But as a general statement, I can say we are going to hold all of our managers and supervisors accountable for what they do and for what they fail to do. We are no longer going to allow individuals in the organization to fail upwards.
Deputy Involved shootings have greatly contributed to a lack of trust among the public in the L.A. County Sheriff's Department. One such shooting was of Anthony Weber, a 16 year old kid in the unincorporated Westmont area in South L.A. What should be done with the deputies in that shooting?
Well, that shooting is still under review. We do not have an outcome in that review. We have to allow that process to take its course. What we are not going to do in any deputy-involved shooting is demonize or cast aspersions on the individuals. That seems like a very shallow ploy at trying to defend the organization by shading the individuals involved, calling them a gang member or this or that.
Those allegations were leveled against Anthony Weber.
That's correct. And we're not going to do that. We have no business doing that. We're just going to take the facts. We are going to be as transparent as possible. Some things we will have to hold close to our vest while things are still being investigated. But once information is fully developed, if we have video evidence that can be released publicly, as soon as we are done with the investigative part of it, we will release those to the public.
These tragedies are going to happen now and again. Social media, the ubiquitous presence of cell phones cameras, magnifies the appearance of these events.
Do you think implementing a body cam program for the Sheriff's Department would help?
Yes, it would. And we are going to implement a body cam program for all of our patrol personnel. That's going to help both sides of the coin. It is going to help the public to have faith in what we are doing, and it is going to help our deputies who are occasionally wrongfully accused.
I understood that during the campaign you said the program wasn't necessary?
Yes, there is a difference between necessities and niceties. It is technically a nicety. It has a huge price tag attached to it. We have found a way to get around the huge price tag, to make it less expensive and still readily available, and that's the route we are going to take. We are going to be able to retrieve the information and present to someone who wants it relatively easily. We are going to store the data locally. That will reduce the cost. The huge price tag that comes with body cam technology is what you do with the footage.
How fast do you think you can implement the program?
I want to implement it yesterday. There are some prototypes out there, but they are not necessarily the ones I am interested in to give us that cost benefit. We are going to shoot for this fiscal year. We are already in the fiscal year, but hopefully by January we can have those prototypes up and running in all of the patrol stations and, the one that is going to win, we want to have it fully funded and implemented by this summer 2019.
You campaigned as both a defender of the rank and file deputy, a sheriff of the line staff, but you also campaigned as a reformer and whistle blower. How can you hold deputies accountable and still be a "sheriff of the deputies?"
It is very simple. What I am trying to do, and what I am going to do, is push for procedural justice. Procedural justice means that everyone is entitled to due process. That means every person we detain on the streets, every arrest that is made based on probable cause, every search warrant that is executed, every single person is entitled to due process. That is enshrined in the 14th Amendment of the Bill Of Rights.
By the same token, employees are also afforded that same protection of due process and the 14th Amendment. What the current administration has done is manage to screw up both sides of the coin. We have wrongful convictions and wrongful terminations. We can do both things in honoring that 14th Amendment and honoring procedural justice, we keep both sides happy.
Do you think membership in a so-called deputy clique and tattoos that glorify violence open the department up to potential liability in the unfortunate case of a deputy involved shooting?
In the case of a deputy involved shooting, where the person ends up dying and the deputy did have a tattoo that glorified violence, for example, the Rampart tattoos, where there was a dead man's hand holding a smoking gun, then, yeah, that is very problematic. Because it is then up to a jury to determine whether that had any impact on the decision of the officer or the deputy who pulled the trigger. Deputy cliques are an outgrowth of hazing that was never properly addressed. That is a failure of leadership. We had the problem of hazing for many, many years.
But it is only in the last eight to 10 years that the hazing has gone unchecked. And the people who kept hazing became supervisors, sergeants and lieutenants, and sometimes even captains of a patrol station.
That gave the message implicitly that we are going to condone hazing, that it's considered a rite of passage. It's not. Hazing led to issues like in East L.A. where deputies were beating up deputies at a party. The same thing happened with Quiet Cannon [Banquet Hall] in Montebello years back when they had a deputy-versus-deputy fight.
During the campaign you criticized McDonnell for not cooperating with the Civilian Oversight Commission and not sharing documents. Will you give them the documents McDonnell would not?
There are only three narrow circumstances in which they will not get documents: Individual personnel files, which is restricted by law; ongoing investigations that I cannot divulge, because I would ruin that investigation; and there are other categories in which by law you cannot divulge details, for example, victims of sex crimes, who they are, addresses, those are confidential.
So, everything that they had requested from McDonnell is fair game?
Yes, as long as they don't ask for one of those three, it's fair game in my administration. I know that they want to put that ballot measure up for vote in 2020, but it is kind of moot at this point, because they're going to get all of the information that they need to do their job properly.
In a similar case, the Los Angeles Times had filed a lawsuit against the County Sheriff's claiming they were violating the California Public Records Act. Will you give them the documents they are asking for, too?
But then by the same token, they turned around and endorsed [Sheriff Jim McDonnell]. I don't get it. They sued him and then endorsed him. It didn't work out for them very well.
No, I am not going to restrict the press. I think the press has a right to know, and acting on behalf of the public and disseminating information to the public. That's part of transparency. We have nothing to hide. It's the public's information. It doesn't belong to the department. It belongs to the taxpayers.
So, that lawsuit can be settled?
Oh, yeah. Whatever that lawsuit was, here it is.
After the election, you got hit with an investigation into straw donors by L.A. District Attorney Jackie Lacey, who endorsed your opponent, Jim McDonnell. What do you think of that?
It is not coincidental. When you challenge and defeat the political establishment, they still lash out any way they can. It is the nature of the beast.
Do you think she should recuse herself from the investigation?
She should not have not even initiated the investigation, not her office. If there was an issue it should have been forwarded to the Attorney General's office. That would be more appropriate. But she is not an unbiased person.
In the wake of the Jail Inmate Abuse scandal and the Citizens Commission on Jail Violence, during the campaign, you suggested arming custody deputies with impact weapons such as flashlights. Can you explain what you mean?
In the past, deputies had flashlights. What happened was that they eliminated the use of the flashlights but ignored the force inmates use against their fellow inmates, and the amount of violence inmates use against the professional staff, nursing staff and the deputies. That's two thirds of a three-legged stool that you are ignoring at your own peril.
I have very solid evidence that assaults against staff has skyrocketed. So, I want to make sure that our employees can defend themselves but do so without abusing their authority, and do so without creating the mess we had back in the days of Paul Tanaka. We are going to look at very hard to make sure the staff can defend themselves, and do so in a way that is constitutionally sound.
You mentioned establishing a truth and reconciliation commission for the Sheriff's Department. I have heard this expression used only in the context of South Africa or Argentina, in the case of a civil war or major civil unrest. How would you implement it in the context of Los Angeles?
We have had about two decades of corruption and incompetence and year after year of one bad decision after another bad decision. We want to make sure we make people whole again as best as we can. We are interested in wrongful convictions and wrongful terminations, both sides of the coin.
If there is a mystery involved — the Mitrice Richardson's case is a prime example — then we are going to get to the bottom of what happened. We want to give closure to the victims, or to the next of kin of the victims. So, they understand what happened, what went wrong, and make sure we never travel down that road again. Then, we can improve the confidence of the public in the Sheriff's Department.
You are coming into office having upended the law enforcement community in Los Angeles with reform as the big issue. How will you measure success in your first year? What are some things you want to have accomplished?
I want to know that complaints against department members are down. I want to know that our staffing levels are up. I want to know that our budget deficit shrinks and disappears to the point where we are back in the black.
I want to see morale return.
Of course, there will be things that are going to happen. We will have some tragedies. There will be some shootings and we will have a hard time trying to figure out what happened, but we are going to soldier on. We are going to make sure we are serving the community's interest in everything we do. Hopefully, we are going to move the department forward into a better place than where it is right now.
RELATED: There's a New Sheriff in Los Angeles: Local Politics Upended With Upset Victory for Villanueva Over McDonnell
Philip Iglauer covered all things Koreana for 15 years — foreign diplomats, kimchi, Samsung and, of course, North Korea — out of Seoul. After returning to his native Northeast Los Angeles in late 2016, he freelances on his hometown's goings-on.
Stay in touch
Sign up for our free newsletter