History
Haunted Hikes: 13 Treks to Completely Creep You Out in L.A. and O.C.
7:39 AM PDT on October 21, 2022
Wandering down a dark meandering road at night possesses its own unique sense of dread. Every critter noise seems amplified, and every shadow cast by pale moonlight appears ominous. These sounds and sights, despite naturally occurring, strangely penetrate the mind in a way that creates a sense of unease, like you shouldn't be here. But you persist onward anyway because these feelings of dread are oddly enthralling. When you add a ghost story, legends of occult behavior, tales of evil people, or bizarre structures into the mix, this jolt of horror can lapse into feelings of unexpected dread. 
The greater Los Angeles area possesses several prime examples of trails, hiking areas, and urban spelunking spots providing this devilish mix of creepy nighttime ambiance and chilling lore. Some of the trails that follow are picturesque paths that welcome scores of daytime hikers. Others are utilitarian structures hidden in plain sight. Remove their eerie context, and they look normal, if not innocuous. For those that know the secrets they hold, a nighttime trek offers freaky thrills—not just during the Halloween season, but all year round.
Disclaimer: Some of the following paths aren't technically open after sunset, so proceed at night at your own risk. If you don't want to run afoul of anyone, don't fret—these pathways can be also quite creepy during the day, particularly under gloomy, overcast skies.
Black Star Canyon
Last year, we explored this trail's association with La Llorona and why such a haunting makes sense historically. Her sad and horrific tale is just one of several legends that swirl around this meandering path cutting through Silverado Canyon in Orange County: The souls of massacred Native Americans, shape-shifting ethereal beings, Satanic rituals, and gun-toting locals that don't appreciate nocturnal visitors add to a captivating mythos. While these accounts may be the product of tall tales, they shouldn't negate the presence of spectral activity that goes down here after dark. Be forewarned: The spirits here are known to give you signs of their presence if you ask, including poltergeist activity like chucking a rock at your feet. If you're feeling brave, you know what to do.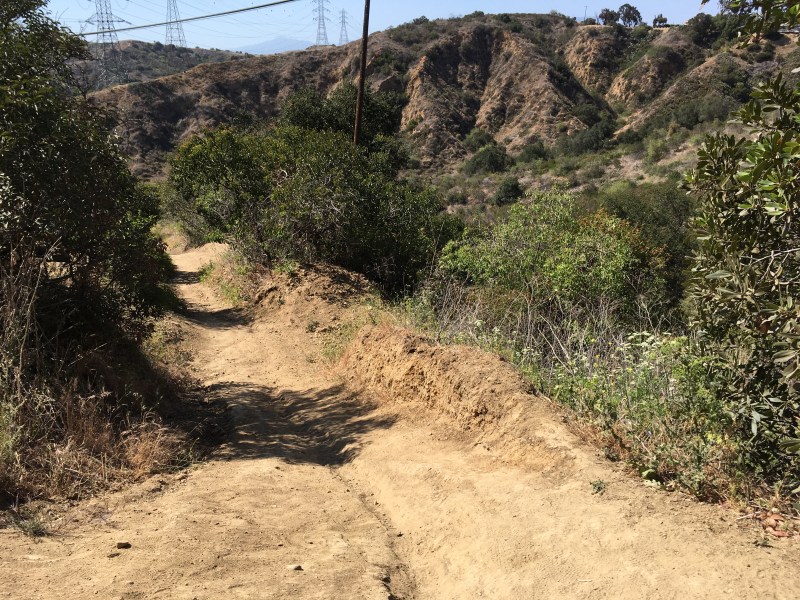 Turnbull Canyon Trail
It feels safe to call this four-mile loop trail within Whittier's northern hills L.A. County's equivalent to Black Star Canyon. Rumors of occultic rituals, KKK gatherings, angry Native American apparitions, and even an insane asylum are all part of the canyon's lore. There are also a few relatively modern ghost stories and unexplained phenomena that fluctuate between chilling accounts and urban legend: A hanged man supposedly shows up on the tree where he met his demise at the time of his original death, and there's allegedly a "gravity hill" nearby that allows cars to travel uphill without gas. These stories intermingle with verified tales of tragedy that have occurred in and around the canyon, from gruesome murder scenes to a plane crash that claimed the lives of 29 people. As intriguing as these tales may be, the most infamous attraction here is Hell's Gate, an oddly placed rod iron gate in the middle of nowhere that seems to have no purpose other than to make your skin crawl. When placed within the context of Turnbull Canyon's unnerving legacy, it succeeds.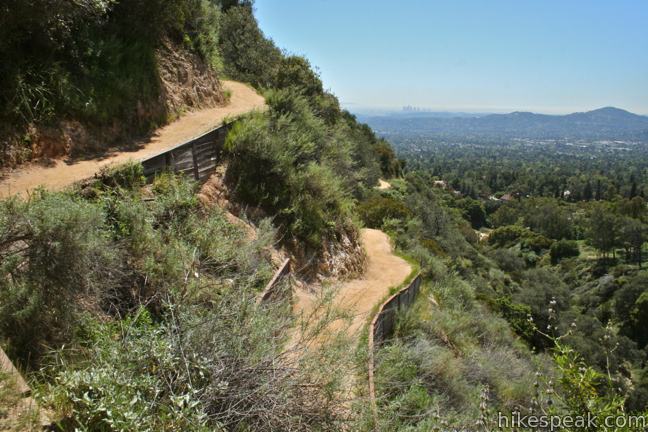 Sam Merrill Trail 
This pathway ensconced in the foothills just north of Altadena immediately sets the creepy tone at its trailhead. Here, you'll encounter what's left of Cobb Estate, a formerly magnificent 107-acre structure that was mostly demolished in 1959. These ruins set a spooky stage for reported spectral behavior that grows deeper the more you penetrate the forest. You'll see abandoned train tracks and additional stony ruins; if you're lucky (or unlucky, depending on your point of view), you may join the ranks of those that have spotted apparitions darting to and fro amid the trail's tree clusters.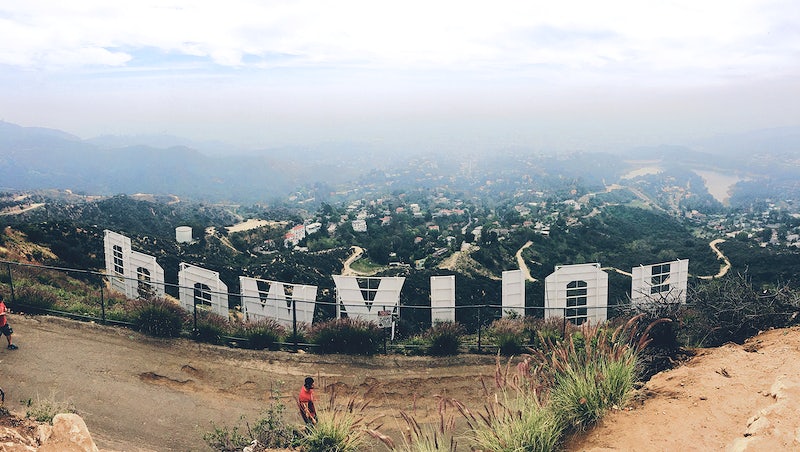 The Hollywood Sign
You can't quite hike directly to the famous sign, which sits atop Mt. Lee in what is technically Griffith Park. A fence, surveillance cameras, and an LAPD officer conspire to form an impenetrable barrier. Yet the trail that runs behind the sign gets you close enough to experience its eerie side. It builds its ghostly lore from infamous tragedy—an aspiring actress named Peg Entwistle jumped to her death off the H in 1932. It's said you can catch the scent of her gardenia perfume while traversing the path. There have also been several eyewitness accounts of Entwistle's ghost reenacting her fatal sing plunge, as well as reports of a woman in 1930s-era garb walking the grounds. While Griffith Park stays open until 10:00 PM, intrepid ghost hunters should note the park's trails close at sunset.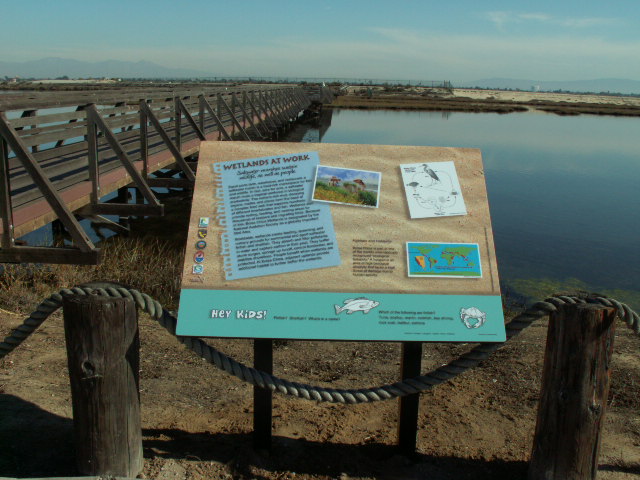 Bolsa Chica Ecological Reserve
Located across the street from Bolsa Chica State Beach in Huntington Beach, Southern California's largest saltwater marsh features uniquely beautiful vistas and terrific birding opportunities. It's also the alleged home to the ghost of a boy that tends to dwell along one of the trail's overlooks. The phantom child's story is unknown, but there are plenty of potential origin points to consider, from the obligatory Native American burial ground story to 19th-century Spanish rancheros. Wherever he comes from, he's allegedly not a nice kid: Hikers over the years have reported the sensation of being grabbed by the ankles and tugged toward the marsh, perhaps suggesting the boy met a watery end to his own life. Even if you don't encounter the boy on your hike, you'll still see a few structural oddities, like the remains of a World War II gun emplacement and an unused Pacific Electric railway station.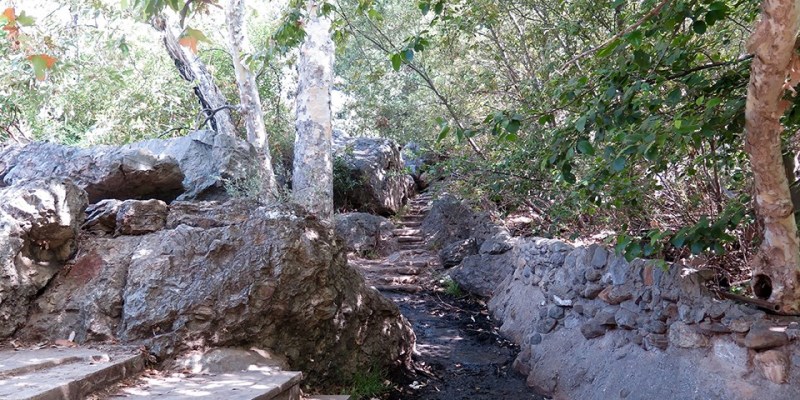 Solstice Canyon Trail
There's plenty of natural splendor to take in on this Malibu trail, including a waterfall. But its main draw for avid hikers and spooky thrill-seekers alike is what's left of a mansion dubbed the Tropical Terrace House. Most of the formerly sprawling estate burned to the ground in 1982 due to wildfires, and its ruins allegedly play host to the ghost of its former owner Fred Roberts. While Roberts didn't die in the fire—he passed away six years prior—he allegedly haunts the place in dramatic fashion. Some have reported his apparition emerges with an unsettling moan via a sudden burst of fire. He's not the lone spooky experience you may have, as others have shared tales of hearing disembodied voices or the unexplained stench of the burning forest.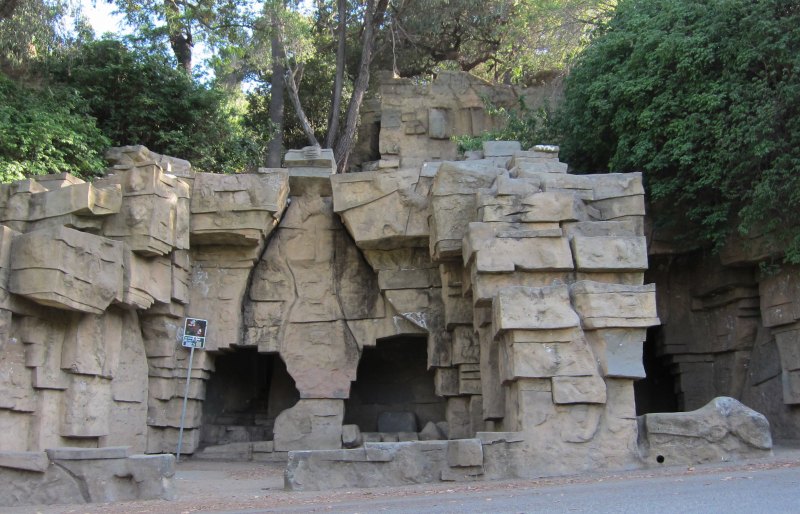 The Old Zoo Trail
Walking along this easy Griffith Park loop trail leads you to The Old Griffith Park Zoo, one of L.A.'s weirdest sites. It's bizarre because of how its vibe can easily shift in certain situations. Closed in 1965, its grounds were converted into a picnic area. However, its cages and holding pens still stand as they once did, and they've been used as set pieces for movies and TV since the 1970s. When the cameras turn off, and the sun goes down, however, the place purportedly gets filled with the disturbing moans and growls of anguished animals that died heartbreaking deaths under horrid conditions. The ghosts of park namesake Griffith J. Griffith, the land's former owner Antonio Feliz, and Antonio's niece Petranilla also allegedly roam the area, ready to freak you out. Ironically, it may be tough for you to properly explore this area in October, as the annual Los Angeles Haunted Hayride takes place here.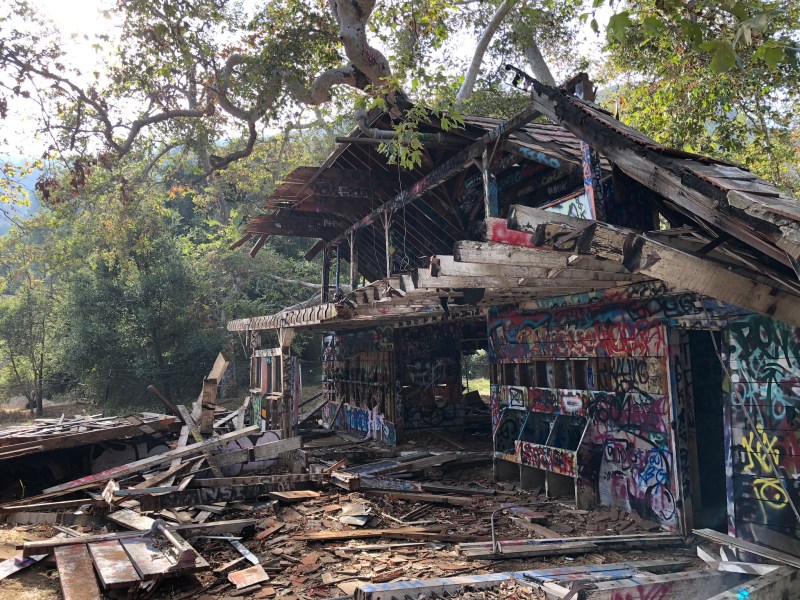 There are times when the spookiness of ghosts has nothing on the horrors of past reality. Such is the case on this Pacific Palisades trail. For decades, it was home to a heavily graffitied cluster of derelict buildings once purported to be a refuge for American Nazi sympathizers in the 1930s. Specifically, it was said to be a hub for people scheming to take over the country after Hitler conquered Europe. While a healthy chunk of what exactly happened here was the product of oral history, abandoned buildings that stood here for decades like a machine room, a bomb shelter, and a powerhouse strongly suggest something nefarious was afoot. Unfortunately, most of these buildings have either been or are planning to be demolished, so you may not have much time left to experience what stood here firsthand. Still, the thought of what occurred here during the years leading up to World War II will keep this place creepy even after they raze the last structure.

Old Stagecoach Road Trail in Santa Susana Pass State Historic Park
Taking this loop trail guides you through the northern portion of Chatsworth's sprawling park, which holds a dark and evil secret. The land was the former home of Spahn Ranch, the infamous property that doubled as the Manson family's hangout. The property is long gone—a fire burned up the ranch in 1970—but you'll still see pops of its existence—an abandoned vehicle here, a filled well there. While the trail bisects the former property, making your way down its unmarked branches can provide you with deeper glimpses of its sinister past, such as the cave where Time magazine took its famously unsettling photo of Manson and his cult followers in 1969. You won't spot a ghost, but you very well may feel the presence of evil. Word of warning: This isn't the easiest of hikes, especially if you plan on going off the beaten path.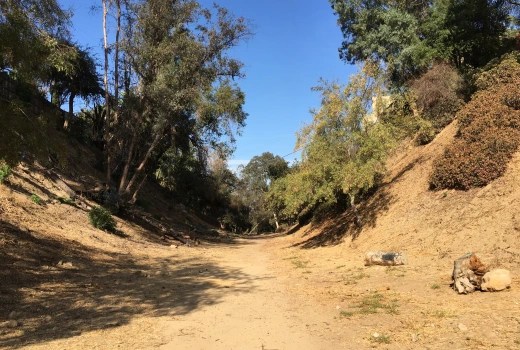 Corralitas Red Car Path
Part public space, part urban hiking trail, this strange little pathway in Silver Lake provides a unique spin on the creepy ruins or abandoned property story. Most of the trail was an old rail line of the once mighty Pacific Electric Streetcar system that canvassed the greater LA area. Relics of its former glory flank on either side, including a long-abandoned passenger staircase and a series of stone obelisks known by the locals as Silver Lake Stonehenge. You may also see the occasional spate of abandoned items scattered along the path along your journey, helping to convey a slight "you shouldn't be here" type of vibe. Adding to this ambience is the path's profound quietness, as the adjacent convergence of the Glendale and Golden State Freeways creates a unique barrier that absorbs ambient noises. It would be an eerie locale without ghost stories, but they also have a few of them, with the most popular legend involving workers that died while building the railway through the area.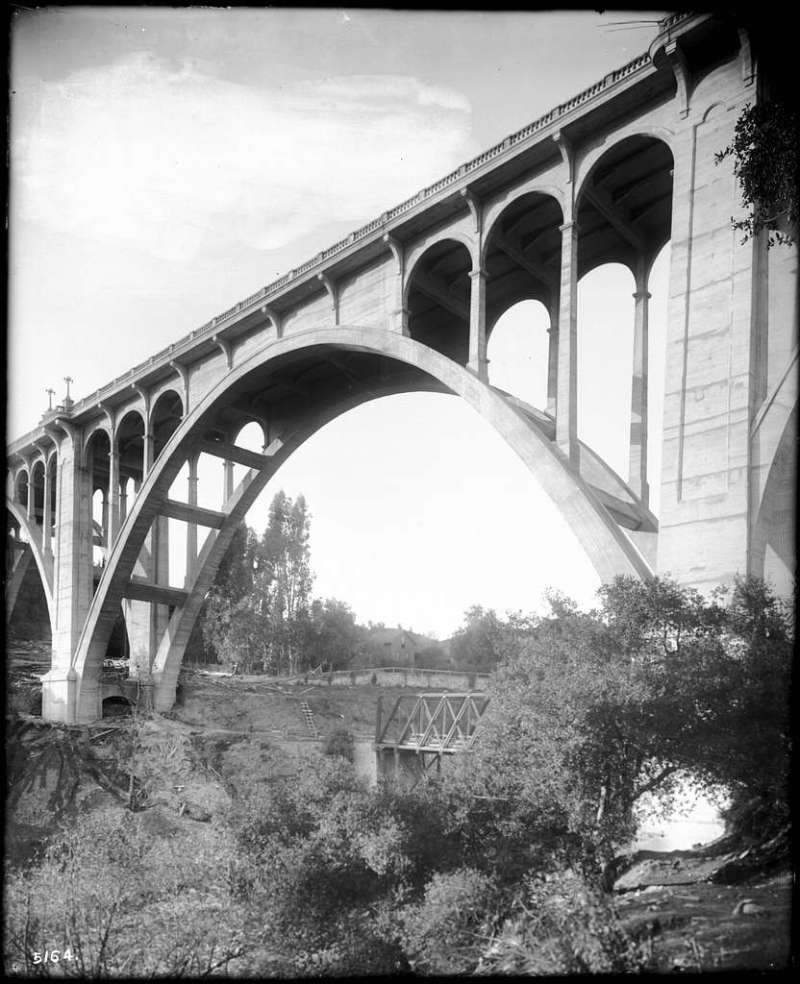 Colorado Street "Suicide Bridge"
This magnificent Beaux Arts bridge spanning the Arroyo Seco in Pasadena has some impressive bona fides: It's listed on the National Register of Historic Places, and the American Society of Civil Engineers deems it a California Civil Engineering Landmark. It's perhaps better known, however, as the Suicide Bridge due to the vast number of people that leaped to their death off the structure. Barriers now line the bridge to discourage suicides, but they do nothing to prevent the myriad of ghost stories and tales of paranormal activity linked to the span. These freaky tales run the gamut from white-gowned apparitions doomed to repeat their death leap to unexplained guttural voices coming from below the bridge. The most unsettling report is the disembodied cry of a baby that was flung over the bridge by her mother, who immediately followed. Look no further if you're looking for a creepy stroll but don't necessarily want to hit a hiking trail.
Devil's Gate Dam
A long, dark tunnel. A rock formation vaguely resembling Lucifer. A history of occultic behavior. Current unusual activity. The physical elements and sordid stories swirling about this spot below the 210 freeway in Pasadena are practically an all-star line-up of spine-tingling spooky stuff. Its weird backstory is arguably its main draw. In the 1940s, Jet Propulsion Laboratory founder Jack Parsons and the father of Scientology L. Ron Hubbard were purported to lead occultic rituals around here to conjure up the antichrist, based on the writings of legendary English occultist Aleister Crowley. Naturally, their alleged exploits led to rumors that they had opened a portal to hell. Genuine accounts of children mysteriously disappearing around the dam area added more fuel to this fire. Most of these missing kid incidents were eventually attributed to a confessed serial killer, which further amps the site's bone-chilling lore. Today, Devil's Gate remains an active dam that occasionally releases water when it's not creeping everyone out. It's wise to keep this in mind should you dare check it out, especially after a rare storm.
Picnic Table 29
Sometimes, a solid urban legend can match the ghastly delights of a spooky ghost story. Such is the case with this semi-destroyed park bench, which can be accessed via multiple Griffith Park trails (seriously, Griffith Park's teeming with spooky stories starring specters). The story goes that in 1976, a young couple was on top of the table in the throes of lovemaking when a tree branch suddenly fell, landing on the table and crushing them both to death. Their spirits reportedly haunt the area, where they're rumored to issue sinister warnings to leave them alone through disembodied voices or written messages on fogged-up windows.  Despite the couple's ethereal pleas, the table and the murderous tree branch that still rests atop its surface serve as a makeshift shrine for people dropping off notes and gifts for the doomed lovers. Is it true? In this case, who cares? It makes for good, spooky theater.
Rich Manning is a freelance writer who lives in Fountain Valley, CA with his wife and two daughters, and is likely eating a burrito as you read this.
Read More:
Stay in touch
Sign up for our free newsletter