Featured
Garcetti Said That L.A.'s Hand-Washing Stations for the Homeless Were Regularly Refilled, Records Obtained Show Otherwise
12:12 PM PDT on June 7, 2021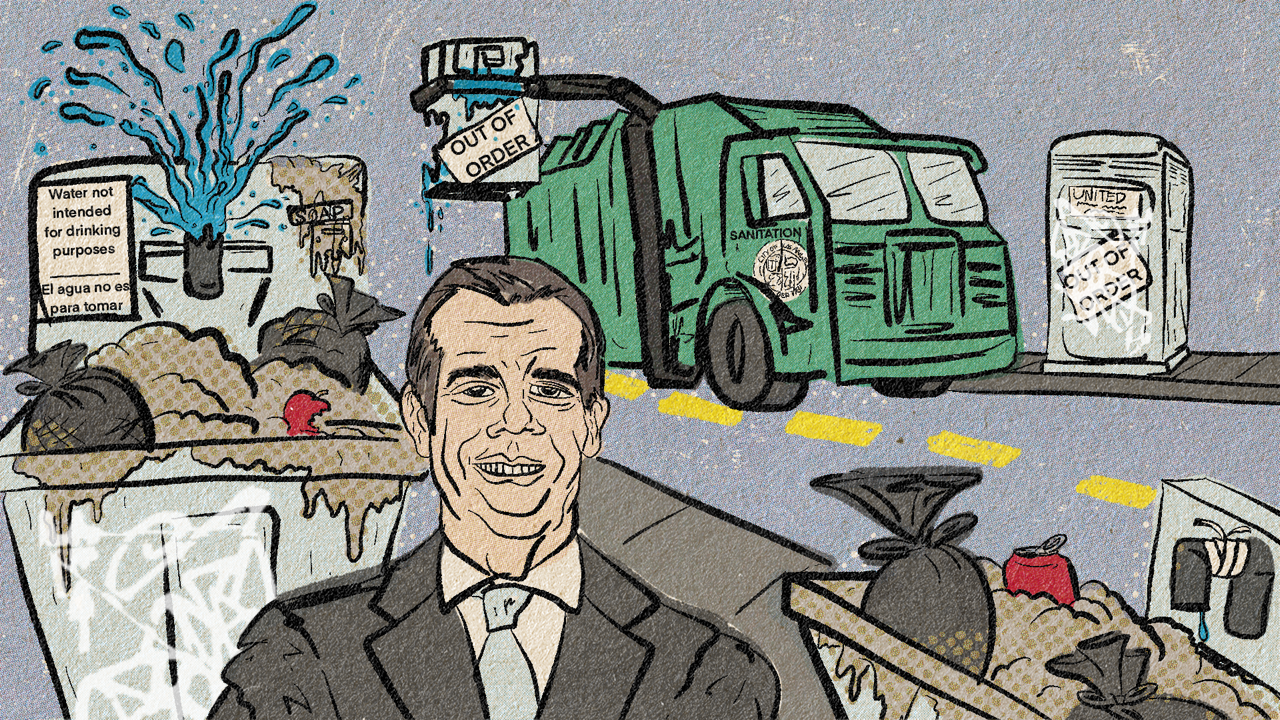 Last year in early April, Los Angeles Mayor Eric Garcetti made a bold claim in response to criticism from homeless advocacy groups and a federal judge that said hand-washing stations rolled out to encampments in response to the early pandemic took too long to hit the streets and when they finally did, they weren't being properly maintained.
"We have talked to the folks that are our vendors and instead of being checked once a week, [hand-washing stations] will now be checked daily."
"That will begin tomorrow," Garcetti promised.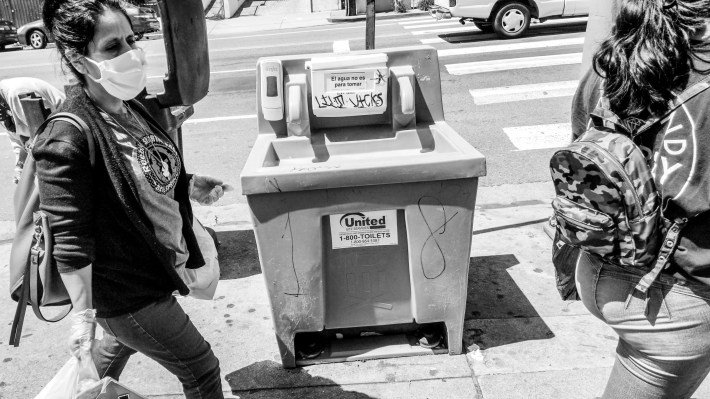 On the streets, not much changed though. On the day of Garcetti's announcement, L.A. TACO assessed a hand-washing station in Westlake, one of the city's most densely populated neighborhoods, where more than 1,800 unhoused residents live.
An empty can of pineapple juice rested near where one of two soap dispensers should have been and there were no paper towels. Only a trickle of water dripped from the plastic faucets.
A week later, the can of juice was replaced by the remnants of a half-eaten ice cream cone. One of the soap dispensers was still missing, the other one was empty, the paper towels hadn't been replenished and it seemed like the water was a few pumps away from going dry.
All over the city, community members found hand-washing stations in similar conditions. The units were so unreliable that advocacy groups began building and distributing their own stations made out of plastic trash cans and two-gallon water jugs.
Early on, hand-washing was identified by local health officials and the Center For Disease Control as one of the most effective ways to limit the spread of COVID-19.
Despite widespread criticism, in the eyes of the Los Angeles Sanitation Department (LASAN), the city agency responsible for assessing soap, water, and paper towel levels at hygiene stations, there were no issues with the units.
"The handwash stations are assessed daily to ensure they are working properly and have the necessary equipment and supplies to provide service to the unsheltered population," LASAN said in an April 23 report back to the Los Angeles City Council last year. The report made no mention of the unusable stations and instead applauded the department's efforts to quickly respond to the pandemic.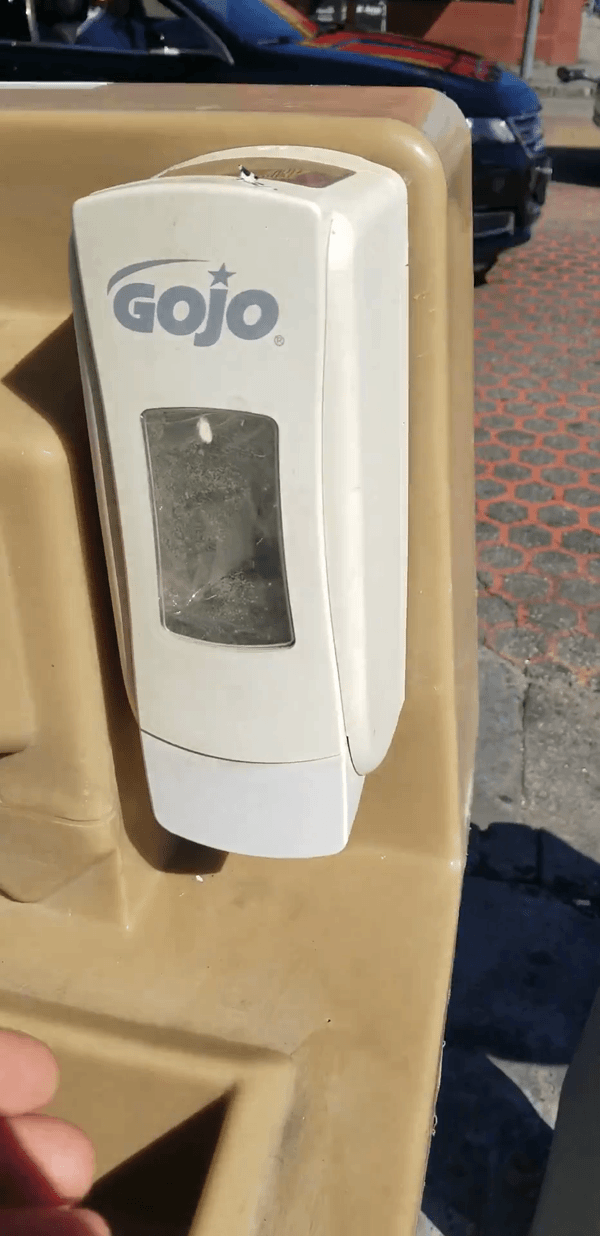 During our reporting, we received conflicting responses from the sanitation department regarding their role in assessing hand-washing stations. Initially, LASAN spokeswoman Elena Stern told us that the department assessed hand-washing stations while they were out doing encampment cleanings and reported back to the Unified Homeless Response Center (UHRC) if they needed repairs or water refill.
A little more than a year later, Stern told us early on the department's only role in the assessment of hand-washing stations was to report back to vendors.
After L.A. TACO requested an interview with a department manager in April 2021, Stern abruptly told us: "We have no comment on the stations."
"We have nothing to do with them," Stern said.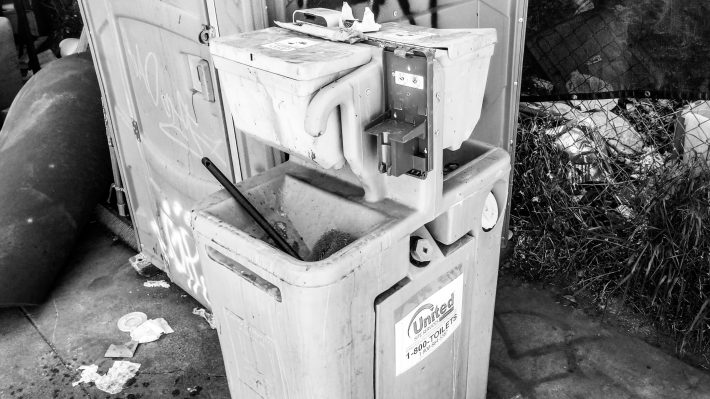 An L.A. TACO review of more than 350 PDFs from LASAN—obtained through the California Public Records Act by citizen journalist Adrian Riskin—containing emails and internal records found that the department communicated with vendors on a daily basis between April and August last year.
And while it does not appear that LASAN ever refilled stations—according to emails—in addition to assessing units, the sanitation department also worked closely with vendors to address maintenance needs; which ranged from removing unexplained locks on porta potties to cleaning up the charred remnants of burned hand-washing stations, unchaining units so they could be moved and organizing sanitation cleanings to clear encampments in order to allow vendors to service units.
In LASAN's report back to the Los Angeles City Council, the department also mentions that they sent teams out once a week to "clean and disinfect" units at one point. 
An L.A. TACO review of four months of daily spreadsheets from LASAN—also obtained through the California Public Records Act by Riskin—assessing the soap, water, and paper towel levels at hand-washing stations and portable toilets, found that there was no record of the city assessing every hand-washing unit in one day between April and August last year. On average, roughly half of the 300 or so city hand-washing stations went unassessed each day. On some days the sanitation department assessed fewer than 50 stations.
During our reporting, we inspected dozens of hand-washing stations that were missing soap dispensers and lacking soap, water, or paper towels as well as portable toilets that were unusable—sometimes over the course of multiple days.
For this three-part series, we also spoke to more than 20 unhoused residents.
While some people told us that they had positive experiences with hand-washing stations and they were well maintained, the majority said that the stations weren't serviced regularly, they didn't trust them, or they didn't know where they were. As an anonymous unhoused resident told L.A. TACO, "There are good hand-washing stations. There are bad ones, and then there are the ugly ones."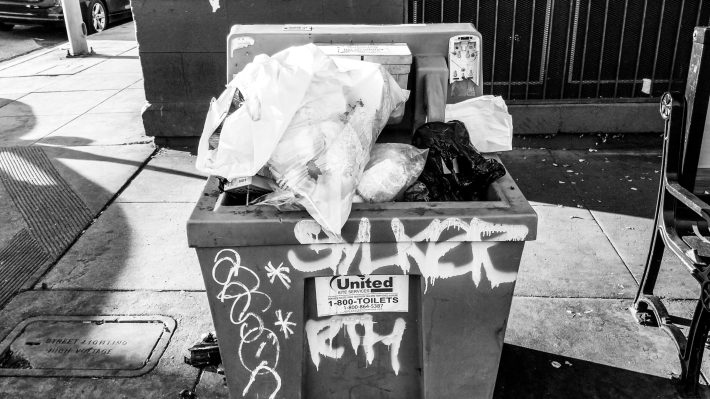 Days, weeks, and months without service
Daily assessment records from LASAN show that as coronavirus cases surged during the first three months of the pandemic, the sanitation department assessed fewer hand-washing stations.
In April of last year, they assessed more than half of all hand-washing stations per day. By August, that number decreased to roughly a quarter of all hand-washing stations.
Additionally, L.A. TACO found that when they were assessed, the majority of hand-washing stations were in need of service. According to their report to the city council, LASAN maintained a "comprehensive database" to identify stations that were in need of maintenance, and vendors were reportedly notified the same day.
But in some instances, we found that hand-washing stations and portable toilets went days, weeks, and in a few cases even months without being serviced by vendors.
In one case, an internal report from LASAN shows that half of all the hand-washing stations from United Site Services (USS)—the largest provider of hygiene stations to the city—went without soap, water, and/or paper towels for five days during one week in May last year.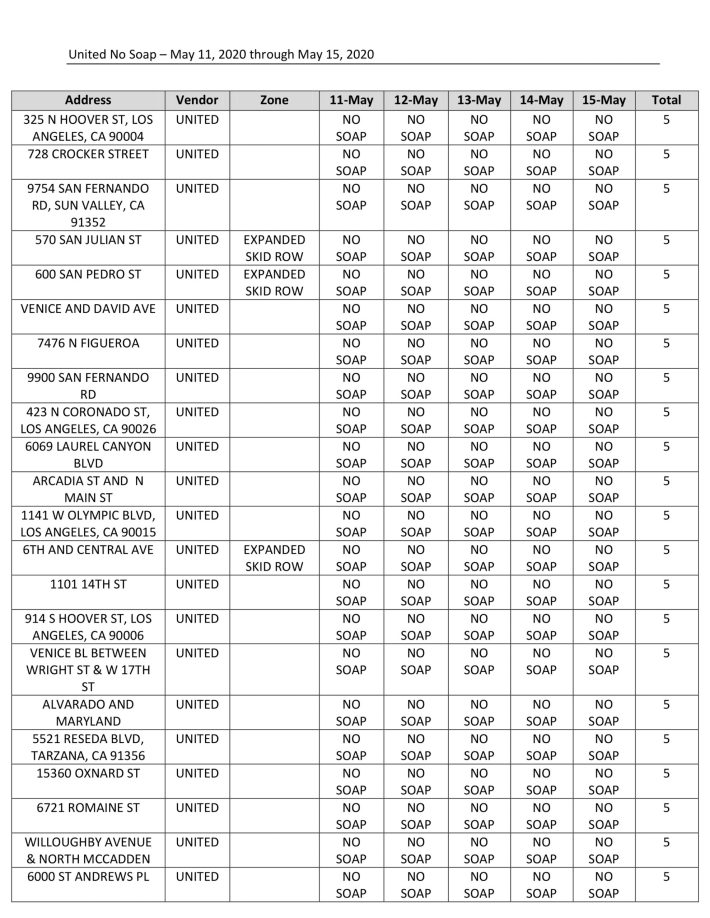 In an email thread from the same month between city employees and Shelley Cheney—an account manager with USS—LASAN supervisor Rene Negrete, identifies a hand-washing station on Venice Boulevard and David Blvd that reportedly hadn't been serviced in two weeks. "Our assessors reported to me today that this hand wash station at this location has not had water for the last 2 weeks and is in need of immediate service. Also, Gabriel, the homeless nearby are requesting to our assessors that the location needs two porta-potties in that area due to the amount of homeless nearby."
In another email thread between Negrete to Cheney a month later, Negrete says that a hand-washing station on Alhambra Avenue underneath an overpass in Lincoln Heights hadn't been serviced in more than a month.
"Last service date was 5/15/2020," Negrette said on June 22. According to emails from Cheney the unit was reported missing. "I have reopened the lines and requested this service be done ASAP. It will be cleaned by Wednesday at the latest." Cheney responded on that Monday.
A San Francisco Public Press investigation found that USS also failed to service hand-washing stations in a timely manner in the Bay Area. The company did not respond to multiple requests for comment.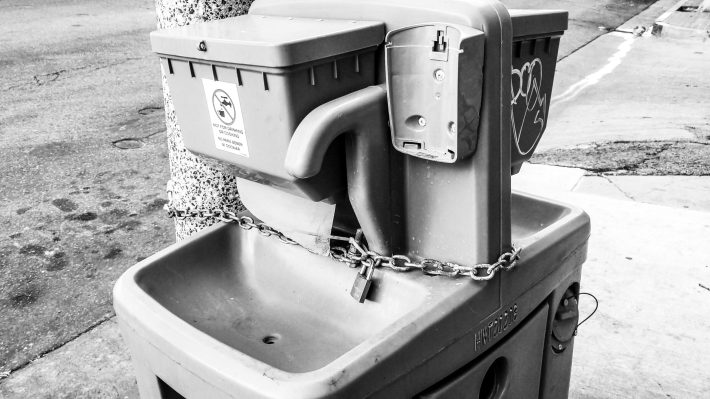 Despite a paper trail of emails and other records, last August Mayor Garcetti doubled down on his earlier promise during a COVID-19 press briefing, while standing in front of a portable toilet and hand-washing station near Lincoln Park. "[Hand-washing stations] are inspected daily by our city staff," Garcetti said less than a mile away from the hand-washing station on Alhambra Ave that went nearly 40 days without being serviced."So maybe during the day, some of them run out of some equipment, and we'll be happy to try to search for more. So please let us know any of those locations. But it's radically different than it was at the beginning of the pandemic. And we're going to keep those going."
A few weeks later, the sanitation department quietly stopped keeping records of soap, water, and paper towel levels for hand-washing stations altogether, L.A. TACO discovered months later.
"Our only role early on was assessing the stations while out in the field and reporting back to the vendors (not actually servicing), but we ran out of resources to do that around August," LASAN spokeswoman Elena Stern told us in April.
Brian Swanson, an analyst with the city department that oversees vendors' contracts, told us that the contracts for hand-washing stations will expire in October of this year.
In response to questions from L.A TACO, Harrison Wollman, press secretary for Mayor Garcetti told L.A. TACO that the sanitation department's role in assessing hand-washing stations was temporary. "LASAN assessments were added to temporarily supplement the service efforts of these vendors to keep a more accurate status of these units."
Wollman put the responsibility on vendors, pointing to recent purchase orders, despite Mayor Garcetti stating that stations were inspected daily by city staff in August. "The Department of General Services contracts with vendors to ensure each unit is assessed and serviced once per day, seven days per week," Wollman said in an email. L.A. TACO reviewed a purchase order provided by Wollman showing that as of May 12, United Site Services, Andy Gump, and National Construction were all contracted to service hundreds of hand-washing stations and porta-potties seven days a week. The purchase orders show that there are roughly 20 percent fewer hand-washing stations now than there were at the start of the pandemic. 
According to Wollman, there are no city employees currently assessing hand-washing stations but city staff reportedly continues to work with "the vendors as issues arise."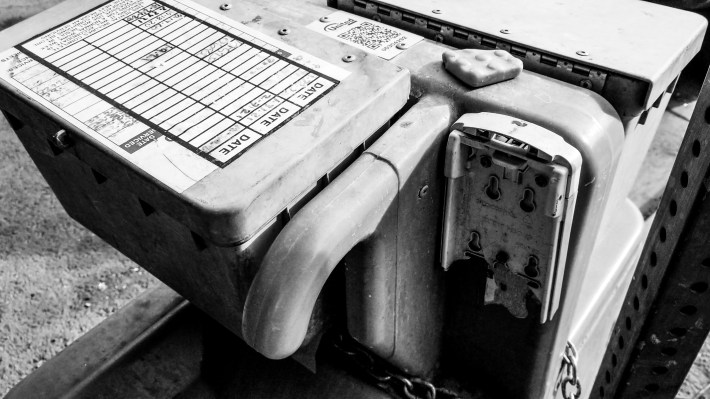 "It's like they don't care," Angel said standing next to a USS hand-washing station missing both of its soap dispensers, last week. "If it were their house they would." 
Born and raised in East L.A., Angel told us he grew up in a home where his dad put a lot of pressure on him to excel at school and music but eventually he got wrapped up in gangs. As a result, he spent 20 years of his life in-and-out of jail and prison. After serving 12 years for robbery, he says he's been out of the system for eight years now. Six of those years he's spent living on the streets.

For the past two years, Angel has been living at an encampment on Coronado Street near Echo Park, underneath the 101 freeway. "I shouldn't even be out here," he told L.A. TACO. Angel currently works at a women's clothing store in DTLA loading boxes onto trucks. "I move some heavy stuff. At this age I don't know how I do it," the 51-year-old told us after getting his COVID-19 vaccine shot. Unfortunately, he hasn't been able to save up enough money to move into an apartment.
To make up for the lack of soap at the hand-washing station on Coronado Street, he sometimes has to buy his own. He says that the unit has been missing soap for more than a month now. It's the only hand-washing station for more than two blocks. Further south, two stations managed by Santa Clarita-based Andy Gump was fully stocked with supplies and soap dispensers.
Last summer, during the fall and winter we monitored the unit on Coronado St periodically and found that it was consistently lacking soap or water. Last July, we found that the station went without soap for a least a week. An unhoused resident told us that at the time a soap dispenser had been missing for weeks.
"The restrooms, they didn't use to clean them but now they come constantly because of Spectrum," Angel said. Following our reporting last year, Spectrum TV spoke to Angel for a story in early August. At the time, he said that the hand-washing station had very little soap and no water. One of its soap dispensers was missing.
Broken soap dispensers were a common issue amongst USS portable sinks. Two weeks after Angel was interviewed by Spectrum TV, almost 70 percent of all the hand-washing stations from USS assessed by LASAN on August 22 were missing a soap dispenser, according to a spreadsheet. Days later, LASAN stopped assessing hand-washing stations.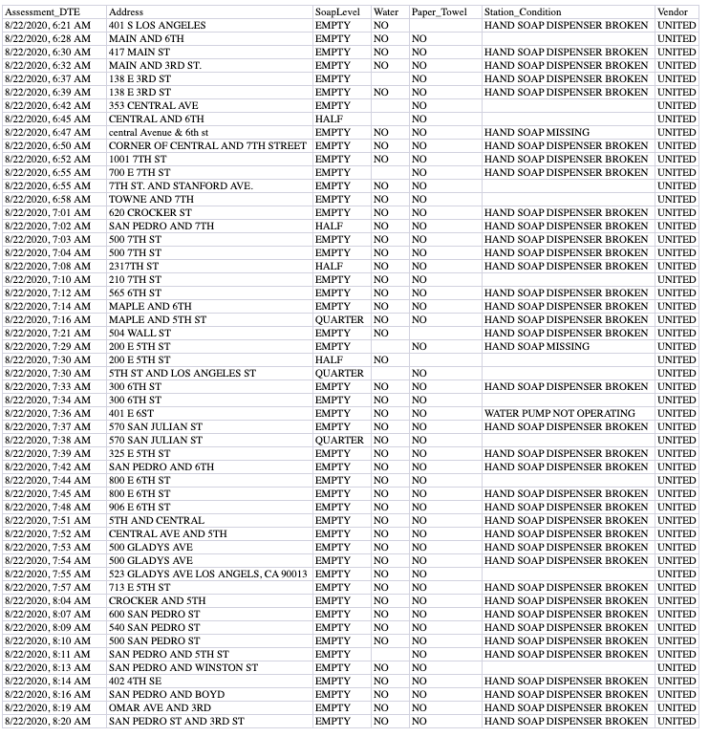 One of Angel's neighbors, Rafael, confirmed that it's been at least a month since he remembers there being soap at the hand-washing station under the freeway overpass. The 64-year-old Cuban immigrant used to have an upholstery shop in La Puente. About six months ago he fell into homelessness and moved to DTLA before relocating to the encampment on the border of Historic Filipinotown and Echo Park. "Hopefully everything will change for the better," Rafael told us he doesn't plan on being homeless for much longer. "I'm trying to get on my feet and get on with my life."
Rafael said he gets soap from the porta-potty next to the hand-washing station, which he says he cleans himself sometimes twice per day, in addition to the vendor servicing it regularly now. "I keep it clean," Rafael tells us.
Neither Rafael nor Angel knows why the hand-washing station's soap dispensers haven't been replaced, even though the vendor comes to fill the station up with water and clean the porta-potty daily.
"I mean, it's broken, but they can fix this," Angel said, pointing towards the sink. "Some people just don't care about the homeless."
This is the first investigative article that was produced as a project for the USC Annenberg Center for Health Journalism's 2020 Data Fellowship. Read the second story here. as well as the final installment 

Lexis-Olivier Ray is a housing, justice and culture reporter for L.A. TACO.
Read More:
Stay in touch
Sign up for our free newsletter