Featured
The Golden Dragon Parade Remains a Constant in Gentrifying Chinatown…For Now
1:09 PM PST on February 3, 2020
t was so colorful," Jeff Chan reminisces about Chinatown during the 1950s. When he moved to the border of Silver Lake and East Hollywood from Oakland in 1959, he split a room with three other people and paid $10 in rent. Today, the average apartment in Los Angeles costs over $2,500 a month.
"Now you go down Gin Ling Way, where is everybody? They're all up in heaven. And everything is closed," says Chan.
Jeff Chan is the founder of the Immortals, a dance and martial arts group that has been participating in the Golden Dragon Parade for over 60 years. On Saturday, the city's oldest Chinese dance group brought out their signature 150-foot dragon to the 121st annual Golden Dragon Parade.
"They still have the parade, which is a surprise to me," Chan tells L.A. Taco.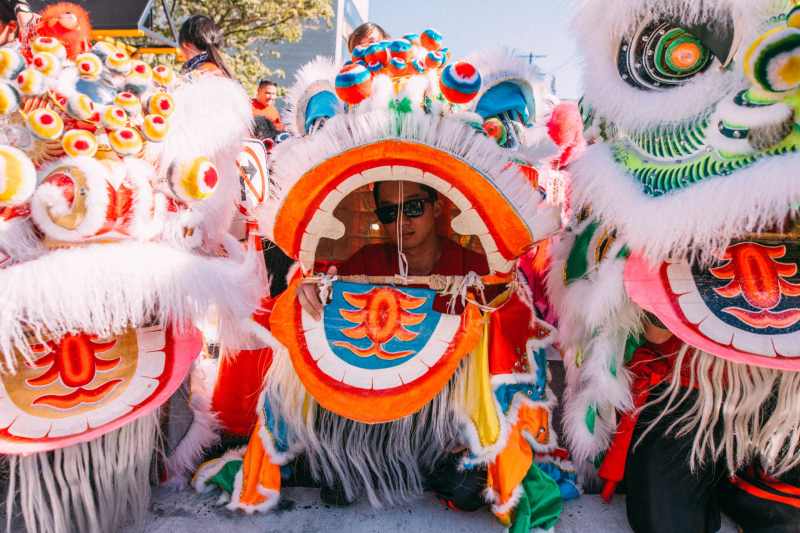 The Golden Dragon Parade is one of the oldest celebrations in Los Angeles. Known for featuring fireworks, loud music and lots of confetti, "It's a time of family," Immortals member Tommy Wong says. Wong has been participating in the parade for over 20 years.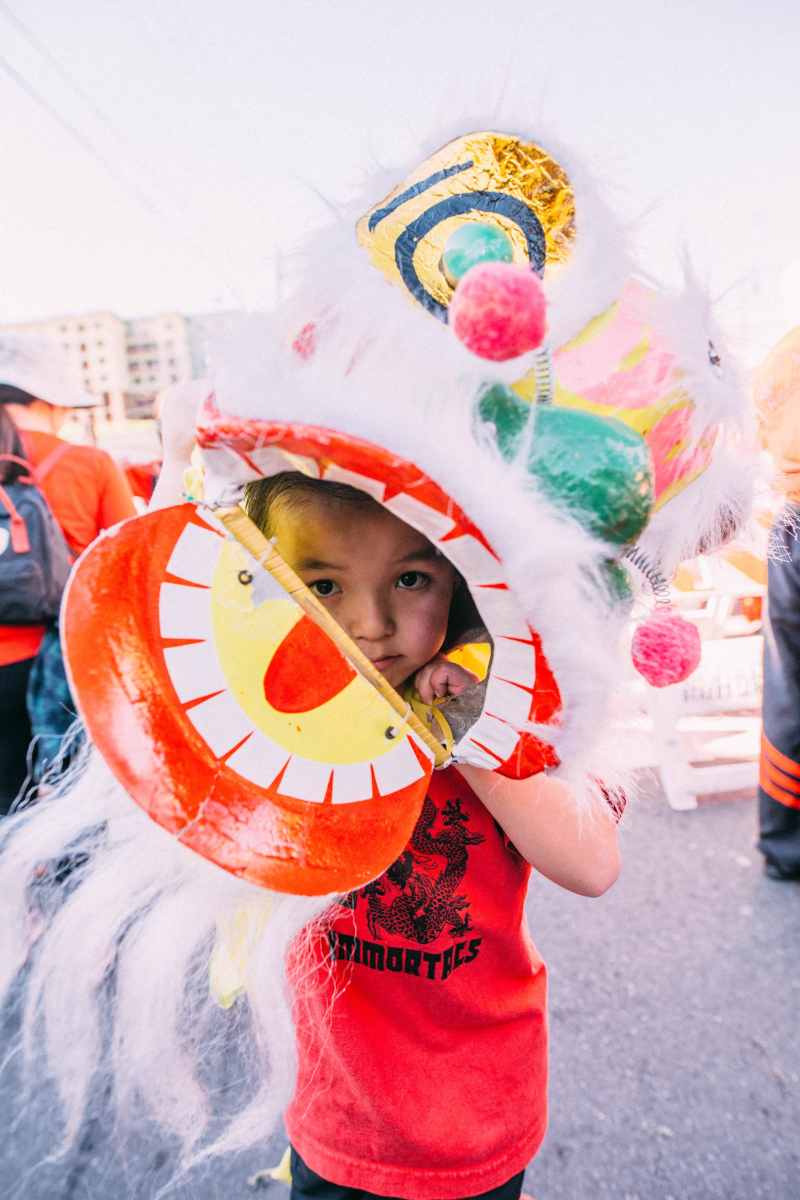 "Everybody kind of wears new clothes and shares their wealth," adds Wong who says the Lunar New Year celebration is about prosperity and starting things on the right foot, "Loud cymbals, loud drumming, firecrackers, that's so that you can scare away the old and then start off fresh for the new year."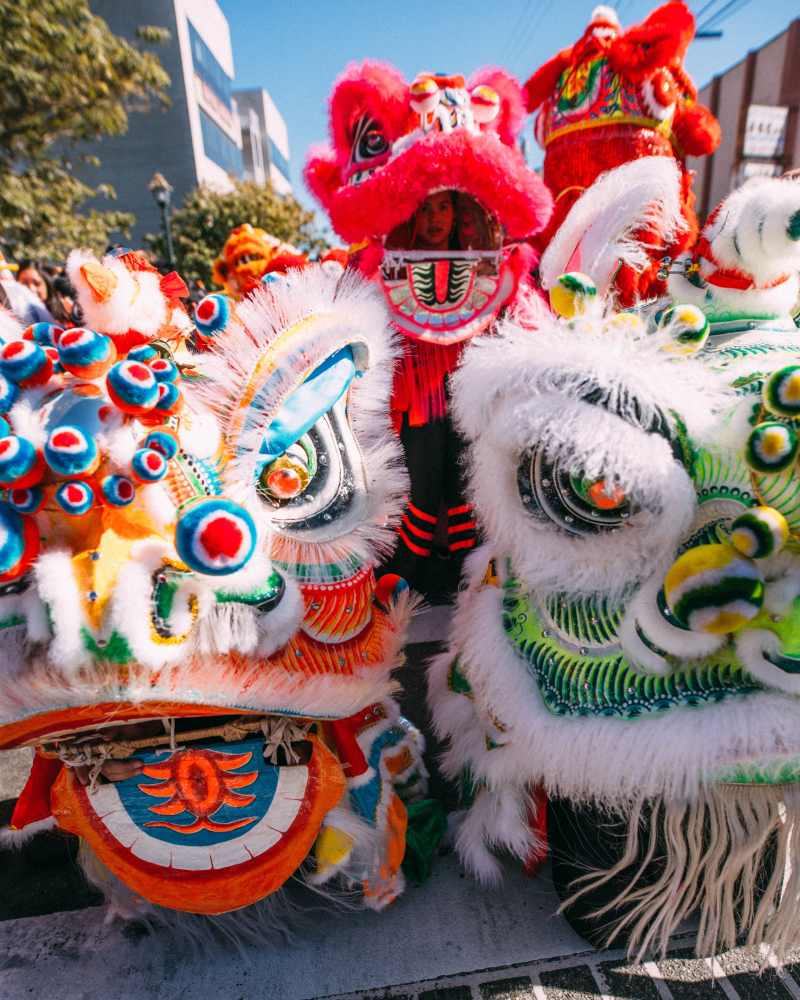 The Golden Dragon Parade is one of the only constants in a neighborhood that is rapidly gentrifying. Historically, Chinatown was a place that catered largely to Asian immigrants and low-income people. Over the last five years though, luxury buildings have started to popup, pushing market rates to over $1,900 for a studio. Restaurants offering tasting menus and fried chicken sandwiches have moved-in. A burgeoning arts scene has developed all while businesses that have been around for decades have seen declining sales and have been pushed out of the area.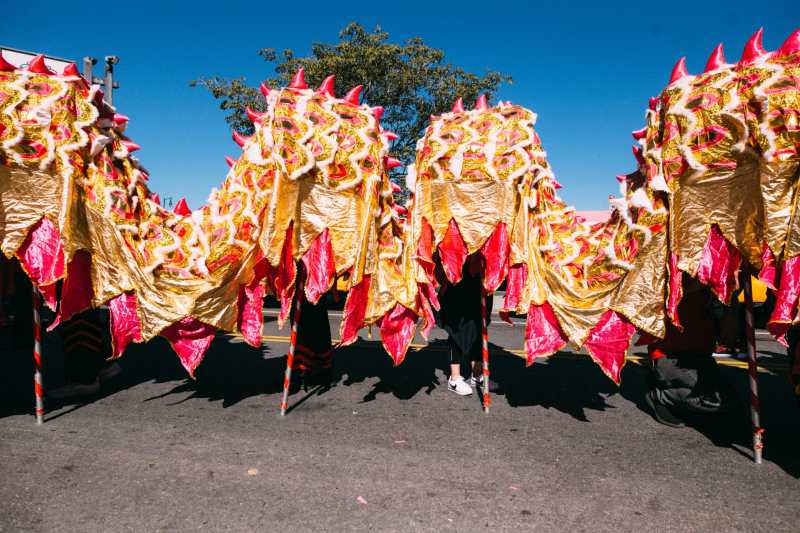 Late last year, the neighborhoods only remaining Chinese grocery store, Ai Hoa Market on Hill Street, closed down. "Ai Hoa has been here for over 30 years," Phyllis Chui, a former resident of Chinatown and member of CCED, stands across the street from the shuttered grocery outlet, holding a sign to bring awareness to the gentrification of Chinatown, with other members from her group.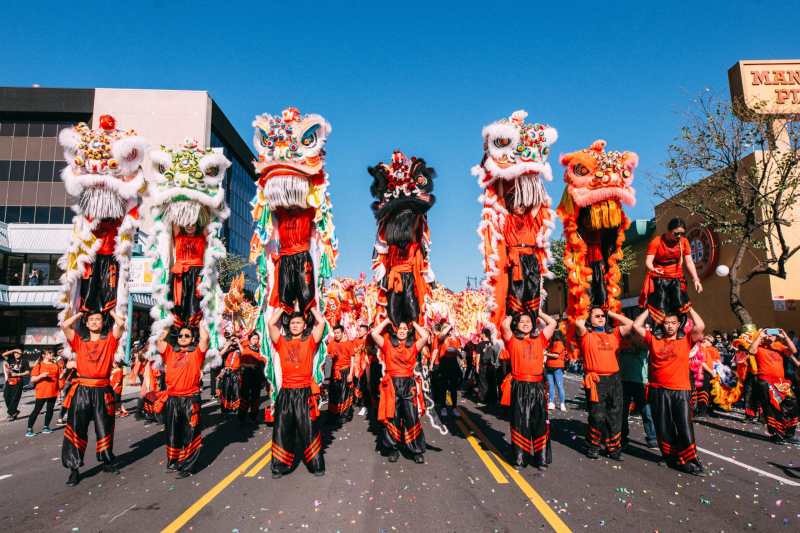 According to Chui, the developer Tom Gilmore purchased the property and forced the owners of Ai Hoa to move. Gilmore owns several other units on both Hill Street and Broadway, "There are only two businesses that haven't caved in," Chui says. According to Chui, Gilmore is planning on building a highrise hotel in place of Ai Hoa.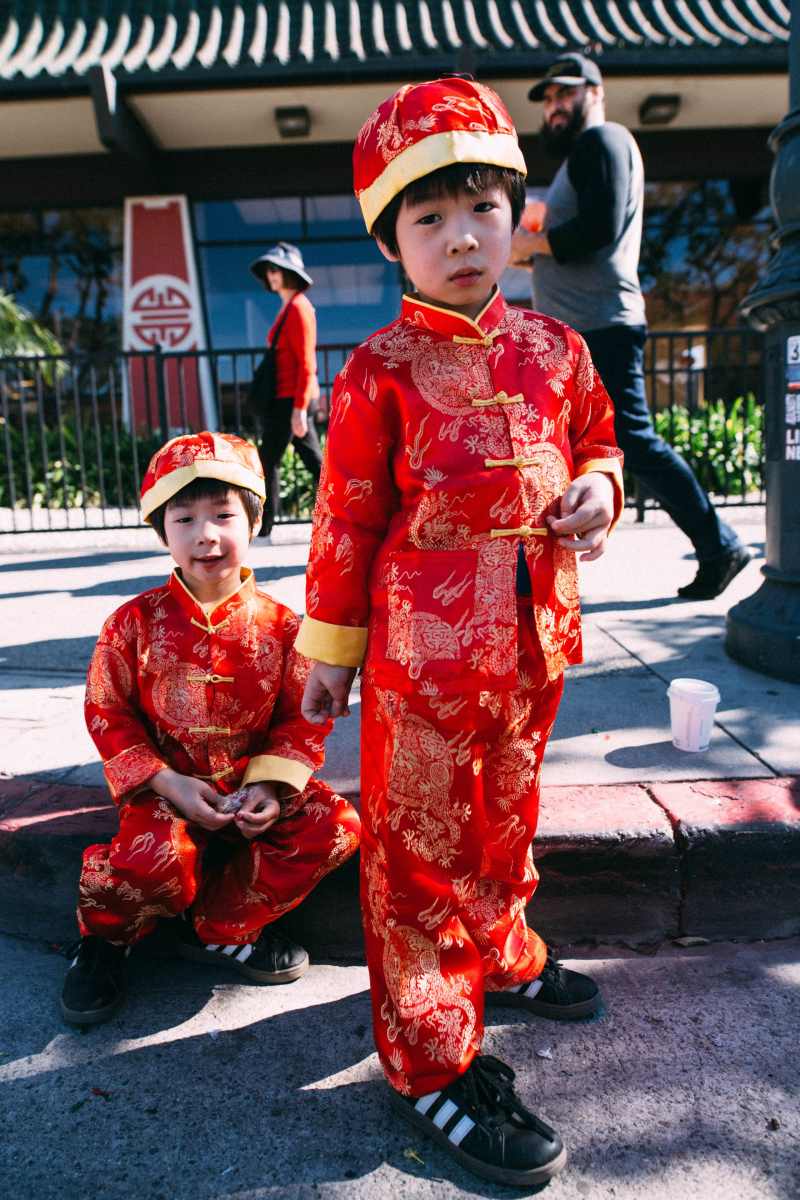 "It's really sad, [people] have to get on a bus to go shopping for food," Chui explains that there is no fresh meat or fish in Chinatown anymore so residents are forced to travel to Glassell Park or even further to the San Gabriel Valley just to go grocery shopping. "That makes it kind of undesirable to live here."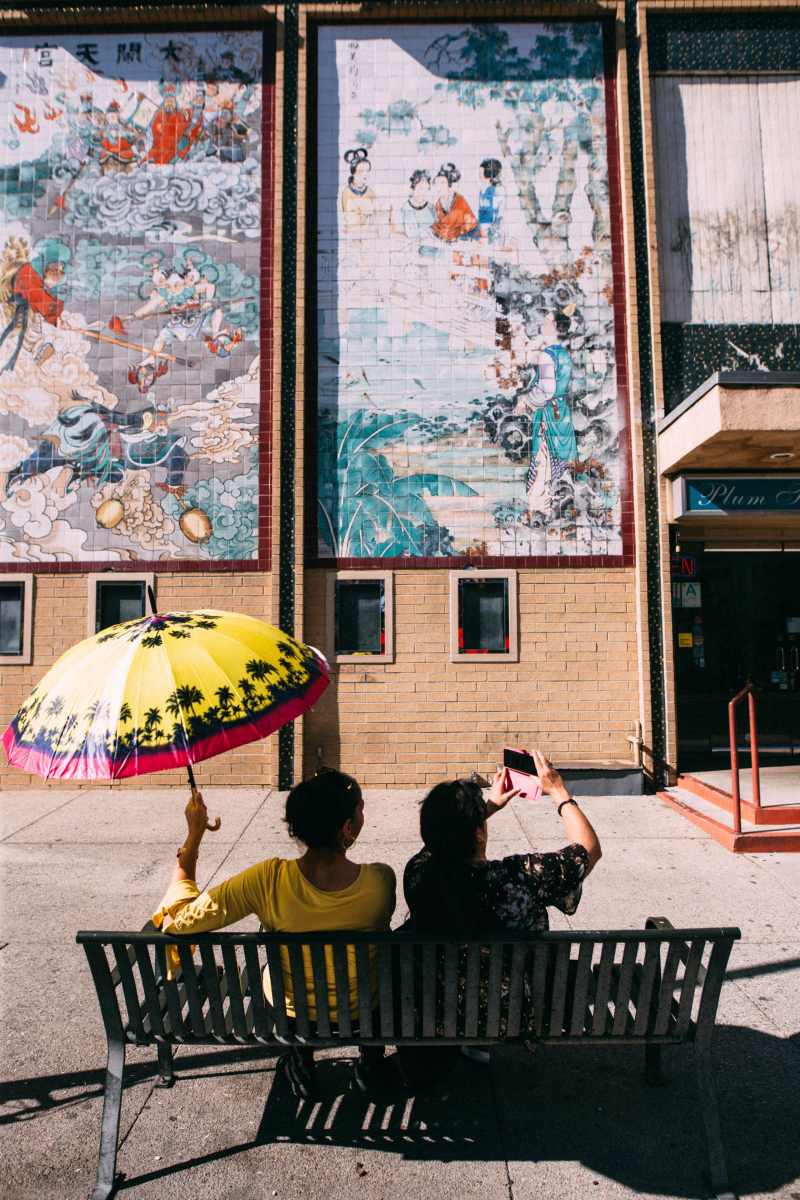 There are no more grocery stores in Chinatown, no more hospitals, not even laundromats. "People wash their clothes by hand and some landlords are forbidding that," Chui says that again, elderly folks are being pushed to take buses just to access basic services.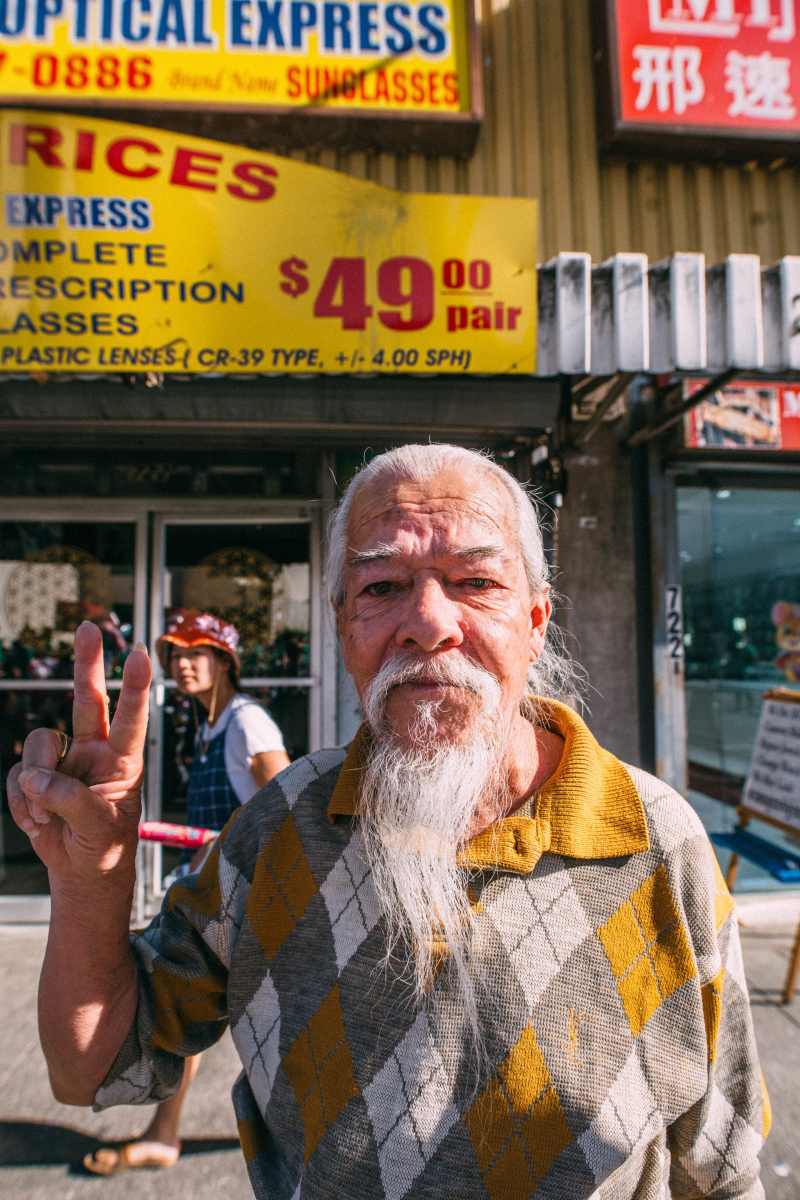 Chinatown has one of the highest percentages of senior citizens in the county. Nearly 20 percent of its population is 65 or older according to the L.A. Times and census data.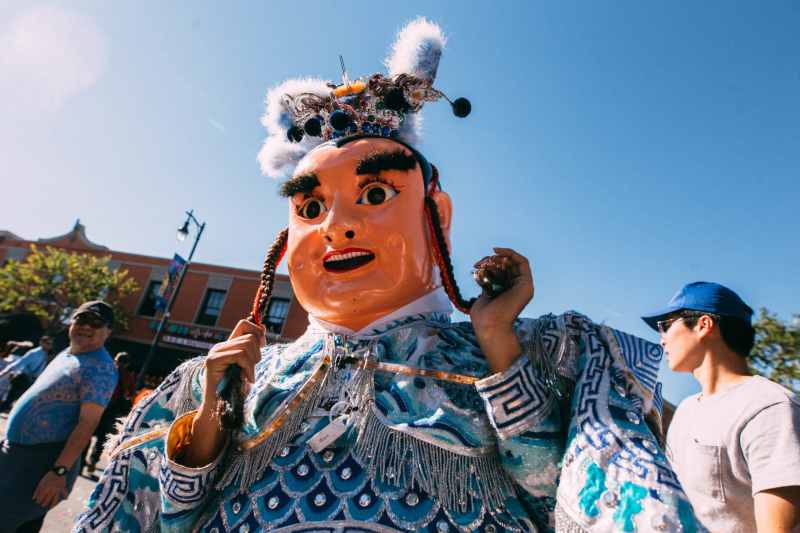 "We all want to make Chinatown a place where immigrants and working-class people, can find a safe place to live, a place where they can have services that they need like affordable housing, affordable markets, and health care services in their own language." While Chinatown is over 70 percent Asian, over 20 percent of its population is Latino. "It's not just Chinese people that live here, there are also southeast Asian immigrants and also Latino people, so we need services in all of their different languages," says Chui. 
Across Chinatown organizers and grassroots organizations are fighting for the neighborhoods long term residents.
Just last week, the L.A. Tenants Union announced that the city was moving forward with the demands of the Hillside Villa apartment complex, a largely Latino residence bordering DTLA. Residents have asked the city to use "Eminent Domain" as a tactic to repossess the building from its current landlord. Eminent domain is a provision that allows the city to acquire privately owned land for public use. Councilmember Gil Cedillo is expected to introduce a motion to start the process.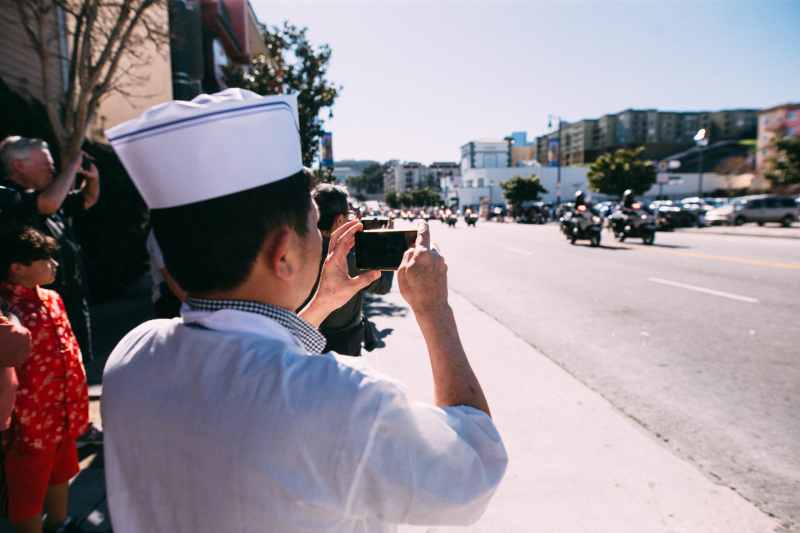 Alejandro Gutierrez has been living at Hillside Villa for over 20 years. He decided to move from South Central to Chinatown with friends after they found out about the apartment complex through their church, the well known 19th century La Placita. "Some friends and I were looking for a place to rent, we found out about Hillside Villa and since then I've been here," Gutierrez told L.A. Taco over the phone.
When Gutierrez and his roommates first moved into their two-bedroom apartment they paid $610 in rent a month. Today Gutierrez shares the apartment with another couple. They pay just over $1,000 a month in rent.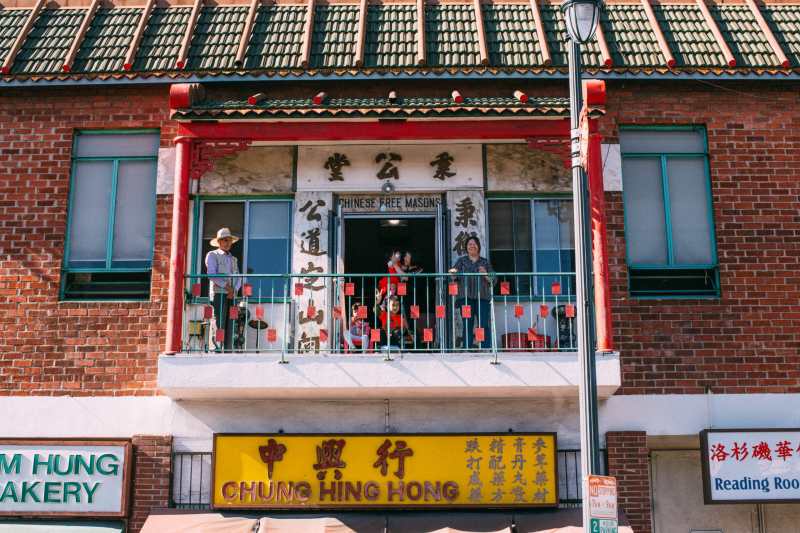 For years, the Hillside Villa apartments were under an affordable housing covenant but last year that covenant ended. After it expired, Gutierrez's landlord tried to raise everybody's rents to a standard price of $1750 for a one-bedroom, $1950 to a two-bedroom and over $2000 for a three-bedroom, according to Gutierrez.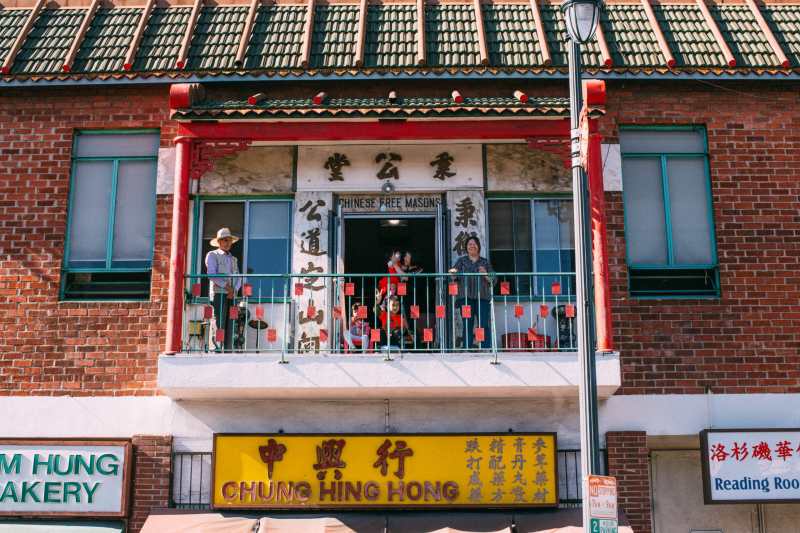 Legal aid from a law firm has helped the tenants remain in the building while they work out a long term deal with their landlord and the city. Last year the law firm discovered that Gutierrez's landlord had served the residents of Hillside Villa with notices that didn't comply with the law, which bought the residents some time.
Gutierrez says that he expects that his landlord will serve the tenants with new notices come to the end of February and he wouldn't be surprised if the rent increases are even greater than last year. But he remains hopeful that the city council might be able to save the building through Eminent Domain, a constitutional right that allows the city to repossess land for public use. Eminent Domain is more commonly used to build freeways and public roads, but there is a provision in the law that also allows the city to acquire land for "public good," a key phrase that organizers and residents are focusing on to save Hillside Villa. "This gave us a lot of hope, I think this is the only way we could continue living here paying affordable rents," Gutierrez says.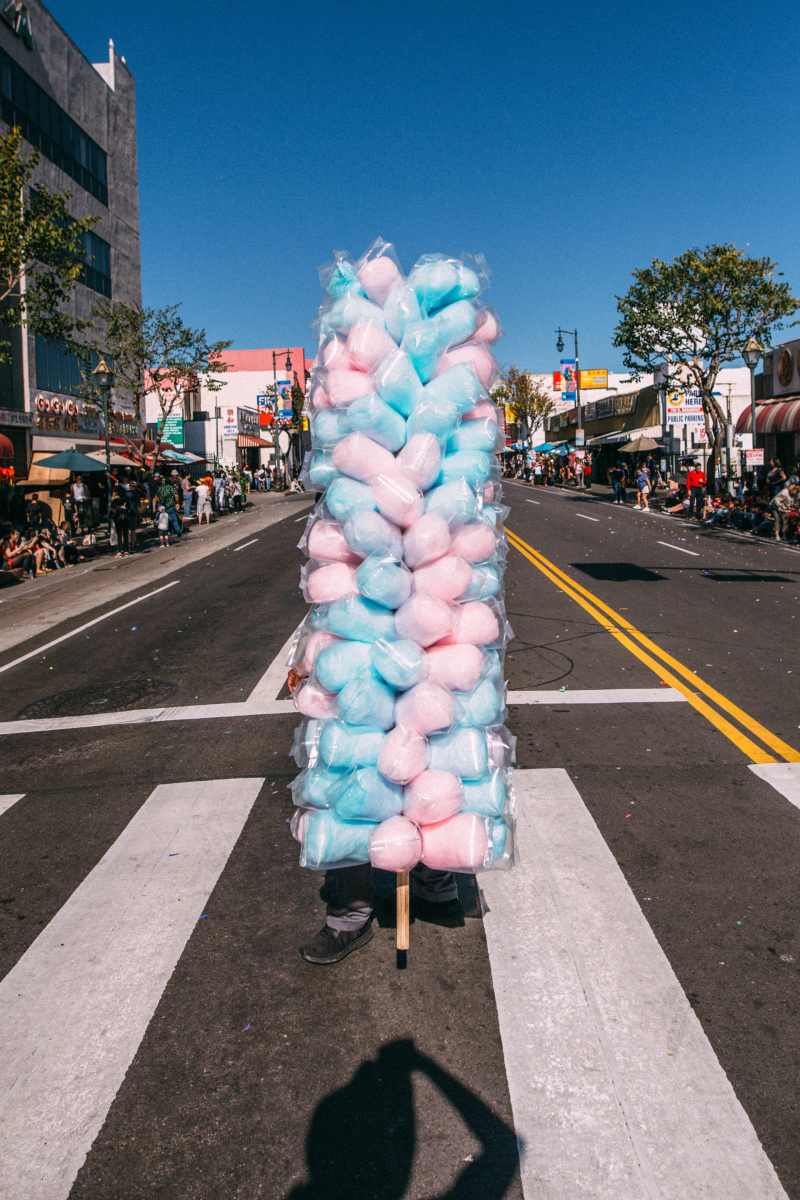 Back on the streets of Chinatown, The Golden Dragon Parade kicked off at around 1 PM at Temple Boulevard and Hill Street. Hundreds of people and dozens of vendors with carts of bacon-wrapped hot dogs and tables of fireworks and noisemakers lined the sidewalks.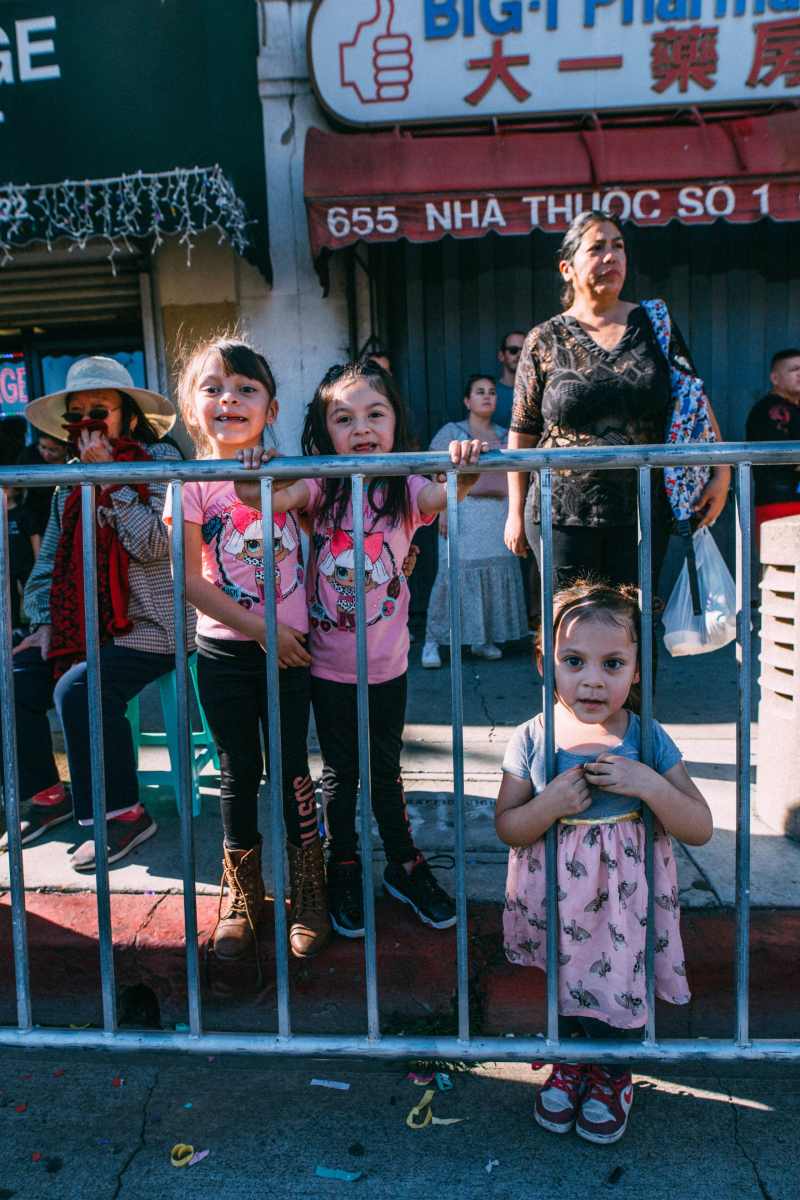 The Golden Dragon parade can be a lucrative afternoon for vendors. But according to Eric, 30, this year's parade was slower than in years past, "You could actually walk around, most of the time you're like rubbing shoulders." Eric's mom has had a business in Chinatown for most of his life. Today, they set up a couple of tables with the usual cache of Dragon Parade accessories, on Broadway. Eric remembers a different Chinatown, "It was so different. When we were kids, there were a lot of Chinese people, now it's getting more gentrified. It's completely different."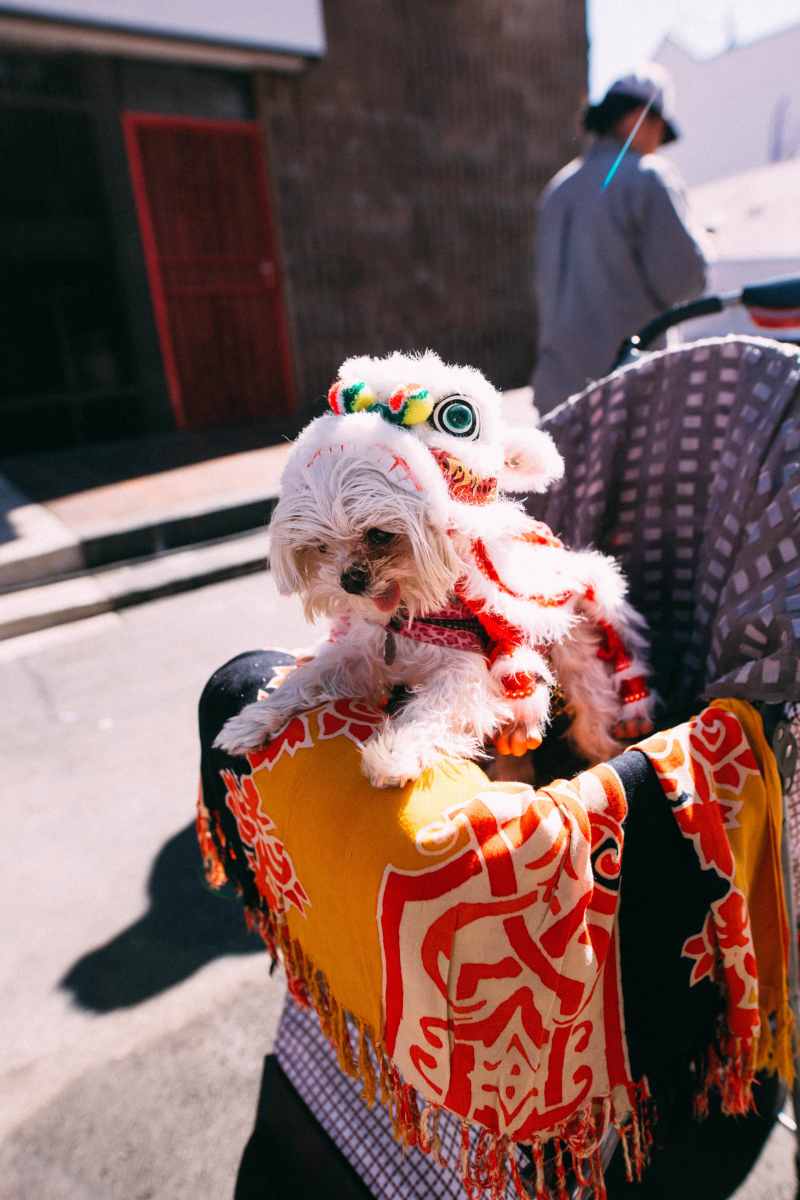 Lawrence Fung, a resident of the San Gabriel Valley agrees, "The demographic is a little different, there's more of an art scene going on now." Fung is also there on Saturday to help his mom, another long term vendor on Broadway. Today they sell some of the same items that Eric was selling in front of the family store but usually, Fung's mom sells clothes that she imports from China. Despite the influx of young new tenants moving in who probably wouldn't catch themselves shopping for Chinese clothing, Fung says that his mom has been able to maintain her loyal client base and that her landlord has thankfully not gouged her rent, although she has seen some rent increases in recent years.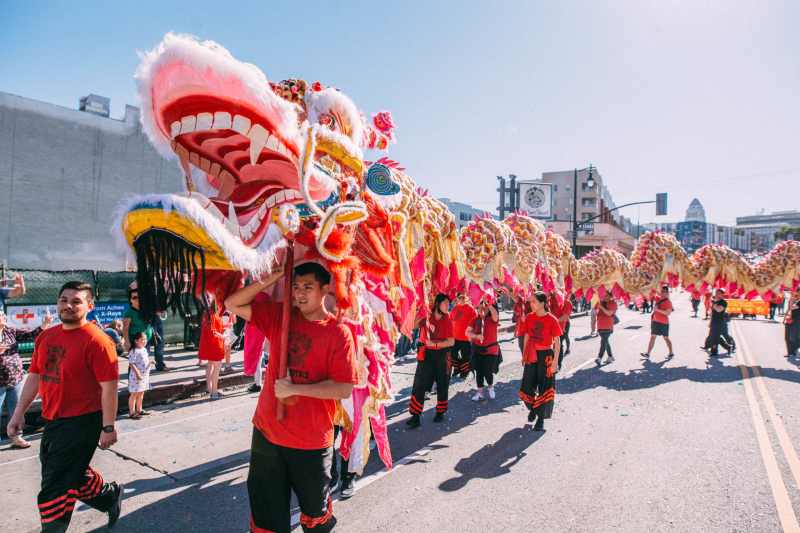 As the parade got underway and passed by the Far East Plaza, over 50 people queued up outside of Howlin Ray's in a two and a half-hour line to try Johnny Ray Zone's Nashville style hot chicken. A few people towards the front of the line turned their heads and pointed at the Immortals' giant dragon as it danced down Hill St. but nobody gave up their coveted place in line to join the parade.
Outside, near neighboring Ocean Seafood, line cooks from the kitchen took a minute to catch a glimpse of what was happening on the streets.
Further down Hill Street, outside Hill Street Coffee, where you can still get a cup of joe for less than $2 and everything on the menu is less than $10, old-timers sat quietly in the shade as they observed the parade from afar.
The Immortals were trailed by a diverse range of organizations including a competitive pipe band for middle schoolers (Pasadena Scots), a string of dancing horses (Rancho Arroyo Caballos), and an impressive drum-line based in Crenshaw (Los Angeles Parmelettes).
The parade concluded with the lighting of a stream of firecrackers. For over a minute, hundreds of explosions sent debris into people's faces and a cloud of smoke into balconies of the "luxury" Jia apartments on the corner.
The parade finished by 3 PM. Not long after that, L.A. Street Services began cleaning up the tens of thousands of strands of confetti and fake dollar bills that littered the streets.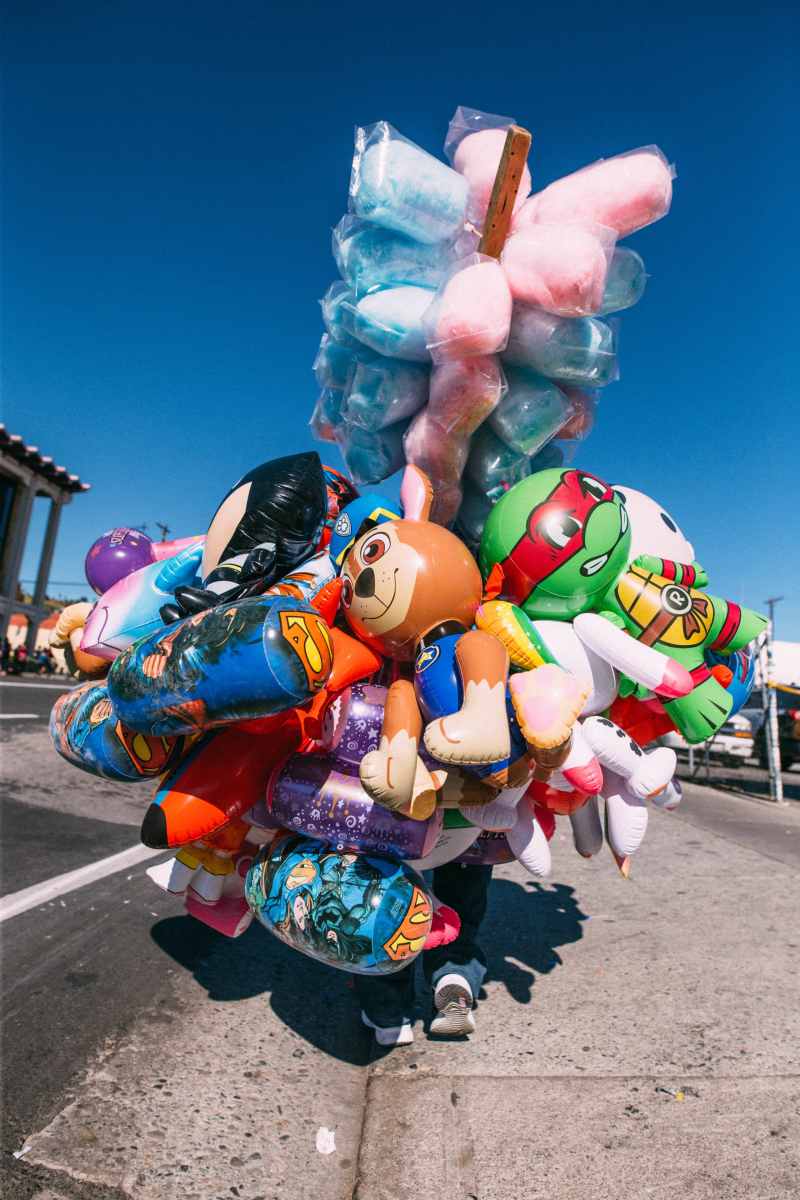 By late evening parts of Hill Street and Broadway were mostly clean and the streets of Chinatown were almost completely empty. But further north, at Chinatown Central Plaza, confetti still carpeted the ground. The debris made for good photos under the neon lights of the old, mostly deserted plaza.
On the east side of the plaza, Burgerlords fed a patio full of late-night appetites, while on the south side, Nous Tous Gallery, opened a new show by artist Chinaedu E. Nwadibia centered on an archive of portraits of black women.
 At nearby General Lee's, a cocktail bar with no bar stools and Chinatown's oldest venue, two floors of mostly young people lounged around drinking $12 mixed drinks. In a tweet that perfectly sums up the dichotomy of the old and new generations of Chinatown, General Lee's wrote, "We're keeping the Chinese New Year fire burning and trust me..it's lit."
Lexis-Olivier Ray is a housing, justice and culture reporter for L.A. TACO.
Stay in touch
Sign up for our free newsletter