Los Angeles
Holy Moly! It's the Torrance Strip Mall from Friday After Next, 20 Years Later
11:55 AM PST on November 29, 2022
On a mid-November morning, the jingly-jangly silver bells of Paul McCartney's "Wonderful Christmastime" play over the speaker system inside of Ford's Feathers at Carson Plaza. The small business has been selling birds and avian supplies and providing boarding and grooming services to South Bay bird owners since 1985. Various bird toys and bags of seeds are scattered around the floor, and storeowner Robert Chen is in the middle of reorganizing. 
Upon introducing myself, Chen says calmly that he's not doing well. Immediately I think he's annoyed that another movie fan has just shown up to disrupt business. 
My assumption couldn't be further from the truth. 
At 2:10 AM the night before, a few masked burglars pried open the back door and stole some highly valuable birds.
"They took my birds," says Chen. "I have birds that I've rescued over the last ten years." Gone are a twenty-year-old cockatoo and a ten-to-twelve-year-old miniature macaw, each worth at least $2,000. He took his other "babies" home after the break-in.
Still wrapped up in the stress of the morning, I'm surprised that Chen is in any kind of mood to talk about Friday After Next, the third installment of the Ice Cube-starring Friday trilogy that turned Carson Plaza into a main filming location.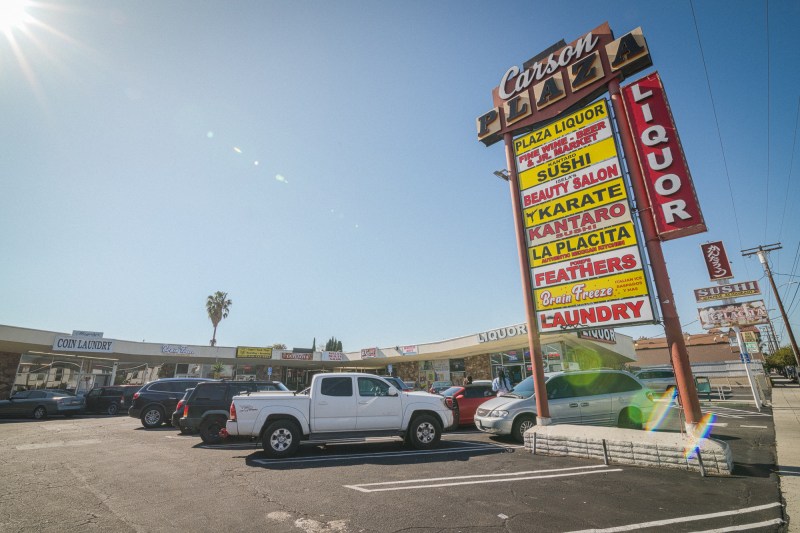 Chen gives me a business card, which lists the address as Carson Street in Torrance, but being that the strip mall is situated just east of Western Avenue, it's technically in the City of Los Angeles. Chen's family took over from the original owner in 1988, and Chen himself started running the business about twelve years ago when his father passed away. 
Clearing up my earlier assumption, Chen has no problem with fans of Friday After Next. The only slight frustration is that parking is occasionally taken up by folks just looking to take photos. (Park on the street if you go.)
"From time to time, we see people come in. It's like a pilgrimage. They show up and take selfies," says Chen. Once, he noticed a crew filming recreations of scenes from the movie.
Just then, Kawana Verdell-Osborne and Shay Verdell get out of their car. Verdell's iPhone immediately goes into action, capturing photos of the plaza. The two check out the liquor store on the corner, peek in at other businesses and look down the side alley. They're visiting from Vegas and have already been to Craig's West Athens house from the first and second Friday films.
"The fact of, like, just being here and going to the places that they were, and just knowing that they touched ground where we're standing… this is crazy," says Verdell. She adds that the strip mall looks much smaller than she expected.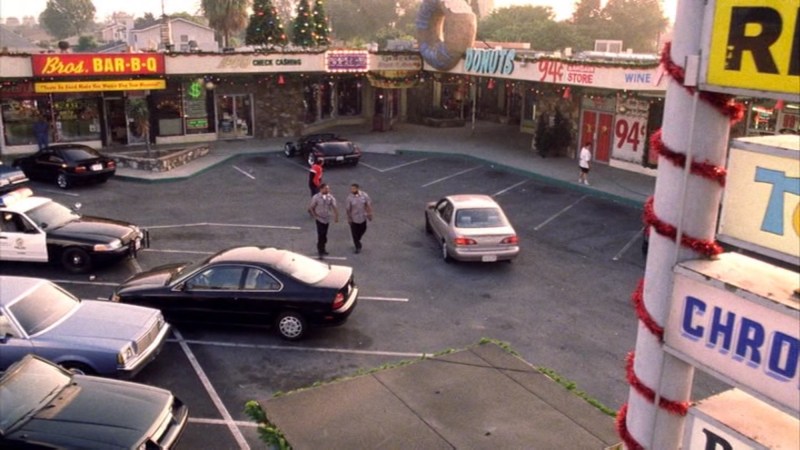 "We can almost quote the movie verbatim," says Verdell-Osborne, and the two start reciting lines from some of the fictional businesses created for the film.
"Bros. Bar-B-Q: taste so good make you wanna slap your momma!" says Verdell-Osborne. "And then he slapped his mom. I was like, oh my god. That was hilarious."
Then there's the Holy Moly donut shop. "There's this big F on the door, and he's like, 'Let me have a donut, hold the flies,'" says Verdell, cracking up.
Back inside Ford's Feathers, Chen says, "It's amazing how all these years later, it's still going strong."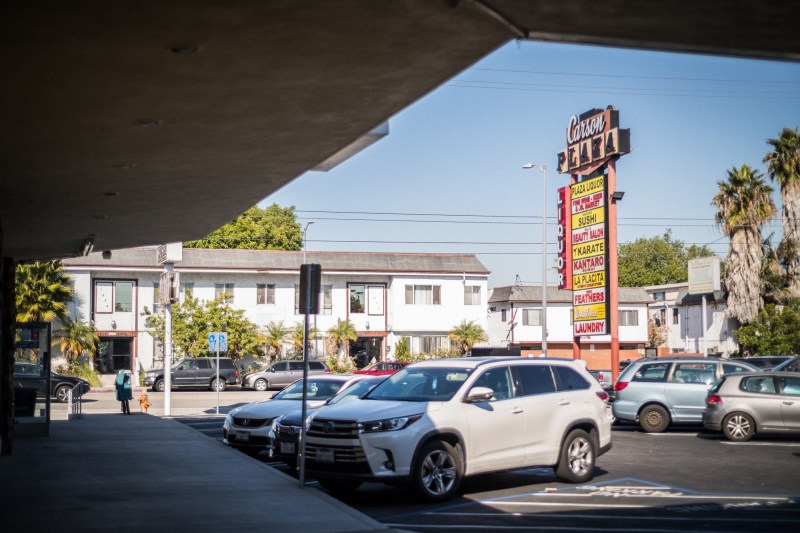 Friday After Next was released just in time for the holiday season on November 22, 2002. It made a little over $33.5 million at the box office off an estimated $10 million budget.
During the early morning hours of Christmas Eve day, a serial thief dressed in a Santa suit robs the South L.A. apartment of Craig (Ice Cube) and his cousin Day-Day (Mike Epps). He steals wrapped Christmas presents, CDs, food from the fridge, and even Day-Day's baby pictures. Most alarming is the disappearance of the rent money. With the looming threat of eviction, Craig and Day-Day need a Christmas miracle. Their hopes rely on new jobs as unarmed Top Flight security guards at the tinsel-and-garland-trimmed Plaza strip mall, where Craig's dad, Willie Jones (the late John Witherspoon), and Uncle Elroy (Don "DC" Curry) have opened the dysfunctional family biz, Bros. Bar-B-Q. Craig is hoping for an easy shift kicking back in the parking lot's cramped security booth; Day-Day is ready to use his newly acquired coach's whistle on any activity he deems suspicious.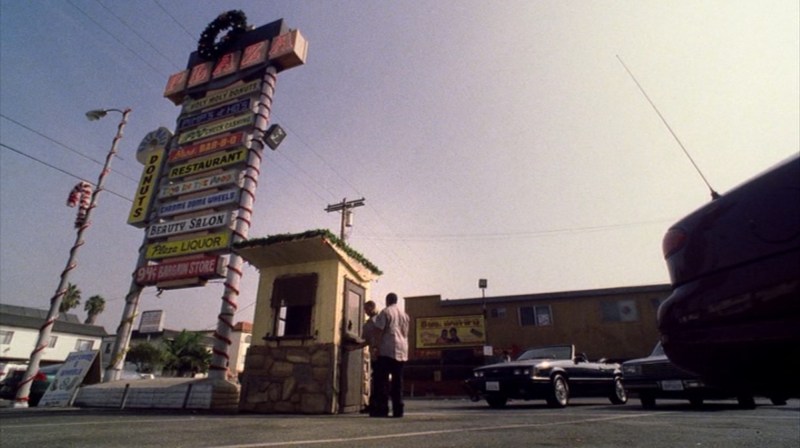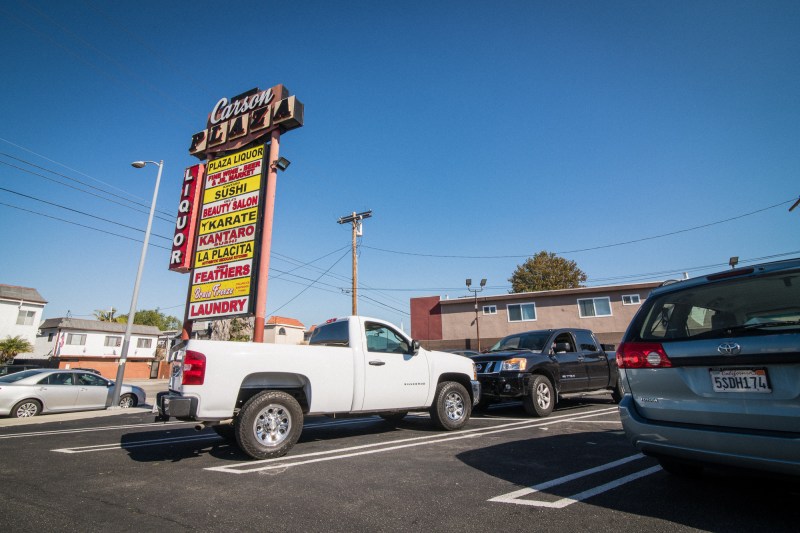 "The strip mall was such a pivotal location," says Friday After Next location manager Jeremy Alter. More than a third of the film's eighty-four-minute running time takes place there.
"What we had to look for was something that wasn't too small—because how can you have two security guards if it's too small—but not too big either because it was a strip mall," says Friday After Next director Marcus Raboy. He first connected with Ice Cube in the early '90s while directing music videos for hip-hop artists like Naughty By Nature, Das EFX, Pete Rock & CL Smooth, and Mary J. Blige. Ice Cube took notice and called Raboy to direct the Predator-inspired "Guerillas in tha Mist" music video for Da Lench Mob. 
Beyond the visual aesthetic, the filmmakers needed a strip mall location with business owners and a landlord who was amenable to closing down for a number of weeks to prep, shoot and strike. They also needed access to ample parking. 
According to the Bros. Bar-B-Q television commercial in which Willie literally slaps his momma, the restaurant is located at "15837 S. Crenshaw Boulevard – that's right off Manchester." The intersection of Crenshaw and Manchester is in Morningside Park, but the street address would put Bros. Bar-B-Q miles south at El Camino College. Presumably, the fictional restaurant address begins with "15" because of the existing address prefixes at Carson Plaza. (A very real Brother's Bar-B-Que exists about one mile north of Crenshaw and Manchester at 7725 Crenshaw Boulevard.) 
Unlike its two predecessors that shot locations entirely (Friday) and in part (Next Friday) in South L.A., none of Friday After Next was filmed in the area except for a couple of second unit shots of Craig and Day-Day's car traveling through Leimert Park.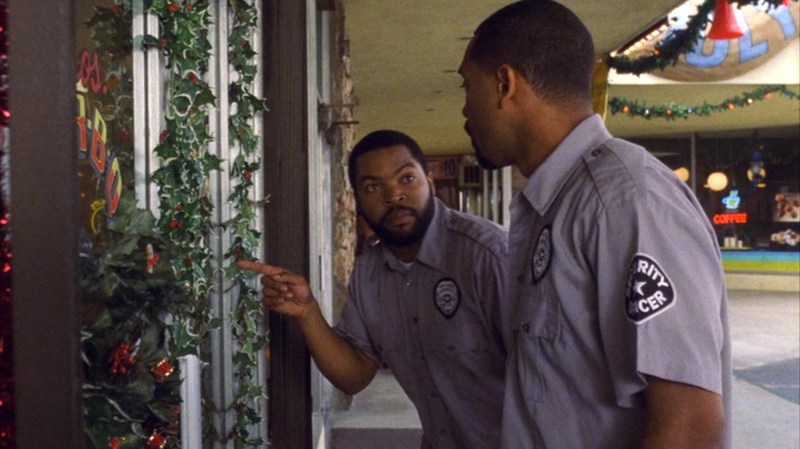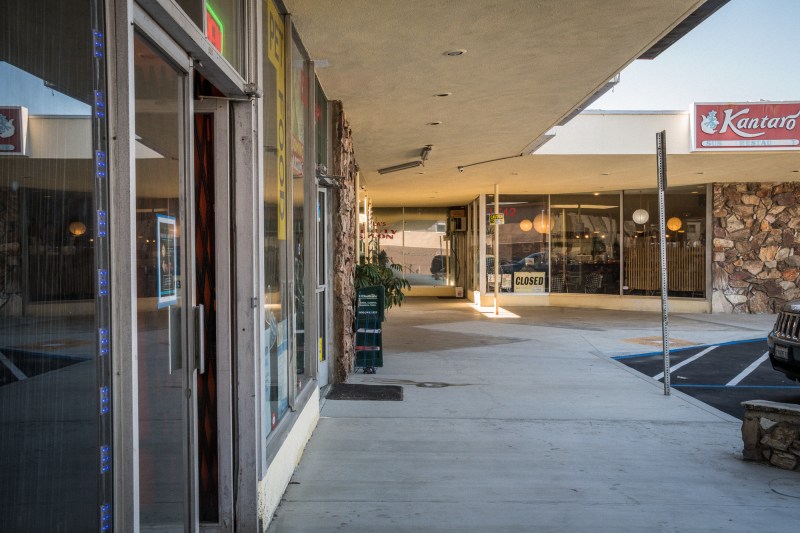 Alter, who previously worked on Next Friday, wasn't precluded from looking anywhere for locations, but certain areas of town had to be cleared with Ice Cube's head of security, he says, "depending on what the gang affiliation was with the locations we were filming."
"We looked everywhere for the strip mall," recalls Raboy. "We were searching for some authenticity that could sell for the area."
"It's not the kind of thing that's represented by a location service. There's no resource to find a strip mall, so it was literally cold scouting, driving past a strip mall and going, wow, that could work," says Alter. "We were looking in Long Beach; we looked in the Valley." (Craig and Day-Day's apartment building, the Shady Palms, is in Van Nuys, and the Victorian house featured in the film's climax is in San Pedro.)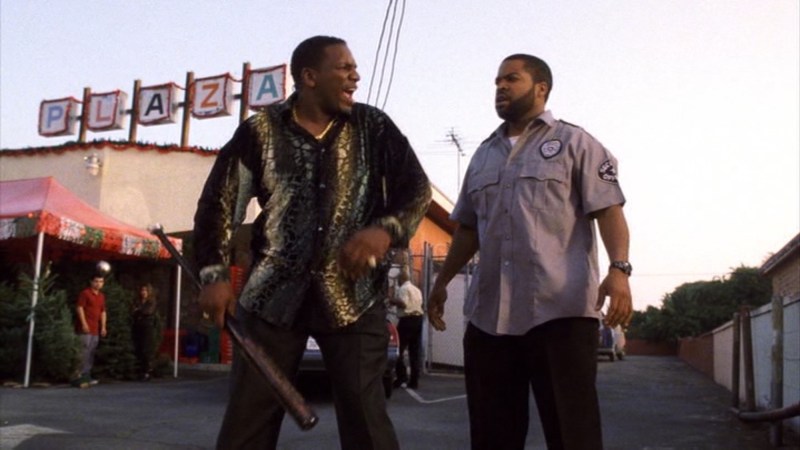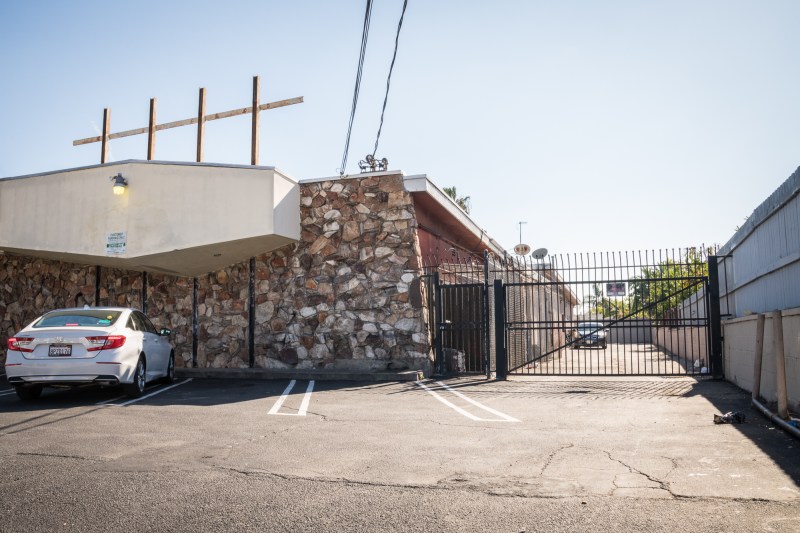 Alter's team eventually found a strip mall with a modern mid-century vibe. An inclining roofline and cascading rock walls were indicative features of the space-age Googie architecture for which L.A. is particularly well known.
"I really liked the mid-century thing it had going on," says Raboy. "It lent itself to being that strip mall around the corner where anything could happen."
"It's a place you believe has been there for many, many years, which it has," says Alter. 
 "And then it was the scale," says Raboy, "because so many strip malls are much smaller." 
"It's kind of like a stage where you have the different characters," says Alter. "From a cinematic standpoint, it's opened up, so you can get back and see all the different businesses."
Rounding out the stores alongside Bros. Bar-B-Q and Holy Moly Donuts would be hood-centric businesses like Chrome Dome Wheels, the 94¢ Bargain Store, Pimps & Ho's, run by the colorful Money Mike (Katt Williams), PDQ Check Cashing, Weave It Alone, and the John Singleton-inspired Toys in the Hood. 
Raboy found the towering street front signage to be a useful anchor for overhead crane moves as well as extreme low-angle shots that could give the audience "a different perspective for the moment." The location also had a back alleyway where Raboy could shoot Craig and Day-Day's reencounter with the masked Santa burglar.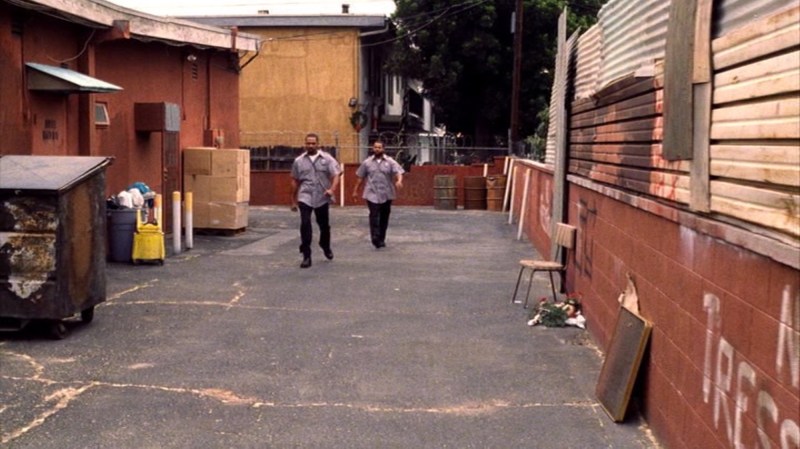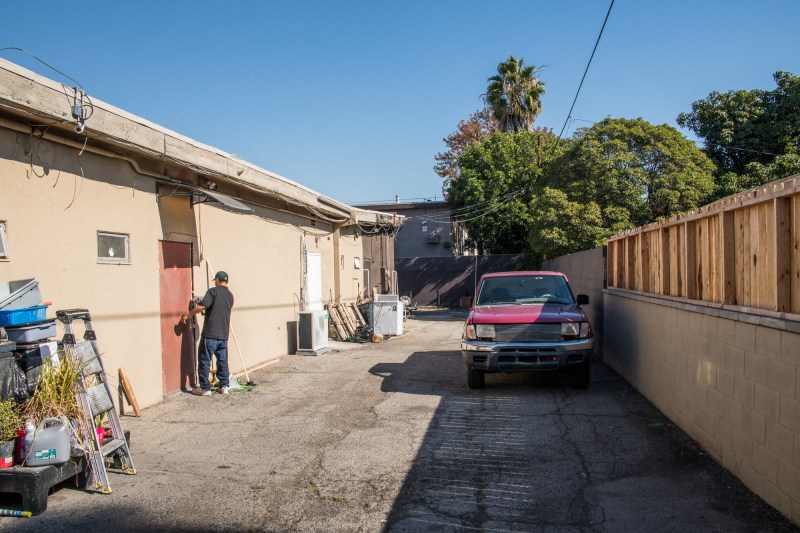 Raboy remembers producer, writer, and star Ice Cube scouting the location with the rest of the film's creative team. "We got there, and [he was] just taking it all in, looking up at the sign and looking all around. You could tell he was thinking about what he had scripted, and he could see it all," says Raboy. "It really spoke to him."
Most of the existing businesses were on board with closing down for an extended period of time, with compensation. The exception was the liquor store, which wanted an "outrageous amount of money to close," says Alter. Since no scenes took place inside the liquor store, it remained somewhat open during production. 
Alter, however, ran into a predicament with the owner of the strip mall, who didn't want anyone on the roof. But the script called for Craig and Day-Day to climb onto the roof while evading a street gang, the result of Day-Day's earlier foul-mouthed barrage directed at a trio of Christmas caroling church ladies. By not gaining access to the roof, the art department would have been prohibited from installing Christmas decorations and the large Holy Moly donut, a riff off on Randy's Donuts donut. With both the director and producer-writer-star set on the location, Alter got an estimate for what it would cost to replace the roof in the area that the production needed to access.
"I was basically saying I'm going to pay—I think it was like $29,000 or some absurd amount of money—to guarantee that if in seven months or in two years he has a leak in his roof that may or may not have been caused by us, he would have been covered to replace it."
The owner acquiesced, and Alter marked out about seventy-five percent of the roof that would be accessible to the cast and crew. 
The end result is a West Coast retail winter wonderland that's a little rough around the edges. Red and gold tinsel wrap around scuffed white poles; strips of garland don't quite connect with one another, leaving ends of the imitation pine strands hanging in the wind; snow-frosted windowpanes front grimy, timeworn store facades.
The location was especially appealing for Alter because it was in Los Angeles proper. If the location had been a mile west in Torrance, which is harder to shoot, Alter says, he wouldn't have been able to employ LAPD officers with whom he was already familiar for the purposes of traffic control and overall security.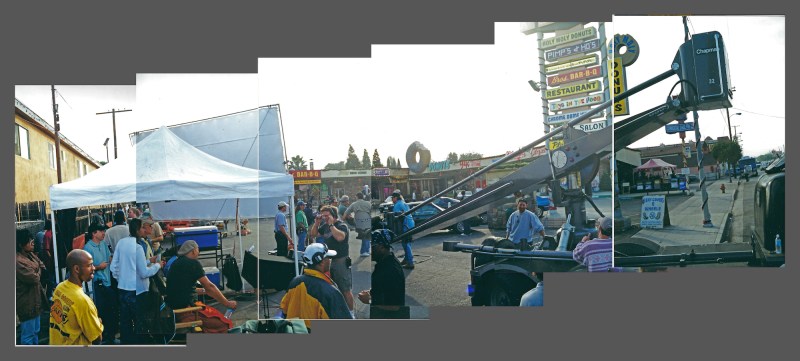 Filming at Carson Plaza commenced on Monday, October 22, 2001—the first day of principal photography—and continued there for three consecutive weeks.
The first two films being huge hits, and Ice Cube on set, a shoot of this magnitude has the potential of drawing out the looky-loos, but Raboy says it wasn't too bad. One day the late Heavy D rolled in, the director remembers.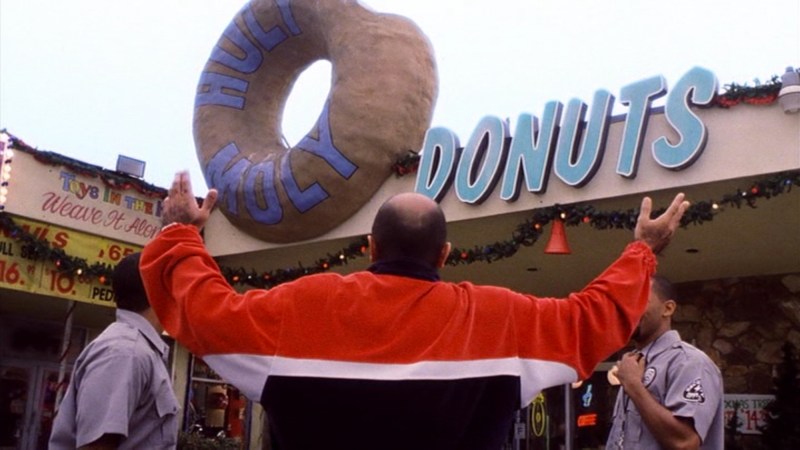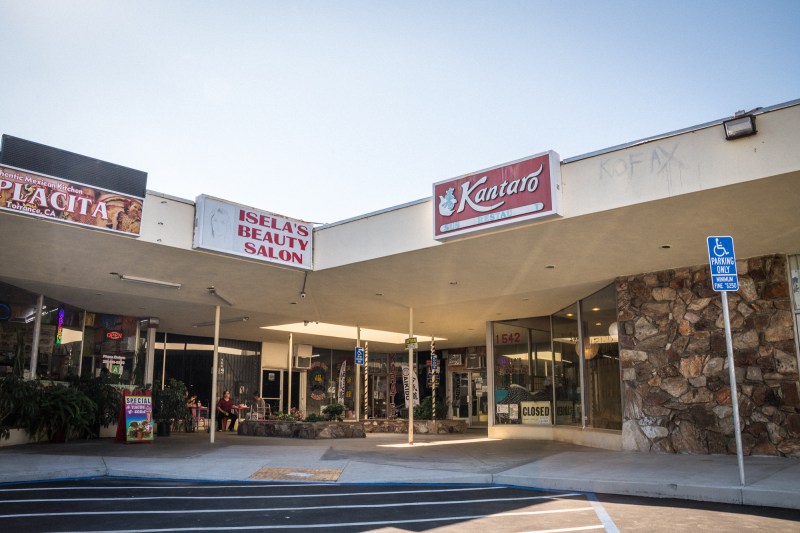 Tadashi Oguma, the owner of Kantaro Sushi, recalls his restaurant being closed down for a month while the filmmakers transformed it into the strip mall's centerpiece, the F-rated Holy Moly donuts, owned by the property's overzealous landlord, Moly (Maz Jabroni).
Oguma, who, along with his wife, has run Kantaro Sushi since 1991, says, "It was a perfect donut shop."
Alter says that the infamous fly infestation inside Holy Moly Donuts was not achieved by the use of visual effects. 
"We actually had ten thousand flies inside the shop," says Alter. "We had to bring in extra air conditioning to cool the place down, so the flies would stay alive."
Oguma says it was a good experience, and it's very common for fans to stop in asking if his longstanding sushi restaurant was the Holy Moly donut shop.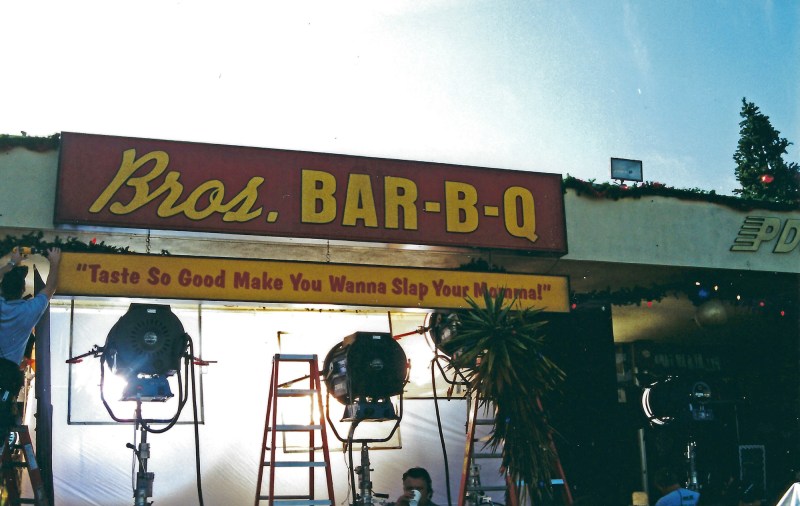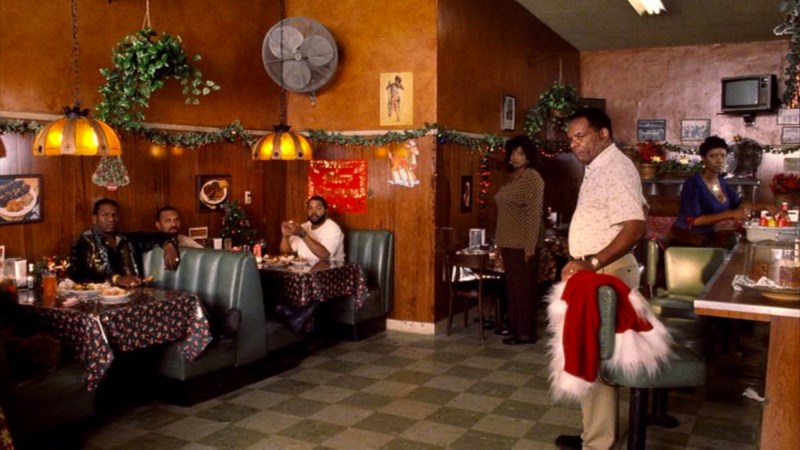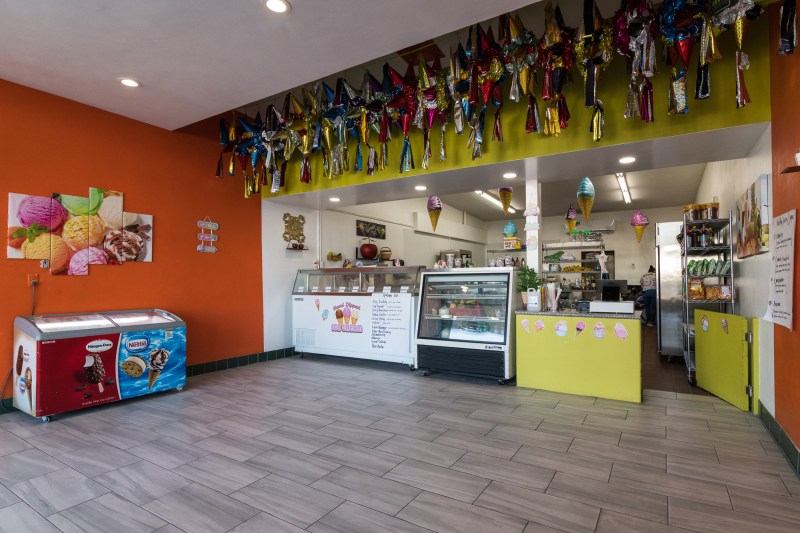 At Ford's Feathers, Chen points out that a faux wall running the length of his store was built to divide the space into PDQ Check Cashing and the Bros. Bar-B-Q kitchen. An order pickup window and doorway were cut out of the wall that currently separates his shop from the unit next door, which was the restaurant's dining room. Today, Brain Freeze, a brand new dessert spot serving up ice cream, Italian ice and raspados, occupies that space. It's owned by the proprietors of La Placita Mexican restaurant, located a couple doors down. 
When La Placita owner Rosalina Vizcarra, who's run the business for eight years, is asked about Friday After Next, she calls her daughter Melissa Vizcarra and puts her on speakerphone.
"When we started there, I knew about the movie, but my mom didn't. It took her a little while to understand," says the younger Vizcarra, who owns a body sculpting business next door. "People come in and say, 'Oh, this was the Pimp's & Ho's store,'" she says, laughing. "They say, 'This is monumental.'" If it were up to her, she'd like to do a riff on the Bros. Bar-B-Q tagline: "Tacos so good make you wanna slap your momma!"
"I know that if we were able to work that in here, we would," says Rosalina's grandson, Raymond Diaz, who's been standing at the counter listening in. Diaz was about one-year-old when the film came out, but by the time he was 13 when his family opened La Placita, he was a big fan. Diaz says, "My whole thing was, I'm going to tell everyone at school that my grandma owns Pimp's and Ho's. A small Mexican lady who just came to this country, and it's like, 'Whoa, you own Pimp's and Ho's!'"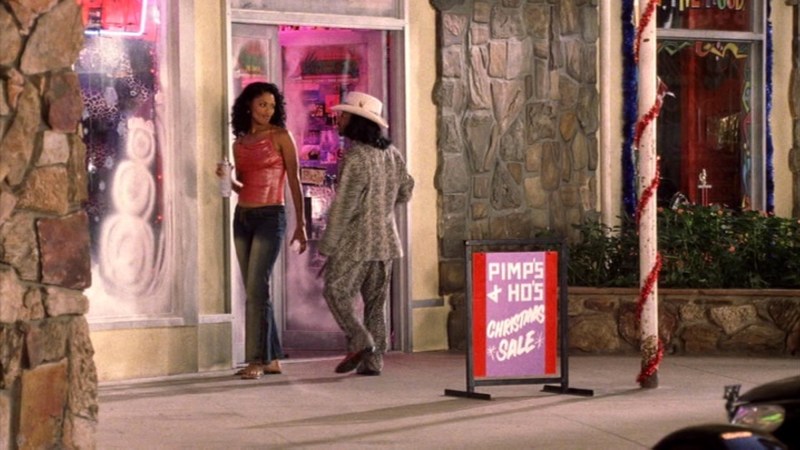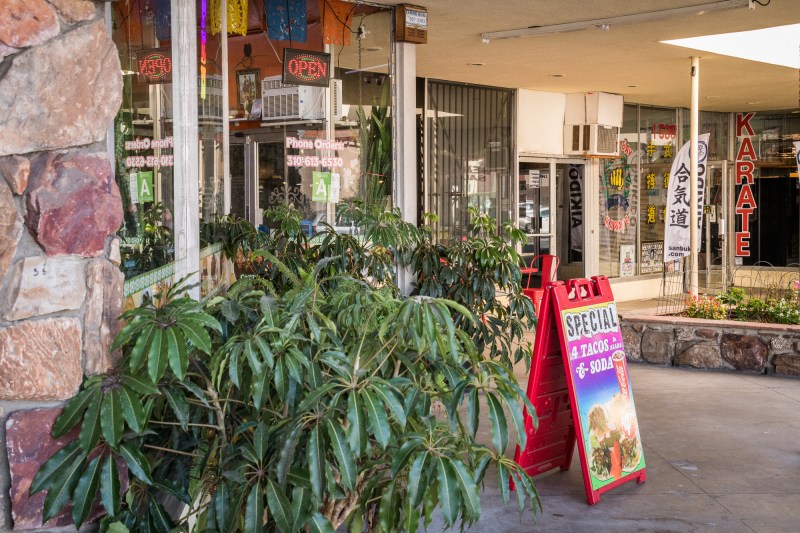 Most fans, Diaz says, are super enthusiastic, but others are a little bummed because the fictional businesses aren't there. "The security booth is always a big disappointment," says Diaz. Like the rest of the set pieces brought in for filming, so was the cramped, broken down security booth. "I wish we still had it with a wax statue of Craig." 
Over at the liquor store, manager Enrique Gonzalez says he notices at least one or two people a day taking photos. During the summer months, he gets a lot of people from the East Coast and places like Georgia and Louisiana stopping in. "Everybody's still looking for the donut shop and the barbeque place and the security booth," says Gonzalez.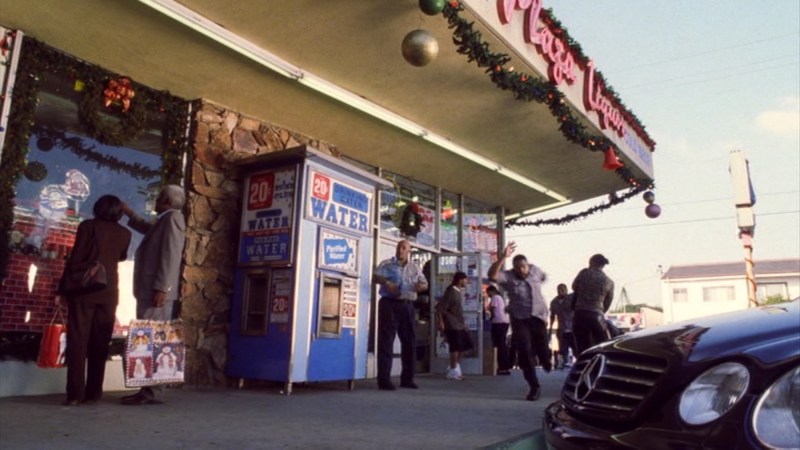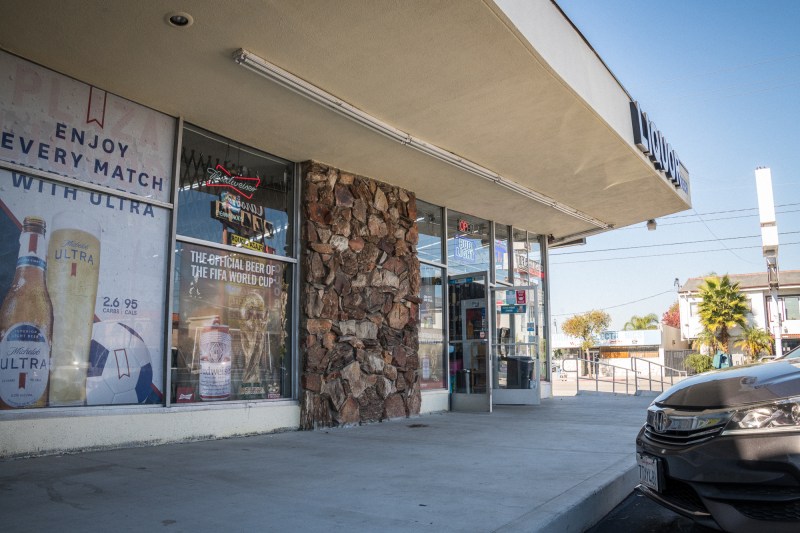 Diaz says the fans are always respectful and will often buy food in his grandmother's restaurant.
Unfortunately, the same can't be said at Ford's Feathers, as fans looking to walk in the footsteps of Craig and Day-Day aren't typically in the market for pet birds.
"It doesn't help me at all," says Chen. "Business is down the tubes, just like everybody else. Product and birds are impossible to find nowadays."
After the disruptive events of the morning, Chen could have at least benefitted from the help of some Top Flight security.
Carson Plaza, 1528 – 1546 W. Carson St., Torrance
Jared Cowan writes and podcasts about L.A. filming locations. He also works as a photographer and camera operator.
Stay in touch
Sign up for our free newsletter