Sponsored
El Súper Clásico Is This Sunday at The Coliseum, Are You on Team Pambazo or Team Torta Ahogada?
11:05 AM PDT on September 7, 2018
[dropcap size=big]C[/dropcap]hivas versus America.
It's been the most divisive game in Mexico since the very first matchup of the two Mexican capital cities — Guadalajara and Mexico City — happened in 1926. For the first time since 2005, it will be hosted in the city of Los Angeles this Sunday afternoon. Which basically means get the Tecates and carbon and get ready for some fútbol!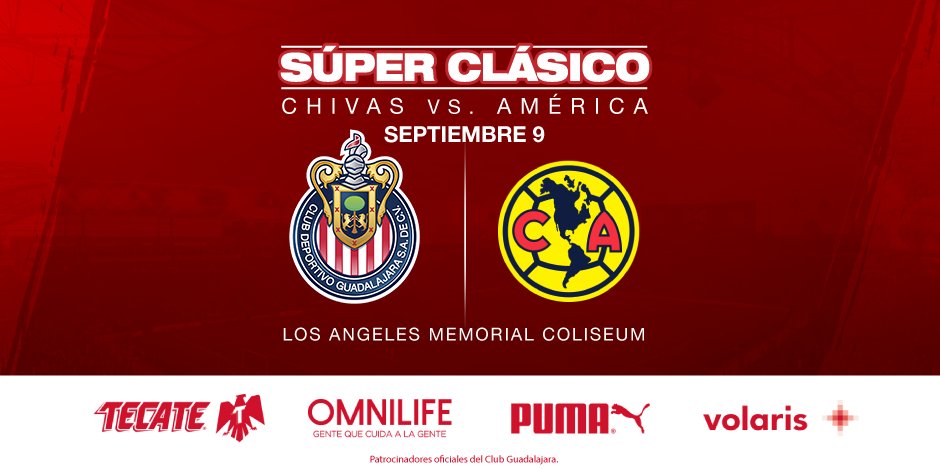 While the pinning of the two biggest franchises the Liga MX's history can be drawn out to a battle of civic pride, Tecate vs. Tecate Light, urban ways of life, and Mexican nationalism. (After all, chivas are still the only team that requires all their players to be Mexican citizens.) In the eyes of the Taco, all we see is a battle of regional styles of Mexican food.
Torta ahogadas vs. pambazos
Birria vs. pancita
Tacos al vapor vs. tacos de canasta
Tejuino vs. Pulque
El Clásico has broken up families, friendships, relationships, and now Mexican cuisine. If you had to choose between these two culinary powerhouses, what team would you be on?
Food Fight #1: Tortas Ahogadas vs. Pambazos
Tortas Ahogadas
Description: The torta ahogada is the pride and joy of Guadalajara in sandwich form. It is a working-class beauty enjoyed by everyone during the day, equally annihilating the hungers of both executives and custodians alike. It's messy and ridiculously spicy, but that's part of this iconic Tapatio experience.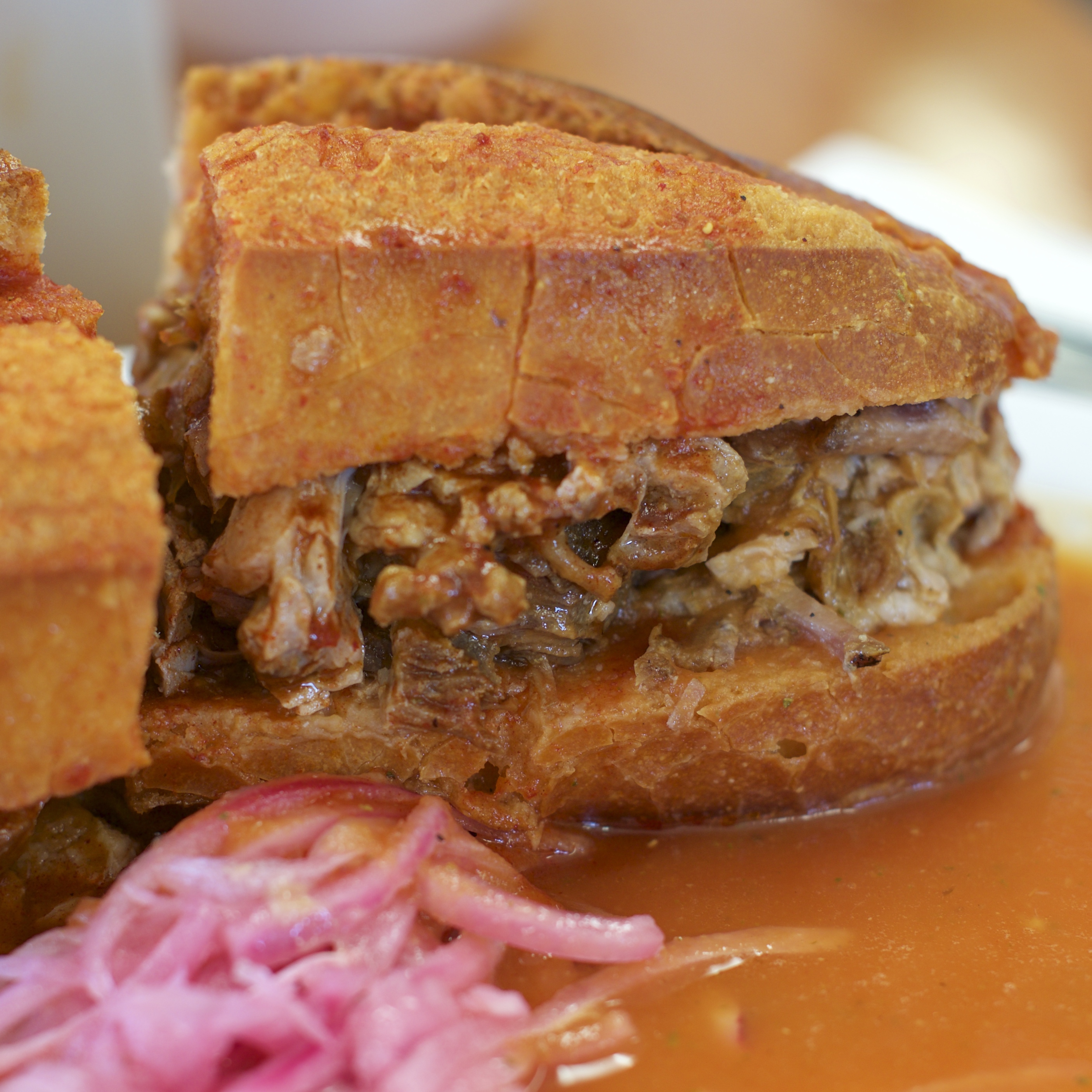 The textbook version: A freshly baked sourdough, crusty birote salado sliced right down the middle, smeared with a bit of refried beans, layered with chopped carnitas, drowned in a thin, fiery chile de arbol tomato salsa, and topped with a fistful of thinly minced onion. Nowadays, you can find versions stuffed with cooked shrimp and a chipotle creamy salsa, or for vegetarians, fresh panela cheese.   

What exactly is so special about it? You know that feeling when you're at a restaurant or taqueria and the salsa is so damn good that you just can't help but smother your tacos, burrito, torta, or chips with it? Well, this torta allows you to tap into that feeling and make a whole really damn satisfying meal out of it. The best part is that the dense, crusty bread holds up beautifully and acts like a chewy sponge for all the salsa. It's one of the most satisfying sandwiches on earth to wash down with a cold Tecate Light.
Pambazos
Description: This torta originated in Toluca but was made popular in the streets of its neighboring Mexico City as a popular street food typically eaten when the nighttime munchies come knocking, often after a night out of knocking back Tecate with your friends. It defies the traditional torta paradigm as its mashed potato filling celebrates that inexplicable carb-on-carb deliciousness.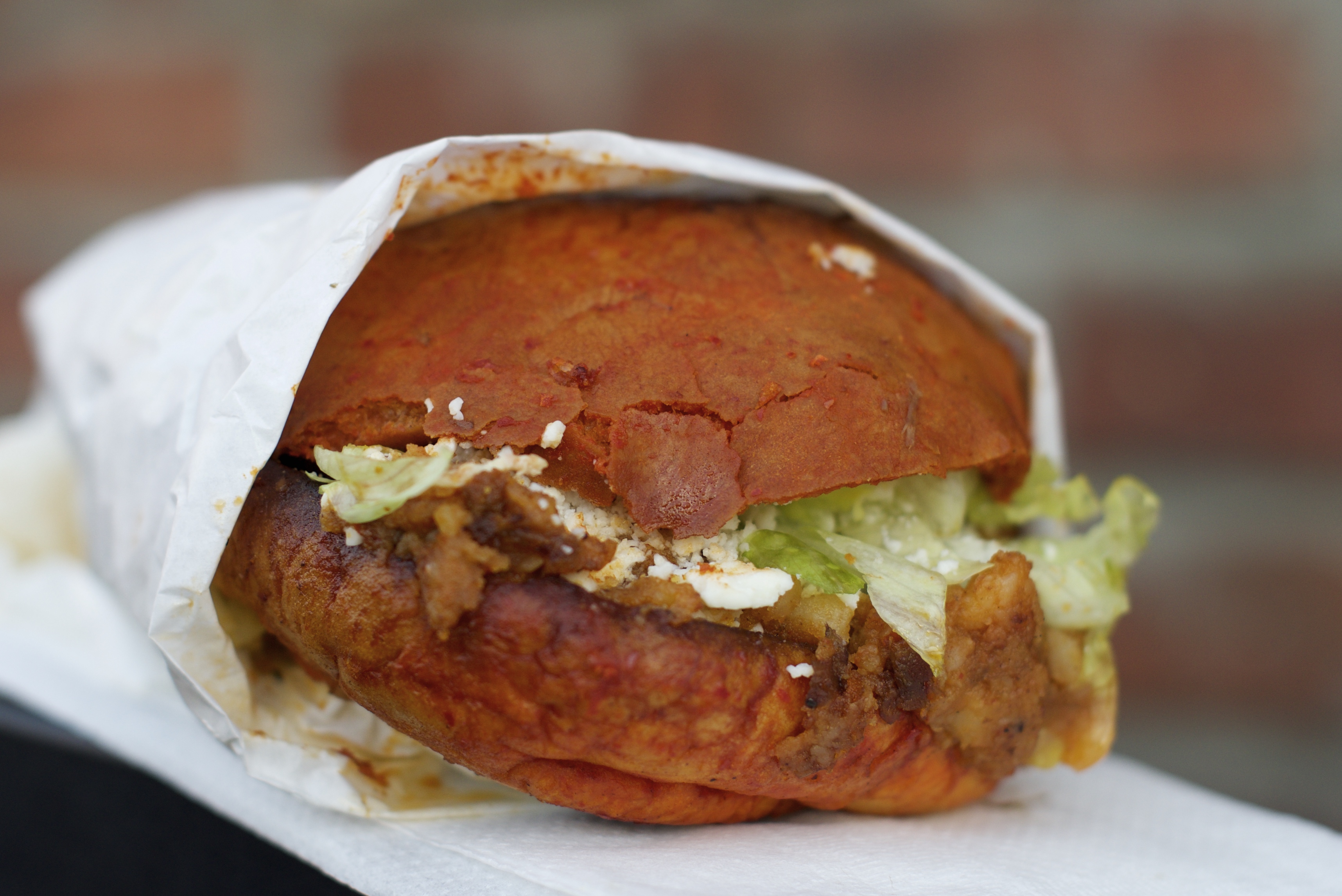 The textbook version: A soft, telera roll is sliced and stuffed with a chorizo and potato mixture. Then it's completely submerged in a burgundy-hued guajillo chile sauce and then grilled with a bit of oil on a flat-top until the edges get golden brown and crispy. For some fresh textures, a bit of shredded iceberg lettuce, crema Mexicana, and crumbled cotija cheese adds a refreshing contrast and makes this torta irresistible.
What exactly is so special about it? It's like enchiladas in sandwich form and one of the most  flavor bomb to say the least. We all love eating french fries with our favorite burger so this Mexican grilled sandwich combines the two in the best way possible.
Verdict: Draw. 1 - 1. They're both excellent and satisfying in their own ways.
Food Fight #2: Birria vs. Pancita
Birria
Description: This chile-braised meat dish is the breakfast of paisa and ranchero champions around Mexico. While it originated in Jalisco with goat meat, the dish has traveled around Mexico and adapted with other proteins like beef in cities like Tijuana, or even fish and chicken versions in gourmet restaurants.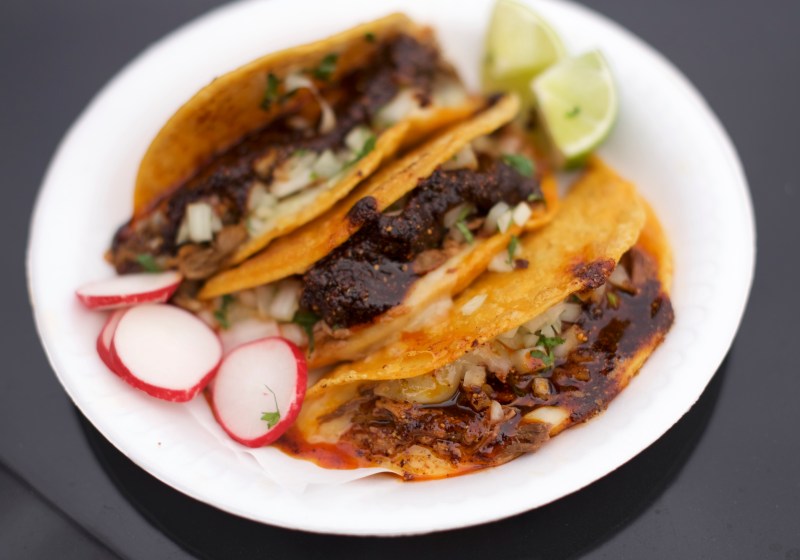 The textbook version: Assorted cuts of fresh goat meat rubbed with a thick paste of dried chiles, spices like clove and pepper, and a little vinegar. This seasoned meat is then braised in its own juices for hours until the meat is tender and a broth forms. In Los Altos of Jalisco, the highlands, birria is charred with wood until lightly crispy and smoked. This version is called birria tatemada and it is particularly delicious.   
What exactly is so special about it? The vinegar-enhanced broth, spices, and unique flavor of chivo combines to make a truly unique flavor that you will either love or hate. If you love it, there is absolutely nothing better than a big plate of the stuff with a big pile of handmade corn tortillas on a weekend morning, paired with a delicious Tecate Light michelada.
Pancita
Description: If you're a Mexican or Central American who was born and raised in Southern California, you know about the famed beef stomach soup known in the States as Menudo. However, a weird thing happens when you're traveling around Mexico: It's not a very popular dish there and you hardly see it on menus. The exception is pancita, which is essentially the same soupy dish but without hominy. When in Mexico City, you'll see "PANCITA" advertised at least once in every colonia you're in.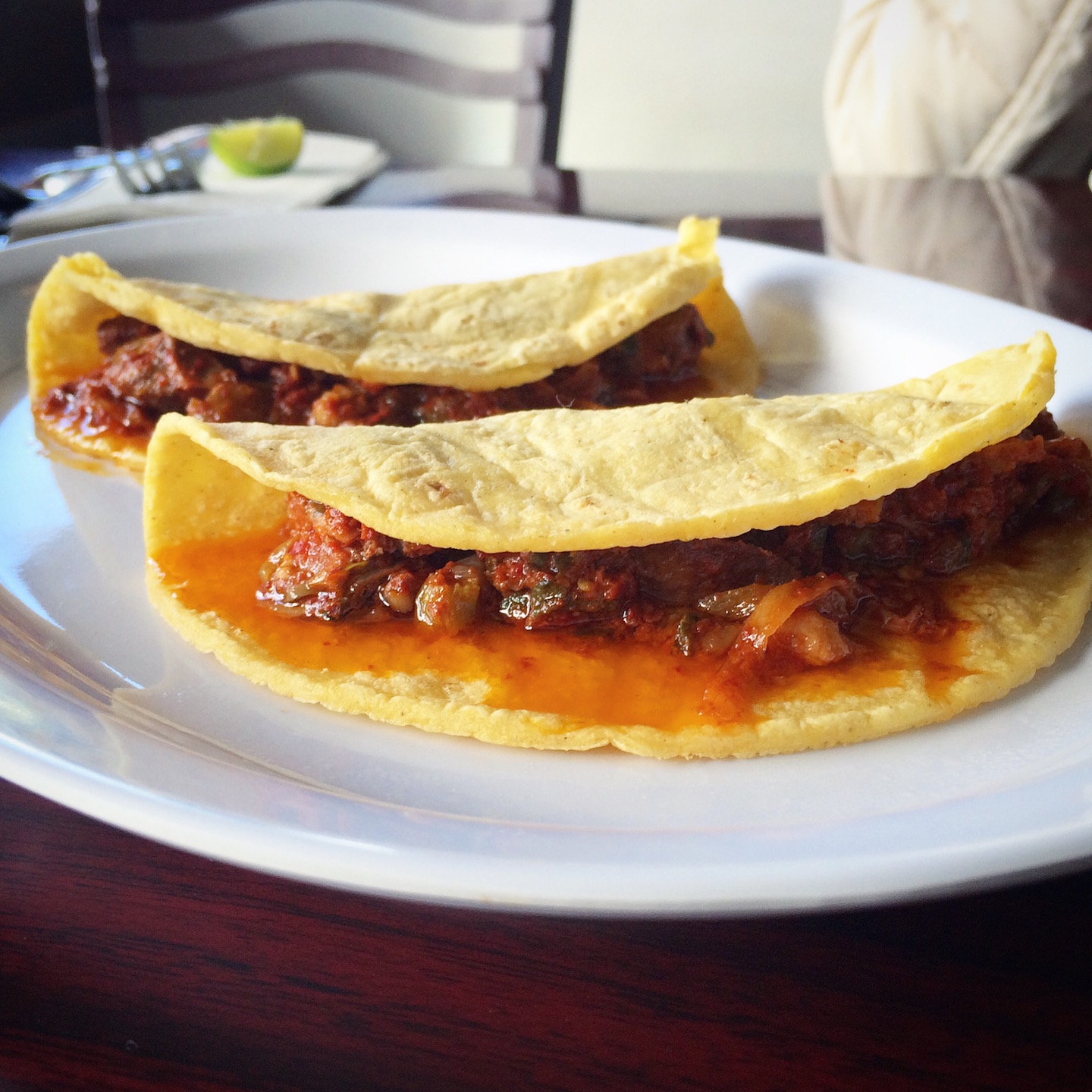 The textbook version: All the different cuts and chewy textures of a cow's stomach boiled with ground chiles until the pieces just melt in your mouth. Like its Mexican-American menudo cousin, it is typically garnished with crumbled dried oregano, lime juice, and chopped raw onion to cut the deep flavors of beef stomach. True enthusiasts select their stomach cuts —callo, libro, tripa, pata o surtida — when they order.
What exactly is so special about it? It's known as one of the most reliable and effective cures for even the most brutal of hangovers. And if cleaned correctly, the flavor of beef stomach is actually mild. If you love tender textures, you will love a proper pancita.  
Verdict: Birria. Pancita is awesome, but it's still an acquired flavor. Spicy, tender braised pieces of goat in broth is too, to a degree, but the flavor is much more pleasant for the general public. Guadalajara wins.
Food Fight #3: Tacos al Vapor vs. Tacos de Canasta
Tacos al Vapor
Description: Once you've conquered al pastor and carne asada, you will stumble into tacos al vapor. They are where you land at when you want an everyday type of taco because they are the *lightest,* cleanest-tasting type of taco cooked over steam without any added oil.
The textbook version: Usually cuts of a cow head — cheeks, lips, tongue — simply steamed with salt until the meat starts to fall apart. They are placed on top of a steamed tortilla and eaten simply with some minced cilantro, sliced onion, and salsa verde.
What exactly is so special about it? Steamed beef head is one of the most addictive taco textures in Mexico. This uniquely tender texture can only be achieved by gently steaming the beef until it practically disintegrates. There is a minimalist appeal to this taco that no other style of taco can attain. Don't forget the Tecate Light and a lime to go with it.
Tacos de Canasta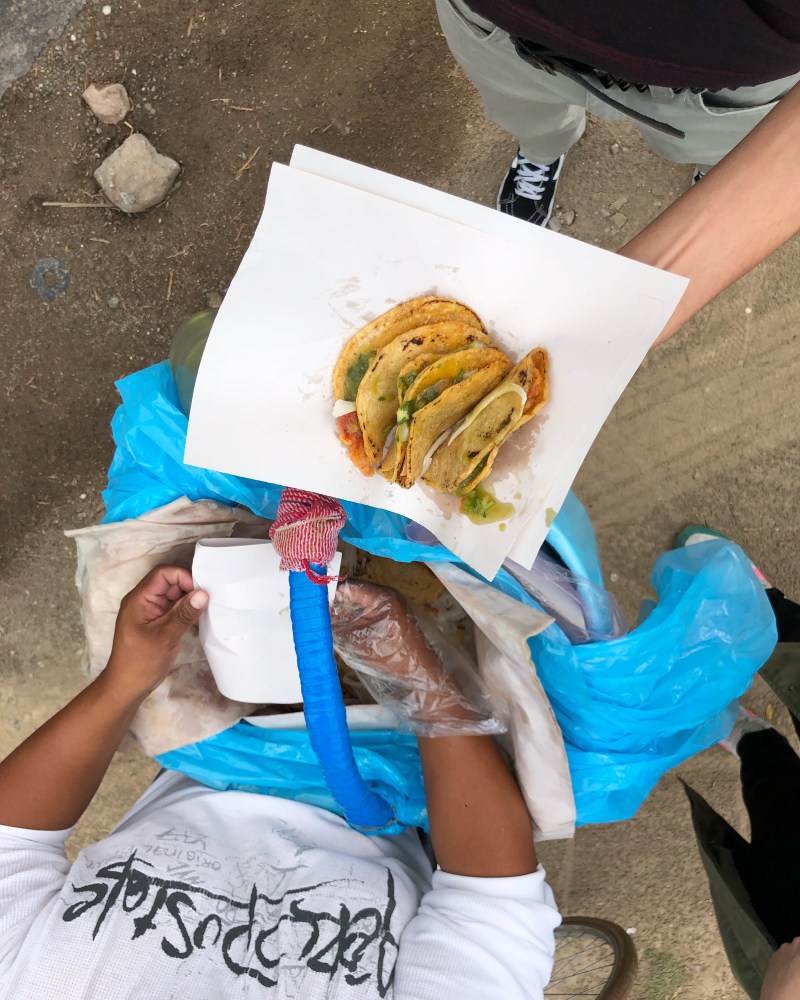 Description: Largely recognized as one of the most affordable styles of tacos in all of Mexico since $1 USD will get you about four to five of them, they are also some of the most delicious and most unique. These tacos attain their concentrated flavor by being assembled early in the morning and then layered in any type of basket with cloth or plastic so that they lightly steam and the flavors meld together.
The textbook version: Small tortillas are dipped in a guajillo chile-colored fat — could be lard or vegetable oil — and then filled with about a tablespoon of a guisado, a braised meat or vegetable dish. They are then layered with a bit more oil and raw onions to get an extra boost of flavor in the basket. The standard flavors of the taco de canasta are potato, mole, beans, and chicharrón.  
What exactly is so special about it? You know how good those ham and cheese or peanut butter and jelly sandwiches are once they got squished a bit in your backpack growing up? When applied to tacos, that same magical effect works wonders on them. It's dangerously easy to eat a dozen of these.
Verdict: Tacos al vapor all the way. While utterly delicious, tacos de canasta can get a bit heavy after a while. Also, steamed tongue with salsa is one of Mexico's greatest patrimonies to the world.
Food Fight #4:
Tejuino vs. Pulque
Tejuino
Description: Under the unrelenting Jaliscan sun, an ice-cold tejuino with the balanced amount of Mexican key lime juice and rock salt will cool you down all the way to your bones. It is literally a fermented masa shake sweetened with piloncillo, that unrefined brown sugar. I suspect if you imbibe enough, it will make you very strong.   
The textbook version: A beverage made from fermented nixtamalized masa sweetened with piloncillo. It is stirred before serving and it is hit with large chunks of rock salt and fresh lime juice for one of the most electric-tasting beverages in all of Mexico. In Guadalajara, it is known to be topped with a scoop of naturally frozen nieve de limón (lime sorbet) and in Tequila, Jalisco, they pour dark Mexican beer in it to make a type of tejui-chela.
What exactly is so special about it? This is one of those things that you have to taste to understand. Think: a thicker, Mexican Kombucha. If you are from Jalisco, you most likely love it and have nothing but the best memories associated with it. It's also a drink and snack — all in one.
Pulque
Description: Pulque is Mexico's pre-hispanic booze that was getting indigenous populations closer to their Gods in the form of getting drunk way before the Spanish colonized the country. Its lightly boozy, thick and sometimes slimy, milky texture is not for everyone but if you love it, you will prefer it over beer and you will live and die by it.
The textbook version: The quiote of a maguey agave is that tree-like rod that shoots up from the middle of the agave. If you chop that baby off, the agave will continue to make sap for it to grow. Humans discovered that if you suck that sweet-tasting liquid sap out of the plant, it will ferment and it will get boozy.
What exactly is so special about it? It's a probiotic alcohol, enough said.
Verdict: Pulque, because booze and maguey juice. What's more romantic than that?
Final Verdict: When talking about regional food styles, Guadalajara takes it in my book.
Will the Guadalajara diet prevail against Mexico City's this Sunday? Put the Tecates or Tecate Lights in the fridge, crack a couple of them open, and tune in to Univision Deportes at 4:30 pm PST this Sunday to find out.
Looking for a place to watch the game? Here are some suggestions:
Guelaguetza. Home of some of the best Tecate micheladas in town, they have a big screen TV and the place should be hopping. 3014 W Olympic Blvd, Los Angeles, CA 90006
El Cholo (Downtown). One of LA's oldest restaurants, El Cholo's downtown location is much newer, but has multiple TV's which will be playing the game. 1037 S Flower St, Los Angeles, CA 90015
Senor Fish. Fish tacos, Tecate, and the game on the TV in the bar is a winning combination if you're in Echo Park. 1701 Sunset Blvd, Los Angeles, CA 90026
La Cita. Hit the Grand Central Market for some tacos, then mosey over to one of LA's oldest Mexican bars for a cold Tecate and check out the game on the bar's TV. 336 S Hill St, Los Angeles, CA 90013
Editor for James Beard Award-winning L.A. TACO. Associate Producer for JBA-winning Las Crónicas Del Taco. Former restaurant scout for Jonathan Gold. Co-Author of "Oaxaca: Home Cooking From the Heart of Mexico (2019, Abrams) and "Asada: The Art of Mexican-Style Grilling" (2023, Abrams).
Read More:
Stay in touch
Sign up for our free newsletter