Pasadena
Neighborhood Food Guide: The 14 Best Restaurants—and Tacos—in Pasadena
1:06 PM PST on February 7, 2023
L.A. TACO is embarking on its biggest mission yet: to create a taco guide for every single neighborhood in Los Angeles! Along the way, we will also be releasing brief histories of each neighborhood to understand L.A. a little more and why each and every neighborhood that makes our fine city is unique in its own way. Check out our neighborhood page to get to know why Los Angeles is the best damn city in the world. 
The name Pasadena derives from the Ojibwe word for valley. Situated below the vast San Gabriel mountains, you might come to Pasadena to trek crisscrossing hiking trails, watch a Rose Bowl game and visit the venue's iconic monthly flea market, or go birdwatching for the feral flocks of green parrots that call this foothill community home. 
Although those are all compelling reasons to visit, one of the biggest draws Pasadena has is the food (and also, since we're talking about the greater Los Angeles area here, ample parking). Whether you're chowing down on historic burgers and sandwiches or scoping out buzzy newcomers, Pasadena's dining scene accommodates every budget and palate. Here are our favorite bites around the city of roses.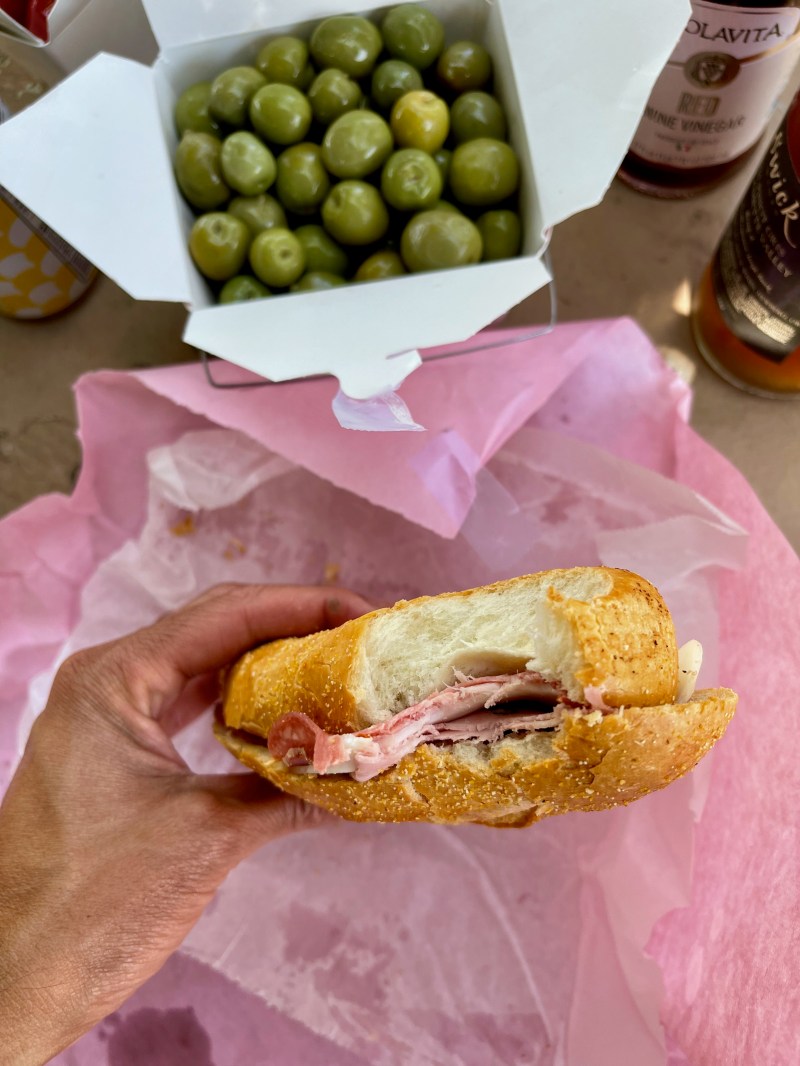 Roma Market 
Yes, you can go to Roma Market—which has called Pasadena home since 1949—for its selection of cheeses, pastas, and other Italian pantry staples but the real draw is their ubiquitous sandwich. The sandwich, which comes wrapped in a sheet of pink butcher paper, demonstrates how simple ingredients can form some of life's greatest meals. It begins with crusty bread baked daily which is layered with shaved salami, capicola, mortadella, and thin rounds of provolone. A drizzle of quality olive oil and sprinkle of salt pulls everything together. There's a reason this sandwich frequently sells out before noon. 918 N. Lake Ave, 91104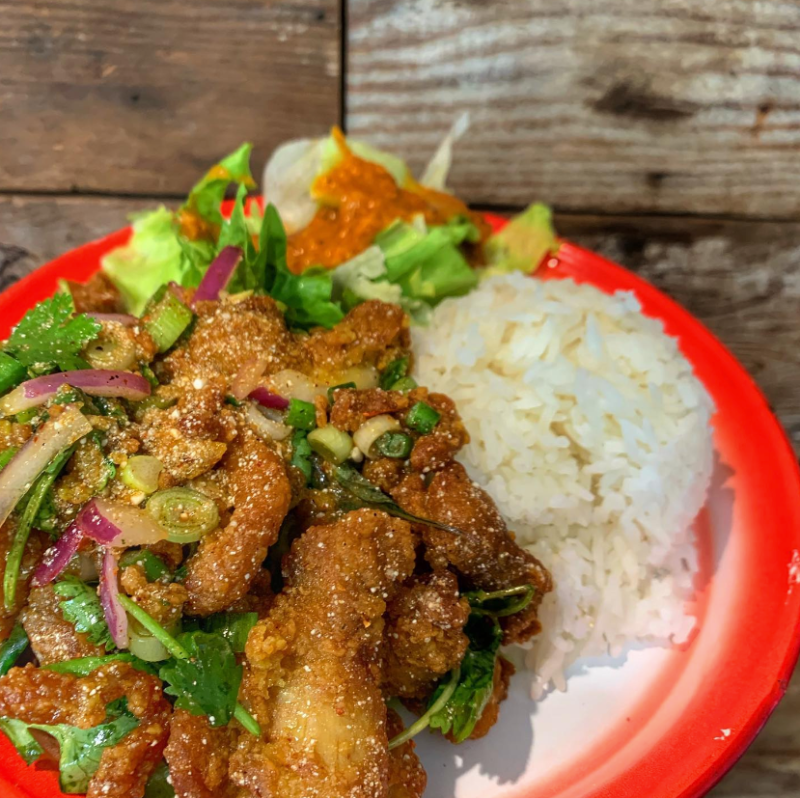 Chim!
There are a couple of Thai options within the greater San Gabriel Valley, but Chim! Is certainly one of the best. Although the restaurant advertises its street food—including fried chicken skin tossed in a larb-inspired chili lime powder, herbaceous northern Thai sausage, and fried mini fish patties—a favorite is the Sukothai noodle soup. Strands of rice noodles in a zippy lime broth are topped with a ground chicken patty, fish balls, shrimp, and a meteor shower of crushed peanuts, chopped green beans, and bean sprouts. The best part is each order of noodles arrives with its own mini campfire to keep the soup bubbling throughout the meal. 910 Union St, 91106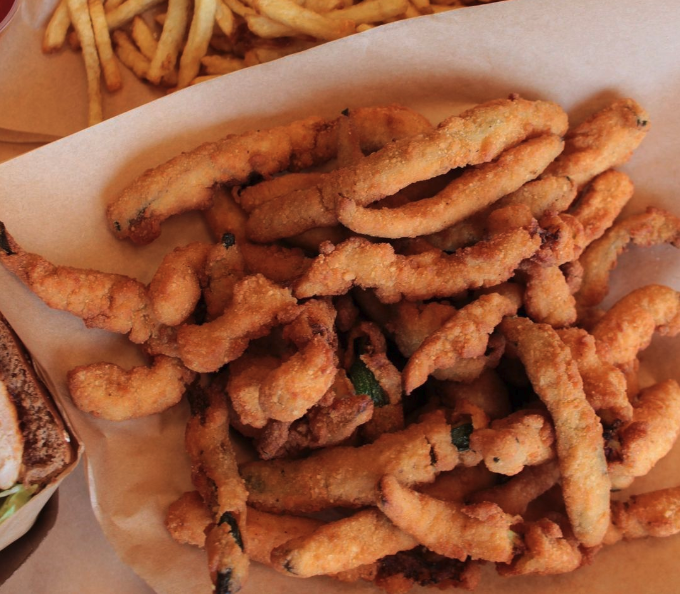 I can already sense the controversy regarding Lucky Boy's absence on this list but, in truth, Top's makes a better breakfast burrito. You can customize the style of egg you want in your burrito (get over medium), the hashbrowns are genuinely crispy, and the house-made salsa verde is downright drinkable. On top of that, their patty melt, zucchini fries, pastrami, and homemade ranch are all winners. Between the two, I'm headed to the Original Tops every time. 3838 E. Colorado Blvd, 91107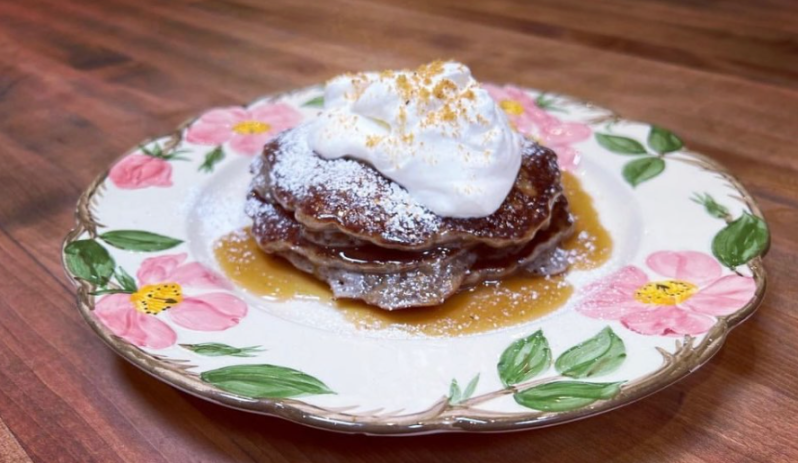 Whether you're stopping by for unique cheeses, tinned fish, a bottle of wine, or a full meal, Agnes provides. The interior is warm and welcoming, the tableware is a floral mishmash of vintage plates, and the menu—for both brunch and dinner—is enticing. I recommend the sticky toffee pancakes in the morning, cornbread eclairs and pastas in the evening, and a cheese board at any hour. 40 West Green St, 91105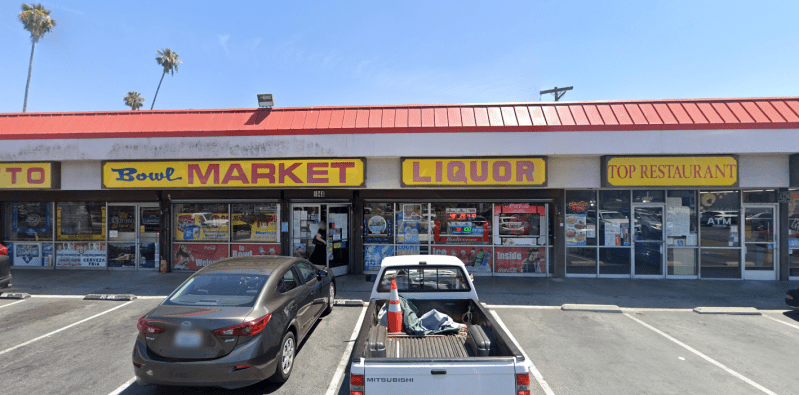 Top Restaurant
A skip away from Pasadena City College is Top Restaurant, which has fed students and the surrounding neighborhood a combination of Indonesian fare and local Hawaiian classics for over a decade. Favorite plate lunches, from chicken katsu to loco moco to kalua pork, are readily available alongside noodle-laced Indonesian fried rice and crispy servings of fried chicken. No meal from Top is complete without a serving of spam musubi and a chilled can of Hawaiian Sun. 1842 E. Colorado Blvd, 91107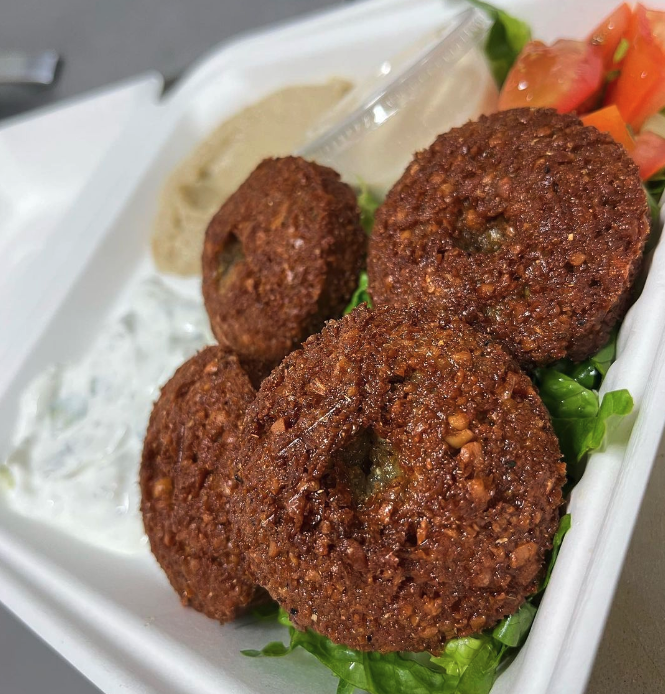 Hummus Labs opened in 2020 amidst the pandemic and defied the odds with their selection of flavorful Lebanese dips, grilled kabobs, and freshly fried pita chips. The latter makes up their highlight dish: shawarma nachos, which arrives with generous scoops of your favorite protein and sauce (I always get garlic dip) as well as roasted tomatoes and onions. 950 E Colorado Blvd #104, 91106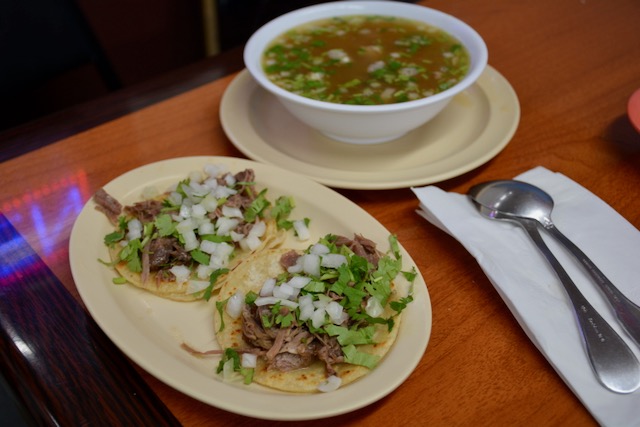 From the outside, Super Liquor on Orange Grove Boulevard in Pasadena is your standard barrio issue convenience store: Korean-owned, with a refrigerator door solely dedicated to 40-ounce malt liquor and fortified wines, and a pane of bulletproof glass between the cashier and the customer. Hidden inside, at the end of the first aisle after a self-serve drinking water refill station, is a counter. Behind it are whisps of gamey steam emanating from a tiny kitchen, in front of it a few tables, and a mural of a valley filled with green grass and roaming sheep. Welcome to "Mendez Restaurant," a Mexico City-style barbacoa specialist that has been quietly serving Pasadenian paisasand those lucky enough to have stumbled into the liquor store. The lamb is tender and the consomé is just what your imaginary doctor ordered to nurse your hangover. This taquería is peak north Pasadena greatness. —Javier Cabral
Los California Tacos
Of all the tacos in the city of roses, this fire-red taco truck—parked in the evenings at an auto repair shop—has carried the best since 1979. There's a range of proteins to choose from, including beef tongue and head, but the al pastor has remained my steadfast favorite. Round out your meal with a plate of nachos and a Mexican Coke and be sure to bring cash. 510 S. Fair Oaks Ave, 91105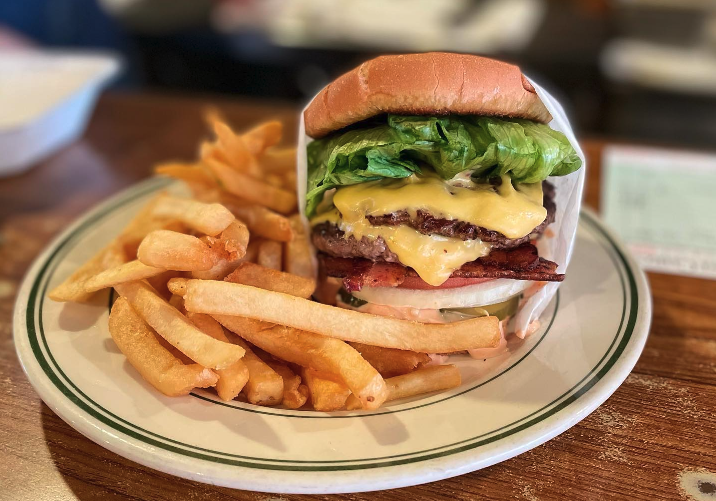 It doesn't get more classically American than Pie 'n Burger, known for its namesake dishes. The interior is a time warp to its 1963 opening, with vintage counter seating and an old-school cash register still in use (the restaurant remains cash only). The burger is the obvious choice, but dessert is trickier. I'm partial to a slice of banana cream pie but the strawberry cake is also not to be missed. 913 E. California Blvd, 91106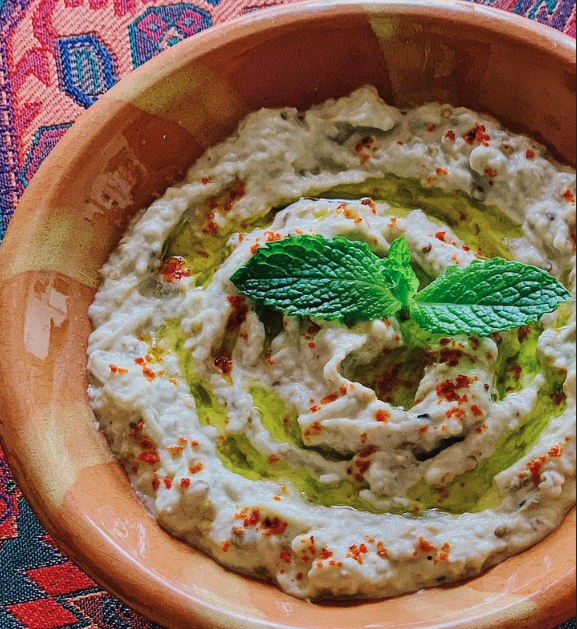 Koko's Mediterranean Cafe lovingly referred to as Medi Cafe, has remained the go-to lunch spot for Pasadenans for over 20 years thanks to their consistently delicious affordable plate lunches and friendly staff. The chicken shawarma is a favorite, with hearty seasoned rice, hummus, Greek salad, and a pita. Vegetarian options are also plentiful and worthwhile, like the falafel plate lunch, stuffed grape leaves, and baba ghanoush. 273 Shoppers Ln, 91101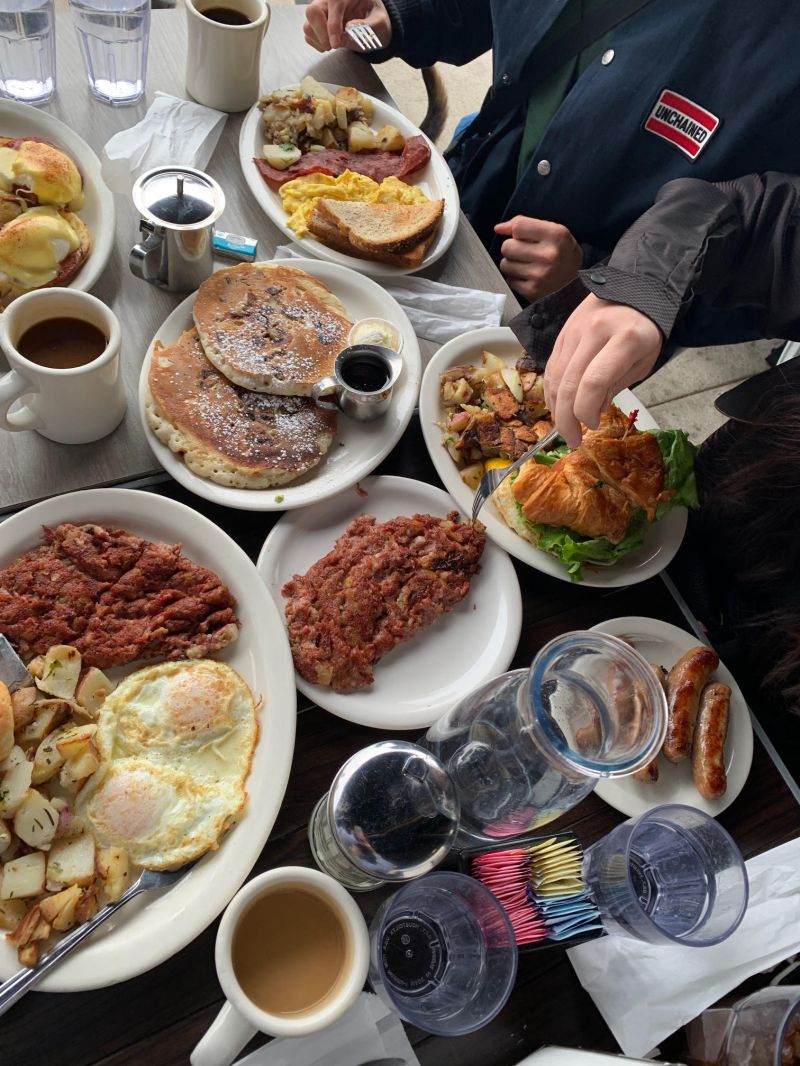 For breakfast, you can't go wrong with Millie's. The expansive menu includes all the favorites: pancakes, corned beef hash, chilaquiles, and 12 different types of benedicts. The drinks menu is equally lengthy, with variations of matcha, coffee drinks, freshly squeezed juices, and even a fresh coconut. There's always a wait on the weekends, so come early. 1399 E. Washington Blvd, 91104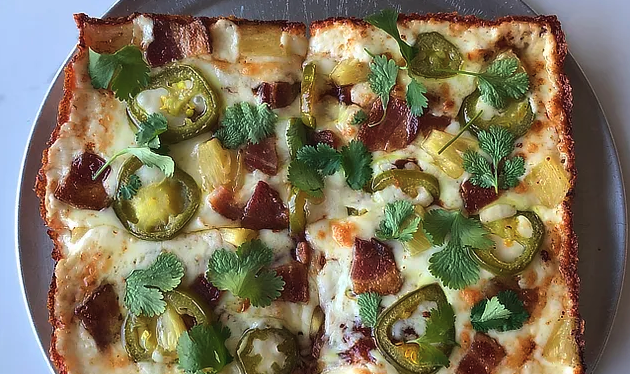 Fuji & Vi's
Newcomer Fuji & Vi's has already clambered its way into my heart with their slabs of Detroit-style pizza. The pizzeria, which opened last May, specializes in generous rectangles of cheese-crusted pizza. It's impossible to disappoint with their Classic and Margherita, but fun riffs like the Contradiction (pineapple, jalapenos, bacon, and barbecue chicken) and the Argument (ham, pineapple) are available, too. Or you can customize your own toppings. 950 E. Colorado Blvd Suite 203, 91106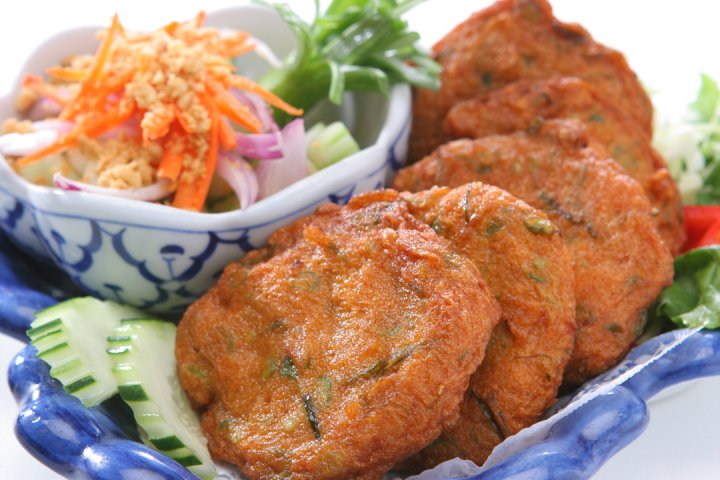 President Thai
With its gabled Thai-style roof and backdrop of the San Gabriel mountain range, President Thai is a restaurant to behold and worth driving to in East Pasadena. The classically Thai aesthetics extend to the menu, which includes spicy soft shell crab kissed with holy basil, Northeastern Thai favorites like barbecue chicken and sticky rice, and tangy papaya salad. There's something for everyone here: curries, soups, freshly fried appetizers, wok-fired fried rice and noodles, and sticky mango rice when it's in season. 498 S. Rosemead Blvd, 91107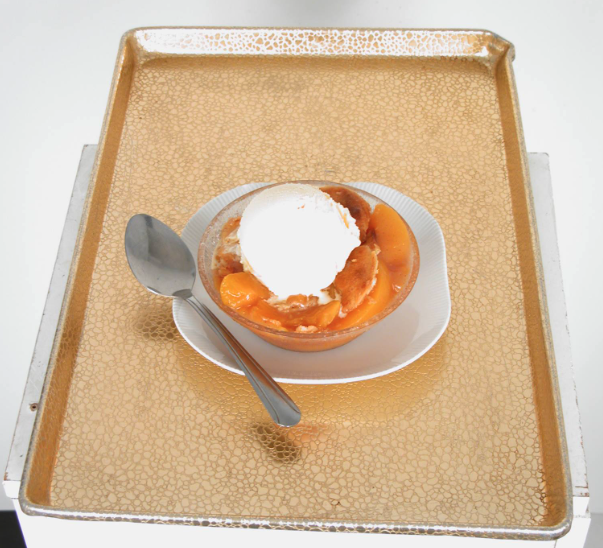 The Gourmet Cobbler Factory
Arguably the best dessert in Pasadena, the Gourmet Cobbler Factory has been a presence in my holiday gatherings for years. The fruity cobblers and southern-style pies possess delightfully buttery crusts and ample gooey filling (the peach and "mixberry" are my favorites, but none of them miss). Although the sweets are undeniably the stars, the seafood gumbo—and barbecue from sister restaurant Clifton's—should not be skipped. 33 N. Catalina Ave, 91106
Kat Thompson is a Bangkok-born, Los Angeles-raised writer. Her work has appeared in Food & Wine, Thrillist, Vice, and more.
Read More:
Stay in touch
Sign up for our free newsletter