Drink
The Five Best Coffee Shops in Tijuana 
Tijuana is the third most powerful coffee scene in Mexico, behind Mexico City and Guadalajara. These coffee shops capture the excitement of the emerging scene and specialize in Mexico-grown beans from micro lots and small producers.
10:03 AM PDT on June 7, 2023
If you're new to Tijuana's food scene, coffee might not be the first thing that comes to mind. In a city known for tacos and violence, it's no surprise coffee isn't always at the forefront of newcomers' minds.
As Mexico continues to push its way onto the international coffee stage though, winning the coveted Cup of Excellence competition for the first time, you definitely don't want to miss out on one of Mexico's largest-growing coffee scenes. 
Cafes and roasters are popping up everywhere. There are currently over 30 roasters in Tijuana, a city of 2.2 million. There are a few that really embody the mission of bringing quality, unique-tasting coffee to Tijuana. The next time you make a trip into the city, make sure to check out these stops, where each cafe's philosophy can be tasted via their menus. Some are inspired by mixology. Some are more punk rock and utilitarian about it, and there is a coffee shop for everyone in Tijuana.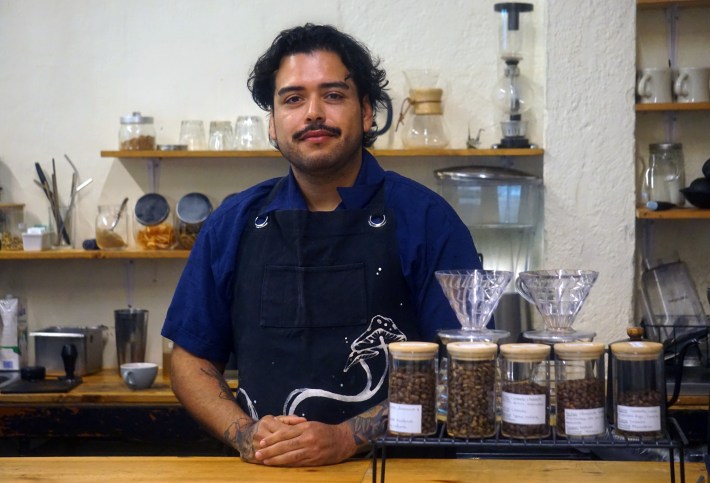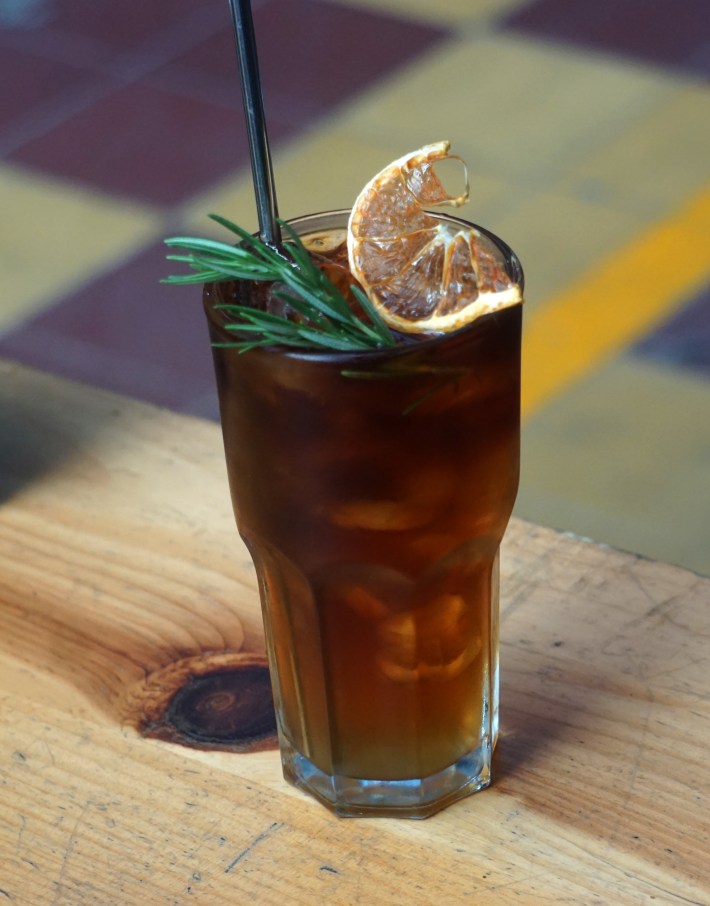 Cafe Aether
Fermentation takes on a whole new meaning at Cafe Aether, building on a Mexican tradition.
Even if you consider yourself a coffee fanatic, you've probably never had anything like the menu at Cafe Aether. Several menu items are inspired by the kombucha-making process.
The cold brew-based limonada has that signature slightly fizzy, acidic kombucha taste mixed with burnt white sage syrup and limón. It's a surprisingly delicious combination that'll leave you wanting to try their lavender version. The regular hot latte, paired once again with the sage syrup, is rich and slightly more earthy. And you can't forget the fermented pesto they even use on their sandwiches; if you can, try it. It's such a unique approach to the classic Italian staple. 
While the drinks were impressive, the overall atmosphere of the cafe and the surrounding area are what really sells it. Located in a long, somewhat tucked-away corridor called the Pasaje Rodriguez, Aether is surrounded by local vendors selling various handcrafted and commercial products. This historical and cultural passageway is ideal for Aether, creating a unique vibe that most coffee shops can't replicate.
Though fermented drinks aren't a new phenomenon in Mexico, Aether's owner, Oliver Castañeda, said people aren't yet warmed up to the idea of fermented coffee drinks, and there's still a long way to go before they become more widely accepted. 
"Here in Mexico, [fermentation] is difficult to explain to any client," Castañeda said. "There's some salsas in every taquería that are fermented because of the process, but most people don't know… Trying to explain the fermentation idea or the benefits of fermentation to any customer makes it a lot of work along the way."
Pje. Rodríguez, Zona Centro, 22000 Tijuana, B.C.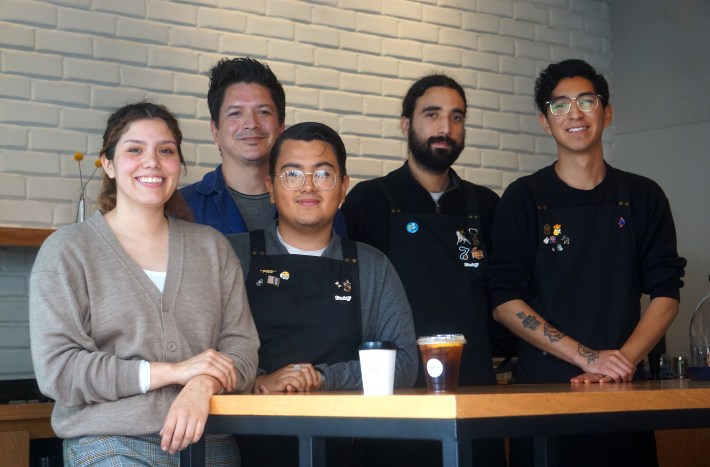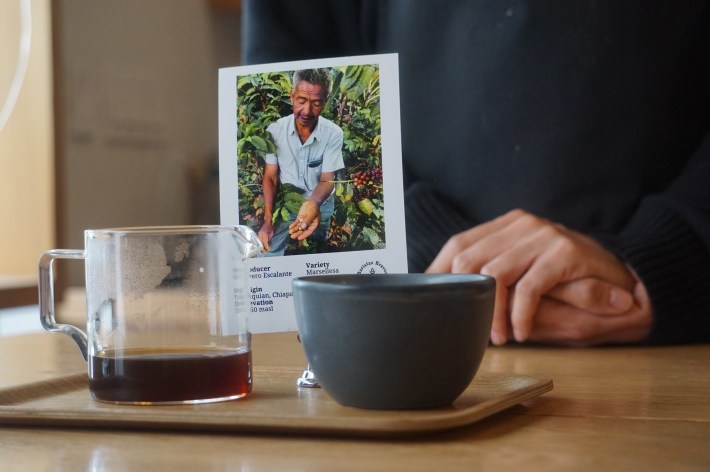 Baristas Bravos
With a short and straightforward menu that alludes to this cafe's unique approach, Baristas Bravos is the place to go if you're looking for some delicious coffee without all the gimmicks. 
If you've never had an espresso tonic, the one at Baristas Bravos is incredible. It's the perfect summer beverage with refreshing, smooth, espresso-y goodness and just a hint of lemon. If that doesn't sound like your cup of coffee, the baristas are eager to help you find your perfect drink. Even if you don't drink caffeine, they make a delicious tea from the toasted coffee berry's dried pulp. It is usually a by-product of roasting beans, but at Baristas Bravos, they embraze the zero-waste approach. The resulting tea tastes somewhere between vanilla, coffee, and tobacco.
Operating under Das Cortez, a local chain of coffee joints in Tijuana, the Barista Bravos team works to create unique drinks that stay true to their passion for innovative coffee consumption. 
What's really great about Barista Bravos is the dedication to client education. Sadly, not everyone cares about where their coffee comes from, but for those that do, this cafe takes the time to build connections with the farmers responsible for their menu. The baristas help folks understand the process of turning the humble coffee cherry into the mighty coffee bean. Headshots of the farmers responsible for growing the coffee cherries can even be seen behind the bar, on the containers that contain their beans.
Anyone just looking for a cup of joe can get in and get out, but if you want to take the time to sit down and chat with your barista about what you're drinking, then this is definitely the place for you. On Saturdays, Barista Bravos also offers coffee-tasting reservations where people can try unique drinks and learn in-depth knowledge about the coffee they're drinking. 
"People don't really get that [coffee] is still an agricultural product," said Santiago Picazo, the manager of Barista Bravos. "There's an entire tale behind the bean that arrives to your cup."
Calle Jalisco 2511 Plaza XIV, Local 6, Col. Madero (Cacho), 22040 Tijuana, B.C.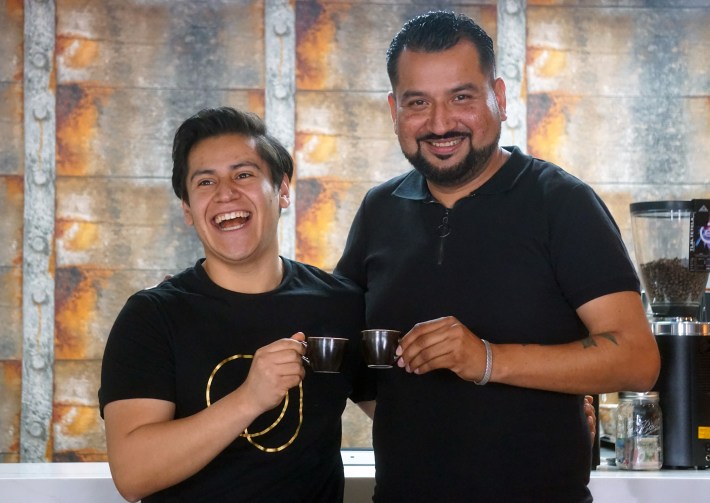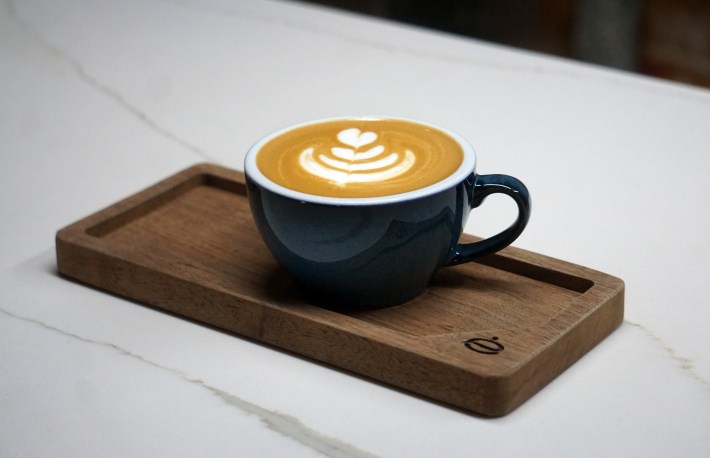 Excelso 77 Coffee Lab & Roasters
If you want a simple yet refined specialty coffee experience in Tijuana, Excelso77 is perfect for you.
From the moment you walk into Excelso 77, your senses are overwhelmed, but in the best way possible: the smell of roasted beans and espresso; the sound of freshly roasted beans tumbling out of the giant roaster; the sight of large sacks of green coffee beans changing into a deep, rich brown; the taste of simple, yet delicious coffee drinks offered at the small bar. This shop genuinely makes you feel like you're just as much a part of the process as the employees.
And of all the places on this list, Excelso 77 is by far the most invested in producing specialty coffee. This shop is involved in almost every step of the process, from sourcing which beans to roast to freshly grinding coffee beans for customers to take home. Excelso77 also provides training and tastings for aspiring baristas in their coffee laboratory, supplies machines for up-and-coming cafes, and makes delicious drinks at their own small cafe. 
Last September, Excelso barista and professional coffee catadór (taster) Adrián Badillo Ramos participated in the Mexican Association of Coffee and Specialty Coffee Shops' annual competition. Ramos competed in the Brew Bar category, focusing on the barista's brewing and service proficiency. Scoring second, just .16 of a point behind the winner, Ramos' achievement is a testament to Excelso 77's mission.
Founded in 2007, Excelso 77 has remained at the forefront of Tijuana's coffee scene long before the recent explosion of coffee shops all over the city. What sets this shop apart, though, is its dedication to making Mexico an international coffee phenomenon. While countries like Ethiopia, Uganda, Colombia, and Brazil remain some of the top coffee producers in the world, the team at Excelso 77 is fighting to put Mexico on that list too.
Prol Paseo de los Heroes 3565-Local 38 y 39, 20 de Noviembre, 22100 Tijuana, B.C.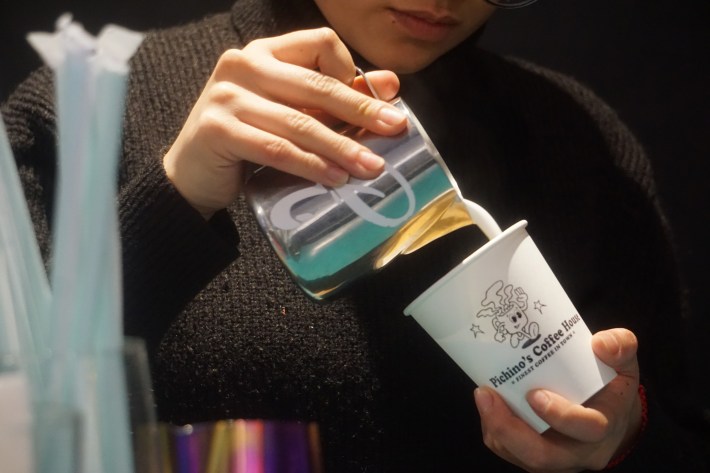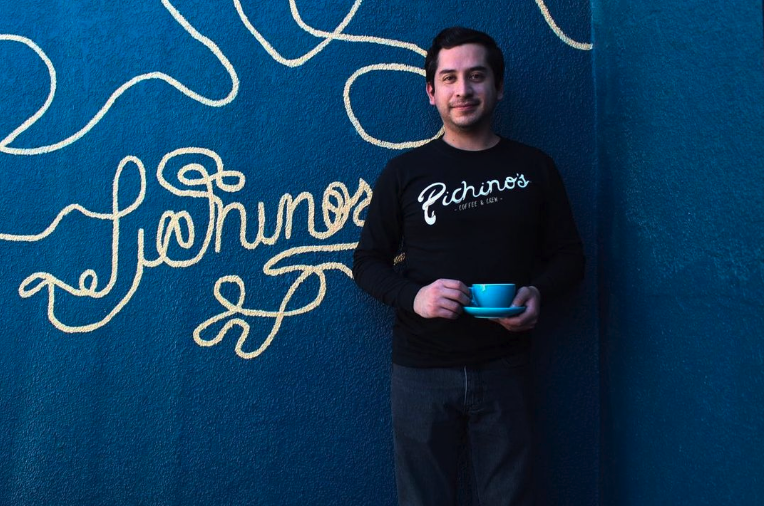 Pichino's Coffee and Crew
Whether it's the expansive range of handcrafted simple syrups or the use of traditional mixology techniques, Pichino's is the best if you want something refreshingly new.
Unlike the other cafes on this list, Pichino's menu is more comprehensive for a wide variety of coffee and tea lovers. Like something unique and fun? They've got you covered with an impressive collection of cocktail-inspired drinks, like a "Negro Palmer" botella inspired by an Arnold Palmer. Want something more invigorating that'll cool you down? The espresso fizz, made with a little salt, sparkling water and paired with an excellent piña syrup, is a perfect match. Need just a quick pick me up that'll satisfy your coffee craving? A classic cortado is the way to go.
Whether it's the calming blue exterior surrounded by potted plants or the brightly colored murals inside the cafe and the bright blue counter, there's just an overall welcoming presence at Pichino's that sets it apart. 
Kevin Gómez, the co-owner of Pichino's, said creating innovative coffee and tea mocktails is what Pichino's is all about. And unlike more giant coffee corporations, small community-focused coffee shops give people a better chance to connect with the employees.
"It's cool to make a difference to more people, to try to make quality drinks for the community," Gómez said. 
Fray Justo Sierra 9039-B-9039-B, Zona Este, 22000 Tijuana, B.C.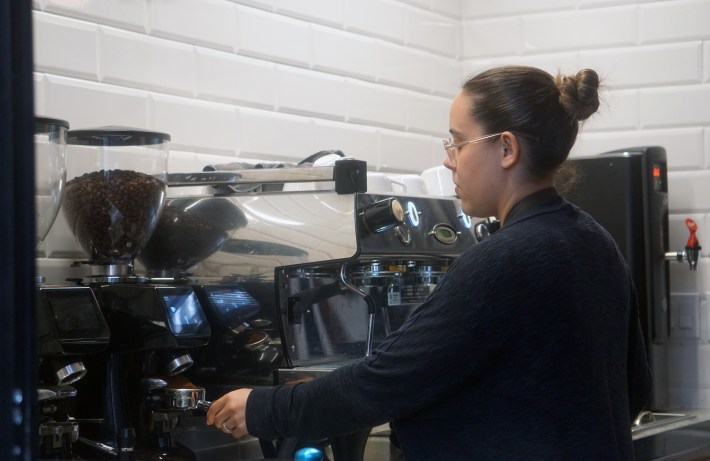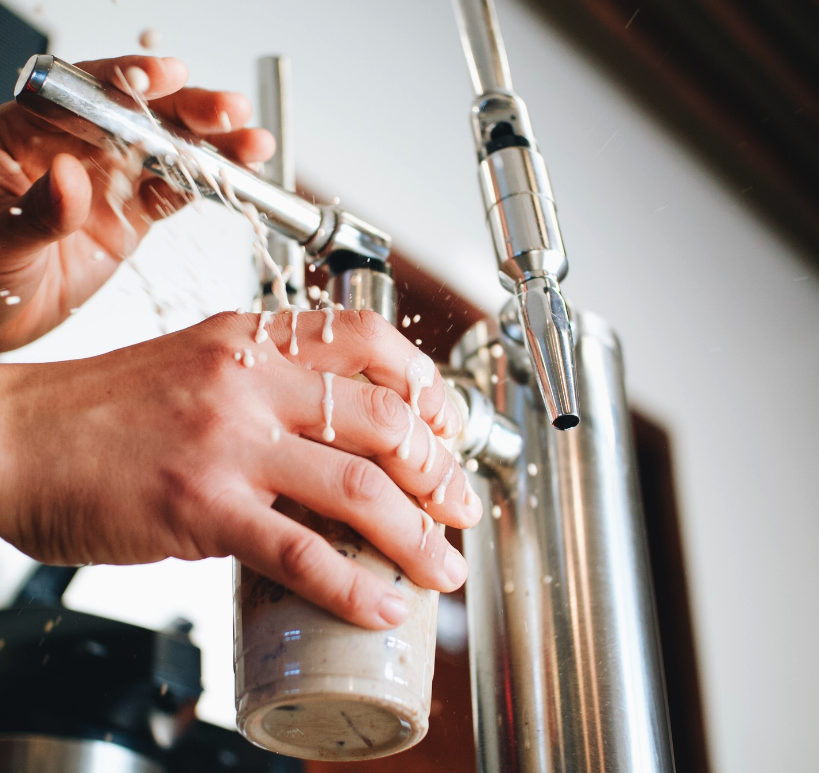 Comunal Café
It may be the newest place on this list, but Comunal Café is definitely one you'll want to check out if you find yourself in Tijuana. 
Opened a little over a month ago, Comunal's mission is simplifying how people drink coffee. Rather than excessive additives or frilly presentations, Comunal only offers straightforward drinks. Owner Fernando Fortis says the end goal is to bring human connections back into the mix.
"It's not about the people, and it's supposed to be about the people. From all the suppliers to the baristas, to the roaster, to the clients and customers—that's the reason coffee shops are made," Fortis said. "Nobody cares about the human factor, which is the more powerful and more important part of the whole process. And that's what we want to focus on."
Something extra unique about Comunal is the nitro-infused drinks they offer on tap, similar to what you'd find in a bar or brewery. These drinks are available in several essential morning beverages like chai and matcha, and the nitro-infusion brings out an extra velvety smooth and deliciously sippable taste.
Communal even has two options specifically tailored for kids, which it dubs the "nitro kids" selection: choco and leche vanilla. 
With a short and sweet selection of both caffeinated and non-caffeinated beverages, avid coffee drinkers and occasional coffee sippers can both rejoice over a drink at Comunal.
Av. Rio Bravo, Marron, 22015 Tijuana, B.C.
---
This story is part of TIJUANA WEEK at L.A. TACO! A collaboration with Professors Amara Aguilar, Laura Castañeda, and USC Annenberg School for Communication and Journalism. Make sure to check back daily for more stories. A printable L.A. TACO Pocket Travel Guide to Tijuana will drop later this week so keep an eye out for that soon.
Stay in touch
Sign up for our free newsletter