Long Beach
The Best Cambodian Food in Long Beach
1:07 PM PST on November 28, 2022
You really can't talk about the Long Beach food scene without mentioning Cambodian food. It's a cuisine that was shaped by tropical jungles, the Mekong River and its flood plains, and the abundance of freshwater fish with culinary influences that include China, India, and France. Today, Long Beach is home to the largest population of Khmer people outside of Cambodia. It's the result of Cambodia's dark history involving the second worst genocide in modern human history, of which many refugees fled to neighboring countries and eventually migrated to the US. Despite the shared trauma of the Khmer people, the story is not entirely heavy—there's hope and resilience—and much of it is found through food. 
Traditional Cambodian food, or Khmer food, has several unifying elements. Those include kroeung, which is a ubiquitous term for a range of spice pastes, often including lemongrass, turmeric, and galangal, and fermented fish products such as prahok and fish sauce. 
In Long Beach, many of the traditions not only survived but evolved as the diaspora of Khmer and Khmer Americans found their footing in a place between worlds. I'm a second-generation Khmer American, and here are the spots for some of my favorite Khmer food in Long Beach.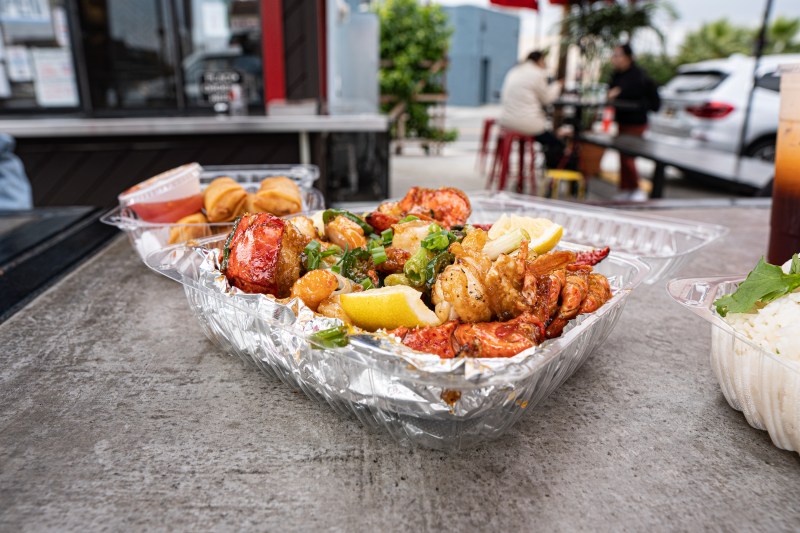 A & J Seafood Shack 
What to order: House Special Lobster
Cambodians love to party. We often gather at restaurants for weddings and graduations which entail live music and dancing, and a multi-course feast that's flowing in Hennessy, all of which culminates in the main course—the house special crab or lobster—which is wok-tossed with onions, garlic, black pepper, and oyster sauce. A & J has found a way to take this special occasion meal, and adapted it into a takeout experience. It's intensely buttery, smoky, and savory, with the flesh of the lobster maintaining its tenderness. It may not be a literal party, but the flavors here will make you dance. 3201 E Anaheim St, Long Beach, CA 90804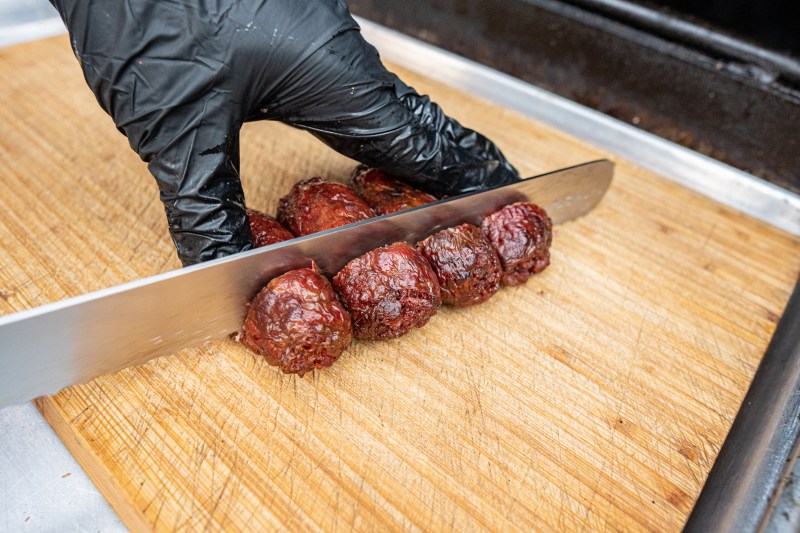 Battambong BBQ
What to order: Twako 
This pop-up melds Cambodian flavors with Texas-style Barbecue, smashed together in a surprisingly harmonious way. Owner and pitmaster, Chad "The Cambodian Cowboy" Phuong combines Cambodian ingredients such as kampot black pepper and lemongrass into his recipes resulting in barbecued meats that are tasty yet don't stray too far away from its Texan roots. Though his brisket and ribs are fantastic, he's most famous for his twako—the Cambodian sausage. This sausage combines beef, pork, and fermented rice resulting in a savory sausage that has a distinct tang on the front of the palate. Traditionally grilled or deep-fried, Phuong tosses them into the smoker contributing a whole new depth of flavor. 
Check Battambong BBQ's Instagram account to see when he is popping up next.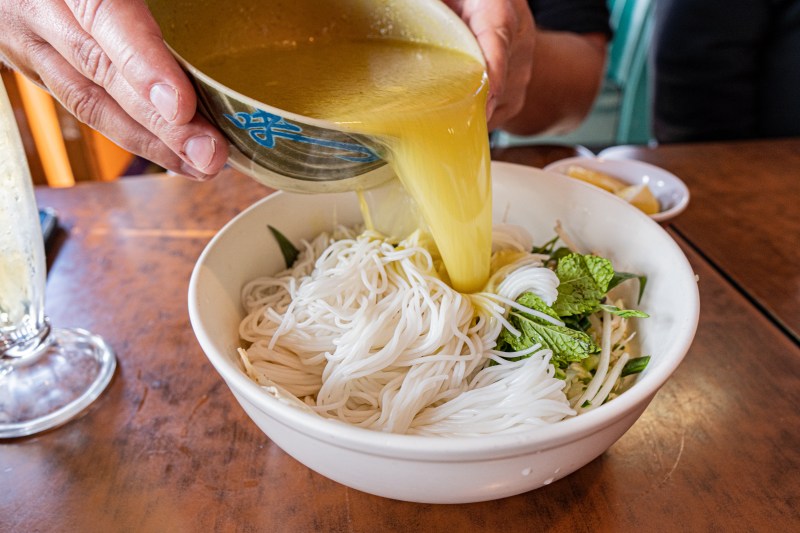 Crystal Thai
What to order: Nom P'jok
This restaurant, like many Cambodian restaurants of its time, would often adopt Thai or Chinese identities to attempt to cater to a "Western" audience. Despite its Thai moniker, Crystal Thai has some of Cambodia's most traditional dishes on its menu. Nom p'jok was something I grew up eating at Khmer backyard parties, so it's a dish that's near and dear to me—and theirs closely approximates that experience. It's comprised of thick rice vermicelli noodles, a bevy of Southeast Asian herbs, and a verdant catfish broth. I like to pour the broth over the noodles, add a squeeze of lime and bird's eye chilis to taste. It's bright and herbaceous, with a base of yellow kroeung and prahok, it's a real treat that encapsulates the scope of Khmer flavors in a single bowl. Oh, they're cash only, so you know they're legit. 1165 E 10th St, Long Beach, CA 90813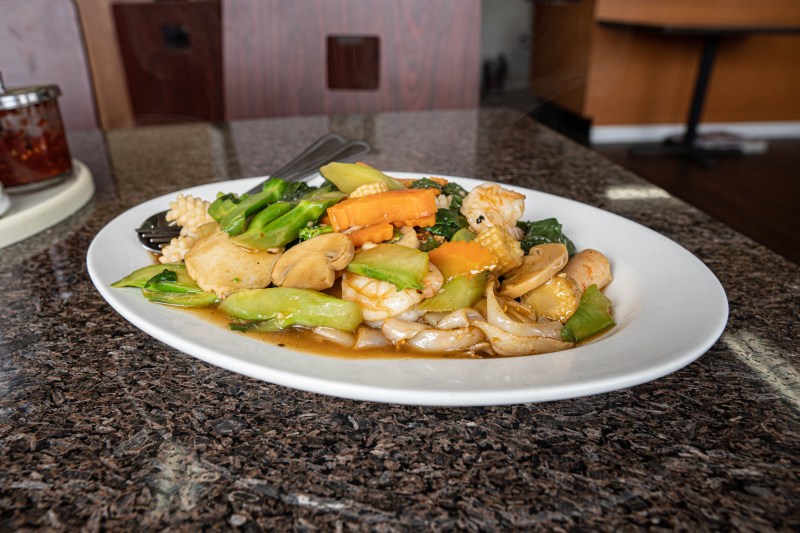 Kim Sun Kitchen 
What to order: Mee Katang
This North Long Beach restaurant is one of the spots we Khmer folk frequent for comfort food. One of my go-to's is Mee Katang, which literally translates to "Cantonese noodles." It's comprised of wide rice noodles that have been wok-fried with your protein of choice (I'm partial to the seafood medley), Chinese broccoli, baby corn, straw mushrooms, and carrots, which is then topped in an oyster sauce-based gravy. We don't have traditional meal structures like in Western cultures, so I often find myself eating this dish for breakfast. 449 Cherry Ave, Long Beach, CA 90805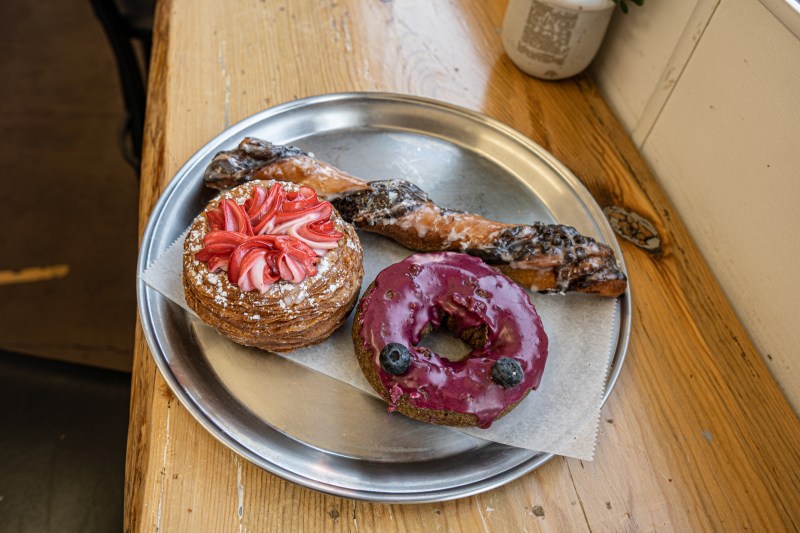 Knead Donuts
What to order: Tiger Tail, Blue Berry Donut, and Guava Cream Cheese Cronut
Cambodians quickly filled the void of donut shop owners throughout the 70s and 80s, consequently creating an intimate relationship between donuts and Cambodian Americans. Now, the vast majority of donut shops in California are Khmer-owned. Knead is one of the go-to spots in Long Beach for donuts. They're more of a specialized donut shop with a focus on beautifully crafted donuts with seasonal designs and flavors. They're most famous for their Tiger Tail which is a donut comprised of a classic glazed yeast donut and chocolate cake donut twirled together into a long stick giving you two distinct donut experiences in every bite. Also, they serve some of the strongest Vietnamese coffee in town. 3490 E 7th Street and 5105 E Pacific Coast Highway
Monorom Cambodian Restaurant
What to order: Samlar Kako
This is another traditional Cambodian restaurant where lemongrass beef sticks with rice or Phnom Penh noodles are the recommended orders. However, I'm going to highlight something that doesn't get too much love—the samlar kako. This is a Khmer soup comprised of seasonal vegetables, protein of choice, and a base of kroeung and prahok. What makes this soup unique is the way the soup is thickened. Uncooked rice is dry roasted until toasty, ground to a small crumb, and added to the soup contributing a delicate and silky texture to the entire affair. As for the vegetables in the soup, you'll find Chinese broccoli, green papaya, unripe banana, kabocha squash, red bell pepper, Thai eggplant, pea eggplant, Chinese eggplant, and yardlong green beans here. The greenage in this particular soup can vary from household to household, and despite my inclination to say that my mom does it better (she does), Monorom's is very, very good. 2150 E Anaheim St, Long Beach, CA 90804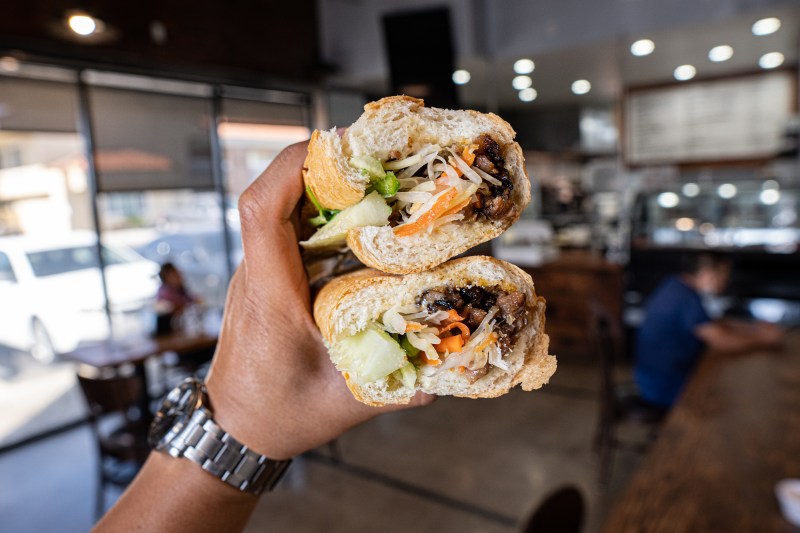 Naga Café
What to order: Beef Stick Sandwich
Naga is a fast-casual joint that serves Khmer street food. They're most well-known for serving num pang, which is the Cambodian equivalent to Vietnam's banh mi. It's a sandwich that's comprised of a baguette that's stuffed with pickled green papaya and carrots, cucumber, jalapeño, cilantro, mayonnaise, and grilled lemongrass beef sticks. The beef is tender and unctuous with an herbaceous aroma, while the brightness from the vegetables balances the whole package. It's the perfect on-the-move meal. 3225 E Pacific Coast Hwy unit a, Signal Hill, CA 90755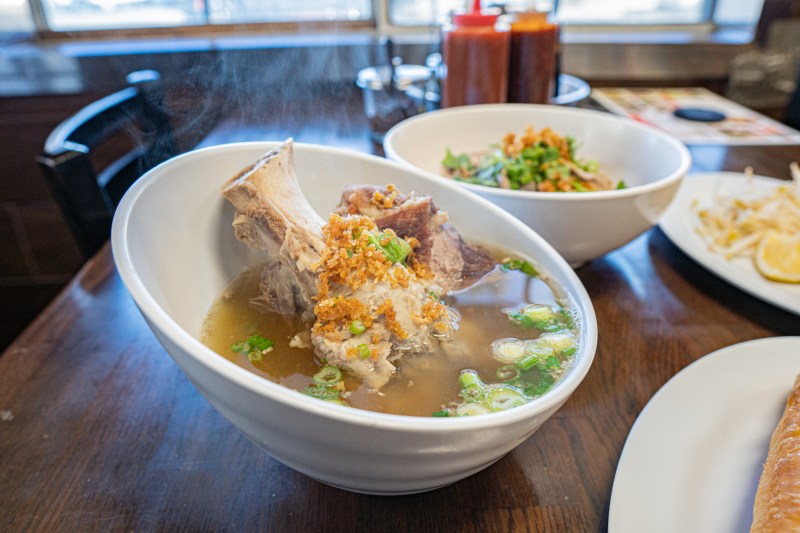 Phnom Penh Noodle Shack
What to order: Phnom Penh Noodle, Dry
The Noodle Shack has been a Long Beach staple since 1985. Not only is it the most well-known Cambodian joint, but it's also often people's first introduction to Cambodian cuisine. Phnom Penh noodles are comprised of rice noodles swimming in a pork bone broth and topped with various pork types of meat and shrimp. My favorite way of enjoying this meal is ordering it "dry" in which the broth comes in a separate bowl with an entire braised pork bone, while the noodles are doused in soy sauce and garlic oil. The best way to enjoy this meal is to add condiments and accouterments (chili sauce, hoisin, lime juice, beansprouts) to the noodles, mix it up with a chopstick in each hand, and dive right in. Meanwhile, use the broth as a vehicle to help you get the noodles down when necessary. 1644 Cherry Ave, Long Beach, CA 90813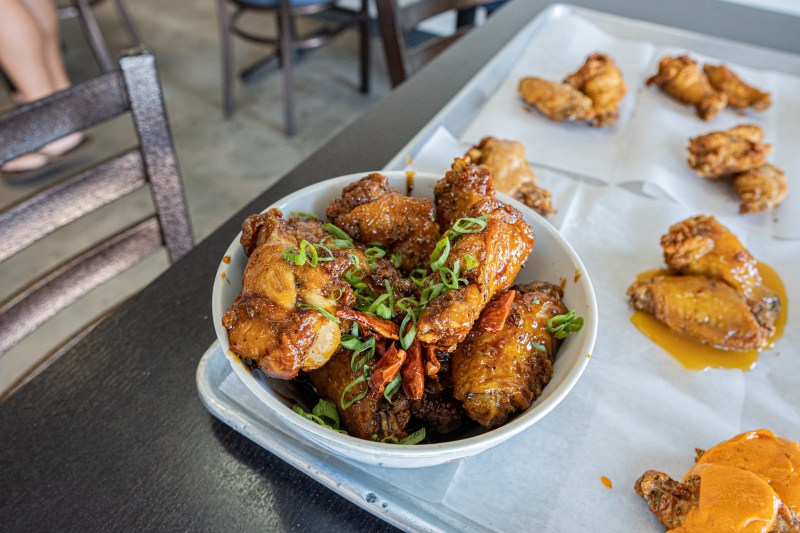 Shlap Muan
What to order: Cambodian Chicken Wings
Shlap Muan literally translates to "chicken wing" in Khmer. Growing up, I remember my mom frying up huge batches of chicken wings and serving them up with rice. Shlap Muan not only hits that nostalgia note for me—they legitimately shlap. The wings are crispy and juicy, served with various spice or sauce options. Their flavors include, among many, the citrusy Cambodian Dirt, sweet and savory Elvis wings, and the nutty and earthy Spicy Elephant. For those looking for a more Buffalo-style experience, they have that too. Not only are they my favorite Cambodian wings, but they're also my favorite wings, bar none. 2150 E South St #105, Long Beach, CA 90805
Sophy's Cambodia Town Food
What to order: Prahok Ktis
Contrary to what this list may lead you to believe, dips are the quintessential traditional Khmer food. On the regular, we'd have a bowl of prahok ktis or teuk kroeung with a plate of raw vegetables and tuck right in. In particular, Sophy's prahok ktis really hits the spot. It is comprised of prahok, ground pork, pea eggplant, bird's eye chili, kaffir lime leaves, and coconut milk. It's intensely flavorful. It's spicy, salty, herbaceous, floral, and umami. It's often paired with Thai eggplant, cucumber, and yardlong beans with a bowl of rice. 3240 E Pacific Coast Hwy, Long Beach, CA 90804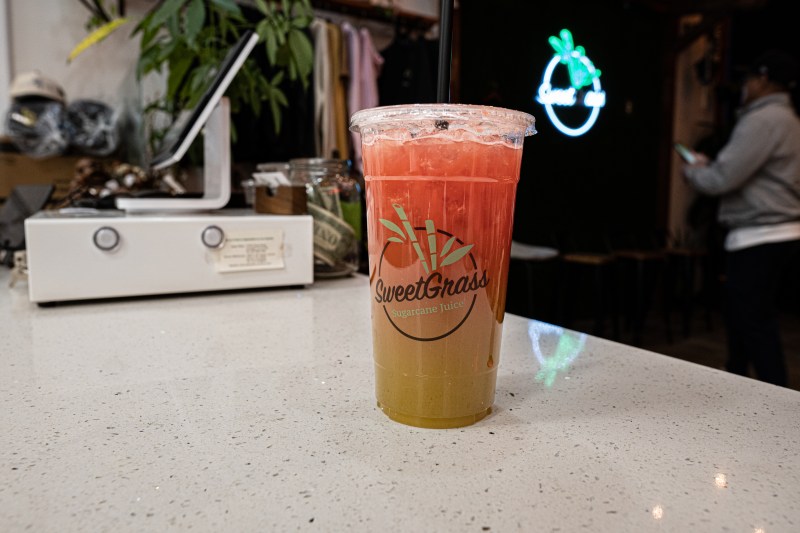 Sweet Grass Sugarcane Juice
What to order: Sugarcane Juice
Sugarcane juice is a drink that's commonly consumed throughout Asia. It's sweet but not too saccharine, resulting in a remarkably refreshing beverage. Sweetgrass is Khmer-owned, and they juice the sugarcane juice on-site with a wide selection of flavors. I'm partial to the dragon fruit cane, which involves the addition of fresh dragon fruit pulp to the mix. 3545 Atlantic Ave, Long Beach, CA 90807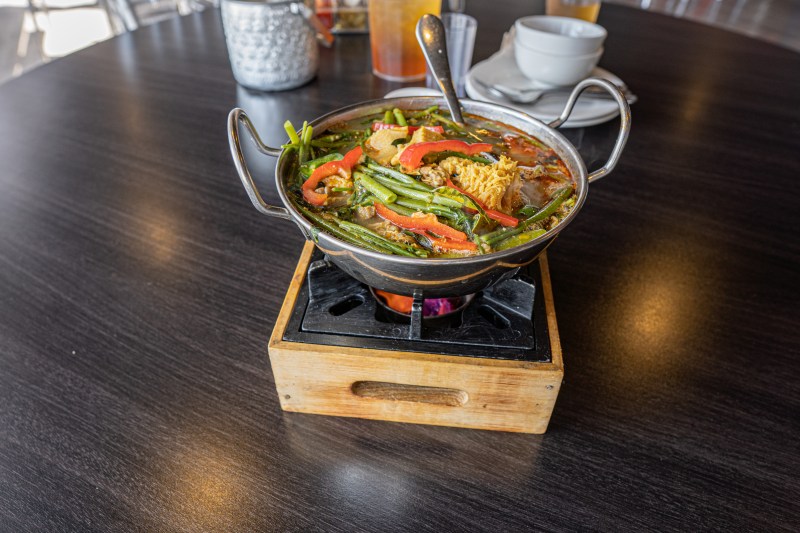 Udom Khmer Restaurant 
What to order: Samlar Machu Kroeung
Udom is one of the hubs where Khmer weddings, graduations, and other celebrations are hosted and is my personal spot for getting whole roast duck to-go. When I'm dining in, though, the thing I go for is the samlar machu kroeung with a side of rice. This soup is the Khmer comfort soup on wintry days. It, too, has a base of kroeung but is distinct due to the addition of tamarind. It contributes a nice acidity to the soup, which is also chock full of morning glory, braised beef, and tripe. Don't let the tripe scare you; this dish is a must-try. 1223 E Anaheim St, Long Beach, CA 90813
All in all, these are my personal favorite Khmer dishes in the city—and it barely scratches the surface of Khmer cuisine. I didn't even cover fish amok (the national dish of Cambodia, but that's another story), the abundance of salads, or the decadent desserts. Regardless, Khmer food is a world of flavor and one that I recommend people explore. Saum arkoun.
James Tir is a food enthusiast from Long Beach who happens to enjoy writing about food. He travels the city daily as @lbfoodcoma trying to find the best bites in town.
Read More:
Stay in touch
Sign up for our free newsletter