L.A. Taco Guides
The 2020 L.A. Taco Book Guide: 32 L.A.-Centered Books to Read, Gift, and Get Inspired On
3:22 PM PST on December 9, 2020
[dropcap size=big]I[/dropcap]f COVID-19 was good for anything, it's for reading. When the March rain and quarantine came, I got the chance to read all the books I wanted. This book list centers around Los Angeles and overlaps with creative nonfiction, poetry, urbanism, California history, music, and cultural studies. Most of these books came out in 2020, but a few came out at the very end of 2019. What follows are 32 books in alphabetical order by author—for the 32 years, it's been since the Dodgers last won the World Series.
be/trouble By Bridgette Bianca
The debut book of poetry from an emerging femme heroine is literary fire from cover to cover. Bianca reminds us that "what's understood don't need to be explained/put some respect on our name / we are Wakanda / we ain't never been conquered." The South Central-born Bianca is a tenured professor at Santa Monica College that sees all. In poems like "there goes the neighborhood," she holds everyone accountable: "south central los angeles became sola / como se dice bullshit."  She carries on the power of Wanda Coleman, Amiri Baraka, Nikki Giovanni, and Maya Angelou in these poems and remembers Sandra Bland, Trayvon Martin, Michael Brown, and Emmett Till. Imani Tolliver calls the book "a symphony of black love." After reading this collection, you will know why she writes, "February ain't long enough to get us right."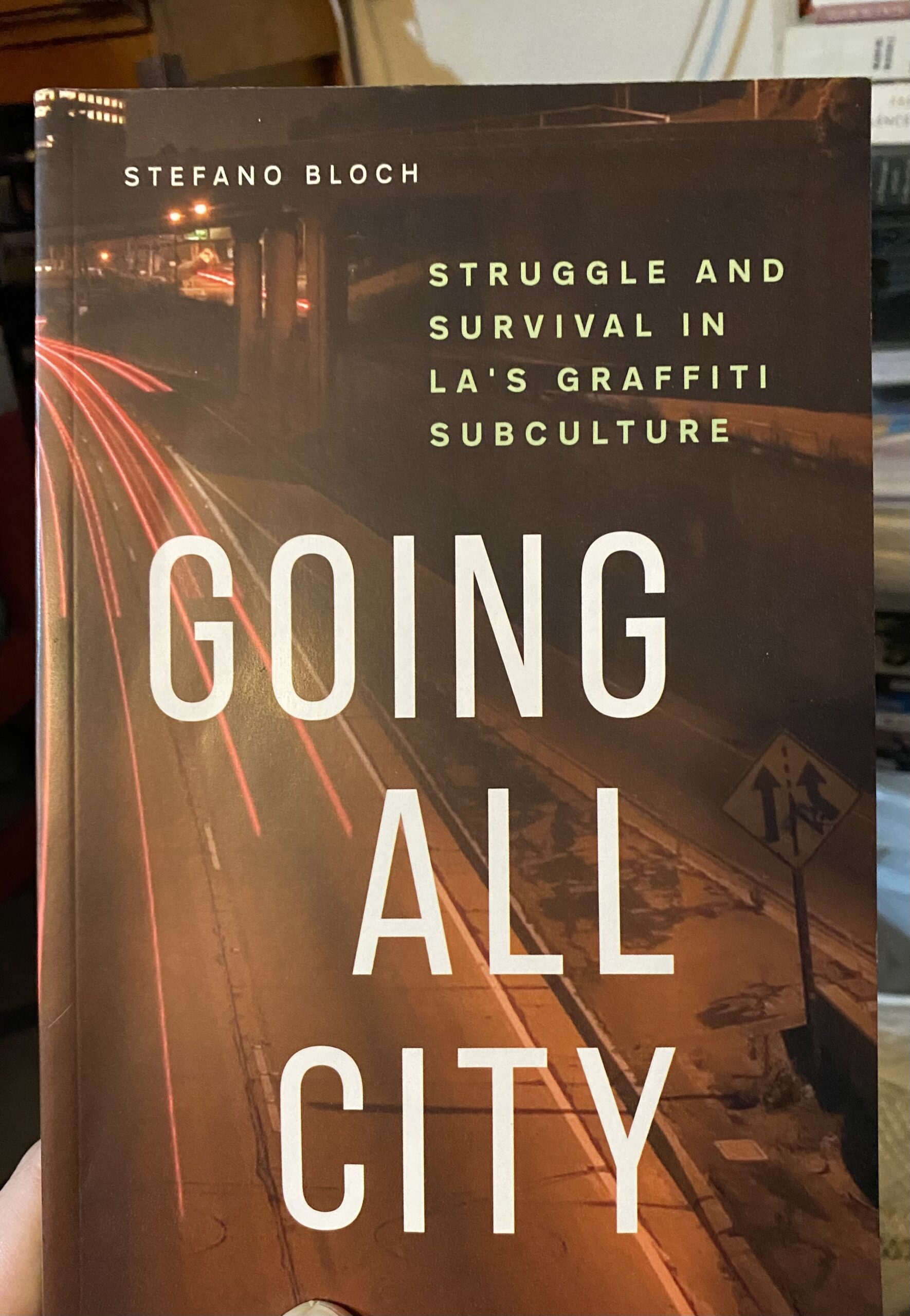 Going All City By Stefano Bloch
Prolific graffiti writer turned cultural geographer and professor Stefano Bloch aka CISCO, the author of Going All City, came of age in the heyday of the early 1990s Los Angeles graffiti culture. He grew up poor in the San Fernando Valley. Writing graffiti from his very early teens, Bloch eventually went to Los Angeles Valley College, UC Santa Cruz, and then to UCLA's Urban Planning School for his Masters and then the University of Minnesota for Ph.D. Ph.D. in Geography. As a graffiti artist in his teens, he knew the city intimately, so it makes sense he eventually excelled in geography. Bloch's memoir is autoethnography, which goes beyond an ethnographic accounting because it includes the author in the story. Bloch's book is a people's history of the San Fernando Valley and one of the best memoirs of someone growing up in the 818. From being hit by a car on the freeway to being chased by police to narrowly escaping getting shot, there's never a dull moment in this one.   
Collisions at the Crossroads
By Genevieve Carpio
Collisions at the Crossroads, by Genevieve Carpio, focuses on the evolution of the Inland Empire and how restrictions on free movement created segregated neighborhoods and how that shaped identity and racial hierarchies across the eastern suburbs of Los Angeles. Carpio shows how the Riverside Historical Society and many of the Inland Empire's Route 66 historians manipulate their region's history by remembering what they want to remember and ignoring the other accounts. The book's subtitle "How Place and Mobility Make Race" is demonstrated repeatedly with the sections on the Chinese Massacre, Mexican American Repatriation, the rise and fall of the orange groves, Route 66, and the construction of the Federal Highway System.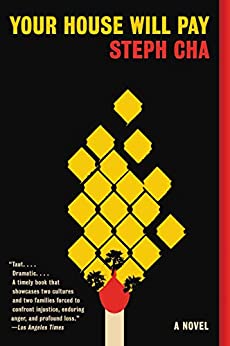 Your House Will Pay By Steph Cha
Winner of both a Los Angeles Times Book Prize and the California Book Award, this novel is loosely based on the 1991 murder of Latasha Harlins. After almost 30 years, the book begins with the Westwood riot in 1991 when New Jack City was released. Centered on two families, the plot travels from South Central to Granada Hills to Lancaster and Palmdale, weaving a narrative of Black and Korean relations that grapples with murder, racial tension, repentance, and the difficulty of forgiveness. The book's title was taken from a lyric in the 1985 Toddy Tee song "Batterram," about the LAPD's armored metal tank used to bash into crack houses. Filled with a reversal and unexpected plot twists, Cha's book is as contemporary of an L.A. novel as it gets.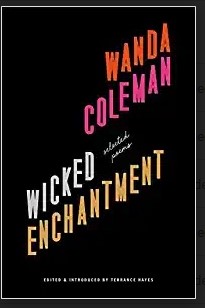 Wicked Enchantment By Wanda Coleman 
Though she passed in November 2013, the Watts-born poet Wanda Coleman remains more relevant than ever. This new posthumous collection is the first book of hers to appear after she passed. It features 130 of her most poignant poems selected from over 40 years of her work. The author of 20 books of poetry and prose, Coleman has probably written more poems about Los Angeles than just about any other scribe in the city's history. Terrance Hayes selected the poems in this book, and though some of her best known L.A. poems are not included, the pieces here emit wicked candor, satire, sincerity, and tenderness. Quintessential examples of her work like "I Live for My Car" and "Wanda Why Aren't You Dead" demonstrate her incredible range. "I will cut you  / with my tongue / my nails and the / butcher's knife," Coleman writes, and this collection is proof she can do it.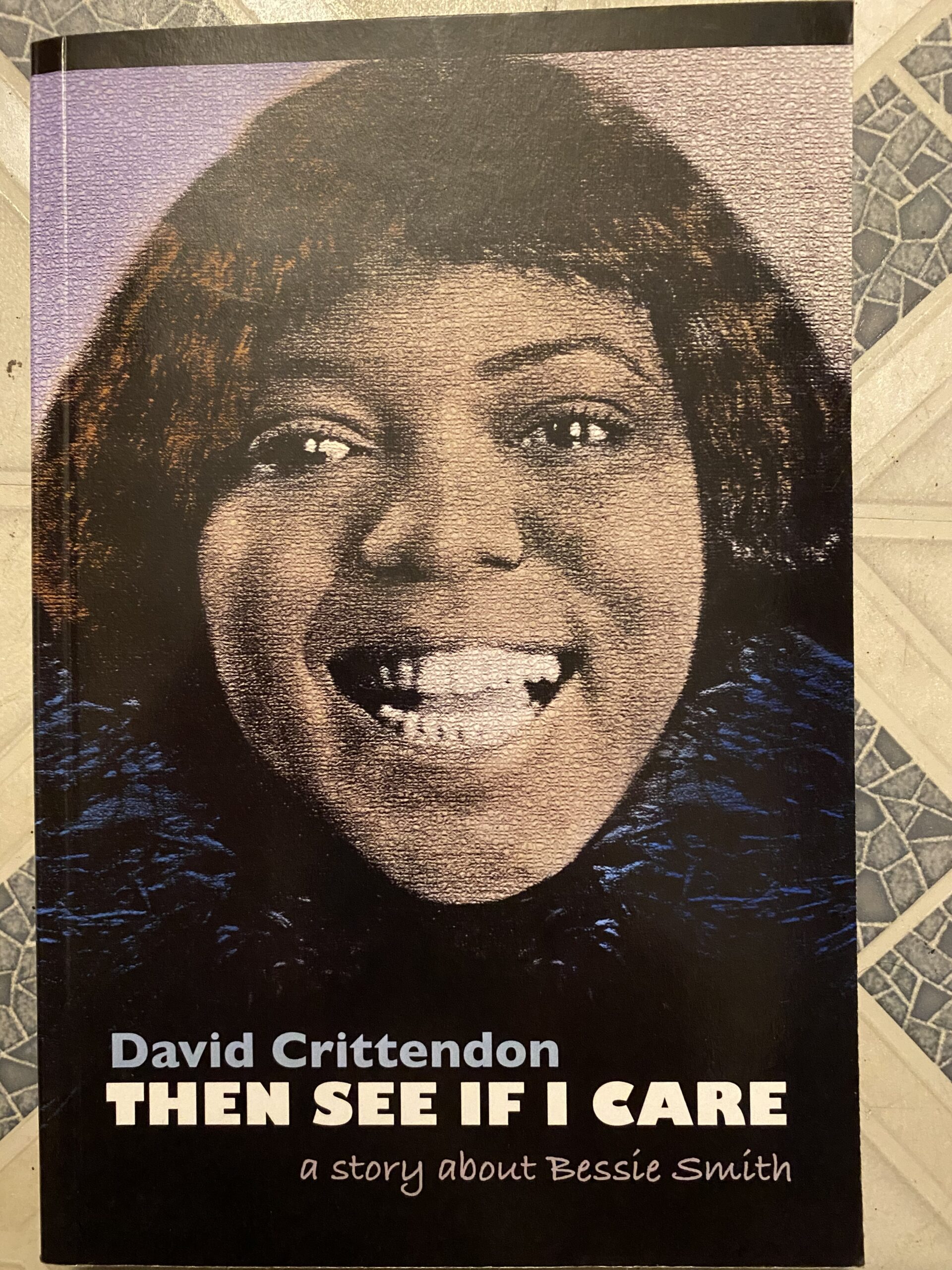 Then See If I Care By David Crittendon
David Crittendon takes Blues legend Bessie Smith and writes a fictional story based on her life. Arguably one of the first major musical celebrities, Smith's songs transformed popular culture in the Roaring 20s. Like "Gulf Coast Blues," records of her sold hundreds of thousands of copies when no one else did. "Within her performances," Crittendon writes in the Foreword, "are keys to the black experience, born in slavery, theft, and greed, where new systems of spirit and sound had to be constructed if black souls were to survive." Crittendon does not claim his book to be a biography. Instead, "it is invention born of observation, study and love for a time period and its subjects." Crittendon's been studying Smith since he worked in the Deep South in the Civil Rights Movement in the early 1960s. The book reads like blues fiction: "Death put ice cubes between my legs. If I hadn't had singing, the pressure would have crushed me."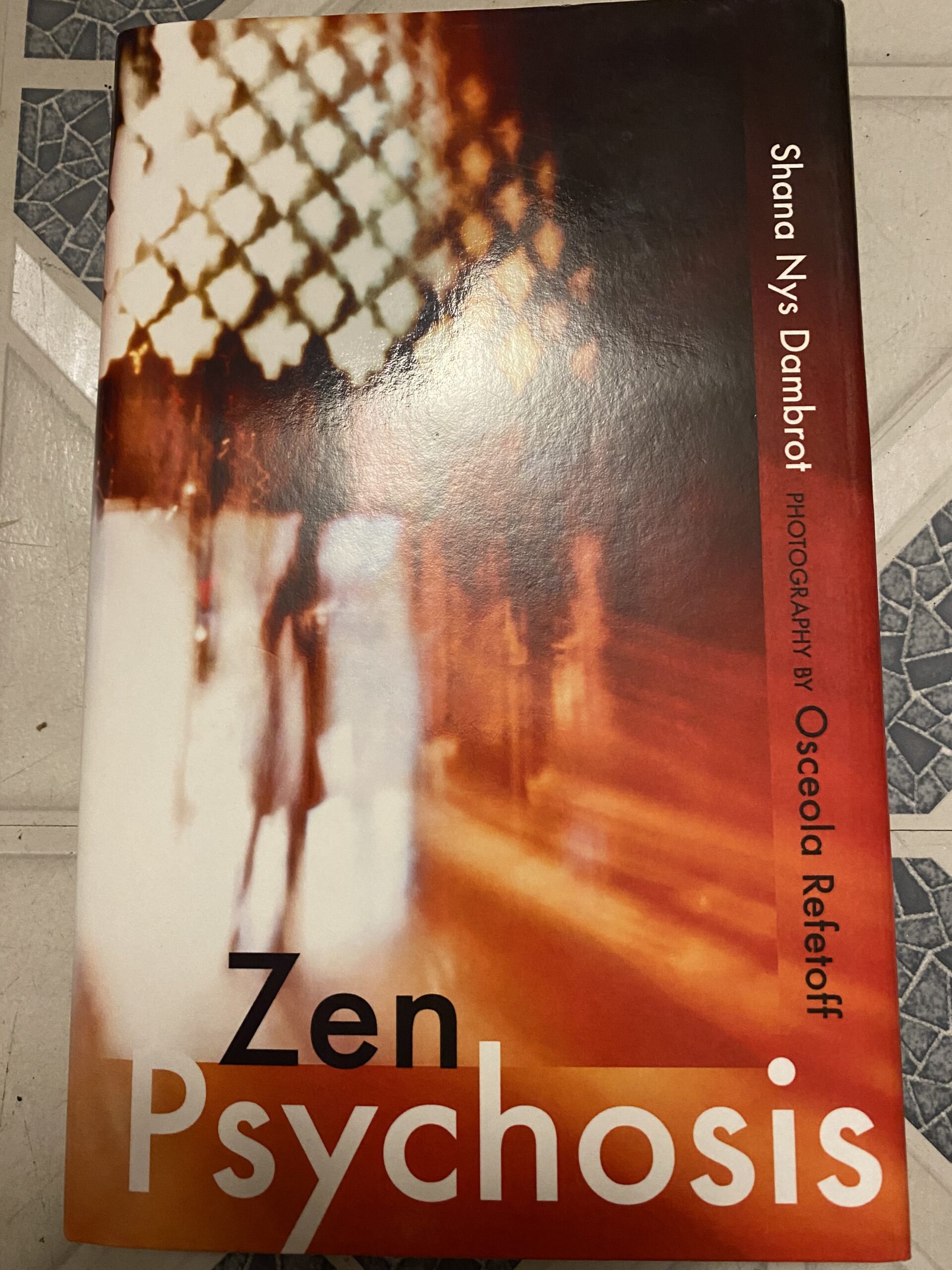 Zen Psychosis By Shana Nys Dambrot
This is experimental short fiction structured as a dream journal that becomes a memoir.  Accompanied by a portfolio of photos by Osceola Refetoff, the short chapters read like prose poems: "I was back at the beginning, at the first reception station. Resigned to the long walk back to the party, I was joined on the road by a big, burly Hell's Angel type, stuffed into a rented tuxedo." Shana Nys Dambrot is an award-winning arts journalist, and this book taps into Surrealist and Jungian notions of the narrative subconscious. Moving across geography from Downtown Los Angeles and Long Beach to Long Island and back again, the ocean and mountains disappear and reappear in a dizzying narrative that travels across time and space.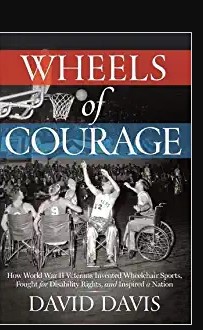 Wheels of Courage By David Davis
Spotlighting the invention of wheelchair basketball in the late 1940s and 1950s, this story shows how injured World War II veterans used athleticism to rise above their afflictions and pave the way for the Paralympic Games and other athletic events for people with disabilities. The story's transformative locations include the Birmingham General Hospital in the San Fernando Valley, where Birmingham High School is now located. Along with hospitals in Chino and Long Beach. Davis spent years interviewing surviving subjects and their family members. The book is also a tribute to the medical personnel like the nurses and doctors who encouraged the veterans to play wheelchair basketball to get their life back. Wheelchair basketball became a vehicle for these men to go from people with paraplegia to useful citizens. Their example showed the world that people with disabilities could survive and thrive when given compassion and support.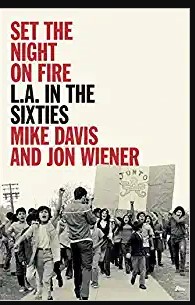 Set the Night on Fire: L.A. in the Sixties By Mike Davis & Jon Wiener
A history of the Los Angeles movements during the 1960s, Davis and Wiener show how the Black, Brown, Asian, Women, and Queer activists of the Vietnam era changed the city and America forever. In many ways, a prequel to Davis's legendary City of Quartz, this book shows the other side of Los Angeles in the 1960s beyond the typical stereotypes of Hollywood and the Beach Boys. Well over 600 pages, the young activists of the Black and Chicano high schools who started the 1968-69 walkouts play a starring role in this account along with the artists and writers from the Watts Writers Workshop, Gidra, and the Los Angeles Free Press. Davis was present in many of the moments he writes about, including the Watts Riots, the day Ruben Salazar was killed, and the Cal State Northridge protests. One of the main points is that they "invite younger historians and activists to enlarge and revise (their) account of this critical but misunderstood decade." This is a sourcebook for those who want to know the history of Los Angeles social justice movements.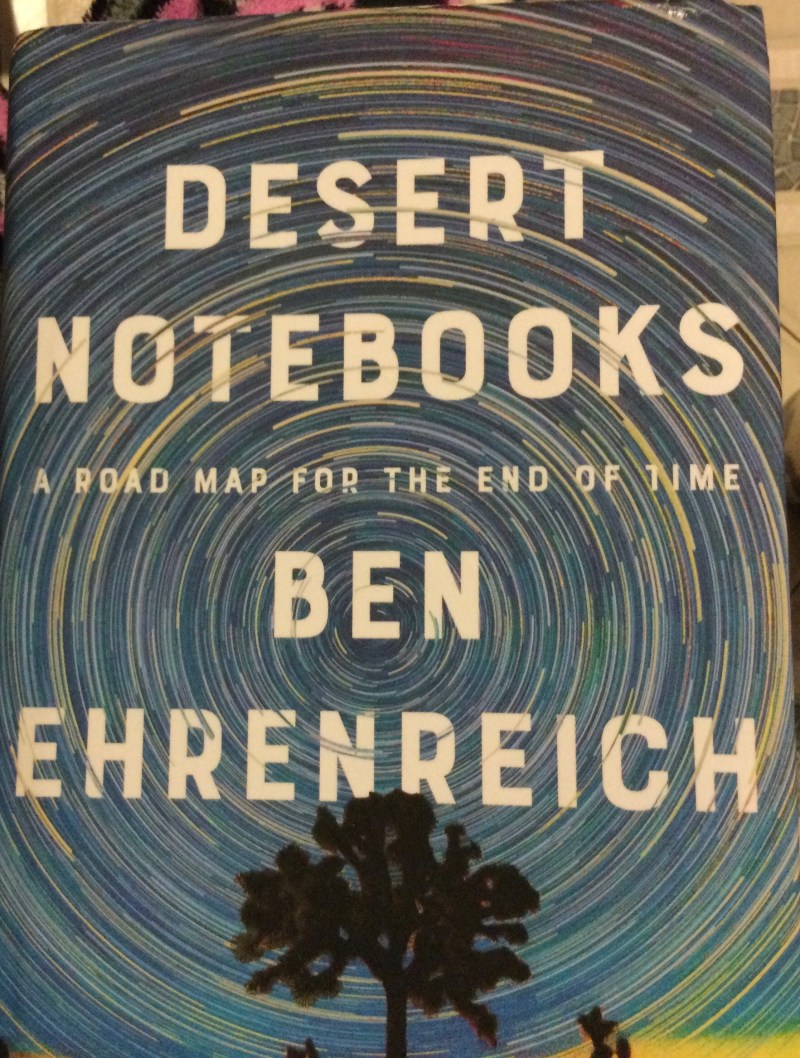 Desert Notebooks: A Road Map For the End of Time By Ben Ehrenreic
Beginning with the desert's ecologies and geologies, especially Joshua Tree and Las Vegas, award-winning columnist Ben Ehrenreich meditates on environmental and cultural history in a wildly fascinating interdisciplinary work. Mixing personal anecdotes and well-researched facts, there's a perfect mix of information, story, and reflection in the notebook like structure. Rife with imagery, some of the sections work like journal entries: "the moment the rain begins to fall, the smell of creosote spreads across the desert. The air is crisp and cold now, the mountains white at last with snow." Ehrenreich connects Native American legends to science fiction novels to the ice age and back again, and somehow it all makes sense.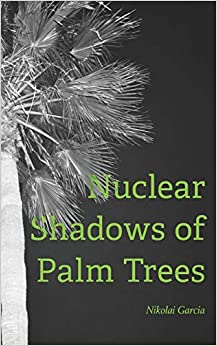 Nuclear Shadows of Palm Trees
By Nikolai Garcia
Nikolai Garcia is the Assistant Editor of Dryland and the author of straightforward, heartfelt poems. His poems like "Wanda Coleman's Roar" and "Everyone is Flirting with the New Waitress" combine vulnerability and wit into sublime poetics. Ingrid Calderon-Collins exclaims, "He is a native plant reminiscing on the hours, days, and years that've passed him by. We become the infrastructure of his heart, the soft tissue of his agony." He makes heartbreak beautiful. Garcia tells us, "I have a room / in my house where / it rains all day. This / is the reason why / my shirts are always wet. / I don't want to hold on / to this grudge. But / everywhere---everything---is painted / with memory." Garcia remembers it all.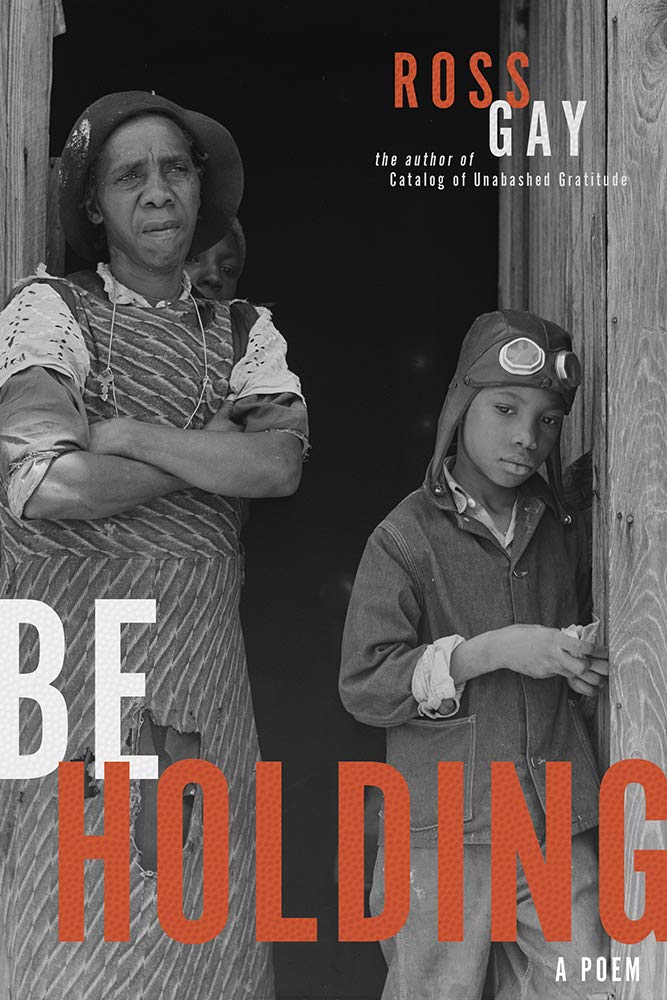 Be Holding By Ross Gay
Using the form of one long epic poem, Ross Gay starts at the 1980 NBA Finals with the iconic reverse layup Julius Erving aka Dr. J made against the Lakers. It seems like an ode to Dr. J, his favorite player of all time, on the surface. Still, through the countless extratextual references within the poem like Kareem Abdul Jabbar, Jamal Wilkes, Heavy D,  Run DMC, and his memories playing basketball, Gay shows how basketball connects to American history, the Middle Passage, state surveillance, police violence, and his own mixed-race identity. Watching basketball is a meditation for Gay that he uses to remind us to breathe and pay closer attention. Gay's characterization of Dr. J "descending a great staircase made of air with joy" shows how one magical moment can be timeless, bring people together and offer a deeper connection to what life really means.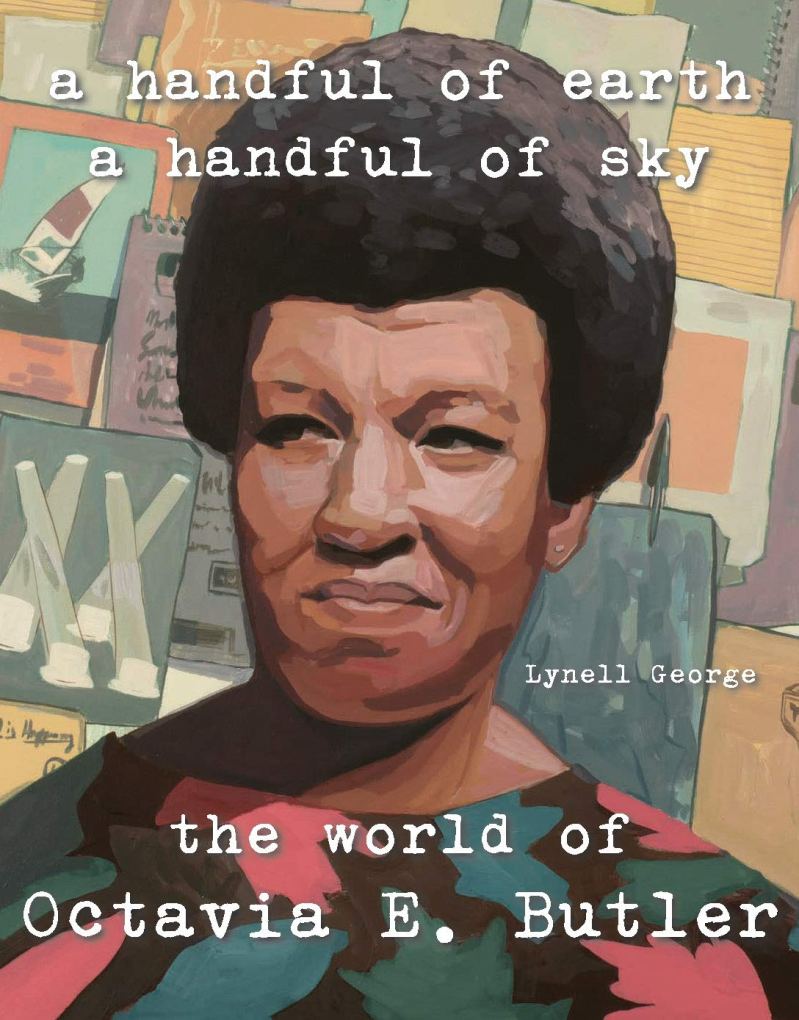 A Handful of Earth, A Handful of Sky By Lynell George 
A Handful of Earth, A Handful of Sky showcases the inner world of Octavia Butler and how the Pasadena-born science fiction author made her dreams come true against all odds. The Grammy-Award winning journalist Lynell George spent four years in the Butler archive at the Huntington Museum diligently moving through almost 400 boxes of Butler's personal items, including notebooks, to-do lists, recipes, scraps of paper, letters, bus passes, library cards, receipts, and other ephemera to meticulously uncover how Butler constructed herself through a regimented a recipe of reading, writing, and ritual. Though Butler passed in 2006, her work has never been more popular. Butler's Parable of the Sower reached number 1 on both The New York Times and Los Angeles Times bestseller lists in the Fall of 2020, 27 years after original publication. George's book shows how Butler expanded space and time through her discipline and concentration and offers a roadmap for those who want to do the same.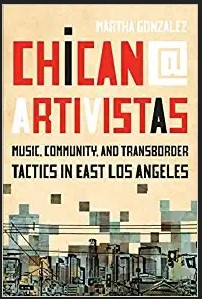 Chican@ Artivistas: Music, Community & Transborder Tactics in East Los Angeles
By Martha Gonzalez
Martha Gonzalez is best known as the lead vocalist for the Grammy-award winning band Quetzal, but she is also an Associate Professor in Chicano/a Studies at Scripps/Claremont College. Combining personal narrative, academic theory, and autoethnography, she discusses her band Quetzal's participatory community practices, her lifelong journey as a musician, and a larger portrait of the visual, musical, and performance art produced in East Los Angeles over the last 30 years. Moving from her upbringing with her musician father to the Zapatista movement to the rise of Quetzal, Gonzalez shows how music is "a conduit of freedom and a malleable tool for those who envision social change." Moreover, she demonstrates how art practices can be used "to go beyond resistance, into actively building on the dream and tangible enactments of new worlds."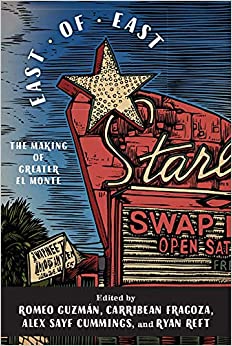 East of East: The Making of Greater El Monte Edited by Romeo Guzman, Carribean Fragoza, Alex Saye Cummings and Ryan Ref
The 31 essays in this edited collection represent a three-century El Monte, South El Monte, and the San Gabriel Valley history. Combining creative nonfiction, oral history, and traditional scholarship, the various writings here reclaim the histories and geographies of the urban fringe these writers call "east of east." What makes this area so significant is that it's been a point of "contact between farmworkers, punks, white supremacists, suburbanites, Zumba dancers, and civil rights activists." The book's spirit writes against the pioneer narrative that falsely claims El Monte is the end of the Santa Fe Trail. As the book's introduction states: "these communities are part of a much bigger story of colonization and conquest, labor and culture, race and suburbanization at the fringe that has not yet been told." East of East recenters race, labor, migration, women, music, and urban development in the microhistories shared in each essay. In the book's Epilogue, Wendy Cheng celebrates the San Gabriel Valley's everyday cosmopolitanism as "a crossroads and a destination, a central part of the great drama of a multiethnic, metropolitan, urban-suburban life that continues to transform cities across the United States in the twenty-first century."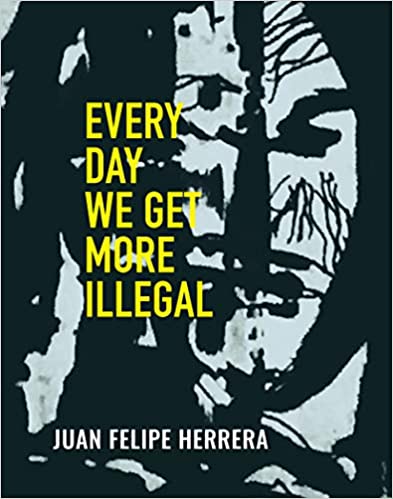 Every Day We Get More Illegal by Juan Felipe Herrera
From 2015 to 2017, Juan Felipe Herrera served as the United States National Poet Laureate. As the first Chicano to serve in this esteemed role, he went all over America for two years using poetry to expand consciousness and bring people together. The poems in this new collection are dispatches from his travels. Herrera has deep roots in San Diego, the Bay Area, and L.A. and was the California Poet Laureate from 2012 to 2014. His work is always newer than tomorrow, loaded with urgency. "I will write in rhythms as the words come to me / you will walk in —- this is my hope." Herrera is a poetic Dalai Lama, and these poems celebrate oneness. "I am still here," Herrera writes, "here yes for you / I am."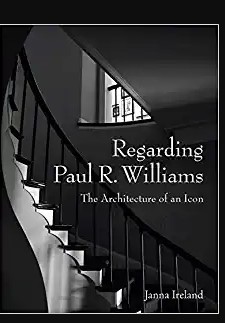 Regarding Paul R. Williams By Janna Ireland
Born in Los Angeles in 1894, Paul Revere Williams is one of the greatest architects in our city's history. This new book from Angel City Press features over 200 pages of black and white photographs of many of Revere's best-known projects. Known as the "Architect to the Stars," Williams designed close to 3,000 structures, including homes for Lucille Ball, Frank Sinatra, and Barbara Stanwyck in exclusive neighborhoods where he could not even live at the time because of the color of his skin. As Janna Ireland writes in her book's Introduction, Williams "was the first Black certified architect west of the Mississippi and the first Black member of the American Institute of Architects." Though Williams died in 1980, similar to Octavia Butler, his work is now more popular than ever. Ireland crisscrossed Southern California and Southern Nevada, shooting the houses, churches, staircases, and mausoleums featured here. Essays by architect Barbara Bestor and Professor Ingalill Wahlroos-Ritter add further context to Williams' work. The photography is as elegant as his design, and the book is a fitting tribute to a man who transformed the landscape of Los Angeles more than almost anyone.     
The Music Finds A Way, By Steve Isoardi
This short book uses oral history to tell the stories of musicians who grew up in Watts, Compton, and South Central after World War II. The book emerged because as the author was working on The Dark Tree---the book about Horace Tapscott's Pan Afrikan Peoples Arkestra—the musicians he interviewed told him many compelling tales about their childhood. In the process of listening, author Steve Isoardi "lamented how many marvelous stories ended up in abbreviated form or on the cutting room floor, forced by the need to focus just on that story." Sharing coming of age anecdotes while also spotlighting music teachers like Samuel Brown, Percy McDavid, Milton Hall, and Chuck Edwards, the testimonies collected show how these artists "were able to discover and forge culturally-focused artistic lives while growing up in the challenging social conditions of Los Angeles's postwar black community."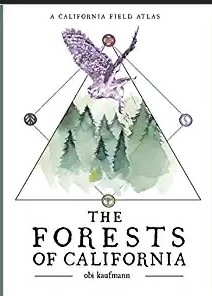 The Forests of California by Obi Kaufmann
Artist-naturalist Obi Kaufmann blends science and art better than just about anyone to spotlight biodiversity. His work uses his hand-painted watercolor maps with diagrams and trail paintings combined with poetic and scientific explanations for each image painted. In the summers, Kaufmann spends more nights outdoors than indoors, and he knows every corner of California. He goes species by species and region by region to meticulously illustrate California forests from Anza Borrego to the Redwoods. This is his third book for Heyday Books and has two more on the way: The Coasts of California and The Deserts of California. Advocating a concept he calls geographic literacy, Kaufmann believes the first step for sustainability is raising awareness and that citizens will protect what they love. His work includes hundreds of maps and just as many facts about California forests.  
The Autograph Book of L.A. By Josh Kun
In 1906, City Librarian Charles Fletcher Lummis launched the Autograph Collection for the Los Angeles Public Library. This new book builds on Lummis's original idea by including over 100 years of autographs, grassroots signatures, graffiti tags, and eclectic markings from Langston Hughes to Mister Cartoon, Booker T. Washington to Angelyne. The third volume in a series of books by Josh Kun inspired by the special collections of the Los Angeles Public Library, the 200 plus pages of memories in this work offer a vernacular history of our city from the Arroyo Seco riverbed to the Grauman's Chinese Theater to etchings under a city bridge. To launch the project, they held an autograph day at branch libraries in summer 2018, where they invited everyone in the city to come and add their autographs to the Library's collection. Working in conjunction with current city librarian John Szabo, the book intends to spotlight a socially inclusive urban history. From Fernando Valenzuela to Charles Bukowski to Gajin Fujita to Jane Addams, the array of autographs presented here offer an evocative alternative Angeleno history.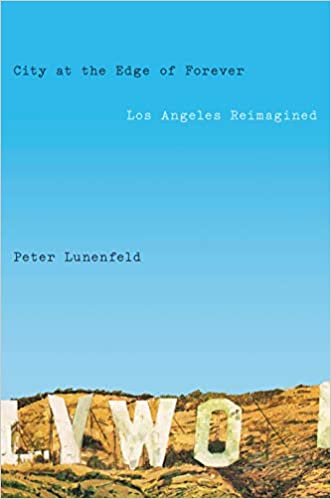 City At the Edge of Forever By Peter Lunenfeld
Lunenfeld's essays reimagine Los Angeles, "creating a series of internal connections between the disparate, but also around common themes." Art, architecture, and design are at the center but literary, and entertainment histories overlap as a wide array of extratextual references pepper the narrative from Cabrillo's 1542 arrival in California to the Kogi Truck to former LAPD Police Chief Daryl Gates to Dia de Los Muertos. Some of the obscure esoteric stories shared within these pages make the book fascinating, from Sandstone's erotic utopia to the aerospace industry's secret history. Lunenfeld knows where many of the bodies are buried, and a few of them are mapped in these pages.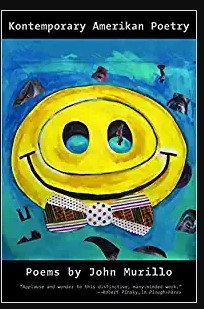 Kontemporary Amerikan Poetry By John Murillo
Though he now teaches at Wesleyan University and lives on the East Coast, John Murillo grew up in Los Angeles. This new book's centerpiece is a 15-sonnet cycle of poems on racism and police violence against men of color. Skillful references to Marvin Gaye, Biggie, Terrance Hayes, Ernie Barnes, Etheridge Knight, Amiri Baraka, Phillip Levine, Bob Kaufman, Gil Scott-Heron, Robert Hayden, Robert Frost, Yusef Komunyakaa, and Elizabeth Bishop reflect his influences, and he masterfully responds to all of them in commanding poetry. Meditating on confessionalism, epiphany, prosody, negative capability, and contemporary American poetry, Murillo breathes in the boulevard.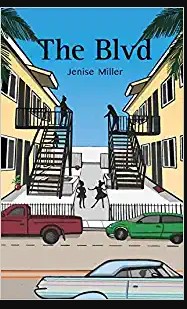 The Blvd. By Jenise Miller
Poet Jenise Miller grew up between Watts and Compton. Her first book of poems, The Blvd, maps the streets of her youth. An urban planner and cartographer with a Masters in Urban Planning, Miller even includes a few of her own drawn maps in the book. These highly original poems make language beautiful. "Jacarandas" is a concrete poem shaped like the tree, and many of these poems name streets like liturgy. Eight short poems recount her time spent on different streets with her family in her childhood. The fifth line, "On Lakewood," states, "At an astronaut / hotspot turned decayed motel, / her family's next steps / uncertain as the new moon. / Here, she learned to not take space."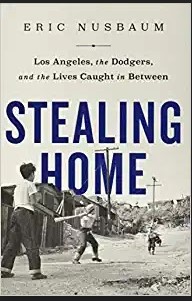 Stealing Home By Eric Nusbaum
It only makes sense that one of the best Los Angeles books of 2020 would be about the Dodgers in a year when they won their first World Series after 32 years. Nusbaum's book tells the story of not only how Dodger Stadium emerged out of the dusty hills of Chavez Ravine, but the intersecting background history of "corruption, Communism, racism, misguided idealism, displacement, grand visions, evil schemes, and.. mystical power of baseball" that culminated and unfolded in the two decades before the Stadium was built. As a native Angeleno and lifelong baseball fan, Nusbaum's passion project involved close to 15 years of research that began when Frank Wilkinson spoke at Nusbaum's high school in his junior year in 2004. Of course, Wilkinson was a public-housing official in Los Angeles that figures prominently in Chavez Ravine's erased history. This book tells his story, the story of initially displaced Chavez Ravine residents like Abrana Arechiga and several other overlapping stories about critical figures like Jackie Robinson, Paul Robeson, Duke Snider, Fritz B. Burns, and Clifford Clinton. It's all in here.
Read the L.A. Taco review of Stealing Home by Melissa Mora Hidalgo here.  
Read Me, Los Angeles By Katie Orphan
Katie Orphan managed The Last Bookstore in Downtown L.A. for a decade, and her new book is a product of the last ten years she spent deeply immersed in literary Los Angeles. Mixing portraits of authors with lists upon lists, there's an encyclopedic quality to the text that comprehensively catalogs the last century of LA letters. Beyond just fiction, nonfiction, and poetry, Orphan names the children's authors, the bookstores, the publishers, literary landmarks, and libraries. Many maps are included, and hundreds of books are cited along with more about Octavia Butler, Luis Rodriguez, Wanda Coleman, Eve Babitz, Joan Didion, Raymond Chandler, Naomi Hirahara, David Ulin, Kamau Daaood, Ray Bradbury, Charles Bukowski, and Aimee Bender among many other LA authors.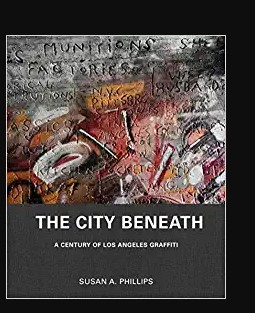 The City Beneath By Susan Phillips 
The City Beneath, written by Susan Phillips, is a history of 100 years of Los Angeles graffiti. Phillips shows the city beneath and opens up the lens on the sheer breadth of what graffiti really is and the many different types of people who write it. Phillips spent over 25 years collecting the stories and images. In the storm drains, she climbed under the bridges and drove to every corner of the metropolis. "The project's method," she writes, "involves something I think of as uncovering rather than discovery. Uncovering is the opposite of a colonial project. It resists multiple layers of erasure by drawing attention to the destruction of neighborhoods, the whitewashing of people's experiences, the promotion of patriarchy, the insularity of blue-collar labor, and the development and demise of subcultures." The 16 chapters show how thorough her work is: "Hobos, Queers, Kids, Prisoners, Pachucos, Enlisted Men, Railroaders, Surfers, Radicals, Killers, Cholos, Punks, Grips, Explorers, Seafarers, Taggers." Phillips shows how "Graffiti is a mode of community building and self-affirmation, a way to anchor wandering and to relieve oppression."    
Language Arts Unit: A Rap Textbook By Rhys Langston Podell 
For the last five years, Podell has emerged as one of the most inventive avant-garde local lyricists, and this book is an accompaniment to his latest 11-song album. Equally skilled on the page and the stage, Podell writes an extended opening essay breaking down his poetics before the book's second section features the lyrics to the record's 11 songs. "The intention, simply put," he writes, "to freak the form and the content past any symbolic expectations; to have the words breathe through the page and bang in any speakers." As an interdisciplinary autoethnography, Podell explicates the future of hip hop, race relations, and digital literacy within the context of his lyrics and the music he makes. The man knows how to connect the dots between intersectionality and your favorite MC. In his own words, "some have called this / alternative rap / conscious hip-hop / postcolonial rap / free jazz poetics / hardbop trap / ebonic-techno-Yiddish." Language Arts Unit is all of this and more.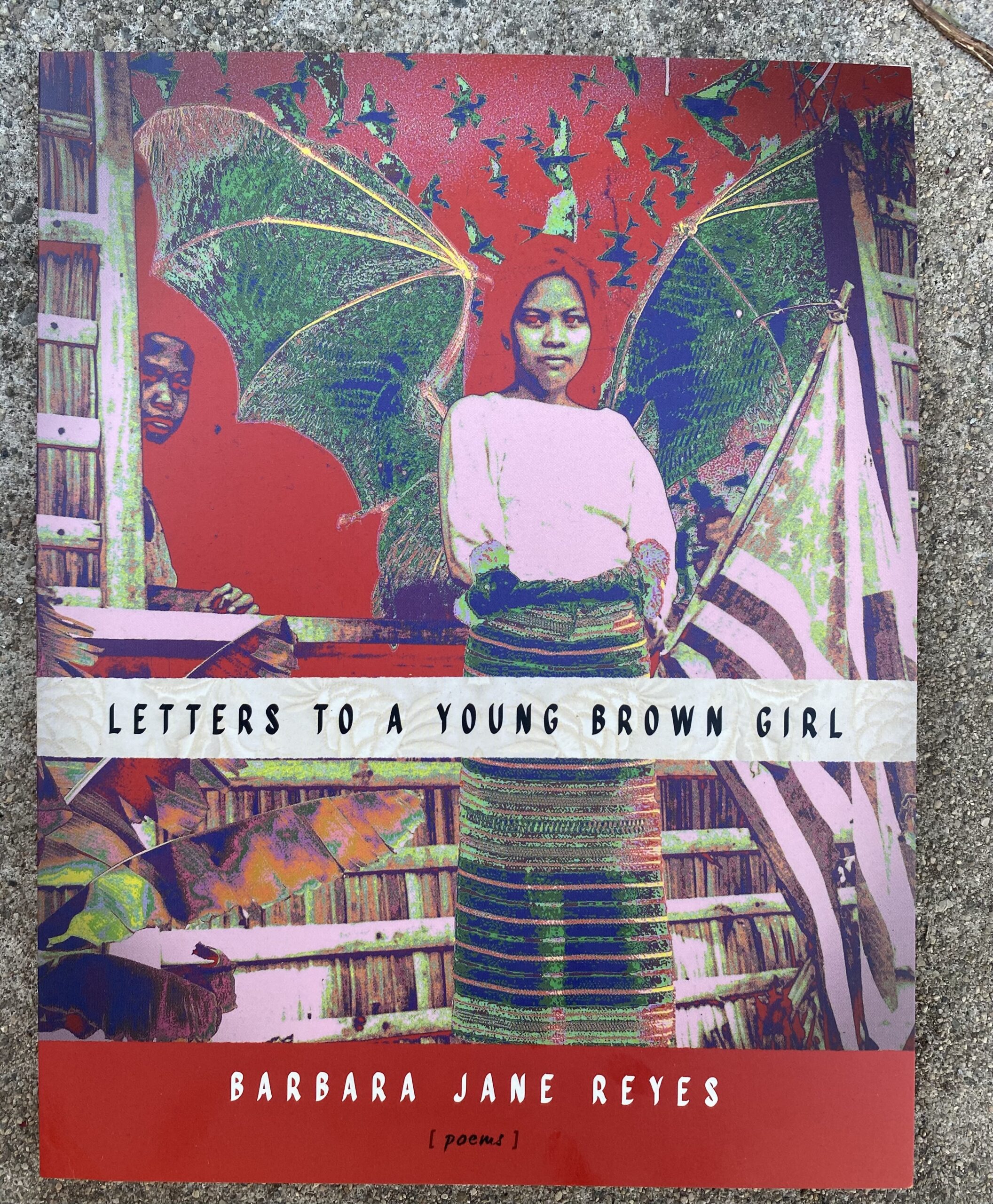 Letters To A Young Brown Girl By Barbara Jane Reyes 
Bay Area native Barbara Jane Reyes provides answers for Filipino American girls and young women of color with her courageous, inventive, and dynamic poems. She celebrates generations of women from her mother to her many students continuing her previous books' velocity like Invocation to Daughters and Poeta en San Francisco. A finalist for the California Book Award, Reyes mixes the personal, political and formal seamlessly into precise lyrical prayer-poems. Divided into three sections, Brown Girl Designation, Brown Girl Mixtape, and Letters to a Young Brown Girl, the 39 poems sing with intention and care for her readers. In the poem, "#AllPinayEverything," she meditates on what it means to be Filipina, and she celebrates and laments her father, "Because our being, our breathing, our speaking were never guaranteed; because our father's bones rest in this land and we have grieved; no, I will never leave this place, and no, I will never leave him; because his roots, this land are also mine." Reyes bridges generations of Pinay Poetry, which is why she's an icon to poets across the country.
From Our Land to Our Land By Luis J. Rodriguez
These 12 essays on race, culture, and identity from former Los Angeles Poet Laureate Luis J. Rodriguez propose an antidote to xenophobia and intolerance and celebrate seeing Los Angeles with other eyes. "My story," he declares, "is the story of the 'other' Los Angeles." Rodriguez offers another vision, "one with beauty, healing, poetry, imagination, and truth." He is "compelled to help us imagine and realize another world." This book is in many ways a sequel to Rodriguez's 2001 book, Hearts & Hands. Though he's best known for his 1993 memoir Always Running, Rodriguez's son Ramiro says Hearts & Hands is his masterpiece because it's the book where he explains his philosophies further. From Our Land to Our Land carries on this earlier book's spirit of community building and restorative justice. Rodriguez calls for a return to indigenous knowledge systems and rejection of the scarcity mindset.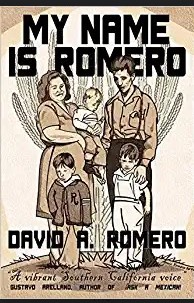 My Name is Romero By David A. Romero 
Gustavo Arellano calls David A. Romero "a vibrant Southern California writer," and he's right. For the last 15 years, Romero has pounded the pavement from San Diego to Santa Barbara, shouting poems grappling with history, identity, etymology, and politics. This new collection contains many of his best-known poems, along with stories from his grandfather. Romero presents an alternative history of the Southwest and writes raw open letters to Donald Trump, Katt Williams, and Edward James Olmos. Above all, he states: "Remember those who have come before / those we know / and those lost to history."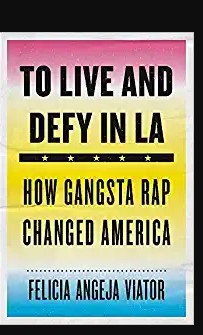 To Live And Defy in LA By Felicia Angeja Viato
Viator shows how gangsta rap emerged as a product of Reaganomics, deindustrialization, white flight, and the California tax revolt. Furthermore, she shows how these processes transformed South Central, Inglewood, and Compton to produce the culture that artists like Uncle Jamm's Army, the LA Dream Team, and NWA came out of. Spotlighting the radio DJs, independent record labels, local music producers and pioneering gangsta rappers, "this is a history of a West Coast phenomenon that was, in the tradition of the blues, a form of blunt self-expression, and thus a portent, if not immediately obvious, response to systems designed to silence and control black people." There have been other gangsta rap histories, but what makes this one excellent are the many candid stories about crucial groups like the Coalition Against Police Abuse, Macola Records, and KDAY 1580 AM radio. This is a deep dive into a legendary era that is often misunderstood.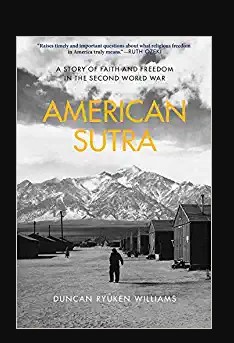 American Sutra By Duncan Ryuken Williams
Williams shows another side to the World War II history of Japanese American Internment Camps by focusing on the JA experience's Buddhist dimension. Immediately after Pearl Harbor, the FBI was especially wary of Buddhist church officials, so many Buddhist monks from various Buddhist temples across America were among the first JAs arrested by the feds in 1942. Williams tells the story of many of these monks and how the Buddhist communities in Boyle Heights, Little Tokyo, and Seattle adjusted to life in the internment camps at Manzanar, Tule Lake, and other internment camps across the country. "These Buddhists," writes Williams, "faced hostility and suspicion before Pearl Harbor, recrafted their sangha on desolate camps behind barbed wire and under martial law in Hawai'i, and served and sacrificed on the battlefields of the Second World War." This is an inspiring story of Americans keeping their faith even after their own country betrayed them.
A Final Word
There are many more great books from 2020, but these 32 resonate exceptionally with contemporary Angeleno culture. As the year comes to a close, it looks as if the quarantine won't be ending anytime too soon. If you need some new titles, these books are here for you. Let me know if I missed any and if so, write your own list because we can never celebrate too many books.
Mike Sonksen aka Mike the PoeT is a 3rd-generation Los Angeles native. Poet, professor, journalist, historian and tour-guide, his latest book "Letters to My City" was just published by Writ Large Press. He teaches at Woodbury University.
Stay in touch
Sign up for our free newsletter