News
Anatomy of a Rent Strike ~ L.A. Taco Investigates
10:55 PM PDT on October 1, 2018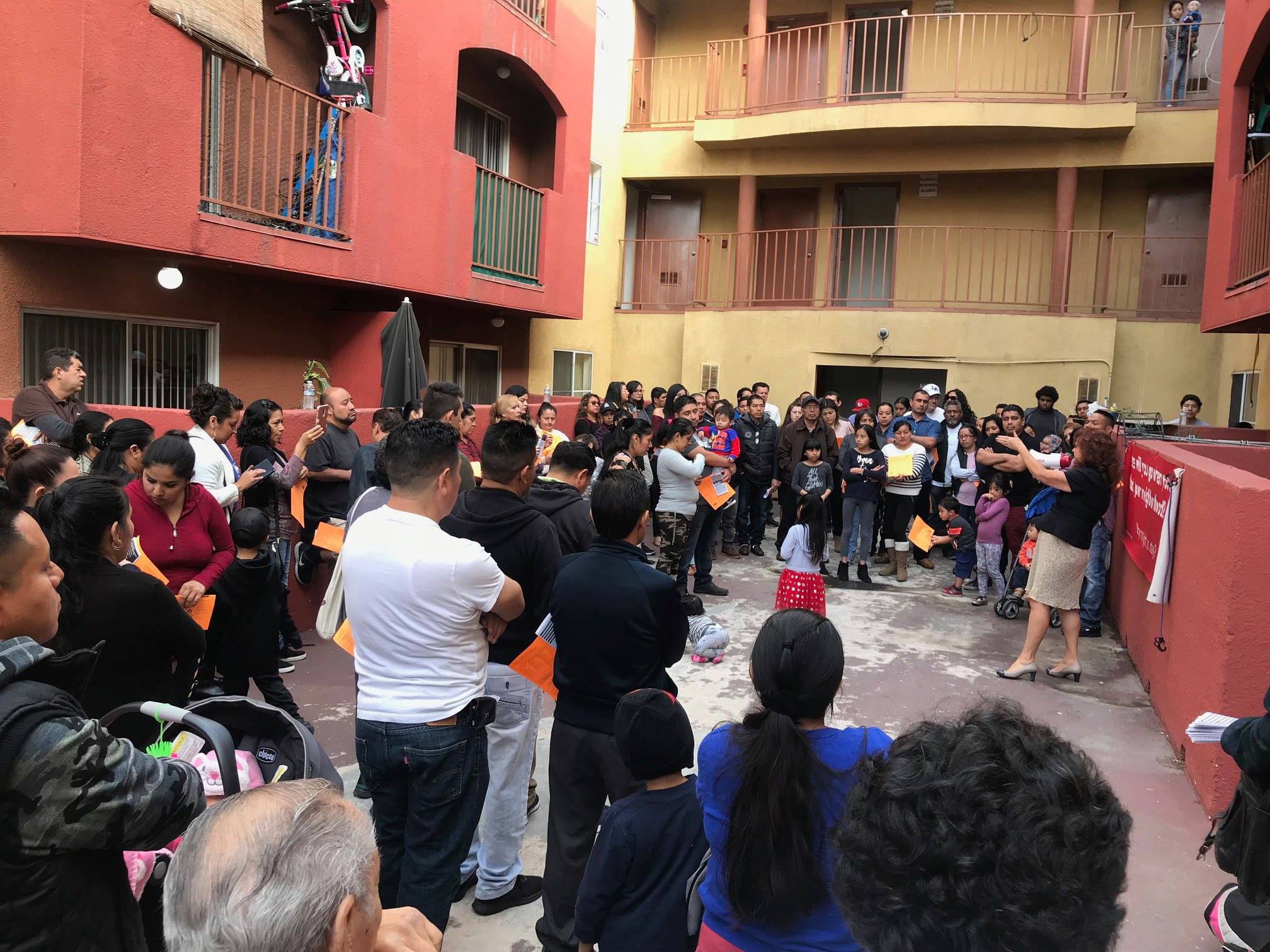 [dropcap size=big]I[/dropcap]t started on a Monday – Feb. 5, 2018 – with an anxious group of tenants gathered on the sidewalk before their home, the Burlington Avenue Apartments. That day, unbeknown to those involved, would spark the largest rent strike in the history of Los Angeles.
"We didn't know each other, we were just outraged," said renter Ray Estrada. "We felt like we needed to do something."
A few days earlier, every unit across the trio of multistory apartment buildings in Westlake had received notice of rent hikes of 20 to 40 percent. Many renters knew they couldn't pay, but even for those who could, forking over several hundred dollars more each month didn't square with years of inhumane treatment the tenants had endured.
Shared stories of abuse and appalling living conditions — filthy common areas, cruel property managers, roaches, rats, and sewage floods, to name a few — pulsed through the fearful crowd that day, the first beats of something much larger to come.
"I didn't even know the [issues] that other people were having in their units until we got together and I started hearing the stories," Estrada said. "That's when I got shocked. I had to take two, three steps back."
RELATED: Support Community Journalism Like This By Becoming a Member of L.A. Taco
Residents felt the rent increases weren't about fairness; they were about eviction. "The owner of the building, that's what she really wanted: people out," Cutberto Camero, a tenant who was at the Feb. 5 gathering, told L.A. Taco. But the tenants, mostly low-income Latino immigrants, had no clue how to protect themselves. Their answer came in the form of "happenstance."
"We were just trying to find a solution," Estrada said. "That's when Trinidad came."
Trinidad Ruiz, a volunteer organizer with the Los Angeles Tenants Union says he encountered the crowd on his way home from lunch.
"I was walking down the street and happened to see 200 people outside completely floored about the rent increases they were getting," Ruiz recalled. He began collecting information from worried tenants, indignation growing as he heard their stories. He even spoke on their behalf to Univision.
"From that day on, Trinidad was with us," Estrada said.
Things happened quickly in the weeks that followed. Ruiz reached out to tenants' rights lawyer Elena Popp to give a "know-your-rights" presentation.
"It was amazing," Camero recalled. "It felt like God was in our favor."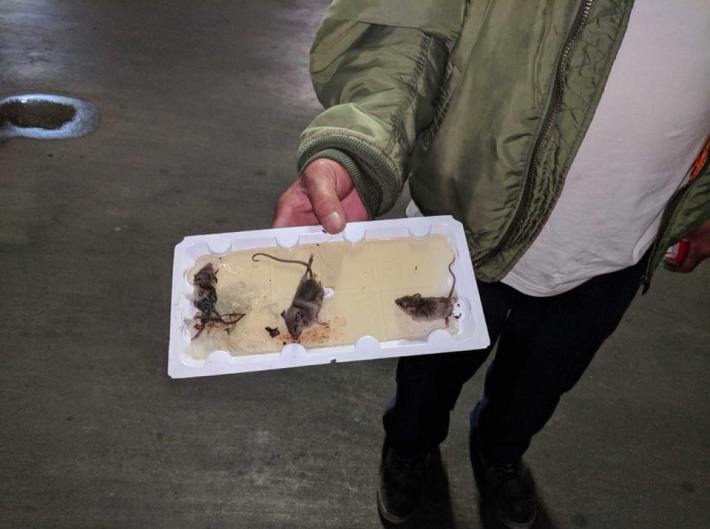 Over the course of three meetings held in a Burlington courtyard, Popp laid out the legal options available to residents: move, accept the increase, or stop paying rent. Number three was only available because all California tenants have an "implied warranty of habitability," meaning landlords are required to maintain basic livability standards.
If that warranty is breached, tenants are within their rights as Californians to withhold rent.
We thought we were going to die right there.
Such a move is not without risk. If a mediation cannot be reached and the landlord chooses to open eviction proceedings, the dispute is to be decided by a judge or a 12-person jury. Fail to prove your case before them and you'll not only be evicted, but you'll still have to pay the withheld rent and possibly the landlord's legal fees. Win, and your rent will be reduced until the necessary repairs are made. According to Popp, she made sure the enormous stakes were not lost on the strikers.
"At no point did I or the tenants' union advise the tenants to go on rent strike," said Popp, who is taking the cases pro bono as part of her non-profit firm, the Eviction Defense Network. Documents reviewed by L.A. Taco show Popp produced detailed flow charts, composed in both Spanish and English, to help the tenants understand their choices and the associated consequences.
In their second February meeting, on the 17th, the tenants named themselves Burlington Unidos. They formed a leadership structure and established lines of communication. A week later, Burlington Unidos voted unanimously to fight. The demands were clear: "respect, repairs, and reasonable increases."
The collateral was steep: either win, or lose their homes.
RELATED: More Than 90 Rent-Striking Families in Westlake Are Facing Mass Eviction by a Wealthy Westside Landlord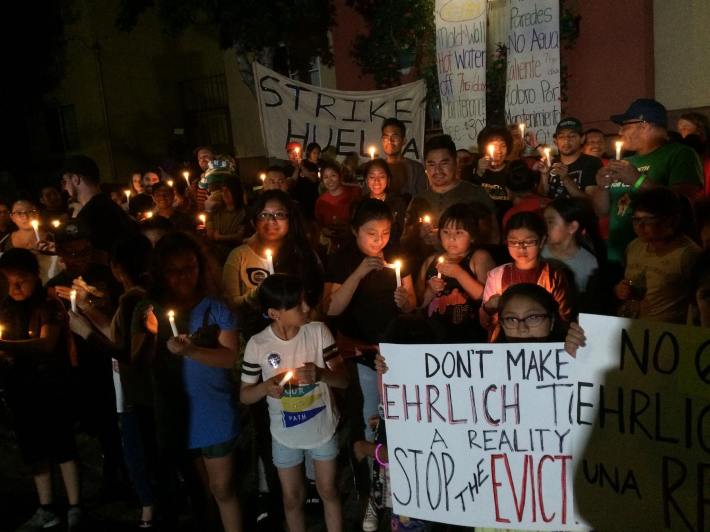 Rent Strikes L.A.
[dropcap size=big]R[/dropcap]ent strikes are growing more common in L.A.'s pressure-cooker housing market, but this is believed to be the largest in the city's history. A strike currently unfolding in Highland Park, also involving LATU and detailed by L.A. Taco, is similar in origin but involves just 24 units.
Though Burlington Unidos has united hundreds of individual cries for help into a collective voice, every member had their own reason for committing to the strike.
A January alley fire outside his first floor apartment burned hot in the mind of Burlington resident Antonio Llamas and still does today.  Started by an unhoused Angeleno warming up in the winter chill, the blaze got out of hand, threatening to light old furniture and empty boxes left outside Llamas's window. It was a problem he said he had raised with the building management.
"My kids, they were crying. We thought we were going to die right there," he told L.A. Taco in an August interview. "Every time [management] evicts somebody … the first thing they do is throw [their furniture] right there. I told them so many times, you can't do that."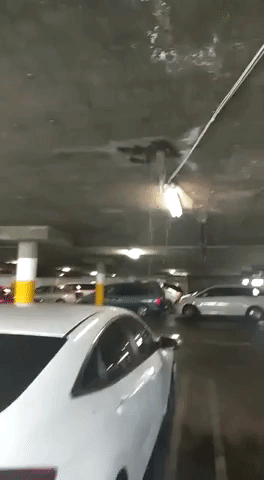 Llamas said unnecessary, often-ignored dangers like that were why so many Burlington residents grew fed up. Even so, the frustration didn't turn to protest until the rent hikes were handed down.
"We went through a lot of crap, us and our neighbors," Llamas said. "But we [went] on strike because the landlord, management … they don't care about anybody. They just care about money."
The apartments are not under rent control, meaning tenants can be evicted or receive rent increases at the will of their landlord, Donald Crasnick. Crasnick and the building ownership trust are legally represented by Lisa Ehrlich, who also heads the building's management company, FML. These roles that have made her the public face of Burlington Unidos's ire.
Robert Thaler, a spokesperson for FML, told the L.A. Taco via email: "We value our residents and have excellent relationships with the vast majority of [them] … Building managers live onsite and property maintenance workers respond promptly to issues from residents."
But members of Burlington Unidos tell a different story. According to them, Ehrlich and FML have been neglectful at best, and abusive at worst.
Through the course of the strike, Ehrlich has completed repairs that have made the building appear to be in good condition. But the evidence of past problems and "Mickey Mouse" repair work is everywhere. The seasonal waterlogging of walls, ceilings, and floors is one of Burlington's most fundamental issues. In common corridors, baseboards wave from swelling and contracting over the years. A patchwork of plaster covers old holes and coffee-stain watermarks that used to dot the halls.
Inside individual apartments, tenants face the repercussions of a leaky building: awful living conditions.
[dropcap size=big]G[/dropcap]riselda Paxtor and Apolinario Gonzales have rented at Burlington Ave. for nine years, sharing a two-bedroom space with another couple and several children. The couple said one bedroom floods nearly every time the city experiences heavy rains.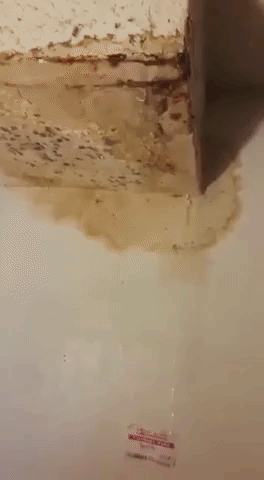 The upper corner of that bedroom has been recently repainted, covering what used to be a spongy stain. A video from March shows the blight's origin: water streaming from ceiling, collecting in a small bucket that Apolinario placed on the top of a bunk bed. His voice can be heard, asking when someone will come to fix the leak.
"It's in my bed," a child laments in Spanish. "I'm not going to be able to sleep."
The couple said the room's carpet, turned fetid after repeatedly soaking, was eventually replaced by management. But the tenants had to foot the bill.
When water penetration is recurrent, the problems grow beyond a lost night of sleep. Roaches, which plague several Burlington apartments, take refuge in the moist environment. Mold takes hold. At least two tenants have paid out of pocket to confirm high concentrations of spores in their living space, though FML denies the buildings have any issues with mold. According to the CDC, prolonged exposure to mold can cause respiratory illness, asthma, and in some cases, long-term infection.
Unfortunately, foul environments pervaded at Burlington.
Pigeons roosted routinely on tenants' balconies, littering their railings and the courtyards with feces. Management's solution? Power-wash the courtyards once a week and drain the dirty water directly into the parking garages below, spilling blackwater, a technical term for waste containing fecal matter, onto walkways and even residents' cars. On an August tour, L.A. Taco also saw a gray blanket of pigeon feces in the parking garage, left by birds roosting on large metal pipes hanging nearing the garage's ceiling.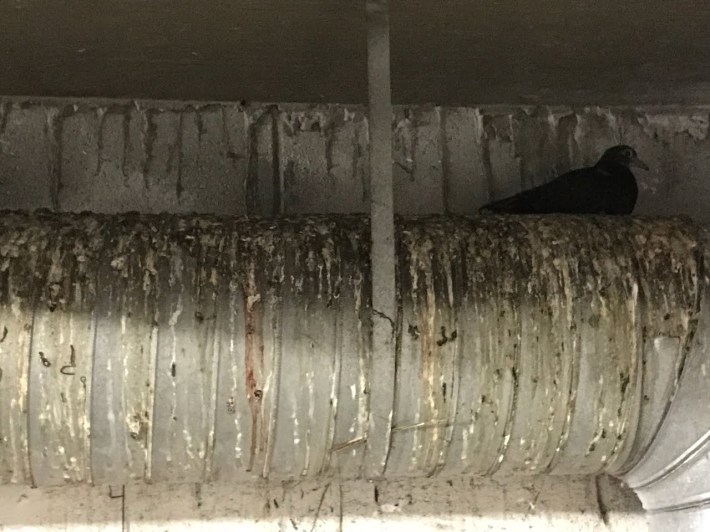 To the Streets
[dropcap size=big]E[/dropcap]xperiences like these didn't just push Burlington Unidos to strike. They fueled a sustained campaign to bring the battle into the court of public opinion, directed by LATU but enacted by the tenants themselves. First, they marched outside Ehrlich's Valley Village offices, followed by a demonstration at the gate to her Palisades neighborhood.
For three weeks in June, the angry tenants showed up to the local farmers market with signs and stories of mistreatment in hand. Robert Thaler, the FML spokesperson, described the protest as an "unbecoming and unprofessional" action that produced an "outpouring of sympathy" for Ehrlich in the wealthy community. Then in July, the Burlington tenants created an encampment outside their apartments to represent the now-pressing threat of homelessness, naming the protest site "Ehrlichtown."
They also sought to apply pressure on their L.A. City Council representative, Mitch O'Farrell. The councilman spared a 15-minute meeting with representatives of Burlington Unidos after tenants occupied his office and demonstrated at one of O'Farrell's speeches. But they were dismayed when he sent them a letter a few days later advising them to end the strike, saying in part: "this 'rent strike' … [prevents] us from intervening further."
In response, tenants spent an evening chanting and marching outside his Glassell Park home.
We lost because we didn't get any deal.
All the while, Popp was representing Burlington Unidos in two arenas: civil court, where Ehrlich had filed over eighty eviction cases, and the negotiating table, where Popp and Ehrlich sought to end the strike by reaching a "global settlement agreement," which would cover all the strikers with the same deal.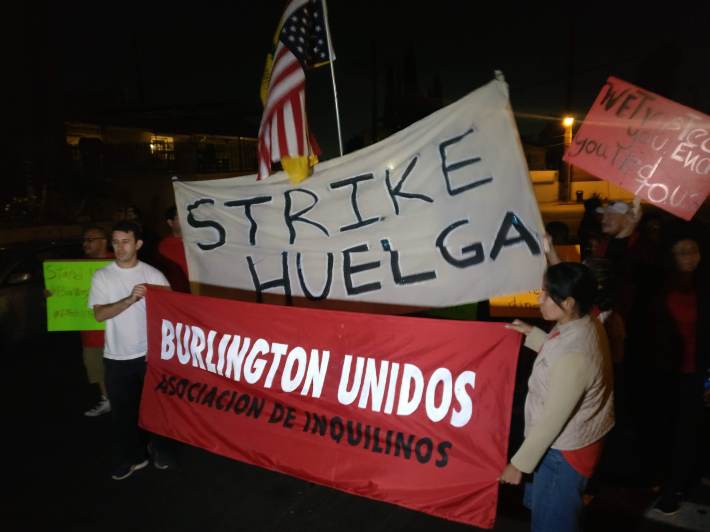 The battle in both arenas was a slugfest. In several cases, Popp convinced juries to side with tenants, who received substantial rent reduction judgments. One family paid just a single dollar in rent for the months of the strike because the jury deemed their unit nearly uninhabitable.
But not every case was successful. Ehrlich won three and moved to evict the losing families, including an elderly couple who received their notice to vacate last week despite losing their case in June.
Ultimately, Popp's goal wasn't to persuade several dozen juries to take her side, but rather to persuade Ehrlich to agree to a settlement. Talks were stymied by Ehrlich's refusal to agree to substantial rent reductions.
Ehrlich would not budge on rescue for evicted tenants, and thus all signs pointed to protracted case-by-case adjudications before a jury. In one letter to tenants, Popp wrote that she expected the cases to take around four years to complete.
Then on August 31, Ehrlich dropped the over sixty remaining cases. The strike was over.
RELATED: Burlington's Six Month Rent Strike Ends With 'Mickey Mouse' Repair Jobs, Roaches, and Sewage, Tenants Say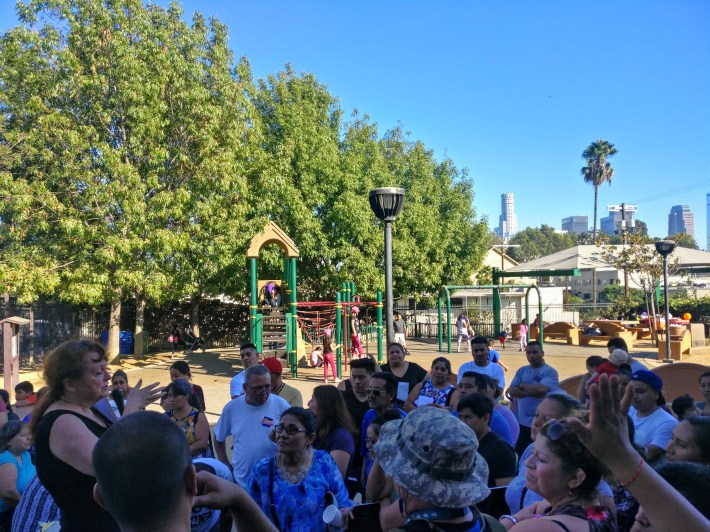 Marching On
[dropcap size=big]T[/dropcap]he development removed the immediate eviction threat for dozens of families, and it means tenants will only have to pay back rent for the strike if Ehrlich sues them for it. That seems unlikely: if she believed she had a winning argument, she could have collected the money through the existing eviction suits.
"We lost," tenant Manuel Arevalos said at a meeting in which the tenants eventually decided to pay September rent. "We lost because we didn't get any deal."
Residents say they're documenting any issues they see in the event they decide to restart the rent strike or file an affirmative lawsuit against the buildings' ownership – a "safer" route, according to Popp since tenants would not need to put their homes on the line. ("There is nothing wrong with the buildings that would give rise to liability on the landlord's part," Thaler said.)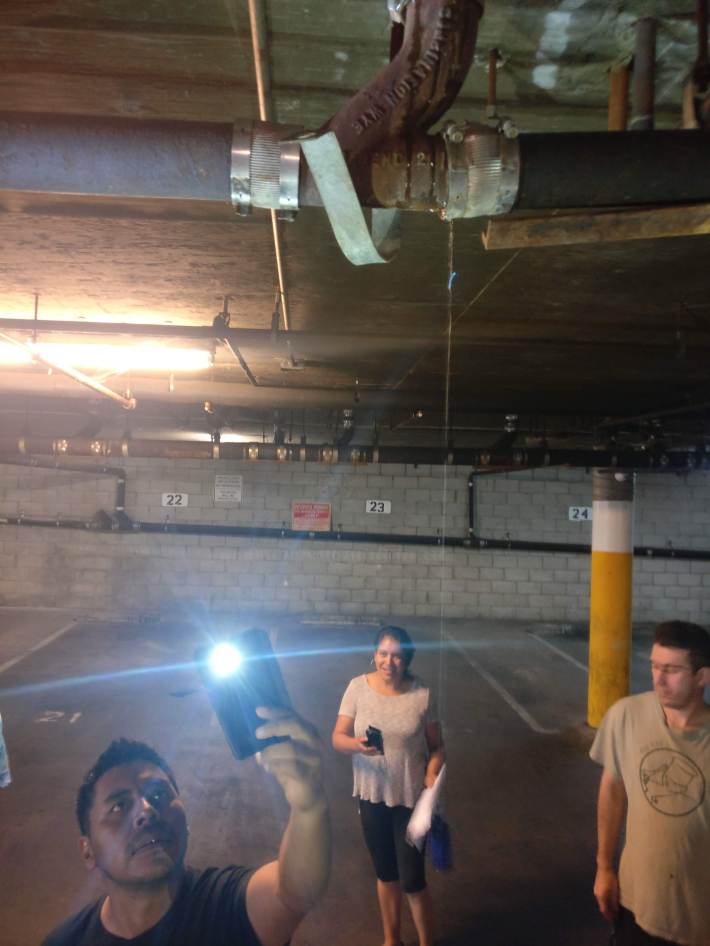 Their newfound political activism is poised to continue as well. The most dedicated of the bunch are turning their attention to Proposition 10, a state ballot initiative to repeal the Costa-Hawkins Rental Housing Act, which prohibits municipalities from passing rent control ordinances.
"If Prop. 10 doesn't pass, the next increase will be $300 or $400," Popp told tenants. But even if it does pass, tenants would need Los Angeles to pass a rent control ordinance that covers their building. That's where the pressure on Mitch O'Farrell could pay off.
After the strike ended, O'Farrell tweeted: "My office … will continue to actively work with the [Burlington] tenants to secure their housing needs." Banking on the L.A. City Council to quickly pass a universal rent control law is a gamble, but it's all the Burlington tenants have for now.
Regardless of how their story ends, members of Burlington Unidos hope their struggle will inspire something larger than the struggle at their particular building. Antonio Llamas expects his awakened political consciousness to continue churning beyond these six months.
"I have the anger to fight for something that's right. To fight for these people that really have been run over," Llamas said. "To fight for these people who need to be heard."
RELATED: Deputy Serves Elderly Couple With Notice ~ Heartless Evictions Continue at Westlake Building Where Tenants Staged Strike
Warren Szewczyk covers local politics in Southern California. You can find his work at warrensz.me.
Stay in touch
Sign up for our free newsletter