Homelessness
918 Unhoused People Died on L.A.'s Streets Last Year, This Is the Tragic Story of One of Them: Joseph Reyes
2:59 PM PDT on August 28, 2019
[dropcap size=big]O[/dropcap]n a humid Friday evening in Koreatown, L.A's most densely populated neighborhood, day-to-day life plays out. Couples walk hand-in-hand heading to dinner dates while buses and trains shuffle the last wave of daily commuters home. Vendors selling goods end their day talking to one another while homeless people look for a place to sleep for the night. 
But on the corner of Vermont and Wilshire, roughly 50 people gather in front of a Chipotle to honor the life of Joseph Reyes, one of the 918 people that died while living on the streets of Los Angeles in 2018.
Reyes passed away from preventable causes, just like many of the other 917 people confirmed by the coroner. Between 2014 and 2018, more than 3,600 homeless people died, according to a study by Kaiser Health News that analyzed medical examiner data. Homeless deaths have surged more than 75 percent in the last 6 years. Between 2014 and 2018, a third of all homeless deaths occurred in hospitals but even more died outside on sidewalks, alleyways, parking lots, riverbeds and on freeway on-ramps. According to the study, the life expectancy of a homeless man is only 48 years old. Reyes made it to 56.
Before being pushed onto the streets, Reyes lived in an apartment in Koreatown for over 11 years. Like most homeless people in L.A. County, Reyes lived in L.A. for over a decade. Even after falling into homelessness (due to an eviction), Reyes was known as a giving person, despite not having a lot. Reyes was an animal lover that cared for his cat Jessabel dearly. Reyes said that without Jessabel, he didn't think he would be alive, in a video interview recorded shortly before his death.
In the weeks leading up to Reyes' death, he was hit with two sanitation sweeps, in the first sweep he lost his prescription heart medicine and all of his belongings. Reyes was a victim of rapid response sweeps, unannounced sanitation sweeps that can occur at any time, sometimes multiple times in one week. 
After the first sweep, people tried to help Reyes, they forwarded his information to LAHSA and introduced him to a recovery clinic, but Reyes claimed he never heard from them. The second sweep occurred six days before Reyes' death and was carried out in anticipation of an event at a nearby hotel, according to a K-Town For All organizer.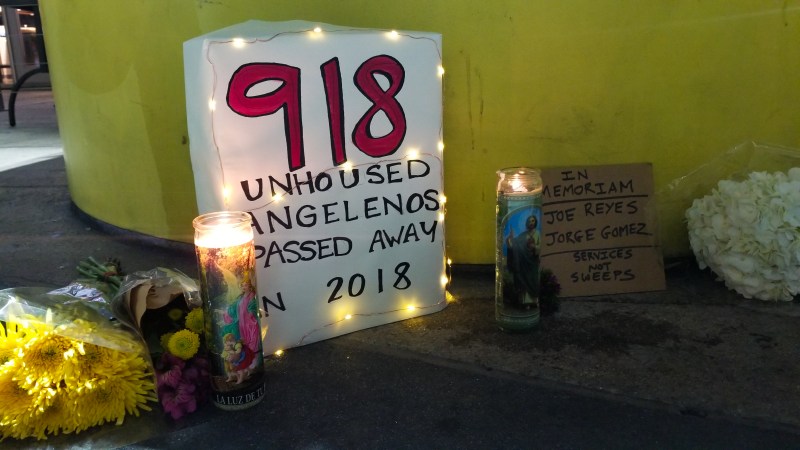 Community members that knew Reyes believe that constant sanitation sweeps and a lack of services contributed to his death. Although according to the L.A. County Medical Examiner, Reyes' death was caused by methamphetamine overuse.
Reyes died a few blocks away from a proposed bridge housing shelter location, an emergency shelter system initiated by Mayor Garcetti. The proposal to build at least one temporary shelter in each council district was protested by a small contingent of community members in Koreatown and was eventually moved to Lafayette Park in Westlake. The shelter still hasn't opened.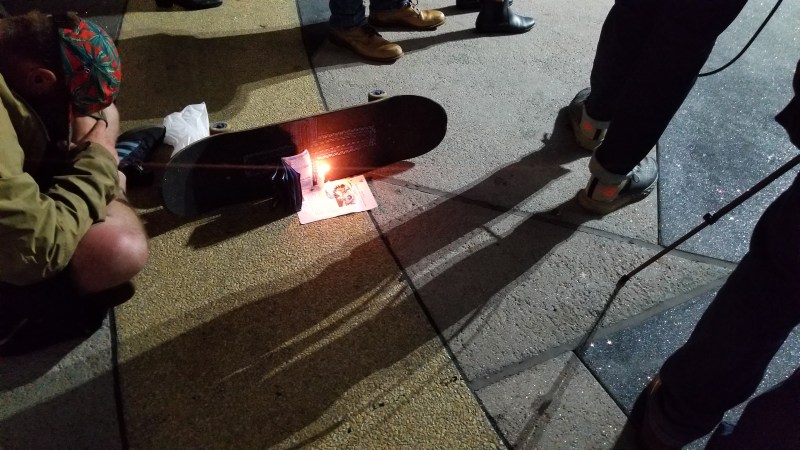 At Friday's vigil, Mike Dickerson, an organizer with K-Town For All, recounted a story told by Councilmember Herb Wesson at last year's vigil for Reyes. Wesson confers that Reye's life could have been spared had the shelter been built.
The anniversary of Reyes' death comes a couple of days after a City Hall meeting where the homeless and poverty committee, as well as the city attorney's office, recommended that the city amend L.A.M.C 41.18. The ordinance states that people cannot sit or sleep in public areas during daytime hours.
"If I'm evicted onto the streets, I will die because of greed."
The controversial sit and sleep law has been the subject of multiple civil suits in the past including the monumental Jones vs. City of L.A. case that forced the city to loosen the ban on sleeping at night.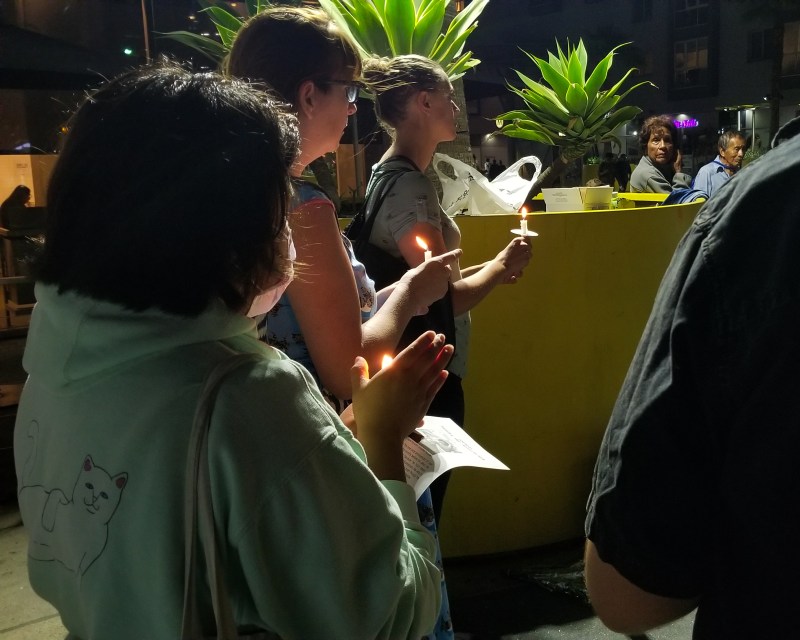 Despite a federal ruling in Boise that states that cities cannot arrest people for sitting or sleeping on the street unless there is enough adequate shelter, the City of L.A. is trying to amend the existing ordinance to make it illegal for homeless people to sit or sleep 500 feet from schools, parks and daycares as well as sit or sleep 10' away from driveways or public entrances. At the homeless and poverty committee meeting, the city attorney's office said that the proposed amendments would be justified under the ruling.
"Eviction is a death sentence for elderly people of color."
In the last year, the city council has moved to amend several laws, making it virtually impossible for homeless people to exist in Los Angeles. Last month they banned sleeping in vehicles in most residential areas of the city. These changes come at a time when the city's homeless population has spiked 16 percent in the last year and the city's own homeless authority, LAHSA, states that criminalizing the homeless will only increase the homeless population.
"If I'm evicted onto the streets, I will die because of greed," says Mario, a long-term resident of Silver Lake, at the vigil for Reyes on Friday. Mario, who's joined by one of his neighbors, has lived in Silver Lake for over 30 years. Up until recently, they were both paying less than $500 a month for their rent-stabilized apartments. Then their landlord started raising the rent and now their landlord is evicting them based on the Ellis Act, a controversial California law that protects landlords that want to "go out of business."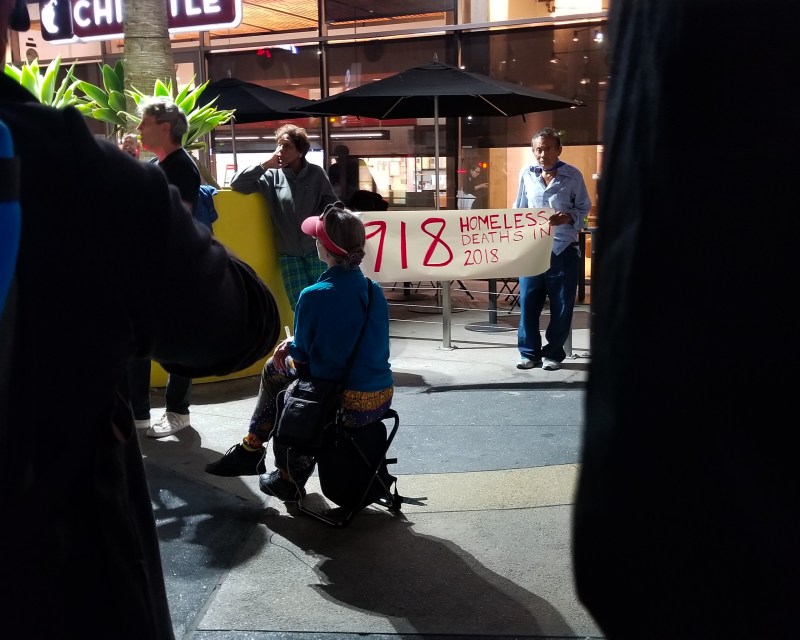 "Eviction is a death sentence for elderly people of color," Trinidad Ruiz, an organizer with the LA Tenants Union, advocating for Mario and his neighbor who declines to speak at the vigil. Mario is planning on living on the streets if things don't change and he fears what could happen to him. "The story of Joseph Reyes is not singular. We have stories of Joseph Reyes' in the making," said Ruiz.
A couple of days after voting in favor of a report that would amend LAMC 41.18, further criminalizing the homeless, several councilmembers on the homeless and poverty committee spoke out.
Mitch O'Farrell released a statement last Thursday saying, "The reality is we have sensitive areas to consider and as city leaders, we must strike the balance between the needs of those experiencing homelessness and keeping our public spaces safe and accessible."

On Friday, via Twitter, Mike Bonin said, "We need a policy [with] clear, enforceable, & humane rules about where people can sleep. A new proposal unveiled Wednesday ain't it." He added, "We need to focus on getting people out of encampments, rather than moving encampments around."
Mayor Garcetti distanced himself from the proposal during a press conference question and answer, this Monday saying, "I think, personally, you have to focus solely on getting more beds and more apartment units. You cannot just move homelessness from one place to the other."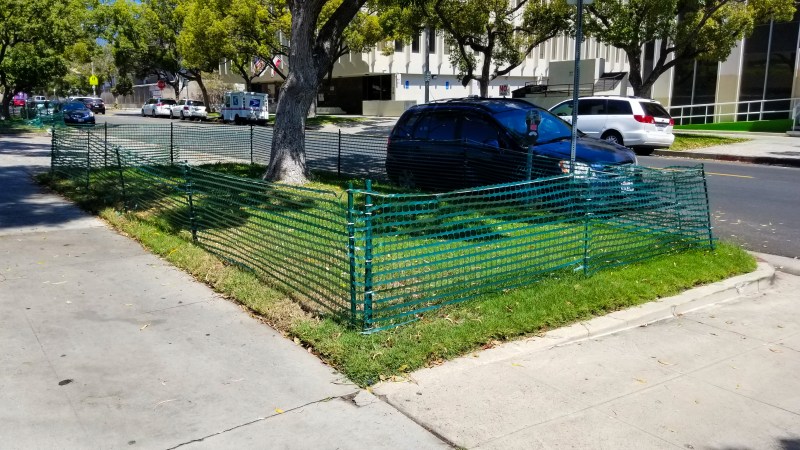 The amended ordinance hasn't been written into law yet. The proposal will first have to be approved by the entire city council. If it passes, the city attorney's office will draft the ordinance and the city council will have to approve it again. Law experts say that the proposed amendments to 41.18 and other ordinances are unconstitutional and will only lead to further lawsuits and payouts from the city.
"While the city tries to erase people from the streets and all memory of them, we have to stand up and refuse to let them do that," says Jane Nguyen of K-Town For All on Friday as she leads the group to Wilshire Place and 7th, a corner on the eastern edge of Koreatown that Jorge Gomez used to call home. Gomez, another homeless man living in Koreatown, passed away in his tent just last month. "We found that out in the worst way possible, K-Town For All organizer, Nguyen explains that the group only found out about Gomez's passing yesterday. "There was a massive sweep, the city came and they erased every sign that he used to live there," Nguyen explains that a makeshift altar, comprised of pictures of Gomez and flowers, was even removed.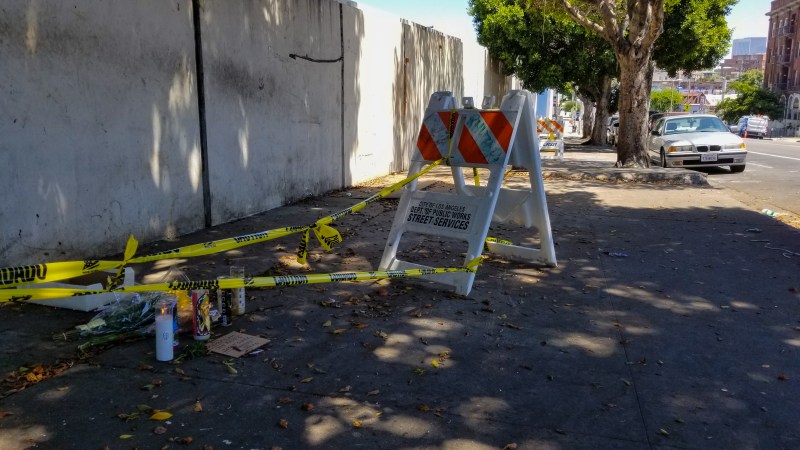 That evening at Wilshire Place and 7th Street the group is greeted by a makeshift barrier made out of caution tape and repurposed LASAN and LADOT signs. Attendees question whether the city installed the barrier or a landowner. Either way, all evidence of Gomez has been sanitized off the streets. Someone from the vigil cuts the caution tape and 5 candles are lit for Reyes and Gomez, along with a sign acknowledging the hundreds of other victims that died on the streets last year.
As of the publishing date of this story, Gomez's memorial still stands.
Lexis-Olivier Ray is a housing, justice and culture reporter for L.A. TACO.
Read More:
Stay in touch
Sign up for our free newsletter