L.A. Taco Guides
The 13 Best Places To Watch The World Cup In Los Angeles
11:53 AM PST on November 18, 2022
12 years and countless cases of human rights abuse in the making, the FIFA World Cup Qatar 2022 starts on Sunday, November 20.
It's incredible that, in just two days, the world will stop and celebrate (despite the moral quandaries involved), and very little will get done workwise on a global level for one month.
In the United States, however, the time difference with host nation Qatar will mean that at least half of the group stage games will be during the twilight hours and early morning. So if you're not a morning person, and you love soccer; well, you're going to suffer a bit during this tournament. Which doesn't mean Angelenos can't get in on the party and watch the games in a proper footballing atmosphere.
So, if you can wake up in time or manage to slip away from work, these are the best places in Los Angeles to take in the matches while enjoying the "world's game."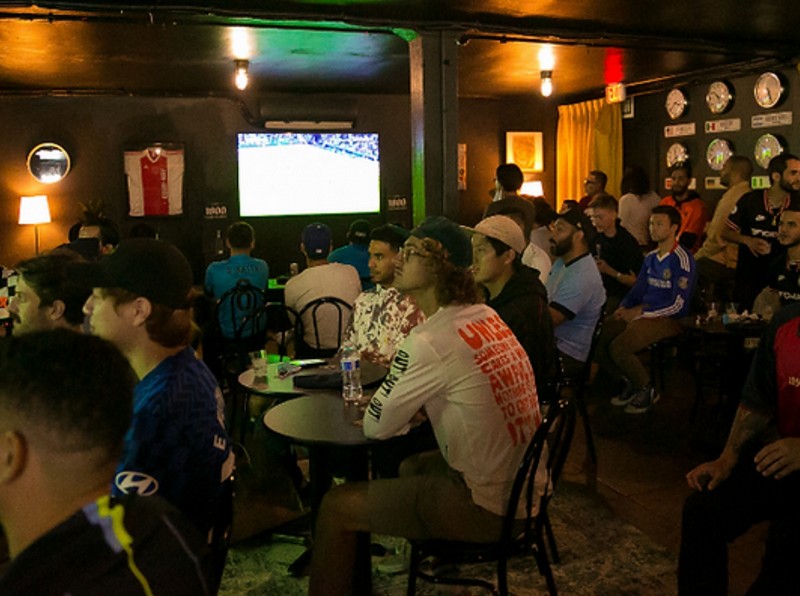 The House of Football has been described as the "hub of soccer in Los Angeles." For many, soccer is a religion, and that's why the owners of the House of Football decided to turn this former church into one of the most atmospheric-appropriate places to catch a game in Los Angeles. The two-story space boasts six large screens, multiple private rooms, and, on most match days, a vintage shop for soccer jerseys featuring over 5,000 kits in its upstairs space. Creative director Mathew Davis plans programming that will include a jersey customization pop-up by Avery Dennison, multiple artist residencies, and a World Cup party two days before the final match. 4908 York Blvd, Los Angeles, CA 90042
Cover: Most games cost $22 and get you entrance and four drinks. Higher profile matches like the United States vs. England will have a $35 price point. Private rooms are also available.
Open For: 5am, 8am, and 11am games.
Food: The House of Football doesn't have a kitchen, but usually encourages patrons to bring their own snacks from one of the excellent coffee shops nearby.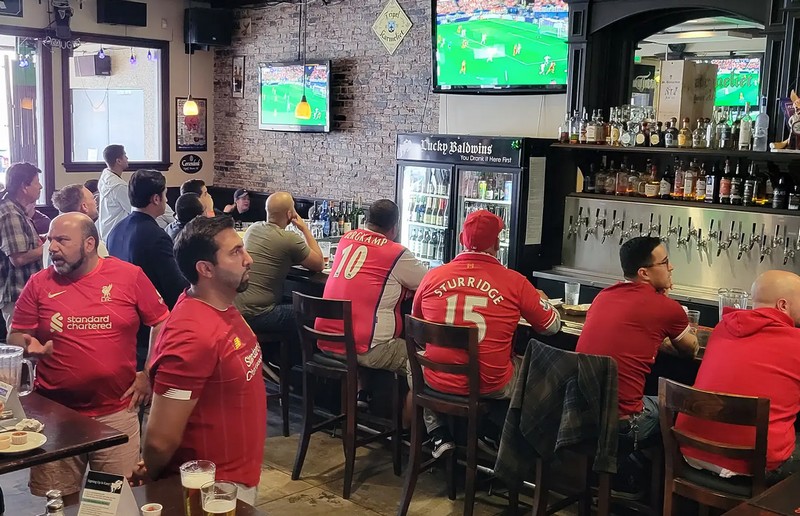 The Union Jack greets you prominently at this British pub that's served as a Pasadena mainstay since 1996. Regulars at this spot swear that watching games here is like sitting in a proper pub straight out of London. Various supporters groups, from MLS to Premier League clubs, call this their home bar. An outside patio means there will be plenty of room for bigger matches like the USA vs. England game, which is sure to be cracking in this expat atmosphere. 17 S. Raymond Ave, Pasadena, CA 91105
Cover: $10 mandatory cover charge for all 2am and 5am games (includes coffee and donuts). Mandatory 1 drink and 1 breakfast meal purchased for all 8am games.
Open For: Incredibly, Lucky Baldwin's will be open for some 2am matches, but will not be offering its World Cup programming until the second day of the Cup, Monday, Nov. 22nd. You can make sure not to miss any of the scheduled 5am, 8am, and 11am games by checking out their event calendar.
Food: Lucky Baldwin's kitchen offers a British pub food menu serving breakfast, lunch, and dinner, usually starting at 8 am.
Drinks: Over 60 beers on tap, prompting Lucky Baldwins to claim that it's in the "top five Belgian beer bars in the US!"
Operating partner Erron Halen claimed Tom's is "all sports, all the time." It's not hyperbole. This place, which was founded in 2014, has hundreds of screens. Plus, with a massive, central stadium-style screen providing 360° viewing, it'll be quite hard to miss any of the Cup's most important moments. Anywhere you look, you get a great spot to watch, encompassing you with the big game energy. Just steps from the place they once called Staples Center, you can go celebrate with statues of Lakers greats once the USMNT reaches glorious heights. 1011 S. Figueroa St. b101, Los Angeles, CA 90015
Cover: "Tom's never has a cover," Halen shared. Bless.
Open For: 11am matches. Their complete schedule (which incorrectly shows some 8am matches) shows them being closed on Thanksgiving.
Food: There are some standouts on the menu, but you can expect traditional sports bar offerings like burgers and nachos. New loyalty club members get free chips and queso.
Drinks: Full bar, plus $5 signature shots all day, every day during the world cup matches.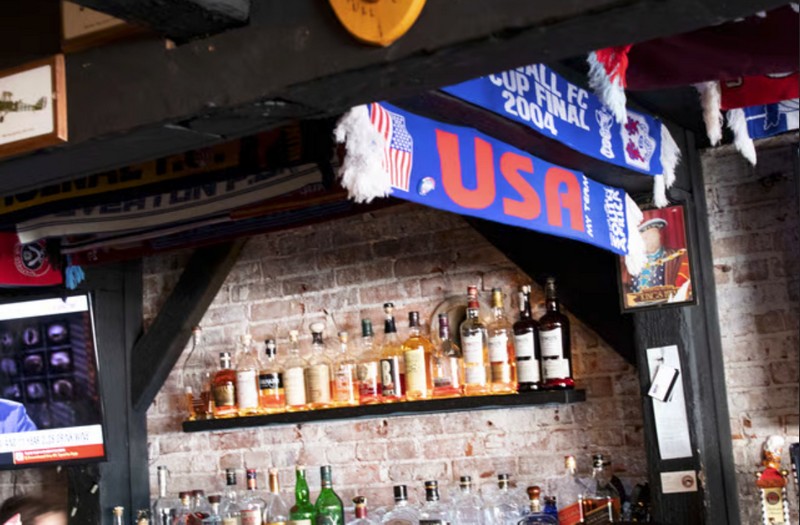 This is your spot if you want to get your British pub game on… just a little closer to the ocean. "Located only steps from the beach and 3rd Street Promenade in Santa Monica," as their website claims, this country-inn-style has been around since 1974. It boasts a pub area, casual dining room, outdoor patio, and gift shoppe, all designed to give you "a true taste of Britain on the West Coast." Those looking to get fancy and celebrate a victory in style can even have afternoon tea and something called "psychic" tea. 116 Santa Monica Blvd, Santa Monica, CA 90401
Cover: None
Open For: YOKH has released its schedule for the first week of the tournament, but will release additional dates and times throughout the match. Kickoff times include games at 5am, 8am, and 11am.
Food: All the English favorites like beans on toast, Scotch eggs, and a king-size, full English breakfast are offered on this extensive menu.
Drinks: Full bar
Studio City's home for soccer, The Fox belongs in the pantheon of other great British pubs in Los Angeles. Once inside, it's easy to forget you're on a palm-tree lined street in Los Angeles and not in your best mate's favorite pub in Manchester. Open early for matches, and not just during the World Cup, many supporters groups have made the Fox home to cheer on their side. 15 HDTV's and two giant projector screens will make viewing the World Cup here a no-brainer for residents of the southeast San Fernando Valley. Various viewing rooms and a large outside patio mean you'll have plenty of room to spread out. 11100 Ventura Blvd, Studio City, CA 91604
Cover: Higher profile games will be $5 per person, cash only. Six tickets max. Select group games will have no cover. Schedule here.
Open For: 5am, 8am, and 11am matches.
Food: Like the other British pub offerings, the Fox has a fully-stocked menu full of English classics.
Drinks: Full bar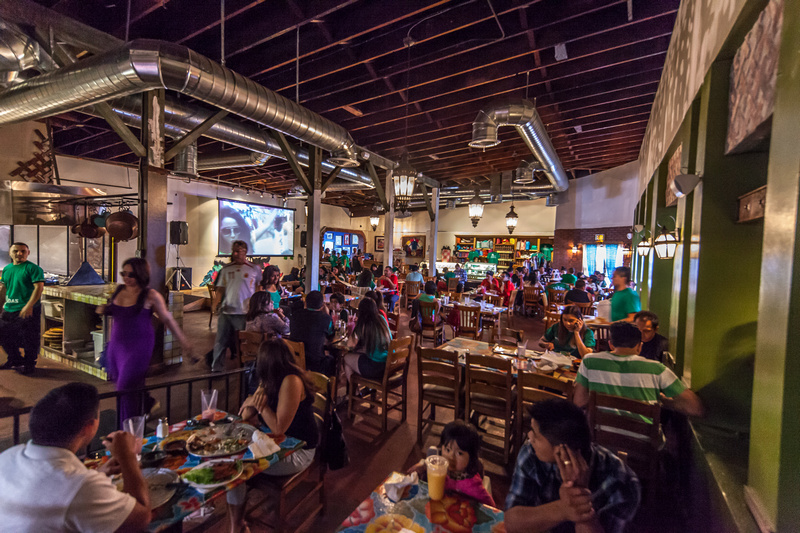 Part restaurant, part boutique market, Guelaguetza has been a culinary ambassador for Oaxacan culture in Los Angeles since 1994. Owner Bricia Lopez's parents started the restaurant to "showcase family recipes." Since then, they've won acclaim for their food in all kinds of print. Recently, Guelaguetza was awarded the highest honor in the culinary game, the James Beard Award for the American Classics category. Watching the games here means having award-winning food while watching on any one of their seven screens. More importantly, the watch parties they've been hosting for 12 years have a reputation for being epic. With eight screens inside, three outside, and a projector on the patio, Lopez's claim that "there isn't a bad seat in the house" is right. 3014 W Olympic Blvd. Los Angeles, CA 90006
Cover: No cover, but get there early, as these viewing parties get packed.
Open For: Games are only shown during regular business hours. But they'll have Mexico viewing parties outside these hours. Mexico vs. Poland festivities on November 22 start at 7am. 9am is the start time for those wanting to watch Mexico vs. Argentina on Saturday, November 26. You can watch Mexico's final group-stage match against Saudi Arabia on November 30 starting at 10am.
Food: Award-winning Oaxacan/Mexican cuisine.
Drinks: Full bar
The Red Lion Tavern was founded in 1959 as an "Olde English" pub. By 1963, it had shed its British ancestry for its current German theme and under new ownership. The neighborhood landmark continues to go strong. With one of the best selections of German specialty beer in Los Angeles, it's easy to understand why. Over two stories and a patio, you'll have ample space to decide where to plop down and take in the matches. The original downstairs bar has five TVs for you to feast your eyes at. While the upstairs patio has four screens ready to show German supporters their beloved Die Mannschaft take on Spain in a can't miss Group E match. 2366 Glendale Blvd, Los Angeles, CA 90039
Cover: No cover
Open For: This could potentially be the only place in Los Angeles to watch all the matches. Yes, even the 2am kick-offs. 2am and 5am matches will only be shown at the downstairs bar.
Food: The Red Lion offers an extensive menu full of German cuisine favorites.
Drinks: Full bar - not pouring from 2am to 6am.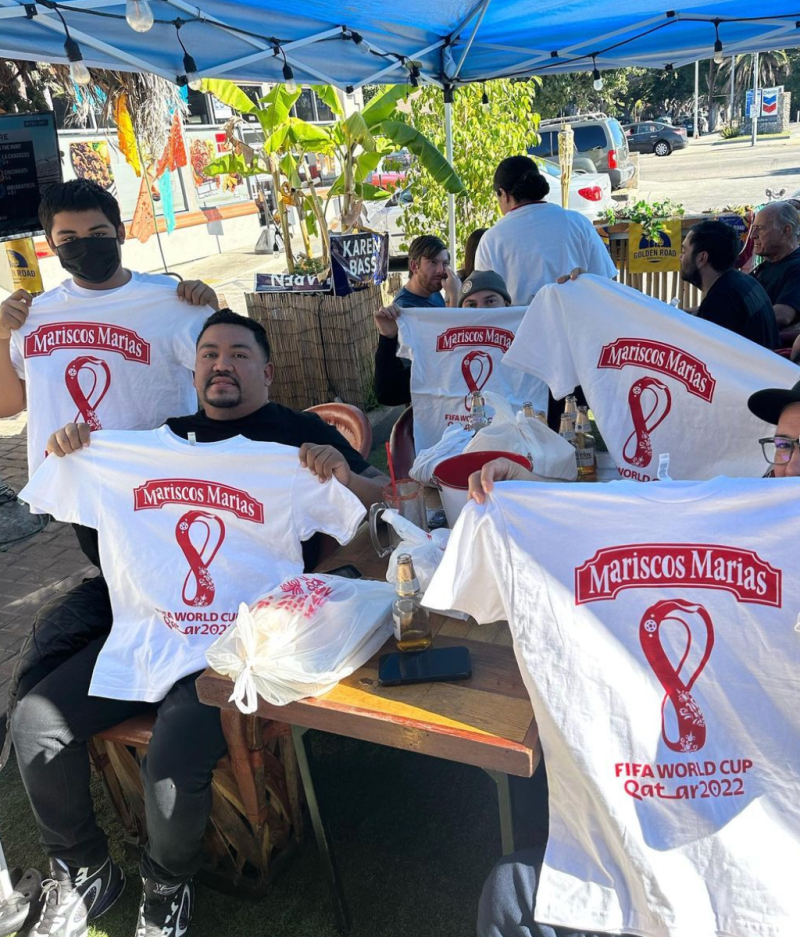 Mariscos Maria's is the longest-running Latino-owned business in the West Adams district of Los Angeles. Maria Cuevas was a single, immigrant mother of seven who started her business as a seafood truck and has since expanded into two brick-and-mortar locations. Now Maria is retired and her restaurants are operated by her son, Gio Maldonado. Her daughter opened a boutique next door, Persona the Shop that puts together a monthly mercado, that brings out over 400 attendees to celebrate our culture. They want to continue celebrating their cultura by hosting three watch parties at Mariscos Marias. They will have indoor and outdoor TVs, and attendees get a free Mariscos Marias World Cup T-Shirt.
Address: 5640 W Adams Blvd Los Angeles, CA 90016
Food & Drinks: Although their regular menu will be available the restaurant will also have a specially curated menu for the World Cup. Get deliciously fried mojarras, cold beer, Micheladas, and of course, all the seafood dishes you can imagine.
HELLO STRANGER LA- LITTLE TOKYO 
What started as a music, food, and beverage pop-up, has now evolved into a restaurant, bar, and live music venue rooted in bringing people together and celebrating East L.A. low rider culture. Hello Stranger is a gift from the past re-imagined through the lens of today. While their inspiration comes from memories of the past, Hello Stranger's mission is to make memories for the future. They will be hosting three watch parties the first one starting tomorrow at 8 A.M. for Mexico vs Poland.
Address: 320 E 2nd St Los Angeles, CA 90012
Food: Check their Instagram @Hellostrangerla for more information.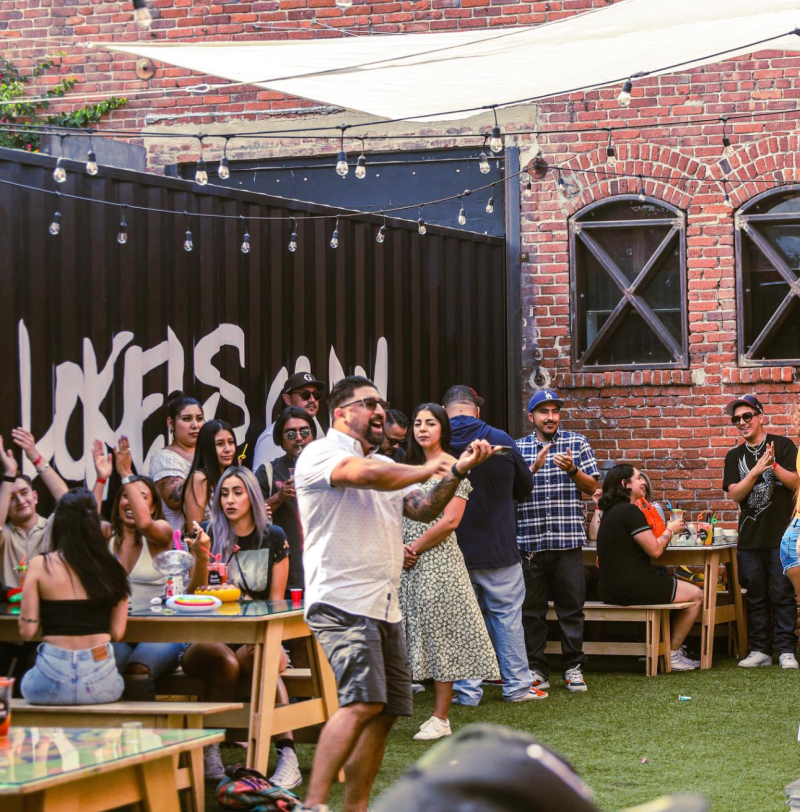 Lokels Only started as a podcast, diving deep into the stories, ambitions, and lessons learned of local creatives and small businesses. Eventually becoming a creative collective that hosted marketplaces, galleries, and events to spotlight local businesses, artists, and musicians. This led them to open their first brick & mortar in 2020 to continue creating immersive experiences to uplift and empower our local community. They will be hosting tomorrow's watch party for the Mexico game.
Address: 2010 E 7th St. Unit B Los Angeles, CA 90021
Food: Taqueria Nopal will be catering but the cafe also serves up a variety of great cocktails and food.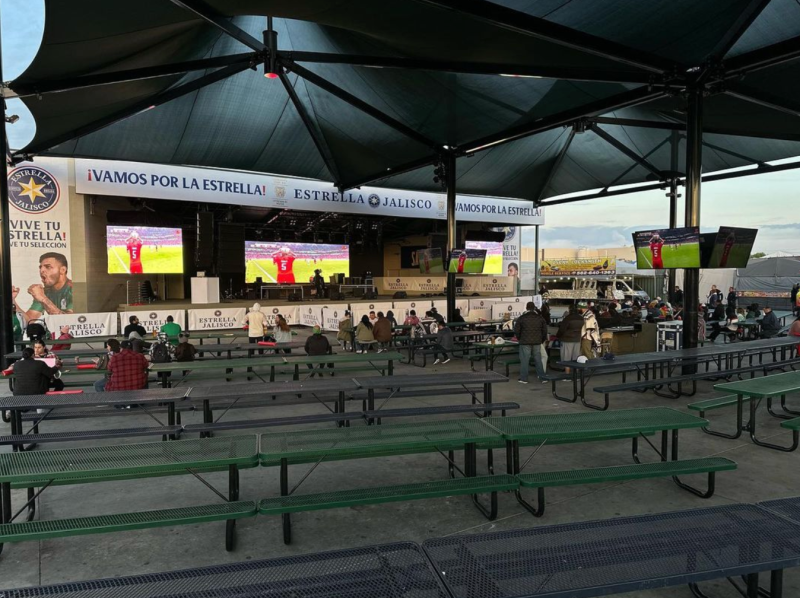 Santa Fe Springs Swapmeet has been throwing watch parties filled with food, drinks, and live music. For Mexico's first game they hosted Mi Banda El Mexicano who played after the match was over. This Saturday they are continuing the World Cup festivities with live Mariachi starting at 8 A.M. and after the match, a concert with Banda Renovacion and Explosion Norteña will be taking place. 
Address: 13963 Alondra Blvd, Santa Fe Springs, CA 90670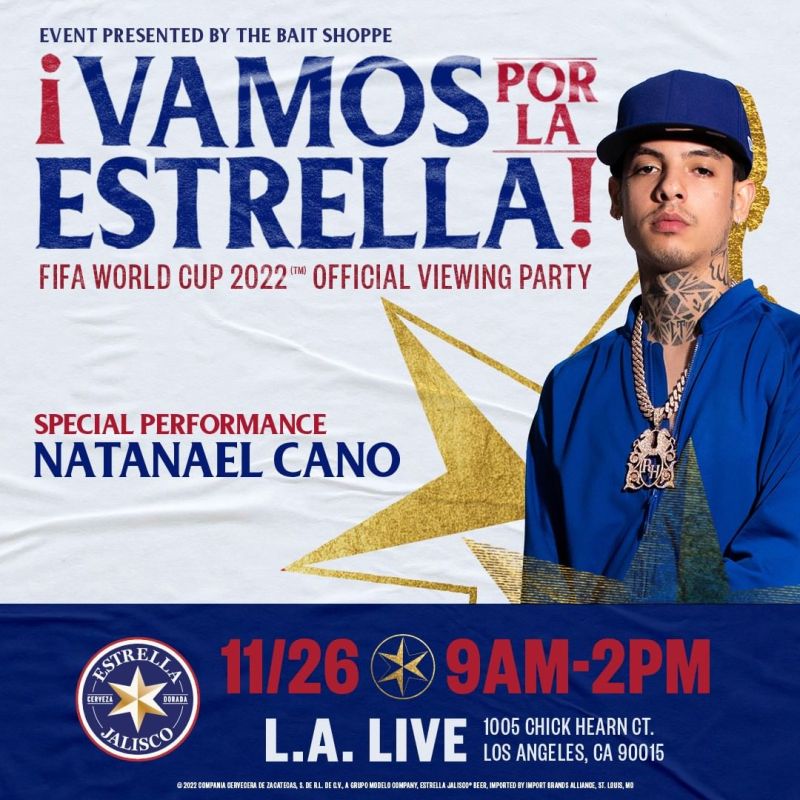 L.A. LIVE: "Vamos Por La Estrella"
Open to up to 3,000 fans in the heart of Los Angeles at L.A. Live, the watch event starts at 11:00 A.M.  with a special performance by multi-platinum-selling Mexican corridos artist Natanael Cano. Fans can enjoy beer, live music, DJs, big screens, food trucks, and there will also be giveaways and special guest appearances.
Address: 1005 Chick Hearn Ct, Los Angeles, CA 90015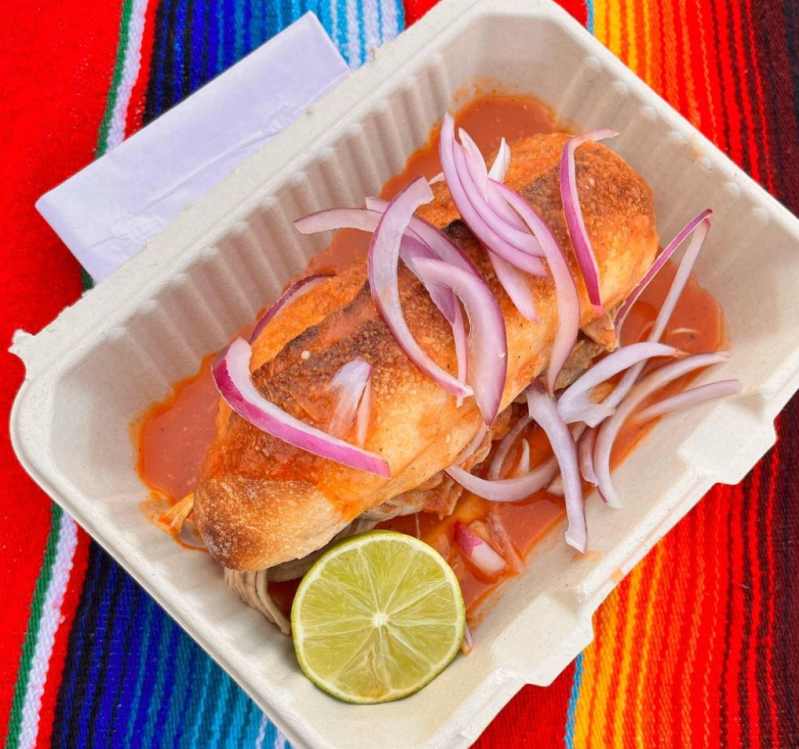 AMBITIOUS ALES- LONG BEACH
They are hosting multiple watch parties, all of which are free entry, and each day they will have different food vendors. For Mexico's Saturday match against Argentina, you can enjoy some of their specialty beers and sink your teeth in some tortas ahogadas from Tortas El Aguila who will be vending.
Address: 4019 Atlantic Ave 4019 Atlantic Avenue Long Beach, CA 90807
World Cup 2022 schedule, start time, dates, and how to watch live:
When: November 20, 2022, to December 18, 2022
Group stage game kick-off times: 2am, 5am, 8am, and 11am Pacific
Location: Qatar
TV channel in English: Fox
TV channels en Español: Telemundo, Universo, Peacock
5 can't-miss games from the group stage:
November, 20: Qatar vs Ecuador – Al Bayt Stadium, Al Khor – 9am
November, 25: England vs USA – Al Bayt Stadium, Al Khor – 11am
November, 26: Argentina vs Mexico – Lusail Iconic Stadium, Lusail – 11am
November, 27: Spain vs Germany – Al Bayt Stadium, Al Khor – 11am
December, 2: Ghana vs Uruguay – Al Janoub Stadium, Al Wakrah – 7am
Stay in touch
Sign up for our free newsletter