Featured
'We Don't Only Drink Wine:' How L.A. Women Are Brewing up Change in the Local Craft Beer Scene
4:39 PM PDT on March 9, 2020
Welcome back to L.A. Taco's new column, "Dr. Beer Butch," where Professor Hidalgo examines L.A.'s craft beer scene using her background in academia, LGBTQ, and [real] eastside L.A. culture. For our second story, she explains how women are changing L.A.'s craft beer scene. 
omen were the first to brew beer over 7,000 years ago. And they were amongst the best bootleggers during Prohibition." 
Lots of cheers and raised pints rippled through the sold-out crowd. It was the first meeting of the Mujeres Brew Club at Border X Brewing in Bell, and guest speaker Judith Downie, a librarian and keeper of the Brewchive at Cal State San Marcos, just dropped these and other nuggets of beer knowledge while club organizers Esthela Davila and Carmen Favela served everyone the next round of beer samples from gallon-size growlers.
A few miles away at Indie Brewing Company, Nina Rocca planned the next gathering of her Indie-pendent Women's Club. She'll invite beer-loving women to meet at neighboring Mumford Brewing for casual conversation and mingling over pints and board games. 
And over at Arts District Brewing Company, assistant brewer Yvette De Luna mashes toasted grains, malted barley, and fresh hops for the next batch of Órale Amber and Red Bird IPA. 
All around L.A., more women are brewing craft beer, drinking it, and socializing around it in noticeable numbers. We can measure the proliferation of L.A. women's interest and presence in craft beer in terms of breweries like Three Weavers Brewing Company in Inglewood and Ladyface Ale Companie in Agoura Hills, beer groups like the Women's Beer Forum and Pink Boots Society, or simply by paying attention to who's drinking pints at places like Border X Brewing in Bell and Boomtown Brewery.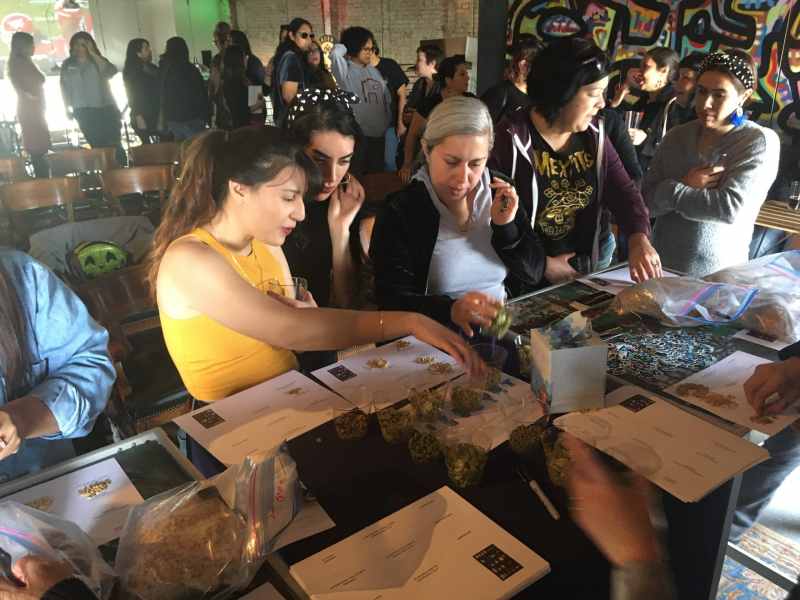 When she started her monthly Women's Beer Forums in 2011, Ting Su of Eagle Rock Brewery blazed a trail by creating space "for individuals who identify themselves as women" to learn about beer and drink new brews "with other beer-loving ladies." Thanks largely to her example, a new generation of women-focused, all-gender-friendly beer education classes continue to make brewery culture approachable and accessible. Such groups illuminate the many ways that L.A. women are making inroads into an industry typically dominated by men. 
To honor Women's History Month, here are three stories of local mujeres making their marks in L.A. 's craft breweries by challenging presumptions and changing perceptions about who drinks, makes, and enjoys craft beer. 
Sounding the Bell for mujeres and beer 
Over 50 women showed up for the first L.A.-based meeting of the Mujeres Brew Club at Border X Brewing in Bell. The event promised to "educate and empower women who love craft beer" through guest speakers, discussions about Los Angeles's craft brewing industry, hands-on workshops about the brewing process, and plenty of beer-tasting.
"We started with twenty-five spaces thinking maybe we'd get ten [people]," said Carmen Favela, co-owner of Border X and the creator of the Mujeres Brew Club. "Those sold out and we added twenty-five more. All fifty tickets sold out before the event." 
One reason for the event's popularity is Border X itself. The space is beautiful, airy and inviting, with plenty of parking and room for mingling over miches or taking in Lalo Alcaraz's artwork on the walls. And the beer appeals to the neighborhood's Latino demographic. Unlike straightforward versions of brewery classics like pale ales and IPAs, Border X makes beer with lime, jamaica, canela, chocolate, and other Mexican ingredients. The results are palate-pleasing favorites such as Blood Saison, Pepino Sour, Horchata Golden Stout, and Algo Light. Such innovative and creative use of Mexican and borderland flavors earned Border X Brewing a prestigious 2020 James Beard Award nomination.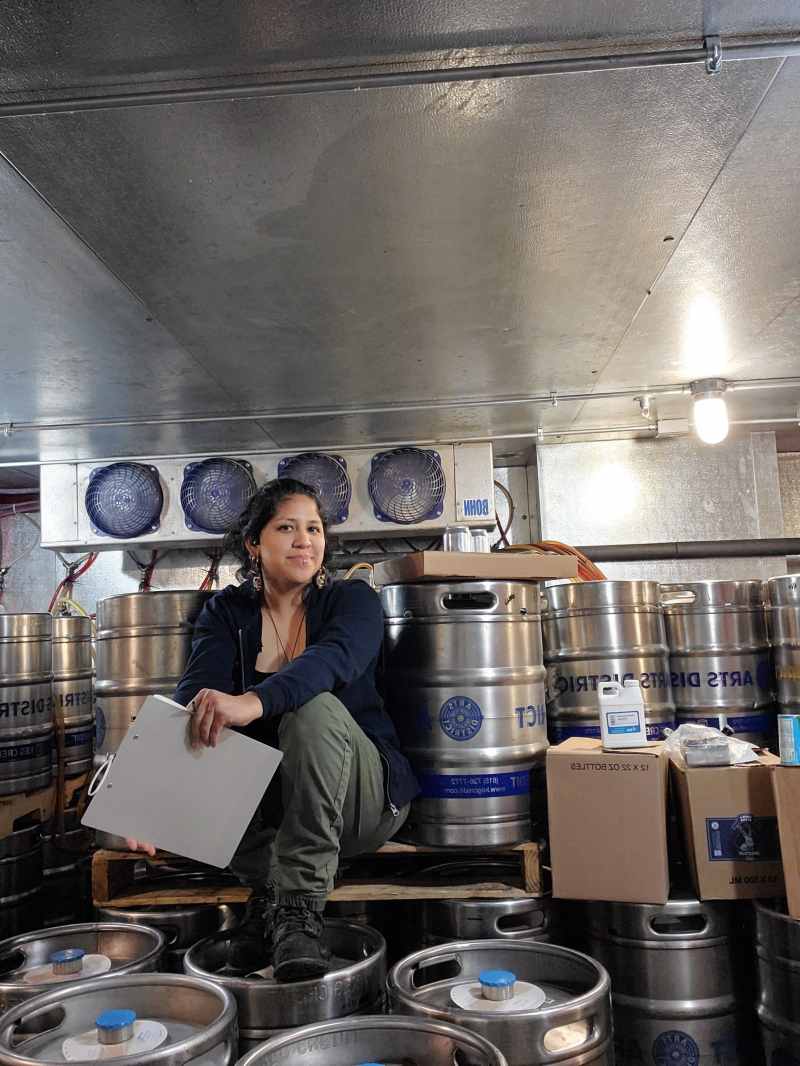 Favela points to Border X's key demographic as another big reason she and her husband, co-founder David Favela, started the Mujeres Brew Club in 2019 at the original Barrio Logan location. "Our research indicates that our main customer base is women in their mid-30s," said Varela. "My job was to create that space here in Bell for that 35-year old Latina and her friends." 
Favela tapped Esthela Davila, co-host of The Indie Beer Show, to lead the Mujeres Brew Club meetings. A daughter of Mexican immigrants who was born and raised in Barrio Logan, Davila's beer knowledge and wide reach within the brewing community has been instrumental to the club's success: in the course of a year, over 400 attendees have learned about beer history, taken field trips to local breweries, and listened to industry professionals, many of them women, discuss their jobs in the craft beer world. 
Groups like the Mujeres Brew Club show that demand is strong for women-focused, all-genders-welcome meetings that place craft beer front and center.
Now, the craft beer industry regularly reaches out to Davila to lead workshops, give guest talks, and generally shine the light on women and craft beer. For the Favelas, such recognition means that women like Davila increasingly have a place in SoCal brewery culture, even though the industry remains fairly white and male.
"We want to get women involved so they influence the craft beer industry rather than the other way around," said David Favela. He cites the Border X Mujeres Brew Club as a unique part of his brewery's community-minded mission. "There's a lot of teamwork here," says Carmen Favela. "We want to hold it down and support each other."
This teamwork is the foundation of the Mujeres Brew Club. We see it in the array of featured guest speakers and breweries, from GameCraft Brewing in Laguna Hills to Feathered Serpent Brewery in San Dimas, co-owned by wife and husband team Tania and Aurelio Ramírez. And we see it in the popularity of the club itself, which attracts beer-loving mujeres from all across SoCal to its monthly events. 
Groups like the Mujeres Brew Club show that demand is strong for women-focused, all-genders-welcome meetings that place craft beer front and center. "We don't only like to drink wine or mixed drinks," says Evelyn Ruelas-Bond, co-owner of Brewjería in Pico Rivera. She was a guest speaker at the first Mujeres Brew Club meeting and appreciates its purpose. 
"I find it easier to talk to other women when I'm up there," said Ruelas-Bond. "I don't feel like I'm being criticized or told that I don't know what I'm talking about. I get this sense of 'we believe in you,' and it's empowering to see all these women show up for this."
And based on the first three sell-outs, the Border X crew can expect mujeres to keep showing up. As David Favela tells the gathering at the second meeting, "We're looking for you to tell the beer industry what you want. Never apologize for your palate." 
"There should be more groups like this," says Ruelas-Bond, "and guys should know that we were the ones who basically created beer. We're a part of the evolution of where craft beer is going." 
Not just a boys' club 
On the first Tuesday of every month, Nina Rocca hosts a meeting of the Indie-pendent Women's Club at Indie Brewing Company just east of downtown L.A. Billed as a monthly event meant to "create a space for women to come together and discuss craft beer and women's role in the industry and community," The Indie-Pendent Women's Club represents the growing diversification of the decidedly dude-heavy world of craft beer.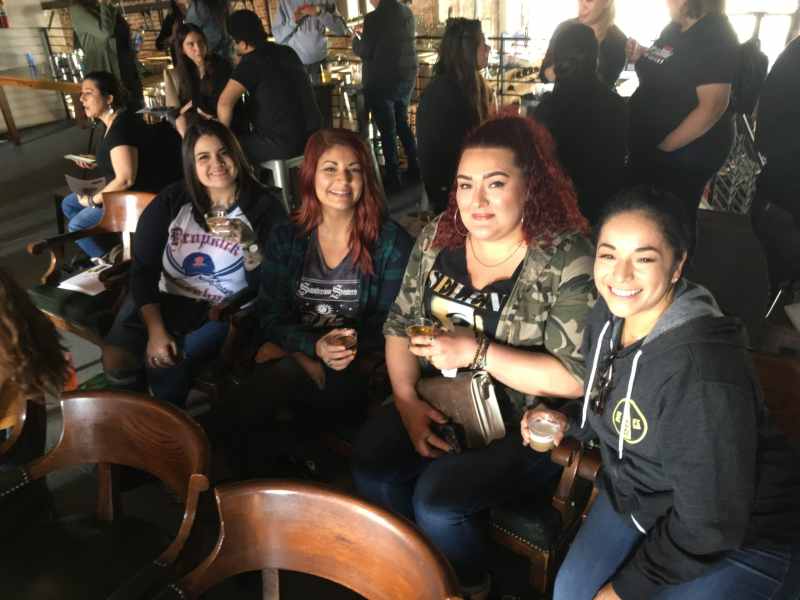 A homebrewer turned taproom manager at Indie, Rocca started the women-focused beer club in March 2018 shortly after she started working at the brewery. 
"I wanted to create a group like this for a long time where women in the craft beer community [can] come together through networking and education," said Rocca. She tells L.A. Taco that attendance averages around fifteen to twenty people, mostly women and a few men respectful of the space. 
"I think that a lot more breweries are starting to take female customers more seriously as a demographic," said Rocca. "It's not so much of a boys' club anymore."
 Most club meetings convene at the brewery, which boasts a female assistant brewer in Breeze Galindo. Those who attend gatherings of the Indie-Pendent Women's Club can expect to hear from guest speakers who work in any given area of craft beer, from co-ownership and distribution to brewing and running taprooms. "We also do beer tastings and discussion, as well as just hang out and have a good time," said Rocca. 
The meetings are free and the group is growing. Attendance has more than doubled since the first meeting back in March 2018, and new faces show up every month along with some "diehards" who have been there since the beginning. 
And while all genders are welcome, Rocca affirms the importance of calling it the Indie-pendent Women's Club. "This space is for women to come together to learn, support each other, and make new friends," she said. "I'm proud to say we attract a diverse crowd of ladies in the predominantly white and male craft beer scene."
Even so, Rocca points out that Los Angeles enjoys a particularly diverse craft beer industry, much more so than the rest of the country. "It's definitely a lot more common to see women and people of color working in craft beer these days," said the Chicago native. "I think that we'll see this trend continue both locally and across the rest of the country." 
That's good news to the longtime L.A. resident and for the future of craft beer here. Over the last ten years, Rocca has seen first-hand the number of women gaining ground in L.A.'s brewing culture. These days, more women are making beer and more women are drinking it, and breweries like Border X and Indie have taken notice.  
"I think that a lot more breweries are starting to take female customers more seriously as a demographic," said Rocca. "It's not so much of a boys' club anymore." 
From cleaning kegs to 'Lo Que Sea' 
Wearing protective goggles, long sleeves, and sturdy shoes, Yvette De Luna climbs up and down the cellar stairs checking tanks, looking at gauges, and sampling the contents. The Echo Park native and John Marshall High graduate started as a bar-back at Arts District Brewing Company before working her way up to the assistant brewer. Three years later, De Luna is part of a growing force of women putting their stamp on L.A.'s craft beer scene and changing the perception of brewery culture. 
"I begged them to let me clean the kegs, and finally they did last year," De Luna tells L.A. Taco over a pint of Órale, a Mexican style Vienna amber lager she named and helped to create. "I definitely have more responsibilities now than I did then," she happily reported.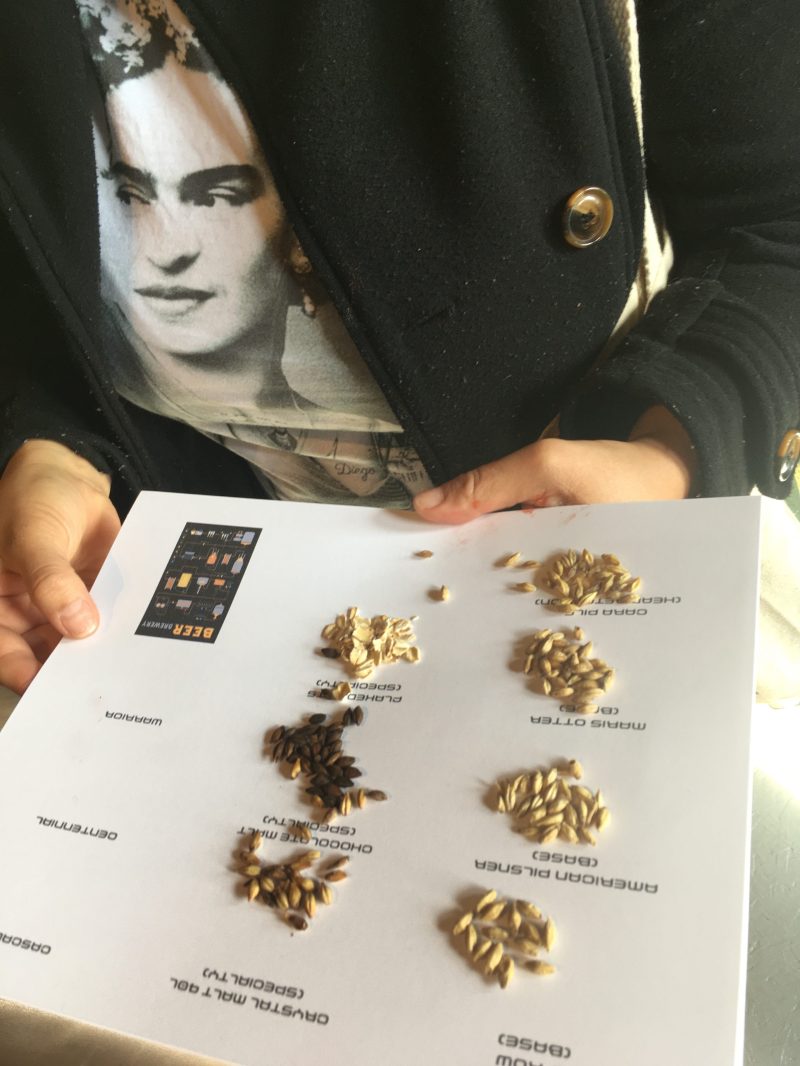 Within three years, De Luna went from bar-back to toiling in the cellar, where she cleaned kegs and equipment, sorted ingredients, and prepared the workspace for brewing, to working alongside Arts District's brewmaster, Dave Ziolkowski, as his assistant. 
"Dave's a great guide and very understanding," said De Luna, an experienced bartender but a new brewer still learning and growing from her mistakes. "Devon's also an inspiration for me. She's a badass. I learned a lot from her before she left." De Luna refers to Devon Randall, formerly the head brewer at Arts District before taking over as brewmaster at Imperial Western Beer Company, their sister brewery.   
De Luna credits Dave and Devon with teaching her entire brewing process. On her first brew day, De Luna worked on the Red Bird Red Rye IPA, a beer she fell in love with as a customer. Tasting that first pint of fresh Red Bird that she helped produce confirmed her own commitment to brewing. "It was extra delicious. That sealed it for me: this is what I want to do."
De Luna knew she wanted to name her first beer "Lo Que Sea," a phrase she heard often from customers when she was bartending. "When I'd ask them what they wanted, they'd just say 'lo que sea,' give me whatever," said De Luna. "I knew they were looking for something with a low ABV and expecting like Bud Light, Corona, or Heineken." She wanted to brew a beer that matched up to these tastes, so Dave helped her come up with a recipe for "Lo Que Sea," a light-bodied blonde ale that's easy to drink and tasty to boot. 
People really liked Lo Que Sea and it sold well, prompting Dave to ask De Luna what else she had in mind. That's how Órale, "a sexier Negra Modelo," was born. Órale was the second beer De Luna made with Dave, and she is just getting started. Saisons are next on her to-brew list. She is excited to be part of the new generation of breweries in Los Angeles. "Craft beer is definitely growing here," she said. "It's blooming around us." 
And so are the women in the local scene. 
Like many I spoke to for this article, De Luna is a member of the Pink Boots Society and regularly attends meetings. Thirteen years ago, the Pink Boots Society was "created to assist, inspire and encourage women beer industry professionals to advance their careers through education." 
The Los Angeles chapter was inactive for a number of years until 2019, when Blanca Quintero, a certified Cicerone, revived it. As Quintero told L.A. Taco, "I saw the need to restart the chapter because of how many women were in the industry in L.A., as well as the growth of other women in beer enthusiast groups."
Like Rocca at Indie, the Favelas at Border X, and De Luna at Arts District, Quintero acknowledges the unexpected uniqueness L.A.'s craft brew culture. "Los Angeles has almost 100 breweries as part of the L.A. Brewers Guild," said Quintero. "To see a good amount of women and minorities represented in that group is amazing. L.A. has made many strides in that respect and we definitely show that beer is a diverse world that people of all walks of life, backgrounds, ethnicities, and genders can be a part of."
Melissa Mora Hidalgo was born in Montebello and grew up in the L.A./O.C. borderlands of East Whittier and La Habra. She holds a Ph. D. in Literature from UC San Diego and is the author of Mozlandia: Morrissey Fans in the Borderlands (Headpress UK, 2016).
Stay in touch
Sign up for our free newsletter