Investigative Report
Block-Long Fence Erected Across From New Netflix Campus Restricts Pedestrian Access to Sidewalk And Pushes Homeless Deeper East
12:32 PM PDT on October 1, 2021
[dropcap size=big]I[/dropcap]n the shadows of a brand new 20-story mixed-use development leased primarily by Netflix in a rapidly developing part of Hollywood, a chain-link fence stretching more than a city block obstructs the sidewalk.
Erected after a sanitation "cleaning" last Friday morning on Homewood Avenue between Ivar and Vine Streets, the fence displaced roughly 15 unhoused residents. Some of them lived in front of a building owned by the Academy of Motion Picture Arts and Sciences for approximately a year.
Got word from a fellow @SELAH volunteer that yesterday an encampment on Homewood btw. Vine & Cahuenga was *bulldozed*. We've been doing outreach there for a year so I went to find some of the ~25 displaced folx. What happened is not surprising but continues to be outrageous. pic.twitter.com/9d2Y8lMo0o

— Kate Pynoos (@Kate_Pynoos) September 27, 2021
According to Elena Stern, a spokesperson for the City of Los Angeles Department of Public Works, the fence is unpermitted. "There is a pending Building Materials application for this location for a fence," Stern told L.A. TACO earlier this week. "It was going to be approved but is now put on hold."
Stern explained that the applicant has been told to remove the fence until the city can determine if the project is legitimate and if "the applicant really needs a fence there to complete" the proposed work. She added that a notice of violation would be issued if the department could not gain voluntary compliance from them.
As of lunchtime on Wednesday afternoon, the fence was still up, and there was no indication it was being taken down anytime soon. Sidewalk obstructions are considered a higher priority if there is a public or health safety hazard. In response to questions, Stern said that the department will generally issue multiple notices of violation, and applicants are given several days to comply.
When presented with photos of the fence for the first time and asked if the obstruction constituted a public safety risk, Stern responded: "Why, yes, that would."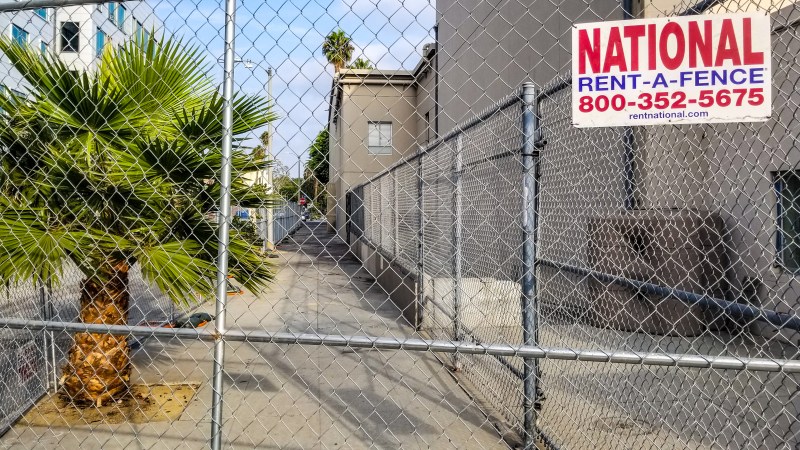 The fence wrapped around The Academy building stretches so far into the public right of way that it essentially forces pedestrians and cyclists to walk on a busy section of Vine Street at all hours of the day and night. During rush hour on Tuesday, an L.A. TACO reporter observed someone having to walk in the street due to the fence.
It's the latest example of a private entity using an illegal fence, planter boxes, rocks, or some other disguised tactic to displace people from public space. In recent months, L.A. TACO has reported on similar situations in Los Feliz, East Hollywood, and Skid Row.
Down the street, near the corner of Hollywood Blvd and Berendo Street, residents installed more than two dozen planters in the middle of a sidewalk over the summer.
Initially, the city determined that the planters were unpermitted, but when they attempted to remove them, residents blocked city workers from completing the job.
Weeks later, the city changed its tone.
In an early September statement, Stern, the spokesperson from Public Works, said that the city was giving residents extra time to file a permit. "I can say that there are no imminent ADA access, hazard, or safety concerns about the planters there," Stern explained. "And we understood that neighbors were planning to submit a Revocable Permit application, so we're giving them some time to do that." It's unclear what the status of the application currently is.
Since the fence in Hollywood went up last week, unhoused residents living in front of the Academy of Motion Picture Arts and Sciences building have moved further east, spilling into a historic residential neighborhood consisting of early 20th-century craftsman homes and art deco apartment buildings.
Earlier this summer, L.A. TACO reported on another fence similarly installed in the middle of Skid Row, on a sidewalk at Winston Street and San Pedro Street. After initially approving a Revocable Permit for planters, following the installation of the fence, the city pulled the plug after we reached out for comment and community organizers rallied together in support of a group of unhoused residents that were displaced.
At the time, Stern told L.A. TACO that the permit for the location in Skid Row had been revoked. "After the permit was issued, issues of concern were brought to the City's attention," Stern explained.
On Thursday afternoon, Dan Halden, a spokesperson for Councilmember Mitch O'Farrell (the council member that represents the part of Hollywood that the unpermitted fence is in), told L.A. TACO: "We were made aware of this situation. Public Works immediately responded and is working to resolve it as soon as possible."
Consequences for installing unpermitted objects that impede the public right of way are relatively minor. Fines of $250-$1,000 can be levied if voluntary compliance is not met. The city may also issue what's known as an Administrative Code Enforcement (ACE) citation, a misdemeanor citation, or have a misdemeanor criminal case filed by the City Attorney's office.
"These options are based on the significance of the alleged code issue, impact on public safety, compliance with the ADA, and previous violations for the same code issue," Gary Harris, Acting Assistant Director Chief Operations Officer Bureau of Street Services, told us last month. "If the non-compliant property owner does not remove or resolve the unpermitted items, the City is authorized to remove the items and store them for 90 days."
Over the past several years, L.A. TACO has reported on hundreds of illegal planters, many of which are still on city sidewalks today. 
"Where do you go?"
Since the fence in Hollywood went up last week, unhoused residents living in front of the Academy of Motion Picture Arts and Sciences building have moved further east, spilling into a historic residential neighborhood consisting of early 20th-century craftsman homes and art deco apartment buildings.
"Where do you go? You feel me?" Alex, an unhoused resident impacted by the fence, said during an interview with L.A. TACO on Wednesday. "It's like there's nowhere to go," he said.
Alex found out about the sanitation cleaning a couple of days before it took place. "It's hard to like orchestrate, you know, moving your stuff and like breaking everything down...like how would you feel if your landlord came in and was like 'look you got to be gone today from 9 AM to 5 PM with all your stuff and then you got to put all your stuff back,'" said Alex.
The 30-year-old was reportedly told that residents of the encampment would be allowed to return after the cleaning. Instead, Alex says, he lost clothes and other possessions and eventually moved across the street. "Bro, we all lost so much, dude. I've been in the same clothes now for three days since they tore that down, you know. Sanitation took all my clothes."
On Tuesday, L.A. TACO spoke to a man living in a tent on the streets who had moved to the Eastside of Vine Street after the clearing. They, too, said that they lost clothing and other belongings but could not make themselves available for an interview at the time. 
Alex says that he also lost belongings that he stashed away from the clearing. "The spot we went to with most of our other stuff...sanitation followed us there and emptied that spot too."
When asked for comment, Stern said, "We only discard personal belongings when they are clearly contaminated and pose a public health risk. Otherwise, we bag, tag and store."
As of publishing, it's unclear if any services or other resources were offered to residents that were displaced or lost belongings. Alex says that he wasn't offered anything during the clearing. 
According to a spokesperson with the Los Angeles Homeless Services Authority (LAHSA)—a county agency that provides homeless services to the city—LAHSA outreach workers were not present during the clearing of the encampment. A day after we reached out to LAHSA, Alex says someone finally came by to talk to him about housing.
Across the street, security guards regularly patrol the perimeter outside of Netflix, which contains no signs of homelessness. The exterior has a sterile quality to it that contrasts with the reality across the street.
Two worlds collide within one city block in Hollywood: the multi-billion dollar entertainment industry and the homeless crisis.
Employees have yet to begin working out of the giant space, which dominates the majority of the block, but the presence of the multi-billion dollar tech giant is already being felt in the neighborhood. On Wednesday, an employee at El Zarape, one of L.A. TACO's membership program affiliates, said they're anxiously waiting for the hundreds of Netflix employees to begin working out of the space. They hope that it will increase business for them.
Alex says he has a lingering suspicion that Netflix was somehow involved in the decision to install the fence. The media company leases more than 350,000 square feet of office and production space across the street from where he lived.
According to Alex, before the clearing, security guards from the company regularly walked over to tell residents of the encampment that they would have to leave soon. In an email, Stern declined to identify the company or person associated with the fence by name, citing "a pending enforcement issue," when asked if the applicant was The Academy. L.A. TACO could not reach representatives from Netflix and the Academy of Motion Picture Arts & Sciences for comment before publishing.
Two worlds collide within one city block in Hollywood: the multi-billion dollar entertainment industry and the homeless crisis. "As much money as those two blocks alone are worth...yo Netflix has a whole block in Hollywood, you know how much money that costs to get, just to obtain that much property in Hollywood...you guys don't have some sort of program...like work to house?" Alex says people are eager to work, and Netflix would be better off investing in services that could help their unhoused neighbors rather than spending on security.
Walk in pretty much any direction from the fence on Vine, and you hit hotels, fine restaurants, and luxury apartments. The Hollywood skyline is dotted with entertainment and production conglomerates; there's CNN, Viacom, and another giant Netflix campus, all within a few blocks. Their names are seemingly etched into the hills if you're looking north. In the minds of some stakeholders, a new Hollywood is being created. One that caters mostly to developers with deep pockets and the people and companies that fill them. But mixed in with all that money are hundreds of people living on the streets, like Alex, struggling to make ends meet.
Oct 1, 2021 update: A week after installing the fence without first securing a permit, the city told us that the applicant has been ordered to move the fence back to comply with ADA regulations and a temporary permit for "general maintenance" has been granted through Monday next week. 
Lexis-Olivier Ray is a housing, justice and culture reporter for L.A. TACO.
Read More:
Stay in touch
Sign up for our free newsletter