Featured
Opinion: Taqueros, Put the Salsa Away. It's Time to Take COVID-19 Precautions Seriously
2:40 PM PST on January 5, 2021
[dropcap size=big]I[/dropcap]f you've pulled up to your tried-and-true neighborhood taco spot and felt a little uneasy about reaching for that metal spoon popping out of that open fire salsa verde container for your tacos during this latest surge in cases, you are not alone. 
It does not help when your best taquero friend has their face only half-covered by a face mask or maybe not wearing a face mask at all. The saddest part? This concerning setup is more common than we all think. Tacos and face masks are not about politics. It's not about conspiracies or blaming our political leaders. We all need to be a little more thoughtful about our activities. 
However, while customers are clamming at the same spoons and tongs everyone else has put their most likely unsanitized hands on, lines of sick folks and ambulances are building up outside of our hospitals overrun with COVID-19 patients struggling for attention. We've hit a critical point in the pandemic that's killing Latinos at a much higher rate, and you must understand that our taqueros and taqueras are not immune to COVID-19. And by extension, you, the taco consumer, are also not immune. 
On Wednesday, December 30th, Gustavo Chavez, affectionately known as "Tavo" of Carnitas El Artista, waited for eight hours to be seen at an overflowing triage in the courtyard of the Olive View-UCLA Medical Center in Sylmar, only to give up and go home to treat his COVID-19 symptoms himself. "Shit was unreal," he tells me, "This is a reality that every person has to understand."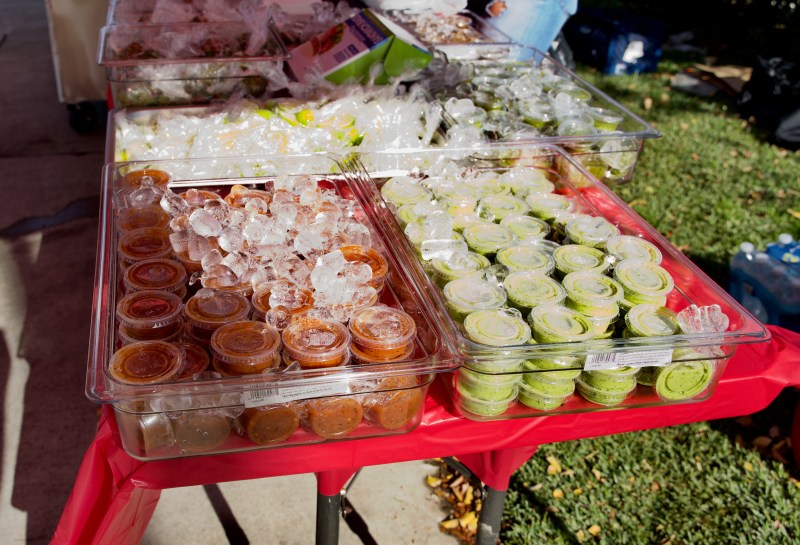 As I've driven around Los Angeles looking for the next great taco, it's become abundantly clear that many taqueros, both operating in stands and brick and mortars, still don't understand the gravity of this current crisis and how badly it is affecting our communities—especially raza. I'll be honest too. I didn't fully understand it either until last week when my brother-in-law, Francisco "Pancho" Laureano, who I love as much as my sister he married, found himself fighting COVID-19 for his life at UCLA Ronald Reagan Hospital during New Years' celebrations. 
After his experience at the hospital, Pancho essentially told me the same thing Tavo did, "Going to the hospital gave me a realistic understanding of the pandemic." 
It's time to serve more than just carne asada to your communities, and you don't need anything else other than salsa cups with lids, face masks, and social distancing.
Perhaps you've seen the numbers showing that Latinos are more than twice as likely to contract the novel coronavirus and three times more likely to die from it because we have a greater tendency to be essential workers. Maybe you've just become numb to the news. Regardless of the reason or logic for your apathy, it's time to have a real talk about the severity of our raza's current situation and the impact the lack of preventative measures can have. It's time to serve more than just carne asada to your communities, and you don't need anything else other than salsa cups with lids, face masks, and social distancing. 
As Tavo said, we need to understand the current reality to help each other get through this mess because it will take all of us to get through this pandemic.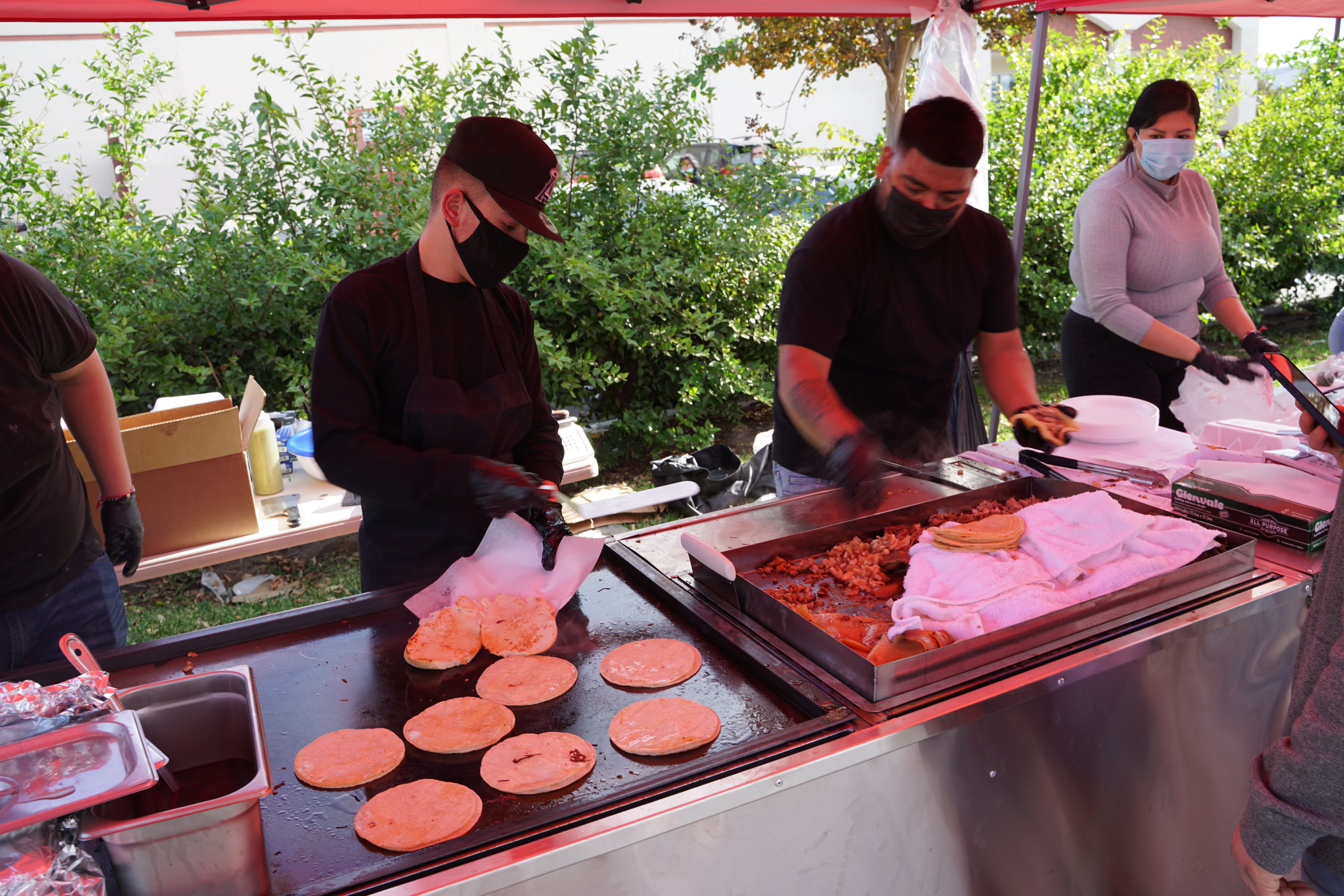 Tavo never saw the hospital inside, but what he saw outside was enough to shake him. "The nurses would come outside and take everyone's vitals. There were so many older folks being brought in by family and ambulance that they were out of wheelchairs and, of course, beds. I waited like eight hours and left after hearing people had been waiting since 10 AM (it was 2:30 am). I decided to come home and just treat my symptoms."
The symptoms that he's struggling to treat on his own are fevers, cough, lightheadedness, and chest pains. These are the worrying reasons that made him seek hospital care. 
Pancho also waited for eight hours on Sunday, December 27th, but unlike Tavo, he was lucky to have a bed open up. If not, he might not have made it back home alive that night. At 39 years old, in perfect health and with a strict exercise regiment, he found himself with low oxygen and running out of air just trying to make it to the bathroom.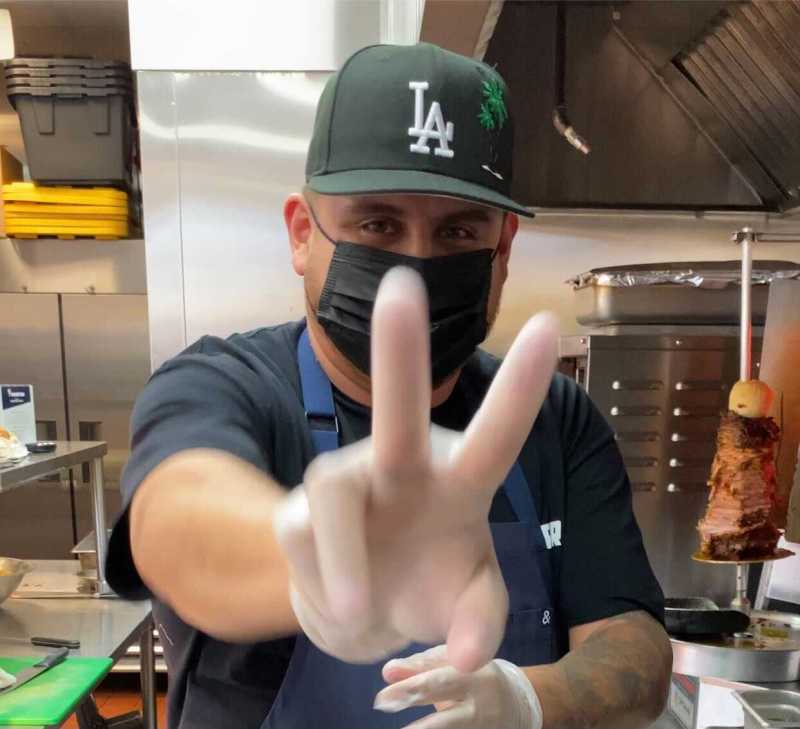 Once inside, Pancho recounts, "One of the most difficult things to deal with is the psychological trauma after being admitted. The shit that goes on inside is horrifying. People are dying or close to it; you don't know if you're going to be OK or if you'll see your wife and kids again. You're all alone, and you're weak, you're scared. At one point, a nurse had to stay with a patient for over 30 minutes; he wouldn't let go of her hand. He was terrified of dying alone." 
Only 61% of restaurants visited by the Health Department complied with COVID-19 preventative measures as of December 3rd. There is no official number for street food vendors. Still, I'm willing to bet that the number is way lower based on what I've seen. 
It's not just potential COVID-19 patients that are having a hard time getting seen. According to Andreina Kniss Tafoya, a volunteer for Ktown For All, they've been taking unhoused people to the ER with awful wounds, and they're all getting turned away. "We saw a guy today, a recent immigrant monolingual guy with giant gangrenous wounds, and the ambulance wouldn't take him in. They said they had strict orders only if people were actively dead or dying." 
We all need to care about each other as much as we care about our tacos.
These aren't isolated events either. I've heard this story often lately, and the LA Times has covered the crisis from within the hospitals in incredible depth recently as well. These stories are not unique. At this very moment, there are zero beds available, all the hospitals are overflowing into the parking lot, and even ambulances are sitting parked for four hours or more with patients. 
There literally is nowhere to go right now if you get sick. 
This past weekend, I felt I needed to speak up and posted on Instagram, "You don't know how many taco stands and trucks I've pulled up to and walked away simply because they weren't practicing safety measures. Not wearing masks, salsas, and garnishes all out in the open for everyone to grab, folks standing over the meats being grilled. It's frustrating."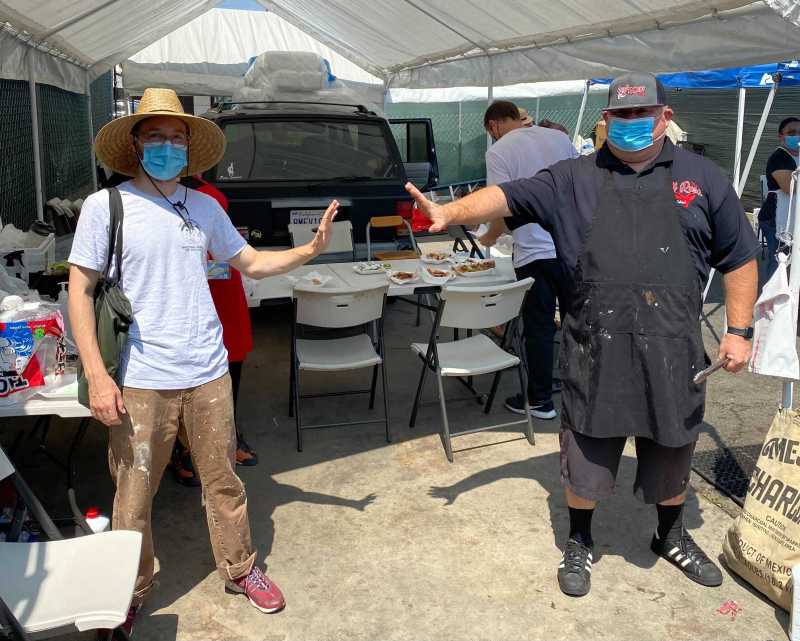 I further pleaded with taqueros in my caption to "Please take care of yourselves, show some concern for your customers, and just take those extra steps to minimize people getting sick. It isn't hard. It's necessary, especially now. Wear a mask properly, pre-package your salsas, keep customers away from the food. Have someone handle the money and only that. Have someone else hand the food to the customers."
In an almost overwhelming unanimous response, including the many who DM'd me, taqueros, foodies, and folks not only agreed but expressed their appreciation for bringing this up. It's as if it was the elephant in the streets that nobody wanted to acknowledge. So when I ask taqueros to please take those extra small measures, know it's not just this taco eater with a keyboard asking you. Your customers want this addressed as well, for your health, your employees, and ours. We all need to care about each other as much as we care about our tacos. 
We can have our tacos and support each other as well.
Be mindful of taqueros and their families back home. Wear your masks properly, leave the family and homies in the car or back home. You only need one person to order. And remember to keep your distance. If you have symptoms, please stay home. 
During Puebla's battle on May 5th, 1862, campesinos and campesinas faced off against the world's most potent military force, Napoleon III's French army. Armed with old rifles, machetes, and even at times, throwing cannonballs by hand, they defeated the overwhelming force. It was unity and determination that won the day. Today, we need that unity again; our gente is under attack, but this time by a virus we can't see. 
We can have our tacos and support each other as well. 
Here are some basic ways to reduce the risk of spreading COVID-19.
Put up a barrier between the grills, meats, taqueros, and people. There's no reason or need for customers to be hovering near or over the meat and tortillas.

Pre-package all the salsas. Have one person assigned to handing them out.

Have one person only handling the money and handling over food.

Taqueros should never have any direct contact with customers. Yes, this includes pounding fists, shaking hands, high-fiving, and hugging...no matter how much your taquero or taquera hooks you up.

No more than one person at a time near the stand to order; have the rest of the line wait six-feet away.

Line direction should be marked clearly for people to stand and wait.

Have hand sanitizer for the cashier to use frequently, as well as for customers after handling money.

Properly wear masks over your nose.

Don't have aguas frescas open near customers. Keep them away as well.

Have signs in Spanish and English asking customers to please eat tacos in their car or at home.
Memo Torres is a multi-media taco journalist and Director of Partnerships for the James Beard award-winning L.A. Taco. He was a finalist for the Ruben Salazar Award for Latino Journalists. He has functioned as a taco scout for numerous shows and can be seen on Netflix's Taco Chronicles and Pressure Cooker. Memo is also currently hosting a food guide on all iPhones' Apple Maps.
Read More:
Stay in touch
Sign up for our free newsletter