Food
Paneer Tikka Tacos and Eight Other Spots For New-School Indian in L.A. and O.C.
3:15 PM PDT on September 19, 2022
As the rabid demand for reservations to nosh on garam masala-sweetened wings and tandoori spaghetti at Silver Lake's Pijja Palace and the ongoing popularity of dishes like chili cheese naan and chicken tikka poutine at Badmaash demonstrate, L.A. has a hunger for creative takes on the cuisine of India, Pakistan, and their Southeast Asian neighbors.
And our chefs and restaurants are meeting this craving by putting unique spins on the gastronomy of their Subcontinental heritage, embracing an exciting new era of inventiveness, and forwarding the synthesis of multiple culinary influences into and around Indian cooking, especially those from close to home and the wider Americas.
"Indian cuisine is having a renaissance, of sorts, with more concepts springing up over the past few years, introducing unique and approachable dishes that tout Indian flavors," says Imran 'Ali' Mookhi, the founder and exec chef of Khan Saab Desi Craft Kitchen in Fullerton. "Just having a broader representation of Indian cuisine in Southern California is exciting."
"We noticed that Angelenos are seeking more diverse options when it comes to their food, and more specifically Indian cuisine," says Antonio Kanickaraj, director of operations at Tulsi Indian Eatery, which has three locations in L.A. "Indian cuisine can be creative and inspired. We are looking to change the landscape of the Indian food experience, and we know that our counterparts are looking to do the same. Say goodbye to your mom's khichdi."
So to temporarily sate your longing and fuel your late nights of trying to nab a table online at Pijja, we've rounded up a handful of local concepts that are putting their own twist on heartfelt, handcrafted Indian eats, from malai murgh tacos on naan tortillas and tikka masala fries in L.A. to an eye-catching Sloppy Joe/keema pav-hybrid in O.C.
Enjoy!
Saucy Chick ~ Downtown (Sundays) and delivery online
A marriage of Indian and Mexican cuisines born of the literal marriage of Rhea and Marcel Michel—the children of Indian and Mexican parents, respectively—Saucy Chick offers whole, hand-brined, rotisserie-cooked, free-range poultry: a cumin, ginger, and caramelized onion-marinated jeera chicken and a recado rojo-rubbed pollo pibil evocative of the Yucatán. The couple offers their cooking, which includes sauces made from scratch such as salsa macha, raita, and a divinely tart, sticky ambli molasses, and sides of Mayacoba beans and turmeric roasted cauliflower, through both delivery and pickup.
"There's a viewpoint or voice [with Indian cuisine] that's dominant and delicious in the food industry, but the South Asian diaspora is nuanced from home to home," Rhea tells L.A. TACO. "As a Gujarati, I heartily stand by my region's cuisine. I love pointing folks to Surati Farsan or Jai Bharat in Artesia. I am so proud when showcasing our Guju Diwali meals that center around [the dishes of] undhiyu, srikhand, puri, and more that are probably very new to most folks. I mean, it's new to many other Indians as well, underscoring how nuanced all the regions are."
"And what I see that's happening in L.A. is a new generation of storytellers thru food," she continues. "Sharing experiences that may stray from what's been considered Indian food—more risks—hoping that guests will show up and be open to something different and abandon preconceived ideas or expectations. It's a beautiful time to unfurl and blossom, really. I'm so humbled to be part of this community."
More recently, Saucy Chick has leaned heavily into the Taco Lifestyle, showcasing tacos, make that "chaat-chos," on Burritos Las Palmas' Mejorado tortillas that get dipped in rotisserie jus anbd encase hand-pulled jeera chicken with green goddess sauce and "Mom's" beans, an amalgam of chorizo, cheese, and pintos, available Sundays at Downtown's Smorgasburg. https://saucychickrotisserie.com/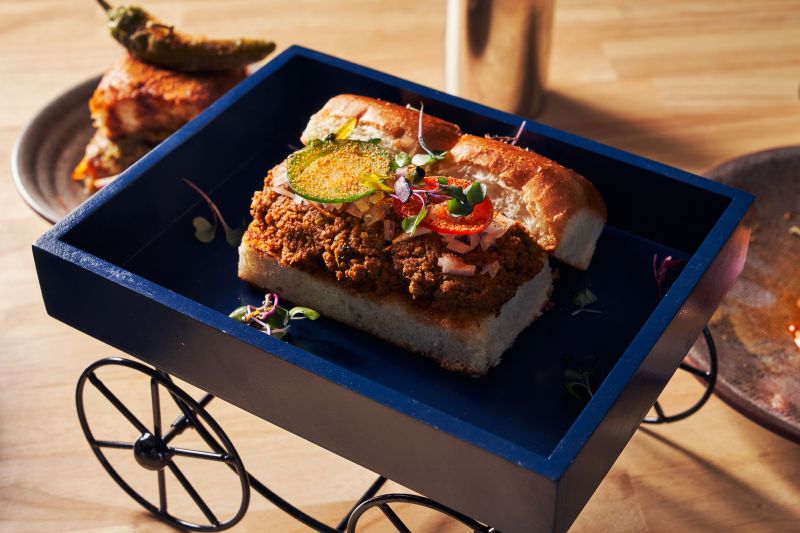 Khan Saab Desi Craft Kitchen ~ Fullerton
Highlighting culinary influences from Afghanistan, Pakistan, and India, Michelin-honored Khan Saab is a completely halal restaurant that revels in clever presentations of Subcontinental and Central Asian cuisines. Pakistan-born owner and exec. chef Mookhi, a vet of several Michelin-starred kitchens around the world and known locally for Santa Monica's Tumbi, has a flair for novelty as well as soulful cooking, deconstructing the Mumbai street staple of keema pav into a Slopy Joe on gunpowder-dusted bread, which rolls onto your table on a miniature version of something like a chai wallah's cart. A light brigade of pani puri arrives teetering over shot glasses half-full of tamarind water, charcoal-smoked beef and star anise-spiced seekh kebabs appear amid swirls of roiling clouds beneath glass domes, and chicken-studded biryani steams under a blanket of naan sealing the top. Not everything here feels the need for such whimsy. Not when there's woodfired bone-in Aussie Wagyu tomahawks, letter-perfect palak paneer, chocolate samosas, and zero-proof Bruts, IPAs, and Negronis that speak for themselves at this innovative Fullerton destination.
"Khan Saab was founded on the mission to elevate Indian, Pakistani, and Afghan dishes the same way I saw other international cuisines honored in L.A.," Mookhi tells L.A. TACO. "As a Pakistan immigrant myself, it's truly exciting to see the greater population in the U.S. embracing Indian cuisine, which is why it was important for us to present Desi foods in an upscale and elevated way that wasn't previously represented in the Southern California dining landscape. And I'm proud to provide the extravagant and meticulous presentation that these dishes warrant." https://www.khansaaboc.com/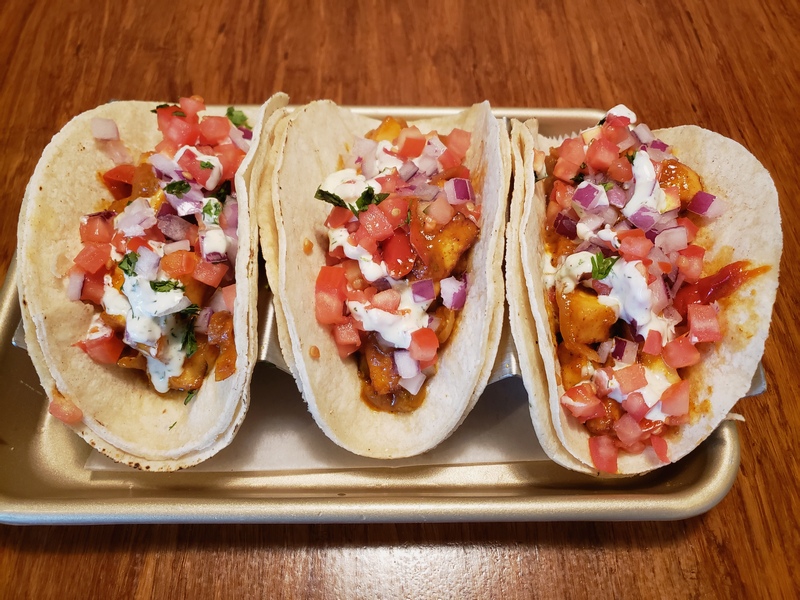 Tulsi Indian Eatery ~ Downtown, Westwood, and Northridge
Chirag Shah, Amjadkhan Pathan, and Antonio Kanickaraj, the owners of Tulsi, which counts three fast-casual locations, including a Westwood arm that opened six weeks ago, come from different regions of India, and their menu directly reflects this. There are three distinct sections for regional Indian cuisine, including Northern (think bhaji with balloons of puri bread and tandoori cauliflower), Southern (idli with sambar and coconut chutney and slow-fermented doses the size of an adult arm), and Western Indian recipes (Mumbai's beloved street staple of pav bhaji, bhel puri, and Ghujarati dabeli). But as is fitting of a restaurant that uses a cat-headed robot to bring your meal to the table, there's also a section labeled Influencers, speaking to the viral age with tikka masala-loaded makhni fries, paneer tikka tacos, plant-based chicken kathi rolls, and Chinese-influenced options including stir-fried hakka noodles, sweet-and-sour "Manchurian" dumplings, and chile-garlic-fried rice. https://tulsieatery.com/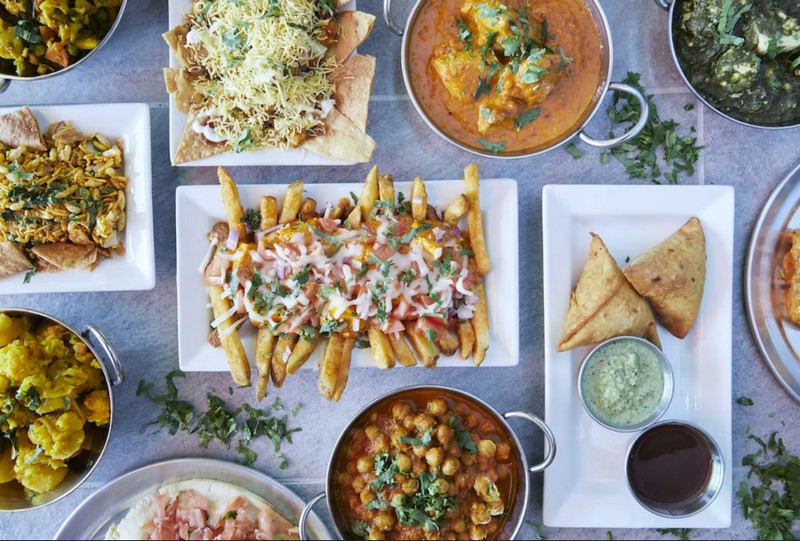 Roots Indian Bistro ~ Melrose
The owners of time-honored, recently closed All India Café in L.A.'s Sawtelle neighborhood opened this Melrose restaurant in 2021, allowing their L.A.-raised son, Anmoldeep Khinda (aka Deep), a bit of latitude in lending a fresh voice to the culinary direction and design. In the last year, it's netted a long line of visits and raves from famous faces, including Mindy Kaling, singer Kehlani, writer Jay Shetty, pro-baller Kelly Olynyk, and recent Predator portrayer Dane DiLiegro. Their embrace could be the result of excellent classic curries, which include a creamy korma, vibrant vindaloo, more richly nuanced standards like chana masala and daal, and tropical-tinged curry "Nirvana," along with some of the town's juiciest tandoori chicken, marinated in yogurt.
Or just as easily, it may be the menu's more modern flair, expressed in dishes like a dosa roasted with gooey cheese and chile serrano (we're calling it the "quesadosa"), naan bruschetta, paneer masala fries, murgh makhani (butter chicken) wings, and Eastside nachos with chips foraged from chickpea batter and potato under the holy trinity of mint chutney, tamarind chutney, and raita. From our experience, it's all really good. Like, Never Have I Ever good. Just make sure to try a refreshing glass of rosewater, milk-and-Sprite-based Pink Punjabi. https://www.rootsindianbistro.com/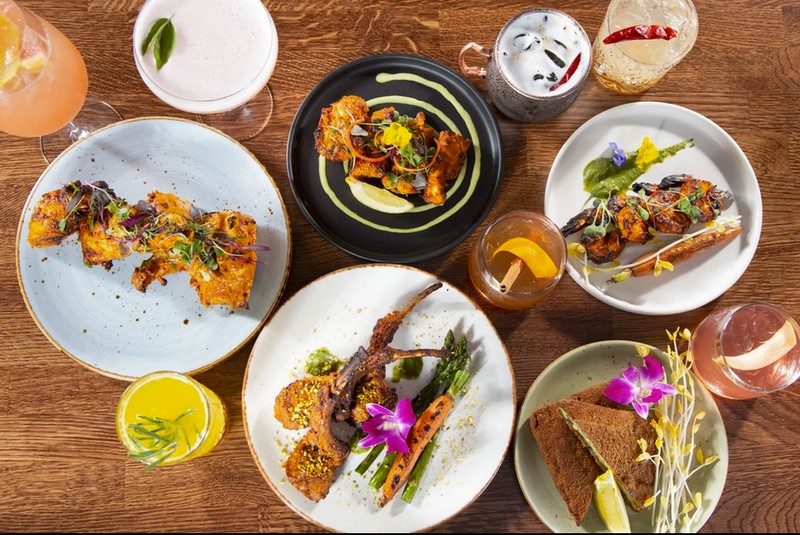 Arth Bar + Kitchen ~ Culver City
This lovely modern dining room in Downtown Culver City is a go-to for enthralling and chic dining experiences, with an open kitchen, uplit cocktail bar for "Desi sours," and outdoor patio with tables filled by paneer-stuffed mushroom caps, pistachio-crusted lamb chops, tandoori salmon, and great renditions of classics like saag paneer and butter chicken. There's plenty of dishes on-hand that you seemingly don't find elsewhere, such as peanut gravy-simmered roasted eggplant, unripe jackfruit masala, lobster tail moilee, and twisted intrigues like burnt garlic raita, cherry-raisin-and-pistachio-stuffed in-house-baked naan, mozzarella-filled naan, Old Monk rum "drunken" wings, avocado bhel, tikka tacos, paneer burgers, and green chutney-topped "sexy" fries." https://www.arthla.com/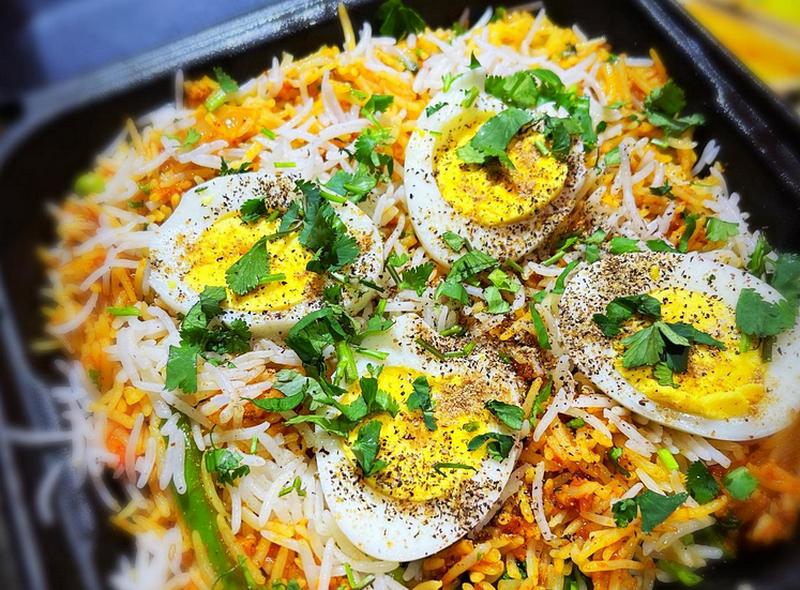 Curry Boys ~ Huntington Park
This incredibly small SELA space rocks a clay tandoor, steam table of Indian standards, and walls striped in the tricolors of the country's flag. Along with reliably rich versions of palak paneer, chana masala, and aloo gobi, there are whole and half tandoori chickens on offer, along with lesser seen recipes like egg biryani, goat biryani, tandoor-cooked chicken tikka kebabs, and samosas filled with chicken. The Boys also show off their HP inspirations with a side menu of tacos, burritos, and quesadillas based around chicken, pork, lamb, and sometimes goat, an impulse towards idiosyncratic individualism that also appears in dishes such as its exclusive "clove chicken" recipe, chicken-stuffed naan baked on premises, and tikka-loaded burgers. https://www.instagram.com/curryboyshp/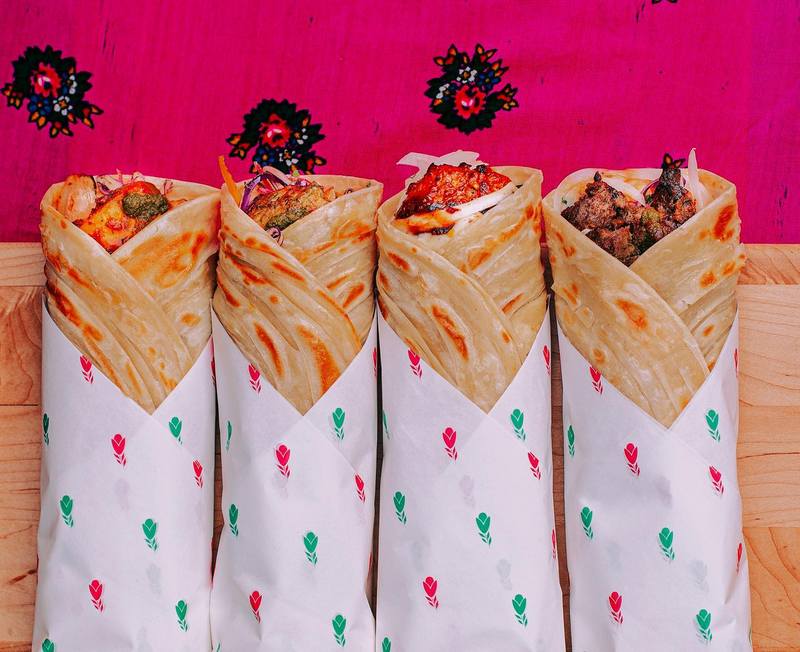 Paratta ~ DTLA Arts District
As the name indicates, lachha paratha, made daily, is the core specialty at this take-out-only concept Downtown, wrapping beef Bihari kebab, smoked and yogurt-marinated chicken tikka, paneer, and chicken malai boti. They are flaky, layered, and amazing, and you need them. The concept also has a few novel inventions such as masala fries sprinkled in chili and chaat, and cheese-and-jalapeno-filled chicken tika samosas. And while supply issues have stymied its devotion to cooking with nothing but Wagyu for its beef dishes, you'll still find USDA Prime being used wherever the meat appears. http://paratta.com/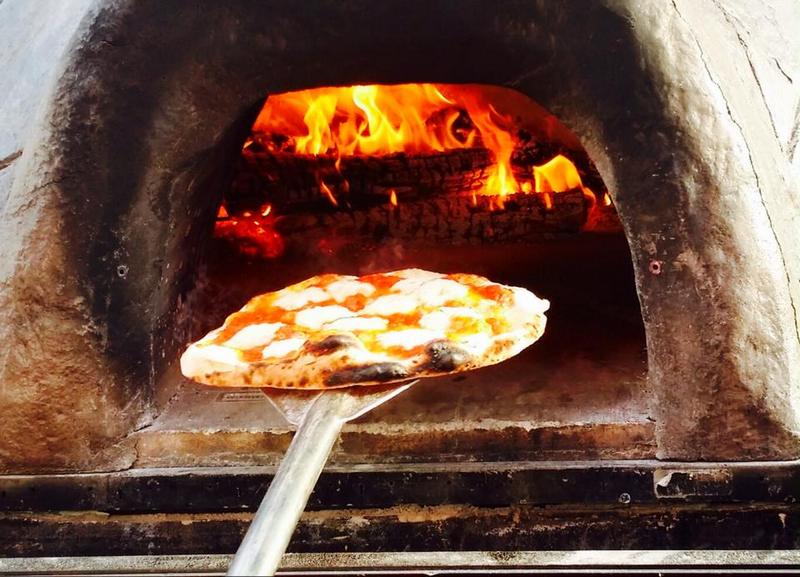 786 Degrees ~ Pasadena and Sun Valley
With locations in Sun Valley and Pasadena, 786 Degrees is a famous, wood-fired pizzeria adhering to Zahiba Halal codes (which speaks to the sanctioned rules surrounding the slaughter of its meat). Pizzaiolo and co-owner Ali Haider was born in India and raised in Kuwait, with Iraqi and Indian heritage, merging Neapolitan and NY-style pizza into an Epcot Center of a menu that includes chorizo-laced "El Chapo" and bulgogi-topped Gangnam pizzas, as well as those inspired by Dubai, Egypt, Istanbul, Tuscany,  Calabria, and of course, the "Mumbai," which comes in the form of a pie made with tandoor-cooked chicken kebab, burrata, paneer, saffron tikka masala, mango chutney, kaffir lime, and hand-crushed Marzano tomatoes. More importantly, it works! https://786degrees.com/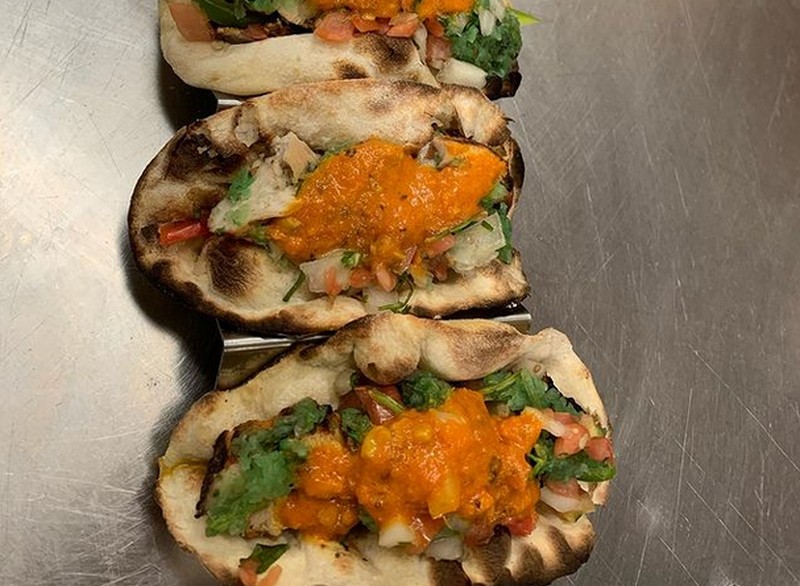 Raaga Indian Fusion ~ Chatsworth
Chatsworth's Raaga goes heavy on traditional, clay tandoor-cooked Punjabi dishes, with a smaller assortment of Southern coastal influences like coconut curry fish and tandoori prawns swimming in the mix. Under a section called "Titbits," you'll find a few more locally-inspired innovations, such as malai murgh tacos with naan tortillas, lamb sliders served with raita, and spinach-tofu samosas. Raaga also has a small menu-within-a-menu dedicated to a trio of Indo-Chinese dishes, specifically deep-fried "Manchurian" cauliflower, stir-fried "Hakka" noodles, and deep-fried, chile-red chicken 65, a favorite contribution of the city of Chennai. Note: though the restaurant is still posting to Instagram, a call today went unanswered amid frequent online speculation that it's closed. http://raagaindianfusion.com/
And since we can't eat it all (lord knows we try), we'd naturally LOVE to know your recommendations in our comments for compelling Indian cuisine in and around Southern California, both traditional and contemporary.
One of L.A. TACO's co-founders, Hadley Tomicki is a critic and journalist whose work has appeared in the Los Angeles Times, New York Magazine, and many other places.
Stay in touch
Sign up for our free newsletter