Tacos
Here's Every Single Experimental Taco Served at Bee Taquería's 'Taco Omakase' In West Adams Right Now
4:28 PM PDT on May 12, 2021
[dropcap size=big]W[/dropcap]hile most self-proclaimed taco-eating experts will stop to tell you what a taco should be, this taco omakase is here to show you how radically chingón a taco can be. 
Bee Taquería is a vibrant and colorful space with a taquería vibe serving brilliant culinary splendors on a tortilla. It is also home to one of only two famous taco omakase globally; the other is found at the restaurant Pujol in Mexico City, a restaurant by the gastronomical dignitary, Chef Enrique Olvera.   
Through Bee's taco omakase, chef Alex Carrasco invites you to kick back and leave behind your preconceptions of what a taco should be. The daytime menu does not apply. There are no order substitutions and no "salsa on the side, please." In an omakase experience, you kick back, let the chef do his thing, and enjoy an experience that will be uniquely yours. 
The meal is more than just a random selection of tacos. It's an experience that challenges the perception of the tortilla as just a thin, flat, circular vehicle that Mexicans use to eat their food. It is an exhibition in the art of the taco as a canvas for flavors, colors, and imagination. 
You'll find Bee taquería sharing a container storage yard on West Adams Boulevard, an area now being rebranded colloquially as "East Culver City" by developers gentrifying the neighborhood. The storage containers lying aimlessly around the lot are painted in vibrant colors. Chef Alex Carrasco spray-painted the murals of Rasta-Azteca graffiti art onto the bright yellow walls; it is a skill that he developed walking to school in Mexico City. An old flag pole protruding through the taquería provides a home for a colony of bees, hence Bee taquería's name. And next to that flag pool, under a patio cover, a table for six stays reserved for guests about to go on a tacodylic trip down tortilla lane. 
The following list of tacos are from one taco omakase experience at Bee taquería and represent a blend of Carrasco's chilango upbringing, his creativity, and his refined skillset working in some of "L.A.'s most notable kitchens in the last 15 years, including Westside Tavern, Mo-chica, Waterloo & City, Red Medicine, Bouchon, Scratch Bar, Joe's, and Osteria Mozza" writes Javier Cabral. 
From beginning to end, the taco omakase experience is a ride through all your taste buds, from salty to sweet, creamy, and crunchy. It's all over your palate, and yet it's very intricately composed and planned out. Make sure to take your favorite bottle of mezcal, tequila, or wine to enjoy with your meal.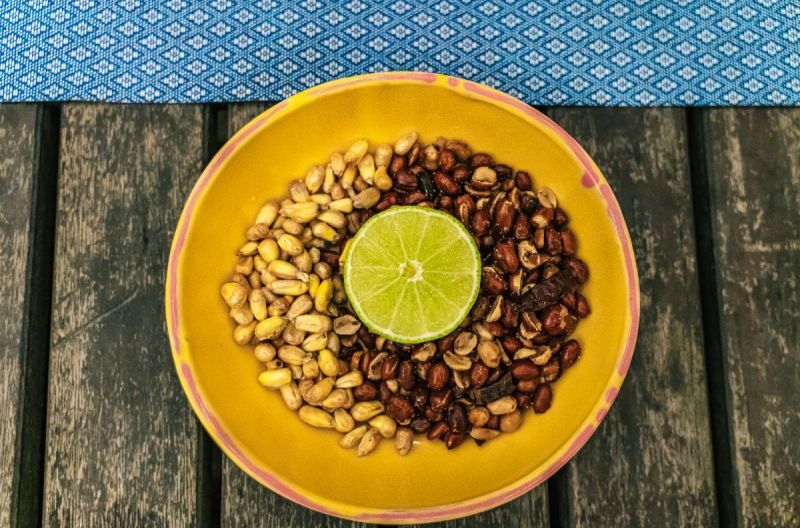 Botana
As you settle into your chair and open the bottle you brought, Carrasco brings out a small bar-type appetizer for you to get your palate going. For this experience, nuts in the shape of two crescent moons are in a yellow bowl hugging a half-cut green lime lying face up and showing its natural pie-slice pattern. On one side, you'll enjoy roasted peanuts with garlic, chile de árbol, and a bit of citric acid.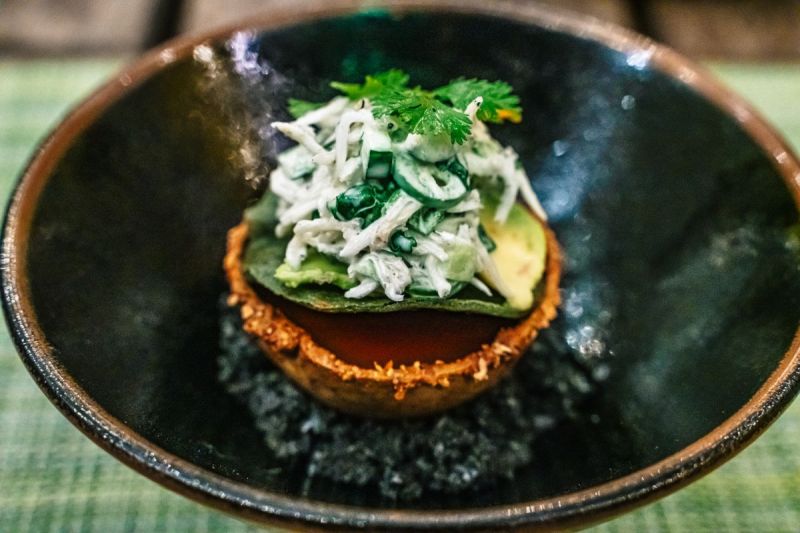 Fish Tostadita on an Oyster Shooter
This first course is more of a two-in-one. A small handmade blue corn tostada with baby sardines, yuzu aioli, rajas poblanas, avocado, grilled serrano, and ikura sits above an oyster michelada shooter. What it lacks in size, it makes up for in a lush, light, and savory taste. The taste of the baby sardines is tamed, and the whole bite feels like a refreshing burst on your taste buds. 
Per chef's instructions, enjoy the tostada first, and then finish with the oyster shooter. Don't mix them. It's made with michelada juice, pacific oysters, and a sal de maguey rim made from worms found in the agaves used to make mezcal.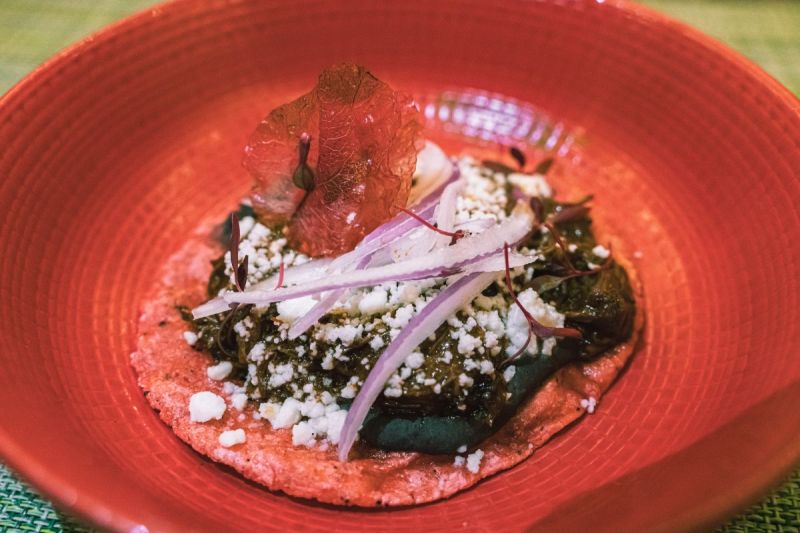 Chicken Thai Bougainvillea Mole
Bougainvilleas are in full bloom, and their wax-paper-like flowers are making a mess wherever they are found in the city. After getting tired of cleaning the flowers off the floor every day, Carrasco learned it was edible after researching alternative uses for these flowers. He tells us, "I learned that in Central America, some people boil the flower with cinnamon, honey, and sometimes roaches to make a tea."  Don't worry, he doesn't use roaches, but what he creates with these flowers is not only a testament to Chef Carrasco's incredible resourcefulness and creativity but to the taco's ability to be versatile.
Chef Carrasco incorporates the Bougainvillea flower into his masa and makes a red-stained Bougainvillea tortilla. He adds a spread of refried black beans, Thai chicken mole, queso fresco, and some red onions on top garnished with a flaky bougainvillea flower. Each bite is as smooth in flavor as it is in texture. You'll find a touch of sweetness and heat in the mole and a bit of salt from the cheese. Only the second course in, one bite into this composed taco will make you doubt anything else can taste better. It is so popular that this is the only taco that lives on the taco omakase. It'll be the reason you come back for another experience.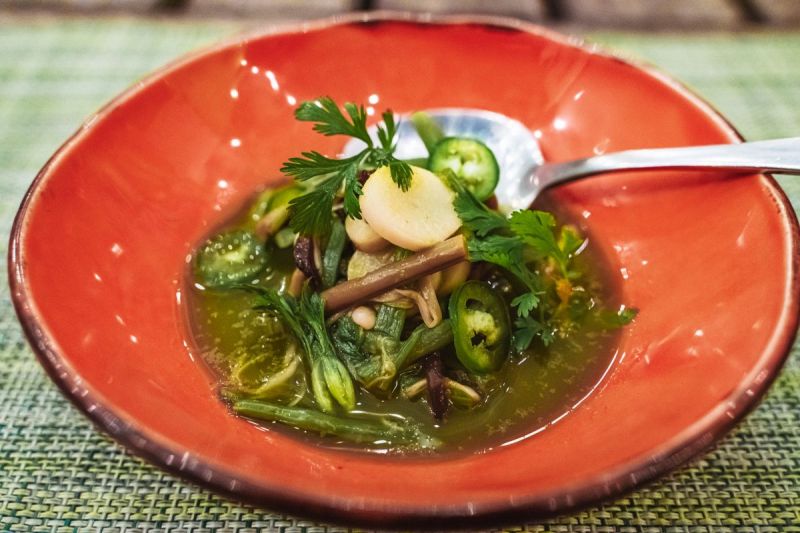 Vegan Aguachile
From the smooth and warm flavors of the Bougainvillea taco, your palate's pendulum is flung into the opposite direction with the cold and tangy textures of a soupy vegan aguachile. Made with bamboo, serranos, and jalapenos, each spoon full of this dish is filled with different textural densities bathed in cold heat. If the comfort-inducing bougainvillea taco laid you back, this aguachile is here to wake you back up. It's an example of Chef Carrasco's experimental ability to think outside the box.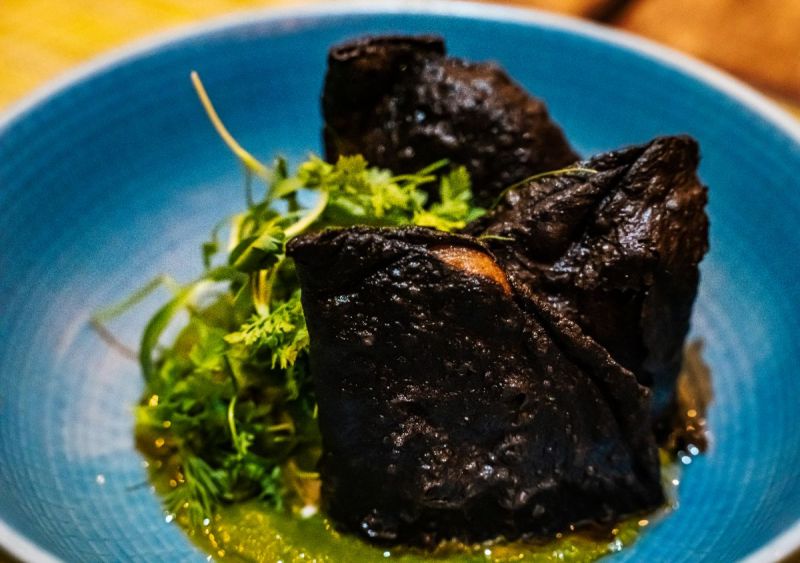 Black Dill Empanada
Imagine an empanada shell as delicate and flaky as crispy skins of old croissants that feel brittle to the touch. That's the texture of this Black Dill Empanada's skin that holds up remarkably well for such a light and delicate texture. Grab an empanada fin by its pointed end and pull it up to reveal the small spread of truffle cream concealed underneath it while a chile verde sauce surrounds it. Bite past the wafer-like skin and feel the quesillo with huitlacoche mushrooms burst through the crust. Will you be astonished at how well the chile verde complements the truffle cream, or will the feel of the empanada consume you as you bite into it?  This whole dish is mastery in combining textures and flavors that will leave you debating yourself about which part of the empanada you enjoyed the most.  
Fish Taco
For the fifth course of this omakase ride, Chef Carrasco serves his second taco. If the black dill empanada is a mastery in textures, the fish taco is a showcase in complexity. A marinated yuzu kosho cod covered in a chile morita aioli, caviar, wakame, chervil, and fried charales. The fried charales offer a crunch that is quickly enveloped by the creamy morita aioli. The earthy flavor of the tortilla contrasts the salty sea taste of caviar. It's a tumbling wave of rich sea flavors and complementing textures in every bite. It's also the most original take on a fish taco that includes three distinct stages of a fish; eggs, small fish, and a large cod. It's truly a wonderful experience to eat. 
A5 Kobe Wagyu Taco Encebollado
The world's most expensive meat on a corn tortilla. The meat on this one taco alone is estimated to be worth around $45, but to have it with grilled onions, a quail egg, morita salsa, and chapulines is priceless. 
You can't just grill a piece of A5 Kobe like it's ranchera from the carnicería. There's a technique to learn how to sear it and preserve its taste and texture, and chef Carrasco recently completed his training as a Master of Japanese Wagyu to adequately serve this prized cut of meat.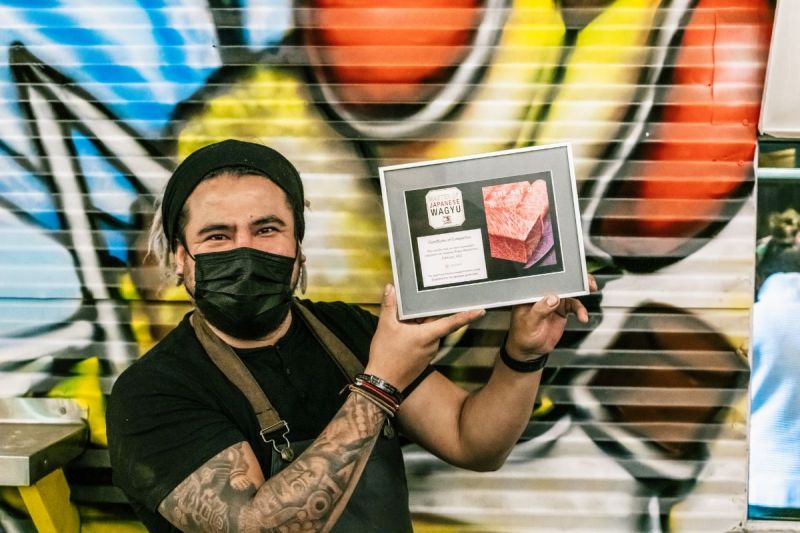 Add the lightest sprinkle of lime to the chapulines, don't drown it. The slight citric crunch from each bite will cut through a bit of the buttery fat in the meat. Enjoy the sliver of yolk from the quail egg as it spreads onto the beef and experience all the flavors embraced by the sweet caramelized onions. "Carne encebollado is what my mom use to feed me a lot, so I thought, why not do it with Wagyu," Carrasco tells us. This taco is the antithesis of the dollar taco and proof that a taco can be greater than the sum of its masa.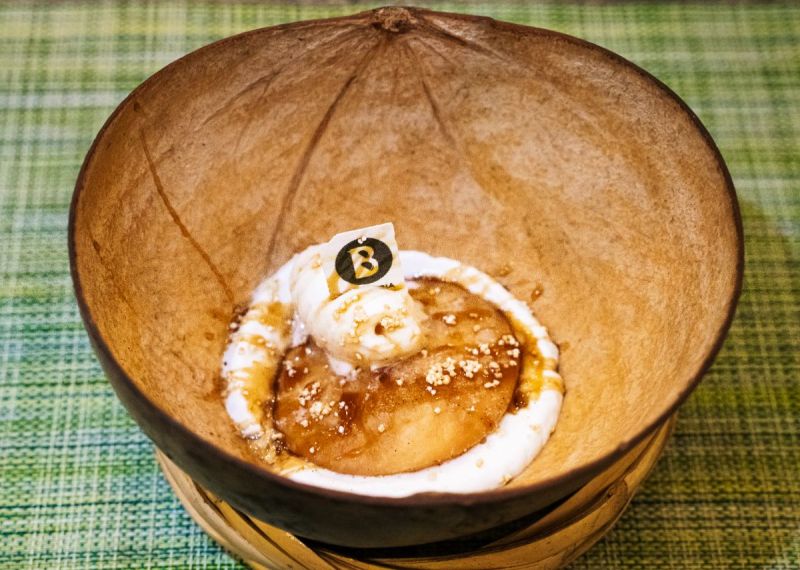 Buñuelo
The night finally comes to an end with dessert. In this case, it's a large jicara bowl cradling a bueñuelo floating on a strong crema de mezcal. It's drizzled with piloncillo, amaretto, and vanilla sauce and topped with a scoop of ice cream. A small Bee Taquería flag completes the illusion of a tiny raft sailing on the foamy sea. You'll enjoy this incredibly savory dessert, the ride is over, and as you leave the table, you'll walk away, never looking at a taco the same way again. 
Bee Taquería,  5754 W. Adams Blvd, Los Angeles, CA 90016, 323-452-9575
(reservations are required for the omakase experience.)
Memo Torres is a taco-eater extraordinaire from the Westside, and Director of Partnerships for the L.A. Taco membership program.
Stay in touch
Sign up for our free newsletter