Taco Madness
Announcing TACO MADNESS 2023's 'Best in Show' and Online Tournament Winners!
After 64 taquerías in our online tournament and ten taquerías at our live event, meet your champions. It was a hard-fought win for both taquerías.
11:08 AM PDT on May 9, 2023
This year's TACO MADNESS will go down in L.A.'s Taco Life history as the craziest purest representation of true madness. Over 3,600 of you showed up hungry for tacos, Bud Light Micheladas, and a good time last Saturday at our 14th annual live taco festival event.
The energy and excitement for hyperlocal journalism were palpable. You all sold us out and nearly every single one of our ten handpicked taquerías, too.
We are proud to announce both winners!
At the stroke of 8 PM, we had the two official champions. Our highly talented panel of judges unanimously chose the "Best in Show" category: Actor and cookbook author Eric Wareheim, Univision anchor Yarel Ramos, and restaurant owner and cookbook author Bricia Lopez.
The winner of our online taco tournament is Tacos Los Cholos! Initially from Santa Ana, their "budget to bougie" approach won over tens of thousands of voters' ballots throughout the tournament. On Saturday night, the taquería's co-founder Alvaro Maldonado-Saldivar went to the stage and accepted the trophy! It was a hard-fought win and their first after nearly winning last year.
The Judge's People Choice Award also shocked the taco masses: Tacos La Carreta! Straight from Mazatlán, Sinaloa. José Manuel Morales Bernal won over all three judges with his Torito: a taco on a flour tortilla featuring a roasted hatch chile, just a scant amount of cheese, and mesquite-grilled sirloin carne asada, bound together with minced cabbage and a runny tomato salsa.
We thank every one of this year's 64 taquerías who participated in the madness.
See you all next year!
---
All is fair in love and TACO MADNESS. This last round got ugly. It was Los Angeles County vs. Orange County—straight up.
Trash talk was exchanged. Insults were hurled. Egos were bruised. And thousands of tacos were eaten. This round broke our record: 120,325 votes were counted between the final four competing taquerías. It went down to the wire but Tacos Los Cholos beat Villa's Tacos by 585 votes.
We never thought we'd be typing this, but the back-to-back TACO MADNESS champion Villa's Tacos has been dethroned. They were on their way to being the first ever taquería to win a three-peat. Then Tacos Los Cholos arrived at the party and had it their way instead. They had live banda. They offered free tacos for votes. Ultimately, their long lines of customers at all three of their Orange County locations outvoted Villa's Tacos' extremely loyal fans around northeast Los Angeles and their two locations.
If this indicates the power of Tacos Los Cholos, then their forthcoming restaurant in Huntington Park at the end of the month is destined for greatness.
But now, Tacos Los Cholos is up against the fish taco O.G. of Los Angeles: Taco Nazo. Taco Nazo has five locations around southeast and eastern Los Angeles County. Will Tacos Los Cholos and their Prime-cut beef power outwrestle Taco Nazo's delicate battered fish pioneers?
Stay tuned.
We thank Villa's Tacos, and every other competing vendor, for fighting and giving it their all this year. Remember: There is always next year. But more importantly, let us never forget that L.A. TACO created our annual online taco tournament to uplift and support L.A.'s taco scene.
The winner of TACO MADNESS will be crowned live at our live TACO MADNESS taco festival presented by Bud Light this Saturday at LA Plaza de Cultura y Artes. Make sure to grab your ticket to be part of L.A.' Taco Life history. Every ticket sale goes toward supporting our independent street-level journalism.
The polls for this round will end on Saturday, May 6th, at 7 PM.
---
Weeks of battling have left scars, but they've only strengthened our last taqueros left in the MADNESS.
Everyone loves a good Cinderella story; this year, the underdog is the San Fernando Valley's big bad Tacos El Vampiro. The family-owned operation has defied all the odds, but will they have enough momentum to topple SELA's fish taco OGs?
Villa's Tacos appears unstoppable, with a commanding win over Tacos y Birria La Única. That poor birria, it probably didn't know what hit 'em once they felt the wrath of Victor Villa and his crispy cheese gangster ways.
But now, this is the moment we've all been waiting for. Villa's Tacos vs. Tacos Los Cholos. Tacos Los Cholos nearly won them last year. Will they have what it takes to win over the two-time champions, or will Villa's Tacos smash their TACO MADNESS championship dreams?
Anything can happen. The fifth round of voting is now LIVE.
This round ends next Tuesday, May 2, at 11:59 P.M.
Round 4: The SabrOcho
Never underestimate the power of MADNESS. What a round! Past powerful champions fell. Newcomers rose through the ashes of burnt tortillas. And an outlier from Orange County may do it. He may de-throne the current back-to-back champion and take it all.
The most shocking result is undoubtedly Sonoratown's early exit as the TACO MADNESS champions fell to newcomer fish taco OGs, Taco Nazo! Another past champion, Macheen, also fell to Angel's Tijuana-style Tacos. Tacos El Vampiro is still in and holding it down for the San Fernando Valley. Overall, Highland Park crispy cheese guerilleros, Villa's Tacos, have gotten the most votes in the tournament so far. But Tacos Los Cholos, out of big bad Anaheim, is not that far behind.
Tacos y Biria La Única is still in the fight and armed with their goat and beef birria. Tacos Estilo Guadalajara are still in. Will this finally be the year their tacos al vapor get the respect they deserve?
Anything can happen. Also, we announced our rockstar taquero lineup for the live edition of TACO MADNESS at LA Plaza de Cultura y Artes! Make sure to get your ticket before they sell out. We will be announcing the winner of both our online tournament and live "Best in Show" taco.
Round four is now open. Vote and defend your favorite taquero 'till the end! The voting for this round ends at 11:59 PM on April 26.
--
Round 3
This last round received north of 7,000 votes. Many taquero battles were neck to neck all day, but at the strike of 11:59 PM (Pacific), there would only be one victor. In some battles, the winner was separated by a mere three votes. As evident in the battle between TACO favorites Tacos Don Cuco vs. newcomer fish taco OG TacoNazo. At the end of the battle, TacoNazo arose from the tortilla ashes and was the winner.
Every. Single. Vote. Counts. That is the lesson of the day in this last intense round of voting. We know it may not seem like it when you are in the heat of the battle and telling everyone you know to vote for your favorite taquero, but they do.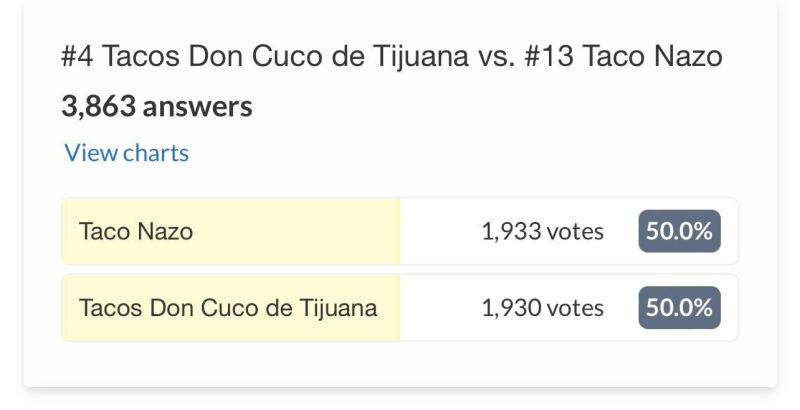 Our highlights from this round.
—Tijuana taco chain Tacos 1986 is OUT, losing to past TACO MADNESS champion and candidate for best daytime taco in L.A. of all time, Mariscos Jalisco.
—Tacos y Birria La Única edged out American crispy taco stalwarts Chuy's Tacos Dorados.
—#12 seeds Los Cinco Puntos and their time-honored East L.A. carnitas are proving to be a worthy contestant for the title this year, advancing over their fellow East L.A. taquería opponent Tacos El Toro and their steamed, buttery tacos al vapor.
—Orange County-based Prime-grade taqueros Tacos Los Cholos wants it bad this year, beating Peruvian-Mexican Pablito's Tacos to the ground with a demanding lead.
—Villa's Tacos is still in and looking like they will stop at nothing until they get their three-peat.
—Sinaloan taco swagger lords Tacos La Carreta made a disappointing second-round exit and lost against San Fernando-based Tacos Mi Ranchito.
—Lynwood-based tacos al vapor pioneers Tacos Estilo Guadalajara out flexed Long Beach Tijuana-style newcomers, TacoMasa.
—2020 TACO MADNESS champions Macheen came in clutch to win over Tacos a Cabron, showing their past championship experience.
The third round of voting is now open below! Remember to get your tickets for our live event on May 6th, where we will announce this bracket winner and a Judge's Choice trophy.
Note: Voting for this round will close on Thursday April 20th at 11:59 PM, and Round 4 will start on Friday at noon. 
---
That was an exhilarating first round of our TACO MADNESS tournament. There was a buzzer-beater win, as media-darling taqueros fell and underdogs rose in their places.
If you all think TACO MADNESS is a game, try telling that to the taquerías who fought hard and still lost. It's rough out there in the taco-lined streets of Los Ángeles, and when it's MADNESS season, anything can happen. Ask any one of our past MADNESS champions and they will tell you, rallying for votes with your daily customers will only get you so far. The formula for success is a combination of mobilizing all your loyal customers from the past, present, and future.
Not to mention that your tacos have to back up all your daily rallying. For all of our taqueros who are exiting this first extended 64-seed round, thank you for competing... there is always next year. For the L.A. taquerías who are advancing to fight another day, congratulations! But don't rest on your laurels—the best is yet to come.
These were the highlights of our first round.
—The most massive upset was when #2 seed El Ruso lost to #15 seed El Asadero Poblano. Not even being featured in the Taco Chronicles was enough to help El Ruso survive the thick guacamole and handmade corn tortilla-armed, Tijuana-style onslaught of El Asadero Poblano.
—Repeat champion Villa's Tacos maintained the most votes through Round 1, followed by Birriería Gonzalez. Now the formidable forces will face off in Round 2. This will be a small battle of great consequence in of itself. Will Villa's Tacos make an early exit? Or will Birriría Gonzalez pull the biggest upset of the year? Stay tuned.
—Other top vote-getters of Round 1 are Angel's Tijuana Tacos and Tacos Los Cholos.
—The closest battle was between Tacos La Carreta and Don Goyo, with over 2,500 votes cast. But there can only be one taco victor to move on in SELA: La Carreta, which won only by a very hard-fought ten votes.
—We had six birria contenders in Round One, and only four went through to the next round. The ones that did not were the oven-crisped, goat-starring deliciousness of Birria El Jalisciense and the similarly goat-fueled Goat Mafia.
—#2 seed GoGo's Tacos, fresh off their win in our recent Vegan Taco Madness Tournament, was the other high seed to fall, losing 64% to 36% to Tacos Los Palomos.
Round Two should be ultra-competitive as we had a lot of blowouts in Round One who are now facing each other, such as Palomos vs. Tacos y Que, Angel's vs. Los Guichos, and #1 Sonoratown vs. #8 Birriería San Marcos.
Let the taco death battles continue.
---
Followers of L.A.'s Taco Life, gather around the flamin' trompo and brace yourself for this year's TACO MADNESS. It is back and bigger and better. We finally stepped up this year and expanded our tournament to include 64 taco challengers! Like your favorite taquería that uses double tortillas, this year's tournament will be double the fun with, of course, double the taquero-on-taquero battles.
We decided to double it after realizing that our usual 32-seed bracket didn't do justice to the sheer amount of heavy-hitting tacos we have on all corners of our fine city. Don't let anyone tell you that any other city in the U.S. has a better taco scene. They are lying to themselves and wish they had our range, from Sonoran and Tijuana-style tacos to Sinaloan-style mariscos and many unique styles that could only happen in Los Angeles, from the fine people who dedicate their lives to perfecting tacos in their own way.
L.A. runs on tacos. Every single taco has a story, and L.A. TACO will always be the first on the scene to find and document them. This passion for tacos in Los Angeles and what they represent is what drives our annual TACO MADNESS taco tournament.
The online taco tournament will end on May 6th at our in-person taco festival at LA Plaza de Cultura y Artes, where the winning taquería will receive their official L.A. TACO trophy. This is the festival portion of TACO MADNESS, where we bring all of L.A.'s best taquerías together at one place. We will also be awarding a "Best in Show" trophy, to be decided by our list of high-profile judges. The event starts at 5 PM, and tickets are available here (L.A. TACO members get in free). Every single ticket sale supports our award-winning, street-level journalism that you enjoy every day on the site.
Will Villa's Tacos pull a three-peat? Or will another challenger from this year's expanded selection of taquerías finally de-throne them? Stay tuned. It's going to be a WILD Taco Madness.
We want to thank Bud Light Chelada for being our Title Sponsor this year, and Northgate Market for being our entertainment sponsor (which we will announce soon). And, of course, our loyal members and supporters who believe in our mission to bring you all the best, inclusive street-level journalism in Los Angeles. Now, let's go eat some tacos.
The first round of voting is now open!! The polls will close at 11:59 PM PST on Sunday, April 9, 2023.
Our Competitors:
Villas Tacos
Sonoratown
Teddy's Red Tacos
Mariscos Jalisco
GoGo's Tacos
El Ruso
Macheen
Holbox
Tacos Y Birria La Unica
Kogi
Simón
Tacos La Carreta
Los Dorados LA
Carnitas El Artista
Birria El Jalisciense
Tacos los cholos
Tire Shop Taqueria
Tacos Don Cuco de Tijuana
Los Originales Tacos Árabes de Puebla
Ditroit
Evil Cooks
Bee Taquería
Balam
Goat Mafia
Mírate
Guerrilla Tacos
Los Sabrosos al Horno
Tacos Estilo Guadalajara
Tacos Y Que
Birrieria San Marcos
Perro 110
Tacos 1986
Birrieria Gonzalez
Cacao Mexicatessen
Brothers Cousins
Ricos Tacos Naomi
Tacos Lionydas
Avenue 26
Tacos A Cabron
Asadero Chikali
Chuy's Tacos Dorados
Tacos La Guera
Angel's TJ Tacos
Taqueria Mi Ranchito
Tacos El Toro
Ixtaco Taqueria
El Barrio Neighborhood Tacos
Pablito's Tacos
Los Cinco Puntos
Taco Nazo
Tacos El Vampiro
El Primo Tacos LA
Tacos Tamix
Ensenada's Surf n Turf Grill
Tacos Los Guichos
Tacos Don Goyo
Tacos Los Palomos
El Asadero Poblano
Tacos El Chino
Taco Masa
Zingo Tacos
Tacos 5 y 10
L.A. Taquerias
Tigres Fuego
Editor for James Beard Award-winning L.A. TACO. Associate Producer for JBA-winning Las Crónicas Del Taco. Former restaurant scout for Jonathan Gold. Co-Author of "Oaxaca: Home Cooking From the Heart of Mexico."
Stay in touch
Sign up for our free newsletter